As with most culinary trends, it can often take time for big national movements to filter down o the streets of Utah. Food halls are a perfect example. For years we visited our big city cousins in NYC and San Fran and cooed at their fluid food spaces. We'd return home with tales of flexible modular setups, one stop showcases for small businesses that might not otherwise have had a chance to shine.
As rents have inched up though, so has the need for such spaces in Salt Lake City and surrounding cities. In response, food halls of all shapes and size have been popping up over the Wasatch these past two or three years. The gargantuan Woodbine was the boldest addition to the inventory in 2022, while the next to join the burgeoning collection is the 7,500 square foot Local Market + Bar.
The Local is housed in the $110 million dollar Exchange project, a multi-use build along 400 South that encompasses residential through commercial. If you find yourself pondering Salt Lake City's ever crane-laden skyline know that the site's twin residences, Avia and Mya, are already both at full occupancy according to the owners.
The Local Market + Bar is set to join the Exchange roster of facilities and welcome both residents (there'll be a special to-go option for tenants of the adjoining units) and the general public alike. As I write the facility is probably a couple or three weeks from opening. The main fixtures and fittings are all in place, with final code compliance tweaks all that materially remains. When they do switch the lights on, an octet of options will greet guests:
Lamb & Feta
Hog & Tradition BBQ
Green Chile House
Crave
Luna Pizza Cafe
The Cereal Killerz Kitchen
Pop's Burger
Good Bar
The lineup was hand selected by chef Akhtar Nawab; a former Michelin Bib Gourmand winner and co-CEO of Hospitality HQ, the consulting group behind the creation. The names chosen represent a mix of local and national – one you might have even spied on TV before.
Geoff Patmides is the big local name helming two of the stations at The Local. Patmides previously made his name on the dining scene with Taylorsville's The Local Greek. Now permanently shuttered, the business was highly rated for a Greek menu that went beyond gyro and souvlaki; fire grilled lamb chops with a side of tirokafteri anyone? With his return to the food scene, Patmides will run both Lamb & Feta and Hog & Tradition BBQ. The former offers a familiar reprise of Mediterranean flavors while the latter is a completely new outing. The presser for the hall's imminent arrival notes "he has perfected the BBQ sandwich along with a myriad of other barbecue dishes". If that's not enough to get a line forming down the street I don't know what is.
Green Chile House are another local face, making a familiar evolutionary leap from food truck to food hall hall permanence. The menu taps chef and owner Francisco "Poncho" Portillo's home state of New Mexico for Southwestern flair via tacos, nachos, and tortas.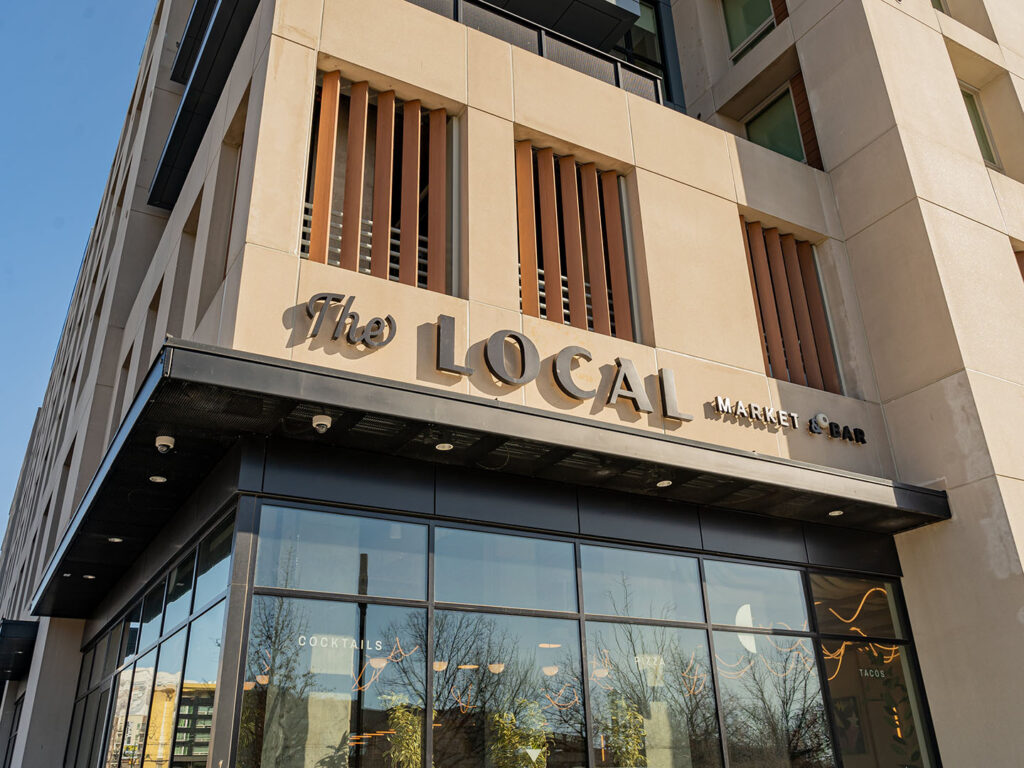 Other Utah-based brands include Crave, the business offering "high-quality comfort foods and healthy to-go sandwiches and salads, with brunch offerings daily." The onsite bar, Good Bar, will be ran by The Local itself. The bar has already received a full service restaurant license, so expect craft cocktails, local beer and wine list. The caveat of course is that you'll need to order food before ordering a drink.
Onto national names then and Luna Pizza Cafe hails from Greenville, North Carolina. They bring with them award winning brick oven pizzas – ones that have apparently snagged accolades for best pizza in NC for for four years in a row. The Cereal Killerz Kitchen come any way of Vegas and a feature on ABC's Shark Tank. The company "encourages diners to draw inspiration from the hundreds of cereal options to create unique ice cream, milkshake, or iced coffee creations."
Finally Pop's Burger will be delivering an "Americana" burger joint, serving up currently trendy 'smash' burgers, hot dogs, fries, and also "old fashioned ice box cakes that feature quality, locally sourced ingredients."
Once construction completes expect a spec that's open seven days a week and caters to breakfast, lunch and dinner crowds. A calendar of events will follow along too – think local live music, trivia nights, and more. One of the first uses for the space will see a returning Salt Lake Magazine Dining Awards ceremony do it's thing in the Local come the end of this month.
I'll report back with the full food scoop once lights go on proper.
The Local Market + Bar
310 E 400 S, Salt Lake City, UT 84111
thelocalsaltlakecity.com
Keep the conversation going
Want to stay on top of the SLC food scene, minute by minute, dish by dish? Here are a few other places you should follow along:
Hi, I'm Stuart, nice to meet you!  I'm the founder, writer and wrangler at Gastronomic SLC.  I'm a multiple-award winning journalist and have written in myopic detail about the Salt Lake City  dining scene for the better part of seventeen years.
I've worked extensively with multiple local publications from Visit Salt Lake to Salt Lake Magazine, not least helped to consult on national TV.   Pause those credits, yep, that's me! I'm also a former restaurant critic of more than five years, working for the Salt Lake Tribune.    I'm largely fueled by a critical obsession with rice, alliteration and the use of big words I don't understand.   What they're saying about me: "Not inaccurate", "I thought he was older", "I don't share his feelings".
Want to know more? This is why I am the way I am.
This article may contain content provided by one of our paid partners. These are some of the best businesses in Utah. For a list of all our current and past relationships see our
partnership history page
.