West Valley City is one of the largest in Utah large city, and home to a wide variety of cuisines. Indeed, it's one of the most culinary diverse areas in Utah. Vietnamese to Thai to Chinese to simple burger shacks – there's no shortage of excellent eats in the city. But where's the absolute best? Let me guide you in the right direction. The following are some of the very vest in West Valley, starting with my own personal picks.
Cuisine: Vietnamese
Address: 3585 S Redwood Rd STE 101, West Valley City, UT
Those looking for the best pho in Utah will want to make a beeline right away to this West Valley mom and pop. The cozy restaurant offers a menu featuring more than a 100 dishes. Among them fifteen different specular pho dishes, not least a rather stunning shaking beef. Check out our full story that covers Pho 777 here. In 2023 the restaurant was crowned the very best place for pho in Salt Lake City by our very own Pho King. Read the exhaustive examination of every single bowl of pho, in his story about the best pho here.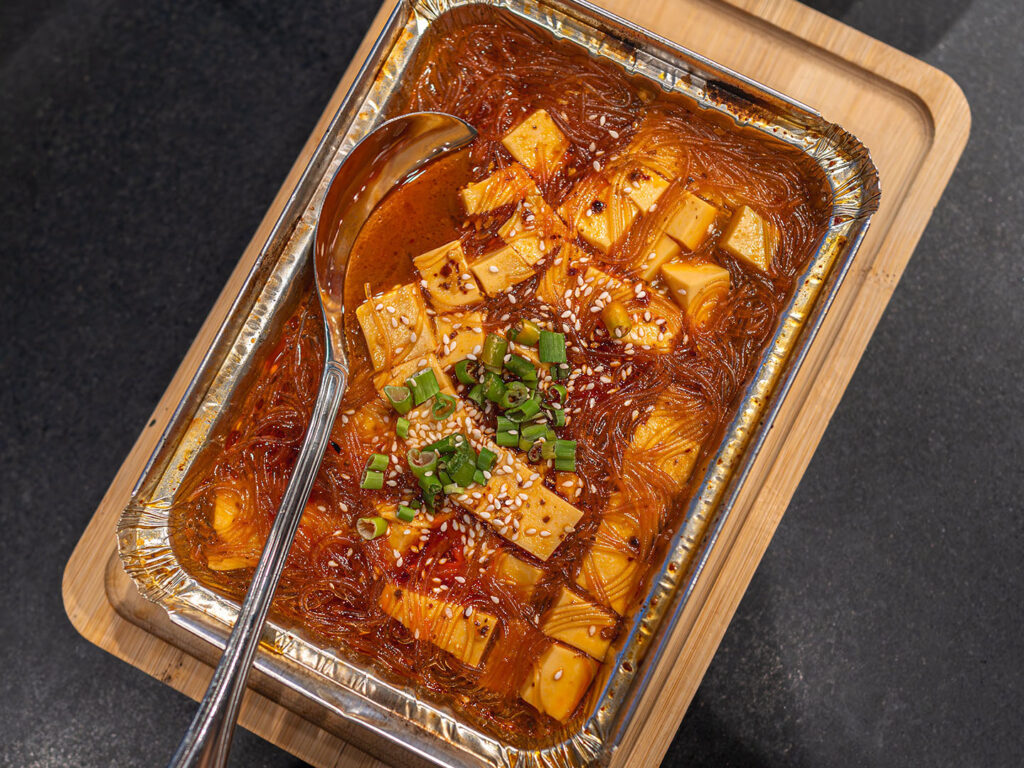 Cuisine: Chinese
Address: 2000 W 3500 S, West Valley City, UT 84119
Moving into the WEVC spot formerly home to OMO Korean BBQ, this new Chinese restaurant is a fabulous addition to Utah's dining scene. The star of the show are the kebab, small street-food style bites of the highest order. Nearly two dozen options are available, all coming coated in a secret spice blend powered by spicy gochugaru. Kebabs are cooked to order, and arrive at the table at light speed. Beyond the skewered meats and veggies the restaurant offers a range of intriguing dishes, highlight include tin foil tofu and crispy fried chicken skins – a spritz of lime is all you need before digging in.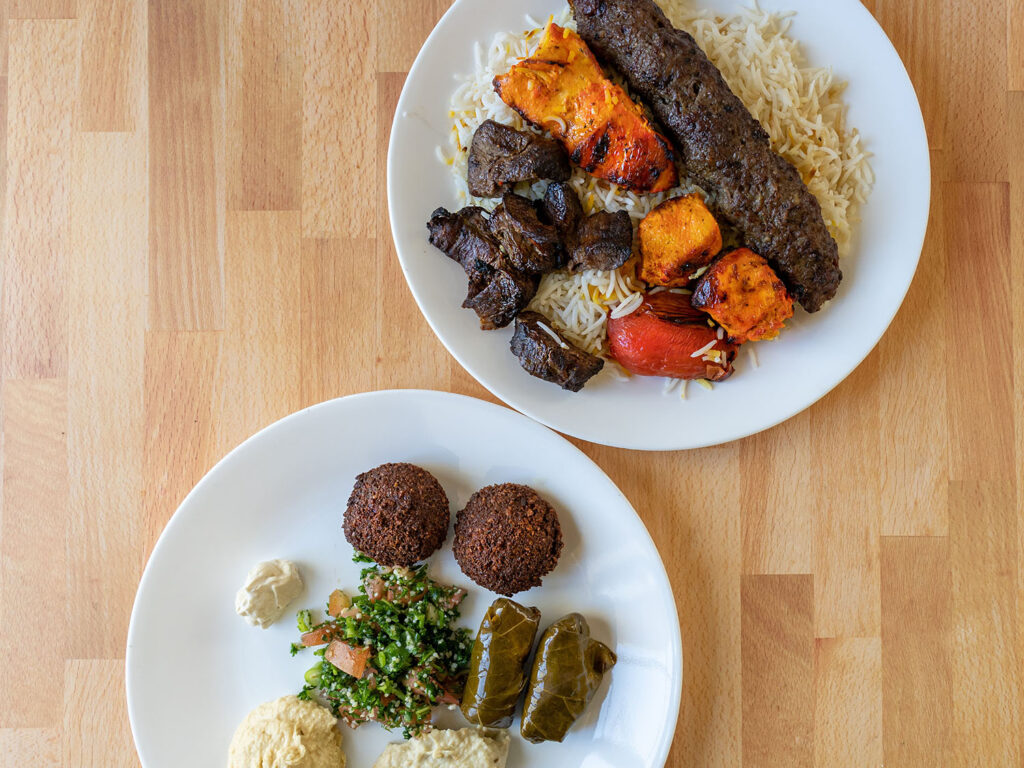 Cuisine: Middle Eastern
Address: 1615 2100 S, Salt Lake City, UT 84119
This Iranian market and restaurant offers some of my personal favorite food in West Valley City. If you find it hard to pick just one dish from the vibrant menu – don't. Grab a couple of heaving platters like that pictured above; a trio of kebobs on one and a vegetarian appetizer sampler on the other. Enough to share with the whole family. I wrote the following story about Shahrazad and their menu if you need a little more inspiration!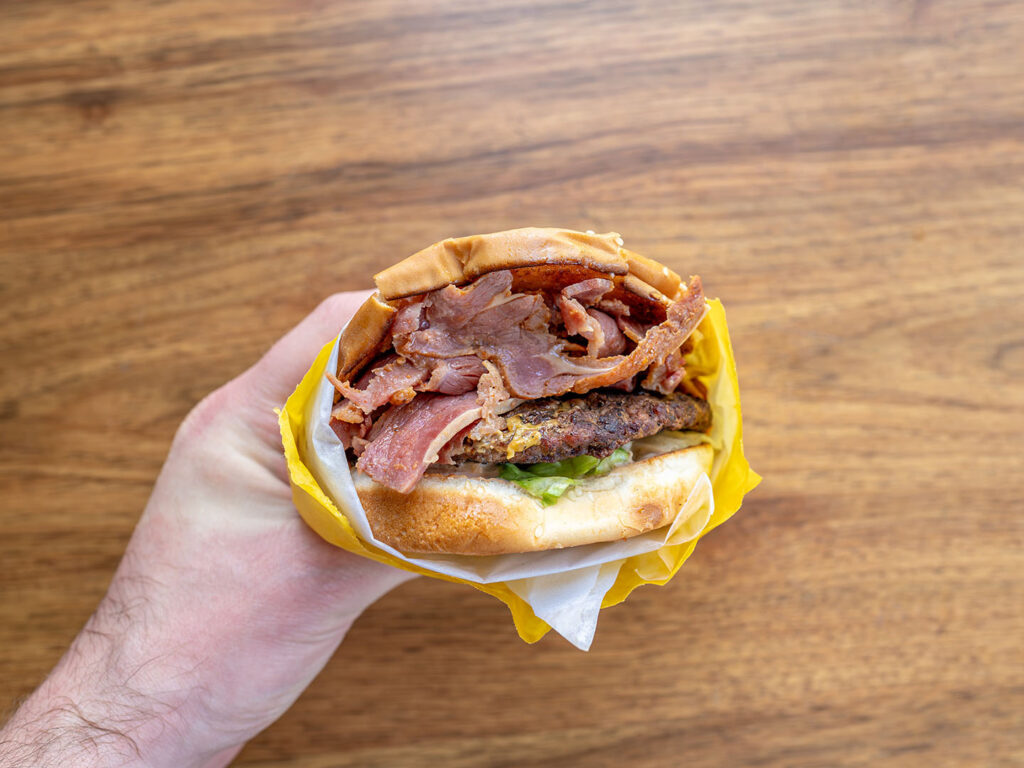 Cuisine: Burgers
Address: 2684 3200 W, West Valley City, UT 84119
A Utah original that people flock to, and not without good reason. For more than three decades the Katsanevas family have ran a tight ship offering a blend of American and Greek fast food. You'll find locations all over town, and debate about which is the best; but what you'll see flying out of the order window over and over is the signature Crown Burger. This mighty monster comes topped with a dizzying pile of juicy pastrami atop the flame grilled burger patty. If you're always looking to take things over the top like me – consider a side of gyro meat as a final embellishment. Then prepare for a nap.
Cuisine: Pakistani
Address: 3460 S Redwood Rd, Salt Lake City, UT 84119
Once upon a time I think this location in WVC was Zabiha Grill. Pictured is the lamb shinwari karahi from the latest occupants, Habibi Grill. With a limited number of Pakistani options in the valley, it's a dish I've not stumbled over before in Utah. You can read all about the dish in this story I wrote here, but suffices to say it's fabulous stuff; and again, relatively unique in Salt Lake City.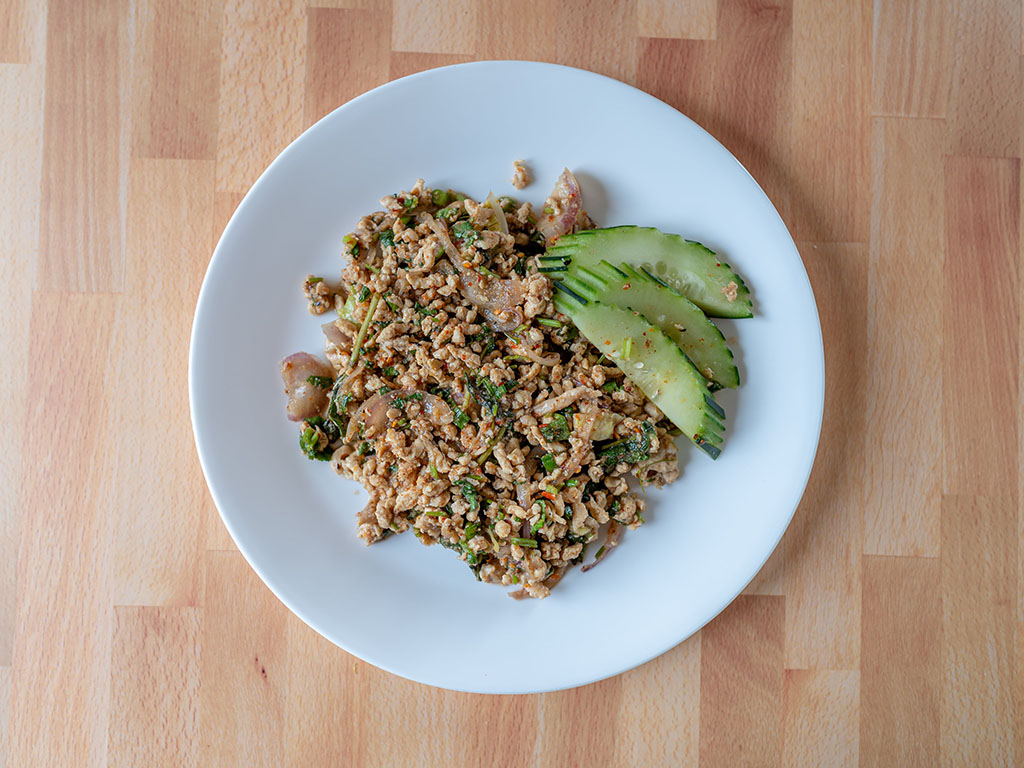 Cuisine: Thai
Address: 2222 W 3500 S, West Valley City, UT 84119
The menu at this West Valley City restaurant is one of our favorite Thai options in town. Alongside more routine Thai staples you will also find a number of Laotian dishes too. Tuk Tuk's does not pull any punches when it comes to the vibrant and spicy flavors of this South East Asian cuisine – if you order something spicy – you'd better like spicy food!
Cuisine: Mexican
Address: 2654 W 4700 S, Salt Lake City, UT 84129
This Mexican spot is just over the boundaries of the city into neighboring Taylorsville, but the mom and pop is absolutely worth considering if you're in the WVC area. The restaurant is home to nearly a dozen different taco styles, every last one is executed with aplomb. Pictured above are the al pastor, cochinita pibil and tinga de pollo. Tacos are provided on robust, single layered house made corn tortilla and come with all the toppings and sides you need to take your tacos to the next level. My particular favorite is the pineapple sharpened pastor pork. A little flurry of cilantro and diced white onion – perfection.
Paulinho's Contigu Peru
Cuisine: Peruvian
Address: 3411 S Redwood Rd, West Valley City, UT 84119
One of the states best Peruvian restaurants can be found over in West Valley City (amongst many others we should add). Try their fabulous roasted chicken, a signature of Peruvian cuisine – or their many chifa dishes – that take inspiration an influence form Chinese cooking.
Fat Fish
Cuisine: Japanese / sushi
Address: 1980 W 3500 S, West Valley City, UT 84119
From the folks that own Bucket O Crawfish just next door (and Sapa and Purgatory in SLC too) is this modest sushi restaurant. The focus is on modern maki rolls and the pricing is very wallet friendly. The space is clean and bright and there's a beer, wine and sake too.
Tonkotsu Ramen Bar
Cuisine: Japanese
Address: 1898 W 3500 S, West Valley City, UT 84119
This fun Japanese spot in WVC focuses specifically on big heaving bowls of delicious ramen. Alongside that you'll find other South East Asian fare like gyoza and bulgogi fries plus non ramen dishes like katsu curry and tonkatsu.
El Morelense
Cuisine: Mexican
Address: 2470 S Redwood Rd, Salt Lake City, UT 84119
Who did we miss?
If you think we're missing a really great addition to this list, please email us at stuart@gastronomicslc.com – we'd love to hear from you. Let us know who you think should be on this list and why. If you have a really great picture of one of more dishes, please send that too! We're always excited to check our more businesses!
Hi, I'm Stuart, nice to meet you!  I'm the founder, writer and wrangler at Gastronomic SLC.  I'm a multiple-award winning journalist and have written in myopic detail about the Salt Lake City  dining scene for the better part of seventeen years.
I've worked extensively with multiple local publications from Visit Salt Lake to Salt Lake Magazine, not least helped to consult on national TV.   Pause those credits, yep, that's me! I'm also a former restaurant critic of more than five years, working for the Salt Lake Tribune.    I'm largely fueled by a critical obsession with rice, alliteration and the use of big words I don't understand.   What they're saying about me: "Not inaccurate", "I thought he was older", "I don't share his feelings".
Want to know more? This is why I am the way I am.
Our sponsors and this page
This page may contain information about one of our sponsors. We only work with the very best businesses in the state, and routinely turn down offers to work with businesses we don't enjoy. If we can't hand on heart recommend them - they can't be a sponsor.
At this time we have the following sponosrs: BTG, Caffe Molise, The Dough Miner, Downtown Alliance, Feldman's Deli, Flanker, Garage On Beck, Hearth And Hill, Hill's Kitchen, Kao Thai, Kin Sen Asian Noodle Bar, Kyoto, LemonShark Poke, Log Haven, Oasis Cafe, Pirate O's Gourmet Market, SLC Eatery, Squatter's Downtown Salt Lake City, Stoneground Italian Kitchen, Urban Hill, Wasatch Brew Pub Sugar House, Whiskey Street, White Horse.
I encourage you to Google any of our sponsors and see the stellar reviews on multiple sites that they enjoy. For a list of all our current and past relationships see our partnership history page.