Compiling a best lunches list isn't as simple as it sounds. It isn't just a matter of naming twenty great restaurants around the SLC. A good lunch spot needs to deliver more than just excellent eats. Can the restaurant get you in and out the door in a timely fashion? Are there lighter bites that will leave you feeling raring to go for the afternoon? What about grab and go bites when you're in a rush? The following list of restaurants fill all those needs and more. They also happen to be places I personally enjoy.
I'll start with my own personal favorite spots around the valley. From there I'll move onto the various neighborhoods, North to South pointing out some great places to stop by for lunch if you're in the area. After that – a few more special mentions for good measure.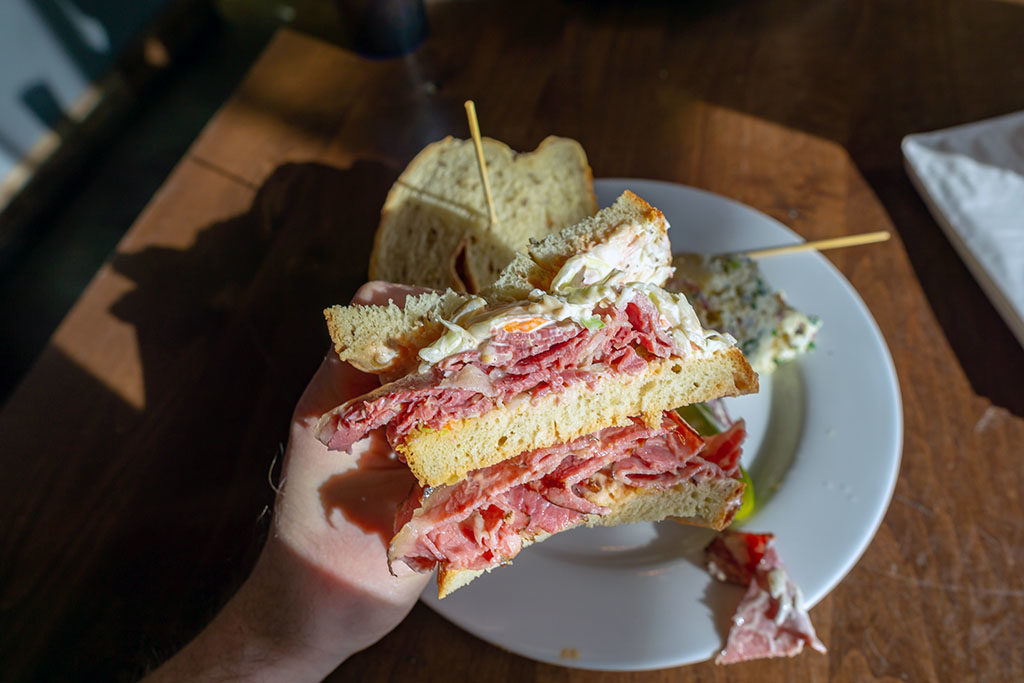 Feldman's Deli
Neighborhood: Sugar House
Address: 2005 E 2700 S, Salt Lake City, UT 84109
Over on the East side of town you'll find Feldman's Deli – one of. my personal favorite places to grab a lunch with friends. It's a slice of NYC and Jersey right here in SLC. That's because owner Michael Feldman hails from back East, and when moving to Utah, brought with him all his favorite lunch specials: over stuffed corned beef sandwiches, reubens and yes, classic NYC cheese steak. Note: Feldman's 1/2lb sandwiches might just run you lunch and dinner all by themselves.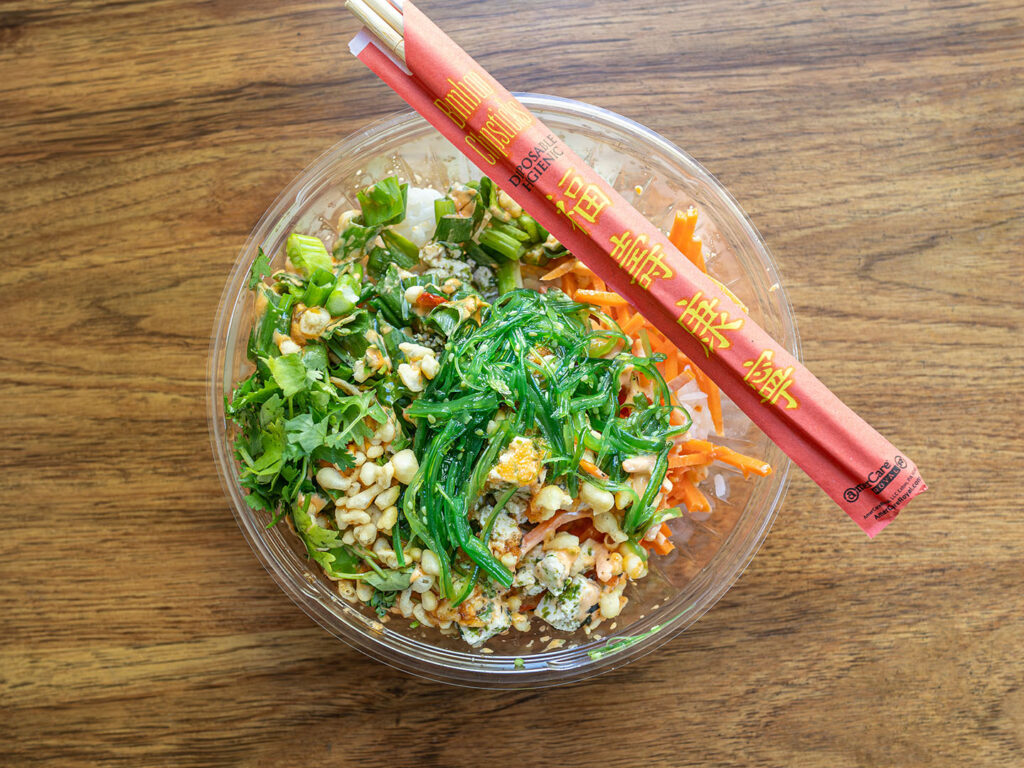 LemonShark Poke
Neighborhood: Downtown SLC
Address: 6 E Broadway, Salt Lake City, UT 84111
The boutique chain operates around a dozen stores, and lucky for us, there's one in the heart of downtown SLC. The Hawaiian-informed menu was crafted by chef Brunson Achiu and shines with bright, fresh flavor. The restaurant offers a great grab and go option, especially if you select one of the pre-built poke bowl options. You're also free to linger a little longer over the menu board and craft the bowl of your dreams too. Seaweed salad over tofu furikake? No problem.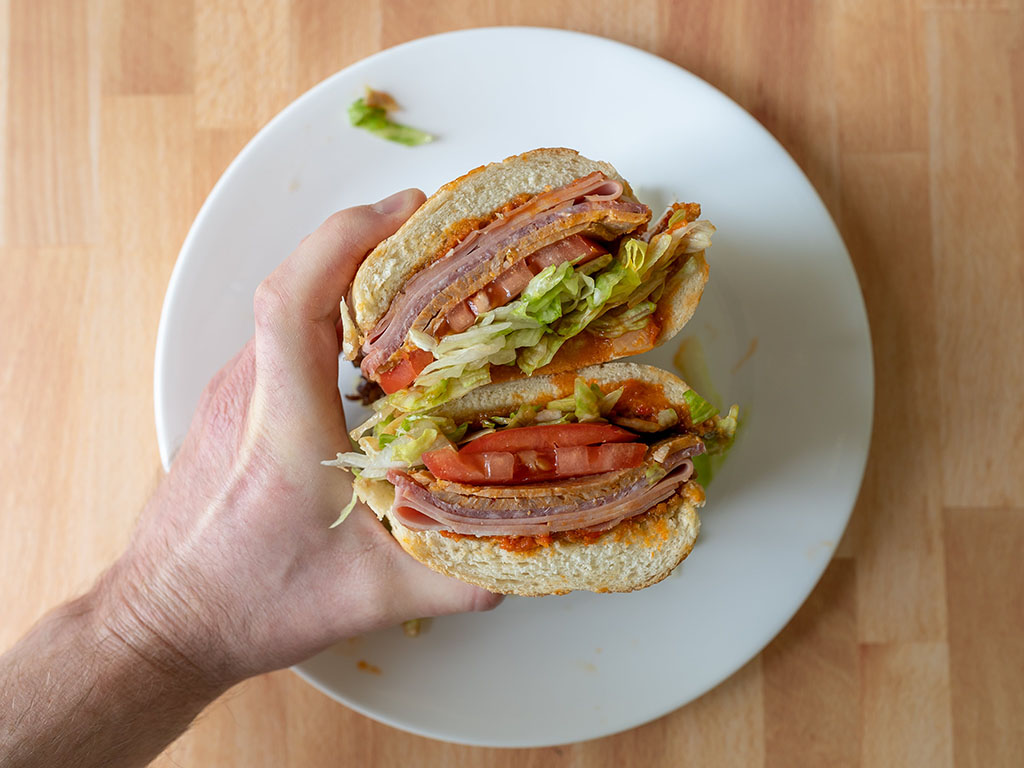 Caputo's
Neighborhood: Downtown SLC, 15th and 15th, Holladay
Now with three locations (downtown, 15th and 15th and Holladay) in town, Caputo's is one of the legendary food names in Utah and with good reason. The eclectic market slash restaurant offers a familiar experience wherever you visit. The signature Caputo sandwich is a must try for lunch, but any of the carefully crafted deli sandwiches are solid choices.
Dough Miner
Neighborhood: Granary District / Central 9th
Address: 945 S 300 W, Salt Lake City, UT 84101
This is my choice for when lunch needs to be a grab and go pit stop. You can be in and out of the door here in mere minutes; bagels, donuts and pastys slung under your arm for the road ahead. Pastys? You can read more about this savory pastry specialty in my original story on Dough Miner here. The 411 though is that these hearty English-borne baked pastries are the ideal food for life on the go. They're available at Dough Miner in a range of options including the cheekily played funeral potato pasty pictured above.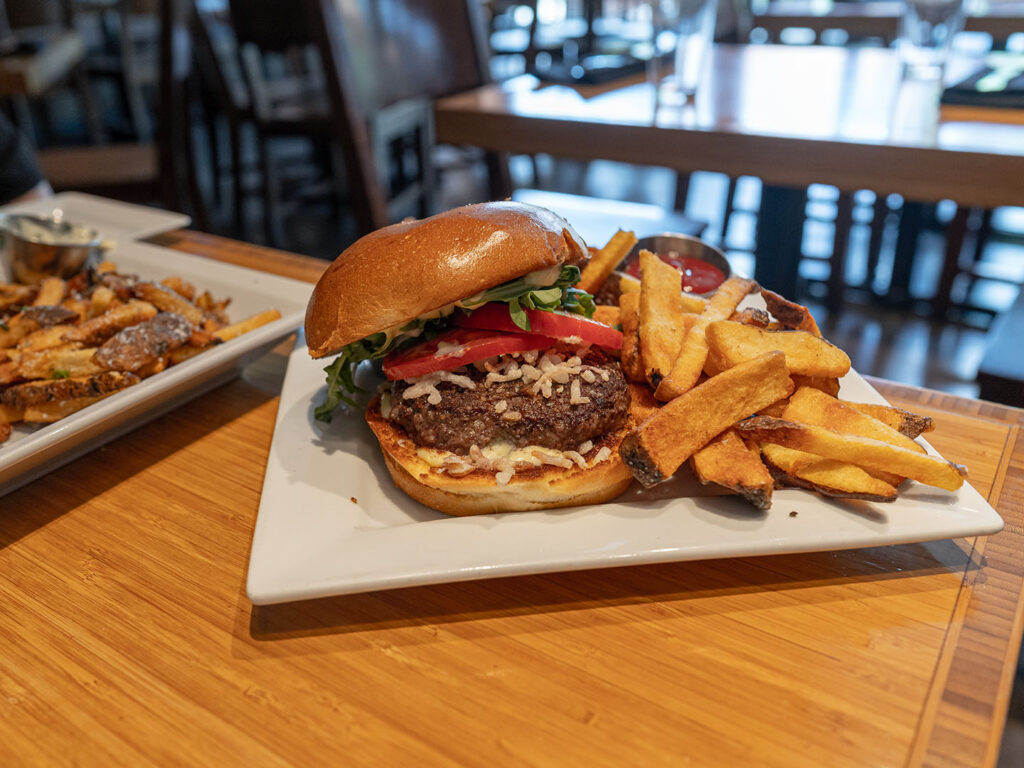 Avenues Proper
Neighborhood: Avenues
Address: 376 8th Ave, Salt Lake City, UT 84103
This craft brewer is now part of the fabric of the Avenues, and with good reason. Their fun menu changes seasonally and always features great chef-driven dishes. The burger is a solid choice any time of the year and the outdoor patio makes for a beautiful al fresco lunch experience in Spring and Summer. Stop by Hatch Family Chocolates after you visit too for a sweet treat.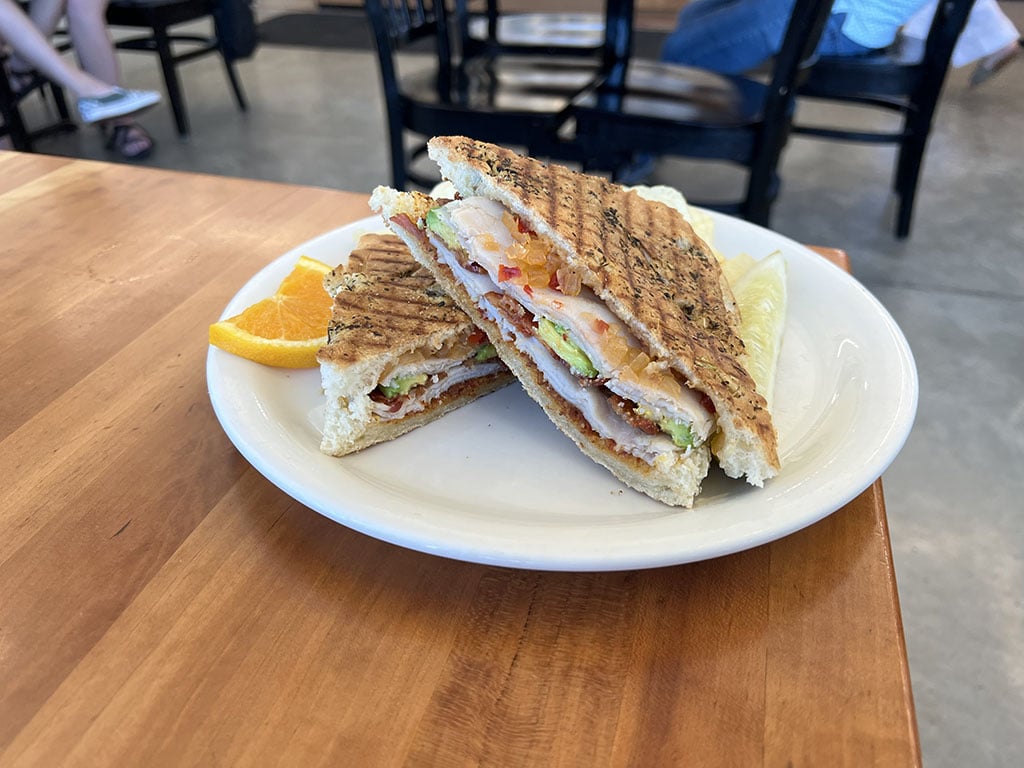 Delice Bakery & Cafe
Neighborhood: South Salt Lake
Address: 2747 S State St, South Salt Lake, UT 84115
This one should be no secret to those who love to lunch around Salt Lake City. Found on busy Main Street in South Salt Lake, the cafe offers sandwiches, salads, grilled panini and a fabulous roster of sweet and savory house baked goods. It's practically impossible to leave a meal here without a take out order for your next meal too. You've been warned.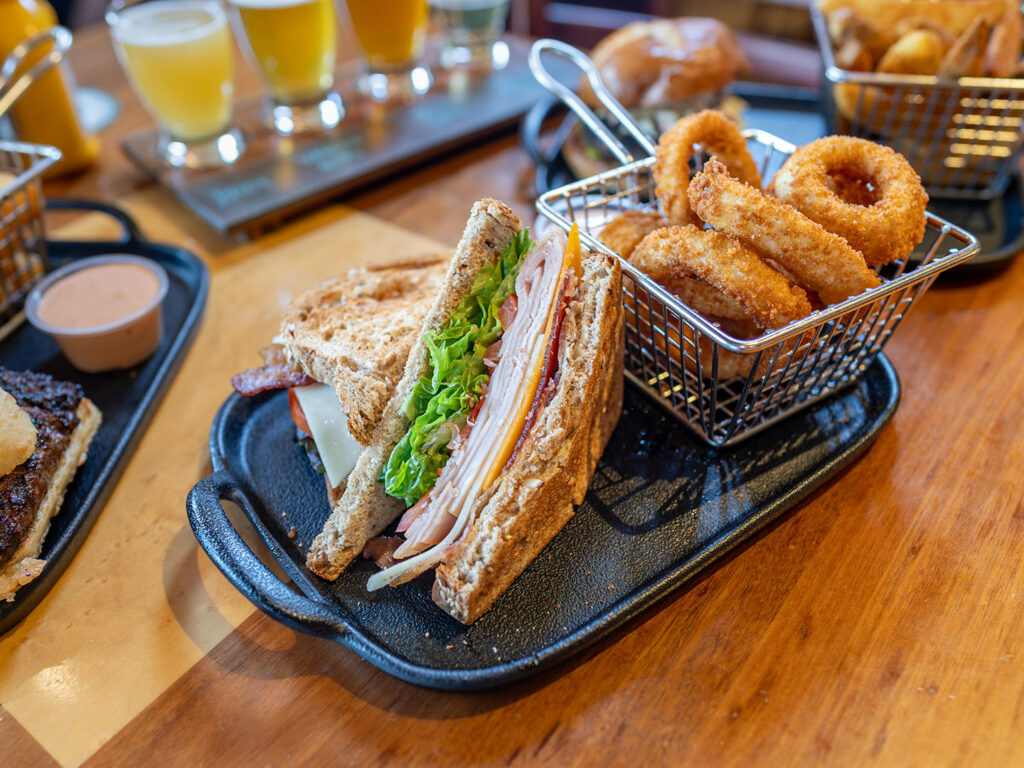 Salt Lake Brewing Co
Neighborhood: Downtown SLC
Address: 147 W Broadway, Salt Lake City, UT 84101
An icon of the downtown Salt Lake Cty dining scene for more than thirty years and for good reason. This is Utah's original brewpub, and one replete with a suitably classic pub menu. Open for lunch, the crowds flock here, drawn by the large space and extensive menu; the huge room makes a good destination for groups. Lighter salads, sandwiches and burgers, as well as heartier entrees all make for good lunch picks if you're in the downtown SLC area.
Best lunches by neighborhood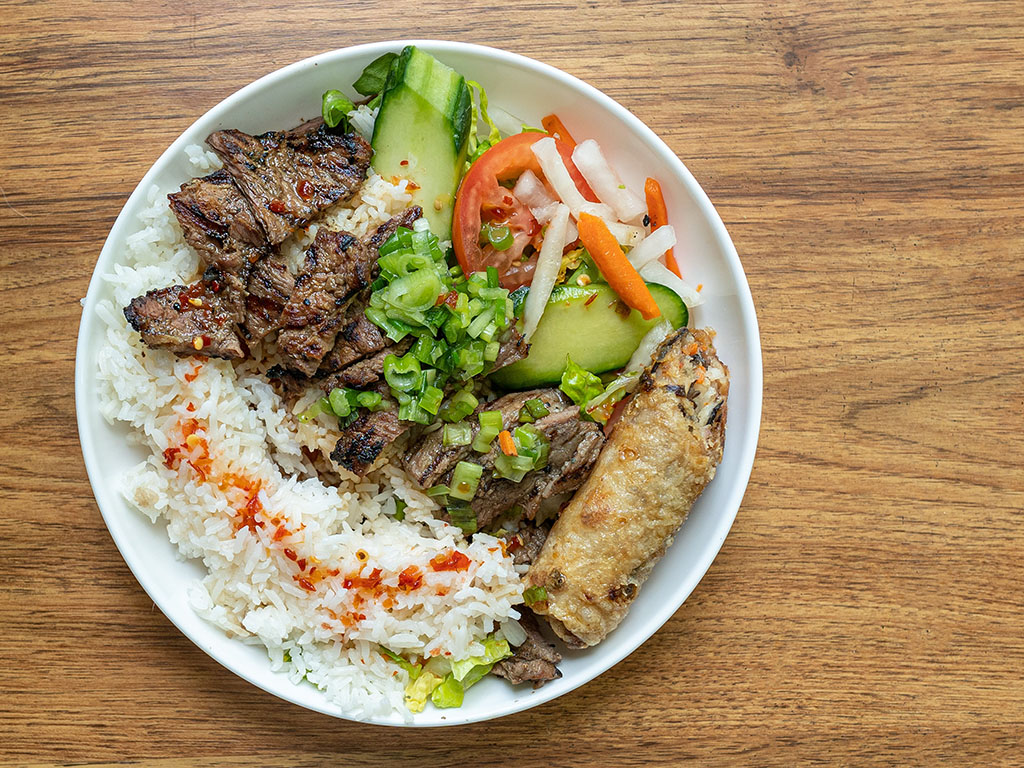 Sugar House – SOMI Vietnamese Bistro
Stunningly vibrant Vietnamese cuisine can be found right in the heart of Sugar House. SOMI is a modern restaurant with an upscale aesthetic and a menu replete with Vietnamese classics. Rice dishes, noodle dishes, fresh salads and a range of Chinese dishes like Peking Duck make for a mouth watering menu. Check out the cocktail wine and beer menu too. The restaurant has a special lunch menu featuring their Chinese dishes at cheaper prices.
1215 E. Wilmington Ave, Suite 100, Salt Lake City, UT 84106
somislc.com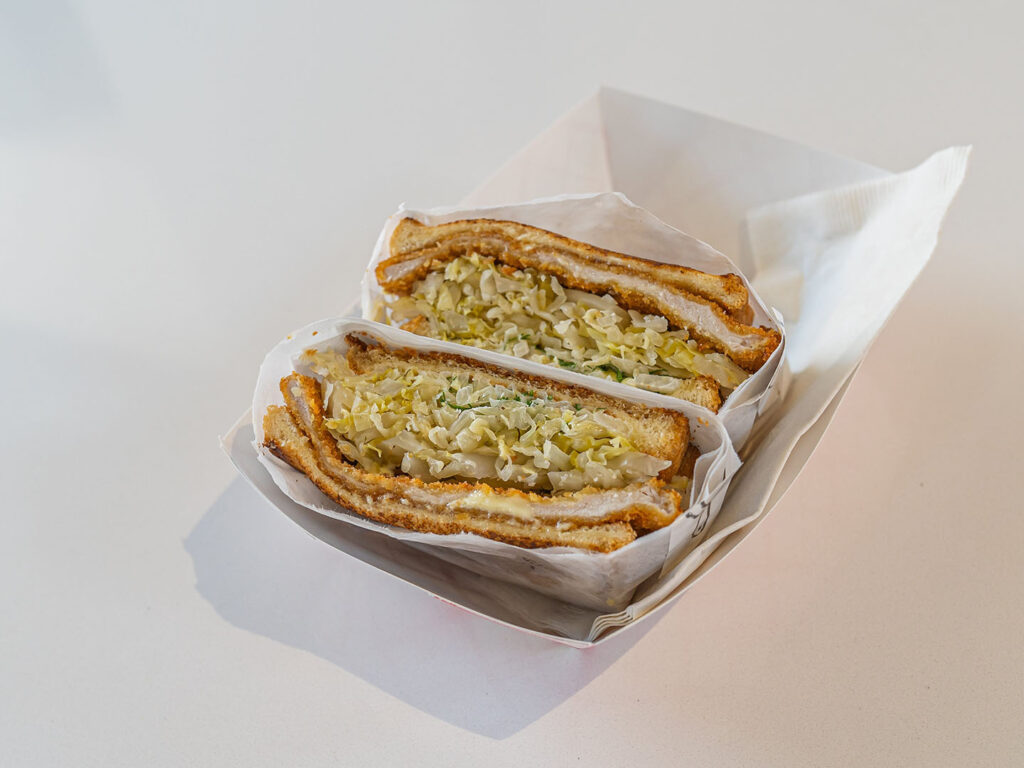 Granary District – Woodbine Food Hall
This Granary District food hall was several years in the making, but following the repurposing of the former Rico Food's warehouse space, it looks like a million bucks. Actually, quite a few more than that went into the stunning makeover. The food hall makes for the perfect quick and casual lunch – a variety of vendors, and a seat yourself approach at the long communal seating that runs North through South.
Options include Dead Pan Sandwich (pictured, sandwiches), Taco Lady (tacos), Yakuza Ramen (ramen), Taste of Louisiana (various Southern dishes), 3 Cups (coffee and pastries) and Mozz (pizza).
545 West 700 S, Salt Lake City, UT 84101
woodbineslc.com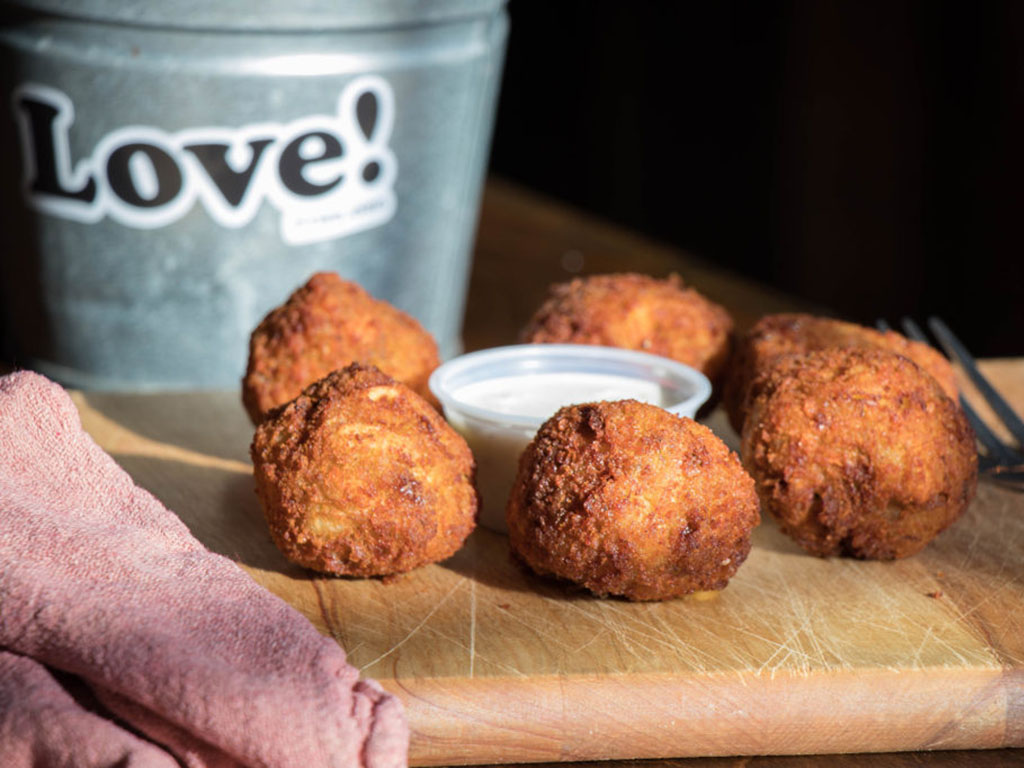 Marmalade – Garage On Beck
Head just a few minutes North of downtown to the Marmalade neighborhood and check out this local's hangout. The 21+ only bar is a perfect spot for dinner offering sandwiches, burgers and their signature Mormon funeral potatoes – small fried cheesy potato bites.
199 Beck St, Salt Lake City, UT 84103
garageonbeck.com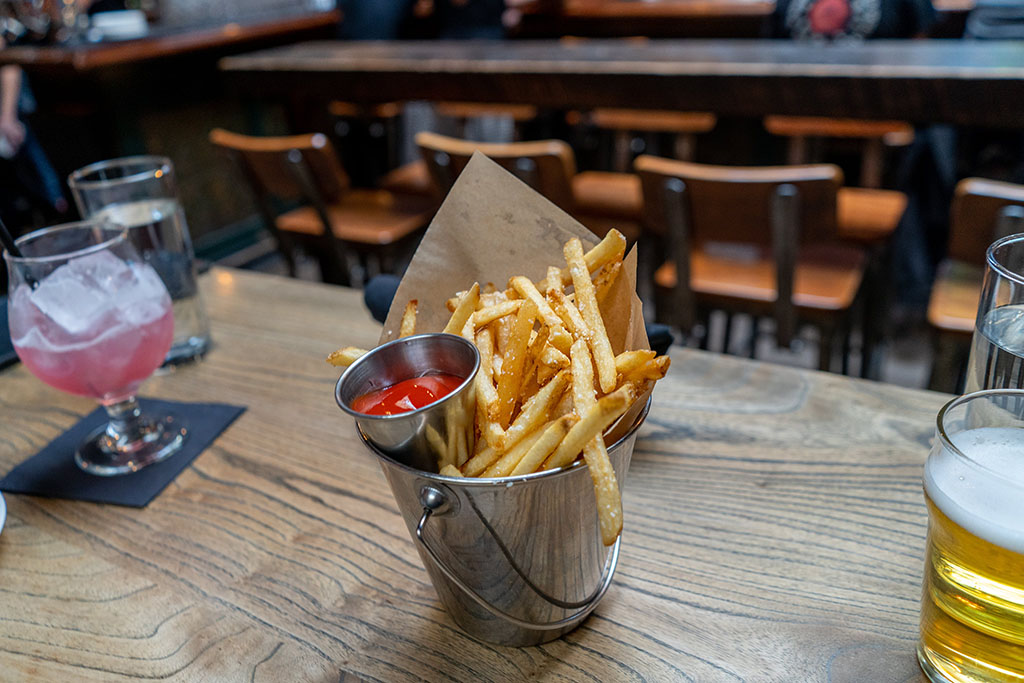 Main Street – Whiskey Street
This downtown bar (21+ only) is a popular spot for evening drinks and dining – but stop by during the day and you skip the thronging crowds you'll find at night. Open seven days a week for lunch, the vibe is much more calm and collected.
323 Main St, Salt Lake City, UT 84111
whiskeystreet.com
Cottonwood Heights – The Angry Korean
Looking for a fun lunch spot in the South or South West of the valley? Don't look any further than this fun modern take on Korean flavors. The guys at The Angry Korean take dishes like cheesesteaks and tacos and fuse them with Korean ingredients. There's killer fried chicken, house made sauces and soy plus more authentic dishes like rice bowls with japchae and mandoo dumplings.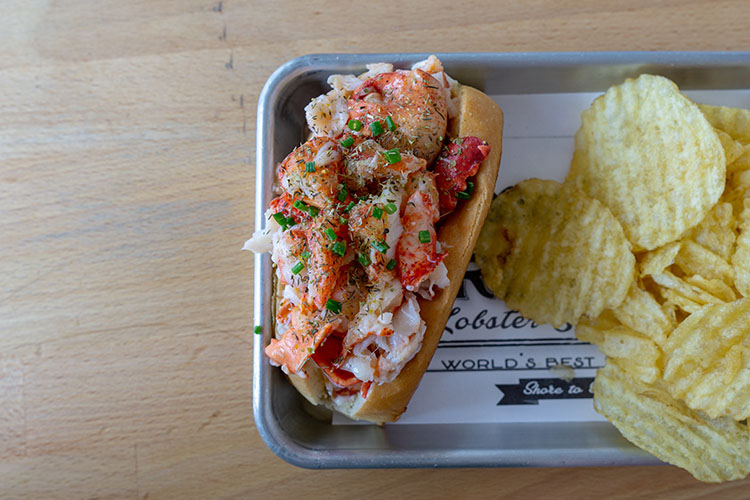 Liberty Park – Freshies Lobster Co.
East coast imported lobster, mayo, lashings of butter and a soft roll – life doesn't get much better right? Enjoy all of these together on Freshie's award winning lobster rolls for a perfectly decadent lunch.
356 East 900 South, Salt Lake City, UT 84111
freshieslobsterco.com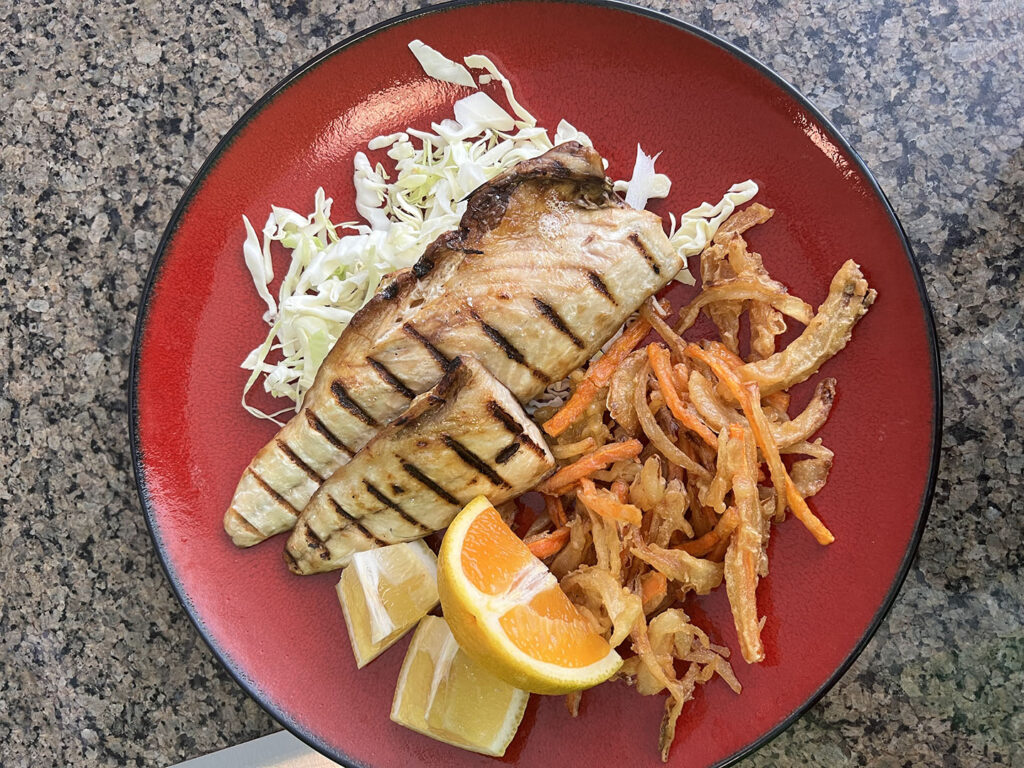 Millcreek – Tanabata Japanese Restaurant
For a more modest lunch turn to the sushi menu at this new for 2023 Japanese spot. Maki, nigiri and sashimi are all available as are larger cooked entrees. Both make for good lunch options.
633 E 3300 S, Salt Lake City, UT 84106
tanabataus.com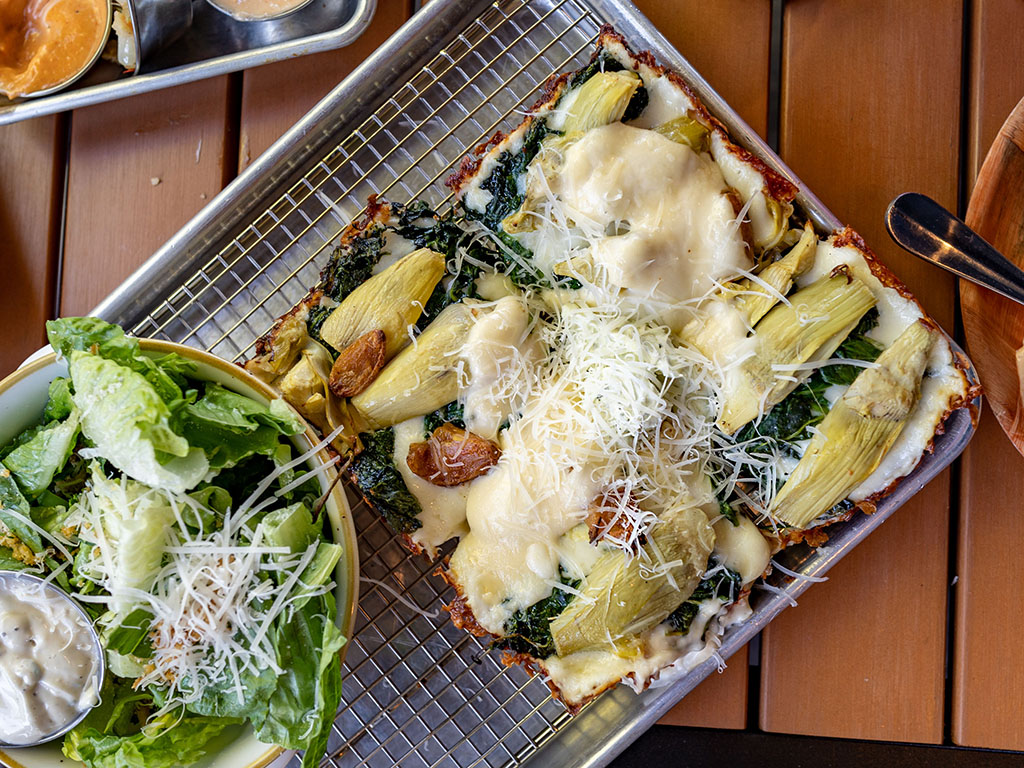 9th and 9th – Bricks Corner
Bricks Corner offers Detroit-style pizza – think deep dish pan pizza like Chicago-style and you're in the right ballpark. Bricks might be your next favorite neighborhood hangout spot too – offering a full bar, cool patio and fun space.
1465 S 700 E, Salt Lake City, UT 84105
brickscornerslc.com
Central 9th – Central 9th Market
This corner market in the heart of the trendy Central 9th area is beloved for their carefully crafted sandwiches. The house baked bread is always the star of the show.
161 W 900 S, Salt Lake City, UT 84101
central9th.com
Canyon Rim – Gurkha's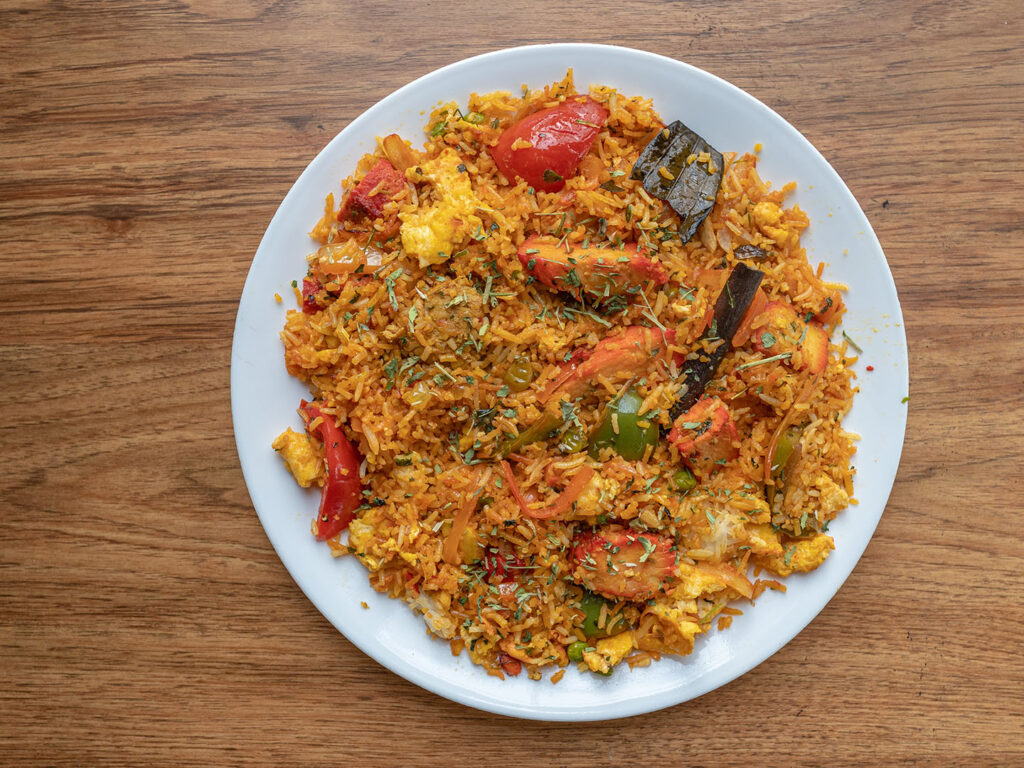 From some of the team behind Highland Drive's Kathmandu, which itself was from some of the team behind downtown SLC's Himalayan Kitchen way back when. Gurkhas offers a strong Indian and Nepalese menu that always executed reliably.
3025 E 3300 S, Salt Lake City, UT 84109
gurkhas.pizzamico.com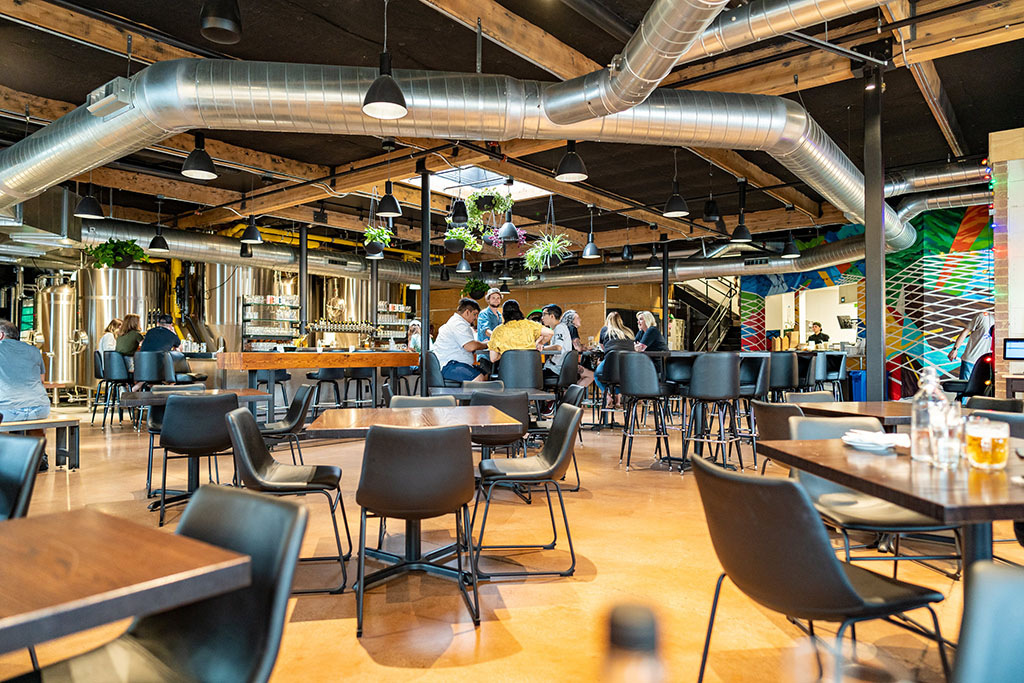 South Salt Lake – Grid City Beerworks
Grid City is a 21+ space, and as well as some of the best brews in town, also offers an accessible food menu. Build around pub classics like fish and chips and burgers, Grid City is also well known for a stellar vegan line up too.
333 2100 S, South Salt Lake, UT 84115
gridcitybeerworks.com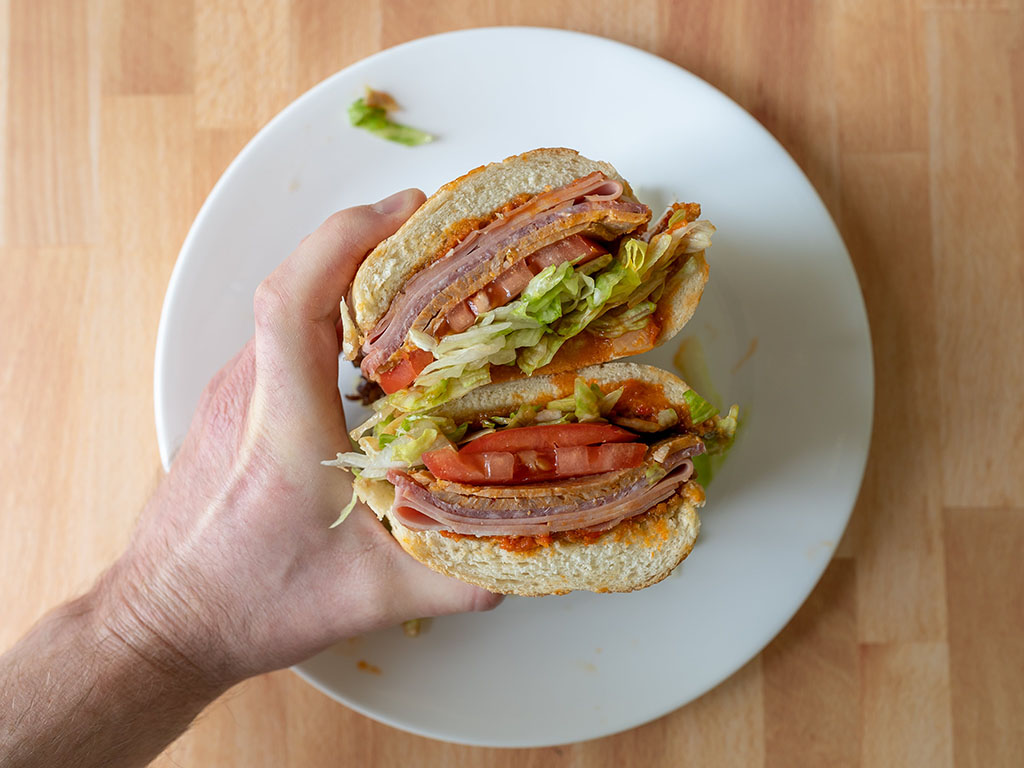 Holladay – Caputo's
Located in the heart of Holladay, Caputo's offers their range of handsomely crafted sandwiches. The restaurant offers a counter ordering setup, and you simply seat yourself, indoors or out.
4673 S 2300 E, Holladay, UT 84117
caputos.com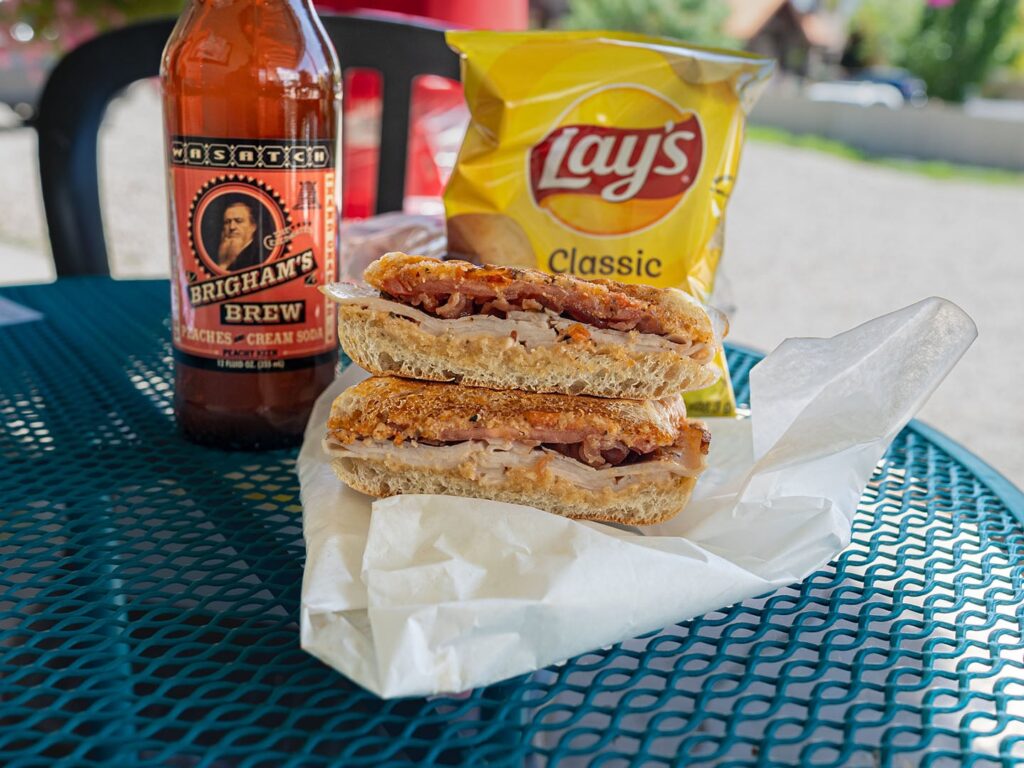 Draper – Pirate O's Gourmet Market
Lunch at a specialty food store? Yep, hear me out. Pirate O's in Draper is one of the best kept lunch secrets in town. hidden amonsgt the myriad aisles of imported candy, cheeses and more is a first class sandwich counter. The menu offers both simpler cold cuts as well as grilled panini and they're easily some of the best in the city. What's more you can grab a bottle of soda from the eclectic soda selection which features dozens upon dozens of unique brands you mightn't have ever heard of before.
11901 S 700 E, Draper, UT 84020
pirate-os.com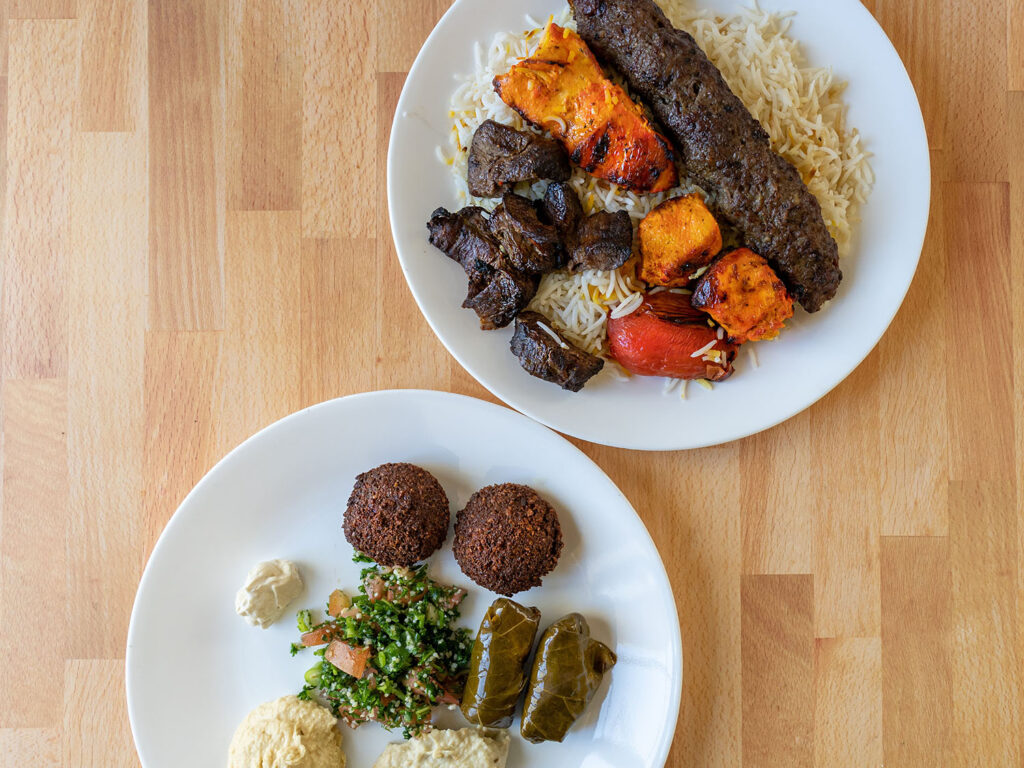 Best lunch in West Valley City
This Iranian market and restaurant offers our favorite food in West Valley City. If you find it hard to pick just one dish from the vibrant menu – don't. Grab a couple of heaving platters like that pictured above; a trio of kebobs on one and a vegetarian appetizer sampler on the other. Enough to share with the whole family.
1615 2100 S, Salt Lake City, UT 84119
shahrazadslc.com
Who did we miss?
If you think we're missing a really great addition to this list, please email us at stuart@gastronomicslc.com – we'd love to hear from you. Let us know who you think should be on this list and why. If you have a really great picture of one of more dishes, please send that too! We're always excited to check our more businesses!
Maybe also check out
Maybe we can tempt you to something else delicious while you're here? Check out these other detailed guides, some of the most popular pages on our website:
Hi, I'm Stuart, nice to meet you!  I'm the founder, writer and wrangler at Gastronomic SLC.  I'm a multiple-award winning journalist and have written in myopic detail about the Salt Lake City  dining scene for the better part of seventeen years.
I've worked extensively with multiple local publications from Visit Salt Lake to Salt Lake Magazine, not least helped to consult on national TV.   Pause those credits, yep, that's me! I'm also a former restaurant critic of more than five years, working for the Salt Lake Tribune.    I'm largely fueled by a critical obsession with rice, alliteration and the use of big words I don't understand.   What they're saying about me: "Not inaccurate", "I thought he was older", "I don't share his feelings".
Want to know more? This is why I am the way I am.
Our sponsors and this page
This page may contain information about one of our sponsors. We only work with the very best businesses in the state, and routinely turn down offers to work with businesses we don't enjoy. If we can't hand on heart recommend them - they can't be a sponsor.
At this time we have the following sponosrs: BTG, Caffe Molise, The Dough Miner, Downtown Alliance, Feldman's Deli, Flanker, Garage On Beck, Hearth And Hill, Hill's Kitchen, Kao Thai, Kin Sen Asian Noodle Bar, Kyoto, LemonShark Poke, Log Haven, Oasis Cafe, Pirate O's Gourmet Market, SLC Eatery, Squatter's Downtown Salt Lake City, Stoneground Italian Kitchen, Urban Hill, Wasatch Brew Pub Sugar House, Whiskey Street, White Horse.
I encourage you to Google any of our sponsors and see the stellar reviews on multiple sites that they enjoy. For a list of all our current and past relationships see our partnership history page.