1 – Taqueria 27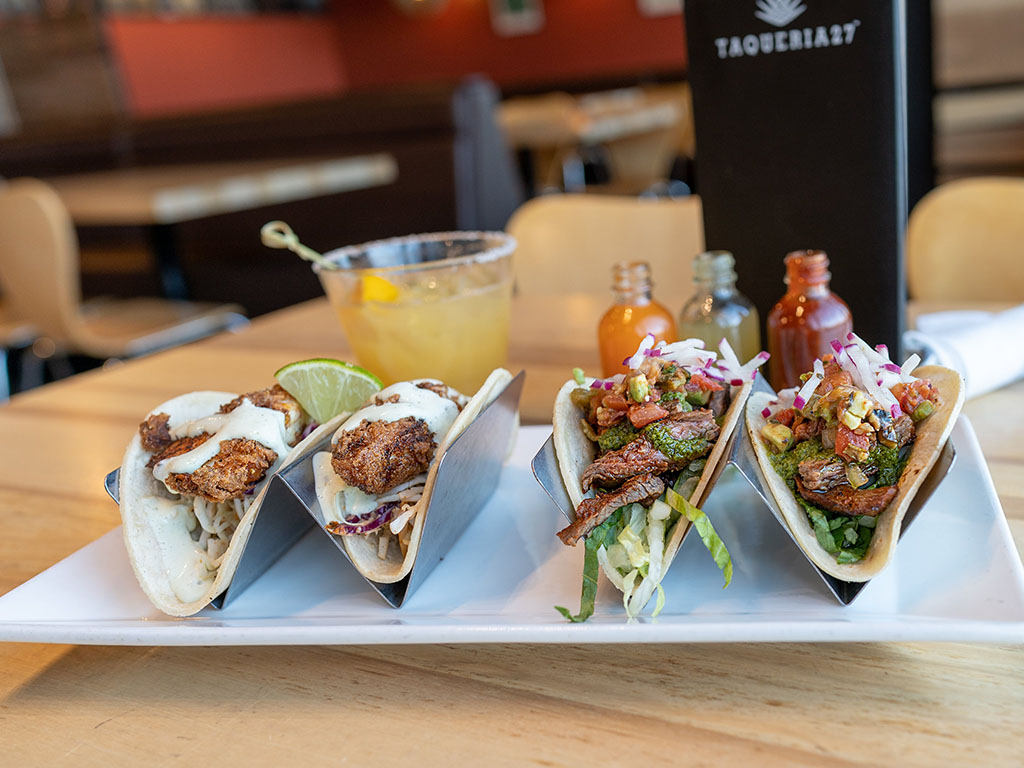 What's for lunch? Tacos, that's what! Not just any tacos mind you, the fresh cuisine at Taqueria 27 is crafted with care and precision – at all five locations. Yep, wherever you are in the valley, you're close to a T27 location, and all five are open for lunch.
On the menu you'll find a contemporary take on one of our favorite foods; that means tacos loaded with gourmet selections such as slow cooked short rib or chipotle spiked duck confit.
You'll also find small bites and salads if you're looking for a lighter lunch, plus more substantial enchilada options if you're looking to load up too.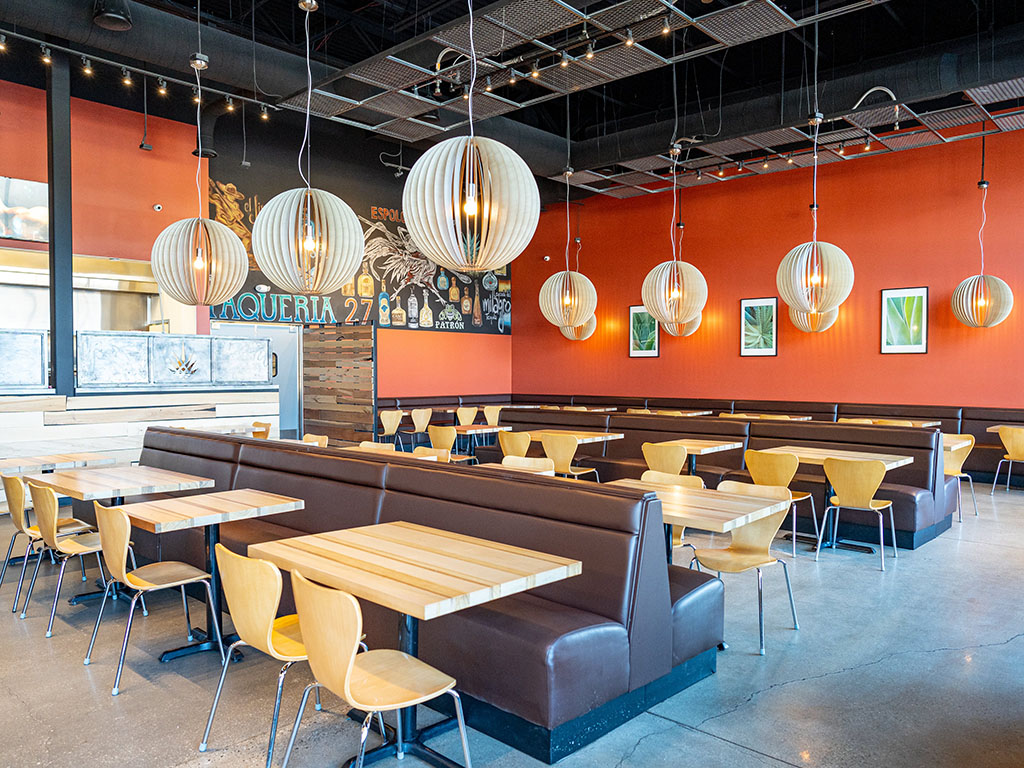 Moreover, every visit to T27 is always offers something unique and fun to explore. Every location offers GODs, TODs and MODs. Wait, errr what? That's guacamole, taco and margarita of the day to you!
That ever changing menu is offered alongside a full bar (with one of the largest tequila selections in Utah) not to mention every location is chic, modern and comfortable. If you're looking for something different for lunch that the regular boring old soup and sandwich, T27 would be our first stop!
Foothill | 1615 S Foothill Dr., SLC, 84108 | (385) 259-0712
Holladay | 4670 S Holladay Village Plaza, Holladay, 84121 | (801) 676-9706
Downtown | 149 E 200 S, SLC, 84111 | (385) 259-0940
Murray | 6154 S. Fashion Blvd, Murray, 84107 | (801) 266-2487
Lehi | 1688 W Traverse Parkway, Lehi, 84043 | (801) 331-8033
Brunch menu
We're proud to have Taqueria 27 as the sponsor for this page.
2 – Ascent Kitchen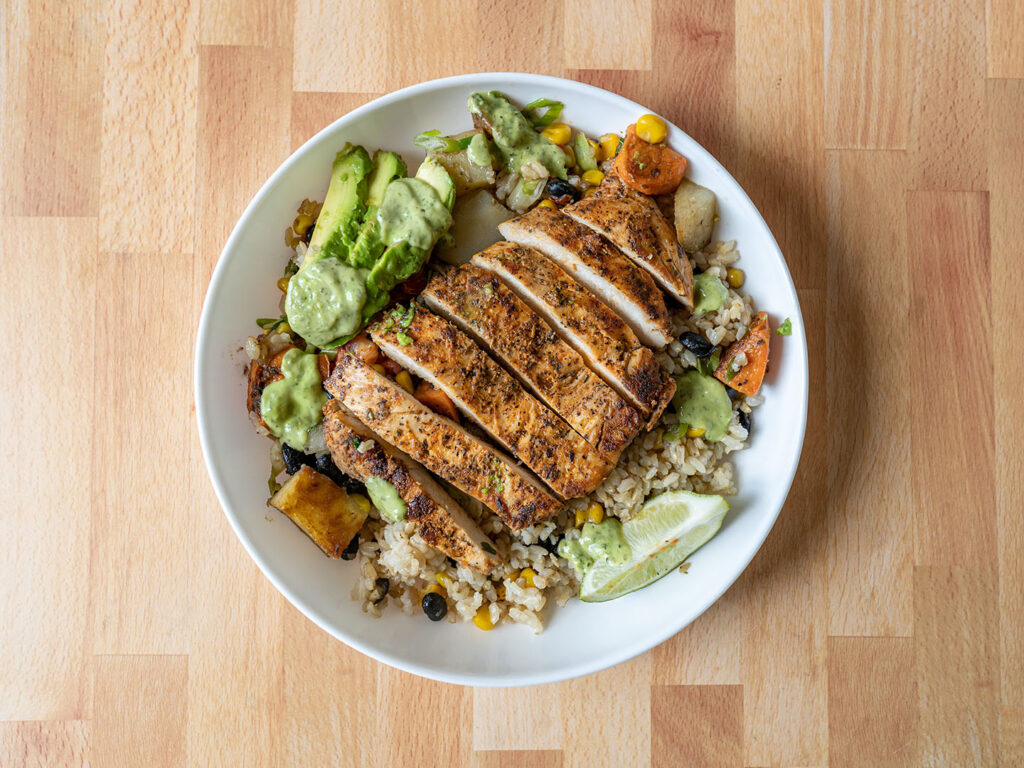 This healthy eats spot has three locations across the valley – downtown, Liberty Park and Sandy. The menu at Ascent Kitchen is build around salads, bowls, sandwiches and small entrees. Whatever you pick, you can ensure the dish will be prepared at light speed and offer a light and healthy lunch option.
49 E Gallivan Ave, Salt Lake City, UT 84111 | (801) 456-2513
439 E 900 S, Salt Lake City, UT 84111 | (385) 267-1092
9645 S State St, Sandy, UT 84070 | (385) 557-4986
ascent.kitchen
3 – Feldman's Deli
Over on the East side of town you'll find Feldman's Deli – a slice of NYC and Jersey right here in SLC. That's because owner Michael Feldman hails from back East, and when moving to Utah, brought with him all his favorite lunch specials: over stuffed corned beef sandwiches, reuebens and yes, classic NYC cheese steak. Note: Feldman's 1/2 sandwiches might just run you lunch and dinner all by themselves.
2005 E 2700 S, Salt Lake City, UT 84109
(801) 906-0369
feldmansdeli.com
4 – SOMI Vietnamese Bistro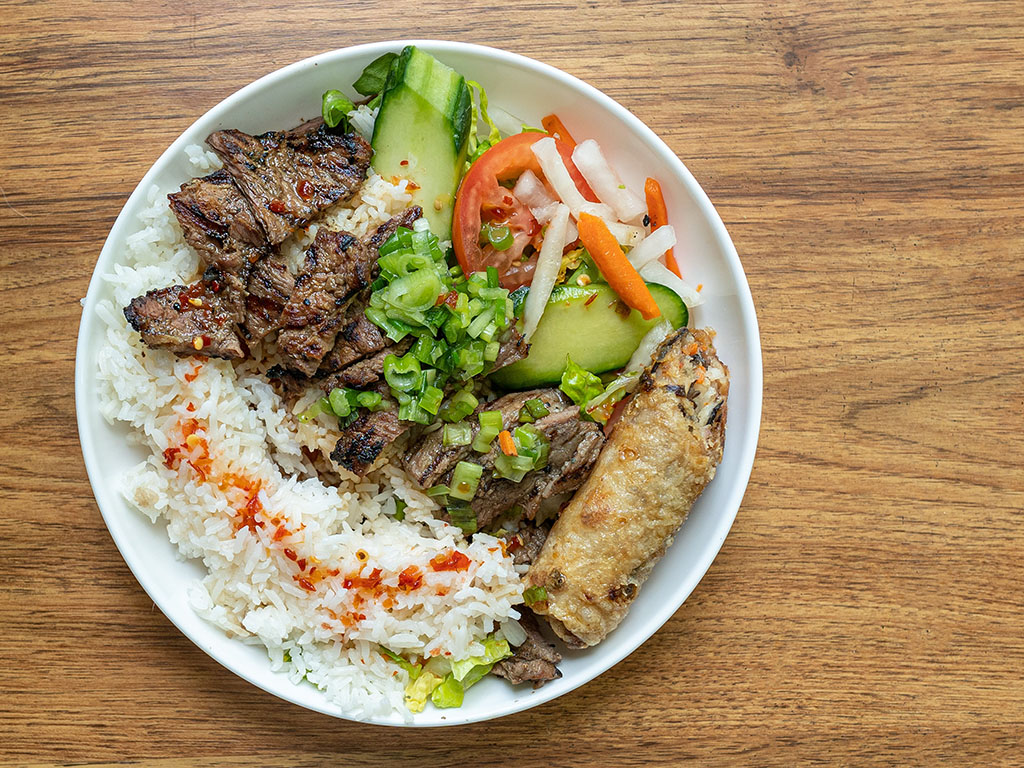 Stunningly vibrant Vietnamese cuisine can be found right in the heart of Sugar House. SOMI is a modern restaurant with an upscale aesthetic and a menu replete with Vietnamese classics. Rice dishes, noodle dishes, fresh salads and a range of Chinese dishes like Peking Duck make for a mouth watering menu. Check out the cocktail wine and beer menu too. The restaurant has a special lunch menu featuring their Chinese dishes at cheaper prices.
1215 E. Wilmington Ave, Suite 100, Salt Lake City, UT 84106
(385) 322-1158
somislc.com
5 – Desert Edge Pub
Tucked away inside the cool Trolley Square shopping mall is this fun brewpub that delivers on all fronts: great beer, great staff, great food. Stop by for lunch and can choose from a range of International flavors that skew toward Mexican and Italian in particular. If you don't have time for a long lingering lunch, the crew will have you in and out in double quick time too.
273 Trolley Square, Salt Lake City, UT 84102
(801) 521-8917
desertedgebrewery.com
6 – Les Madeleines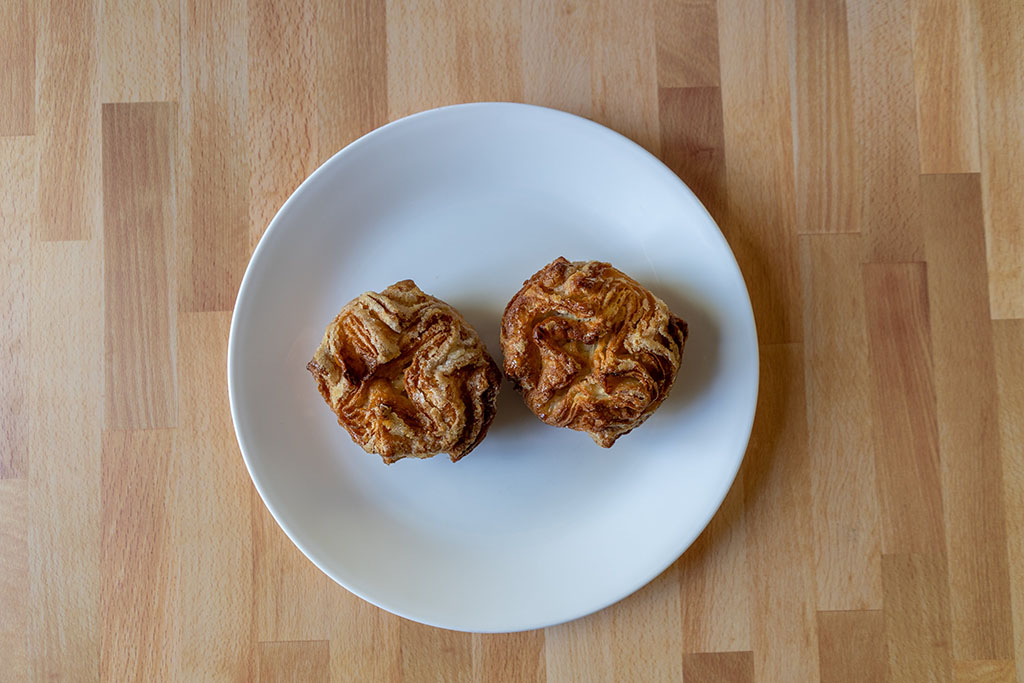 Another fun downtown lunch spot is this cute little cafe ran by chef and owner, Romina Rasmussen. Les Madeleines is Rasmessen's odes to her globe trotting travels on a plate. From the boulangeries of Paris to the street food of Asia – every item on the eclectic lunch menu reflects her experiences. Les Mad' as it's affectionately known by locals its well know (even name checked by Oprah) for their Kouing Aman – buttery French pastries like no other – but in truth, everything here is made with care and prevision.
216 E 500 S, Salt Lake City, UT 84111
(801) 355-2294
lesmadeleines.com
7 – Little Saigon
If you're craving vibrant flavors for lunch, come to Oh Mai. Specifically, Oh Mai is Utah's goto destination for first rate banh mi sandwiches – a hybrid French/Vietenamese creation available in a number of formats. The restaurant offers a classic banh mi with pate and various meats through to more conptempory flavors like garlic butter rib eye and honey glazed pork. Bonus points: pretty much every sandwich is $4-$6 and ready in minutes.
Various locations
ohmaisandwich.com
8 – Whiskey Street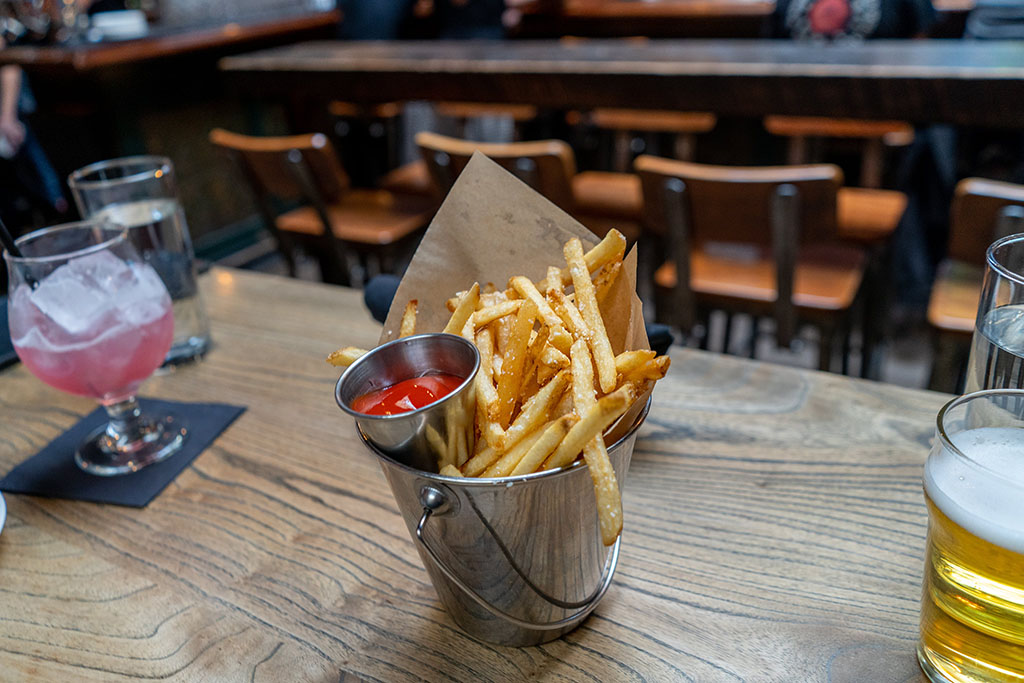 This downtown bar (21+ only) is a popular spot for evening drinks and dining – but stop by during the day and you skip the thronging crowds you'll find at night. Open seven days a week for lunch, the vibe is much more calm and collected.
323 Main St, Salt Lake City, UT 84111
(801) 433-1371
whiskeystreet.com
9 -The Angry Korean
Looking for a fun lunch spot in the South or South West of the valley? Don't look any further than this fun modern take on Korean flavors. The guys at The Angry Korean take dishes like cheesesteaks and tacos and fuse them with Korean ingredients. There's killer fried chicken, house made sauces and soy plus more authentic dishes like rice bowls with japchae and mandoo dumplings.
11587 District Main Dr Suite 300, South Jordan, UT 84095
(801) 307-8300
facebook.com/theangrykorean/
10 – Freshies Lobster Co.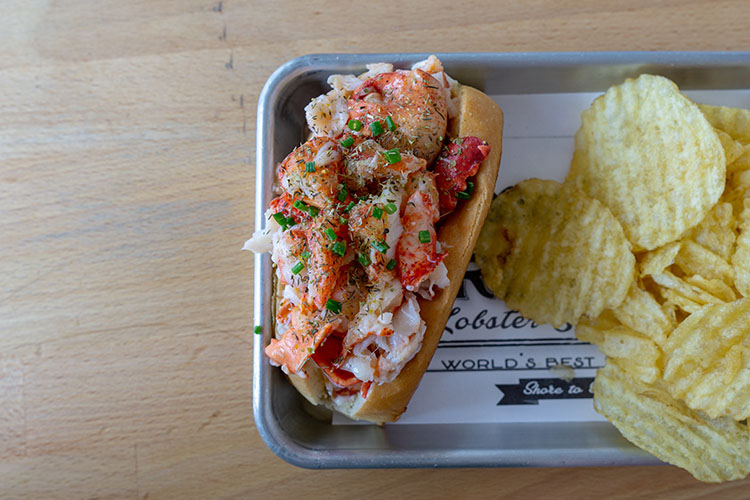 East coast imported lobster, mayo, lashings of butter and a soft roll – life doesn't get much better right? Enjoy all of these together on Freshie's award winning lobster rolls for a perfectly decadent lunch.
356 East 900 South, Salt Lake City, UT 84111
(801) 829-1032
freshieslobsterco.com
Best lunch in the neighborhood
Lets hit the streets and look around the valley. For more ideas for great lunches in Salt Lake City, check out our recommendation around the various neighborhoods.
Best lunch in the Avenues
Avenues Proper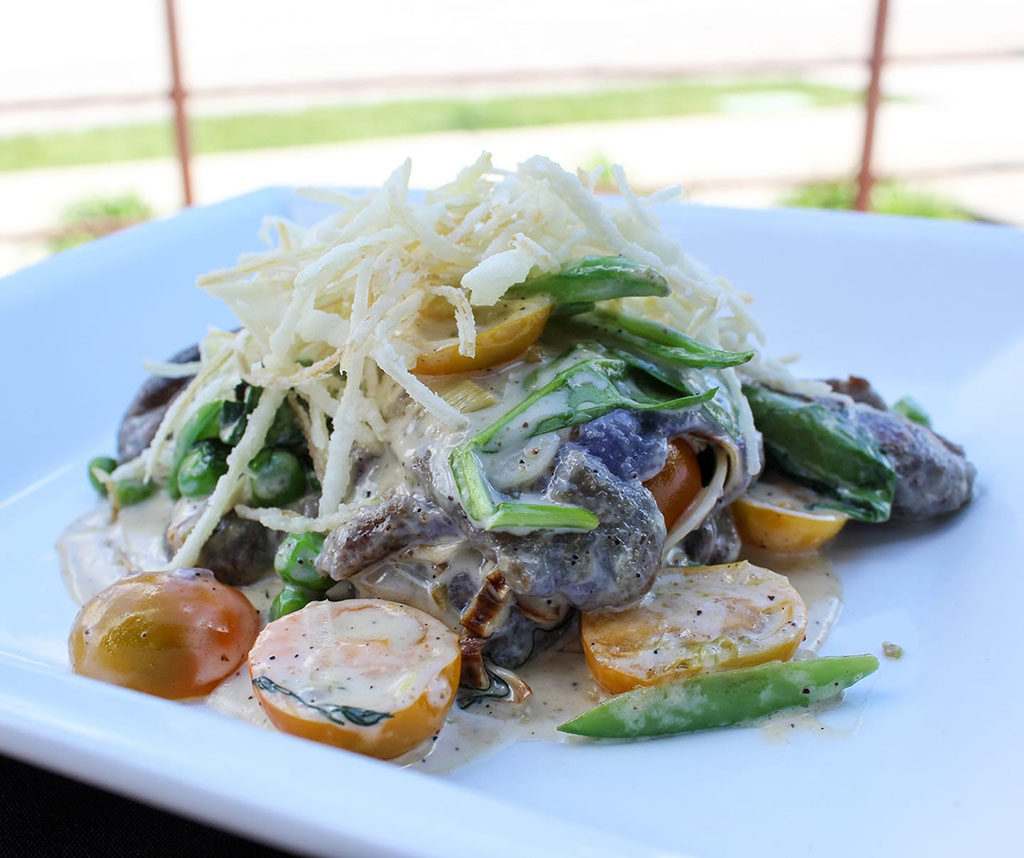 This craft brewer is now part of the fabric of the Avenues, and with good reason. Their fun menu changes seasonally and always features great chef-driven dishes.
376 8th Ave, Salt Lake City, UT 84103
(385) 227-8628
avenuesproper.com
Best lunch in South Salt Lake
Grid City Beerworks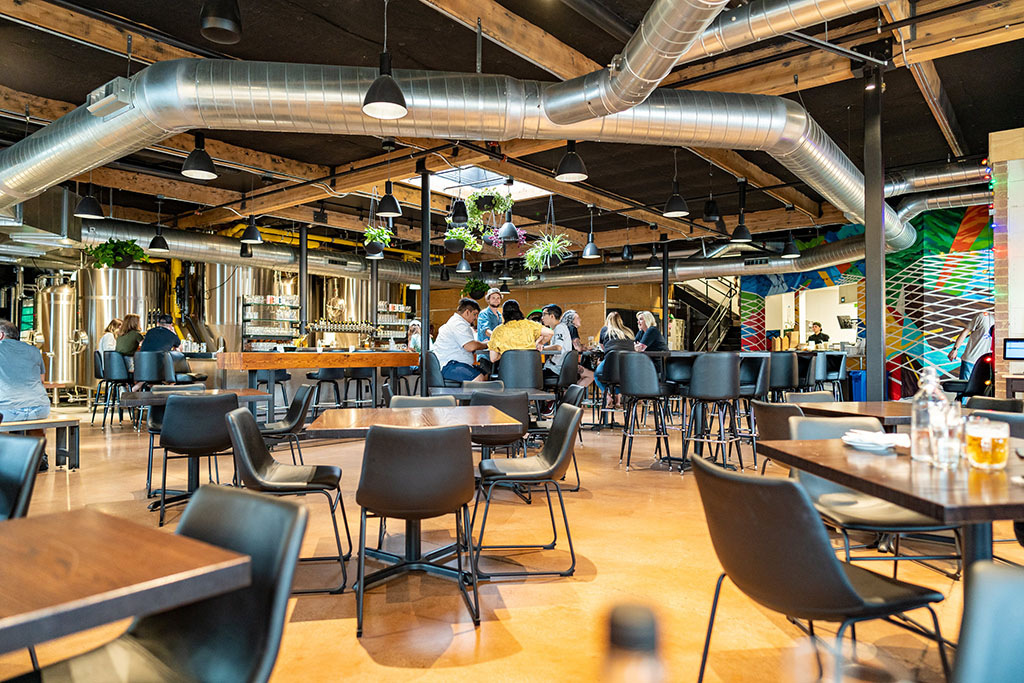 Grid City is a 21+ space, and as well as some of the best brews in town, also offers an accessible food menu. Build around pub classics like fish and chips and burgers, Grid City is also well known for a stellar vegan line up too.
333 2100 S, South Salt Lake, UT 84115
(801) 906-8390
gridcitybeerworks.com
Best lunch in Holladay
Caputo's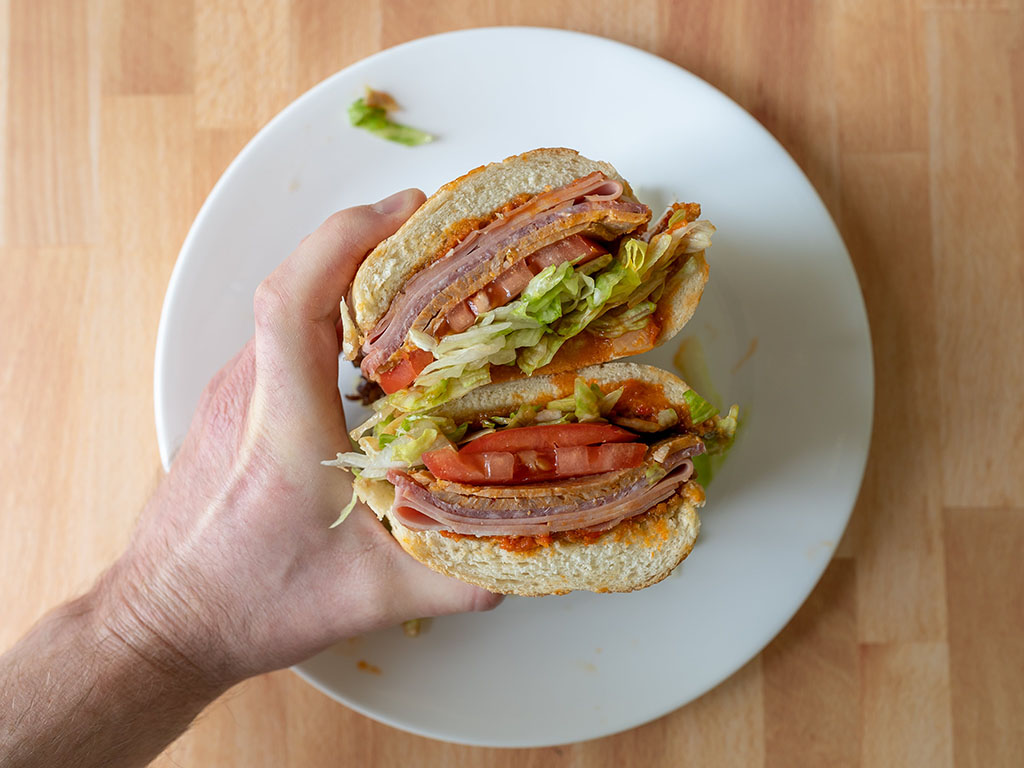 Located in the heart of Holladay, Caputo's offers their range of handsomely crafted sandwiches. The restaurant offers a counter ordering setup, and you simply seat yourself, indoors or out.
4673 S 2300 E, Holladay, UT 84117
(801) 272-0821
caputos.com
Best lunch in Sandy
Ascent Kitchen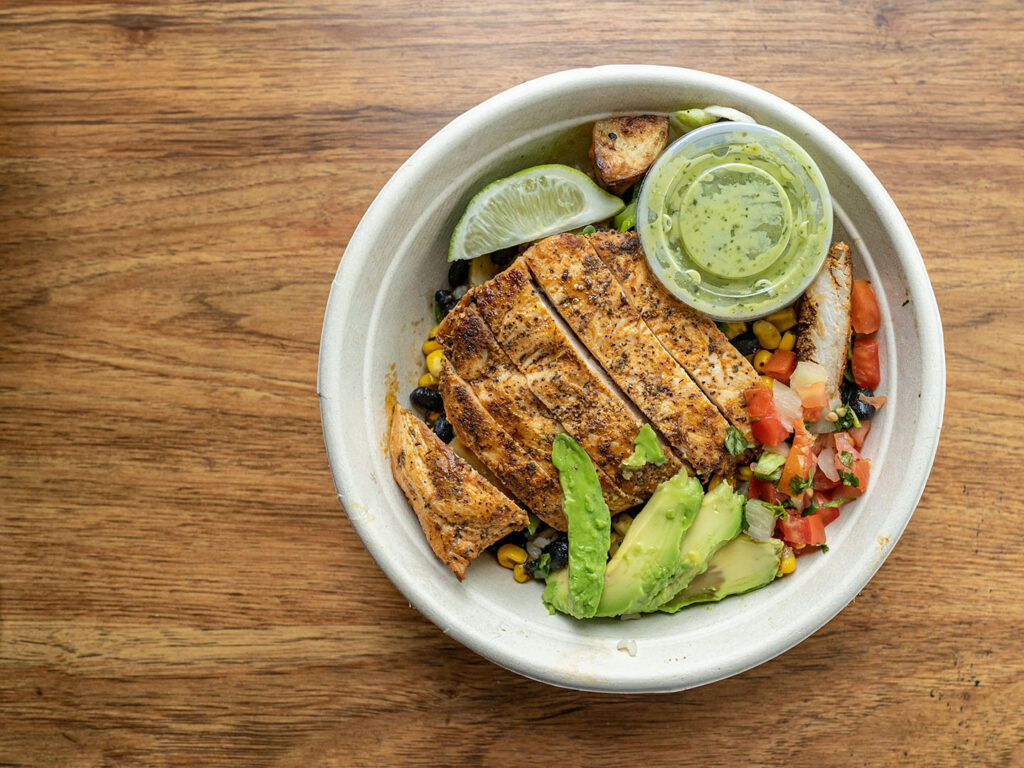 Grab an order of their cilantro lime chicken and thank us later. This is one of the best sellers at Ascent – a lovely mix of brown rice, corn, beans, pico, potatoes and more.
9645 S State St, Sandy, UT 84070 | (385) 557-4986
ascent.kitchen
Some other ideas for lunch in SLC
Best lunch in a rush – IndieGo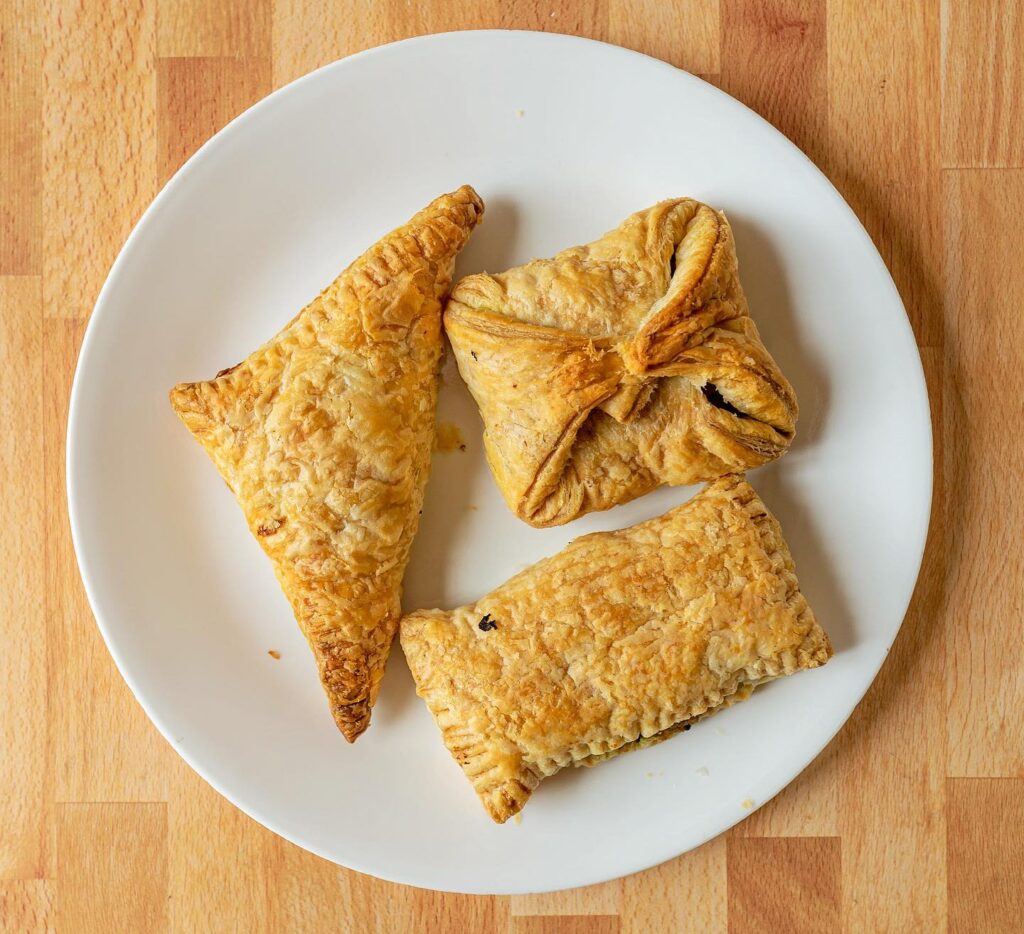 This South Salt Lake coffee shop makes an ideal spot to snag a drink and a grab and go treat. As well as the usual array of coffee and teas, you'll also find some fun savory puff pastries stuffed with Indian flavors. Chicken tikka, paneer, samosa-like potato – they're all fabulous.
3310 S 500 E, South Salt Lake, UT 84106
(801) 819-4911
Best business lunch – Pago On Main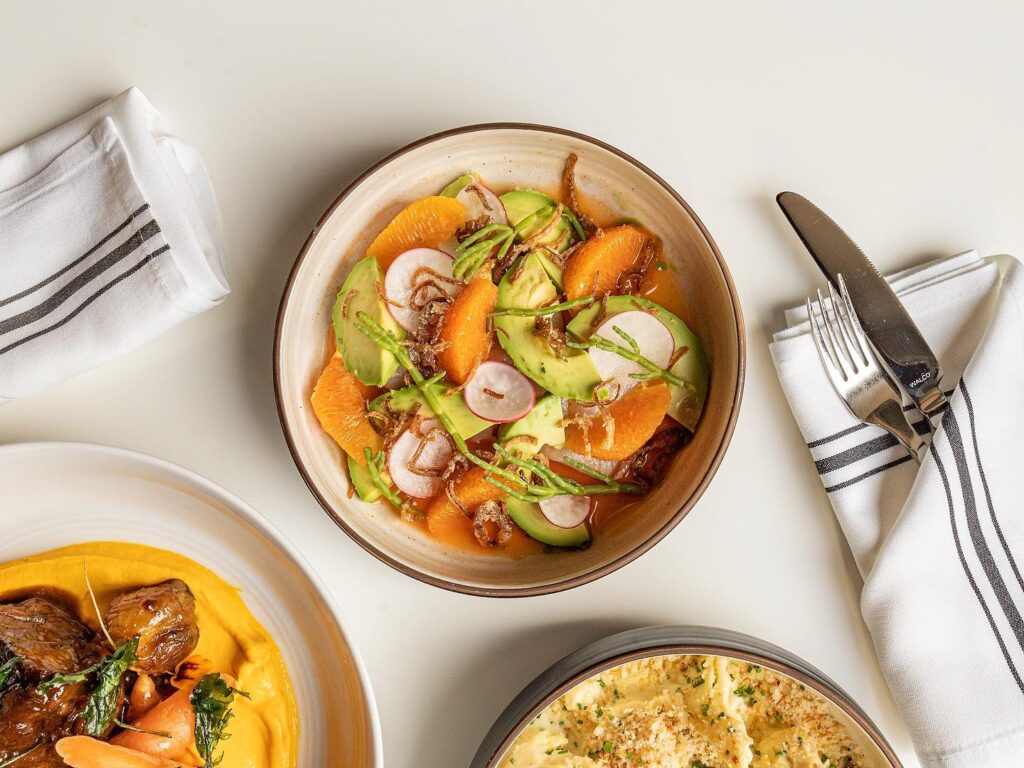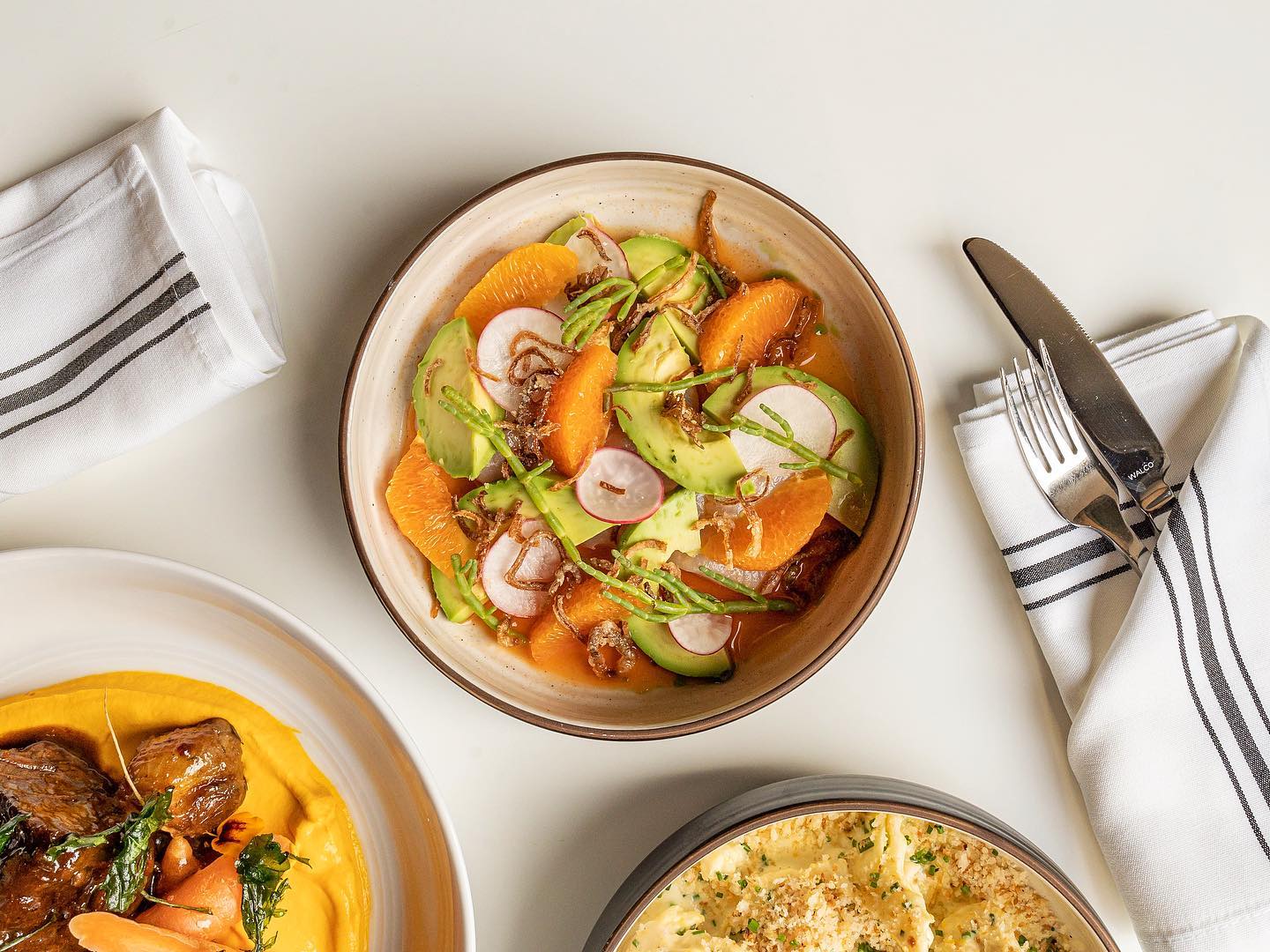 Located on lively Main Street in the heart of downtown SLC, Pago On Main makes for an excellent choice for a business lunch. A well trained staff, approachable yet impressive menu and chic interior tick all the boxes. The restaurant also doesn't close between lunch and dinner, should that important meeting run over.
41 S Main St, Salt Lake City, UT 84111
(801) 441-2955
pagoslc.com
Best cheap lunch – Taqueria Los Lee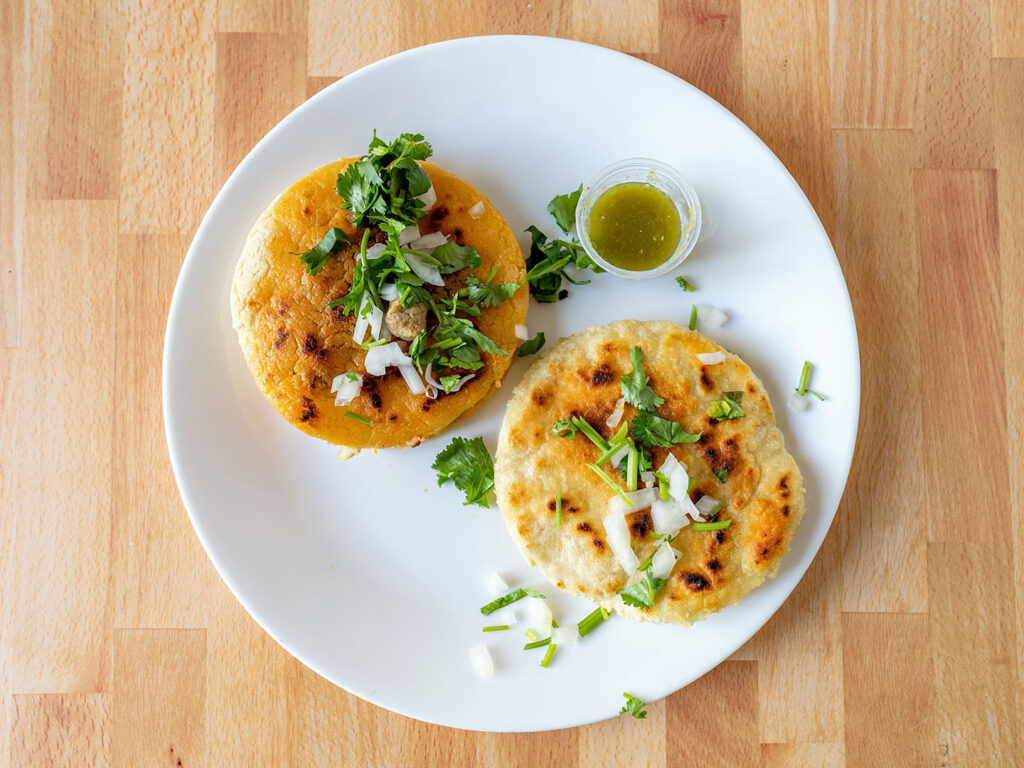 While the prices are low, the quality is anything but this mom and pop taqueria. The gorditas are the real headline grabber here, try the unassuming meat and potato stuffed shell and thank me later. Read our full review here.
2646 700 E, Salt Lake City, UT 84106
(385) 259-0764
Maybe also check out
Maybe we can tempt you to something else delicious while you're here? Check out these other detailed guides, some of the most popular pages on our website:
Hi, I'm Stuart, nice to meet you!  I'm the founder, writer and wrangler at Gastronomic SLC; I'm also a former restaurant critic of more than five years, working for the Salt Lake Tribune.  I've worked extensively with multiple local publications from Visit Salt Lake to Salt Lake Magazine, not least helped to consult on national TV shows.
I'm a multiple-award winning journalist and have covered the Utah dining scene for the better part of fifteen years.   I'm largely fueled by a critical obsession with rice, alliteration and the use of big words I don't understand.   What they're saying about me: "Not inaccurate", "I thought he was older", "I don't share his feelings".