Café Latte is a classic. The term Cafe Latte was created in certain regions of Italy where American tourists frequented. The American travelers struggled with the bitter and richer flavors of espresso so warm milk was added to make a more palatable and sweeter drink. Two freshly brewed espresso shots, delicately topped with steamed milk creating a light layer of foam. Coffee shops in Salt Lake City was a crazy idea 30 plus years ago. Now, there is an array of impressive coffee shops, each with a unique take on this familiar beverage. For months I've been searching the valley for the best latte. Hot expresso and steamed milk. If you or the establishment prefers plant based, I suggest oat milk.
My criteria when assessing, "who makes the best latte," is this: the latte arrives hot enough for you to blow on and sip carefully. The milk should be steamed perfectly and finished with a light foam cap. Ideally, artistic in the finish, a flower or other design. That finishing touch means it was poured well and helps the customer to feel special. Finally, the espresso should be smooth and bold with a slight sweetness. When prepared well the flavor resembles dark chocolate or caramel with no residual taste of acid, bitterness, or char.
I visited the coffee shops several times to confirm and reaffirm my ranking. Keep in mind that taste is subjective, and I'm only one guy. Everyone has their preferences. I believe the shops I selected have the best well-rounded beverages. Each shop is equally enjoyable with a few caveats, including food selection, space, and customer service. My goal is to make sure your $5 is well spent. I am not a coffee expert. My vocabulary is limited when describing flavor profiles. For example, expect the repetition of the word "smooth."
Without further ado, I give you my opinion of the best lattes in Salt Lake City.
Urban Sailor Coffee
Urban Sailor serves a top-quality latte. This Sugar House staple began as a mobile espresso bar retrofitted around a vintage motorcycle. Instagram followers read the quote, "coffee made off a sidecar motorcycle." Urban Sailor has flourished into a full-service brick and mortar building complete with its own roasting oven.
The Urban Sailor's latte is truly one of the best. Emphasis is placed on taste plus presentation. The beans are roasted in house, yielding one of the smoothest coffees I've tasted. Bold and complete without acidity or burnt tones. Perfectly foamed milk and finished with an artistic rose design. Each sip is like a bite of a soft bar of dark chocolate.
For true coffee nerds, Urban Sailor is my number one choice. As a bonus, the expresso shots are poured more liberally than most shops, making a bang for your buck. A great-tasting drink with an added buzz.
1327 E 2100 S, Salt Lake City, UT 84105
(385) 227-8978
urbansailorcoffee.com
Logos Coffee
Coffee enthusiast Nick Nelson owns Logos Coffee. Logos is attached to Emigration Café and located in Salt Lake's Harvard-Yale area. Nick is passionate about his product, and his enthusiasm permeates in all drinks prepared here.
The espresso is velvety smooth with a light and sweet finish that's almost floral. area. Sleek expresso machines are built into the service counter and baristas expertly create wonderful blends and brews. The milk is always steamed to perfection complimenting the expresso. As smooth as butter. I feel the only drawback is paper cups being the only option. There is no glassware or mugs available. Even so, Logos is still on my favorite list.
1709 E 1300 S, Salt Lake City, UT 84108
(435) 728-2578
logos.coffee
IndieGo Coffee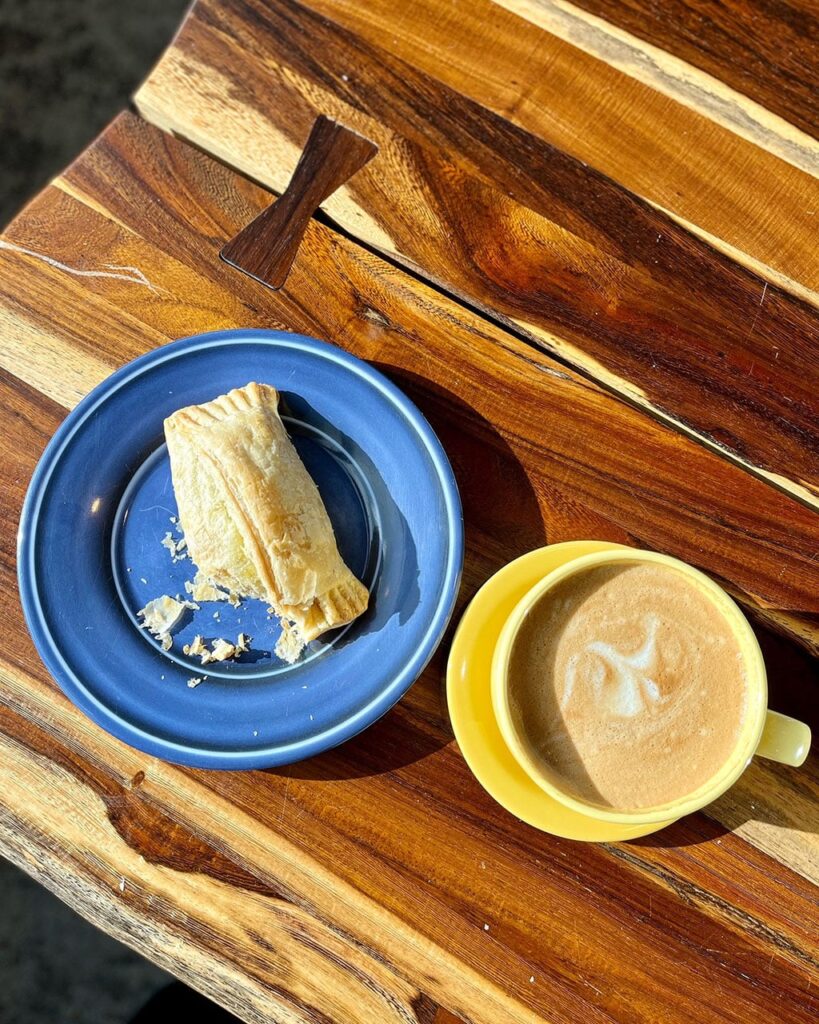 Derek and Vinny, owners of IndieGo Coffee, take pride in serving the highest quality coffee. You can also treat yourself to house-made Indian-inspired pastries. IndieGo is a special place, and anyone who has been there will confirm that. Derek and Vinny are incredibly warm and personable. One thing I take note of is coffee shops with a warm and welcoming staff. Too many coffee shops have employees that exude impatience. They appear to dislike their work. Vinney and Derek's friendliness adds to the latte-sipping experience.
The shop pulls espresso shots prepared from a custom roasted blend Logos created. The milk is always expertly steamed. I am very picky about the temperature of my latte. It should be hot, not lukewarm. My recommendation is to enjoy your coffee seated at the café, in a mug or glass paired with a samosa puff. I have no doubt you too will appreciate the attention to detail and hospitality at IndieGo Coffee.
Nothing is rushed and there is a sense of genuine care in your drink, pastry and service. Indiego serves a topnotch latte. Their mastery of customer service adds to its excellence. Enjoy the experience as well as a great beverage and pastry.
3310 S 500 E, South Salt Lake, UT 84106
(801) 819-4911
indiegocoffee.com
Three Pines Coffee
I will acknowledge that Three Pines is one of the OGs in coffee making. A cozy downtown shop drawing hordes of patrons at all hours every day. Tireless attention to detail, no doubt, has been the reason Three Pines retains its customers base plus more. They keep coming back for more. I've never felt slighted here. The customer service experience is always pleasant. The atmosphere is calm despite the cafe's proximity to the chaos of downtown.
But most importantly, some of the city's most talented baristas make each drink with the utmost care. Lattes at Three Pines are pieces of art. Each arrives with perfectly steamed milk poured into a signature design. The temperature is always optimal, and the espresso shot is pulled at the perfect time to make the coffee as fresh as possible. The body of the espresso is smooth. Admittedly it is not my favorite; the finish is a bit harsh. But their latte is truly special, and the shop is at the top of the game.
165 S Main St, Salt Lake City, UT 84111
(805) 395-8907
threepinescoffee.com
Picnic Cafe
Picnic opened recently in the space Amour Café previously occupied. This charming addition to Liberty Wells has become an instant favorite for locals. Not only do they serve top-notch coffee using Publik Roaster's beans, but they also boast a food menu with a wide array of house-made items such as bagels and scones.
The latte here is a personal favorite of mine. The baristas are well trained to execute a flawlessly balanced beverage. They steam the milk to a perfect temperature then top it off with a beautiful design of a leaf or flower. Publik's espresso is agreeable and pleasant. The roast is lighter in flavor with a smooth finish but not highly unique. It is easily sipped and well worth the purchase.
You will enjoy Picnic's care in preparation of food and drink plus pleasant atmosphere. I recommend a cookie or scone with your latte. I also suggest you sit in their beautiful dining room or patio. Relish the experience. All five senses will be delighted.
1329 S 500 E, Salt Lake City, UT 84105
(801) 467-2947
slcmenu.com/2022/01/13/picnic-menu
Passion Flour Patisserie
Passion Flour is well known for its beautifully made vegan pastries and food. I believe their coffee creations deserve equal attention. A decent oat milk latte is easy to find, but an excellent one is few and far between.
Little Wolf Coffee, a sustainable roaster supplies their beans creating an easy to sip drink that is well-balanced and tasty. The oat milk, steams similarly to dairy milk and adds a trace of sweetness. There is no artificial flavor. My experience is that the coffee is not outstanding but still very good. For those who prefer a lighter body with an easy finish Passion Flour delivers.
Passion Flour is a bit pricey. I still choosing it over the other plant-based coffee shops. In my opinion other plant-based coffee shops seem to miss the mark. Their lattes seem watered down and dull. Passion Flour has dialed into a great plant-based coffee program.
165 E 900 S, Salt Lake City, UT 84111
(385) 242-7040
passionflourslc.com
The Rose Establishment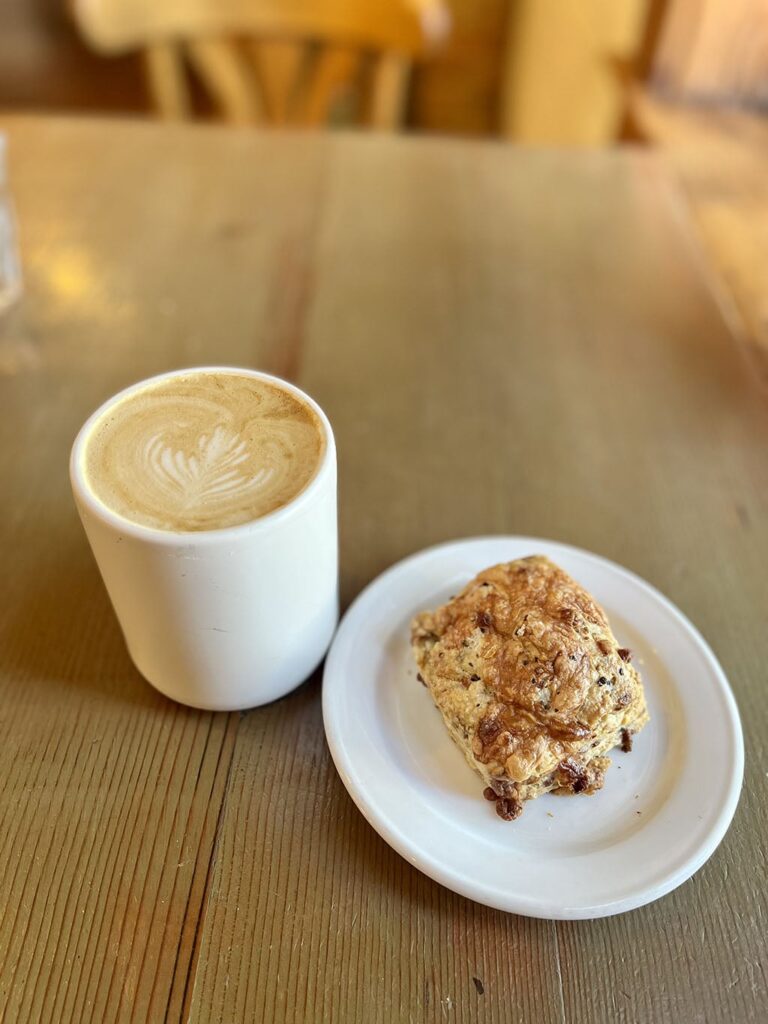 I've had nothing but excellent experiences at The Rose Establishment. Their pastry and food selections are exciting and memorable as is their coffee. The attention to detail by their excellent baristas is always amazing and appreciated. Dennis, one of the baristas at the Rose Establishment, remembers my name every time I stopover.
The taste of their café latte is perfect for pairing with food offered, whether sweet or savory. They offer only one size, 12 ounces. Each ingredient is balanced perfectly. The espresso is strong but not bitter. The drink is poured into a ceramic mug and finished with a beautiful leaf or flower design. For me, I describe the taste experience as light and floral. Sipping my latte at The Rose Establishment is an enjoyable event. Not only for its delicate and pleasant taste but also for the obvious TLC given to every cup. Prices are slightly higher for both food and beverages than other coffee shops. But we are talking about excellent coffee and food. So maybe, like me, you don't care.
235 400 W, Salt Lake City, UT 84101
(801) 208-5569
theroseestb.net
The Honeysuckle Coffee Co.
Okay, we are getting a little dicey with the geography, but I'd be remiss if I didn't mention Honeysuckle in this list. Technically located in Sandy, this shop specializes in house-made pastries and quality coffee from their ultra-modern espresso bar. I'm very partial to any of the baked goods here. But the lattes are absolutely delicious as well.
Honeysuckle purchases beans from La Barba coffee. These excellent beans create high-quality espresso that is bright and fruity with no acidic aftertaste. Presentation is number one and as such they take time mixing and steaming your café latte. Perfectly steamed milk and a beverage that prompted me to snap an Instagram photo before sipping. This is one of my favorite cafes. At times the pastry is inconsistent, and I have had a latte with a bitter taste. But only once. Overall, Honeysuckle is worth a special trip. The latte there is one of the best.
8745 S 700 E Suite, Sandy, UT 84070
(801) 679-1483
the-honeysuckle-coffee-co.square.site
Tres Gatos
Tres Gatos is an ultra-cool café in Midvale and makes some of the best iced and hot lattes. Their social media presence was what first drew my attention. That said, the quality of their product and focus on customer service is what made me a fan. Their iced drinks, house-made chai, and Mexican mochas are menu highlights. Tres Gatos is equally versed in the art of making simple classics. The latte is solid.
Their espresso is easy to drink with no bitterness. A medium-bodied roast with a chocolatey flavor that comes through with your favorite milk choice. I've tasted lattes using whole and oat milk. Neither dilute the coffee flavor. In fact, both enhance the taste. At times the latte has been lukewarm. Even then, the taste is still excellent. Tres Gatos offers breakfast items, but their food and baked goods are lacking. The focus is more about coffee than food. In any case, this is a great choice for your morning or afternoon cup. The team is energetic, friendly, and outgoing. It is worth dropping in if you are in the neighborhood.
7567 S Main St, Midvale, UT 84047
(801) 403-8351
instagram.com/tresgatoscoffee
Now you have my café latte top choices. Again, my rubric is pretty pedestrian. But I do love lattes. In that case, I am well equipped to choose the notable lattes! If you haven't visited these cafes, I urge you to do so! All have exceptional customer service as well as exceptional lattes. I'm also curious to know if you have other cafes to add. I am willing try anything you suggest! It is not a punishment to sip a latte. Thank you for reading and stay caffeinated!
Keep the conversation going
Want to stay on top of the SLC food scene, minute by minute, dish by dish? Here are a few other places you should follow along:
My name is Pete Souvall, I am a blogger and food writer from Salt Lake City. I eas raised and have lived here most of my life. Though I spent years living in several different areas along the west coast I settled back in to Utah life in 2020. I've held several jobs in the restaurant industry including line cook, prep chef, and barista. But in general I just have a passion for everything related to food. 
This article may contain content provided by one of our paid partners. These are some of the best businesses in Utah. For a list of all our current and past relationships see our
partnership history page
.