It's been a little over a year since I penned the sobering why your favorite might restaurant might be closing. In the intervening months, those keeping score could've optimistically countered by nodding to a slew of openings. Last year's grand recap soared past 195, this year's will handily top the 150 mark. I undoubtedly missed a great many more.
What I under appreciated in that original article was the tenacity of restaurateurs. Their inexhaustible creativity in threading the impossible needle of small business ownership. I'll hold my hand up to that one. But – and isn't there always a but – those storm clouds are still gathering. A quick glance at the local press of late offers gloom upon doom in restaurant land.
From the loss of mom and pops like Taqueria Los Lee and Hector's, through to businesses with decades of experience under their belts such as Restaurant Morelia. Even highly decorated lynchpins of the Utah food scene are facing unprecedented challenges. After downsizing to a single location, Mazza owner Ali Sabbeh almost threw the towel in this year; while Les Madeleine's Romina Rasmussen actually did – the celebrated bakery will close at the end of the year. Interviews with both cite increasing costs and labor woes. Both have decades of experience and awards galore, none of it matters.
This past week, Utah's most highly acclaimed restaurant (at least in terms of national kudos) had to humbly pass around the donation jar to keep the lights on. Bonus update: it looks like they've succeeded and Boulder will retain this jewel a while longer.
I could list a whole many more who've closed up shop.. Momi Donut's, DeDe's, Bell's Deli, Bread Riot Bakehouse, Toasted Barrel Brewery, Rockhill Creamery, Fenice, Laid Back Poke Shack…
Where we're at
Since that initial piece with unemployment floating around a seemingly impossible 2% mark, the number now reads an almost identical 2.1%. According to BLS data this is the lowest in the nation alongside Minnesota. The subtle nuance of that data point quite often is missed. Let's frame it more simply – Utah is currently the hardest state in the union to hire staff. And no, it's not because people don't want to work. Back in your box bellicose boomer. Quite simply, everyone who wants to work, pretty much has a job. And even if you do stumble across one of those rare types, hard working, honest, eager to learn, happy to work for under twenty bucks and hour with no benefits – do they even want to start work before the sun comes up and put in a 12 hour shift? I know I don't, do you?
While there are rumblings that inflation might slowly be coming down, the rabbit is out of the hat and half way down the field. And frankly, on the consumer side, many aren't prepared for the change that is unfurling in real time. The cognitive dissonance in response to our rapidly inflating reality blazes across Internet watering holes. They say never read the comments, but if you do, it's a great insight into the wobbly grey matter of a confused populace.
On the heels of Hector's sad closure, some users took the restaurant to task for high prices; this for a menu stacked with $10 combo plates, $3.50 tacos and $6 burritos. To put some of this in perspective, note that Habit Burger currently charge sixteen bucks for a chicken sandwich combo.
Meanwhile, on the flip side, other's righteously called out the titular owner for not paying a decent wage; armchair titans of industry suggesting a few extra bucks extra per hour would be salve for all woes. Pay the staff more, lower the menu prices, profit. Quite. Who could blame an overworked owner for deeming the time right to simply close the doors and reassess.
Something has to give
And indeed it has – as evidenced by the quickly accelerated pace of reduced operating hours, smaller menus, and sadly, closures.
The more prosaic fact is that for many small businesses, the current multiplex of pressures are one straw too many, pulled from the kerplunk like tower of a delicate business model. It's not possible to simply hire new staff, pay higher property rates, and fork over 2x and 3x more for basic goods. Oh, and explain those increased menu prices to an enraged clientele with their finger on a Yelp review.
Sabbeh pops up again in this piece and quite correctly muses that restaurants are for the most part trying their damndest to keep prices low. Data from Capital One analyst Paul Westra supports this gollum like struggle. Westra writes that "average menu price hikes are around 6% over the last 18 months, but restaurants need to aim for an 11% increase to protect profits. This discrepancy has impacted store-level profitability with profit declines of over 20%, which echo drops seen during the Great Recession in 2008." And we all remember what happened then.
A glance at the following trend data from the National Restaurant Association / BLS shows where we've been, and where we're headed. It won't be long before a $20 lunch for one is considered the new normal. I'm calling it here.
A generational change
I truly believe we're now seeing a generational change in the nature of dining. The long tail of Covid is continuing to compress years of change into mere months (here's a piece on Utah rents rising more over the past two years, than the preceding ten) . The fundamental economics of traditional mom and pops is being uprooted. Businesses that historically operate on a combination of goodwill and shoestrings – are being left flat-footed by a trifecta of inflation, labor loss and a changing industry. Let's start with that one…
Scale em' up
Big chains are inherently more able to navigate choppy waters. Their deep pockets not only help absorb cost shocks, but they afford the ability to weather changing tides (more on that in a minute). This piece in QSR magazine describes how the big guys have been keeping pace with labor woes – TL;DR – their sheer size helps them rotate people, left and right, up and down. For a mom and pop? Would you like to work the fry station or front counter today? No, you can't join our management fast track course.
Utah remains a prized destination for those with deep pockets looking to expand; national, regional and local groups are all attracted to Utah. In the past week, Jack In The Box finally confirmed its foray into Northern Utah. Meanwhile, Ascend Hospitality Group opened up the fancy new Aqua Terra Steak and Sushi over at the City Creek mall; the newly minted space the latest opening in a 90 million dollar restaurant empire that covers everything from steakhouses to Famous Dave's BBQ.
Here in Utah, the homegrown Savory Fund continues to invest in new brands and concepts, growing in leaps and bounds. The investment vehicle recently signed their tenth brand and here in Utah, they continue to open new locations at a brisk monthly pace. Crack Shack recently landed in South Jordan, Via 313 in Riverton.
Automation and convenience
Much to the chagrin of many, I am want to study the fast food and chain land in myopic detail. Love or loathe them, billions of dollars go into the industry trying to perfect infrastructure, marketing, menus and more.
This week McDonald's made the front page of much of the industry press with a conveyor belt driven test operation. You can keep your belt slung sushi, let's get those burgers whizzing! EVERY restaurant owner should read the small print in that article however, "Drive-thru grew to more than 70% of orders even before the pandemic, and now with the rise in mobile ordering and delivery, takeout represents somewhere around 90% of a typical McDonald's location's sales."
The golden arches increasing automaton powered future, proves the old adage that everything is cyclical. We're humorously close to the good/bad old days of the infamous Automat. You think we're not? Modern smartphone integrated versions of the Victorian-era model are already being offered to modern restaurants.
And before you think it's only the likes of Jeff Bezos looking to land a drone in your back yard, think again. If you like in Houston, this cute guy might bring you your pizza. Stop by the new Umi Shabu Shabu in South Salt Lake and a literal robot waiter will be dispatched to your table, delivering meat and apps aplenty. Remind me to brush up on my Asimov laws of robotics after finishing this article; especially with the recent SFPD news.
Beep beep beep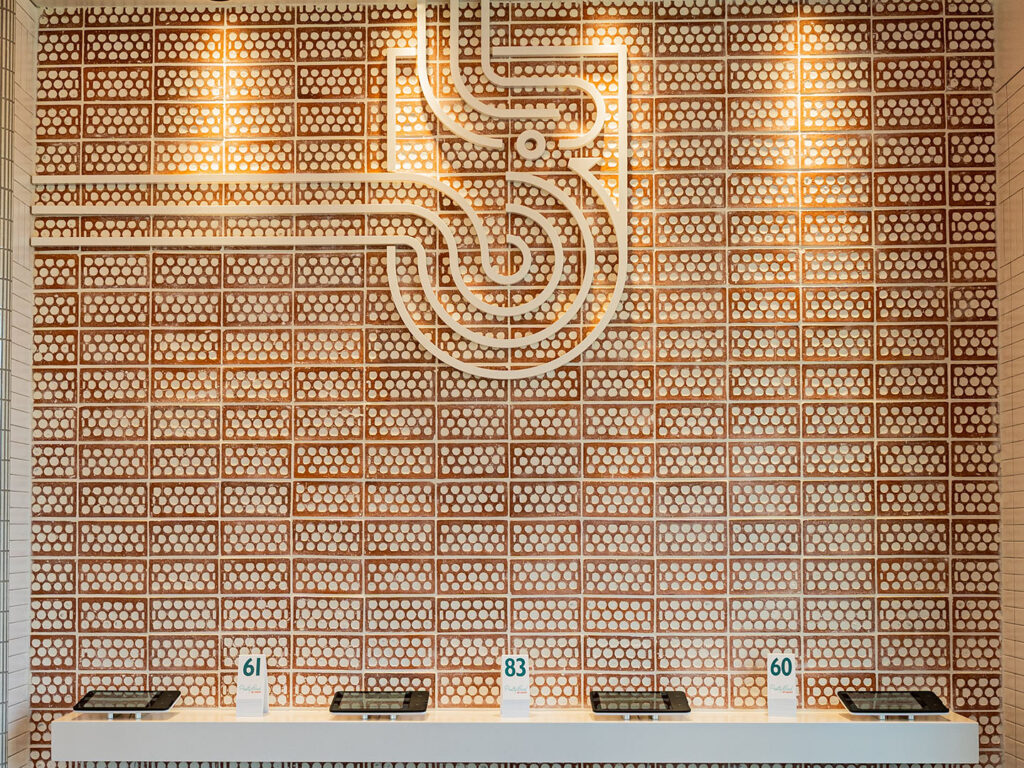 This increasing reliance on technology has already started to bleed over into staffing; a cast iron guarantee is that you can expect restaurants to continue to slash their work forces, especially towards the casual end of the market.
Kiosk ordering spots are already ditching their disinterested millennials from manning POS screens. We've all been there, the single bemused interaction a bored staffer merely flipping around a payment screen before getting back to scrolling on their phone. Now do I tip 20 or 30% for that?
Increasing numbers of businesses are simply leaving the ordering process in their customer's hands. Off the top of my head, I've encountered this at both Pretty Bird (Midvale) and De Los Muertos (Sugar House) in recent weeks. Touch screens can be found just inside the restaurants; point, select, swipe, sit yourself. It's all very slick, and I don't doubt saves tens of thousands in wages.
I can't hear you, I have my fingers in my ears
I expect most of this to be scoffed at by business owners adamant they'd rather close than evolve. Delivery has been the screaming success story of the past three years, yet plenty of owners kick and scream and shout till they keel over blue in the face, "I won't play in that ball pit".
As a small aside, I am forever amazed at the lengths restaurant owners will go to to make their lives more difficult. I've heard it all over the years: I won't offer delivery, I don't offer specials nor happy hour dishes, I don't do social media, we rely on earned media – you're wrong Stuart. That last one I hear a lot.
Many misunderstand the nature of their business. It's not art, science or supernatural. It's putting food in mouths. Even the famed Marco Pierre White understood this truth. As a famous story goes, the quick to temper chef happily took a request for an order of French fries at his three star Michelin palace of haute cuisine. No bellowing at the dilettantes sat at his table – they probably wanted ketchup too right. No. White happily took the order from two city traders, marching back into the kitchen and dutifully hand peeled/chopped/fried before returning with a plate of $60 fries for said gents. TL;DR you're not MPW, the customer is always right, and the business you're in? Putting food in gobs. End of.
Fine dining sees a minor reprieve
While we're talking about those lofty higher echelons, it's a safe bet to imagine a select few will experience a boom here. Those who can really nail their operations will no doubt be rewarded with an uptick in fine dining demand. Or at least whatever that phrase really means? $50 entrees? Table service? Not having to carry that little numbered sign to your table?
With all the Hal 9000 interactions we're about to collectively experience, there will no doubt be a craving for more human experiences. People will quickly come to understand that doesn't come cheap. For once fine dining finds itself in more comfortable shoes, more able to follow that menu pricing trend pictured above. When you're celebrating that special occasion, who cares if the steak is $50 or $60; no one splurges while holding a calculator in the other hand. At least not the fun people.
Brand new models
The past twelve months has seen a sharp explosion in food halls around town. Some might imagine them glorified food courts, but the truth is really something else. Originating in larger cities, where real estate prices have long been a tricky part of the business picture, the micro kitchen spaces offer would be restaurateurs an easier step on the business ladder.
HallPass was arguably the first in the state, quickly followed by Provo's The Hut. This Summer saw Woodbine and Granato's open up. In next few weeks we will see the opening of The Local in downtown Salt Lake City. Another food hall project is slated to come to 255 S. State, designed by Ryan Lowder's Plowshare Partners. Consumers continue to lap it all up as well. Variety and convenience are a bigger selling point than many imagine – Woodbine's preview was one of our most read stories this year.
Food trucks continue to do great business, as do ghost and virtual delivery kitchens. Danny Cheng's ComCom Kitchen – a commissary facility for rolling and virtual businesses alike – has doubled in size this past year. The original location (67 West 1700 South) recently filled with 22 vendors utilizing the space. During the second half of 2022 Cheng opened his second location in Millcreek (894 East 3900 South), which too is seeing eager occupants fill the walk-in.
In the stark face of all the above listed issues, the appeal of a more nimble business setup is obvious: cost. Cheng explains, "Our rates start at $30 per hour and go up to $2500 per month for 24/7 access. Food trucks cost $1000 per month for overnight parking and commissary kitchen use. Our contracts are month to month, and we only require 30 days notice before cancelling of our commissary agreement."
Compared to brick and mortar equivalents, the costs are more manageable and scalable. Restaurants operating in the non-virtual world might encounter long term leases of at least three or more years, "I have seen minimums of 7 years with non-transferrable clauses added", adds Cheng. Those traditional rents can easily be double or triple the cost of a ComCom's full month commit.
Cheng is bullish on the new model he's helping to grow, "Our commissary kitchen is built for the modern food vendor, we allow food vendors to not only prepare and cook food at the commissary kitchen, but also to sell their food at the commissary kitchen; through their website, social media, 3rd party apps, etc. at a minimal shared cost. Granted, we take away the option for dining in, but we also alleviate the problems that the front of the house comes across, along with staffing issues and labor costs. I feel this is the new way of doing business as a food vendor; maximizing and making the most of your time in the commissary kitchen. " His growing legion of success vendors make the story a compelling one.
You've lost the plot
For the furrowed brow business owner out there reading this and wondering, "so you want me to fire my staff, employ robot waiters and drones, knock down my dining room for a five lane drive thru, and open a boba shop?" Not quite. The point of this article is hopefully signpost that change isn't coming down the road. Change popped in last week for a coffee and chat, before heading for the hills.
For the rest of us, my advice remains the same as this time last year. Eat often. Smile. Tip well. Be patient. Don't be an asshole. Tip really well. Spend your cash like the life of your favorite restaurant depends on it. It does.
Keep the conversation going
Want to stay on top of the SLC food scene, minute by minute, dish by dish? Here are a few other places you should follow along:
Hi, I'm Stuart, nice to meet you!  I'm the founder, writer and wrangler at Gastronomic SLC.  I'm a multiple-award winning journalist and have written in myopic detail about the Salt Lake City  dining scene for the better part of seventeen years.
I've worked extensively with multiple local publications from Visit Salt Lake to Salt Lake Magazine, not least helped to consult on national TV.   Pause those credits, yep, that's me! I'm also a former restaurant critic of more than five years, working for the Salt Lake Tribune.    I'm largely fueled by a critical obsession with rice, alliteration and the use of big words I don't understand.   What they're saying about me: "Not inaccurate", "I thought he was older", "I don't share his feelings".
Want to know more? This is why I am the way I am.
This article may contain content provided by one of our paid partners. These are some of the best businesses in Utah. For a list of all our current and past relationships see our
partnership history page
.