As one known for hyperbole, let me assure you that the headline above is anything but. One of Utah's genuine best are up against the wall. News just sent my way suggests that the multi-award winning Hell's Backbone Grill are facing a very real, and very terminal existential threat.
Earlier today the restaurant took to crowd funding platform Go Fund Me seeking investment to ensure the Boulder gem stays afloat and sails for many more years to come. Owners Blake Spalding and Jen Castle are looking for an initial $324K investment – with an aim of settling up Covid-induced loans as well as securing a permanent home in the remote Southern Utah town. You can check out the full fundraiser there.
The seasonal restaurant – open March through November – is renowned for its commitment to sustainability featuring a menu built around locally produced, and seasonally appropriate cuisine. Dishes are often loaded with veg grown on one of the restaurant's two gardens and six-acre farm; eggs come from an on site pampered flock. Fruit comes from Boulder's heirloom orchards and locally ranched meat stars prominently too. The business is a true farm to table pioneer in the state. You'll find many a local business preaching the local gospel, but few deliver any further than throwing some micro greens on top of a plate and calling it good. HBG are the diametrical opposite.
Back to that headline though, and let me follow up with some cold hard facts. A little over a year ago the restaurant was recognized with an historic James Beard nod, garnering a semifinalist nomination in the Outstanding Restaurant category; that's the best of the very best for the national restaurant awards, and a first and only nomination for a Utah restaurant. No small beans.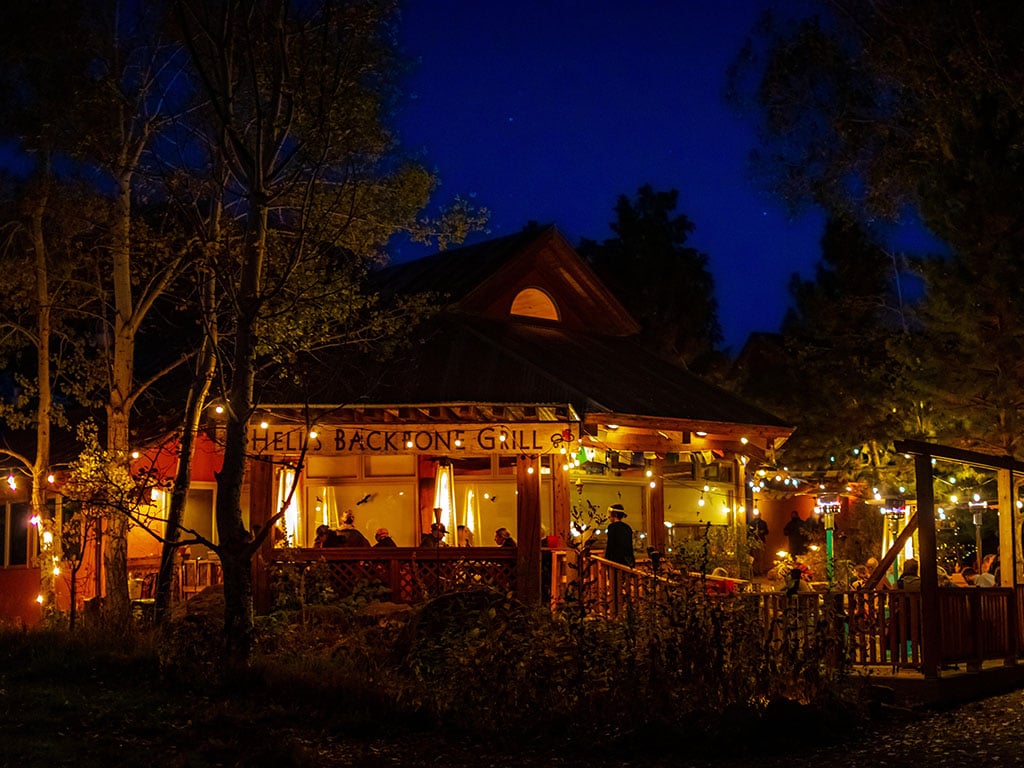 That 2021 achievement comes after a litany of previous accolades from the JBF awards (ostensibly America's answer to Michelin if you will) not least every last local publication over their multi-decade tenure. Speaking of which, Hell's Backbone has been at it for an improbable 23 years at this point, and has won the lot.
Improbable you ask? Boulder has a population of 226 and is effectively a world unto itself once the winter snow sets in. In their fundraiser the duo reckon that the town is the most remote in any of the lower 48 – I'll wager several of you are hitting up Google maps right now.
If you want to contribute to helping keep the lights on, you can do so via: https://www.gofundme.com/f/save-hells-backbone-grill-and-farm – the pot has already increased some $15,000 while I wrote this quick post.
The full note from Hell's Backbone founder's Blake Spalding and Jen Castle reads as follows:
. . .
We write to you today with reverence, humility, and immeasurable gratitude. This past week, as we've taken stock of all we're thankful for, you've been at the top of the list. You've always been at the top, ever since we opened a restaurant in a tiny town in the extreme middle of nowhere, and wondered if anyone would show up—and you showed up.
We are sorrowful to say that after 23 years, Hell's Backbone Grill and Farm is at risk of closing our doors. Throughout our 23 years as restaurateurs, we've always identified as deeply self-reliant. Even during three difficult and stressful pandemic years — and even when we received threats for advocating for the monuments — we declined offers from friends to help us fundraise for our survival. We were determined to work things out on our own. We had, after all, opened a restaurant in the most remote town in the lower 48 states–we had confidence in our ability to overcome obstacles.
But we've finally accepted that we need help. Spiraling costs and a shockingly reduced summer visitation to the whole southern Utah region have turned things upside down, and we now recognize that we can't move forward alone. So, with the support and guidance of our community, and with the continued aspirations to make people happy with our food and to be of benefit … we have started a GoFundMe.
Our restaurant's unlikely (ok: damned near impossible) success has had as much to do with your abiding support as with our commitment to the work. Nothing — not one thing — that we've accomplished over the decades could have happened without you. And so, as we try to see a path forward, we see that there is no path forward without you.
We remain optimistic for a new chapter that's brighter than we could have imagined. And we're hopeful that you'll walk through those doors with us, hand in hand. But for us to all get there, we need a whole lot of help.
Areas of Critical Need
We've set a goal that addresses three specific areas of need:
Critical need one: Debt payment
We'll be direct: we need to address the pandemic-related debt load of more than $500K that the restaurant has taken on in the last three years to weather the pandemic. As with countless other restaurants, we received loans and various relief from the federal government, which enabled us to keep our doors open and pay our staff and vendors—but the hard truth is that the loan money wasn't enough, and now those loans have come due. And after a shockingly slow summer visitation year, we're using borrowed money to make payments on borrowed money—which every grown-up knows is a bad idea.
Critical need two: A forever home for Helles
We need to move beyond renting. A down payment on the purchase of a permanent space for Helles here in Boulder would give us a much stronger positioning for a pathway forward. Having rented for 23 years, we need to find a more stable circumstance to feel good about growing older as we do this work. We're exploring several options, our favorite being the possibility of buying the building that we currently rent on the grounds of the Boulder Mountain Lodge—the same beautiful space you know and love—the building that's grown along with us.
Critical need three: Infrastructure tune-ups
If you know us, you know we've always been scrappy and tenacious. We're pros at making do and getting by on little (after all, we started HBG with $3,000 and a year's free rent), but it's not easy on our staff to work with marginal and broken equipment, and there's a whole lot that needs fixing—we're dealing with a hefty amount of deferred maintenance. We've outgrown our thrift-shop origins (and the fridges and pots and pans we've been using since we opened). Any additional revenue could go to much-needed updates to farm and kitchen infrastructure, so we can continue delivering the quality of hospitality that you've come to expect—and maybe even level up a bit.
An Intentional Goal
We've set a GoFundMe goal of $324,000, a symbolic starting point. Really, we need a lot more than that. The number isn't arbitrary—it's 3 X $108,000. In Buddhism, 108 is an auspicious and sacred number, the completion of a cycle of mantras on a mala of beads. (And as many of you know, Blake practices Buddhism, and we have always run restaurant decisions through a Buddhist filter.) This is also an amount we believe will secure our short-term survival. But to be transparent, we hold tightly in our hearts to a bigger dream than surviving. We have so many new things we want to introduce—new visions and events and experiences we're eager to create for you.
Immeasurable Gratitude
Finally, we want to say it again before we sign off: thank you. No matter what happens, thank you for showing up all of these years, and believing in us, and turning our impossible dream into a reality. Thank you for being the backbone of Hell's Backbone. For being our family. We can't express how much you mean to us.
We love you, and we love our restaurant, our monument, the town, and our amazing team. And we love the work we do, growing and preparing and serving beautiful food in a beautiful location to you beautiful people. It's an honor and a privilege, and we want to continue doing it, for as long as we possibly can.
We hope you'll share our fundraiser with your community. And if you'd prefer to make a contribution by check to our fundraising efforts, you can do so to Hell's Backbone Grill, and send it to us at PO BOX 1428, Boulder, Utah, 84716.
. . .
Again, you can find the fundraiser at – https://www.gofundme.com/f/save-hells-backbone-grill-and-farm
Featured image courtesy of Chris Michel.
Keep the conversation going
Want to stay on top of the SLC food scene, minute by minute, dish by dish? Here are a few other places you should follow along:
Hi, I'm Stuart, nice to meet you!  I'm the founder, writer and wrangler at Gastronomic SLC.  I'm a multiple-award winning journalist and have written in myopic detail about the Salt Lake City  dining scene for the better part of seventeen years.
I've worked extensively with multiple local publications from Visit Salt Lake to Salt Lake Magazine, not least helped to consult on national TV.   Pause those credits, yep, that's me! I'm also a former restaurant critic of more than five years, working for the Salt Lake Tribune.    I'm largely fueled by a critical obsession with rice, alliteration and the use of big words I don't understand.   What they're saying about me: "Not inaccurate", "I thought he was older", "I don't share his feelings".
Want to know more? This is why I am the way I am.
This article may contain content provided by one of our paid partners. These are some of the best businesses in Utah. For a list of all our current and past relationships see our
partnership history page
.