I know you're like me. I know you're sat there scrolling through your 'Toks and your 'Grams and your Yelps (hehe, remember that). A numbing parade of indifference, none inspiring you where to eat tonight. Let me help you fellow indecisive. The following is a recap of the places and plates I've found myself at over the last four or six weeks. Where to begin, where to begin, ah yes, let's go with something quite timely…
De Los Muertos Mexican Restaurant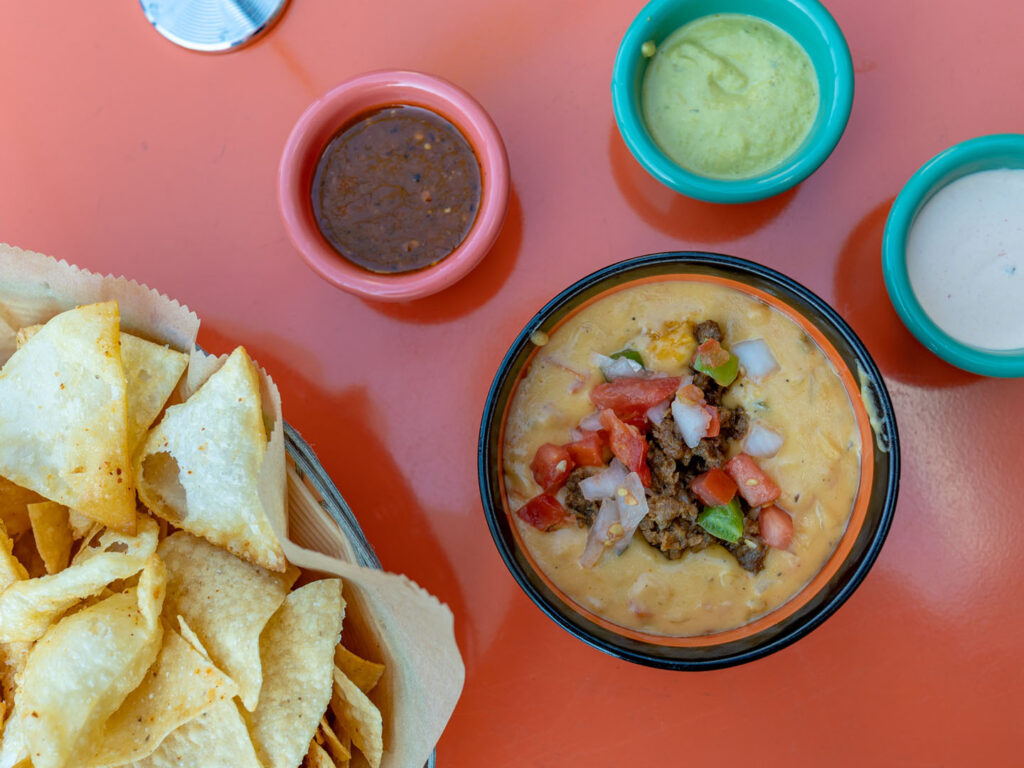 I'm enamored by the colorful pop and pizzazz at De Los Muertos. It's located in core of Sugar House; just over the plaza from Spitz (and owned by them too I believe). The patio is presently one of the hidden secrets amongst all the cranes and bustle, and on our visit we snagged the final day of our extended Summer.
On the food side I really dig the shredded chicken burrito topped with a thick terracotta mole. The salsas advertised as spicy were indeed furious. Some might not particularly enjoy the ordering setup – the self service electronic POS – but it's easy to see why more fast casual places are embracing this. Have you seen the unemployment stats right now? I don't mind it one jot. I am typically more comfortably with the steely blue glare of a computer, than I am a random stranger and all their commensurate quirks and questions. Restaurants are one of the main reasons I am not a hermit.
Mr Rice
Just down the road in South Salt Lake and now in full swing is the brand new Mr. Rice. Located in the center of the Chinatown complex on State, this is the latest effort from Jaehan Park, the same chap who started Mr Shabu back in 2019. Also at this point, a quick reminder that Orem will be getting one of those soon too.
The menu offers a fast grab and go option. There is no real option to dine in. Mr. Rice is clearly meant to function as a tired shoppers last port of call. Grab a Korean-
The branding and packaging is striking. Everything comes in impeccably chic bags and boxes, nimbly stacked. This is the antithesis of the tumbled sack of takeout of old, seeping and slithering down your car seats and trousers. The food is shrink-wrapped to go, which has plusses and minuses. My fire dragon zesty pork was sill piping hot after a ten minute journey in the passenger seat; whereas the chicken fried rice – steamed away to a mushy finish.
Zeitoon Cafe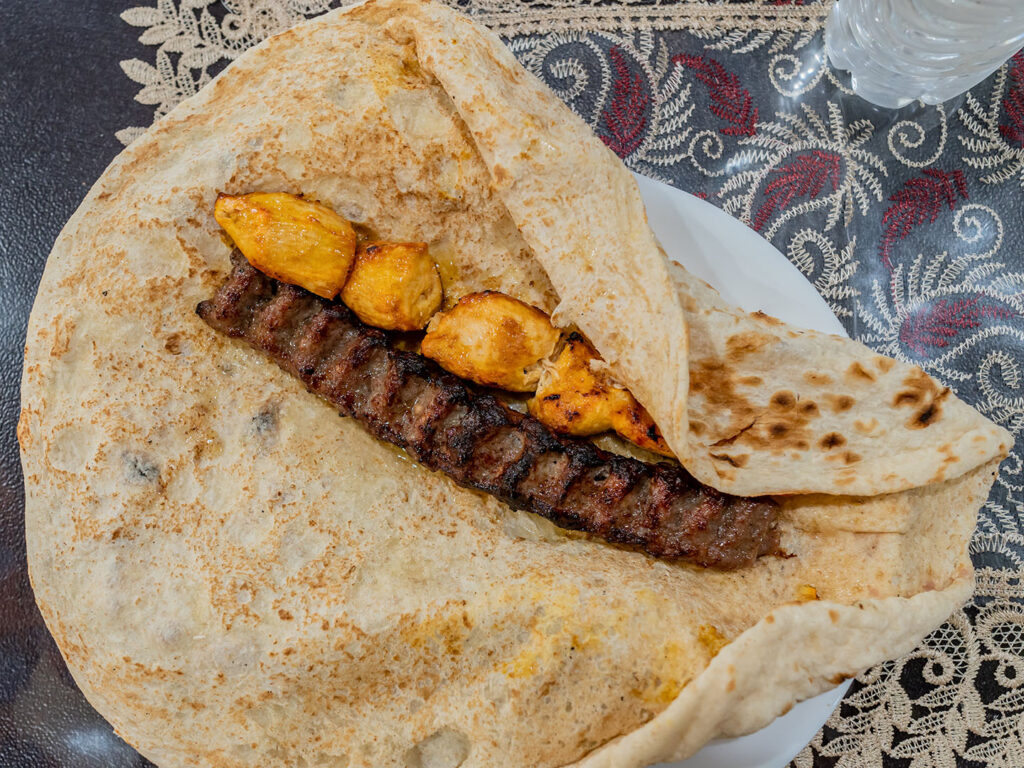 Kebab
When someone slides into my DMs and recommends "the best" of anything – I usually sit up straight and start taking notes. Such was the case with Zeitoon, a mix of market and cafe over in Midvale. The tip I was given – "no one else in town gets the fat ratio of their koobideh as on point as these guys". Beef? Fat? Kebob? Best? I am there.
Said tip proved momentously accurate, I've never had a ground beef skewer like it. There's a notably larger proportion of fat, which makes for a pliant texture, bordering on sausage-esque. We opt for the bread over the rice, and find our proteins folded up inside, richly oozing out flavor onto the carb below.
After you enjoy a skewer or three from the menu you can swing by the adjoining market and find plenty of Middle Eastern supplies. It's not the biggest selection in town but the staples are here; including a blanket-sized lavash in their refrigerated section. Seriously gigantic.
As we saunter out the door, the owner chides us for not ordering the saffron rice, another best in town he advises. Next time, next time. As you walk out the door consider a left turn, because a few footfalls just South of Zeitoon…
Noemi's Cafe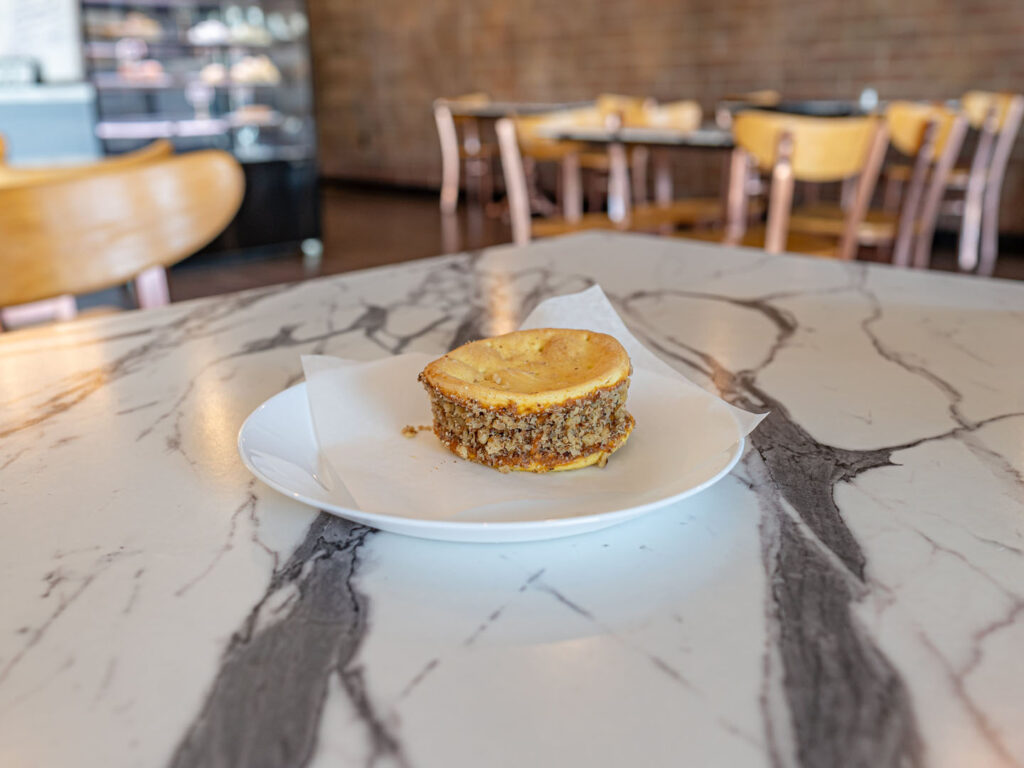 The all new Noemi's Cafe. I really don't care for the phrase, run don't walk. That said, if you might find yourself perambulating at an accelerated rate of pace over to this new Midvale eatery – that would be a rather splendid decision on your part. I've been waiting for these folks to open for ages, and the doors finally opened just a few weeks ago. Home cooked Chilean food executed with aplomb.
Their new bricks and mortar spot at 777. Fort Union in Midvale (the old Ganesh) builds on the obvious success of their food truck business, and it's every bit as good. Actually there are chairs and tables and AC here – so it's better. There are empanadas which come in a range of options, the carne is baked, the rest are fried. They're hefty in the hand and sweetly stuffed with olive and egg and your protein choice. There are vegan cheese and vegan beef options too if that's your thing.
A few sandwiches come next on the menu, like the pictured Choripan (imagine a garlicky Polish sausage) and Churrsaco (steak). Those are followed by entrees such as lomo saltado and the uniquely Chilean dish, pastel de choclo. I didn't manage to secure any of their salsa verde sauce on this visit – Chilean pebre sauce I believe – but did spy it on other tables. If you go, be sure to ask for the 'green sauce', it takes everything from good to great. It has chimichurri beat hands down.
There are two whole cases of sweet treats, and some of the thickest alfajores in town, big generous dollops of dulce de leche sandwiched in pastry then wrapped in coconut. I didn't manage to snap any interior shots as the place was full of families celebrating the opening, but I'll be be back time and again for sure.
Carson Kitchen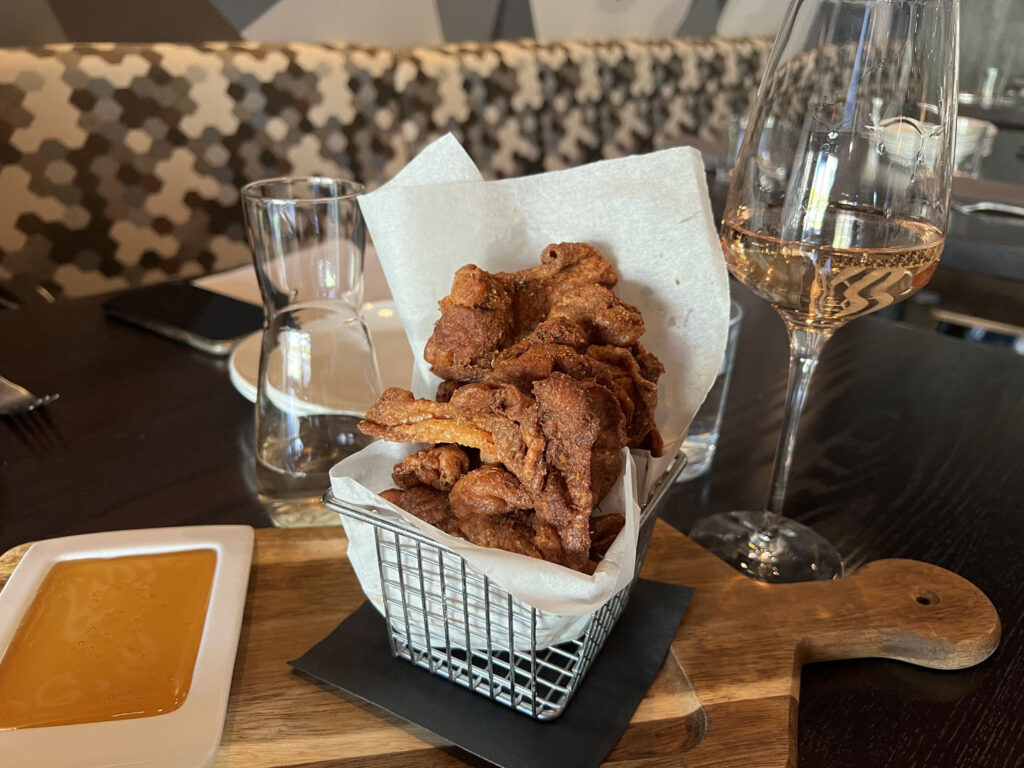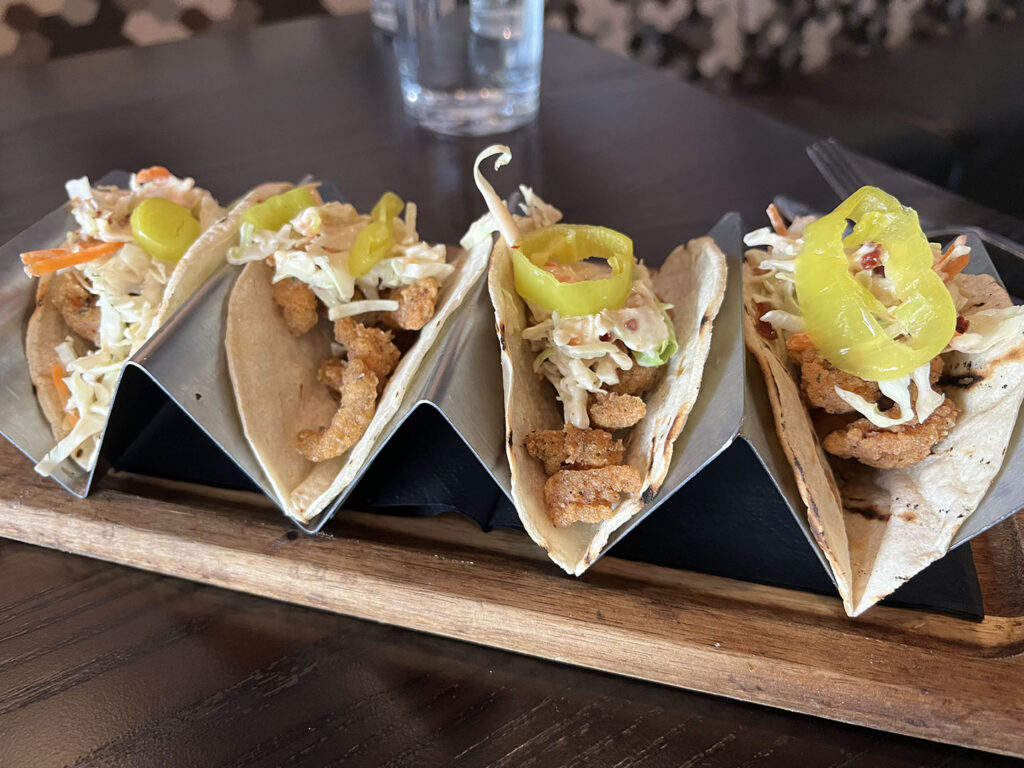 The fried chicken skins from Vegas-import Carson Kitchen might just be one of my favorite appetizers in town. In parts fatty-supple, in others rendered crisp and shattering. Served with a smoked honey, there's nothing not to love here. Rich and sweet and smokey.
Another interesting dish I recently tried on the menu – crawfish tacos, a quartet come loaded with deep fried crustacean, topped with slaw.
Black Cherry Mediterranean Market
Here's another import market worth exploring. Black Cherry, one of the best in the state, recently moved down the road to larger digs. I stopped by a couple of weeks ago to grab some quality basmati and see freshly baked flatbread from local Karim Bakery; also a an opportunity to poke around the new home.
Halal, a kaleidoscope of nuts and spices, breads, canned stuff, rice, sweets, it's all here. Salt Lake Mag just ran this story that goes into more detail on the owners and their recent move.
Meat Hook BBQ
I wrote about this new 'Q spot last week here. The headline item is that the restaurant attached to the Westerner on Redwood Road offers five types of smoked meat on the menu: brisket, ribs, chicken, pork and sausage. The meaty star of the show are the flavor-packed ribs while on the side – opt for the sweet corn pepper fritters. You can also grab a cocktail here too – maybe the only BBQ spot in town that actually offers that now I think of it?
Mar | Muntanya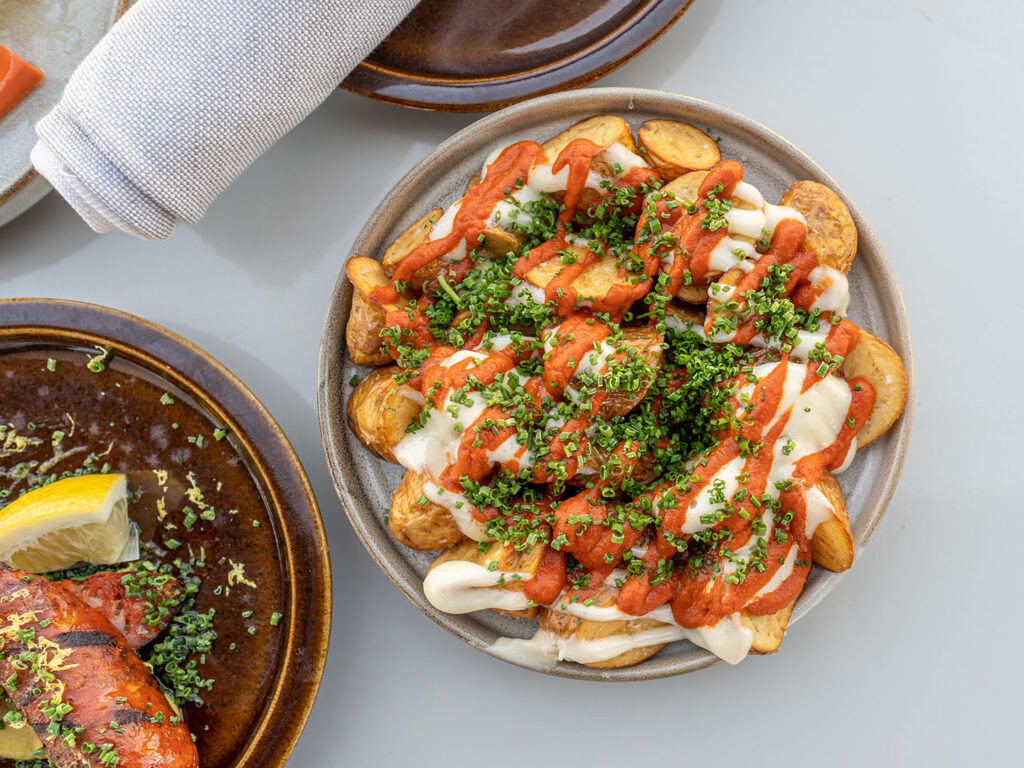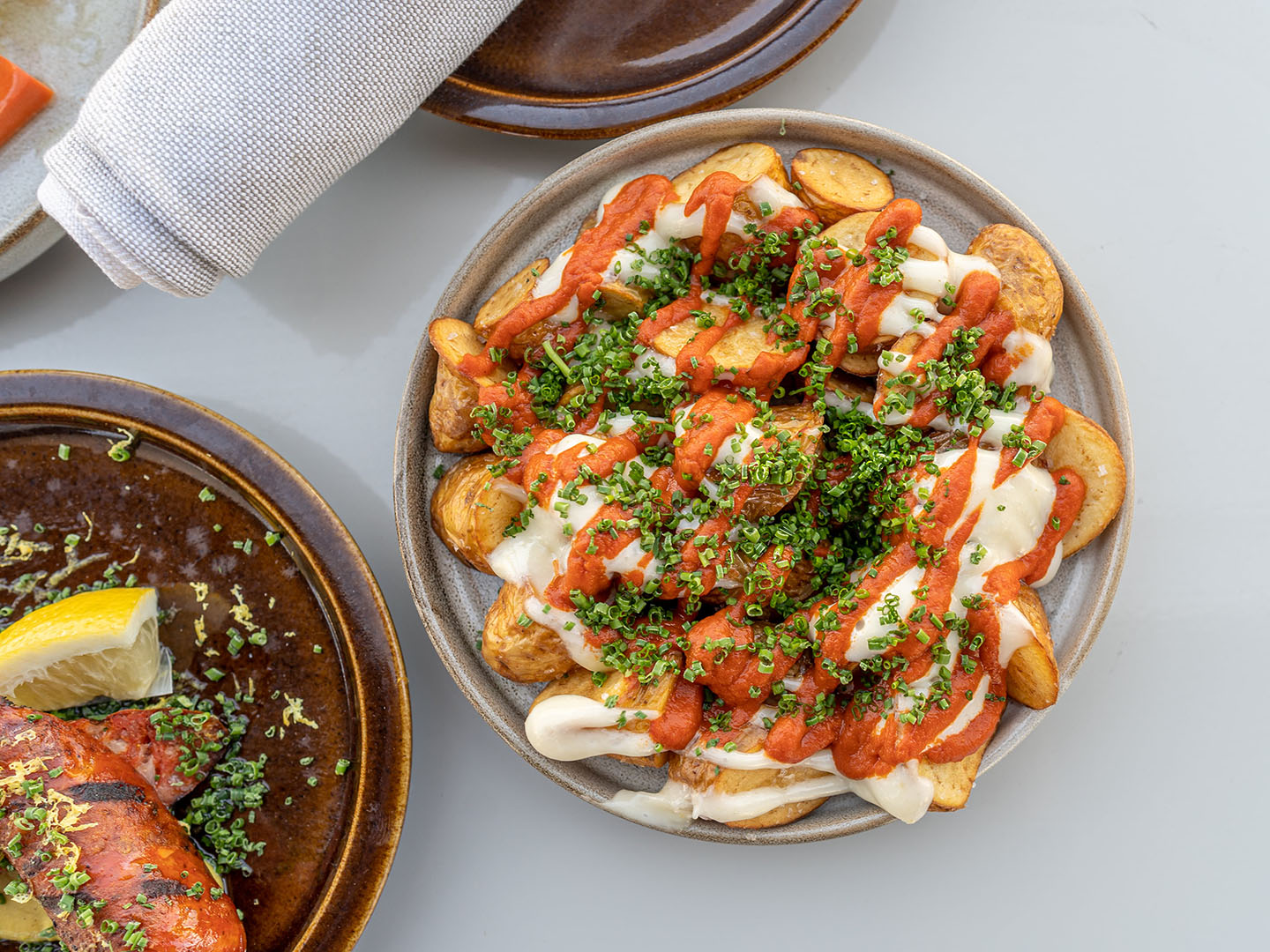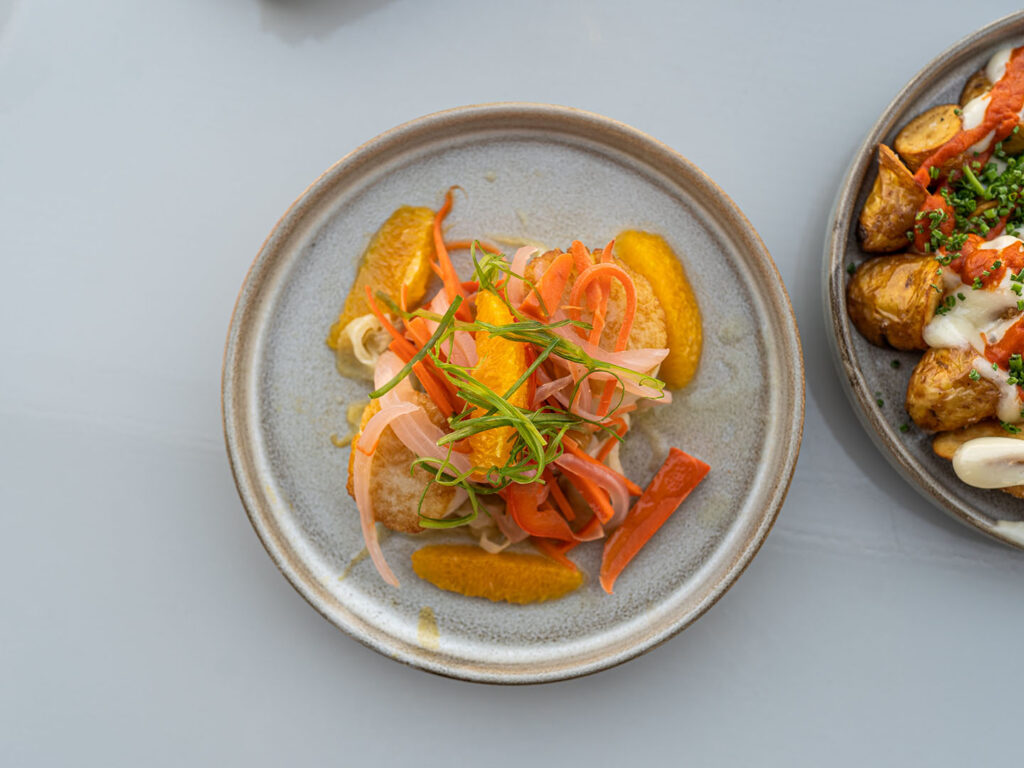 Pictured above the first few dishes I've sampled over at Mar Muntanya – the swanky Spanish joint in the all new Hyatt Regency. Fried spuds with a mayo dollop are almost mandatory so that's where I start. They do the job, though I wish they were crisper, but for six bucks its hard to complain. It's worth noting that much of the menu is priced less than you'd imagine for a restaurant calling a $400 million hotel home.
Bilbao sausage comes aplop (it's a new word, go with it) a splutter of sharp mustard. Again it does the job, but for me needs more sultry smoke. Lastly scallop escabeche, gently seared scallops with a colorful assemblage of citrus, fennel and peppers.
The original presser for their opening remarked on a suckling pig experience, here's hoping they deliver that once they're up and running at full speed.
Beirut Cafe
My favorite Lebanese option in town? Beirut Cafe. Home to the best hummus in Salt Lake City, no question. Don't even. The same goes for their kibbeh too – a heavenly composition of beef and pine nuts and bulgur wheat.
My usual standby at the Murray restaurant is one of their combo plates to go; pictured above, a skewer of seasoned ground lamb, accompanying by a bronzed chicken. The former is not unlike an Indian seekh kebab, the latter a bronzed, lemon sharpened thing.
The toum (garlic and garlic and garlic) on the side is a really hearty portion, I dare you to eat more than a teaspoon and try to get close to your serious other for at least two weeks.
New Golden Dragon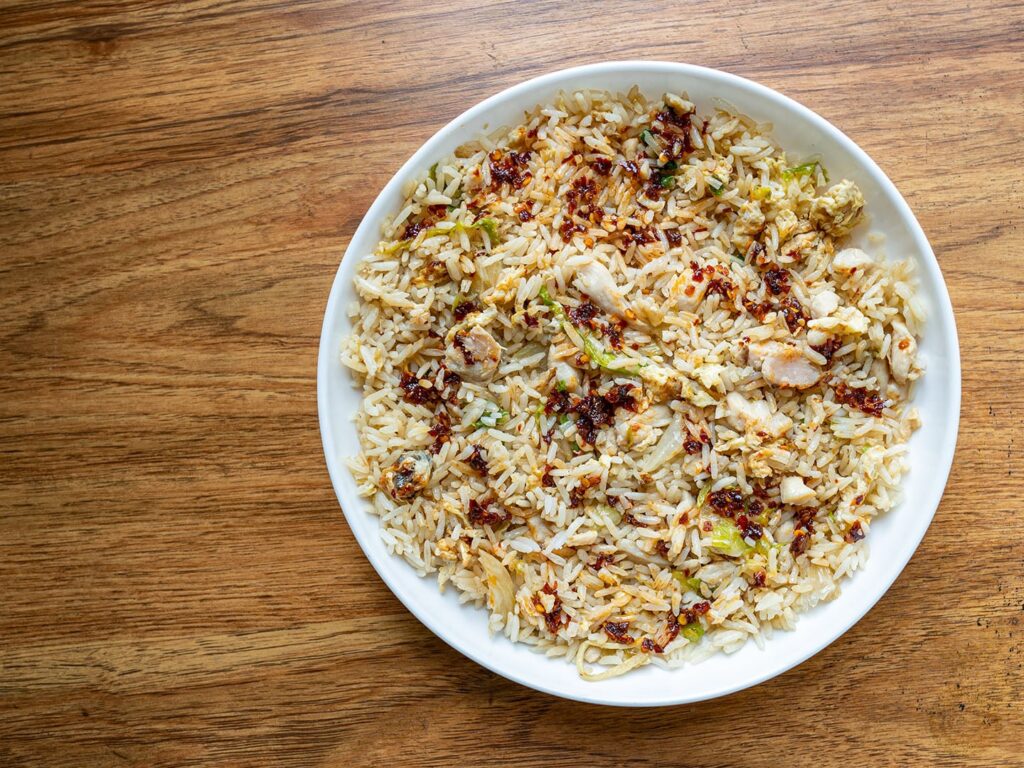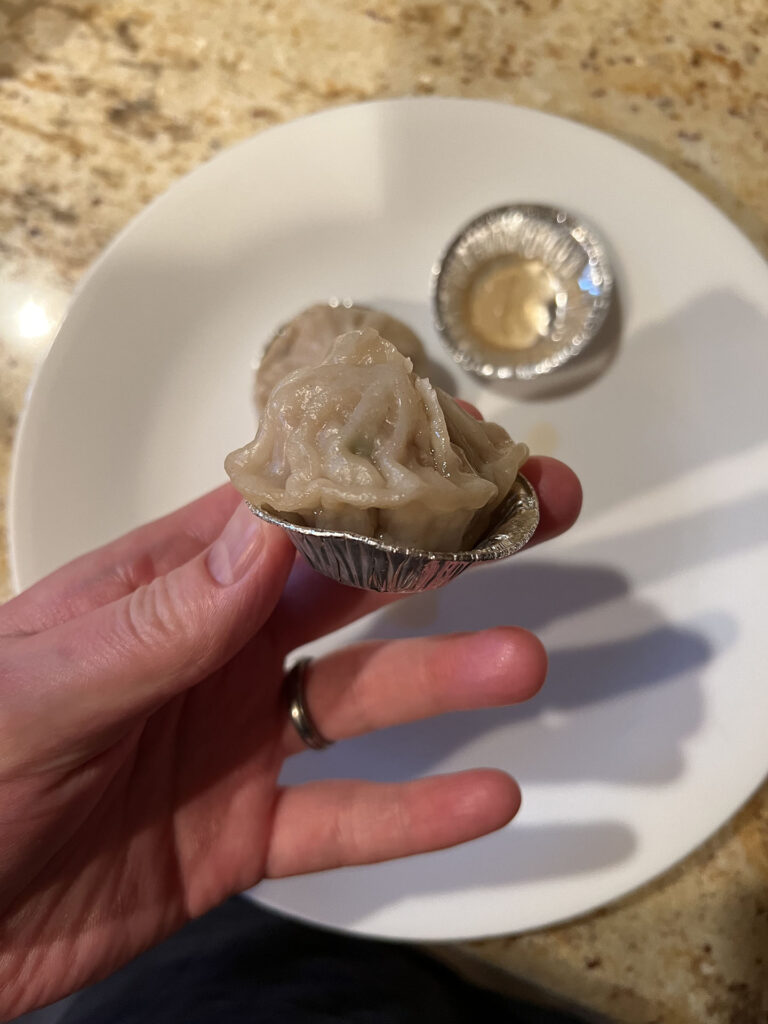 Little soupy dumplings, in little foil cups. I gobble these down like candy while I unpack the rest of my take out meal from New Golden Dragon. My standby entree is their chicken fried rice with salted fish. This Cantonese preparation packs in small chunks (big ones if you're lucky and the chef is feeling gregarious) of fermented fish. If you love anchovy and all the umami wonderland it delivers, check this one out, otherwise, run away very fast.
IndieGo Coffee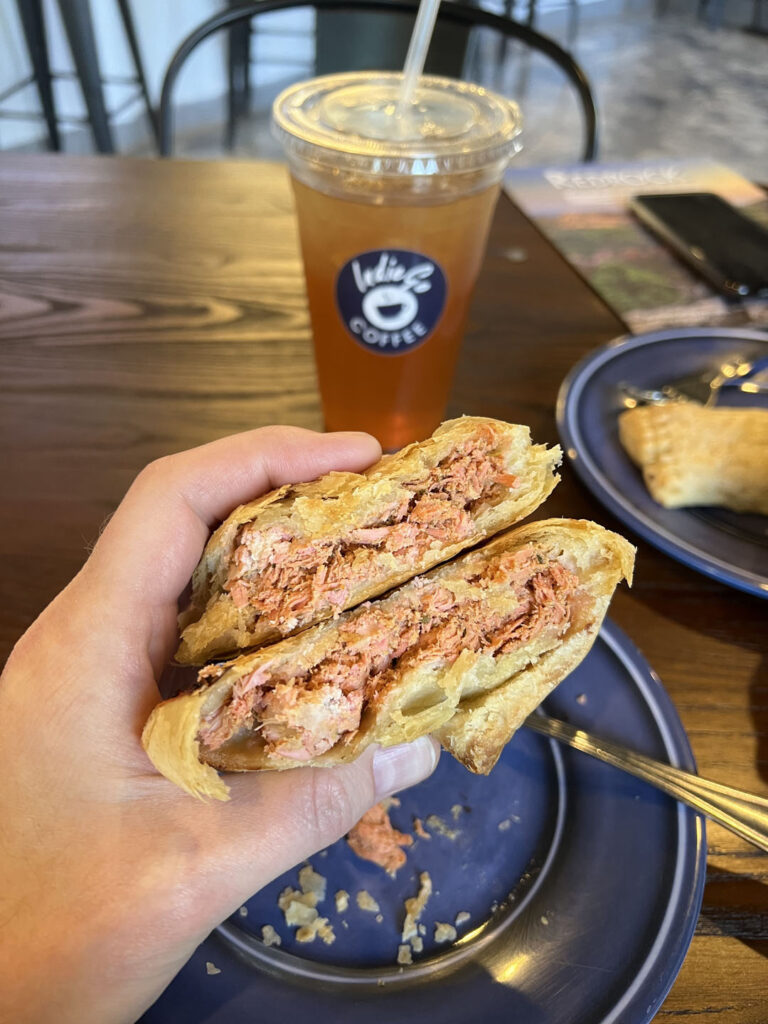 The little coffee shop that could over in South Salt Lake – just over the road from the new Granite library (be sure to check out their whizzbang media facilities with green screen, video/podcasting). You'll find a familiar line up of lattes and teas here, but most interesting are the savory pastries. As opposed to those stale blueberry muffins, repurposed from the Costco bakery aisle, IndieGo have a range of house made Indian-inflected items.
The one you see grasped in my mitts above , their chicken tikka; shredded chicken breast seasoned with all those great tandoori spices – turmeric, paprika, garlic and lemon. It comes stuffed in a puff pastry shell that instantly launches me back to youth full of pies, puddings and pastries.
Copper Common
Rilette is a wonderful thing. An excuse to churn butter with anything you have going spare in the fridge. Usually seen with pork, you can sometimes snare a seafood based one; in these parts that might often be trout.. Bonus points: at Copper Common it comes with house bread and itzy bitzy tabasco on the side that will have you frolicking like a child with a new toy, and also, have your bar tender wishing for your timely departure.
Current Fish And Oyster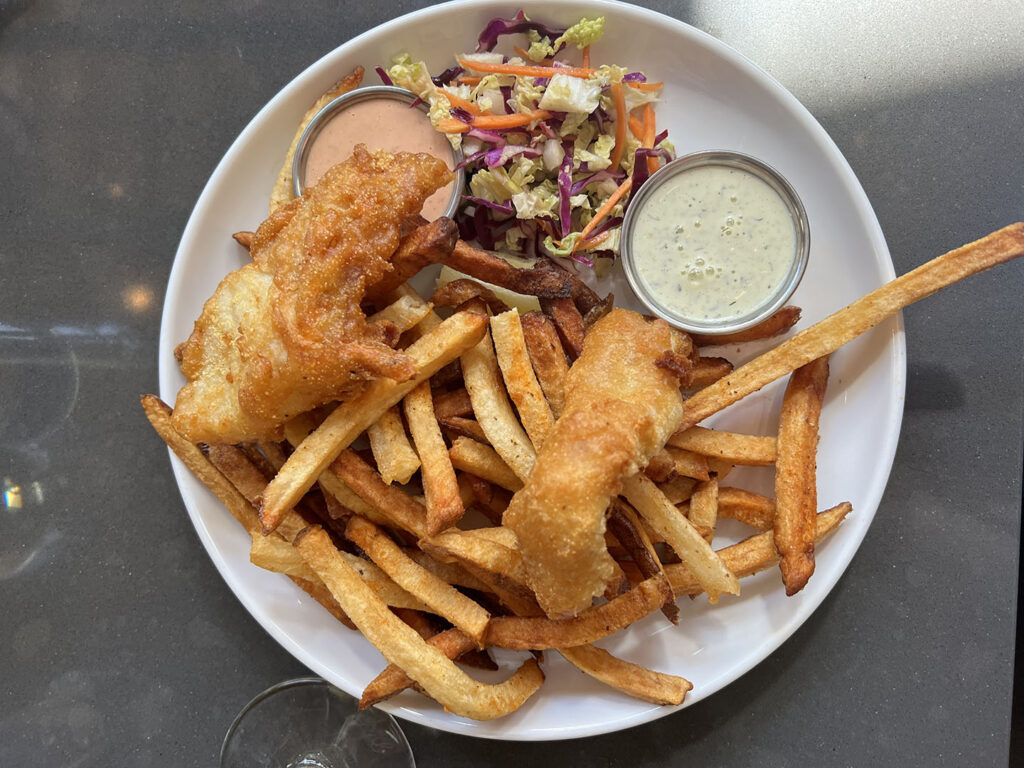 Here's a snap of the lunch time fish and chips from Current in downtown SLC. Rockfish is the seafood of choice, and comes in a rewardingly executed batter. A duo of sauces on the side make for a dippers heaven, though the French fries are absolutely on the hard cooked side of the spectrum. If that's your thing you'll want to crunch your way through these.
Sushi Groove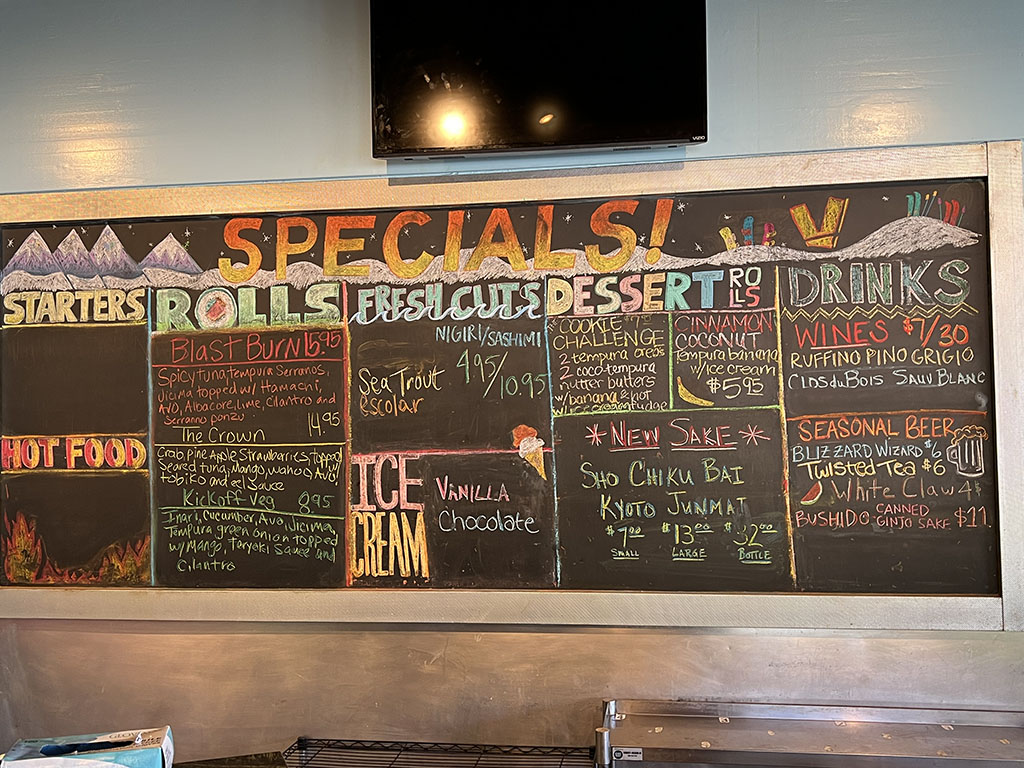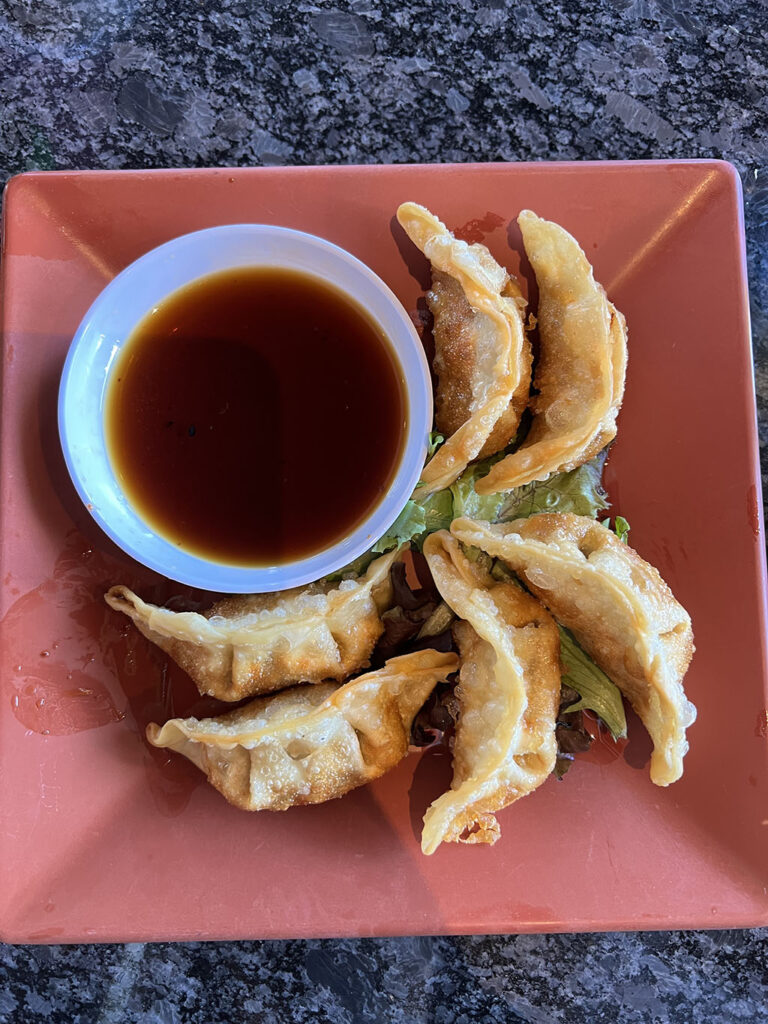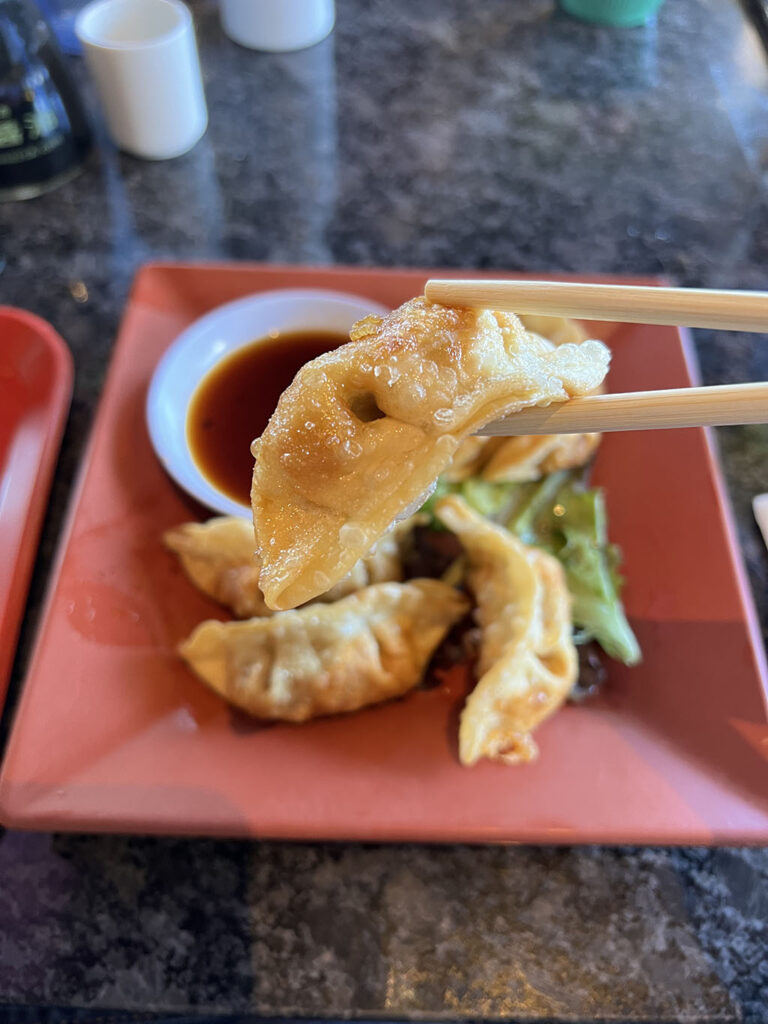 A standby of mine since ever since they moved down the road from 3300 South. There's always something new on the specials board at Sushi Groove, and it's always on point; check out the one above saluting her Madge.
Gyoza are always enjoyable here, the fry station is always getting a work out, and the oil never old and funky in my experience. I usually go with nigiri and whatever the team are selling as fresh in. Above, some sea trout, escolar, and the lesser seen inari – flavored pockets of spongy tofu.
San Fran Burrito N Fryz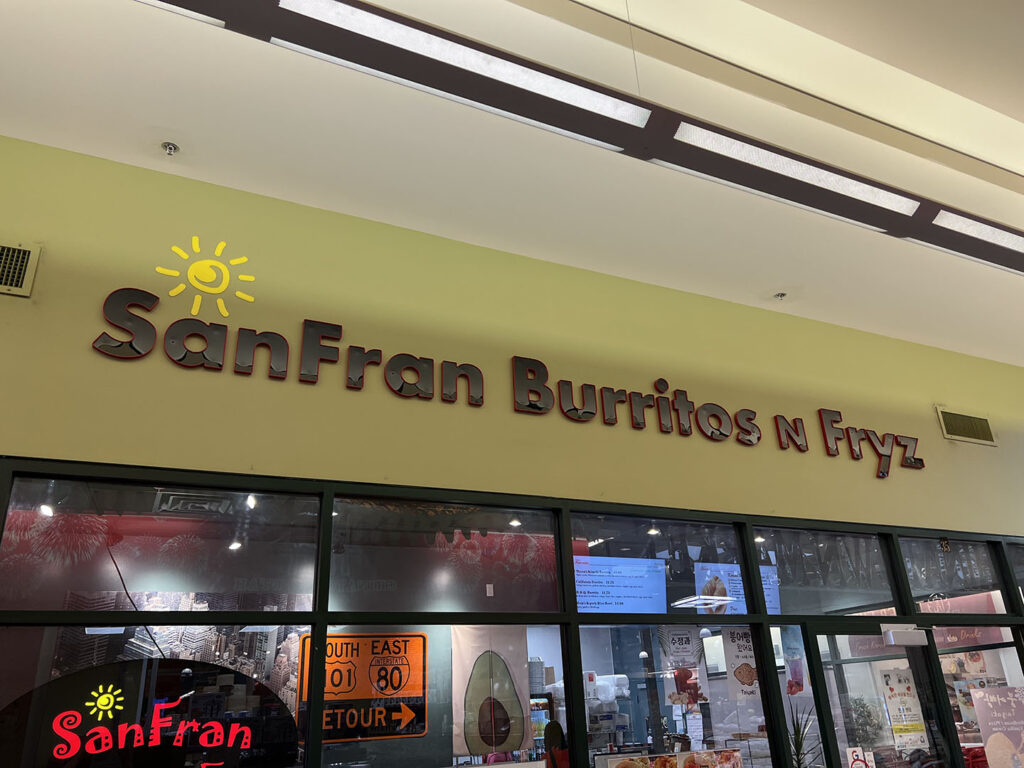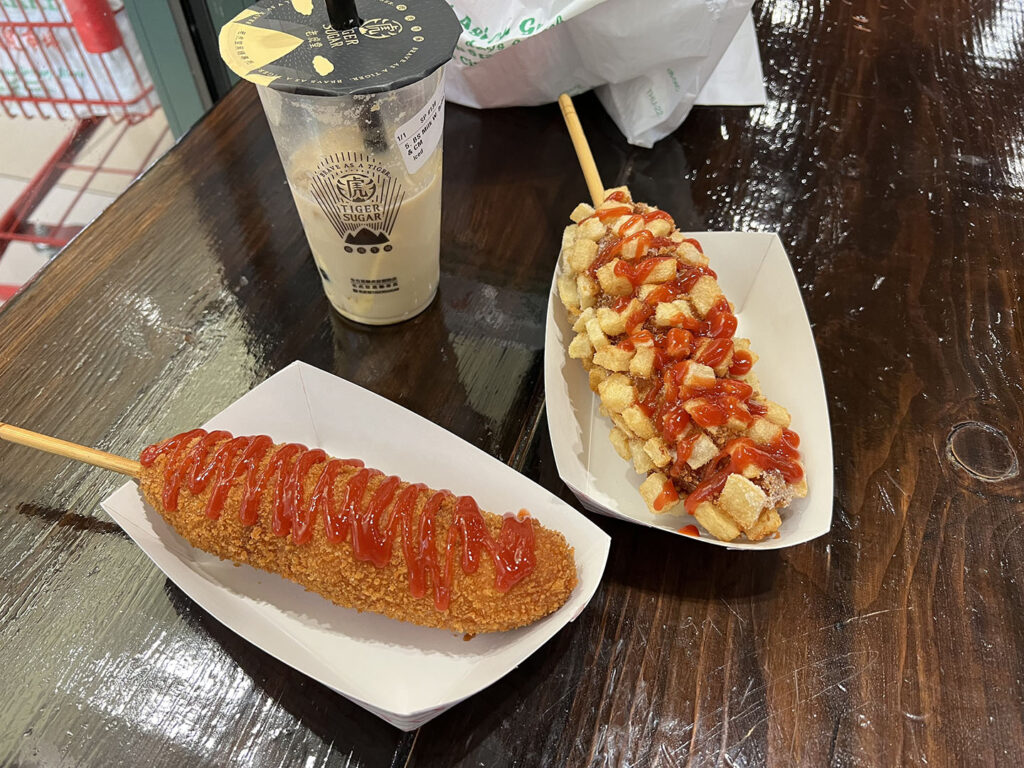 Try and find me someone who a) doesn't love the Korean take on hot dogs, and b) doesn't love the charming team at Chinatown's SFBnF. I'll wait here while you go search.
For the rest of us, if you still haven't made it to this spot, please do. You can use it to grab a quick fuel stop, a calorie station to power you up before hitting the market just across the hallway. $3.50 secures you the basic model, which you can then roll in sugar, and top with ketchup and mustard. If you don't think that sounds like fun, we can't be friends.
Graffiti Bao / Colossal Lobster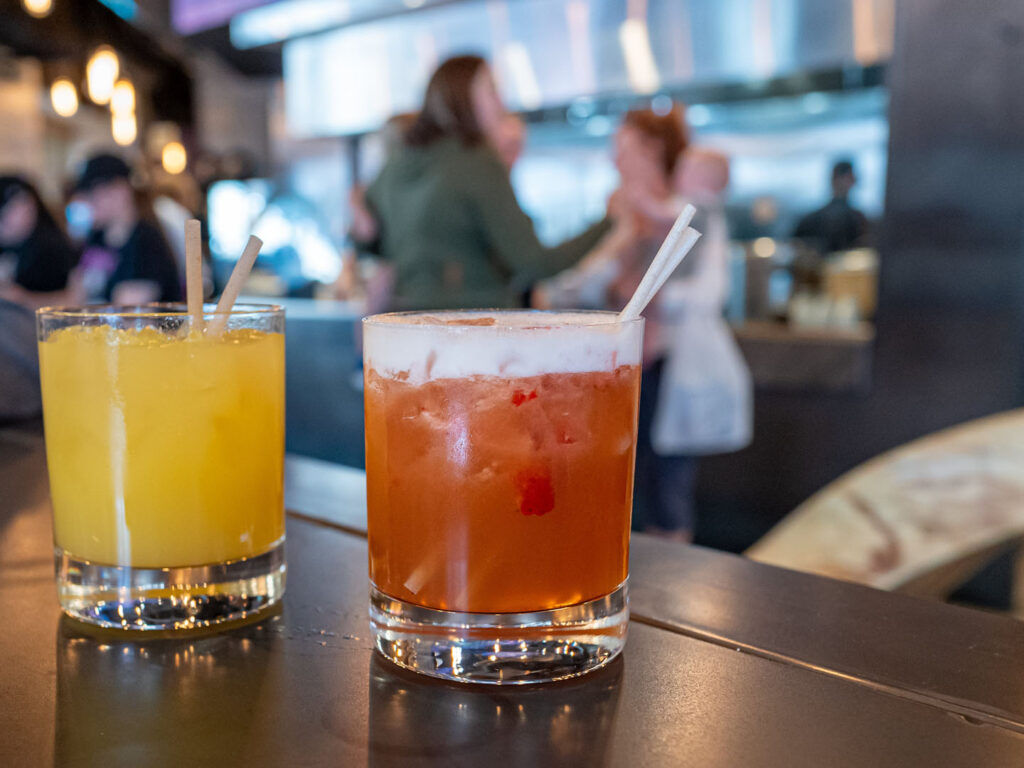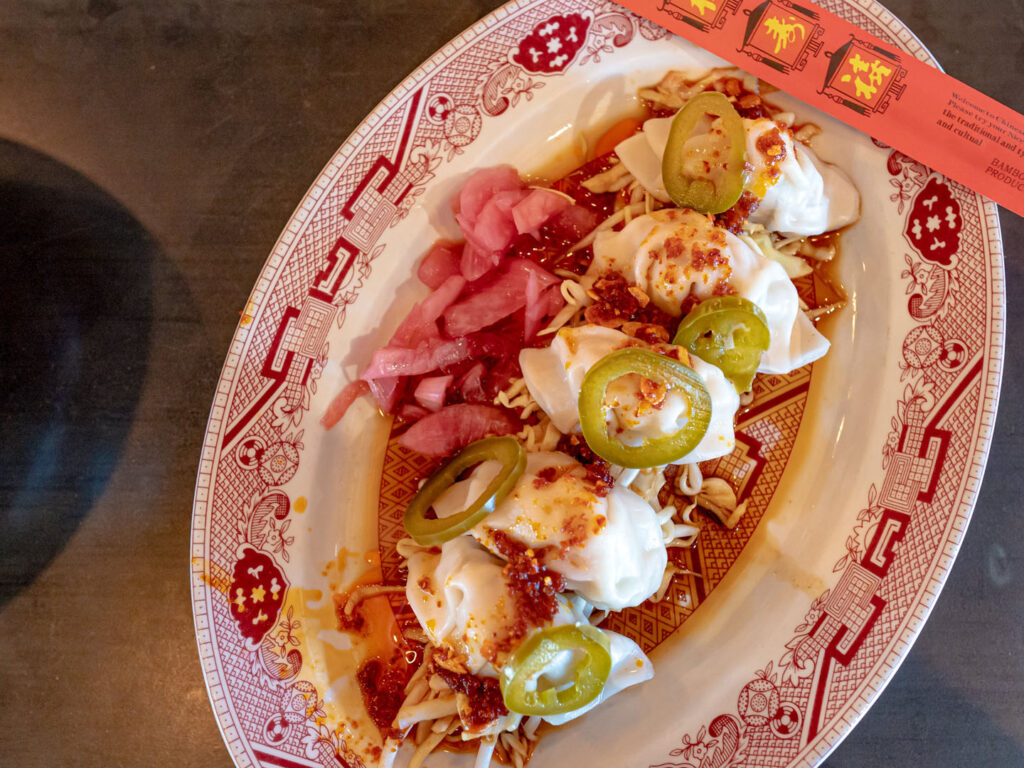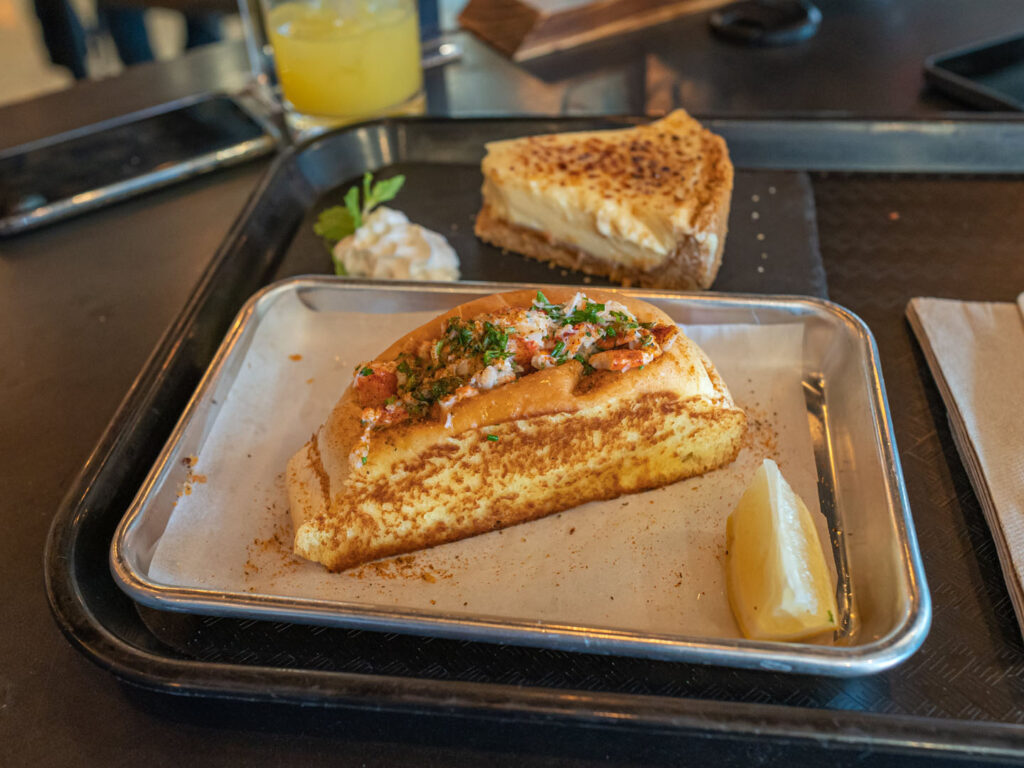 I hadn't stopped by this food hall since their opening a couple years back, my initial run down was back in 2020 here; I rectified that a couple weeks back on a sunny Saturday afternoon, and wow, the place was hopping. We ensconced ourselves over by the bar and quickly set to asking strangers, "what's that, what's this, where do I get it".
First up are chicken dumplings from Graffiti Bao, but sadly the dazzling branding exceeds the mediocre execution. The gyoza are ultimately heavy and dense and leaden – and most egregiously, served on the cold side. Still the Sichuan insisted flavors that coat them are interesting. Much better were the chili crisp fluttered fries, arriving slightly confusingly from the Beer Zombie bar menu, but crisp and hot nonetheless.
Best of the lot was the lobster roll, prepared Connecticut style which is to say using toasted bread and lashings of butter. Oh god so much butter. To finish, a slice of perfectly fine key lime pie. A battle of spoons for the last bite resulting in a crumbly table top mess. Apologies to our server, we are children.
Franklin Ave.
A recent revisit to Franklin Ave sees the restaurant really starting to find their strides – our server offering a number of nightly specials as we sit. A decadent fettuccine advertised as coming topped with shaved cured egg is eagerly ordered up. After that, the fish sandwich, a chef's take on the McFish; it's enjoyable but I long for the days when restaurant's learn the error of their brioche bun ways. Lastly, for dessert, cinnamon cereal ice cream.
Tandoor Indian Grill
I wrote about Tandoor Indian Grill in my last recap of plates aplenty. I'm writing about it again. It's still humming like a perfectly balanced top, at least the one on 33rd South in Millcreek is. I can't speak to the Holladay location. Their curries are demonstrably cooked with care and thought. The madras is quickly becoming a favorite of mine, and the herbaceous saag isn't far off.
Keep the conversation going
Want to stay on top of the SLC food scene, minute by minute, dish by dish? Here are a few other places you should follow along:
Hi, I'm Stuart, nice to meet you!  I'm the founder, writer and wrangler at Gastronomic SLC.  I'm a multiple-award winning journalist and have written in myopic detail about the Salt Lake City  dining scene for the better part of seventeen years.
I've worked extensively with multiple local publications from Visit Salt Lake to Salt Lake Magazine, not least helped to consult on national TV.   Pause those credits, yep, that's me! I'm also a former restaurant critic of more than five years, working for the Salt Lake Tribune.    I'm largely fueled by a critical obsession with rice, alliteration and the use of big words I don't understand.   What they're saying about me: "Not inaccurate", "I thought he was older", "I don't share his feelings".
Want to know more? This is why I am the way I am.
This article may contain content provided by one of our paid partners. These are some of the best businesses in Utah. For a list of all our current and past relationships see our
partnership history page
.