Barely a month has passed since I trolleyed this collection of plates before your eyes, and based off of the feedback, you want even more. In no particular order then, here are two dozen or so notables that's been plated in front of me over the past few weeks. Hopefully it gives you some dining inspiration in the weeks ahead. Bon appetit mes amis.
Flanker Sporting Club + Kitchen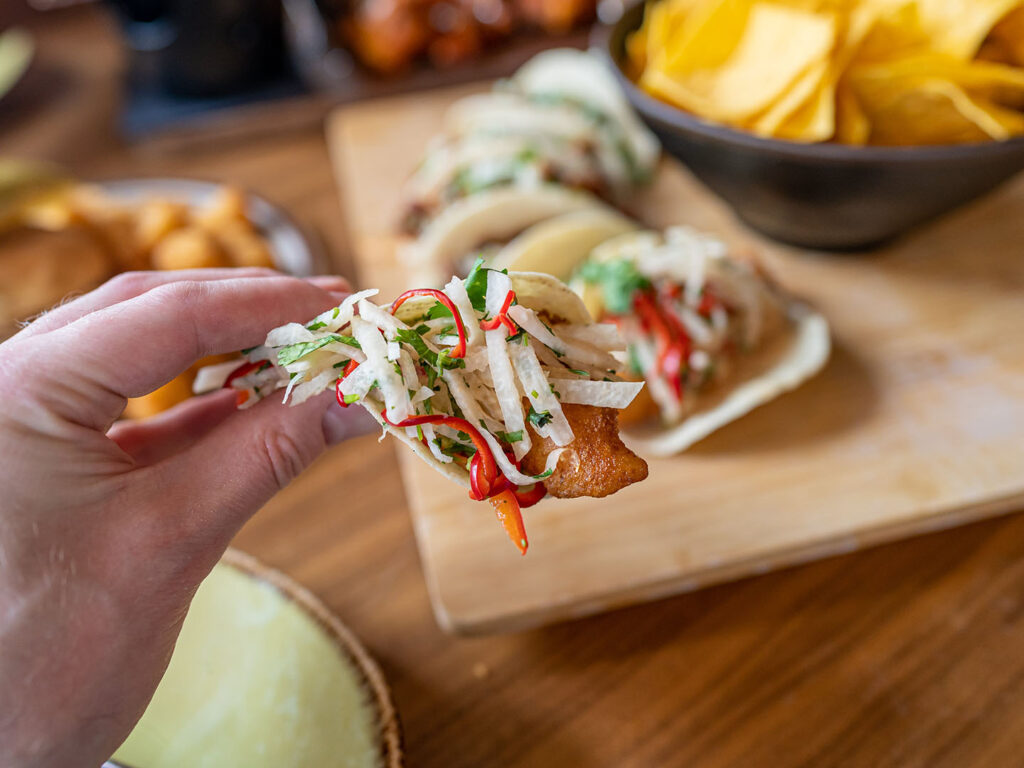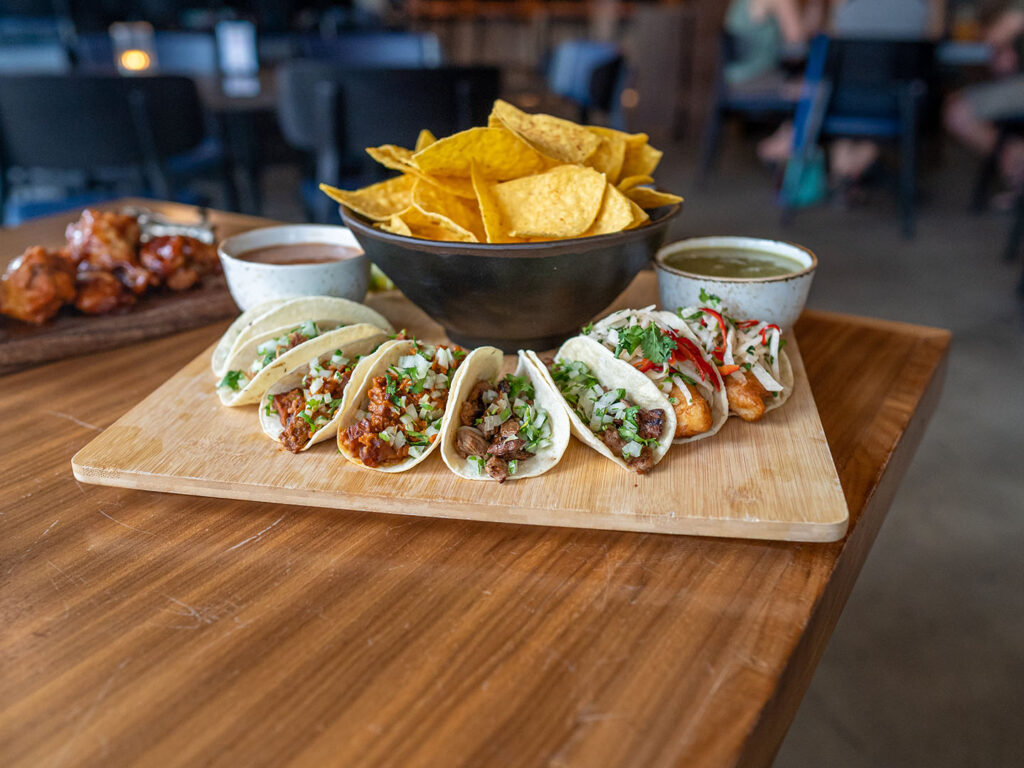 A new menu recently rolled out at Flanker – the behemoth of a space that anchors the North end of The Gateway. The unveiling came alongside the appointment of Roman Contreras; a former SoCal based chef who knows a thing or four about tacos. Selections on Contreras' new menu include carne asada, carnitas, vegan chorizo/potato, as well as fish. All are smartly assembled – the battered fish tacos switch out dull cabbage for sweetly tinged jicama for example.
If you're particularly indecisive I'd nudge you towards the "Big Tacowski", an instagram worthy presentation affording a brace of each. The tacos are accompanied by tajin-spiked tortilla chips as well as two generous servings of roja and tomatillo salsa. The tomatillo is a zesty lip-smacker and lifts the platter from good to great. I'm told it's a closely guarded family recipe of one of the kitchen crew. This particular dude abides. Please take a moment to pause, and consider your own Lebowski puns.
Insider tip: the wings at Flanker are enjoyable, and supporting their recent Monday Night Football screenings, they're offering them for just a buck a wing during games.
KITA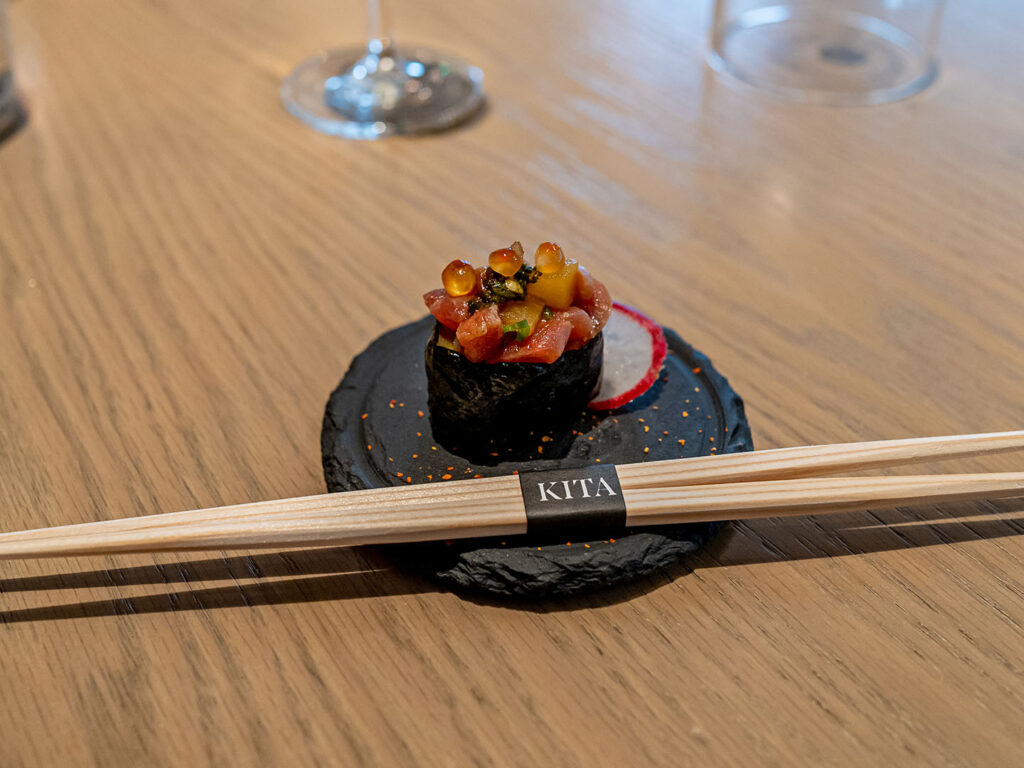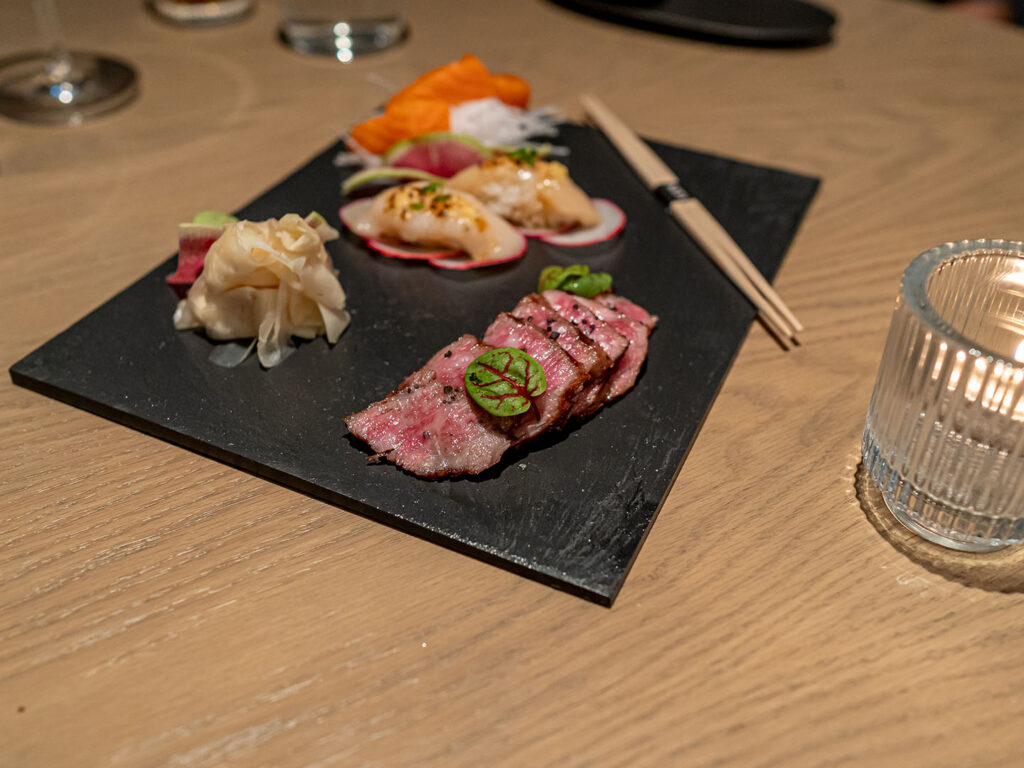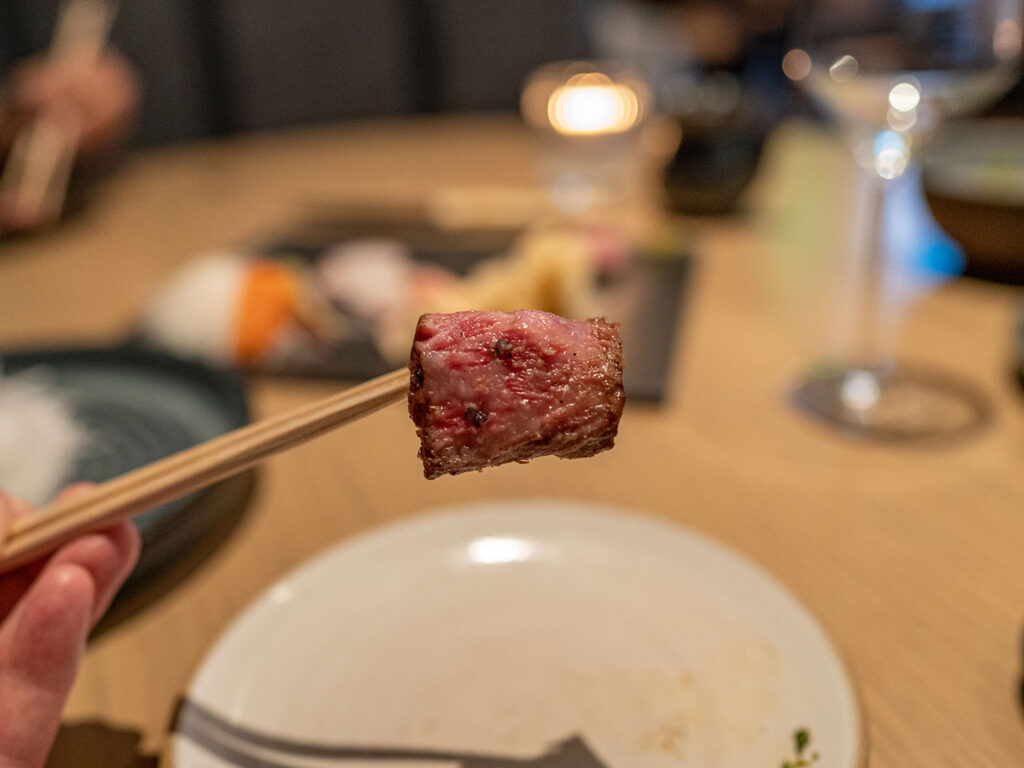 In as diametrically opposed fashion to dollar wings as is conjurable – how do you feel about thirty dollar an ounce beef? Me? I feel quite excited when it's the thinly sliced A5 at KITA; the Japanese steakhouse that serves as the fine dining option at Park City's Pendry Resort. The restaurant offers up steak and seafood, with the arguable apex of the whole shebang being the imported A5 wagyu. It's the private yacht hire of proteins; bonkers expensive, preposterous in any sense or logic, but you still want to experience those waves.
If you've never tried the real deal A5, it's more buttery fat than beef. The merest of pressure and chew and you'll sit Homer Simpson slack-jawed as the marbling rolls down your face. It's an intensely rich experience, which to be honest, I don't crave *that* much. It's just too rich for a mortal cardiovascular system (not least palate) to truly enjoy outside an erstwhile treat. KITA is one of the few places in the whole state that serve it.
Also worthy of merit, KITA's octopus. If you put a cephalopod against my head and made me guess, I'd wager the supple texture was in some part achieved via sous vide. The menu notes it's at least finished on the kitchen's wood grill, alongside shishito pesto, a black garlic emulsion and carrot miso puree. The tendril is well seasoned, firm but not chewy, fab.
Copper Common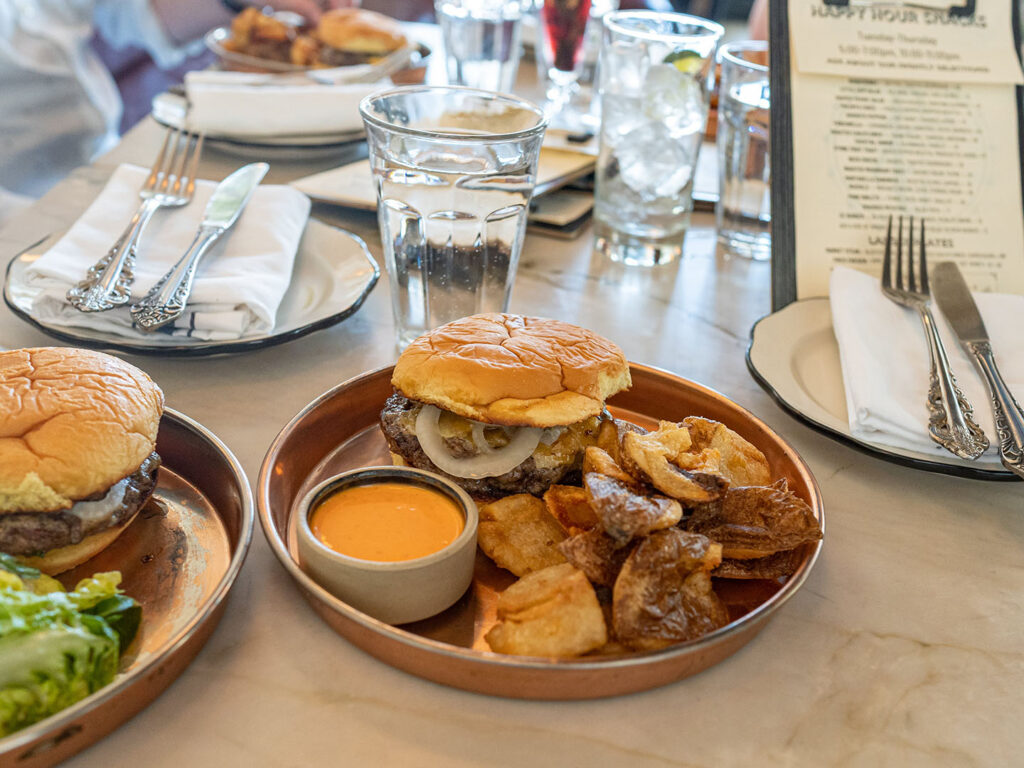 For carnivores wishing upon a more wallet friendly solution to their cravings, let me direct you to downtown's Copper Common, and what some have claimed the best burger they've ever tasted. Whoa there.
I don't think I'd go quite that far (Central 9th have them beat when it comes to the smashburger style thin patty) but it's still a supremely enjoyable burger and eminently more accessible. The menu lists the burger as au poivre style which certainly makes its presence known. The cheese is Noord Hollander – aged gouda – and the bread is brioche. You can read my recap of the Copper Common reboot here.
You probably have a couple more weeks of sun dappling out on their front patio too, which is as fun as any downtown. Enjoy the vitamin D while you can.
Dead Pan Sandwich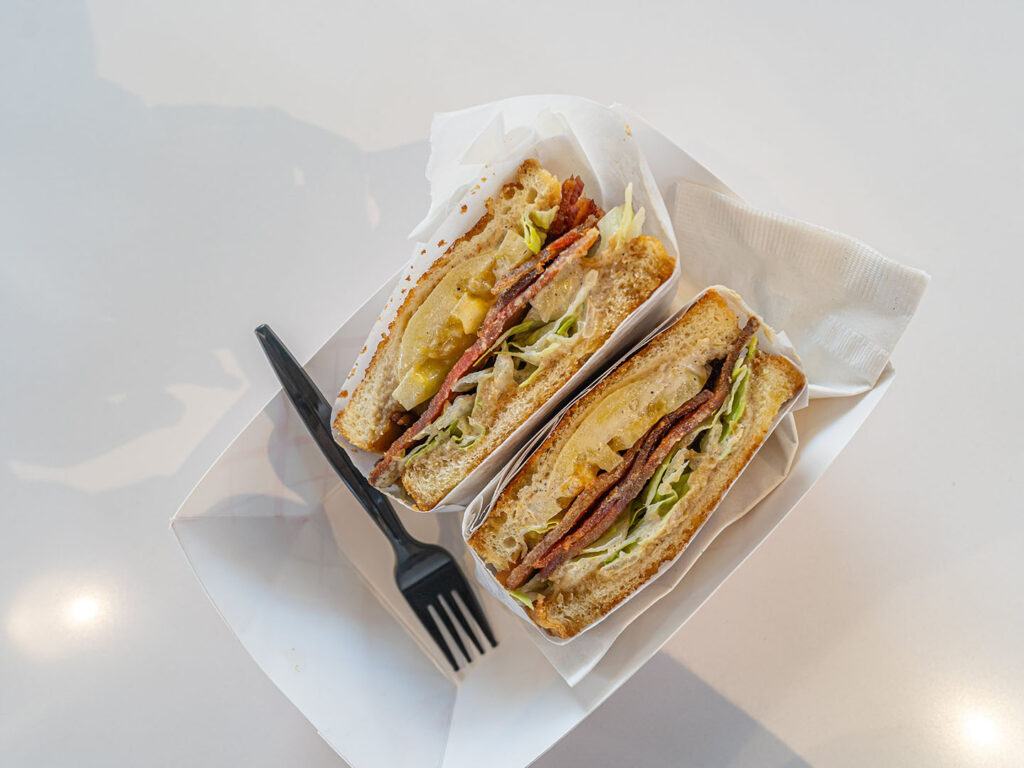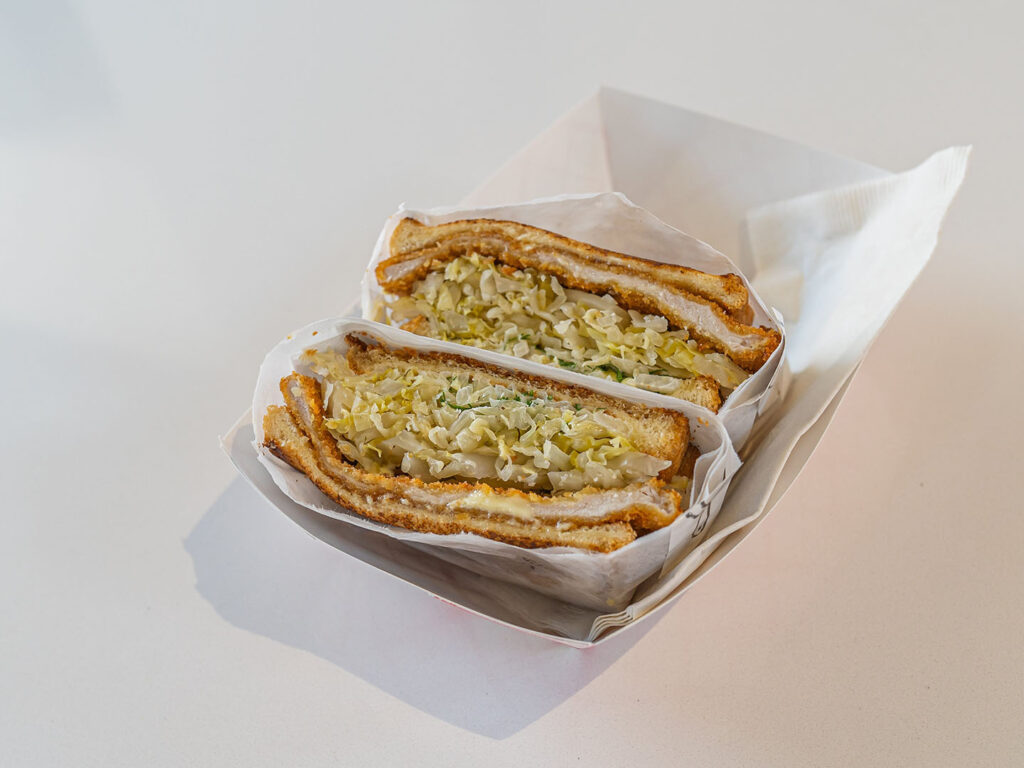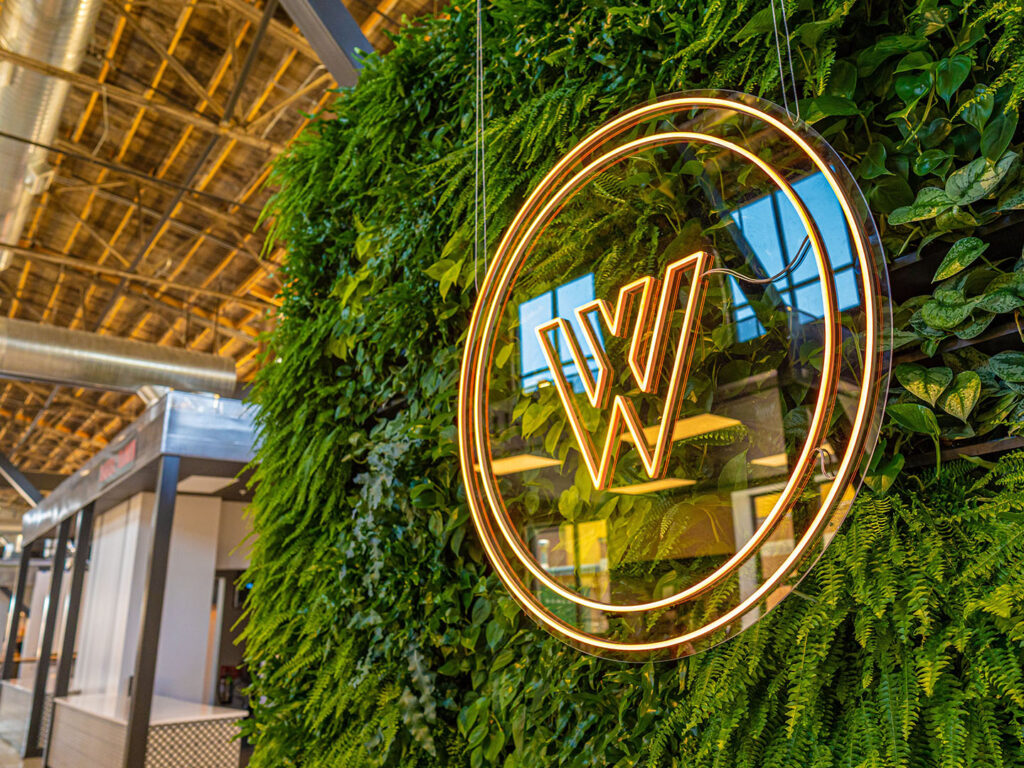 More grab it by your hands and scamper stuff. Dead Pan Sandwich is one of the new occupants in the Woodbine Food Hall facility – and a completely brand new outfit at that. The menu at Dead Pan features a raft of sandwiches millennia more advanced than your home efforts with the miracle whip and Oscar Meyer. I see you.
On an August trip to the 'Bine we snaffled two of their creations, the BLOT and the Oh Schnitzel. The former riffs on the classic triumvirate with thick sliced, pickled green tomato – while the latter is an ode to deep fried piggy. Both came as fried sandwiches. Greasily good and shirt stainingly unforgiving. The hands-free bathroom setup that Woodbine deployed in light of a ravaging pandemic – is now given further utility with these finger licking' things.
These sandwiches aren't for those of a delicate persuasion, or frankly those that don't have time set aside for a nap shortly afterwards. You've been warned. Oh, their kimchi kicks like a mule too.
Oasis Cafe
A weekday dalliance with this 5th East staple had me questioning whether I'd fallen into a temporal anomaly. The menu has barely changed since I first picked it up, some 10-15 years ago. The daytime brunch menu at Oasis still lists *seven dollar* cocktails. Seven. You probably don't even remember things priced for less than ten bucks do you?
In surveying the full patio, the lively chatter and brisk energy swirling around us, it's easy to see why the restaurant is frozen in amber – why mess with a good thing? I ordered up a simple breakfast plate and marveled at correctly cooked sunny side ups – all wiggle and jiggle – barely cooked and formed. A side of salmon chorizo wasn't the link sausage I expected, but arrived a chopped up mound of fish spiked with smokey paprika and garlic. Good good.
Beltex Meats
This month I popped into my favorite butcher to celebrate another verbose wobble around the sun. Every time I do I'm reminded I need to do so far more often. You do too. On this visit I came across some astonishingly sublime American raised wagyu from Mishima Reserve out of Washington state; the strikingly marbled NY strip practically leapt out of the display case into my arms.
My inner restaurant critic scolded the chef (yours truly) for overcooking by two or three minutes more than that recommended by Beltex owner Phillip Grubisa last pic). Listen to the man, he knows what he's talking about. That said, this steak is graciously forgiving of even the most ham fisted chef – that marbling makes up for many a kitchen sin.
Actually my biggest error was a peppercorn and cream pan sauce I whipped up while the steak rested (I did listen to that bit of advice). Note to self, and anyone else reading along, this steak needs nothing more than a knife and fork. Nada. Not one extra drop of fat, butter, cream or calorie. And don't dare reach for the A1.
Tandoor Indian Grill
I've dabbled at this Millcreek restaurant for more than a decade. Over the years I've had some unlovable dishes, and at other times, quite fabulous ones. I can't explain the waxing and waning of the dishes; is it owners, divergent chefs or simply cosmological happenstance – whatever – right now it's humming along as good as I've ever tasted.
I've probably stopped by four times in as many weeks, ordering something different with each visit. The madras packs good chunks of thigh and leg amidst a sauce powered with curry leaves. It's a pleasing pottery brown of a sauce and isn't the creamy morass of so many other masalas. The chicken tikka from the tandoor is bathed in a too-sweet sauce for my tastes, but the Hyderabadi bagara baigan is top table dining. Baby Indian eggplant come stuffed with peanut and sesame seed paste, and are then cooked in a light jade green sauce of onion and tamarind. A unique and intriguing gravy, it's demonstrably thoughtful cooking.
Bonus points: on all my recent trips a request for medium heat has resulted in a brow tingle.
Pretty Bird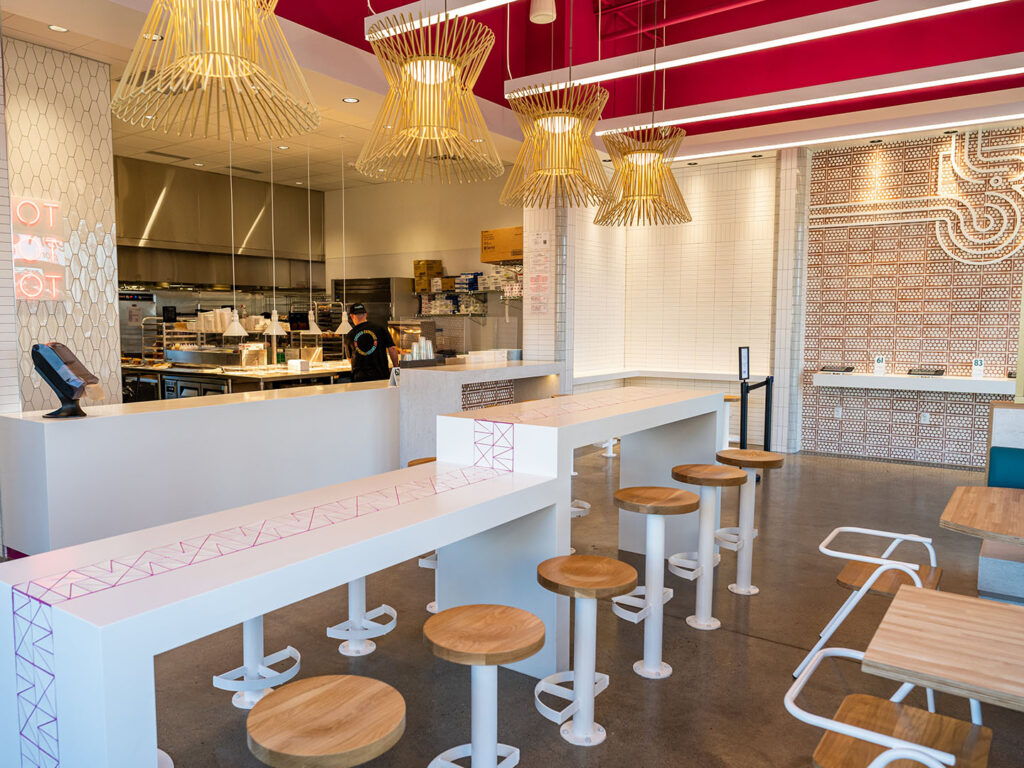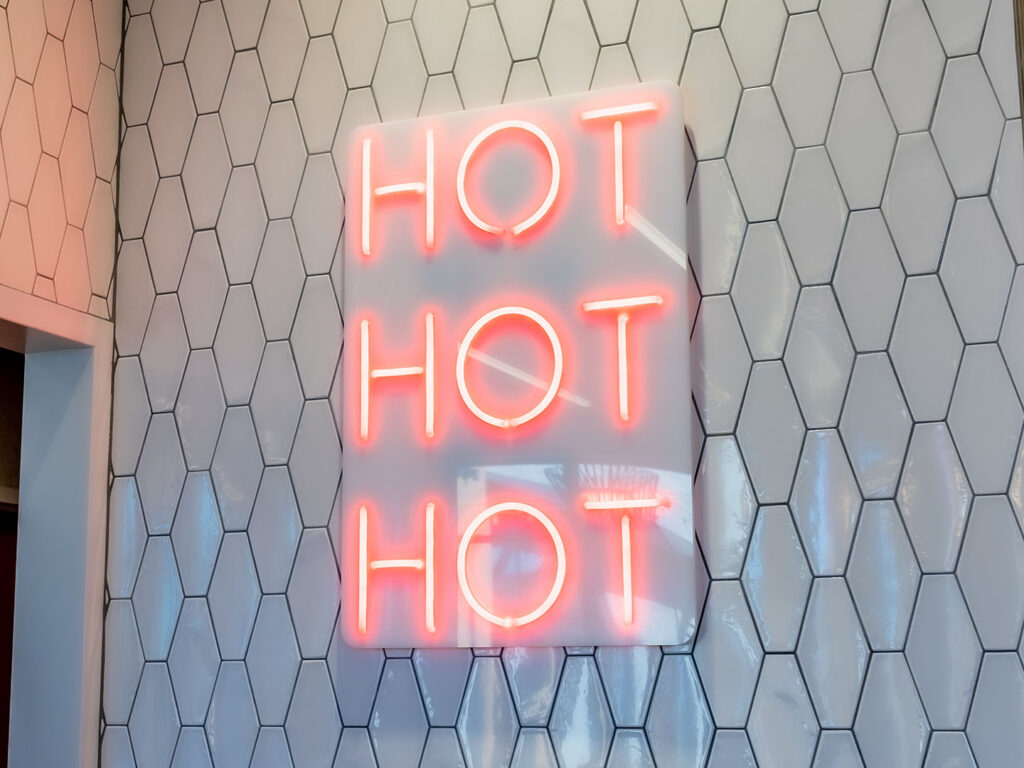 I can't lie. All the geometrical touches at the newly opened Pretty Bird in Midvale really sooth my Virgoan soul. Almost as much as the chicken. Midvalians will be glad to learn that the chicken tenders launched way back when at the Sugar House location have flown the coop over to this new joint, fourth in the Pham-pire. I ordered mine medium spiced, which offered a nice cayenne back of the throat heat, no brow sweat, quickly dissipating. I was quite surprised by the hefty cinnamon notes, an interesting sweet touch.
In the picture above basic crinkle cuts with Pretty Bird sauce and White BBQ sauce are on the side. The former is lemony-strewn and sunny, the latter, a mix of mayo and mustard in effect, probably some vinegar for sharpness around the edges. On the drinks front you can drop anywhere from four measly bills on the 10 Barrel Pub Beer, or splurge nearly $300 on a bottle of Dom. Edwina and Patsy would do it. I probably would too just to watch people's faces. "He must be famous or something. No that's Melling, ignore him, he's just trying to get attention."
Monarca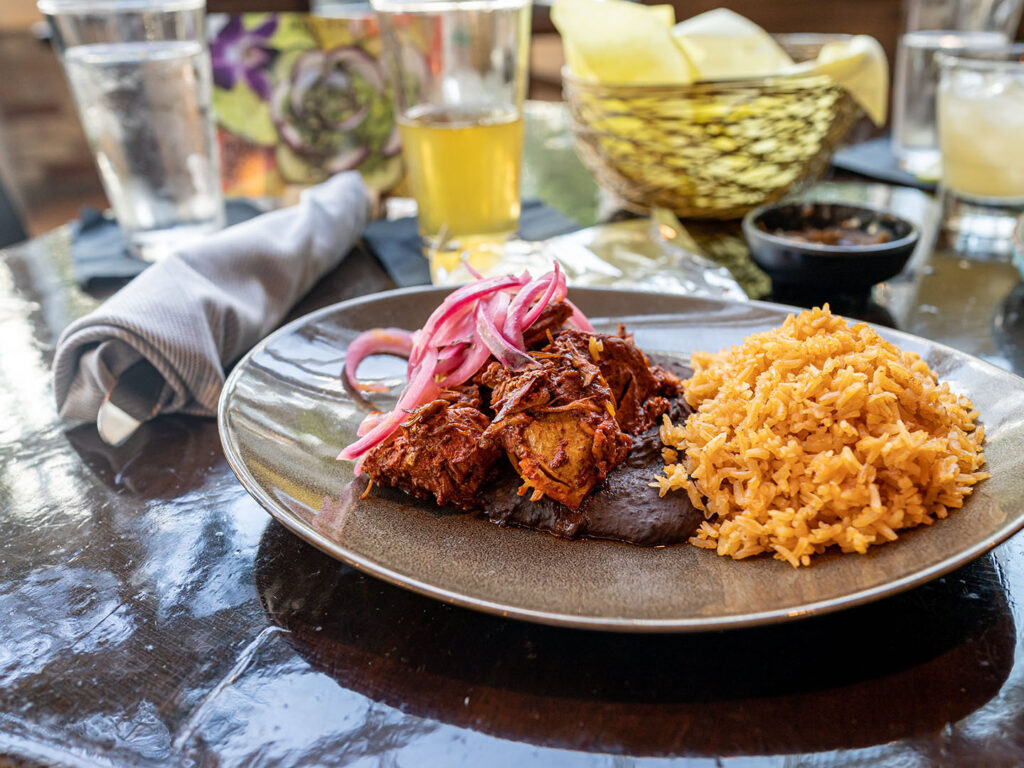 Another restaurant I set my sights on this past month, Monarca. The interior space is essentially Alamexo 2.0, all the same tiles, fixtures and fittings albeit reconstituted into a fresh layout. You'll still find table side guac atop the menu, and you'll still be watched over by an audience of brightly painted ceramic skulls.
On the food front, I was more than giddy to find the Yucatan specialty cochinita pibil listed; it's probably one of my favorite dishes of all time. Pork shoulder is marinated in achiote paste and bitter orange, before being cooked low and slow. It's pulled pork made more magical, turned up to 11 with fruity zest. At Monarca it comes served with the Yucatan standard of pickled red onions, but these pack a startling spicy punch.
Also pictured, a pair of lobster enchiladas in a coral-hued cream sauce. I don't spy either currently on the menu, so keep your eyes peeled. I'm always look fondly when a 'specials' menu actual has, you know, specials!
Brick & Mortar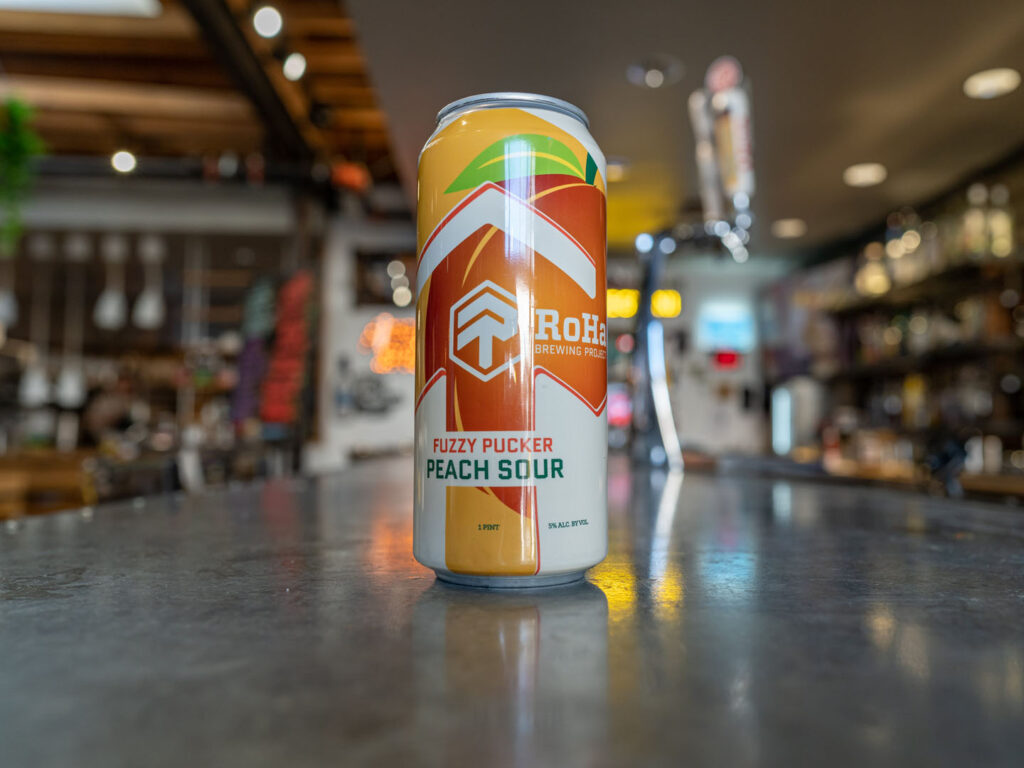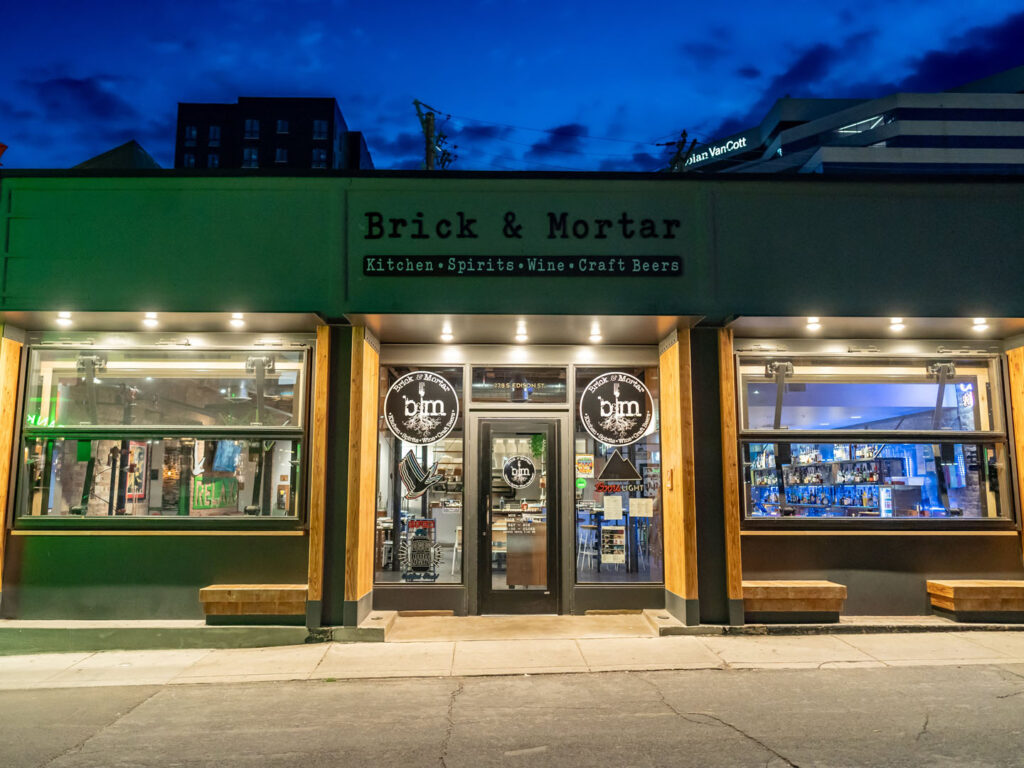 Despite assurances otherwise to my beleaguered medical team, it's frankly been a big, beef heavy month. Taurus is probably aligned with the Big Dipper or something, whatever, I'm no scientist.
I snagged this burger at the bar over at Brick & Mortar, the spot that took over the digs of the now defunct Campos Coffee. While I had some initial trepidation, what with the perfectly circular uniformity of the Creekstone Farms patty, that gave way to bags of forgiving flavor. The burger is cooked to temp, and it comes with good strong grill marks that impart a whack-load of smoke and sizzling savoriness. It's the taste of your Summer backyard on a bun and doesn't ever get too fancy. Lettuce not arugula. I now have a wandering eye on their pastrami burger.
Ooh actually, speaking about Big Dippers…
Big Dipper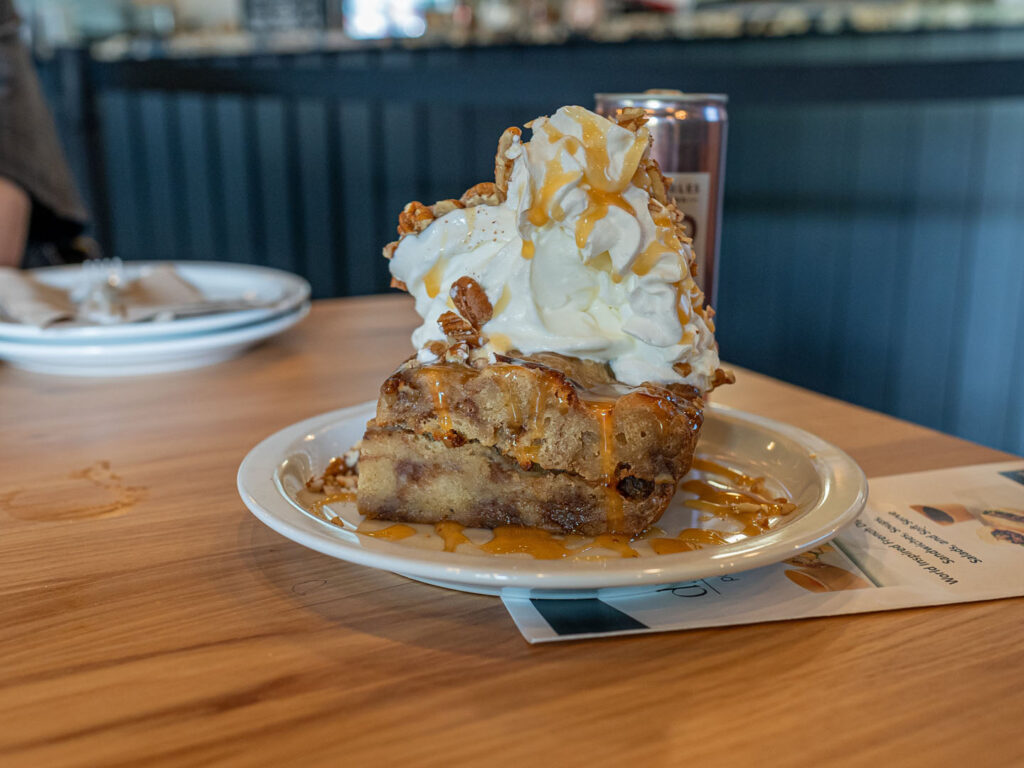 I finally made it up to Park City and greatly enjoyed this sandwich spot that lives underneath the Star hotel and bar. The restaurant rhetorical asks, what if the humble French Dip was just the start of the conversation. What if we talked late into the small hours about sandwiches and the perfect dip. And then it's all of a sudden no longer rhetorical as a wide eyed menu unfurls before you. Korea, Mexico, France, Italy, Vietnam – and plenty others – they all get the dippin' treatment – a sandwich paired with suitable side dip.
Pictured is the She's Shrimply Irrestible, a po boy with crispy rock shrimp and remoulade. On the side some clam chowder for dunking. The bread pudding made from apple fritter is excellent as well.
Bhutan House
To make this one you will need:
One order of saag, protein your choice
One order of garlic naan
One order of chicken tikka
The dish is best made the day after the main affair, with scrupulously saved leftovers. Start by applying basmati to naan, proceed by spooning over saag and finish by studding with chopped tikka chicken. Toothpicks are handy for structurally supportive reasons.
Also you will need to make a trip to Bhutan House in Sandy for said ingredients; a splendid family run Nepalese outfit spun out of the Spice Kitchen Incubator.
Laziz Kitchen
Laziz have recently blossomed into a trio of locations, with the most recent two openings taking over the old Curry Up Now units in Midvale and downtown SLC. With the expansion comes a reformulated menu. A little bit new, a little bit old. I zeroed right in on the lamb burger, a protein Utahns are notoriously bashful with. Here it's used with great aplomb for a fun burger. Beet chips make for a bacon stand in, sweet and crisp and crunchy. A yogurt sauce keeps things messy as do slippery piles of caramelized onion slivers.
RIME Seafood & Steak
Some would call it Flintstonian or caveman-esque. That'd be cliched and also quite inaccurate. Fred would never be allowed into Deer Valley. No shoes no service you know. They'd also never take his junker at the valet station. RIME sits atop the hill over at the St. Regis facility in Deer Valley and looks gloriously down on everything around it. The menu features composed dishes, but at it's core, it's a classic steak house: choose a protein, choose a side.
The pictured 22 ounce of primal flavor is one of the best things I've eaten in 2022. The ribeye in question clocks in around the $100 mark, before you start adding sides like truffled fries, but quite honestly it's worth every last cent. I'd happily toss them my wallet and tell them to help themselves if they asked.
As all the very best steakhouses do, they remind you that you can't really cook like this at home. You tell yourself you can, but you know in your heart you can't. You can't quite source the same quality meat. You can't generate the intensity of sear and crisp while retaining that even interior cooking, and you certainly don't know what the hell you're doing with the seasoning. What is fleur de sel anyway? It's like a pattern or something right?
I'll have a bigger writeup on my RIMExperience in the coming week or two. Stay tuned.
Dos Olas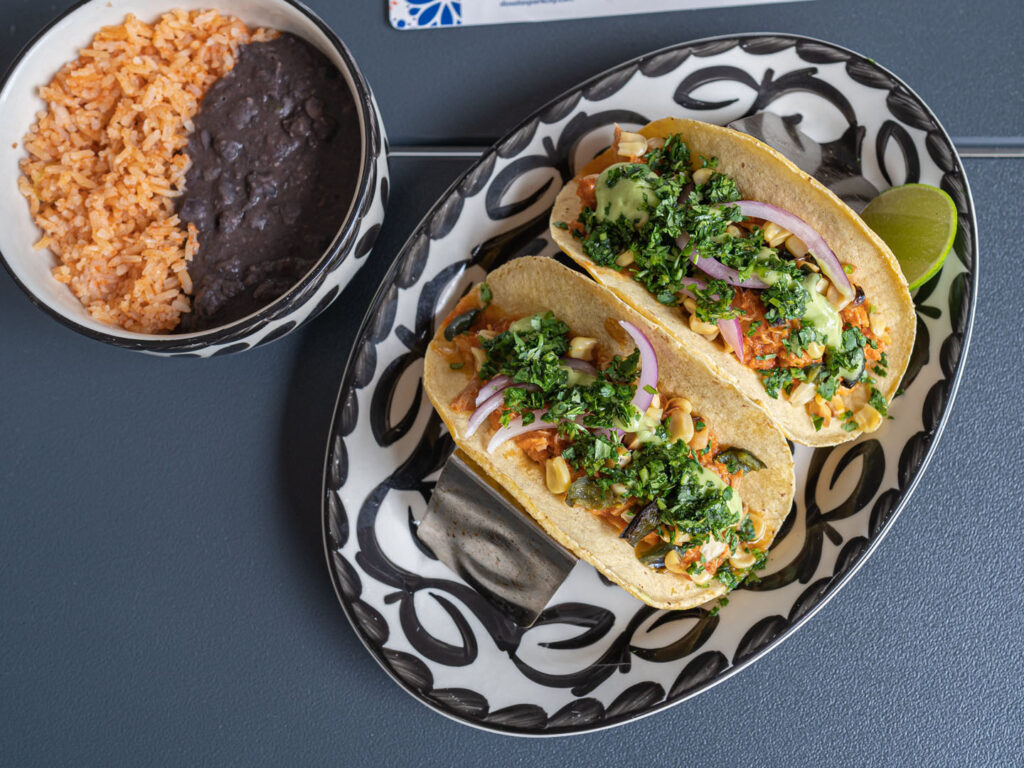 Another one from the Pendry resort I mentioned earlier, and probably my favorite meal I experienced during a brief stay. The standout dish was the chicken tinga tacos, a loving look back on the childhood memories of chef Carlos Segura. It's comfort food from the heart, tomato sweetened chicken, warmed with just a dash of chipotle. Soothing corn tortillas are non negotiable, don't make a fool of yourself and demand flour. You can read my full review of the restaurant here, then learn how to make the stuff yourself here. While we're on the topic of home cooking, here's one final cry for help dish to consider.
Utah Dog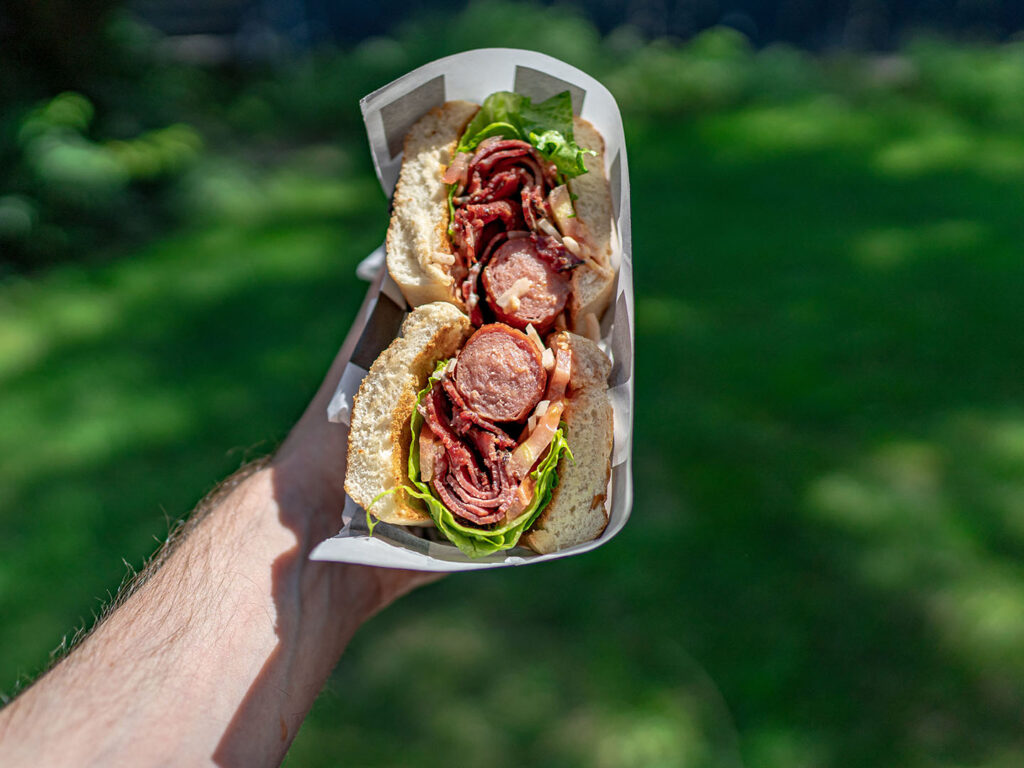 The above is what happens when I am left without adult supervision, a lustrously temping pack of pastrami, and no real plans for the evening. The devil finds work for idle deli meat.
You can take your Chicago dog with those fancy peppers that you will never ever find; your chili dogs with all their mess and fuss and napkins. No. I give you a real dog, a dog with local terroir, a Utah dog we can call our own.
Fried pastrami, a jumbo all beef hot dog, lettuce/tomato/onion and copious amounts of fry sauce. Copious. Dance around the garden with this one, make your neighbors question everything as they peer out the window in fear as a grown man beams upon his creation, laughing and weeping at the same time.
O.k. I'l stop now.
Keep the conversation going
Want to stay on top of the SLC food scene, minute by minute, dish by dish? Here are a few other places you should follow along:
Hi, I'm Stuart, nice to meet you!  I'm the founder, writer and wrangler at Gastronomic SLC; I'm also a former restaurant critic of more than five years, working for the Salt Lake Tribune.  I've worked extensively with multiple local publications from Visit Salt Lake to Salt Lake Magazine, not least helped to consult on national TV shows.
I'm a multiple-award winning journalist and have covered the Utah dining scene for the better part of fifteen years.   I'm largely fueled by a critical obsession with rice, alliteration and the use of big words I don't understand.   What they're saying about me: "Not inaccurate", "I thought he was older", "I don't share his feelings".  Want to know more? This is why I am the way I am.
This article may contain content provided by one of our paid partners. These are some of the best businesses in Utah. For a list of all our current and past relationships see our
partnership history page
.