Pendry Park City is one of the newest additions to Utah's Canyons Village – opening in February 2022. If you're new to the name, Pendry is the relatively modern label of the luxury Montage brand. The Park City outpost of Pendry features 152 rooms/suites and according to the company, offers "a contemporary mountain resort with ski in/ski out access. Natural, warm design elements and a contemporary, modernist feel."
Here's what I found during my two night stay in August 2022. Hopefully after this, you should be able to answer the question, is Pendry Park city any good?
Need to know
Pendry Park City is essentially a campus of three separated buildings; these in turn surround an internal plaza. Building number one is where you'll arrive, greeted by an eager team of valets as you pull in off High Mountain Road. It's here that you can also grab the free shuttle bus that Pendry lay on; the shuttle departs the hotel on the hour for Park City's buzzy Main Street. I'd recommend you use the valet service on arrival. The general public parking is on the opposite end of the facility and it's not the most obvious when you're trying to gather your bearings. Just hand the keys the friendly valet team, trust me.
Check in can be found a few footsteps beyond the main doors and valet station. Should you be worried about getting around the unique trio of buildings, note that all three buildings are connected on their second level by a cool sky bridge. That means should you need to move from building three to one, you can do so comfortably indoors. Depending on your journey, the walk can be tad convoluted, and simply taking the external plaza can be far more direct. The outdoor area is worth exploring in its own right, featuring a number of large fire pits and seating areas. Bonus tip: just ask at the front desk and they'll set you up with your own s'mores kit.
In terms of services, Pendry offers room service, multiple on site dining options, a spa and wellness center as well as 24-hour fitness center with Peloton bikes and Technogym equipment. Atop building two is also a separate open air pool with it's own bar and al fresco dining (more on that shortly).
Aesthetically speaking, a striking angular motif runs throughout the resort; I'm assuming to mimic the surrounding mountain vistas. It's contemporary and chic, and in stark relief to some of the older, more traditional architecture you will find in Park City. I found there was always something interesting to look at and frame in the camera lens.
Food
Lets get to the most important bit first – how's the food? Pendry Park City has five on site dining options: Apres Pendry, KITA, Dos Olas, The Pool House and Disco Pizza. I tried four of the five on my visit, Disco Pizza was not open (a Winter only restaurant I believe).
Apres Pendry
Apres Pendry is the resort's main restaurant and serves breakfast, lunch and dinner seven days a week. It sports a semi-walled off bar area if you want to simply grab a drink (21+ only please). The bar menu offers a range of composed cocktails (classic and modern) as well as craft beer and a selection of wines and spirits. If you're feeling like some Utah in your glass, a scan of the bar revealed a few local names like High West. One item I noted across all Pendry bars, champagne by the glass is a staple. If you're looking to celebrate, the Moet flows like water here.
Service at AP starts at 7.00 a.m. and ends at 10.00 p.m. A thoughtful feature of Apres Pendry is how the space seamlessly transitions from indoors to out with several large open doors to the patio area. We enjoyed a meal al fresco one evening, enjoying the warmth of the nearby fire pit as the sun set behind the mountains; even if you dine indoors the vaulted ceiling and large windows mean lots of natural light.
The menu at Apres Pendry is built around solid American fare, offering something for everyone. Think burgers and sandwiches, salads and simple entrees. On my visits I particularly enjoyed the well executed burger, a fried chicken sandwich (which our waitress joked was styled ala Chik-fil-A) and a handsome bolognese that riffed on the mountain West setting with elk and bison. Stop by Apres Pendry on Friday, Saturday or Sunday evenings (5.00-8.00 p.m) for live music. I was told the style of music can vary week to week, flamenco to pop!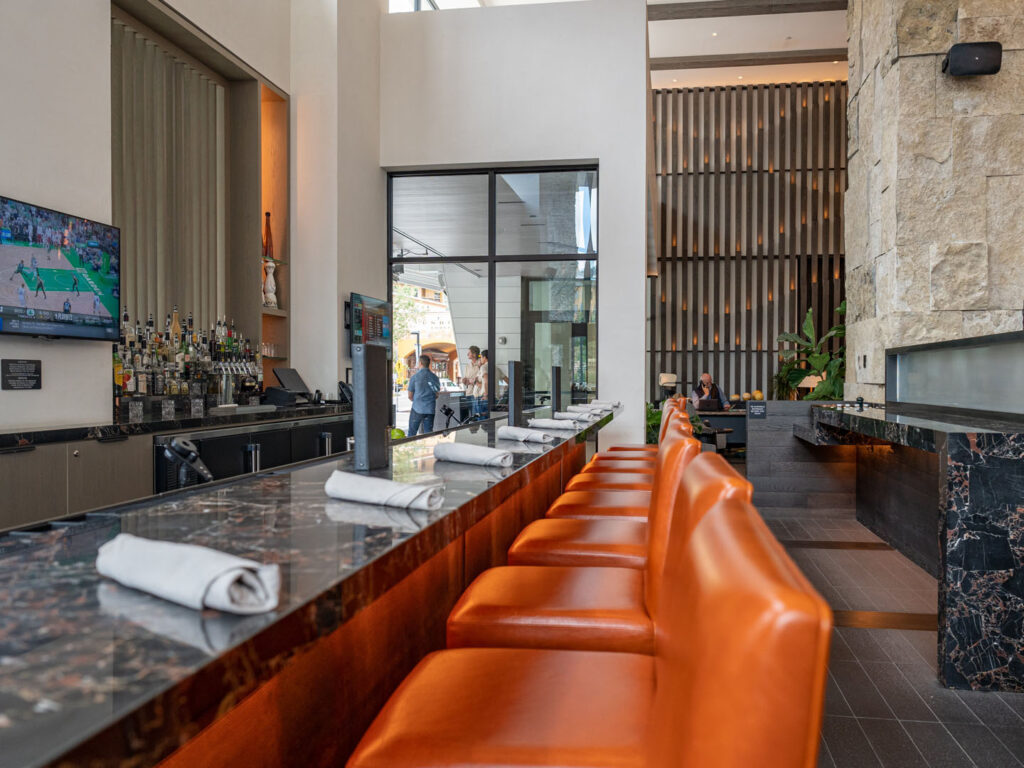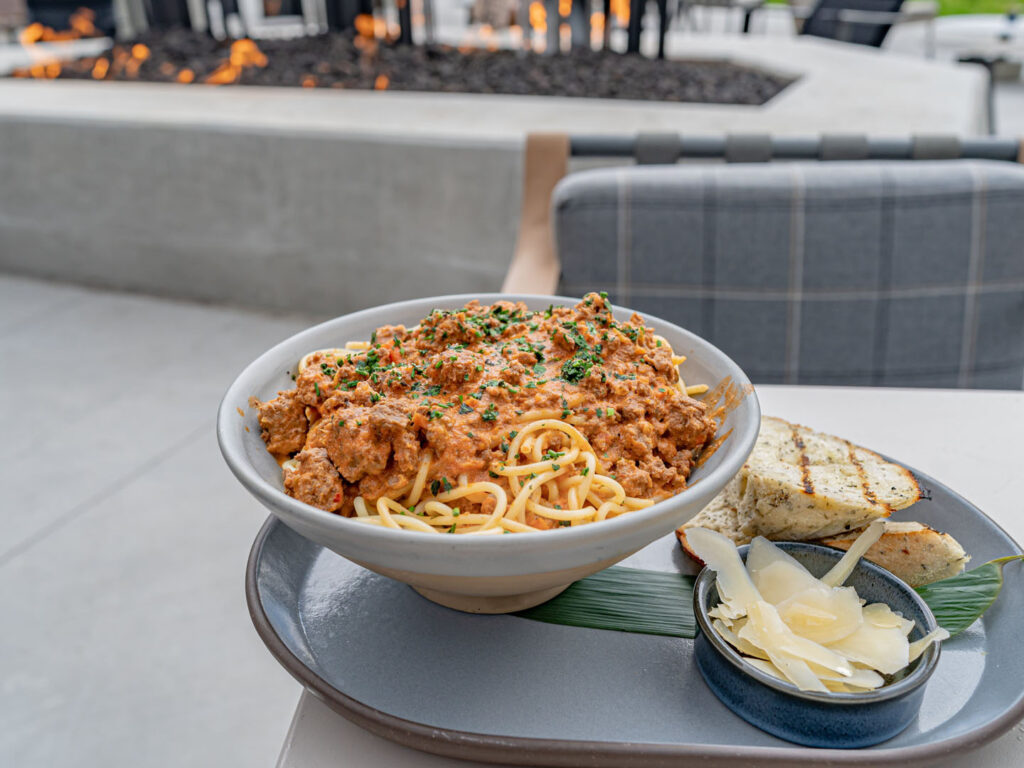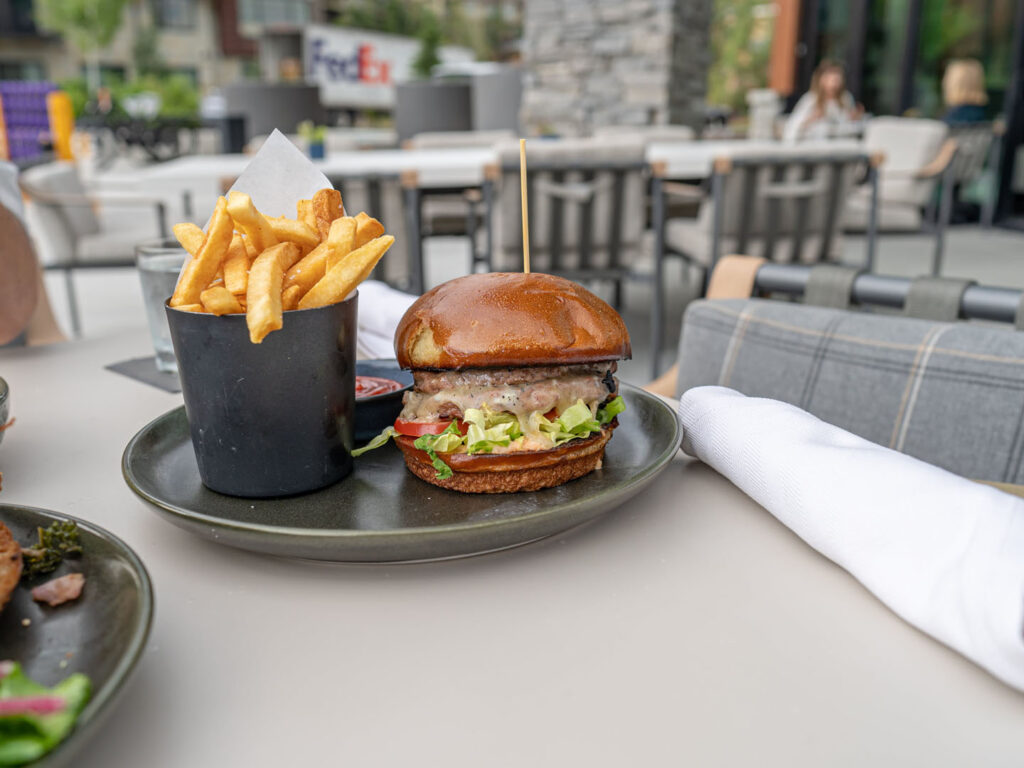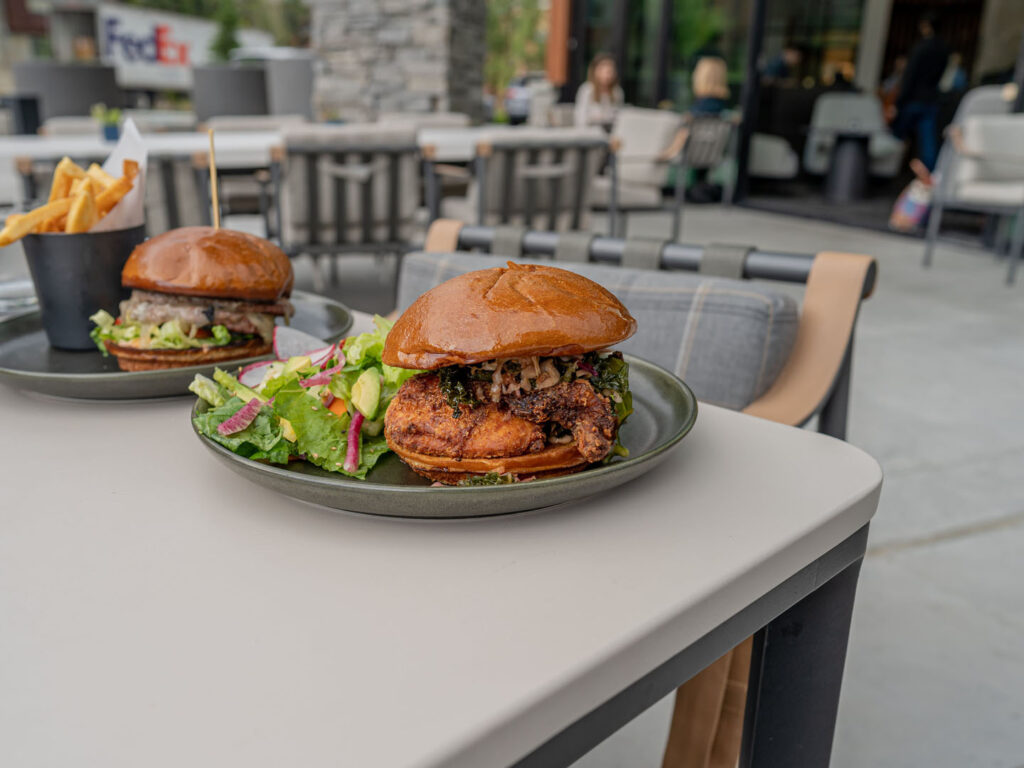 Dos Olas
Located on the ground floor of building three is Dos Olas. The Mexican restaurant is helmed by chef Carlos Segura, who brings his family's traditional recipes with him; ask about the pollo tinga tacos – his mom's recipe by all accounts. Segura crafts the whole menu from scratch, and it shows, the mole itself is a five day process!
I briefly chatted with Segura who recounted his youth in Mexico City and the influence of road side vendors on his cooking. Standout dishes I enjoyed include the meaty mahi mahi ceviche, those stunning tacos and that aforementioned mole, a wonderfully complex sauce with seared cauliflower and plantains.
The roasted tomato and tomatillo salsas on offer at Dos Olas are rather special too – fueled by billowing smoky notes. Chile-heads should ask after Segura's secret hot sauces too – he usually has a couple out back "off menu"; they're the real deal and not to to be toyed with. Just trust me, and Segura, on this one. There's a variety of seating in and out, the bar area is top notch and the outdoor patio is covered from the elements. I could have happily ate every meal at Dos Olas.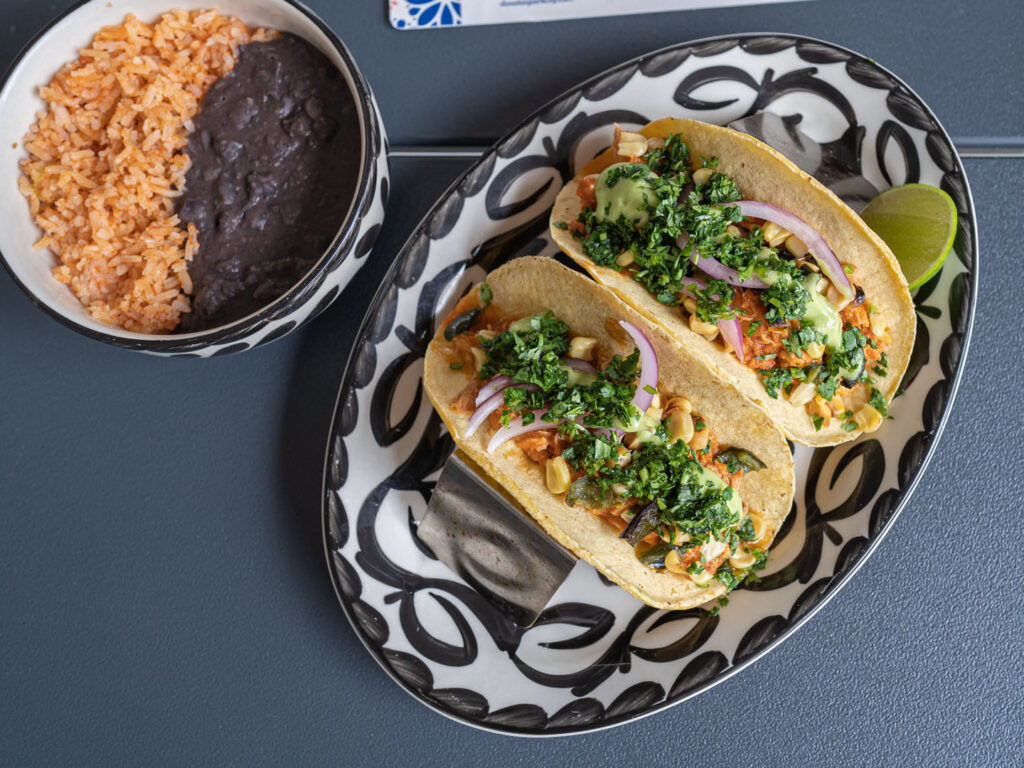 KITA
This Japanese steakhouse is the fine dining option at Pendry Park City. You can find the restaurant just off of the Apres Pendry dining room. Immediately through the doors you'll be greeted by a handsome sushi bar replete with plenty of counter seating, high tos that lead out onto patio dining, and a large main dining room with tables and private circular booths.
While sushi is offered our server was keen to focus on the steak house element of KITA, which is understandable given their menu of finely sourced steaks; KITA offer Japanese A5 Miyazaki which makes them one of only an exclusively small group of restaurants in Utah doing so.
The Pool House
Located on level six of building two is The Pool House. As you leave the elevators on floor six simply turn right and you will see the entrance. As you enter The Pool House you'll see the bar to the right, general seating and dining to left and the pool/hot tub directly ahead of you. You don't need to use the pool to eat or drink up here either; we stopped by simply to take in the views, enjoy a light lunch over, you guessed it… a couple glasses of champagne.
According to the Robb Report this is the only rooftop pool and lounge in Park City, and I'd definitely recommend a visit when the mood strikes. Our own visit was briefly beset with a mid afternoon rain storm but we sheltered happily under the large canopies.
The menu at The Pool House has that California-clean vibe about it. Healthy bowls, plenty of avocados, fruit and grains. DJ sets provide an enjoyable backdrop at weekends (2.00 – 5.00 p.m.) and frankly, ensconced in the comfy chairs looking out over the mountain vistas – it's decidedly hard to leave.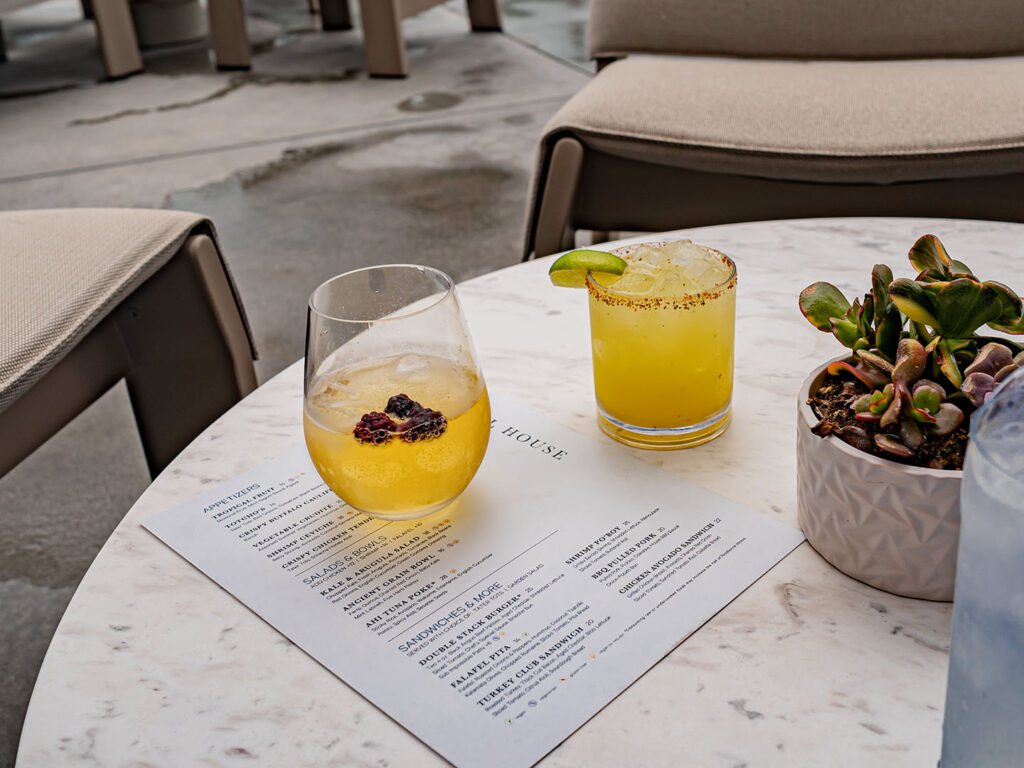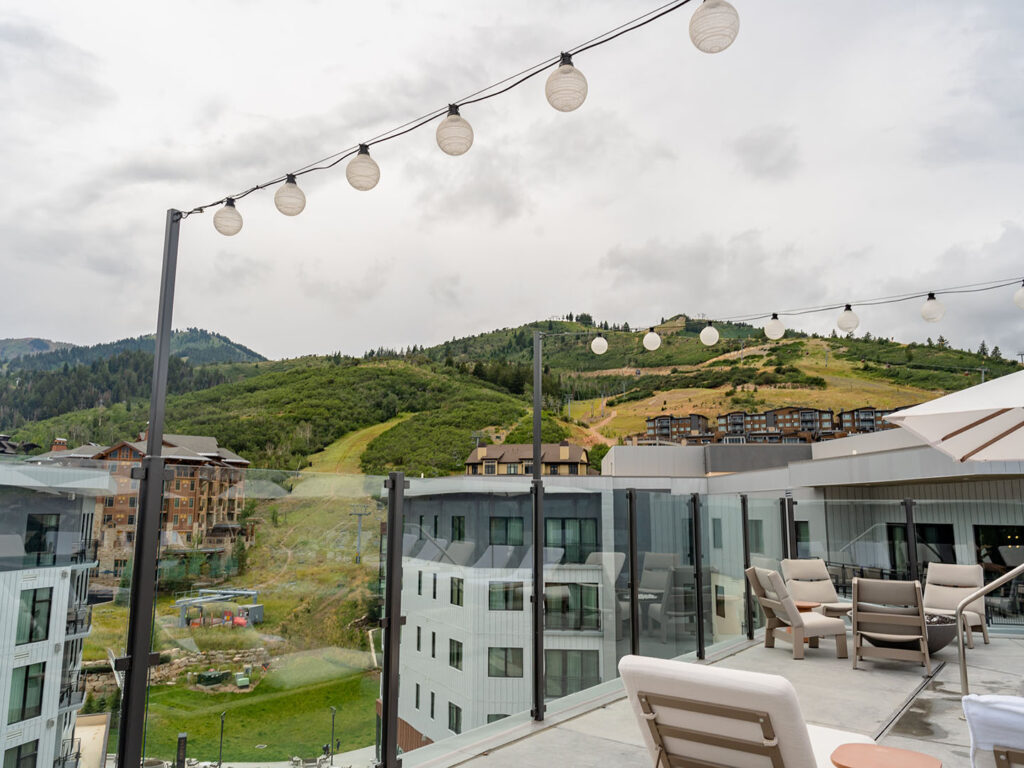 Disco Pizza
During my stay this restaurant was not open.
Surrounding area
Immediately in walking distance of The Pendry are a number of other shops, restaurants and bars in the Canyons Village. In simple walking distance from Pendry you can access Edge Steakhouse, Drafts Burger Bar and Kuchu Shabu. The center of the Canyons Village as a whole is home to a large live music stage – so keep your eyes peeled for that. It's no more than a five minute walk from Pendry. In the Summer months a number of the ski lifts are operational for some stunning views of the area.
For snacks, drinks and such you can take advantage of The Marketplace & Liquor Store, adjacent to Pendry in the Westgate Park City. To get there, head out of the Pendry front entrance and turn right onto High Mountain Road and head down the road. It's barely a 2-3 minute walk and you should see the green awning out front pretty quickly. Inside you'll find a mini liquor store with beer, wine and spirts, a few gifts and goodies as well as pantry staples for your Pendry kitchen. The store closes at 7.00 p.m. so plan ahead accordingly.
Room service
Pendry Park City has room service that offers breakfast, lunch and dinner services. These start at 6.00 a.m. and end at 10.00 p.m. I took advantage of room service twice on my stay, both times to kick off the day with (and no, 8 a.m. is too early for Champagne even for me). There was no option to leave a pre-filled breakfast order on the door over night, but on both occasions I called the room service team directly, breakfast was plated in my room within 45 minutes. I enjoyed the slope side breakfast with good quality crisp bacon and a rather splendid avocado toast with perfectly poached eggs.
Curiously, while the room service menu affords spirits by the bottle, there is no option for wine by the bottle. For libations you can order beer, wine by the glass and cocktails too.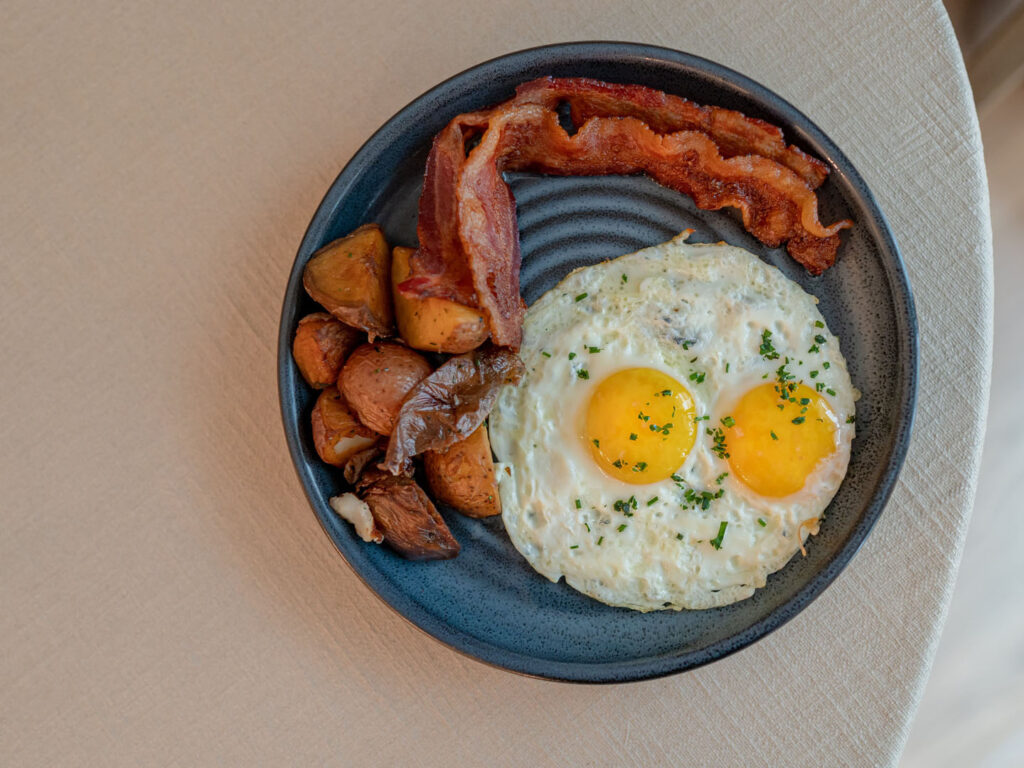 Rooms
During my visit I stayed in the one bedroom King Residence. While I wouldn't call the design stark, the resort definitely sports a modern sleekness. This isn't the ski chalet of yore for sure. There's a de-cluttered and minimal feel which lend a lovely respite from the chaos of the regular day to day grind. Pendry Residences include their own well stocked kitchens replete with ultra-luxe Bertazzoni Italian appliances. My kitchen was immaculate and had everything I could think of, microwave to coffee maker – even a separate espresso machine. Hidden away in the various closets you'll also find your own washer and dryer should you have an extended stay. I spent most of my time away from the room, wandering the resort, but it surely felt like everything was thought of; yep, even a wine bottle opener…
The room was spotless and the smell of fresh paint still in the air. Wifi is complimentary and I managed to access speeds of 60 mbp down / 30 mbp up with just 30 seconds of effort – more than plenty for multiple Netflix streams. Speaking of electronics, there are plenty of outlets scattered around the rooms, with several on either side of the (very comfy) bed including USB 2.x ports. Both bedroom and lounge featured a large modern TV; these both found themselves tuned to the mellow 'Pendry turn down channel' by room service each evening; speaking of which, turn down service happens on a daily basis and each night I discovered a duo of macarons placed by my bedside.
The bathroom was a fabulous oasis, stocked with good quality products (MiN New York) and lots of towels. In one of the closets I even found a steaming machine for stubborn clothes. The bathroom is isolated from the bedroom with a smooth sliding door and the toilet is separate in it's own room within that still. My only small issue was the relatively low water pressure on the shower, which featured a multiple head system.
Robes hang on the bathroom wall, but be sure to read that price tag if you intend to take one home.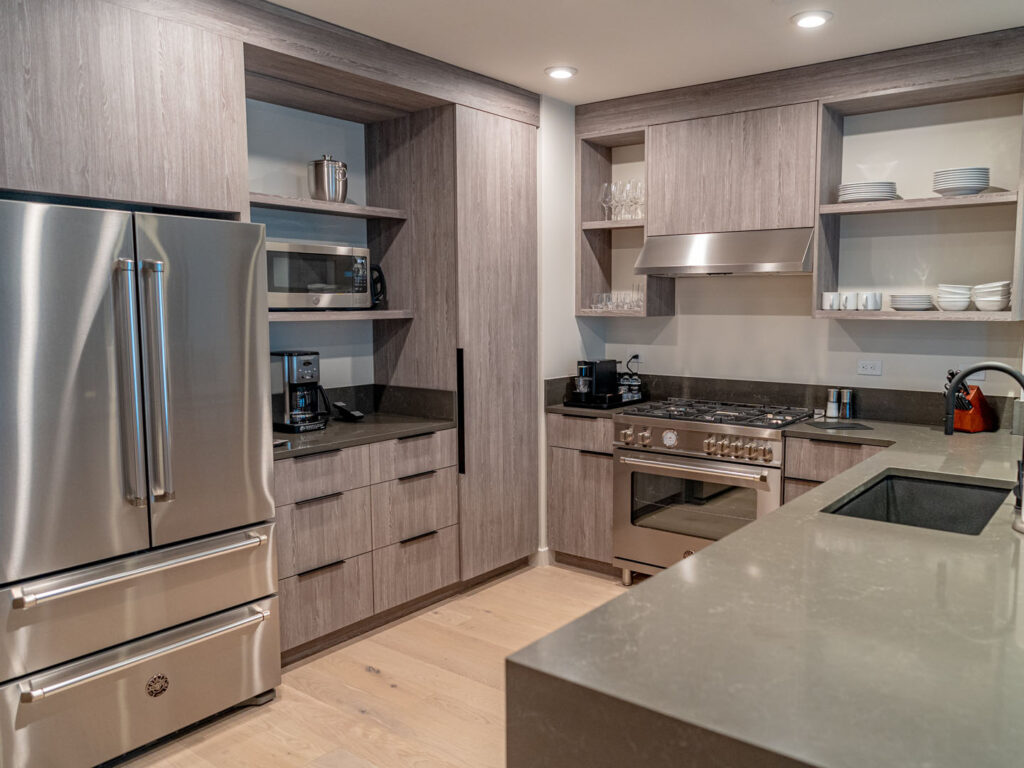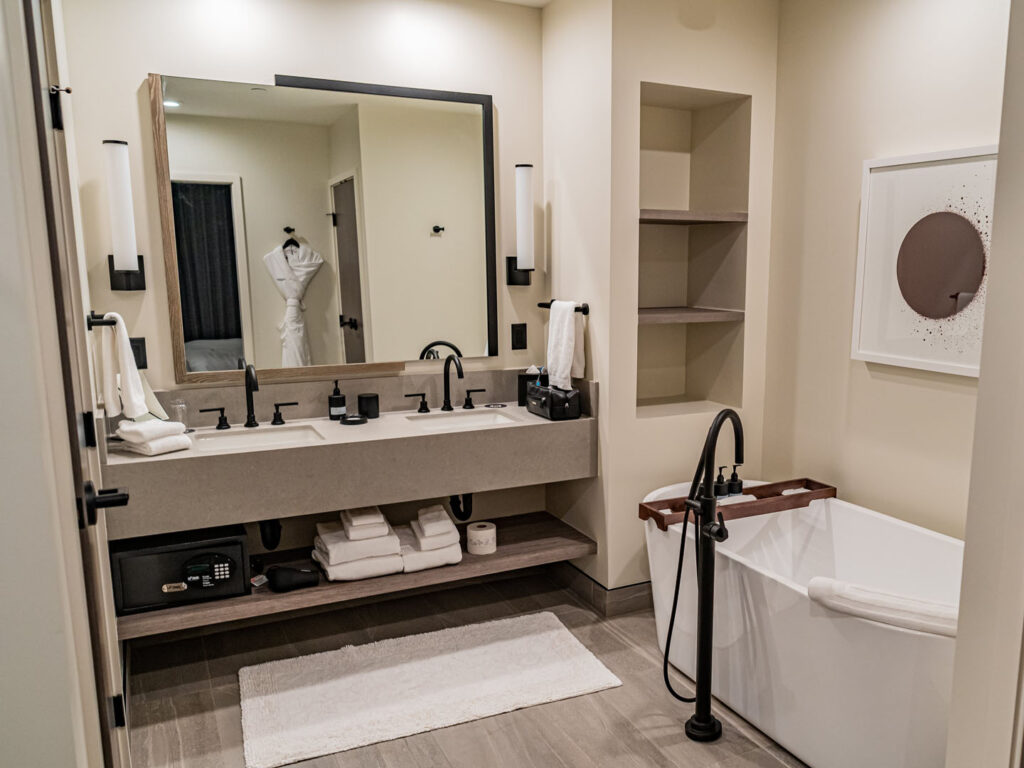 Service
Almost without question service across my visit was very good to excellent. Staff were uniformly eager to help and answered any question I had with the minimal of fuss. Finding myself sat in the lobby one afternoon, simply watching the world go by, a member of staff cheerfully checked in to offer my a drink. My visit was peppered with pleasantly similar small, but appreciated touches. I found that rooms are also cleaned on a daily basis unless you hang up your 'do not disturb card'.
Other notes
Night owls will want to plan ahead. Things close down early at the Canyons Village in general. The Pendry's room service, restaurants, bar and indeed the whole immediate area shut up shop at 10.00 p.m. If you're looking for a post dinner night cap, you could be out of luck. On my stay there was nothing I could find immediately close to the hotel after ten. Of course, a Lyft or Uber down to Main Street in the center of Park City would take only a few minutes. Again, I'd recommend stopping in at the nearby Marketplace & Liquor Store for stocking up your room.
Final thoughts
I loved the modern feel to Pendry Park City. Many facilities in Park City and Deer Valley can lean too heavily into an all out Alpine-design, imposingly heavy dark woods. Pendry is the polar opposite, light, sleek and elegant. It's a 5/5 for me.
Disclosure: I was an invited guest of the Pendry in August 2022. All thoughts are my own and the small hamster that runs around the wheel in my head.
Our sponsors and this page
This page may contain information about one of our sponsors. We only work with the very best businesses in the state, and routinely turn down offers to work with businesses we don't enjoy. If we can't hand on heart recommend them - they can't be a sponsor.
At this time we have the following sponosrs: BTG, Caffe Molise, The Dough Miner, Downtown Alliance, Feldman's Deli, Flanker, Garage On Beck, Hearth And Hill, Hill's Kitchen, Kao Thai, Kin Sen Asian Noodle Bar, Kyoto, LemonShark Poke, Log Haven, Oasis Cafe, Pirate O's Gourmet Market, SLC Eatery, Squatter's Downtown Salt Lake City, Stoneground Italian Kitchen, Urban Hill, Wasatch Brew Pub Sugar House, Whiskey Street, White Horse.
I encourage you to Google any of our sponsors and see the stellar reviews on multiple sites that they enjoy. For a list of all our current and past relationships see our partnership history page.