Carnitas this, al pastor that, sometimes I lament for humble tinga, a lesser seen protein. For my money it's all too often overlooked. I was reminded of this fact when dining at Dos Olas lately (review incoming), when chef Carlos Segura's wheeled out his mom's version of the dish. The dish can be summed up essentially as chicken simmered in chipotle – and it's infinitely forgiving; a pot on the stove bubbling away, poke and prod it to your own tastes. Segura's version uses sweet corn and roasted peppers – here's my own take – a dish I've enjoyed for years and years.
Tinga De Pollo
Ingredients
2lbs chicken thighs, boneless and skinless
10 oz can chopped tomato (eg Rotel)
2 tsp garlic, crushed
1 tablespoon ground oregano
2 tsp ground cumin
1 white onion finely chopped
1 lime, juiced
2 green peppers
2 chipotle chiles and adobo sauce
Cilantro
Chicken stock
Vegetable oil
Corn tortillas and toppings to serve
Instructions
Finely chop the white onion and cook over a medium heat with a couple tablespoons of vegtable oil
Once onion is softened add chicken thighs whole
Add garlic, orgeno and spices
Stir well and cook for two minutes, so everythying is nicely coated
Add can of tomatoes
Stir well and add chicken stock till tinga is just about covered with liquid
Cover with lid and simmer on a low heat.
Give the tinga a stir every so often to make sure theres plenty of liquid and nothing is sitcking to the pan
While the tinga cooks roast your preferred green peppers in the oven or air fryer. I like green bell peppers, or poblanos, double up if you use those.
After around 90 minutes the chicken wil start to break down into an easily shreddable form
Add juice of one lime, roasted and diced green peppers, and a handful of chopped cilantro
Cook with the lid off until the tinga reduces down to the preferred consistency
Serve in corn tortillas with pico de gallo and preferred toppings
Tinga de Pollo – what you need to know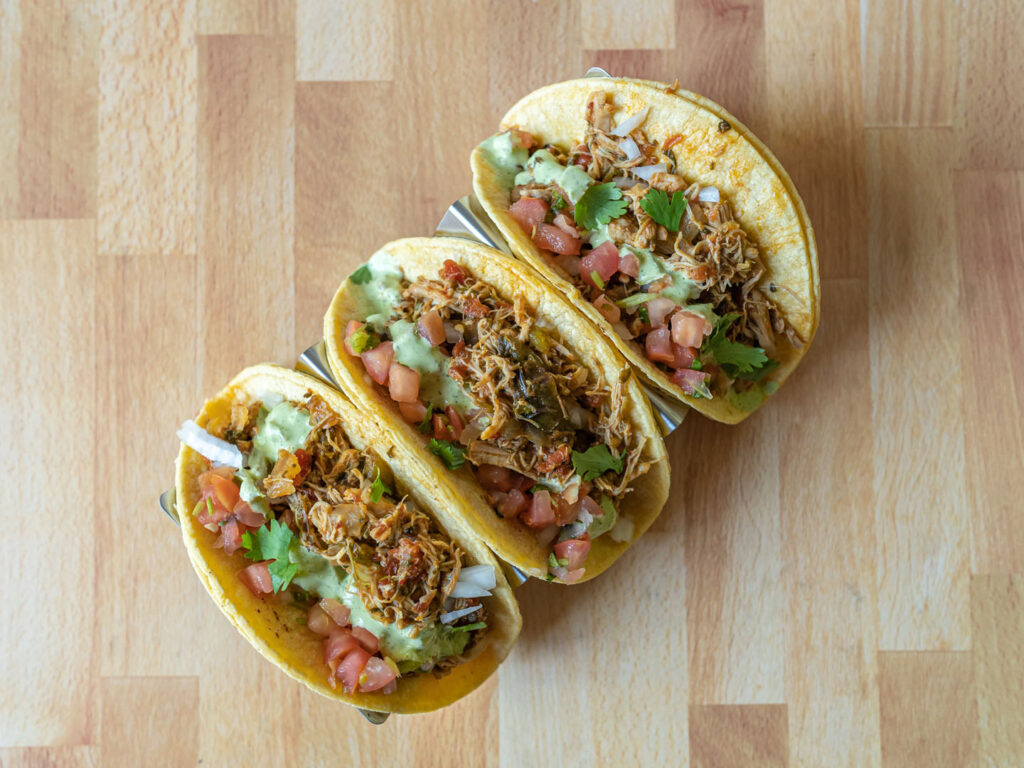 Chicken thighs
Chicken thighs are massively preferable over chicken breast. If you're squeamish, don't be. By the time the dish has cooked and broken down, the only difference you'll notice is impeccably tender and juicy chicken.
Most grocery stores offer chicken thighs de-boned and the skin removed; above I scored some from Smith's for less than five bucks a pound. I don't bother trimming off the excess fat – the chicken simmers for so long, all the fat breaks down. I literally toss them from pack to pan, and cook for 90+ minutes, it's that easy. If you really have to use chicken breast, go ahead, but you'll miss so much flavor.
Canned chipotles
I use the Embasa brand, sometimes La Costena – both are easily found in all of Utah's regular grocery stores. Both brands come in a stout seven ounce can, myriad chipotles swimming in thick, mahogany-colored adobo sauce.
I won't lie, even just two chipotles and a tablespoon or two of adobo sauce makes for a brow tingling dish; don't worry, by the time you've added the shredded chicken to tortillas with toppings, things mellow out. Spice lovers – I've made this dish with a full can of chipotles tossed in before – it's thrilling life affirming stuff.
Top tip: You'll probably have some chipotles and adobo leftover. Once you've opened your chipotles you can transfer them to a sealed container in the fridge for a few weeks. I use the leftover chiles to make chipotle mayo. Take one chopped chipotle and add to plenty of mayo, with a teaspoon of crushed garlic and squirt of fresh lime. One bite and you'll want to eat it on everything. Hat tip to chef Matt Lake of the dearly missed Alamexo for that one.
Roasted peppers
Chef Carlos Segura at Dos Olas taught me this trick. He uses roasted poblano peppers to add an extra hint of smoky nuance to the dish. They can be hit and miss to find in Utah stores, but the Mexican grocery stores like Rancho Markets will always have them.
I tried using green bell peppers in my latest dish and the result was similar, adding a little smoke, sweetness and grassiness. By my calculation you should only add these towards the end of the dish, the last 15-20 minutes or so; if you stewed them too long, they'd break down and the smoky notes would be lost in the spicy chipotle.
To make the roasted peppers, I first remove the inner core and seeds then simply toss them into the air fryer (no oil, no salt) on high for 15-20 minutes. The result is a beautifully charred skin that really does impart an extra layer of flavor.
Canned tomatoes
You can use fresh tomatoes if you like, but I don't think you're getting the bang for your buck like you would on a BLT. I'd save your prized maters for dishes where you want the tomato to shine as the star. The chipotle delivers a strong flavor and dominates this dish. I like to use Rotel brand canned tomatoes. There are a few different varieties with roasted tomatoes, lime and chili. They're all fine, and all add an extra dimension.
Finishing touches
I think corn tortillas are a must here (another tip from Segura). They add sweetness alongside the tomatoes and onion which balances out the spicy chipotle. They also add that textural je ne sais quoi, that flour tortillas never deliver. Other toppings I like are pico de Gallo (Rico or Harmon's brand if I am feeling lazy), a little finely chopped raw white onion, cilantro and a splosh of cilantro lime ranch! I know, I know, but I love it. Check out the St George based Wild Coyote brand which you can find in most big Utah grocery stores.
Ice ice baby
Tinga freezes up excellently. I let the finished product cool off on the counter, then refrigerate covered overnight. The next day I'll portion up the chicken I don't intend to immediately use, in little freezer containers. Then when I'm stuck for dining inspiration I can simply reach into the freezer and whack a tub in the microwave to defrost. The chicken tastes every bit as good, just heat it back up in the pan for a few minutes. I stuff it in burritos with black beans or rice, on burgers or hot dogs to add pizzaz, or on loaded fries or tots for a spicy finishing flair.
Kitchen essentials
Lastly, you might want to have a look at our concise list of essentials for any home chef. These are all products I personally use and recommend in a heartbeat. Don't worry, the list is small, I hate clutter too.
Keep the conversation going
Want to stay on top of the SLC food scene, minute by minute, dish by dish? Here are a few other places you should follow along:
Hi, I'm Stuart, nice to meet you!  I'm the founder, writer and wrangler at Gastronomic SLC.  I'm a multiple-award winning journalist and have written in myopic detail about the Salt Lake City  dining scene for the better part of seventeen years.
I've worked extensively with multiple local publications from Visit Salt Lake to Salt Lake Magazine, not least helped to consult on national TV.   Pause those credits, yep, that's me! I'm also a former restaurant critic of more than five years, working for the Salt Lake Tribune.    I'm largely fueled by a critical obsession with rice, alliteration and the use of big words I don't understand.   What they're saying about me: "Not inaccurate", "I thought he was older", "I don't share his feelings".
Want to know more? This is why I am the way I am.
This article may contain content provided by one of our paid partners. These are some of the best businesses in Utah. For a list of all our current and past relationships see our
partnership history page
.