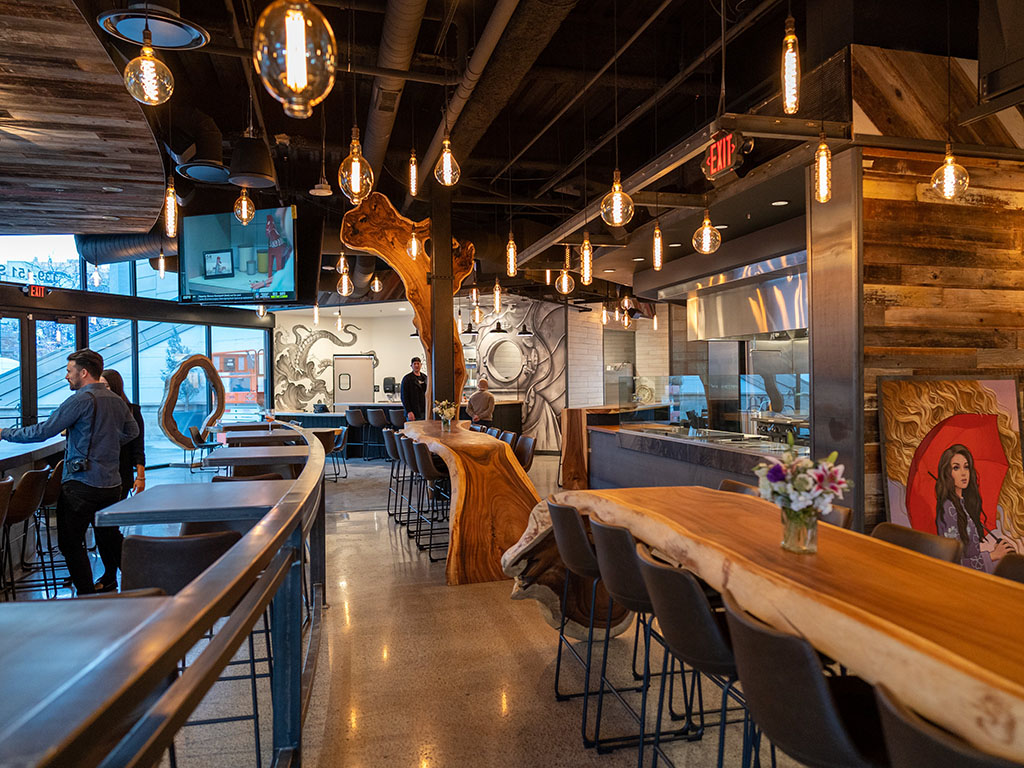 Food halls have been popular across the United States for some time, but here in Utah, it's taken a little while for the concept to warm up. That's all set to change in 2022 with the opening of several huge new facilities. Here's all the food halls we know of in the Salt Lake valley right now – and those coming soon.
255 South State TBA
Expected to hit downtown Salt Lake City in 202 is this project from Brinshore. The mixed use facility will bring residential and commercial space, as well as a food hall. No details on the specifics of this have yet to be released. The hopistality component of 255 South State is being worked on with local hospitality consultants Plowshare Partners.
Granato's Block Party
Coming May 2022
Granato Block Party is a new food hall style concept coming to 4044 S 2700 E; the site of the former Granato's Deli in Holladay. The business is expected to host a number of different food options including:
Elephant Press Cafe – pastries from Fillings & Emulsions, hot and cold drinks
Santo Tacos – Mexican cuisine
Over the Coles – BBQ with a variety of in-house smoked meats, fresh sides, and sauces
Granato Gourmet Market. – hot pizza and pasta, sandwiches, salads, and dessert
Self-serve Marketplace
As of mid-May 2022 the business was beginning the hiring process with an eye on opening in the immediate future. The above information and picture courtesy of a social media post by Granato Block Party GM Mike Woods.
HallPass
Open now
Arguably the first food hall concept to open in contemporary times is this outfit from Vegas. HallPass is located in The Gateway, on the West side of downtown Salt Lake City. A craft beer bar anchors the space that is home to several kitchens offering everything from fresh seafood to fried chicken to waffles.
Local Market & Bar
Coming Summer 2022
The Local Market & Bar in downtown Salt Lake City is set to open mid 2022. The 125 seat, 7,500 square foot business will offer seven culinary concepts and a cocktail bar. The concept will be the anchor of Avia at The Exchange.
Award-winning chef, restaurateur, TV personality and cookbook author Akhtar Nawab willed up the culinary operation. Via press release Chef Nawab describes The Local as
"a place for guests and chefs to be imaginative and curious. The life of the party is always in the kitchen. It's a comfortable place where everyone is free to be themselves. With a mix of local chefs and restaurateurs, The Local Market and Bar will cater to a wide variety of clientele, from those seeking a night out for dinner and drinks with friends, to the work-by-day guest gathering for a lunch meeting. At The Local, our guests will find a wide range of offerings speaking to the local Salt Lake City heritage, as well as the destination guest."
Woodbine Hospitality TBA
Coming Summer 2022
Another one expected to land in mid 2022. Woodbine Hospitality are currently refurbishing the former Rico facility at 545 W. 800 S. After extensive work the project is set to complete in the Summer of 2022 – bringing a new food hall and bar concept to Salt Lake City. The project is being spear headed by Zachary Howa.
Located in the quickly trendy Granary District (Kiitos, Industry, Slackwater, Eco Hotel) the new food hall will offer a range of kitchen concepts from pizza, to tacos to sandwiches. The former Frida Bistro space at the front of the building ill be a 21+ bar, also featuring a rooftop patio.