When Covid derailed the nascent Kin Sen Noodle Asian Bar in 2020, noodle lovers lost one of the finest in town. For some, that might have been that, but for owner Pornpimon Prathummas (who goes by the name O), this was only the beginning.
Prathummas began her career in the restaurant industry amidst the kitchens of L.A. – most notably at the well regarded Thai eatery Chan Dara (a Thai Select restaurant). Skip forward to 2006 and a move to Utah brought about a new culinary direction, a twelve year stint under Valter Nassi; first at Cucina Toscana before moving in tandem when the famous restaurateur began work on his titular Osteria.
Leaving Valter's, Prathummas first solo outing in SLC was Ekamai Thai; eventually opening a trio of locations across the valley. A return to Thailand ultimately beckoned with Ekamai sold to new operators. Thankfully for fans of her work here in Utah, the move didn't stick, the charms of the Beehive proving too strong.
On her return, the ill-fated first iteration of Kin Sen fizzed to life in the old Tin Angel location (alongside Pioneer Park in downtown SLC). The brief tenure was well received, but alas, like many a budding business, Covid had other plans. Undeterred, Kao Thai in Millcreek came next, before Kin Sen 2.0 booted back up in 2023 – taking over the East benches space left vacant by Nuch's Pizzeria. I initially dropped by back in February and was instantly head over heels in noodle heaven.
Prathummas credits her time under Nassi as both catalyst and education for her own endeavors. The most vivid demonstration can be tasted at Kao Thai – a lusciously tender short rib in rich curry – a direct inspiration from Valter's osso buco. But I'm here to talk about Kin Sen, and why some recent updates make this another must eat spot. First, allow me to whet your appetite with some snaps: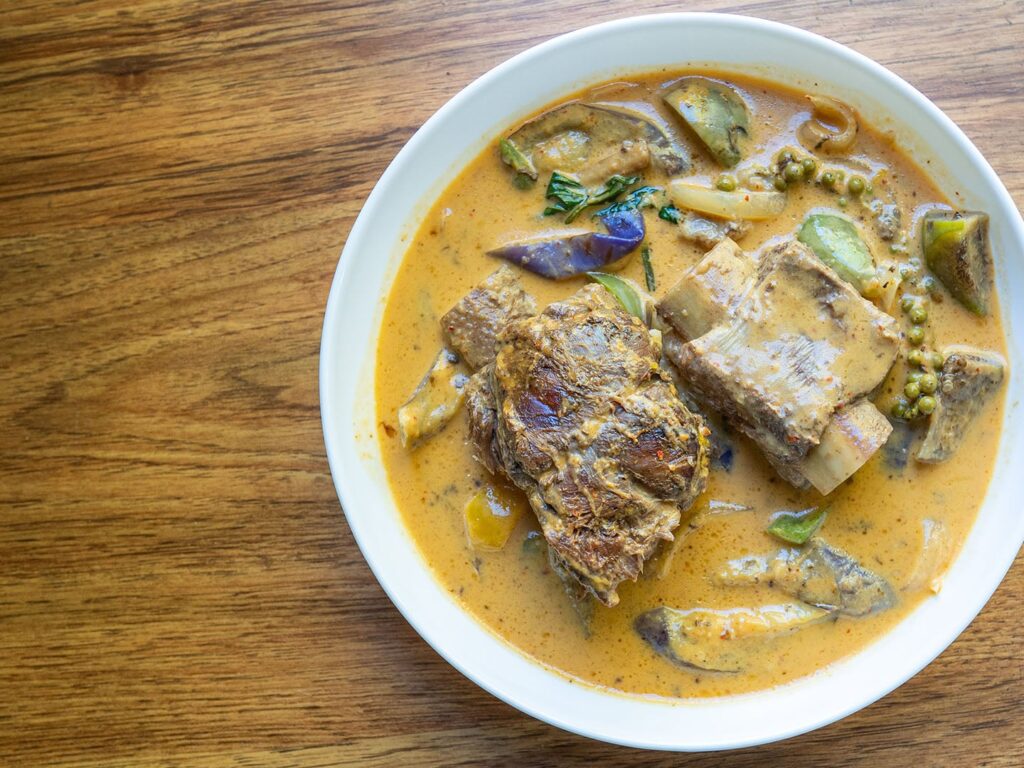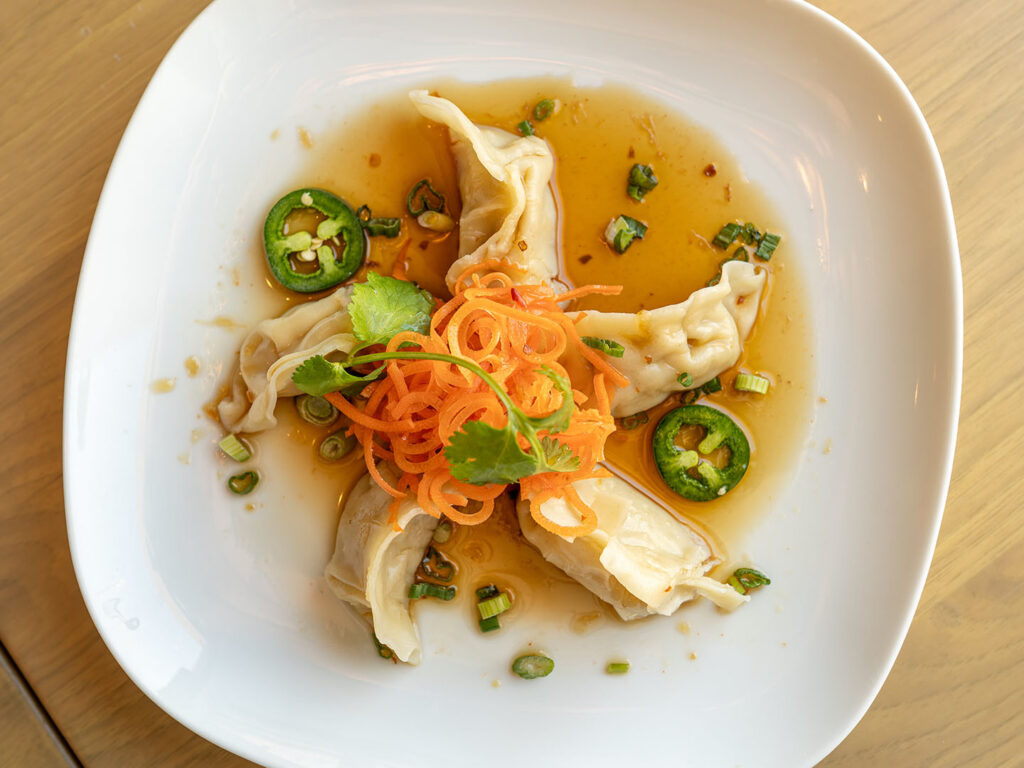 Sen Yai is a stellar way to start a meal at Kin Sen. A slippery snarl of flat rice noodles, sauced with dark soy and capped with a golden tumble of ground pork and tofu. I'm also partial to the spicy chicken dumplings – which in fairness afford relatively mild bites. Those with more robust palates can reach for the condiment caddy, replete with all the capsaicin and umami you need.
One of the signature threads that link together all Prathummas' menus is a keen alertness to detail and critically, flavor. Familiar Thai curries leap from their bowls with a newfound sense of purpose – I've tasted no better examples in Utah. Case in point are the captivating boat noodles. A specialty of Kin Sen and as far as I know, unparalleled anywhere else in the state.
These are mammoth pots of protein and rice noodle and broth – itself the work of at least five hours – offering an alluring note of cinnamon throughout. A variety of preparations are available, but my pick would be the boat combination – a mix of beef short rib, meatballs and brawny hunks of oxtail. Crispy chicharron are one of the final finishes alongside aromatic herbs and crisp beansprouts.
One of my favorite recent additions to the Kin Sen menu is the khao soi, a northern Thai/Laotian dish again meticulous executed under Prathummas' watch. A fennel/anise diffused Thai yellow curry is the base for a duo of noodles – both a tangled crispy crown, and a softer pile of egg noodles lurking in the gravy. A giant chicken thigh and leg come next, as do sharp pickled greens that cut through the coconut-rich sauce. A spritz from a slice of fresh lime and you're good to dig in. It's comfort food of the highest order. Other new dishes from a menu update include kao ka moo (braised pork leg in black bean sauce), curry puffs (both shiitake and chicken varieties), a Thai informed spin on sukiyaki and deep-fried garlic shrimp.
If you plan to swing by with friends, another must eat is the the cheekily underplayed sweet combo. The dish relies on the pizza oven left by the former tenants, and moments after ordering the restaurant fills with the aroma of sweetly toasting bread. The dish is centered around a fort-like construction of Japanese style honey toast, garrisoned with ice cream, mango, sticky rice, rotee bread and a drizzle of this and that. The dish is a show stopper that turns heads as it heads to the table. It's plenty to feed a small group.
Since my first visit to Kin Sen earlier in the year, there have been other changes too. A secluded rear patio came online for the Summer months and a new liquor license means beer, wine and sake are now poured as well. Never one to rest on her laurels, I've spied a ramen birria in the works and Prathummas tells me that a new chef from Thailand should arrive soon to bolster the kitchen team. His particular expertise? Roasted duck. Watch this space.
Keep the conversation going
Want to stay on top of the SLC food scene, minute by minute, dish by dish? Here are a few other places you should follow along:
Hi, I'm Stuart, nice to meet you!  I'm the founder, writer and wrangler at Gastronomic SLC; I'm also a former restaurant critic of more than five years, working for the Salt Lake Tribune.  I've worked extensively with multiple local publications from Visit Salt Lake to Salt Lake Magazine, not least helped to consult on national TV shows.
I'm a multiple-award winning journalist and have covered the Utah dining scene for the better part of fifteen years.   I'm largely fueled by a critical obsession with rice, alliteration and the use of big words I don't understand.   What they're saying about me: "Not inaccurate", "I thought he was older", "I don't share his feelings".  Want to know more? This is why I am the way I am.
This article may contain content provided by one of our paid partners. These are some of the best businesses in Utah. For a list of all our current and past relationships see our
partnership history page
.