While many bemoan the local lack of certain epicurean delights, "there's no great French food" they weep, I choose to focus on what we do excel at; and Salt Lake City is home to many stunning choices when it comes to Middle Eastern cuisine. You'll find the Lebanese-charms of Beirut Cafe at 5600 South, which depending on your viewpoint is either located in Murray, Holladay or Cottonwood Heights.
Beirut's menu reads like my wish list of favorite flavors, which is why my greedy little eyes typically scroll right through to platters and combos. I am Verruca Salt, I want it all, I want it now you see. Beirut Cafe has several ways to test the sturdiness of your tabletop. An order of the veggie combo and mixed grill affords a couple of diners with no less than a dozen or so different items to taste.
The veggie combo ($10.99) comes with rice stuffed grape leaves, falafel patties, creamy hummus, and a jade green tabbouli salad. There's sesame tahini sauce on the side too. Meanwhile a mixed grill ($16.99) loads a trio of skewers atop cinnamon scented rice: grilled chicken, lamb, and a ground beef kafta.
Even then I couldn't resist gilding the lily just a little more. I added a couple of the fried kibbeh ($1.99 per piece) to my plate of grilled goodies and was pleased as punch that I did. The kibbeh might be the best I've tasted at least as far as my memory allows; deep fried bulgur wheat shells, encasing a gently spiced ground beef mix – punctured with sweetly mellow pine nuts. Bliss.
Both plates featured little mounds of joyously understated pickles, a refreshingly gentle change from those jars in the back of your fridge; you know, the ones that deliver a pounding mallet of acid to the tongue. I'd be remiss to not mention the little side of toum that came with the mixed grill as well – an ultra condensed garlic bomb that you'll want to smear everywhere.
One last item I had to order was the za'atar flatbread ($3.99) – another absolute steal of a dish for the money. A thin flatbread comes liberally dusted with za'atar spice and if you try real hard, you can wrap all the above contents up in one for a Lebanese-burrito. Ahem. For the uninitiated za'atar is a spice blend that if you don't immediately fall head over heels in love with, well, we can't be friends. It's an earthy, smokey, zesty amalgamation. It's simply superb.
Oh damn, I didn't even mention the pita yet. Look, it's all great, just go and find out for yourself…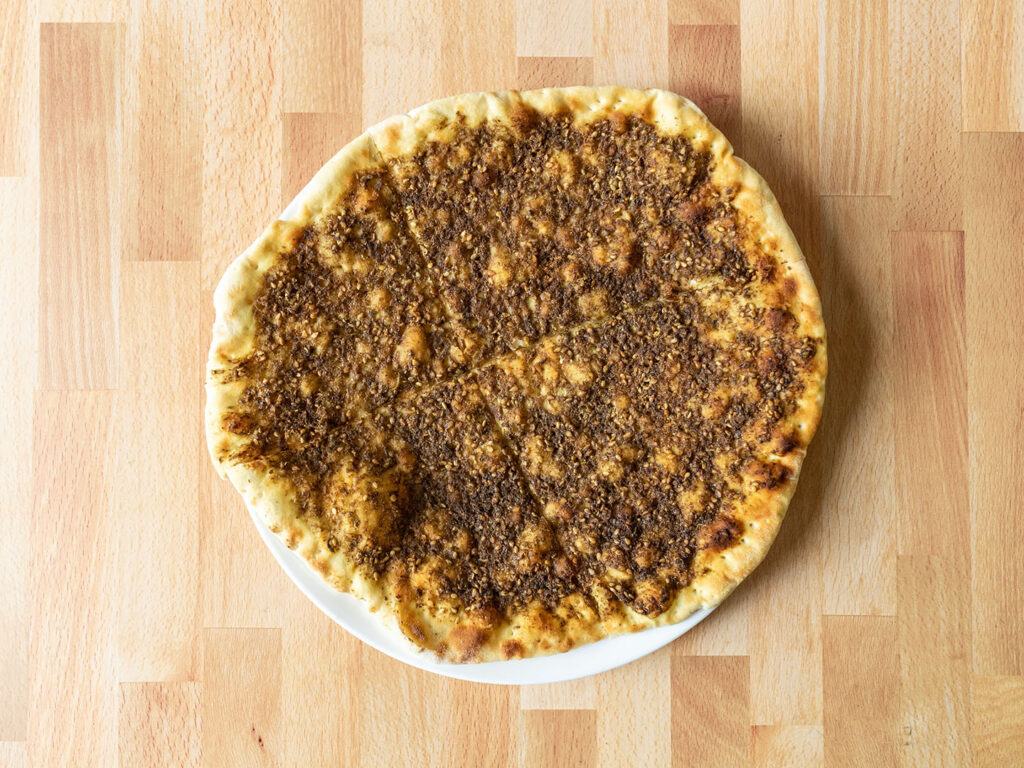 1326 E 5600 S, Salt Lake City, UT 84121
(801) 679-1688
beirutcafe.com
Hi, I'm Stuart, nice to meet you!  I'm the founder, writer and wrangler at Gastronomic SLC.  I'm a multiple-award winning journalist and have written in myopic detail about the Salt Lake City  dining scene for the better part of seventeen years.
I've worked extensively with multiple local publications from Visit Salt Lake to Salt Lake Magazine, not least helped to consult on national TV.   Pause those credits, yep, that's me! I'm also a former restaurant critic of more than five years, working for the Salt Lake Tribune.    I'm largely fueled by a critical obsession with rice, alliteration and the use of big words I don't understand.   What they're saying about me: "Not inaccurate", "I thought he was older", "I don't share his feelings".
Want to know more? This is why I am the way I am.
This article may contain content provided by one of our paid partners. These are some of the best businesses in Utah. For a list of all our current and past relationships see our
partnership history page
.