One of the largest suburbs in the state and found towards the Southern end of the Valley – welcome to Sandy. Home to the Real Salt Lake, Sandy is a sprawling area, replete with many options to dine at. Skip the chains and cookie cutter restaurants though. If you're in the suburbs of Sandy and looking for a fantastic meal, there are plenty of great local businesses to support. The following are all highly rated spots in the city – I'll start with some of my own personal favorites when in Sandy.
Address: 8650 S 1300 E, Sandy, UT 84094
Cuisine: Chinese
Cafe Anh Hong isn't just one of the best in Sandy, it's one of the best the Chinese restaurants in the state hands down. The restaurant was formerly located in Salt Lake City and was known for decades for their impeccable daily dim sum. In recent years Cafe Ant Hong made the trip South and relocated to Sandy. Their arrival in town brought the same Cantonese-focused menu that had won awards for years. Speaking on that – chef Jian Wu has been plying his trade in Utah for the better part of forty years – starting out at the Pearl Restaurant in the 80's. That experience translates to expertly made dishes like honey walnut shrimp, char shu fire roasted pork, and homemade noodles.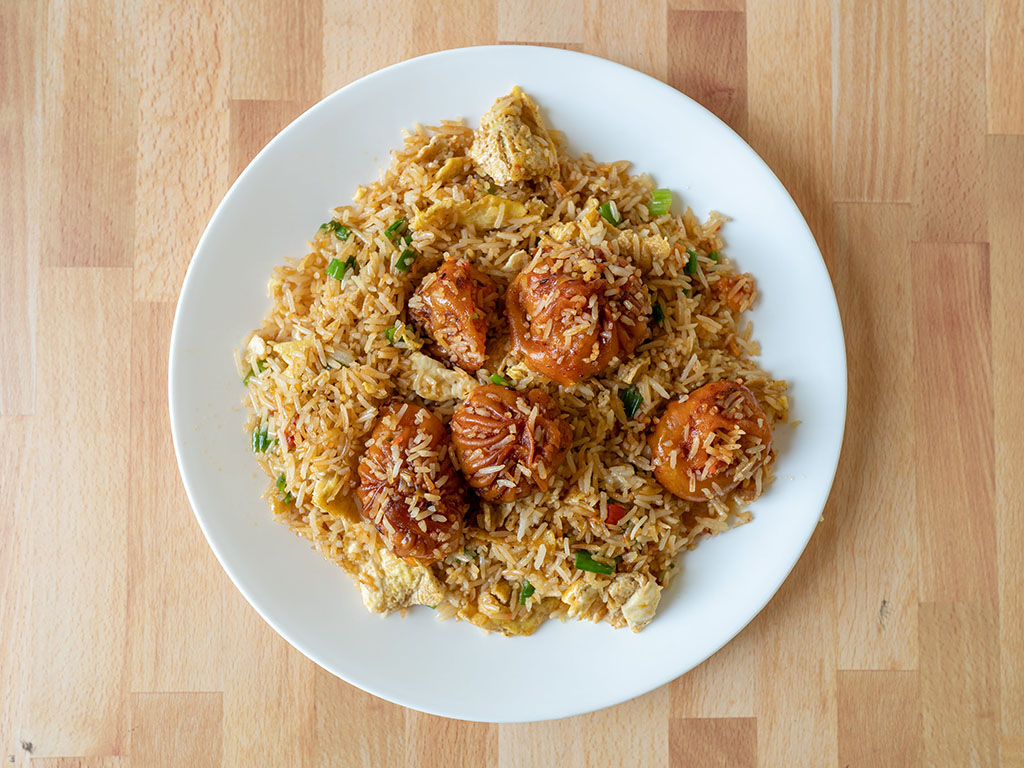 Address: 1241 E 8600 S, Sandy, UT 84094
Cuisine: Nepalese / Indian
The first location for this terrific mom and pop started in Sandy. Grown out of the Spice Kitchen Incubator – the business now operates two successful locations. While you'll find plenty of Indian eats here, I love the Nepalese options. The momos at this re some of the best I've tasted in Utah – especially when ordered stir fried in their incendiary chili sauce. Word of warning – these guys tale their spice seriously, proceed with care. There's plenty of calmer cuisine mind you and the friendly owners will take top quality care of you.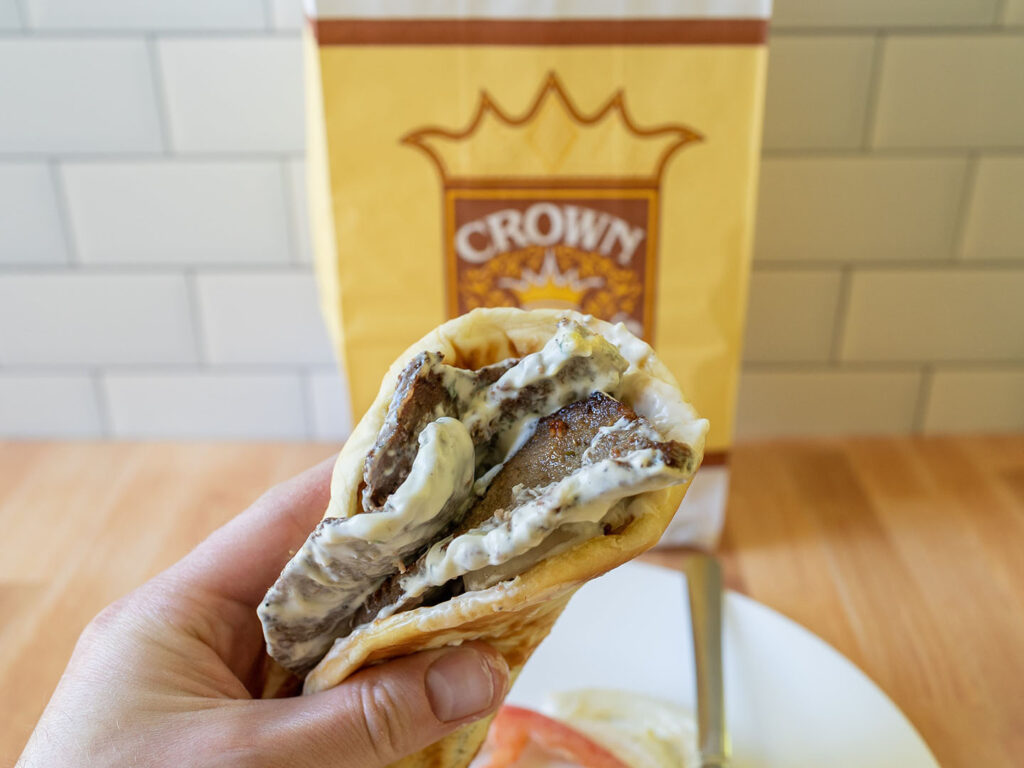 Address: 9604 S State St, Sandy, UT 84070
Cuisine: American / Greek
You can't travel far in the Salt Lake valley without encountering this Utah classic – and Sandy is no exception . Top of your ordering list should be the eponymous Crown Burger; a smoky patty topped with layer on layer of rich pastrami. Plenty of Greek burger joints around town lay claim to starting the pastrami burger trend, but few do it as good as Crown. If you're looking to explore the menu a little deeper, I'm also a big fan of their Greek fare – a juicy gyro with creamy and sharp tzatziki is always a favorite.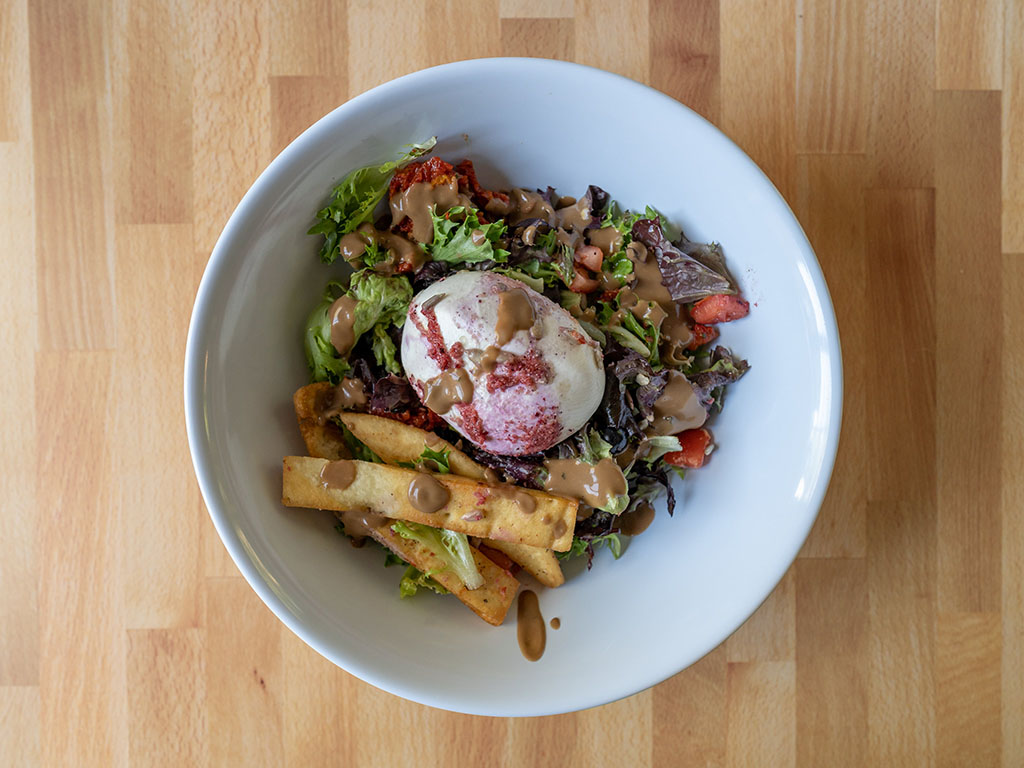 Address: 11052 S State St C, Sandy, UT 84070
Cuisine: Various
Primarily aimed as a takeout option – you know, when you need to feed the family in a rush – Vessel have multiple locations around the valley. The menu is varied including solid salads, tacos, and bigger composed plates such as shredded chicken over coconut rice. Crucially there's a keen eye on nutrition at this grab and go, dishes listing their calories and carbs. That means when you're up against the clock to get a hearty meal on the table at the end of the day – you can do so healthily as well.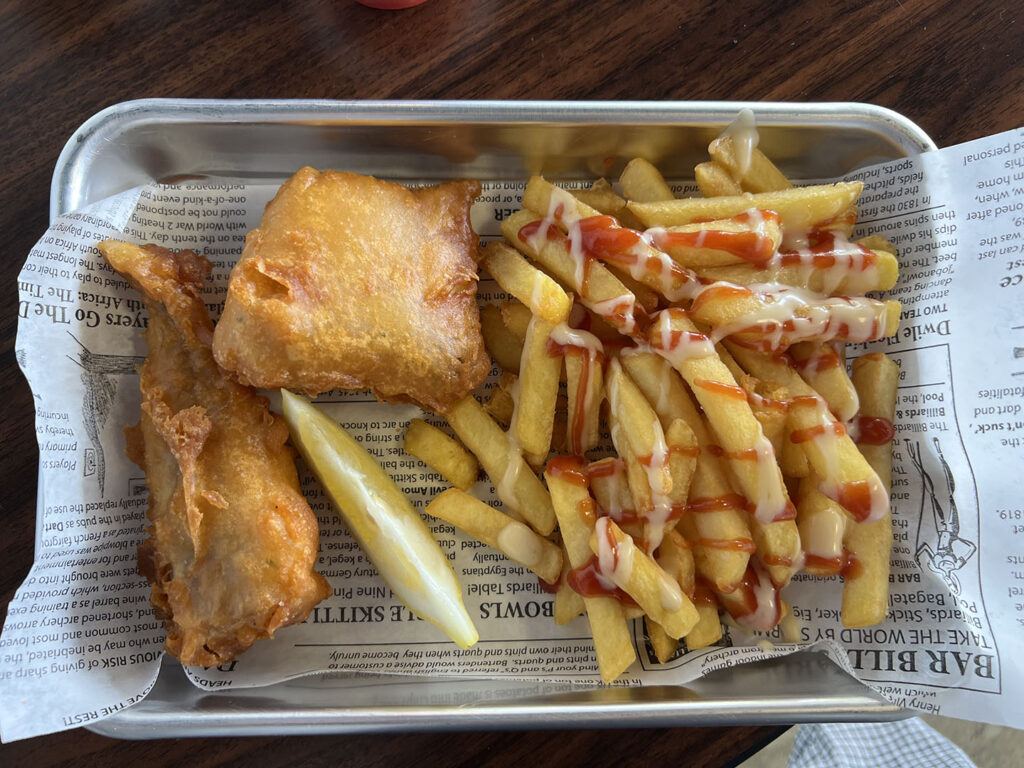 Address: 9411 S 700 E, Sandy, UT 84070
Cuisine: Fish and chips
With all the recent food trends in the city (ramen, hot pot, Italian beef and more) here's one Blighty heart hopes will take hold – unique location to get your fish and chip game on. TY is the work of Ty Hoang and the menu features an intersting spin on the British staple. A signature tartar sauce is quickly followed by Asian twists: mango curry, honey wasabi, miso garlic and lemon sweet chili. You might know Hoang already, as the co-founder of Chopfuku.
Address: 10290 S State St, Sandy, UT 84070
Cuisine: Pizza / craft beer
Sandy residents rejoiced when this Ogden favorite opened their second location in the South valley. The focus of the menu is creative pizza (tikka masala pie anyone?), but you'll also find soups, salads and sandwiches too. The whole collection is handsomely supported by a massive line up of craft beers – bottles and drafts sourced locally and regionally. A bustling and busy spot, there's always a good energy here. Bonus points: check out their weekend brunch service.
Address: 9236 Village Shop Dr, Sandy, UT 84094
Cuisine: Italian
If you're in the mood for Italian food in Sandy, head straight to Fratelli. This family run business offers everything from traditional to contemporary Italian dishes: bruschetta, pizza, carbonara, steaks, you name it. It's also offered at wallet friendly prices too.
Address: 8660 State St, Sandy, UT 84070
Cuisine: Indian
Perhaps the best Indian food in Sandy, India House should be top of your list for curry, naan and tandoori treats. The restaurant aims to make everything from scratch and caters happily to vegan and vegetarian diners.
Address: 9103 Village Shop Dr, Sandy, UT 84094
Cuisine: Mexican
The local Mexican restaurant chain has several locations around the valley including Sandy. The menu is huge offering tacos to tostada, fajitas to fries. Breakfast is served all day long, the restaurant is open seven days a week and you'll be able to eat pretty much anything here with plenty of change from $10. This is the place I go when I'm craving that over stuffed, over smothered enchilada comfort food hug.
Address: 256 700 E, Sandy, UT 84070
Cuisine: American / fine dining
In the mood for something a little fancier? Try Tiburon, which for a long time, was probably the only option for refined and elegant dining in the South of the valley. Not that this means the food isn't up to scratch: beef tenderloin, ahi tuna, American kobe, New Zealand elk, mussels, kurobuta pork – and on and on – the menu is replete with classy dishes and quality cuisine.
MakanMakan Asian Streat Food Fare
Address: 33 E 11400 S, Sandy, UT 84070
Cuisine: Indonesian
Localz Bistro
Address: 1850 E 9400 S, Sandy, UT 84093
Cuisine: American
Libertango
Address: 10395 State St, Sandy, UT 84070
Cuisine: Argentinian / steakhouse
Dining close to Sandy Utah
If you're close to Sandy, you're also close to the following neighborhoods, you might to check these out too:
Who did we miss?
If you think we're missing a really great addition to this list, please email us at stuart@gastronomicslc.com – we'd love to hear from you. Let us know who you think should be on this list and why. If you have a really great picture of one of more dishes, please send that too! We're always excited to check our more businesses!
Hi, I'm Stuart, nice to meet you!  I'm the founder, writer and wrangler at Gastronomic SLC.  I'm a multiple-award winning journalist and have written in myopic detail about the Salt Lake City  dining scene for the better part of seventeen years.
I've worked extensively with multiple local publications from Visit Salt Lake to Salt Lake Magazine, not least helped to consult on national TV.   Pause those credits, yep, that's me! I'm also a former restaurant critic of more than five years, working for the Salt Lake Tribune.    I'm largely fueled by a critical obsession with rice, alliteration and the use of big words I don't understand.   What they're saying about me: "Not inaccurate", "I thought he was older", "I don't share his feelings".
Want to know more? This is why I am the way I am.
Our sponsors and this page
This page may contain information about one of our sponsors. We only work with the very best businesses in the state, and routinely turn down offers to work with businesses we don't enjoy. If we can't hand on heart recommend them - they can't be a sponsor.
At this time we have the following sponosrs: BTG, Caffe Molise, The Dough Miner, Downtown Alliance, Feldman's Deli, Flanker, Garage On Beck, Hearth And Hill, Hill's Kitchen, Kao Thai, Kin Sen Asian Noodle Bar, Kyoto, LemonShark Poke, Log Haven, Oasis Cafe, Pirate O's Gourmet Market, SLC Eatery, Squatter's Downtown Salt Lake City, Stoneground Italian Kitchen, Urban Hill, Wasatch Brew Pub Sugar House, Whiskey Street, White Horse.
I encourage you to Google any of our sponsors and see the stellar reviews on multiple sites that they enjoy. For a list of all our current and past relationships see our partnership history page.