1 – Beirut Cafe
You will find this splendid Lebanese eatery between the cities of Murray, Holladay and Cottonwood Heights. The central valley location makes it a perfect spot no matter where you're headed from. And head down you should. The restaurant has the best kibbeh in the state in my mind. The fresh baked pita and flatbreads are top notch too.
1326 E 5600 S, Salt Lake City, UT 84121
(801) 679-1688
beirutcafe.com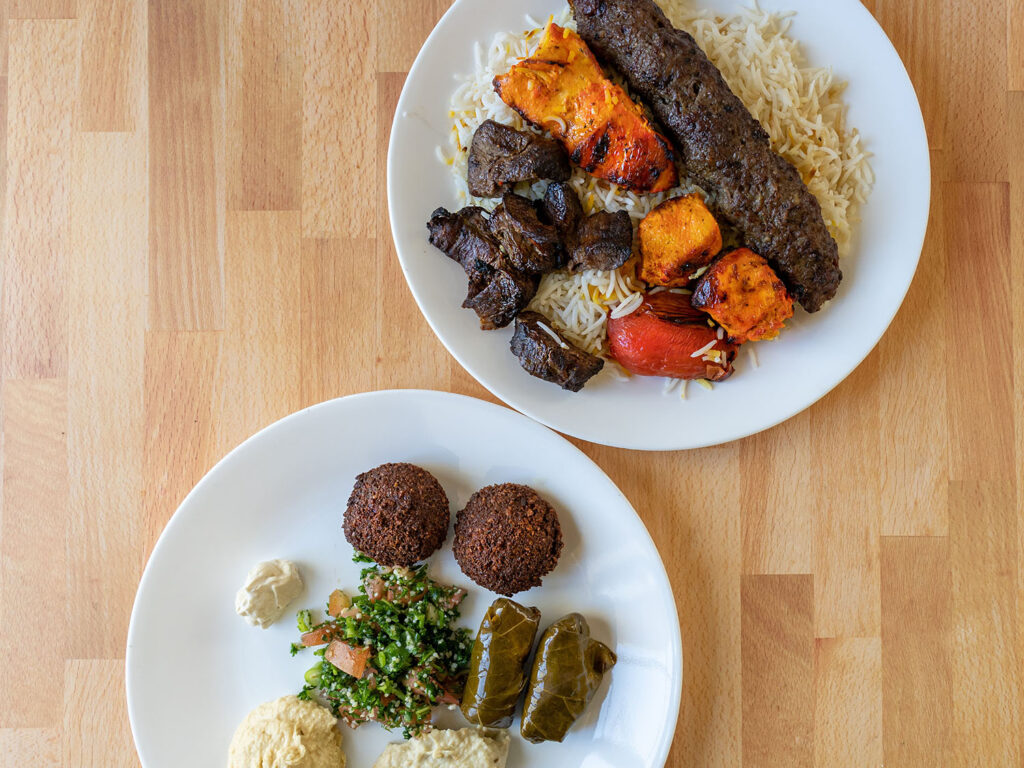 2 – Shahrazad Market and Restaurant
This fabulous Iranian restaurant and market on the West side of town is one of the best in Utah. The kebabs are a standout item, with a variety of combinations on offer. Also grab the vegetarian sampler plate to taste a little of everything – hummus, baba ghanouj, falafel, tabbouleh and stuffed rice leaves.
1615 2100 S, Salt Lake City, UT 84119
(801) 975-9977
shahrazadslc.com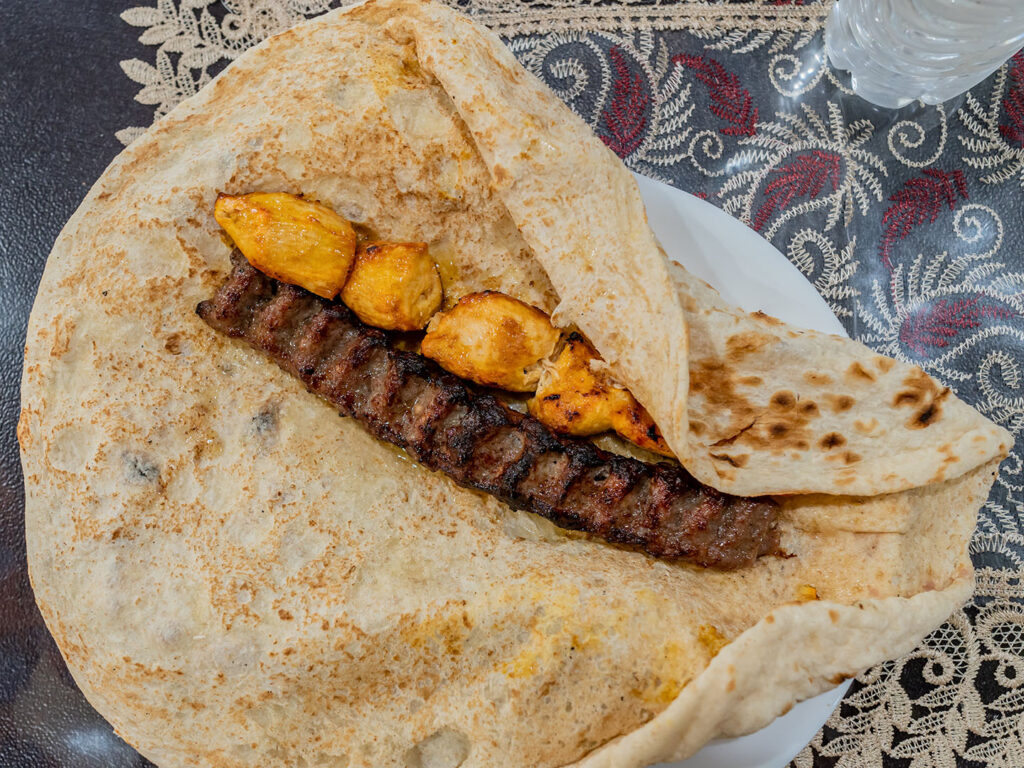 3 – Zeitoon Cafe
Pictured above are the chicken and koobideh kebob from Zeitoon Cafe in Midvale. In particular the ground beef kabob is spectacular – perhaps the very best version of this dish we've tasted in Utah. The meat is impeccably seasoned and mixed with a luxurious amount of rich fattiness. The result is a pliable, almost sausage like texture. While the saffron rice is stellar, if ordered with bread, the kabobs are served lovingly wrapped – soaking up all that glorious juice for bonus points.
751 Fort Union Blvd, Midvale, UT 84047
(801) 569-2004
zeitoon-market.business.site
4 – Zaferan Cafe
Persian cuisine and culture is the focus at this Highland Drive resturant. Chef and owner Mitra's promises home-cooked meals, everything made fresh daily. Dishes include several different kebob creations: koobideh, shish, soltani, barg – all with exquisitely cooked basmati (a skill in itself).
As well as the perfectly prepared meats, you'll find some other unique dishes at Zaferan. Khoreste fesenjan for example, chicken served in a rich sauce of fried walnuts with pomegranate paste. Or what about zereshk polo – seasoned chicken breast over rice, topped with barberries.
7835 South Highland Drive, Cottonwood Heights, UT 84121
(801) 944-6234
zaferancafe.com
5 – Curry Fried Chicken
While this State Street casual grab and go is known for the curry-infused fried chicken, take a deeper look at the menu packed with delicious items like schwarma and curried fish wraps. Especially good is the picture tandoori chicken plate; two pounded thin chicken breasts seasoned with vibrant tandoori seasoning, served up with pita, rice, veggie curry and sauces.
1615 2100 S, Salt Lake City, UT 84119
(801) 975-9977
shahrazadslc.com
6 – Layla Mediterranean Grill & Mezze
This upscale family restaurant on the East side of Salt Lake city offers a menu packed with comfort food. Try the traditional Mougrabieh pictured above: Lebanese pearl couscous topped with tender chicken, pearl onions, chick peas and exotic spices; or if you've got a less adventurous companion what about a black angus rib eye, charbroiled and topped with gorgonzola cream sauce. The menu is studded with Middle Eastern favorites: falafel, kibbeh, tabbouleh, shawarma – its all here.
4751 Holladay Blvd E, Holladay, UT 84117
(801) 272-9111
laylagrill.com
7 – Mazza
With two locations, the ninth and ninth outlet is larger than the original 15th restaurant. Wherever you go though, chef and owners Ali Sabbah's cuisine is impeccable. Start with a dish to share perhaps, labneh with pita or maybe kibbeh, mujadarra or baba ganooj. From there you'll probably want to guard your own entree protectively I am guessing. My choice? The lamb and rice dolaa hits the spot every time – lean cuts of lamb are braised in a mixture of spices and then served with rice garnished with fried pine nuts
and almonds and served with a side of cucumber yogurt sauce. Also worthy of note, the liquor menu which includes several Lebanese wines.
912 900 S, Salt Lake City, UT 84105 | (801) 521-4572
1515 S 1500 E, Salt Lake City, UT 84105 | (801) 484-9259
www.mazzacafe.com
8 – The Med Old World Cafe
A neghborhood hangout and popular for decade after decade. There's a reason why of course, there's something for everyone at The Med. The menu covers just about everything you can imagine. From traditional Middle Eastern dishes like kebobs through to grilled salmon and Thai green curry. Prices are fair, parking is plenty and the restaurant is open seven days a week, what's not to love.
420 E 3300 S, South Salt Lake, UT 84115
(801) 493-0100
slcmenu.com/2016/10/18/the-med-menu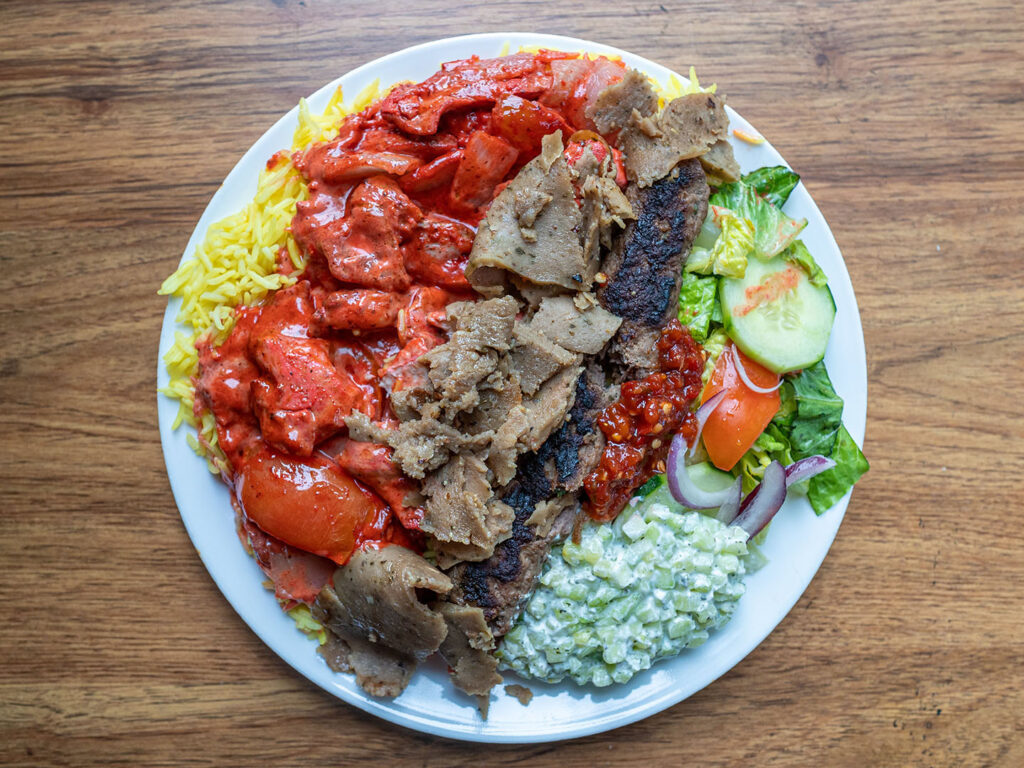 9 – O'Falafel
The name says it all, people flock to this Sugar House for fantastic falafel. Falafel can be ordered in wraps, burgers, salads, sandwiches or just by itself as an appetizer or snack. It's not all just falafe though. Also on the menu are favorites like beef shwarma and creative dishes likes the Jerusalem burger – a kifteh patty with hummus, tomatoes, onions, and cheese.
790 E 2100 S #100, Salt Lake City, UT 84106
(801) 487-7747
ofalafeletc.com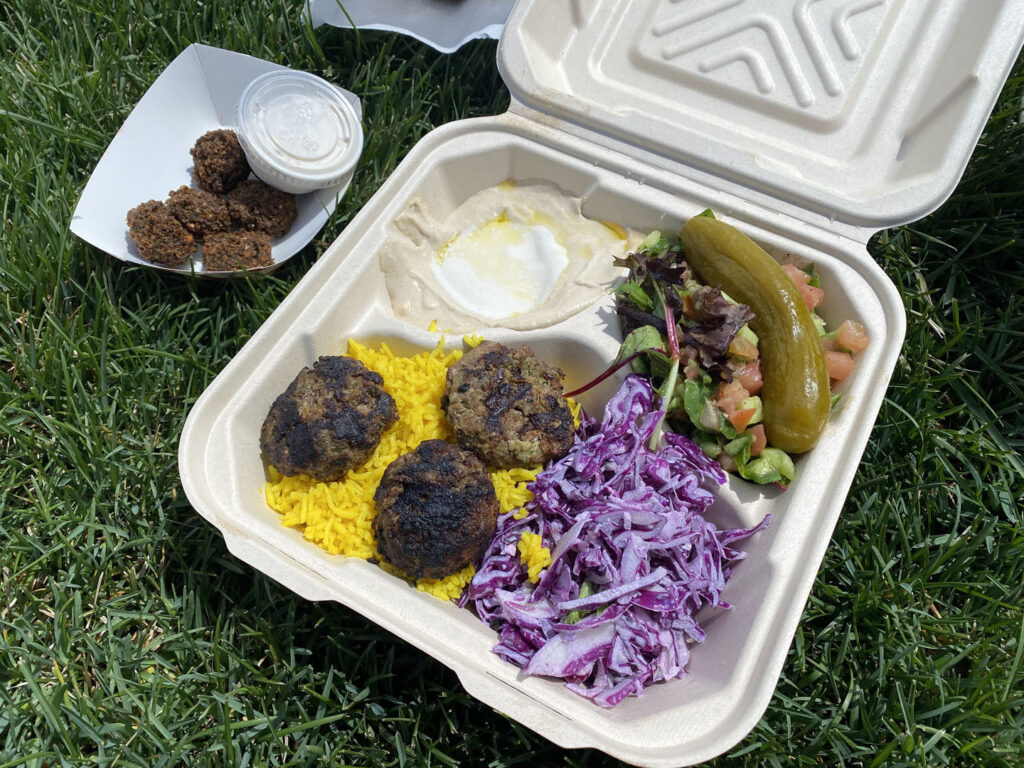 10 – Yalla Kosher Food Truck
Sabich, kabob, falafel and lots more from this kosher food truck. You will find them usually in the larger Sugar House area in East SLC. See our full review here.
Maybe also check out
Maybe we can tempt you to something else delicious while you're here? Check out these other detailed guides, some of the most popular pages on our website:
Hi, I'm Stuart, nice to meet you!  I'm the founder, writer and wrangler at Gastronomic SLC; I'm also a former restaurant critic of more than five years, working for the Salt Lake Tribune.  I've worked extensively with multiple local publications from Visit Salt Lake to Salt Lake Magazine, not least helped to consult on national TV shows.
I'm a multiple-award winning journalist and have covered the Utah dining scene for the better part of fifteen years.   I'm largely fueled by a critical obsession with rice, alliteration and the use of big words I don't understand.   What they're saying about me: "Not inaccurate", "I thought he was older", "I don't share his feelings".  Want to know more? This is why I am the way I am.
Our sponsors and this page
This page may contain information about one of our sponsors. We only work with the very best businesses in the state, and routinely turn down offers to work with businesses we don't enjoy. If we can't hand on heart recommend them - they can't be a sponsor.
At this time we have the following sponosrs: Avenues Proper, BGR Sugar House, BTG, Caffe Molise, Craft by Proper, The Dough Miner, Downtown Alliance, Feldman's Deli, Flanker, Garage On Beck, Hearth And Hill, Hill's Kitchen, Kao Thai, Kin Sen Asian Noodle Bar, Kyoto, Laziz Kitchen, Log Haven, Oasis Cafe, Pirate O's Gourmet Market, Proper Brewing, Proper Burger, Scion Cider Bar, SLC Eatery, Squatter's Downtown Salt Lake City, Stoneground Italian Kitchen, Urban Hill, Wasatch Brew Pub Sugar House, Whiskey Street, White Horse.
I encourage you to Google any of our sponsors and see the stellar reviews on multiple sites that they enjoy. For a list of all our current and past relationships see our partnership history page.