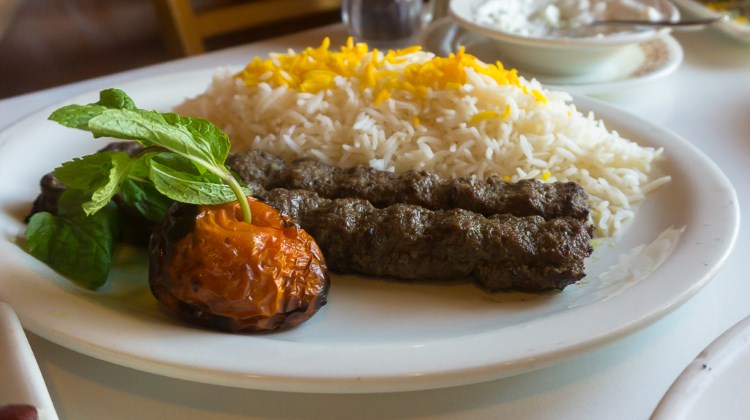 Zaferan Cafe – Persian cuisine and culture is the focus at this Highland Drive resturant. Chef and owner Mitra's promises home-cooked meals, everything made fresh daily. Dishes include several different kebob creations: koobideh, shish, soltani, barg – all with exquisitely cooked basmati (a skill in itself).
As well as the perfectly prepared meats, you'll find some other unique dishes at Zaferan. Khoreste fesenjan for example, chicken served in a rich sauce of fried walnuts with pomegranate paste. Or what about zereshk polo – seasoned chicken breast over rice, topped with barberries.
7835 South Highland Drive, Cottonwood Heights, UT 84121
(801) 944-6234
zaferancafe.com
Layla Mediterranean Grill & Mezze – This upscale family restaurant on the East side of Salt Lake city offers a menu packed with comfort food. Try the traditional Mougrabieh pictured above: Lebanese pearl couscous topped with tender chicken, pearl onions, chick peas and exotic spices; or if you've got a less adventurous companion what about a black angus rib eye, charbroiled and topped with gorgonzola cream sauce. The menu is studded with Middle Eastern favorites: falafel, kibbeh, tabbouleh, shawarma – its all here.
4751 Holladay Blvd E, Holladay, UT 84117
(801) 272-9111
laylagrill.com
Mazza – With two locations, the ninth and ninth outlet is larger than the original 15th restaurant. Wherever you go though, chef and owners Ali Sabbah's cuisine is impeccable. Start with a dish to share perhaps, labneh with pita or maybe kibbeh, mujadarra or baba ganooj. From there you'll probably want to guard your own entree protectively I am guessing. My choice? The lamb and rice dolaa hits the spot every time – lean cuts of lamb are braised in a mixture of spices and then served with rice garnished with fried pine nuts
and almonds and served with a side of cucumber yogurt sauce. Also worthy of note, the liquor menu which includes several Lebanese wines.

912 900 S, Salt Lake City, UT 84105 | (801) 521-4572
1515 S 1500 E, Salt Lake City, UT 84105 | (801) 484-9259
www.mazzacafe.com
The Med Old World Cafe – A neghborhood hangout and popular for decade after decade. There's a reason why of course, there's something for everyone at The Med. The menu covers just about everything you can imagine. From traditional Middle Eastern dishes like kebobs through to grilled salmon and Thai green curry. Prices are fair, parking is plenty and the restaurant is open seven days a week, what's not to love.
420 E 3300 S, South Salt Lake, UT 84115
(801) 493-0100
slcmenu.com/2016/10/18/the-med-menu
O'Falafel – The name says it all, people flock to this Sugar House for fantastic falafel. Falafel can be ordered in wraps, burgers, salads, sandwiches or just by itself as an appetizer or snack. It's not all just falafe though. Also on the menu are favorites like beef shwarma and creative dishes likes the Jerusalem burger – a kifteh patty with hummus, tomatoes, onions, and cheese.
790 E 2100 S #100, Salt Lake City, UT 84106
(801) 487-7747
ofalafeletc.com
Your business on this page?
Looking to drive more sales to your restaurant? Sponsor this page and put your business in front of thousands of hungry diners searching for great Middle Eastern food. This page is currently available. Check out our Page Sponsor information and get started in 24 hours.