The humble burger. It's as comfortably at home at your local bar as it is in the confines of fine dining. There's no dish that offers the infinite flexibility of this menu staple. Burgers are essentially chef legos, endlessly re-configurable, the final composition limited only by imagination and cost.
At the extremes of the spectrum, some restaurants take that versatility to the nth degree. Vegas' legendary Fleurburger 5000 is a perfect illustration. The burger was notoriously luxe, loaded with wagyu, foie, and black truffle. Chef Hubert Kellers' baller burger arrived with a bottle of oligarch worthy 1995 Chateau Petrus on the side – the final tab? A cool $5000. Better hit the tables and cross your fingers.
As one half of the Utah Burger project I wanted to get to the bottom of our most extravagant local burger builds. What's the most money you can spend on the humble burger in the Beehive?
Going into this project the rules would be simple. We'd sprint around the Salt Lake valley, getting to literal grips with Utah's spendiest burgers. Nothing under $20 would be considered. We'd order the burger as listed on the menu (allergies excepting) and as for temperature – we'd let the kitchen make the call without exception.
At this loftier price point it goes without saying a customer expects something elevated from the kitchen. Careful attention to ingredient sourcing, due diligence on the bun, patty and toppings; therein I reached out to each business for comment following my visit. The following list represents some of the more expensive and extravagant burgers available in Utah. And yes, I need a nap now. Oh, and a double dose of statins.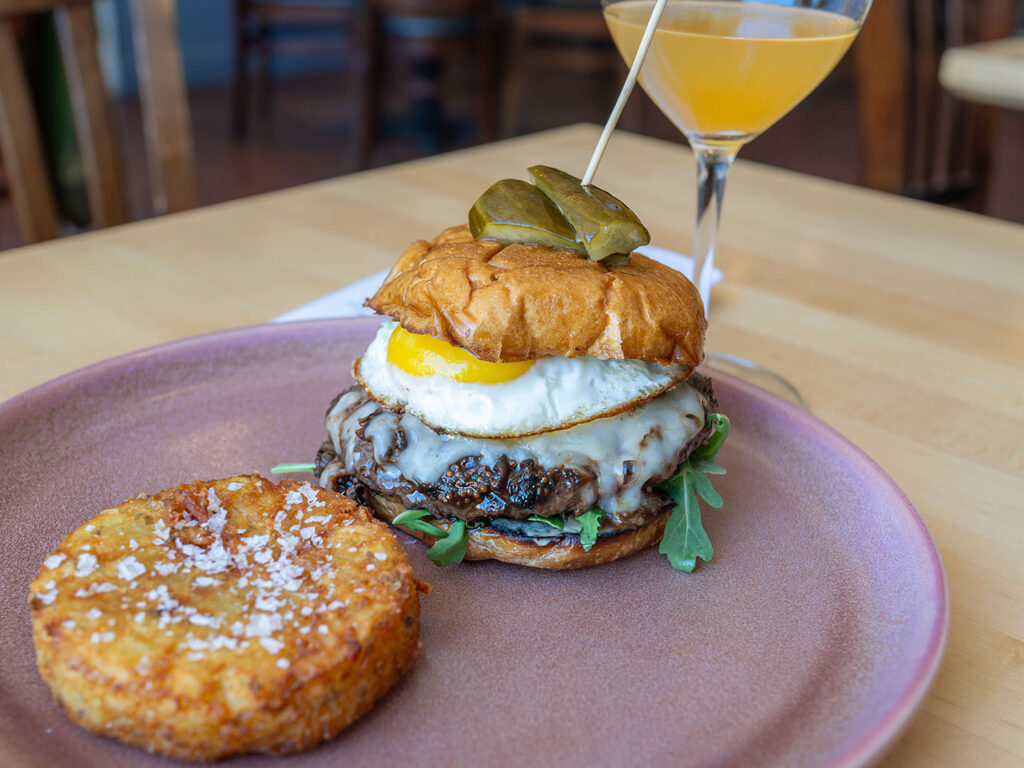 Oquirrh – The brunch burger
$21 | Downtown Salt Lake City | menu
Named as Salt Lake Magazine's 2023 outstanding restaurant of the year, this downtown chef-driven eatery offers a blink and you might miss it burger. Oquirrh's offering is available as part of their brunch service, which at this time is a Saturday only affair.
The burger comes with Alpine cheese, foie gras aioli, Yeti's bacon onion jam, brioche bun, and hash brown on the side. If you're feeling indulgent, a perfectly wobbly fried egg is three bucks more taking the total tab to $24.
Chef Andrew Fuller tells me, "The patty is a 70% / 30% chuck to fat blend. The foie gras comes from Hudson Valley NY (best foie in the world). The onion jam is made by caramelizing red onions and then reducing Guinness beer with mustard seeds and bacon, a little brown sugar at the end. Farm Arugula, Fontina cheese, house made pickle."
368 E 100 S, Salt Lake City, UT 84111
(801) 359-0426
oquirrhslc.com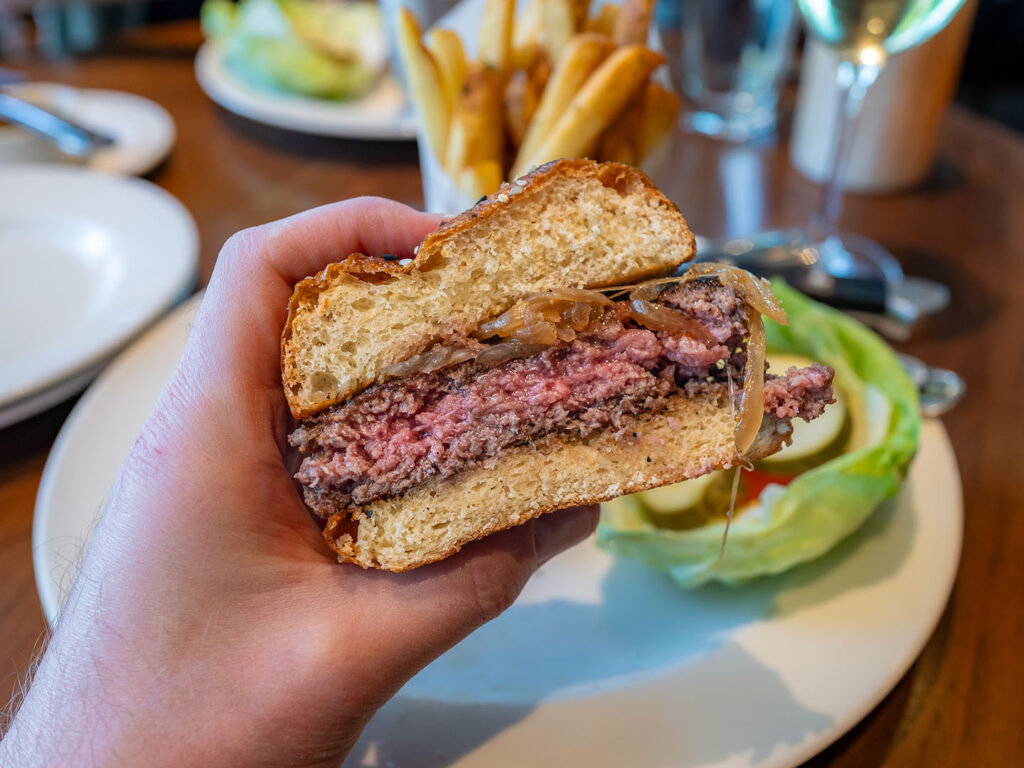 The Capital Grille – the steakhouse burger
$22 | Downtown Salt Lake City | menu
Simplicity rules for this lunch only burger – which is also an excellent time to hit up this downtown steakhouse; the crowds are thinner, the vibe discrete, and the service still tip-top. Our server compliments our burger order, while confiding he snags a few himself to grill at home. Grilled onions and melted cheese are the concisely toppings on a notably thick patty. Skinny fries with truffle sauce and parmesan come on the side.
Capital Grille were another restaurant keen to proudly talk about their burger specs with me. Their team explained, "The Capital Grille is a fine-dining restaurant best known for its expertly prepared steaks, dry aged on premise 18-24 days and hand-cut by the restaurant's in-house butcher. The restaurant extends its personal attention to every menu item, including their popular signature cheeseburger. The Capital Grille Cheeseburger features a proprietary blend of beef from Pat LaFrieda Meat Purveyors, specially created for The Capital Grille guests. The burger features grilled onions and white cheddar cheese with a brioche bun, served with truffle fries, and can be found on the lunch menu.
40 E 100 S, Salt Lake City, UT 84111
(385) 419-3888
thecapitalgrille.com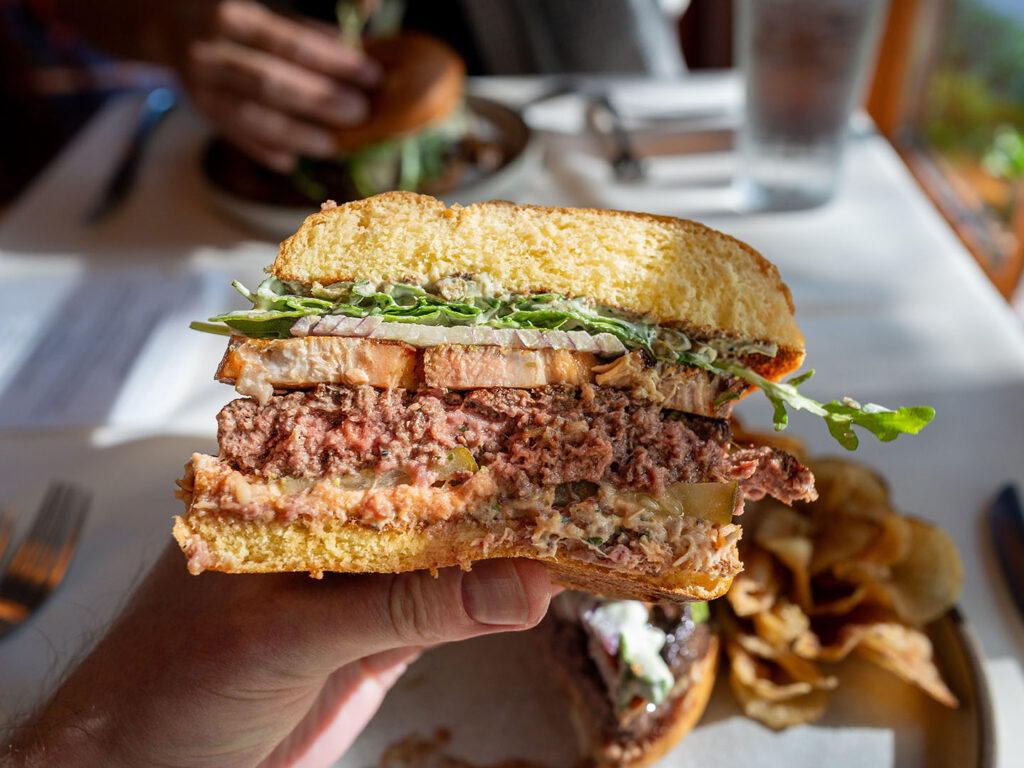 Franck's – the shapeshifter
$24 | Cottonwood Heights | menu
Every Thursday night is "burger night" at this Cottonwood gourmet spot, and again proof that modest burger can find a happy home anywhere. On Thursday evenings, the kitchen team put out an ever-changing creation, available only in limited numbers. Get there early or miss out. Some recent examples I've spied include a ginger infused wagyu beef burger (spicy green curry potato, white cheddar roasted chicken skin, pickled ginger, raw onion, arugula) and a Buffalo wing burger (wagyu sirloin burger, "Franck's Red Hot" mushrooms, havarti cheese, roasted chicken skin, gorgonzola mayo, pickled celery, arugula, "Franck's Red Hot" mayo).
The week we pitch a towering "surf & turf" composition is plated before us. As per all the specials, this begins with the restaurant's wagyu sirloin patty before loading on grilled pork belly, gruyere cheese, house pickles, wild coho salmon salad, raw onion, caper-tobiko caviar mayo, and arugula. The whole shebang is held together on a caramelized egg yolk bun. House katsuobushi-garlic russet potato chips on the side.
6263 Holladay Blvd E, Holladay, UT 84121
(801) 274-6264
francksfood.com
WildFin American Grill – the incidental catch
$24.95 | Riverton | menu
This particular catch metaphorically fell into my lap by happenstance. Bellying up at the bar to check out a tempting happy hour menu, what's this now? A burger that hits our price point? Our order quickly changes to the regular dinner menu and WildFin's house burger. Fact fans will note WildFind can be found just a few doors down from neighboring Stack 571, a burger-focused eatery from the same regional restaurant group both located in the new Mountain View Village complex at Riverton.
WildFin's effort comes with bacon, onion jam, cambozola, grilled red onion, arugula, tomato, Salt City Baking brioche bun, house pickled vegetables – fries on the side.
13333 Tree Sparrow Dr, Riverton, UT 84096
(801) 542-9885
wildfinamericangrill.com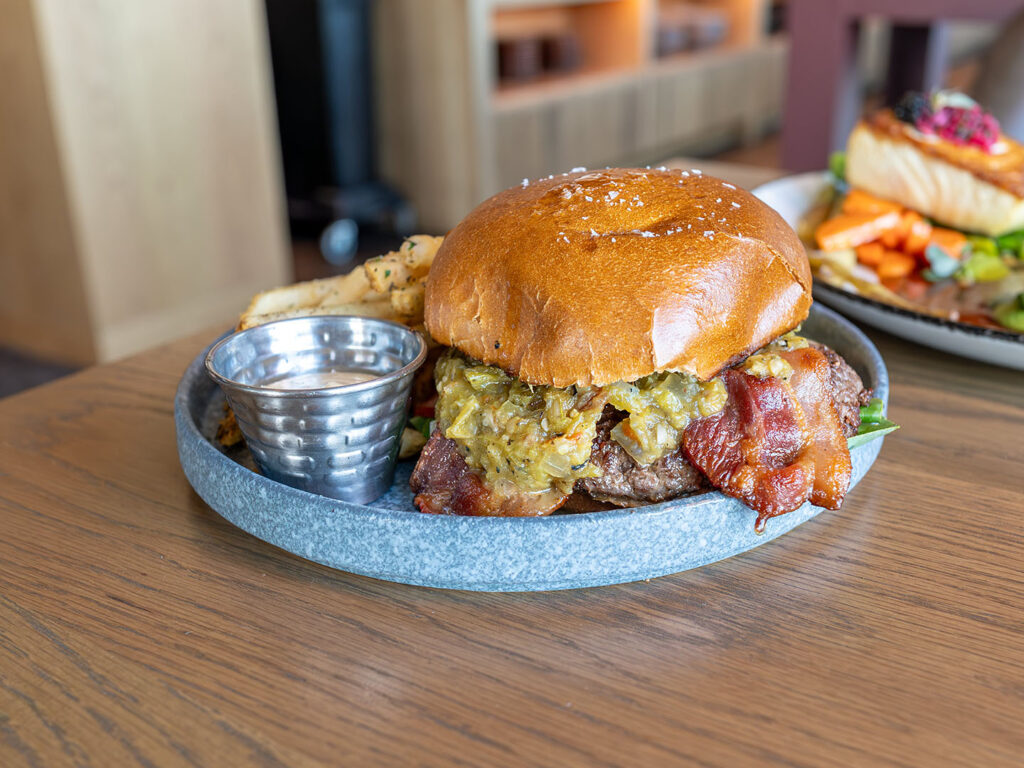 Urban Hill – the newcomer
$25 | Downtown SLC | menu
Over to the Post District now and a recent addition to a fresher menu at Urban Hill. Chef Nick Zocco's burger uses a smash stye patty before leaning into Zocco's Southwestern roots with hatch chiles. Also joining the fray, smoked bacon, lettuce, tomato, onion, American cheese, pickle, and lemon rosemary fries with malt vinegar aioli.
Chef Zocco was eager to explain the orgins of this one with me, writing, "Our burger was inspired by the burgers I grew up eating in New Mexico. It's a traditional burger that keeps things fairly simple, but well prepared. It's really the green chile that makes the burger what it is. If not for the high quality chile with some good level heat, it's not going to be the same.
Our burger also adds smoked thick bacon, not something you will find on every burger in New Mexico, but bacon is alway welcome in my belly and in my opinion! This adds that extra level of fat, salt and smoke. We choose to use a brioche bun made here in SLC from Stoneground Bakery. It holds up and offers a nice soft chewiness to the texture and soaks up all the juices! Our beef is Niman Ranch beef, ground in small batches at local beef company Wasatch Meats. Typical blends include chuck, round. ribeye cap and what's referred to as 'steak trim'. Niman Ranch offers high quality products from a network of small Ranchers, and they truly care about sustainable and humane agricultural practices."
510 S 300 W, Salt Lake City, UT 84101
(385) 295-4200
urban-hill.com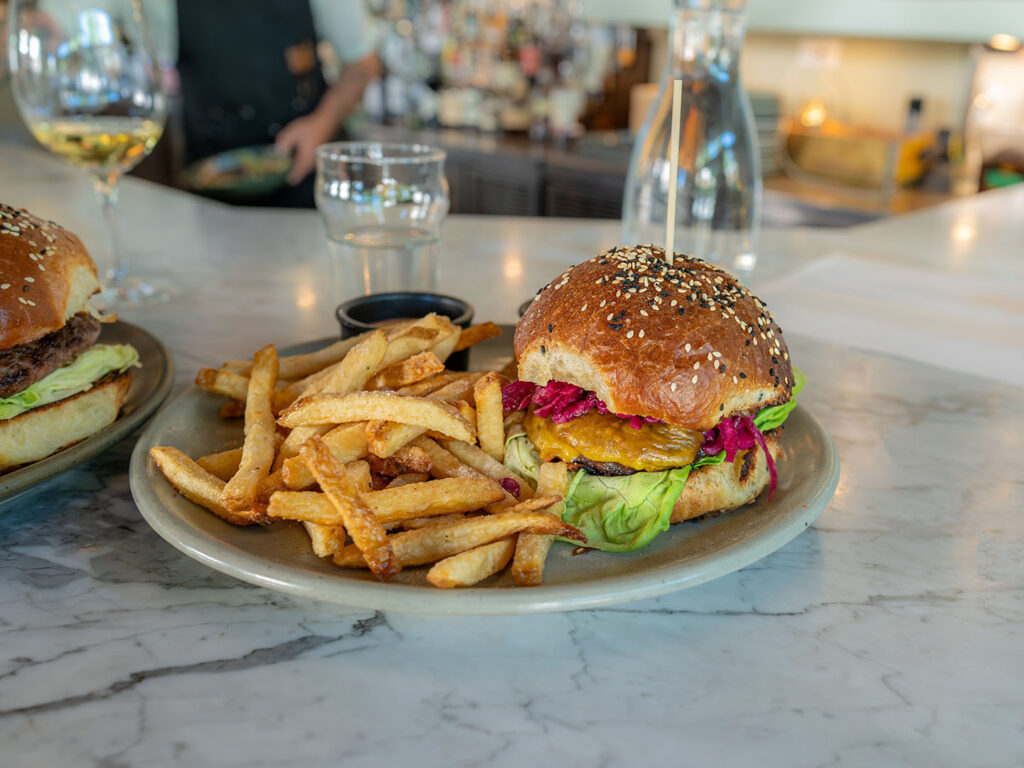 HSL – the chef's burger
$26 | Downtown Salt Lake City | menu
Chef Briar Handly's SLC outpost has offered a gourmet burger ever since the restaurant's inception in 2016. I recall an earlier version employing an English muffin style bun to great effect. While the seasonal menu, and chef's behind the grill are ever changing, the burger remains a mainstay.
The kitchen recommends medium rare as the ideal temperature, and we duly comply accepting a final build with Cheddar cheese, pickled red cabbage and tangy tomato jam. Malt vinegar French fries come on the side, and yes there's fry sauce on the side, one with a spicy zip.
The house baked brioche bun is particularly noteworthy, a light and bouncy thing that the restaurant takes obvious pride in. HSL's pastry chef Louis Dapper explains, "The key to making excellent brioche buns is becoming familiar with the feel of the dough. Time and temperature are often subjective, therefore requiring close attention to the growth process. The recipe we follow consists of a pre-fermentation method using our house made sourdough starter, which allows the dough to rise organically and enhances its flavor. The result is mouthwatering."
418 E 200 S, Salt Lake City, UT 84111
(801) 539-9999
hslrestaurant.com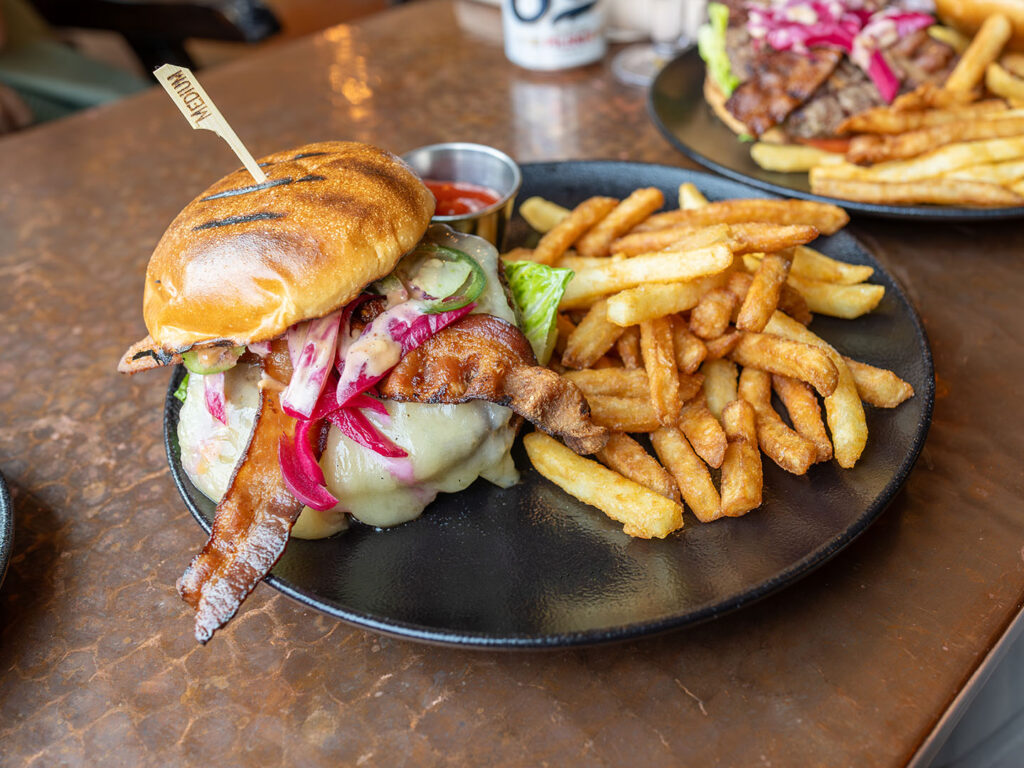 Eight Settlers Distillery – the kitchen sink burger
$26 | Cottonwood Heights | menu
Sitting on the mouth of Big Cottonwood you'll find this distillery/restaurant that serves up the aptly monikered exotic burger. The patty is built using a giddy quartet of proteins – elk, bison, wagyu beef and boar. For good measure, crisp and smokey bacon is a final flourish. Chef Lee Robinson isn't close to finished though. Atop the construction go white cheddar, jalapeno slices, black garlic aioli , lettuce, tomato and pickled red onions. A brandished brioche bun strains to the contain the hefty serving. On the side, a good heaping of battered style fries and ketchup.
The restaurant are another to tap Niman Ranch for their sourcing telling me, "The blend for the exotic burger was curated just for us by Niman Ranch. The blend is wagyu, bison, elk, and wild boar in a 7 oz pressed patty with a fat content of 15%. The bun is a 4″' round European style brioche bun, and is accompanied with Vermont white cheddar."
7321 Canyon Centre Pkwy, Cottonwood Heights, UT 84121
(385) 900-4315
eightsettlersdistillery.com
Las Botellas – dinner and a show burger
$28 | Riverton | menu
Another new Riverton restaurant, and one that tempts guests with much more than their Mexican-informed menu. A huge draw for would be diners here are the high end vibes, with a handsome sum spent on kitting out the lavish interior space; one that immediately draws comparisons to Vegas. Live entertainment such as the pictured fire dancers above are part of the whole ensemble.
Las Botellas' burger is an 8 ounce brisket patty and comes with Oaxaca cheese, slices of poblano, pickled red onion, and guacamole. Seasoned fries come on the side too. A separate brunch burger is also available at weekends though we didn't sample this. For the curious, it's similarly priced and comes with an 8 ounce beef brisket patty, fried egg, pickled red onion, chipotle aioli, guacamole, and seasoned fries.
4488 Teal Rdg Wy Suite H-100, Riverton, UT 84096
(385) 758-7847
experiencelasbotellas.com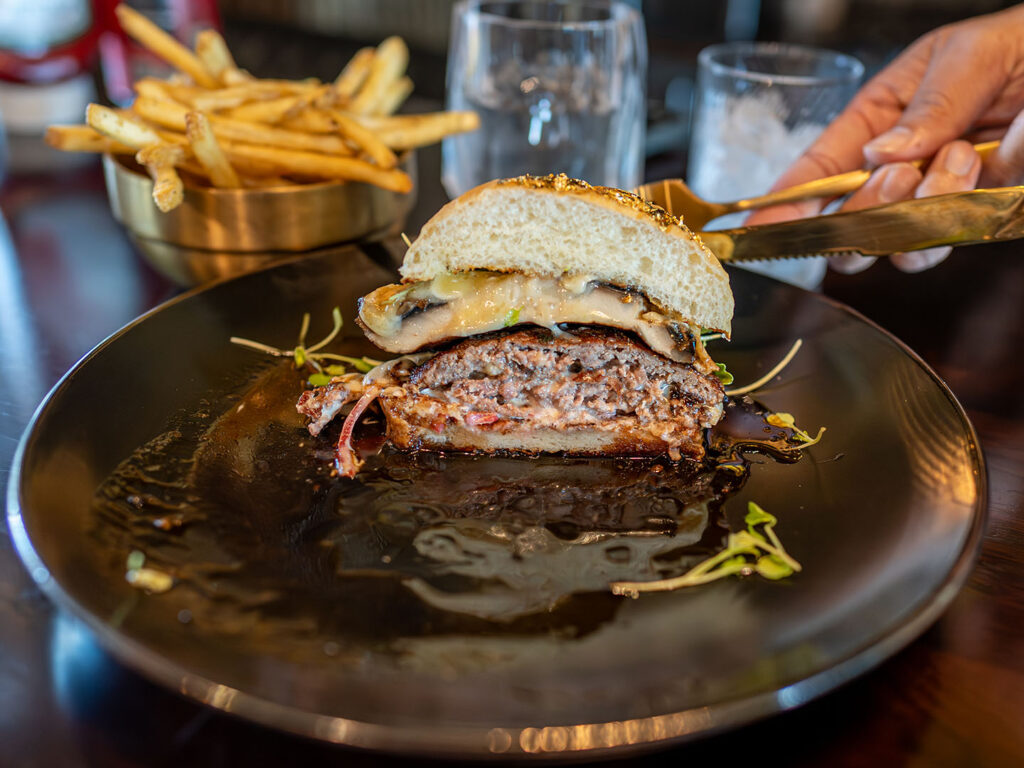 Fancy Burger – Utah's most expensive burger
$33 | Orem | menu
The most wallet straining creation on the list isn't actually from a ritzy resort like you might imagine, but instead, Utah County. To the best of my investigations this currently ranks as the most expensive burger in the state; I could only find Burgers And Bourbon in Deer Valley that eclipses this effort – but requires guests pony up for an optional slab of foie.
Like Franck's, the exact composition you can expect to encougnter at Fancy Burger is an ever-changing work in progress. Butter poached scallops topped a burger on June's menu, while king crab starred as the crowning glory in April. Earlier 'Fancy' burgers managed to make the $40 mark, but when we popped in, the price was $33.
The burger we stopped in to sample included a butter basted portobello mushroom, stuffed with a four cheese blend of brie, parmesan, feta and marscapone, as well as a mushroom and shallot duxelles. Micro greens, a balasamic demi glaze, and pickled onion complete the picture. The burger utilizes a duo of the restaurant's smash style patties.
It's worth noting that the patties featured on the fancy burger are the same as used throughout the menu, so you're fine to swing by and sample the simple single patty burger for $5.50. No luxe toppings of course at this price point.
A final note on Fancy Burger are their Hokkaido style milk buns – made carefully in house. The enriched buns are used on all the burger creations here – coming flecked with gold leaf.
37 W University Pkwy, Orem, UT 84058
(801) 762-7517
myfancyburger.com
And the winner is?
Going into this calorific quest our goal was more documentarian than decision maker – but still – we had our favorites. Oquirrh's overall composition was the best of any burger we sampled, exacting attention to detail in every component. Marvelously messy and fun – the egg is a must.
Franck's took home the prize for the most luscious patty – undeniably the best, a true thing of beauty. Judged solely on the patty itself, this was the best I've tasted in Utah in fifteen years. The restaurant didn't respond for comment on what exactly goes into the mix – they're keeping those secrets close to their chests. Smart. The remainder of the burger (at least the surf and turf we tasted) however suffered from excess – multiple competing flavors just a tad too much.
Capital Grille made a notable showing. The burger doesn't cajole with caviar, lobster or gold leaf, instead, it simply tries to execute a classic cheeseburger with precision. It does what it says on the tin admirably.
Honorable mentions for Urban Hill's fabulous Hatch chile slathering, HSL and Fancy Burgers light buns too. All that said, every restaurant listed above has their own unique charms. Las Botellas' entertainment offers a one of a kind experience in Utah, Eight Settler's offers a small distillery bottle shop as you head out the front door.
Other notes
Due to time constraints we didn't make the journey to Park City or Deer Valley which would be a whole other endeavor in itself. I should note that both the Pendry resort (pictured top of page) and the aforementioned Burgers And Bourbon feature burgers North of $25. Meanwhile, in writing this post, I did also spy Ivy/Varley in downtown offering a burger around the $24 mark. Let me know in the comments below if I missed any others I need to sample to complete the list.
Keep the conversation going
Want to stay on top of the SLC food scene, minute by minute, dish by dish? Here are a few other places you should follow along:
Hi, I'm Stuart, nice to meet you!  I'm the founder, writer and wrangler at Gastronomic SLC.  I'm a multiple-award winning journalist and have written in myopic detail about the Salt Lake City  dining scene for the better part of seventeen years.
I've worked extensively with multiple local publications from Visit Salt Lake to Salt Lake Magazine, not least helped to consult on national TV.   Pause those credits, yep, that's me! I'm also a former restaurant critic of more than five years, working for the Salt Lake Tribune.    I'm largely fueled by a critical obsession with rice, alliteration and the use of big words I don't understand.   What they're saying about me: "Not inaccurate", "I thought he was older", "I don't share his feelings".
Want to know more? This is why I am the way I am.
This article may contain content provided by one of our paid partners. These are some of the best businesses in Utah. For a list of all our current and past relationships see our
partnership history page
.