As the weekend approaches and all the attendant promise of decadent abandon (ok yes, stuffing your face) allow me to steal five minutes of your time and point you in the appropriate direction. The following then, a trifecta of newer restaurants I've enjoyed over the last few weeks myself; and each one worthy of your carefully spent calories.
Katrina's Mexican Restaurant & Cantina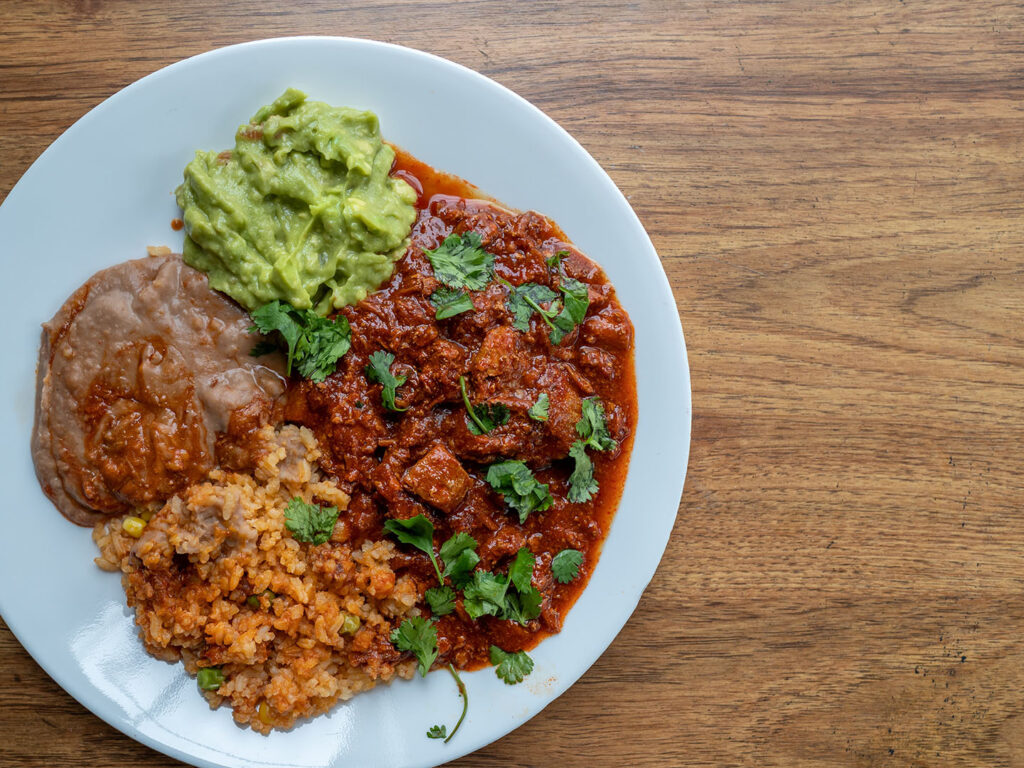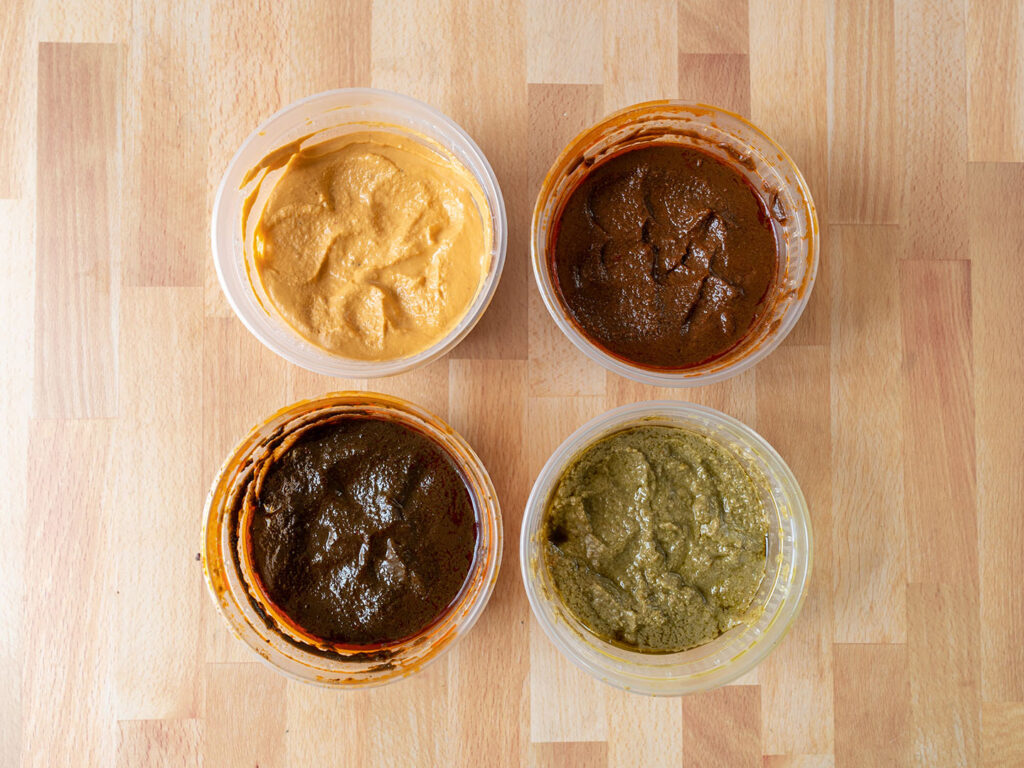 There's been an abundance of new taco spots popping up over town of late (just trawl the archives of our new restaurant roundups). And as much as I love tacos as the next eager soul, sometimes I crave something a little more substantial than the humble hand held.
Enter stage left then, Katrina's Mexican Restaurant, a new Millcreek family business. Sliding into the former Cafe Silvestre space along 33rd South, the restaurant quickly piqued my interest via an attention grabbing menu. Case in point and pictured top, Katrina's chile Colorado, a dish that leaps from page to belly with ease. The chile-fueled terracotta sauce is the star of the show here; an account of hour upon hour of slow cooking, also highlighted by the tender pork pieces throughout. You can taste the carefully guarded family recipe in each bite. For the spice-afeared, flavor more than flame shines through.
From there, I encourage you to review Katrina's selection of moles; a colorful collection that spans the whole wheel. From a blonder almendrado (almonds and chiles) through a strikingly-thick negro (nuts and chocolate). Poblano (a trio of chiles) and verde (tomatillo, jalapeño and pumpkin seeds) sit in the middle. The moles are offered with a variety of proteins but scroll down the menu and you'll spy them also offered individually in 8oz orders for a measly $5. That means you can take a teetering bagful to go, and experiment at home at your messy leisure. Or, if you must order tacos, dip and slather accordingly.
3041 E 3300 S, Millcreek, UT 84109
(385) 259-0093
katrinasmexicanrestaurantcantina.com
Ascent Kitchen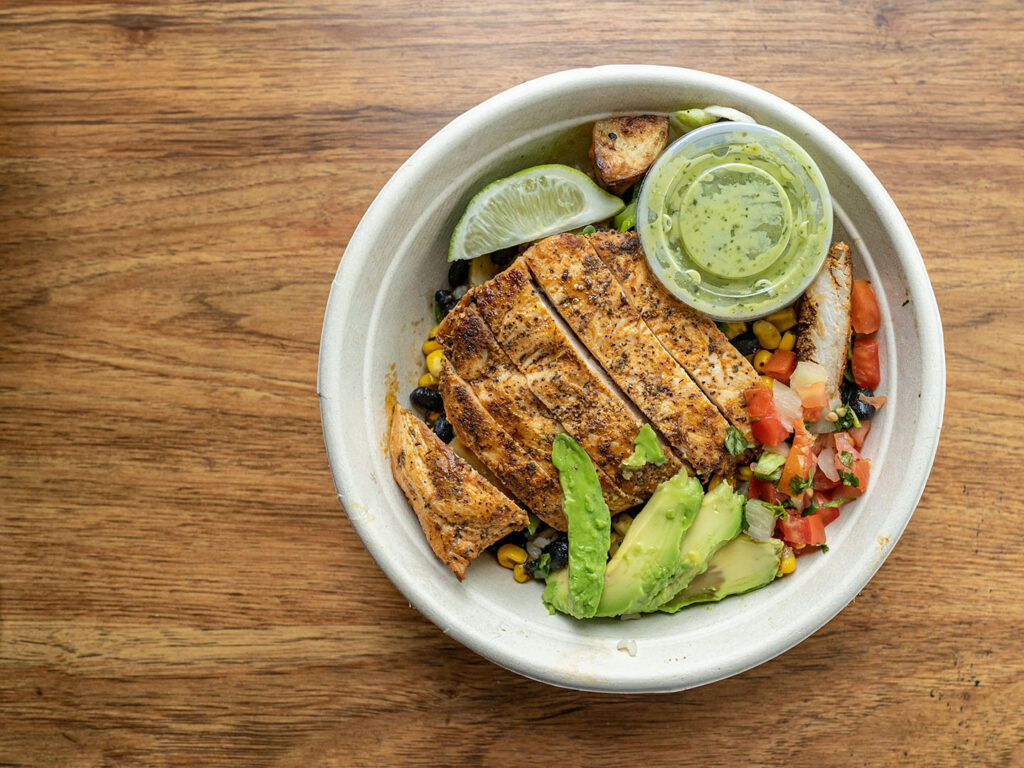 Ascent recently sprang to life in the erstwhile Pulp Lifestyle Kitchen facilities you might recall around the valley. There are three locations in total, serving downtown, mid city and Sandy. The order of the day is roughly similar in approach, and let me be blunt: fast food that's not crappy food. And I mean that in more way than one. In both execution and nutrition, the menu here is everything that regretful fast food hamburger you have in your hand right now is not. Put it down. Gently now, there you go.
Ascent's menu is built around bowls, salads, sandwiches and the odd entree. The dishes roughly comprise the same mix of protein choices, albeit amalgamated into different designs. Pictured top their popular cilantro lime chicken bowl – a composition that starts with a hearty base of brown rice; which means you can brag to yourself all day about eating healthy. A generous piece of blackened chicken sits atop a melange of corn, potato, beans and cotija, supported by plenty of fixings. Honey jalapeño glaze and a creamy avocado cilantro dressing then do their saucy thing.
O.k. yes, that is a picture of cheesecake. I'm not perfect, don't judge me.
49 E Gallivan Ave, Salt Lake City, UT 84111 | (801) 456-2513
439 E 900 S, Salt Lake City, UT 84111 | (385) 267-1092
9645 S State St, Sandy, UT 84070 | (385) 557-4986
ascent.kitchen
Sara Thai Kitchen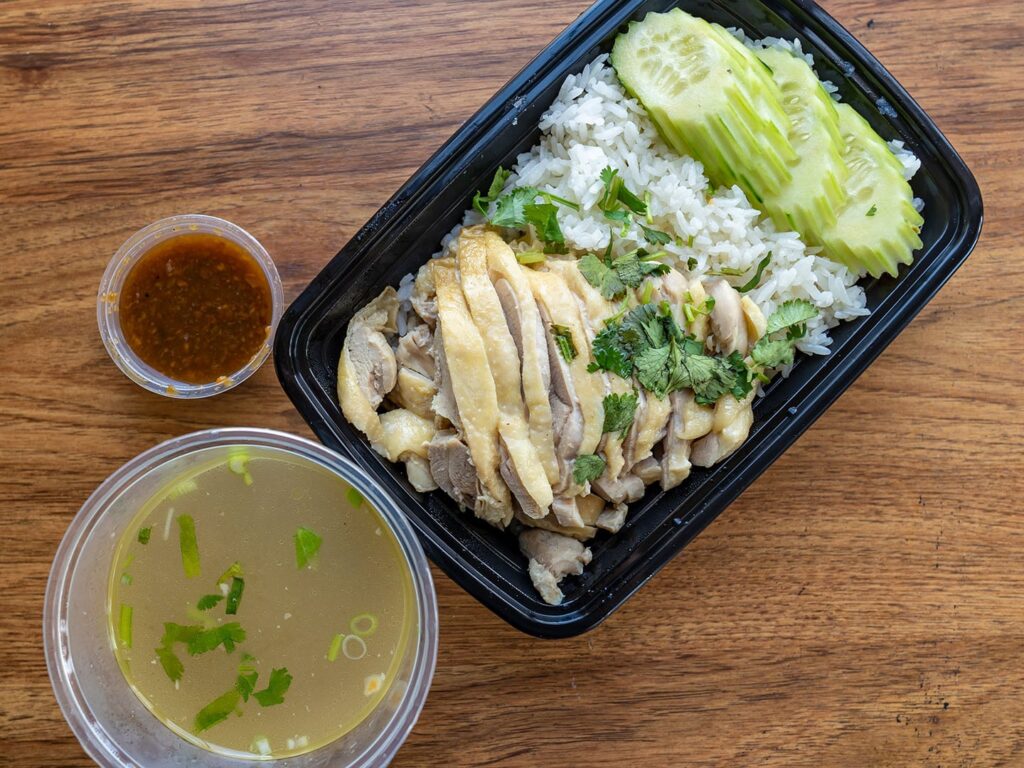 Lastly, if Thai cuisine is more your fancy, you can't do much better than this new downtown joint. Opened by former NYC and Vegas chef Chaisith (Ning) Crook, the business takes over the space you might recall as Pasha Middle Eastern Cuisine. It's a family affair, the Sara in question, Ning's wife. I spoke to daughter Sam Chaisith who gave me a little backstory:
"We moved from Vegas during covid about a year and a half ago. My father who is our head chef has culinary experience of 45 years since he was a little kid he learned how to cook; my mother Sara Sarunthon has 30 years experience, growing up with her parents owning a small restaurant as well. The food we cook here is all homemade and we truly cook with love. Every dish is served in big portions with our customers always packing to go! We welcome everyone with the motto of " if people show up at our door we feed them with good food and treat them like family".
The Crook's bring with them not only a welcoming affection, but a menu of solid dishes, some unique for these parts. Thai sausage anyone?
My favorite dish to date here has been the Khao Man Kai, a sort of Thai spin on Hainanese chicken. Simply cooked skin-on chicken is sliced and served over steaming Jasmine rice. On the side there's a pot of liquid that needs no explanation, the surface quivers with rendered chicken fat making it clear this is for splashing over in gloriously waterfall fashion. The finishing touch to the otherwise subtle flavors is an assertive garlic and ginger sauce. You'll want to reach for this type of home cooking as the temps inevitably soar in the weeks ahead.
60 E 800 S, Salt Lake City, UT 84111
(801) 906-8945
sarathaikitchen.com
Keep the conversation going
Want to stay on top of the SLC food scene, minute by minute, dish by dish? Here are a few other places you should follow along:
Hi, I'm Stuart, nice to meet you!  I'm the founder, writer and wrangler at Gastronomic SLC.  I'm a multiple-award winning journalist and have written in myopic detail about the Salt Lake City  dining scene for the better part of seventeen years.
I've worked extensively with multiple local publications from Visit Salt Lake to Salt Lake Magazine, not least helped to consult on national TV.   Pause those credits, yep, that's me! I'm also a former restaurant critic of more than five years, working for the Salt Lake Tribune.    I'm largely fueled by a critical obsession with rice, alliteration and the use of big words I don't understand.   What they're saying about me: "Not inaccurate", "I thought he was older", "I don't share his feelings".
Want to know more? This is why I am the way I am.
This article may contain content provided by one of our paid partners. These are some of the best businesses in Utah. For a list of all our current and past relationships see our
partnership history page
.