People often ask, "what food is Utah famous for?" Beyond the less than exciting funeral potatoes and green jello – we'd put burgers up for contention. There's more than one reason Travel And Leisure Magazine ranked SLC as the nation's 2nd best burger city in 2011, and atop that list sits the mighty pastrami burger – the most iconic of all burgers in this part of the world.
Rumor has it that Crown Burger's Nick Katsanevas started the local obsession with this meaty creation way back in the 70s, but like all good mysteries, we'll probably never know the real truth.
What we do know is that a pastrami burger is a must eat dish if you're new to town, or just traveling through. Most pastrami burgers share the same basic recipe: a charbroiled beef patty matched with an equal amount of thinly shaved pink hued pastrami. From there, melted American cheese, fry sauce (a local spin on 1000 Island), shaved lettuce and tomatoes usually make up the topping list. Its a decadent and delicious treat noon or night.
Here's our list of where to get your pastrami burger on in Utah…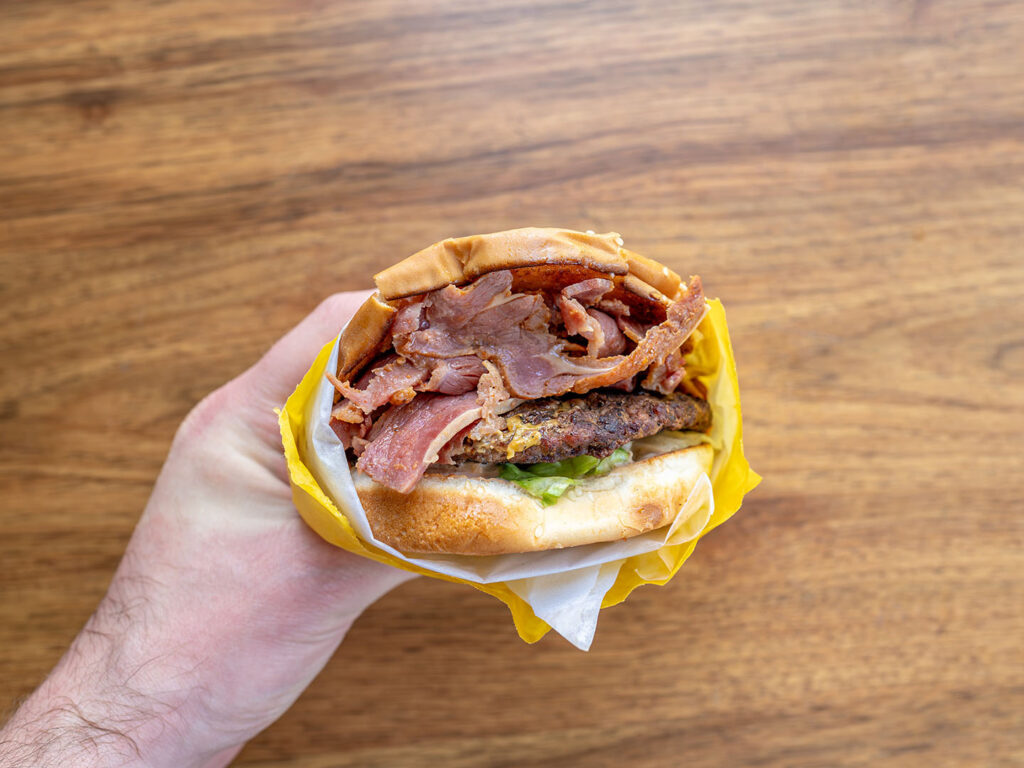 Crown Burgers – Crown Burger
The unarguable grandaddy of all Utah pastrami burgers is this behemoth from Crown Burgers. You can debate who has the best pastrami burger until the sun goes down, but Crown Burgers is THE name in town when it comes to this particular Utah. Try this quarter pounder based creation first, then move on to sampling the rest for comparison. See the menu for Crown Burgers.
Atlantis Burgers
Our friends over at Foody Fellowship reckon this North Salt Lake City spot has the best pastrami burger in town. We're not gonna argue with these guys' knowledge of the local food scene. Read the full menu for Atlantis Burgers.
Yanni's Greek Express
The simply titled Pastrami Burger at Yanni's in Sugar House is another fantastic choice. This single location mom and pop fast food joint has been slinging Greek fast food for decades, and the grill has the tales and taste to prove it. Don't take out word for it, check out the pic from live4burgers above – with a name like that you have to pay attention. See the full Yanni's menu here.
Astro Burgers
There are three locations of this American-Greek original: Midvale, South Jordan and Draper. The signature Astro is what you're looking for on the menu here.
Apollo Burgers
Apollo has been invited guests to follow the flame since 1984. With more than three decades under their belts, twelve locations across Utah and a food truck roaming the roads – there's plenty of ways to secure their signature Apollo burger. See the full menu here.
Lucky 13
All you need to know about Lucky 13 is their Worlds Best Burger award; those things kinda don't grow on trees. Lucky 13 is a little different to others on this list, more roadside saloon than restaurant. Bring your ID to this 21+ bar hot spot, then wait your turn in line to sample their award winning grub.
Woody's Drive In
Wooly's harks back to a time long since passed, an era of car hops, shakes and beautiful burgers. At Woody's you can get your nostalgia on, as well as enjoy one of the best pastrami burgers in the state too!
Who did we miss?
If you think we're missing a really great addition to this list, please email us at stuart@gastronomicslc.com – we'd love to hear from you. Let us know who you think should be on this list and why. If you have a really great picture of one of more dishes, please send that too! We're always excited to check our more businesses!
Hi, I'm Stuart, nice to meet you!  I'm the founder, writer and wrangler at Gastronomic SLC.  I'm a multiple-award winning journalist and have written in myopic detail about the Salt Lake City  dining scene for the better part of seventeen years.
I've worked extensively with multiple local publications from Visit Salt Lake to Salt Lake Magazine, not least helped to consult on national TV.   Pause those credits, yep, that's me! I'm also a former restaurant critic of more than five years, working for the Salt Lake Tribune.    I'm largely fueled by a critical obsession with rice, alliteration and the use of big words I don't understand.   What they're saying about me: "Not inaccurate", "I thought he was older", "I don't share his feelings".
Want to know more? This is why I am the way I am.
Our sponsors and this page
This page may contain information about one of our sponsors. We only work with the very best businesses in the state, and routinely turn down offers to work with businesses we don't enjoy. If we can't hand on heart recommend them - they can't be a sponsor.
At this time we have the following sponosrs: BTG, Caffe Molise, The Dough Miner, Downtown Alliance, Feldman's Deli, Flanker, Garage On Beck, Hearth And Hill, Hill's Kitchen, Kao Thai, Kin Sen Asian Noodle Bar, Kyoto, LemonShark Poke, Log Haven, Oasis Cafe, Pirate O's Gourmet Market, SLC Eatery, Squatter's Downtown Salt Lake City, Stoneground Italian Kitchen, Urban Hill, Wasatch Brew Pub Sugar House, Whiskey Street, White Horse.
I encourage you to Google any of our sponsors and see the stellar reviews on multiple sites that they enjoy. For a list of all our current and past relationships see our partnership history page.