Tradition
Quirkily springing to life in the spot of a former abandoned car garage is this Southern influenced neighborhood hotspot. The seasonal menu is always in flux, but if you do stop by you need to check out one thing thats always on the menu: amazing home cooked pies! Five daily flavors are always offered, everything from spiced cherry with lemon zest and cayenne through caramel apple with brown butter.
501 East 900 South, Salt Lake City, UT 84105
(385) 202-7167
traditionslc.com
Pizza Nono
A small and humble pizzeria in the heart of the 9th and 9th area. What it might not have in space and size, it more than makes up for in flavor. The menu is simple with 4 regular pizzas and a "pizza of the week", two simple salads, and a seasonal side. With that tunnel vision focus the restaurant cranks out Neapolitan pizza made with traditional methods and only the best hand sourced ingredients.
925 East 900 South, Salt Lake City, UT 84105
(385) 444-3530
pizzanono-slc.com
Pago
Pago was one of the first restaurants in SLC to really lean into the farm to table movement. Focused on seasonal ingredients with a local angle where possible, Pago has been home to a number of well known chefs such as Michael Richey, Drew Fuller and Phelix Gardner.
878 S 900 E, Salt Lake City, UT 84102
(801) 532-0777
pagoslc.com
Pie Fight
Offering a number of 'hand pies' there's no actual fighting at this 9th and 9th dessert shop – just good natured discussion over what's the best pie. Grab one and go while you stroll around the neighborhood.
937 E 900 S, Salt Lake City, UT 84105
(385) 222-5373
thepiefight.com
Kyoto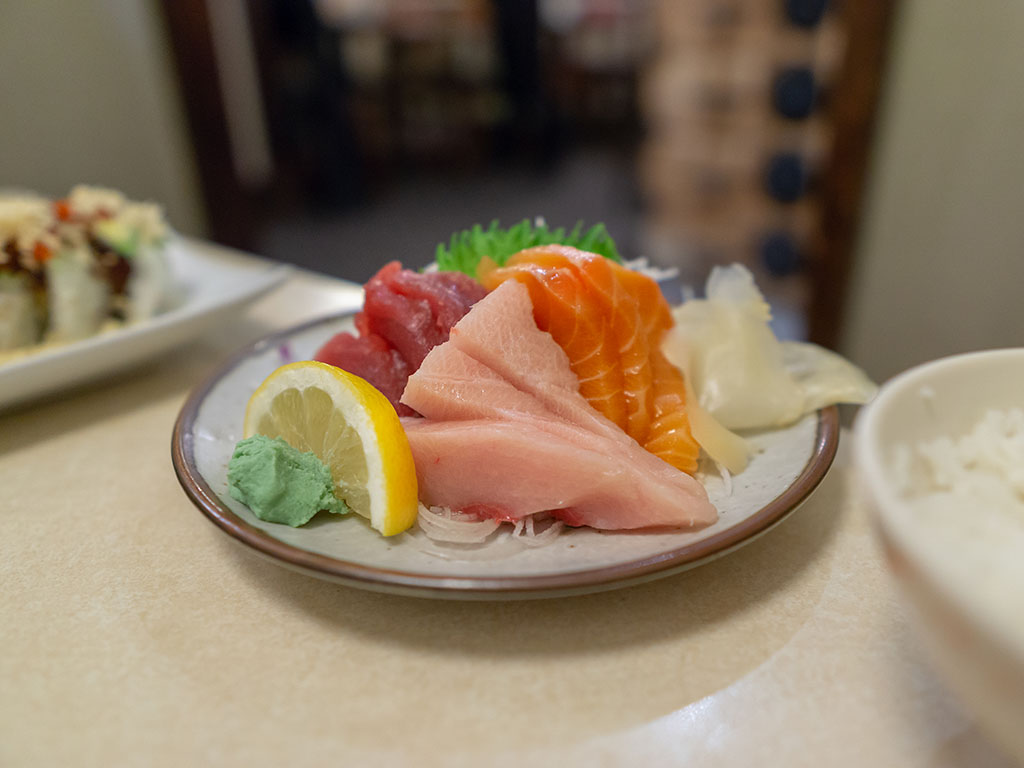 O.k. its not in the center of the 9th and 9th area, but it's only ever so slightly further afield. Kyoto is one of SLC's longest standing restaurants, and easily one of the very best Japanese restaurants in the state. You'll find a full sushi var with maki, nigiri and sashimi but the star here is the authentic cooked dishes. Always consistent and reliable b e sure to check out classic dishes such as their tempura, tonkatsu, sukiyaki and more!
1080 E 1300 S, Salt Lake City, UT 84105
(801) 487-3525
kyotoslc.com
Our sponsors and this page
This page may contain information about one of our sponsors. We only work with the very best businesses in the state, and routinely turn down offers to work with businesses we don't enjoy. If we can't hand on heart recommend them - they can't be a sponsor.
At this time we have the following sponosrs: BTG, Caffe Molise, The Dough Miner, Downtown Alliance, Feldman's Deli, Flanker, Garage On Beck, Hearth And Hill, Hill's Kitchen, Kao Thai, Kin Sen Asian Noodle Bar, Kyoto, LemonShark Poke, Log Haven, Oasis Cafe, Pirate O's Gourmet Market, SLC Eatery, Squatter's Downtown Salt Lake City, Stoneground Italian Kitchen, Urban Hill, Wasatch Brew Pub Sugar House, Whiskey Street, White Horse.
I encourage you to Google any of our sponsors and see the stellar reviews on multiple sites that they enjoy. For a list of all our current and past relationships see our partnership history page.