Xiao Bao Bao
You might recall this story back in February where I previewed the upcoming Xiao Bao Bao. Following a series of popup events through the Spring and Summer – I'm excited to announce the grab and go spot is now officially open; albeit in soft opening mode. Those prior ad hoc openings caused lines down the street, such was the demand for squishy bao.
The essentials of that story from Wintertime still hold true. Xiao Bao Bao is a take out restaurant in downtown Salt Lake City, created by Romina Rasmussen (formerly of Les Madeleines) and brothers Derrick and Dwight Yee. The restaurant focuses on Chinese steamed bao.
Much like Rasmussen's prior attention to ingredient detail at Les Madeleines, a similar approach to quality underscores XBB. Free range chickens are tapped for a curried chicken bao, while a brace of pork offerings feature Heritage pork, a blend of Duroc and Berkshire breeds. Two vegan friendly options will star alongside those, a bok choy and shiitake blend as well as an eggplant based bao.
The key update to the story is the location, with Xiao Bao Bao now taking full shape in the former Les Madeleine store at 216 E 500 S (just over the road from The Leonardo in downtown SLC).
Current hours for the new store are Tuesday through Saturday, from 11.30 a.m. until 2.30 p.m. Once fully staffed the restaurant aims to open till 7.00 p.m.
In other news, here's everything else that's just opened up, and what's expected next. Remember you can read the complete history of what's been opening in excruciating detail here.
Bombay Palace
Following the departure of Murray's beloved Celeste Italian Ristorante, this new Indian restaurant has pitched up in the vacated strip mall space. Open seven days a week the menu checks all the familiar boxes, curries through tandoori and biryani. What caught my own eye was the "soya chaap" section of the listings, something I confess to having to Google up; apparently a faux-meat made from soybeans.
Dayung's Tea Utah
The unstoppable march of boba continues unfettered. Here's another option for you, just next door to Sushi Burrito in Salt Lake City. Fruit teas and smoothies join the tapioca studded headliner at Dayungs.
Fiddler's Elbow
Not a new restaurant per se, but this long lived Sugar House bar and restaurant apparently has new owners. I've reached out for more comment but in the interim the businesses refreshed Facebook page has seen a flurry of updates. New menus were recently posted to Facebook here and here, as well as confirmation of new chef Dara Young heading up Fiddler's Elbow kitchen. Additionally, the trio of new owners took to the social media platform to introduce themselves as follows:
"Meet the new owners- Dan, Lynn, and Sean! We wanted to open up our business and help bring back the soul of Sugarhouse. Ours is one of the last original businesses still around. We kept the name Fiddler's Elbow and the historic photos in our restaurant to preserve what's left of the history in the Sugarhouse area. We want to keep the same comfortable, intimate vibe, while elevating the customer's experience with a new delicious menu and our amazing staff.
This area is our old stomping grounds. Two of us went to Highland High right up the street and have spent a huge portion of our lives in the area. We love Sugarhouse and are beyond excited to be able to bring the community together with great food and drinks. We look forward to welcoming and meeting current and new patrons so say hi when you come in!"
The Local Market & Bar
Following their Spring opening earlier in the year, the downtown food hall have now undergone their first revamp of food options. Lamb & Feta, Hog and Tradition, Pop's Burger and Good Bar all remain in place – while Green Chile House, Crave, Luna Pizza Cafe and The Cereal Killerz Kitchen have all now left the building. In their stead, three new vendors can be found at The Local. Here's some info courtesy of the PR team:
. . .
Porteña – Offers fresh baked gourmet empanadas, sandwiches and salads that draw from the delicious flavors of Argentina. Chef Pablo Montes, from Buenos Aires, has been a Salt Lake City food truck favorite for many years. He is proud to offer a modern twist on classic Argentinian empanadas that are offered in both savory and dessert styles. His menu is rounded out by delicious sides and savory sandwiches, such as their "chori-pan", which is made with Argentinian chorizo.
Verona – Verona Pizzeria offers a variety of creatively composed pizza dishes cooked in a state of the art Italian hearth oven. Verona Pizzeria draws its inspiration from the culinary flavors of Verona, Italy. Chef Gurpreet Singh trained in Europe as a pizzaiolo for over a decade and is excited to showcase his pizza, salad and dessert offerings in Salt Lake City.
Pokeologist – Inspired by the passion of a University of Utah alumnus, Pokeologist is a culinary gem created with love for the community. They are offering unique signature poke bowls, and Asian snacks that blend exciting flavors into delicious artworks. Guests also have the freedom to create their own masterpiece by choosing from a variety of proteins and toppings. Each visit to Pokeologist is a taste exploration and journey. And that's not all – their floating sodas bubble with excitement, and the Asian snacks and appetizers bring an exotic touch. When you step into Pokeologist, you'll find vibrant dishes and a warm sense of camaraderie coming together to create an unforgettable and irresistible dining experience.
Sawadee 2GO
Formerly Bangkok Terrace, this space at 61 E Gallivan Ave in downtown SLC is now a take out / delivery option. For those wondering if this is related to the uber popular Sawadee Thai, it is indeed – the restaurant's website confirming the link.
Spice On 9th
A reminder that this new cafe from Spice Kitchen Incubator is now open for regular hours. I previewed their opening and concept in this story – it promises to be a continually intriguing and eclectic destination.
V Burger
I spied this new Venezuelan option over on the Utah Restaurant Reviews Facebook group. A poster writes:
"As long as I can remember it's been my dad's dream to open a restaurant. He has talked and talked about it for yeeeaaaars. Last year, he finally took the first steps to dive into the process. A few months later, my brother, their only son, unexpectedly passed away. It completely turned our lives upside down. I was so worried my parents would want to quit, give up their dream, because honestly that would have been the easier option.
I believe this restaurant saved my parents. They have been able to put all of their time and energy into making their dream come true. It has been a long and tedious process but the time has finally come.
V Burger will be opening its doors to the public on Friday, August 25th Please come show some support whenever you can, it would mean the world to us. 1669 West 9000 South, West Jordan, UT 84088."
V Burger's menu includes arepas, cachacas, yoyos, patacones, empanadas and yes, a slew of burger builds.
Coming soon
El Cholo
After a year long wait or so, this much anticipated arrival from L.A. should be open by the end of September. News spread like wildfire last year when Los Angeles' oldest Mexican restaurant confirmed they were headed to Utah. The space near the Sugar House Smith's has taken some time to come together though. The wait seems to now be largely over, with MWCRE recently issuing this press release:
. . .
Mountain West Commercial Real Estate (MWCRE) Agents Stephanie Buranek, Russ Harris, and J.R Moore are proud to announce the long-awaited opening of legendary El Cholo Mexican restaurant to the heart of Salt Lake City's Sugar House neighborhood this fall. The addition is a landmark collaboration between Landlord and Tenant.
El Cholo, hailed as the first Mexican restaurant in Los Angeles, boasts a century-old legacy, celebrated for its signature green corn tamales and Sonora-style enchiladas. Spearheaded by third-generation owner Ron Salisbury, this family-owned restaurant will unveil its seventh location at 2166 South and 900 East in Salt Lake City, opening its doors the last week of September 2023.
"We are thrilled to be part of this historic collaboration that brings together El Cholo's rich culinary legacy with the vibrant energy of Salt Lake City. It's not just about business; it's about creating an enduring connection between tradition and innovation," said Buranek.
The partnership between MWCRE and El Cholo's Ron Salisbury symbolizes not only the convergence of business interests but also the fusion of heritage and innovation.
"I couldn't be more thrilled to bring the flavors and traditions of El Cholo to Salt Lake City, said Salisbury." El Cholo is a family legacy and sharing it with the vibrant community fills me with boundless excitement and gratitude".
The restaurant will occupy a 9,000-square-foot space; the Salt Lake City restaurant will mirror its California flagship, featuring roof and patio seating and an identical menu.
Uncle Jeffi's Place
The eagle eyed amongst you might have noticed that the Holladay location of Pig & A Jelly Jar is no more. The doubly aware will have also spotted the sign for Uncle Jeffi's now in place. A little Google magic tracks this back to Anny Sooksri's restaurant group – Tea Rose Diner, Tea Rose Express, Chabaar – and of course, neighboring FAV Bistro.
No word yet on what to expect from the new space, but given that Sooksri already operates a Thai eatery next door – and the folksy name – my money would be on a continuation of the P&JJ American cafe format that filled the space prior.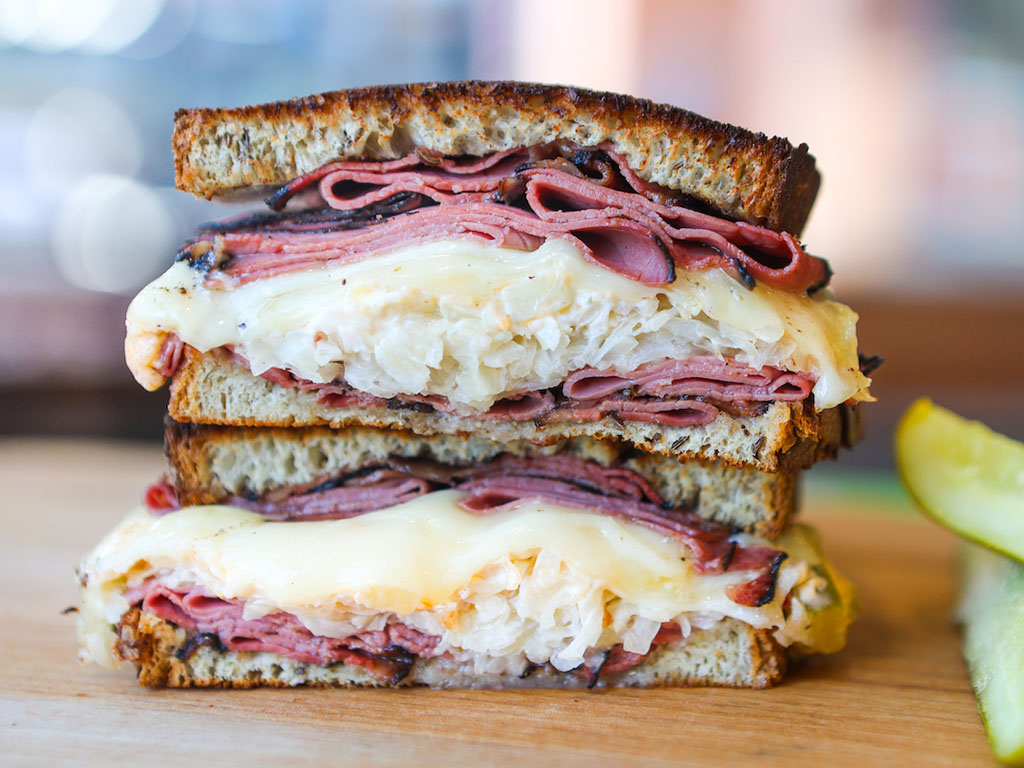 Yampa Sandwich Company
A new chain eyeing up Utah for possible expansion. The following press release landed in my inbox recently, detailing the company and their plans ahead for the Beehive.
. . .
Yampa Sandwich Company, the fast-casual premium sandwich restaurant with six locations in Colorado, announces it is actively working to expand to Utah. Specifically, the growing brand is looking for experienced operators in Salt Lake City and the surrounding suburbs to bring their high-quality sandwiches to the Beehive State.
On the decision to target Utah for growth, Adam Herndon, Director of Franchise Operations at Yampa Sandwich Co. says, "Our philosophy is built around providing clean food to fuel one's active lifestyle; Utah's unique topography and focus on outdoor activities makes it an ideal state for us to organically grow into. We are looking for opportunities in the Salt Lake City area, as far north as Ogden and as far south as Sandy."
Herndon adds, "We are seeking franchise partners who are passionate about our mission and are equally committed to quality, freshness and flavor as we are. For us, Yampa is about a lifestyle, not just your next meal."
Yampa Sandwich Co.'s menu is divided up by breakfast, specialty sandwiches – served hot and cold – and salads, soups, and sides. While the menu may seem simple, the sandwiches are anything but basic. Everything on the menu is made to order and packed with superfoods.
The gourmet menu features elevated takes on classic sandwiches while also offering unique combinations which are uniquely Yampa.
"It's important for us to provide options for everyone which is why you'll notice the extensive variety of proteins and flavors on the menu. In fact, one of our most popular sandwiches is our vegetarian sandwich called the Sherpa which is made with roasted eggplant, asiago, sweet roasted red peppers, tomato, romaine lettuce and garlic mayo," says David Pepin, Co-Founder and Chief Brand Officer of Yampa Sandwich Co.
Pepin adds, "Within Colorado we have earned a reputation for providing meals that allow our guests to feel sustained throughout the day so they can enjoy any adventure with Yampa by their side. Once someone visits Yampa they quickly become lifelong fans."
Yampa Sandwich Co. locations are open for breakfast, lunch, or early evening meals. The menu features big flavors and gourmet ingredients to tantalize taste buds. Catering and box lunches are popular with outdoor adventure enthusiasts as well as executives and office workers. Yampa Sandwich Co. is now accepting new franchisees. For more information, please visit www.ownayampa.com.
Permit watch
Thanks to Building Salt Lake for access to their Salt Lake County permit tool, that helps shed some initial light on upcoming openings. Since our last new restaurant roundup, I came across the following filings.
Boba Bee – Looks like more Boba, this one coming to the 1600 sq ft space at 1330 E 200 S. Link.
Google Boba – Boba again, this time for Broadway in downtown SLC. Link.
Monkeywrench – The vegan ice cream shop looks set to spread their wings with this filing, possibly opening at 1845 S 700 E. Link.
Previously mentioned with no further update
We've previously written about the following restaurants in posts tracking new restaurants around Utah. We've heard no further news on these at this time – but that's not to say they didn't open! If you know of any business opening that eluded our gaze, please do get in touch.
Opening a new restaurant in Utah? Be sure to read our restaurant resource section which includes info on everything from marketing through POS systems.
Keep the conversation going
Want to stay on top of the SLC food scene, minute by minute, dish by dish? Here are a few other places you should follow along:
Hi, I'm Stuart, nice to meet you!  I'm the founder, writer and wrangler at Gastronomic SLC; I'm also a former restaurant critic of more than five years, working for the Salt Lake Tribune.  I've worked extensively with multiple local publications from Visit Salt Lake to Salt Lake Magazine, not least helped to consult on national TV shows.
I'm a multiple-award winning journalist and have covered the Utah dining scene for the better part of fifteen years.   I'm largely fueled by a critical obsession with rice, alliteration and the use of big words I don't understand.   What they're saying about me: "Not inaccurate", "I thought he was older", "I don't share his feelings".  Want to know more? This is why I am the way I am.
This article may contain content provided by one of our paid partners. These are some of the best businesses in Utah. For a list of all our current and past relationships see our
partnership history page
.