Franklin Avenue
I recently had the pleasure of enjoying the new brunch menu at Franklin Avenue in downtown Salt Lake City. While the angels of my hunger suggested a lighter bite, a more adult dish like avocado toast with poached egg, or maybe a Dungeness crab omelette, my demons clearly won. They always do. I don't remember what a salad looks like. I think they're fables frankly.
The picture above then – the chicken n "waffles" plate. Quotes? The base of the dish is a frisbee sized slab of funnel cake, a piped and fried entanglement. On top, an equally blush worthy large piece of fried chicken, togarashi, dynamite aioli and maple syrup, the final flourishes. When you attend my funeral, and remark "but he was so young, why, why god" please just scroll through my feed here. P.s. this was delicious.
This mammoth calorie infusion is just one of fifteen dishes on the brunch menu which is available until 3.00 p.m. at weekends. The full menu reads as follows:
Chocolate doughnuts – sea salt, cardamon, pastry cream, cocoa nibs
House granola – vanilla bean panna cotta, fresh berries, honeycomb
Chia seed pudding – coconut milk, golden raisin, fresh berries
Loaded potatoes – bacon, hollandaise, fresno chilis, pickled shallot, green onion
French toast – lemon pound cake, berries, maple syrup
Breakfast sandwich – house sausage, soft scrambled eggs, tallegio cheese, bacon- date jam, watercress, breakfast potatoes
Avocado toast – grilled avocado, togarashi, pickled daikon, cucumber, frisee, poached egg
Mushroom toast – Intermountain Mushrooms, farmers cheese, soft scrambled eggs, hollandaise
Kimchi fried rice – bacon, pickled daikon, cucumber, poached eggs
Duck confit chilaquiles – sunny eggs, pepita mole, farmers cheese, pickled fresno, crema
Chicken n "waffles" – crispy fried chicken, funnel cake, togarashi, dynamite aioli, maple syrup
BLT benedict – thick cut bacon, tomato, hollandaise, greens, crispy potatoes
Dungeness crab omelet – fines herbes, hollandaise, market greens
Dungeness crab benedict – asparagus, hollandaise, crispy potatoes
Steak n eggs – steak medallions, hollandaise, two eggs, crispy potatoes
The Dough Miner
You might recall I wrote about The Dough Miner last year – the fabulous local quick fix spot that specializes in British pastys. I've been excitedly keeping tabs on their progress, and with the restaurant recently passing the one year mark, there's been a lot of progress.
Mercifully the 300 W. construction is *finally* complete and with that in mind, The Dough Miner has new extended hours, increased indoor seating, as well as an outdoor patio snuck out back. The menu too has seen consistent updates. Alongside the more traditional Cornish pasty, and cheese n potato – eight varieties in total are now available. The latest newcomer is the Cuban, inspired by the classic sandwich composition. The baked savory treat is bigger than my hand and can happily span a couple of meals. The Cubano comes with:
Black forest ham
Smoked pulled pork
Swiss cheese
Mustard
Fresh in house made relish
Bonus points see that pulled pork sourced from Kaiser's BBQ – located right over the road. I can't get enough of local businesses cannily teaming up like this. The Dough Miner is now open 7.30 a.m. – 2.00 p.m. weekdays, and 8.00 a.m. – 3.00 p.m. weekends. Don't forget they offer donuts, bagels and top notch coffee too.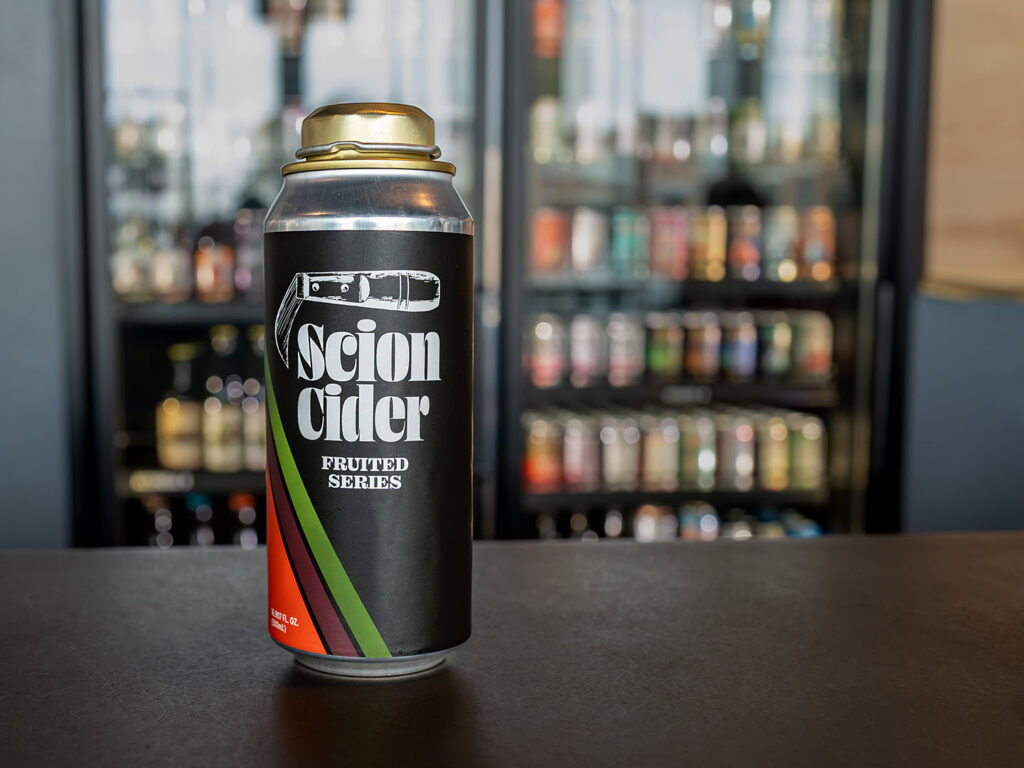 Scion Cider
Another fine option just around the corner from the 'Miner, and also with their own togo treat. The latest of Scion Cider's house fermented ciders recently dropped and can be found in the cold case just through the front door. Conceptualized and crafted by Rio Connelly, the new Fuji-La is available on tap should you like a little pour to taste before diving right into a togo order.
The take home option comes in 16oz resealable tallboy and contains a "single-varietal cider made from 100% local, Utah grown Fuji apples, fermented off-dry w/ 2 different yeasts, apple-forward & robust with some light tartness & funk." Clocking in at a merry 8.1% ABV I am certain it'll be another hit. I've not sampled a single Connelly creation that hasn't hit the mark.
And in *even more* neighborly news, the bar are eagerly awaiting nearby Central 9th Market's evening food program. More details to come, but any day now you should be able to enjoy a rotating selection of weekend specials at C9th. Modeled after their exceptionally popular Monday night burger special, I hear you should soon find:
Friday night fish fry
Saturday night shwarma
Sunday sheet pan pizza
And remember – Scion are the perfect place to grab an indoor seat – keenly welcoming Central 9th's fans to dine in their comfortable space. And yeah, get a cider too folks.
Harmon's
Speaking of grab and go – it's that time again at Harmons' stores around the state – their annual chile roasting season is here once again. Always a massively popular few weeks, here's the full press release from the grocer:
. . .
The aroma of fresh chiles will be wafting through the air at Harmons Neighborhood Grocer this month. The annual Taste of Chile Roast event returns, taking place August 26 at all 20 Harmons locations. During the one-day chile sampling event, Harmons customers can sample a selection of made-fresh-in-store and local Hatch chile products, including:
Beehive Red Butte Hatch Chile Cheese
Fire Roasted Chile Pineapple Salsa
Fire Roasted Chili Cheese Brats
Hatch Chile Cheese Artisan Bread
Hatch Chile Cheeseball & Roasted Chile Cheeseball with baguette or crostini
Fire Roasted Chile Hummus
Salsita Mendoza Salsa with Harmons Tortilla Chips

The Taste of Chile Roast event is part of the 15th annual Harmons Chile Roast, which kicks off on August 18 and runs through September 4. Every Friday, Saturday and Labor Day during the event, customers can buy a bushel-bag of chiles for $33, available in mild, medium, hot and extra hot varieties. After selecting their chiles, the customer can watch skilled on-site roasters expertly fire-roast their peppers for free. Harmons will also be selling one-pound packages of roasted chiles for $3.99.
Harmons A Taste of Chile Roast event details:
Saturday, August 26: 11 a.m. to 6 p.m.
Harmons Chile Roast event details:
Fridays and Saturdays, August 18 to September 2: 11 a.m. to 6 p.m.
Labor Day, September 4: 11 a.m. to 4 p.m.
This year, Harmons ordered around 5,000 bushel bags of chiles for the Chile Roast event, which will be roasted in 25 roasters across all Harmons locations. Types of chiles available during the event are Mild New Mexico Hatch, Medium "Big Jim," Hot "Sandia" and Extra Hot "Lumbre."
"We love summer because it means chiles are back. For the third year, our A Taste of Chile Roast event is bringing together our community to celebrate the incredible flavor of Hatch chiles and other chile products," said Todd Jensen, executive vice president of sales. "At Harmons, we are passionate about providing the best quality food at great value to our customers. I look forward to this annual event that allows us to showcase some of our, and our customers', favorite Hatch chile recipes while providing a fun and engaging experience." Shoppers can also purchase Chile Roast items on Harmons eShop.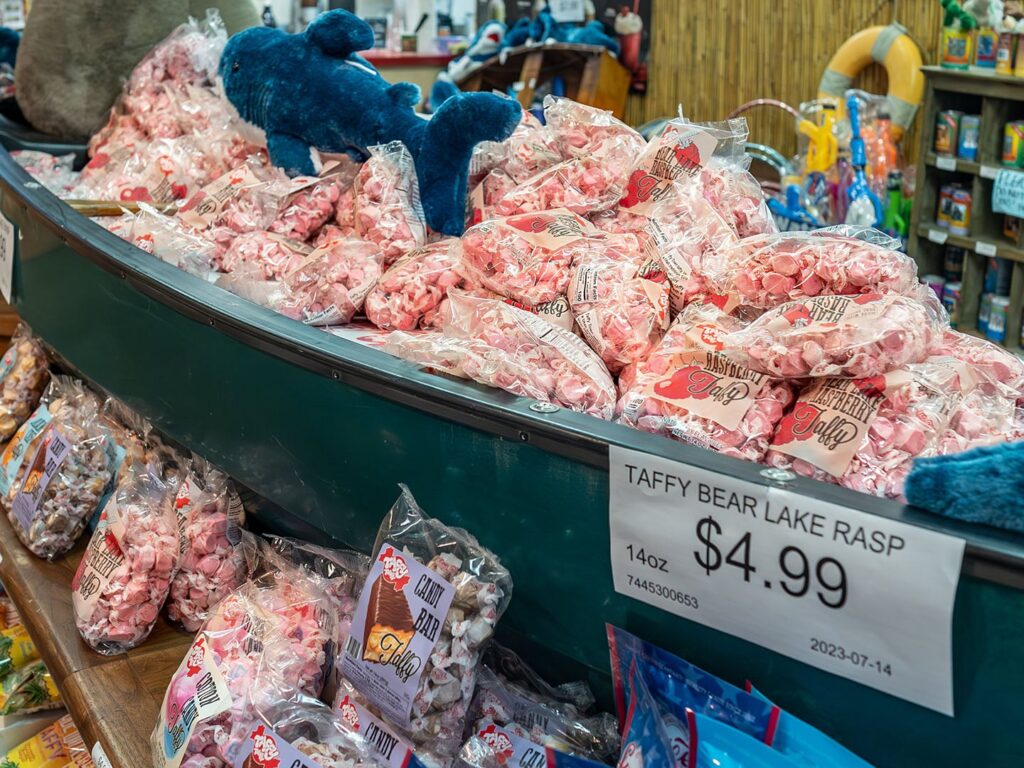 Pirate O's
Seasonal Summer candy? You betcha. These piled high beauties caught my eye during a shopping spree at the Draper treasure trove just a week ago. Based around fresh Bear Lake raspberries, the pureed fruit incudes seeds and all; popping and cracking in the final salty-sweet bite. These are a blink and gone treat from Pirate O's – when they're one, they're gone. Looking to source a local Utah treat for someone special right now, these couldn't be better.
Filling's & Emulsions
More Cubano news as the fine folks at Salt Plate City giddily contacted me just recently with this eye catching snap. The new handheld is joined another addition to the menu – a traditional pan con lechon; both will be offered at either F&E's locations while supplies last. The bakery write that the supply is relatively limited until they ramp up production, so get there early if you don't want to miss out.
Manoli's
After recently recovering from their enforced closure – this fine dining Greek restaurant have also added one more final finishing touch – the re-opening of their popular patio. Manoli's refurbished al fresco spot has now been re-imagined as an all weather option too. Large sliding windows retain the Summery al fresco vibe, while the West facing extension can be closed off in cooler months too. The space also has a small counter area that connects to the restaurant's main bar space.
Liberty Heights Fresh
Big new news for this boutique grocer. A new beverage option is available to help power your shopping experience. Kirby Barth, LHF's GM, wrote to tell me, " We just opened a coffee cart. Open 7 days a week from 8.00 a.m. – 2.00 p.m., we will be serving espresso drinks made with Idle Hands Roasting Co. coffee beans, Straus Organic milk or Elmhurst non-dairy milks, and will have a rotating selection of fresh-baked pastries made in-house.
Laurel Brasserie & Bar
Over at The Grand America's signature restaurant the kitchen are marking the last few weeks of Summer with a seasonal refresh. Chef's Fernando Soberanis and Tomas Olvera have added the following menu items:
Summer lettuce salad, mixed berries, fines herbs, radishes, breadcrumbs, sunflower seeds, lemon emulsion (lunch)
Spaghetti and grilled shrimp, kale, breadcrumbs, Calabrian, chili oil (lunch)
Rigaton, Italian sausage, broccoli, whipped ricotta, parmigiano Reggiano (lunch)
Heirloom tomato burrata caprese, kale walnut pesto, arugula, golden raisin (dinner)
Chilled sweet corn veloute, crab salad, spiced popcorn (dinner)
Principe Daniel pizza=, prosciutto, fresh mozzarella, arugula, shaved parmesan (dinner)
Pan seared Scottish salmon, fennel gratin, horseradish crème fraiche (dinner)
Ghiddoti's
Now through the end of September every Thursday at this Park City spot will see a number of $10 specials. As part of the weekly locals special menu the following items will all be available each Thursday for just ten bucks:
Appetizer – calamari fritti
Appetizer – heirloom tomato bruschetta
Salad – house
Salad – traditional Caesar
Pasta – chicken parmesan
Pasta – spaghetti and meatballs
Pasta – cacio e pepe
Pasta – pesto and penne
The restaurant will also feature selection of red and white wine at the special $10 price.
Keep the conversation going
Want to stay on top of the SLC food scene, minute by minute, dish by dish? Here are a few other places you should follow along:
Hi, I'm Stuart, nice to meet you!  I'm the founder, writer and wrangler at Gastronomic SLC; I'm also a former restaurant critic of more than five years, working for the Salt Lake Tribune.  I've worked extensively with multiple local publications from Visit Salt Lake to Salt Lake Magazine, not least helped to consult on national TV shows.
I'm a multiple-award winning journalist and have covered the Utah dining scene for the better part of fifteen years.   I'm largely fueled by a critical obsession with rice, alliteration and the use of big words I don't understand.   What they're saying about me: "Not inaccurate", "I thought he was older", "I don't share his feelings".  Want to know more? This is why I am the way I am.
This article may contain content provided by one of our paid partners. These are some of the best businesses in Utah. For a list of all our current and past relationships see our
partnership history page
.