Katsanevas is a name with significant culinary pedigree in Utah. Going back as far as the 1960s with The Athenian, the name has been synonymous with welcoming hospitality for more than 60 years. Their most well known venture also happens to one of the most famous in the Beehive. Crown Burgers opened their first location way back in 1978, and has been an Utah staple ever since. That downtown location, the work of both the Katzourakis and Katsanevas families.
The brand grew quickly, with extended family opening further locations over time. Indeed, the lines down the block at the inaugural Crown spurred on a cavalcade of similar minded Greek entrepreneurs. Around the same time as Crown Burgers doubled in size circa 1979, John Lyhnakis and Angelo Tsoutsounakis also unfurled Astro Burger. Countless others would follow: Apollo Burger, Atlas Burger, Atlantis Burgers, Olympus Burger and Palace Burger.
Steve Katsanevas was one of the names behind that second Crown, and also the father of a certain Manoli Katsanevas. Working as part of the burgeoning family empire, the youngster cut his hospitality teeth at the Highland Drive location; starting from the ground floor up quite literally, mop in hand. The experience left an indelible imprint on the teen – his trajectory now calibrated to continue the family tradition.
Mind set on a career in cooking, formal training beckoned. After graduating SLCC's Culinary Institute in 2009, Katsanevas served stints at a variety of well known names including Fleming's, Caffe Niche, and Fresco. By 2015 Katsanevas and wife Katrina Cutrubus went it out on their own, launching Manoli's onto an unsuspecting Utah dining landscape.
The Greek-informed menu was obvious given the couples shared heritage, but there was an also intentional progression from the fast food staples of the youngster's formative years. The fine dining Manoli's features nary a souvlaki nor gyro. Instead, a seasonal menu is refreshed year round.
Unsurprisingly, the awards quickly followed for the duo's modern take on Greek cuisine; nods from big national names were joined by just about every local dining award you can name. The restaurant became one of the must eat spots for diners and industry vets alike. The restaurant scooped up a best of Salt Lake Magazine award in 2022 with Table X's chef Mike Blocher delivering the kudos, "I love that his menu has so much traditional Greek flavor presented in a simple, modern way. It's a unique concept for Salt Lake. As a chef/owner myself, I wish I could get out more and enjoy Manoli's food. I always respect, admire and relate to people that not just own their business but also work in their restaurants every night and lead by example."
Things looked bright until life does what life does; and so it did with the worst possible timing. The morning of December 30th saw Katsanevas and Cutrubus receive a most unwelcome phone call; the day before one of the busiest days of the year, with the business all set for the following big night. "They were literally prepped up and ready for New Year's Eve," says Ethan Lappe in this KUER interview. "They bought all the ingredients, had the menus out, had the reservations, and then came in the next day to what looked like a thunderstorm inside of the actual restaurant."
The thunderstorm in question, a freak water break in a business above. Water cascaded down over the entirety of the 54 seat restaurant, effectively destroying it in a few short calamitous hours. Drywall, ceilings, floors, electrical, fixtures – all erased. It would take two weeks alone to simply dehumidify the space.
In this KSL interview, the unflappable Manoli's team took things a tad more pragmatically than I might have. The closure knocked the restaurant to the canvas. Out for the count, the planned New Year service was a non-starter, as was any dream of welcoming back hungry Outdoor Retailers in January. Initial expectations for remodeling were estimated as a few short weeks. Weeks became months – five to be precise.
The business missed out on Sundance revelry, and was unable to host couples for Valentine's Day. Particularly painful was the much storied visit of the NBA All Stars; especially harder given the restaurant was one of only three in Utah previously anointed by the NBA during Covid-bubble times.
And if that wasn't enough, a little more bittersweet salt and vinegar to rub into the wound would come a month later – the restaurant receiving a nomination from the James Beard awards – scooping up Utah's only selection on the list of Outstanding Hospitality (Mountain region). Frankly, it'd be plenty to make most give up and quit on the spot. The duo simply pulled up their bootstraps and got back to work. Undoubtedly some of Katsanevas' own determination was no doubt borne from those years working the long, grueling grill hours at the Crown. That stuff builds grit.
After months away from the line, I sat down with Katsanevas to get to the bottom of all that had happened, and crucially, what's next for the restaurant. The big item therein, the hard work is now complete and the restaurant is set to re-open this week. May 16th is the big date, and it looks like the restaurant is set to go from strength to strength. The reservation book is already busting at the seems for re-launch week.
The remodeled space will be instantly familiar to guests of old. It's every bit as elegantly modern. Light woods, clean colors and big bright windows flooding the room with natural light. Dinner will be back six nights a week and brunch too will return – Saturdays and Sundays.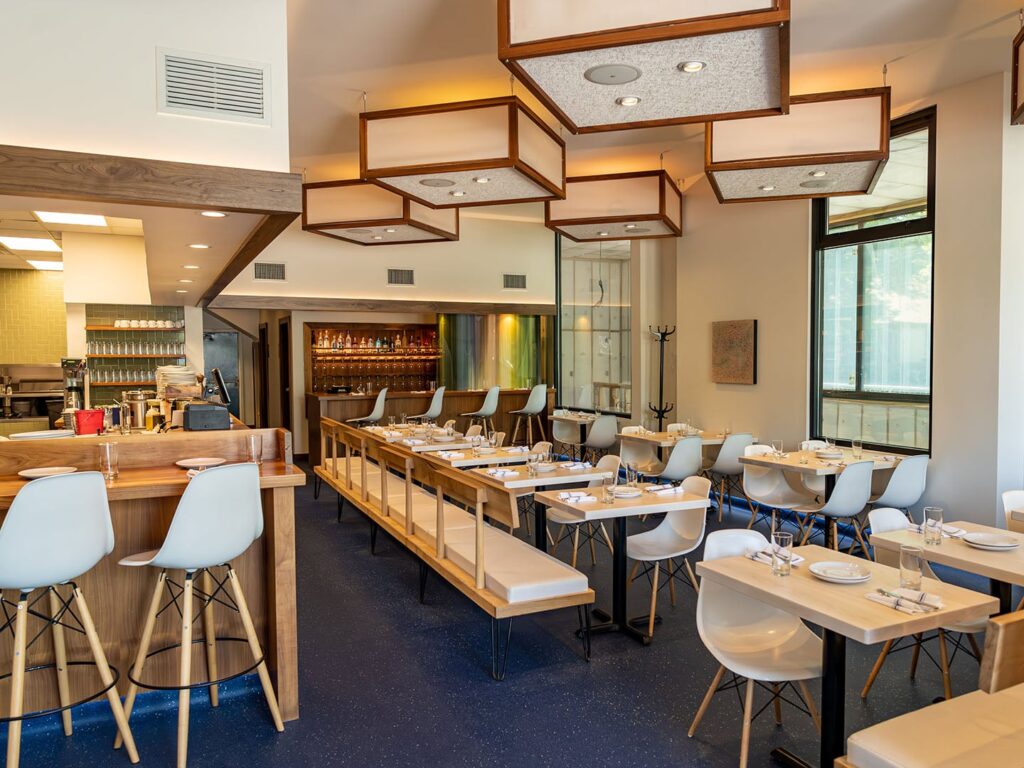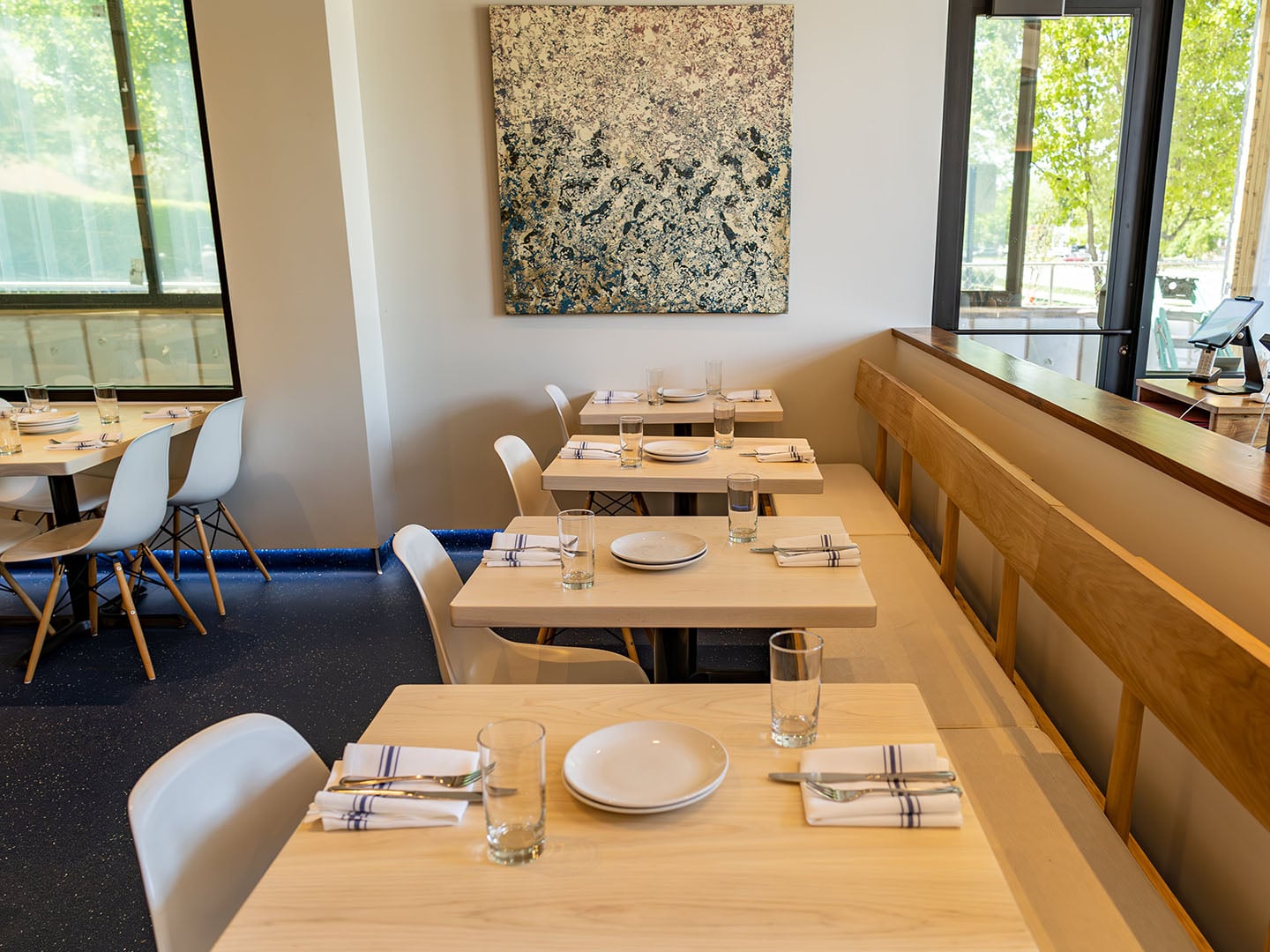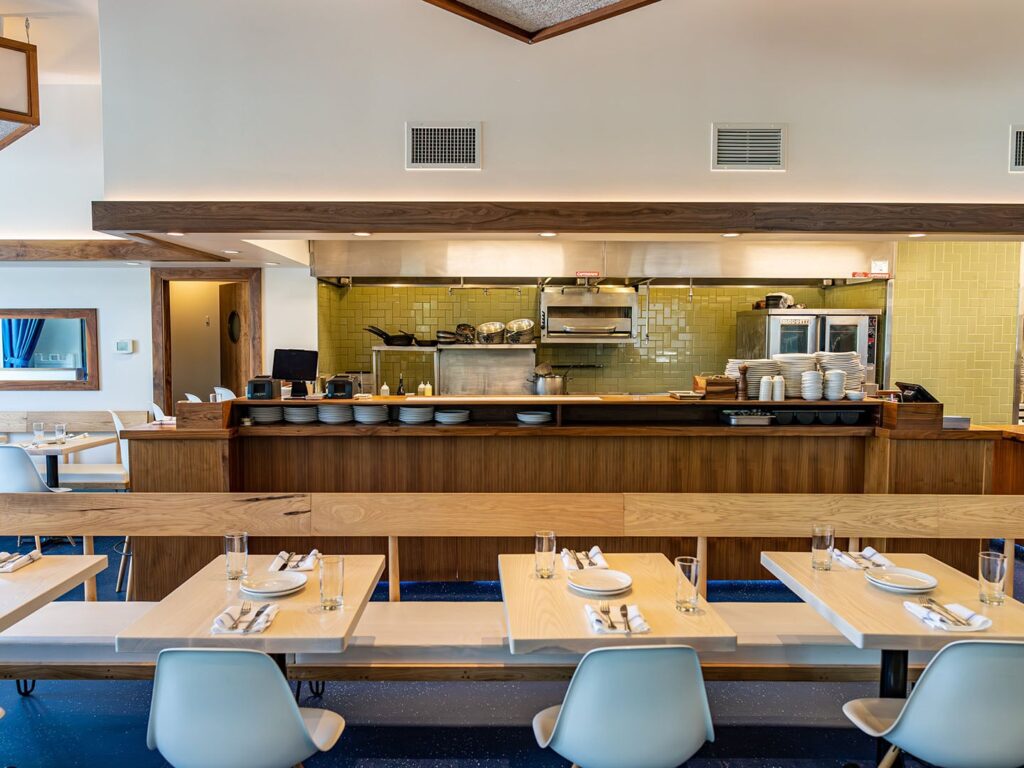 The menu remains built around the core concept of what preceded those tumultuous times. The bulk of the offering is composed of meze plates, small shared dishes. Product from Utah purveyors is mixed with regionally farmed and ranched items, as well as bigger respected names such as Niman Ranch. Seafood is sourced impeccably, the branzino is flown directly from Europe. Much is made in house too: the Greek yogurt, myzithra cheese and loukaniko sausage to name a few. The latter, a decidedly intriguing blend using orange, garlic and coriander.
The wine list reads especially interesting. With the help of Francis Fecteau's Libation wine brokerage, it's centered squarely on Greek wine, many unique to Utah. There's more here than just the resinous Retsina you might only be familiar with, "We're beyond excited to expand people's perceptions of Greek wine.", Katsanevas explains. "Greek wines have come a long way over the last few decades, and no where else in Utah are offering what we currently are. And after all, you might even consider Greece as one of the birthplaces of wine!"
The restaurant continues to offer a full bar, with cocktails and beer aplenty. Speaking of which there's also a collaboration with another of my local favorites – Bewilder Brewing; the downtown brewer tapped to produce an exclusive new Kefi Greek Pilsner exclusive to Manoli's.
While most of the rebuilding is now complete, there's even more in the works. "Our brand new patio should be ready in July", Katsanevas explains as we tour the exterior space. The noisy machine work is over, there's just some light fixture and furnishing touches to finalize. Big sliding panels will allow the space to be used all year long . A new window will open directly into the restaurant's bar area, allowing patrons to sit on the patio, enjoy a glass of vino al fresco over a plate of Manoli's signature Spanish octopus.
As we finish up, I cheekily ask if Katsanevas might be persuaded into offering his own take on his family's signature burger. The affable chap lets rip with a belly laugh that warms the space with an energy that's been missing all too long from the restaurant. I implore you to go back and help refill the room with your own laughter and glass clinking ASAP. Manoli's 2.0 is here. Here's the menu: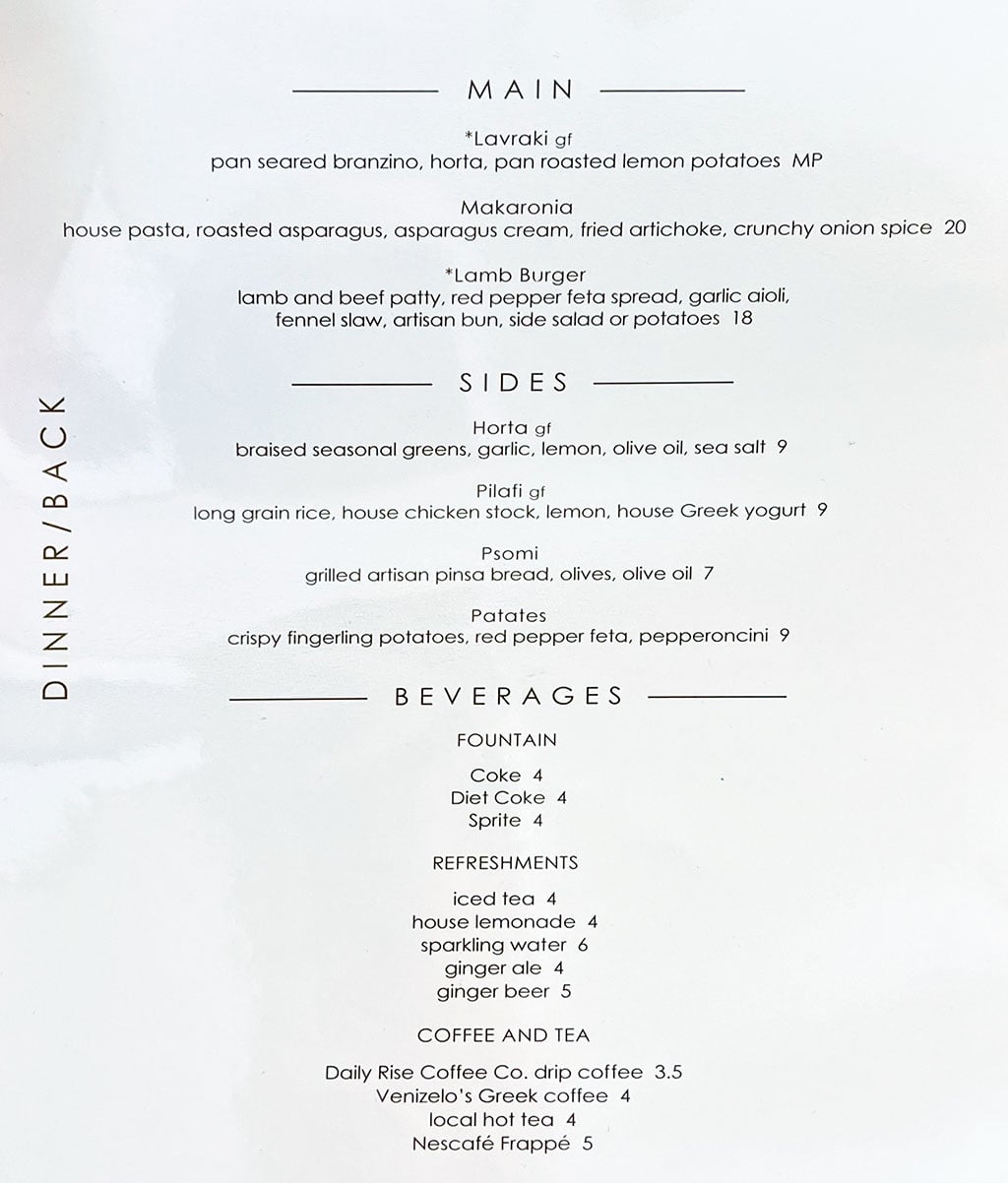 Keep the conversation going
Want to stay on top of the SLC food scene, minute by minute, dish by dish? Here are a few other places you should follow along:
Hi, I'm Stuart, nice to meet you!  I'm the founder, writer and wrangler at Gastronomic SLC.  I'm a multiple-award winning journalist and have written in myopic detail about the Salt Lake City  dining scene for the better part of seventeen years.
I've worked extensively with multiple local publications from Visit Salt Lake to Salt Lake Magazine, not least helped to consult on national TV.   Pause those credits, yep, that's me! I'm also a former restaurant critic of more than five years, working for the Salt Lake Tribune.    I'm largely fueled by a critical obsession with rice, alliteration and the use of big words I don't understand.   What they're saying about me: "Not inaccurate", "I thought he was older", "I don't share his feelings".
Want to know more? This is why I am the way I am.
This article may contain content provided by one of our paid partners. These are some of the best businesses in Utah. For a list of all our current and past relationships see our
partnership history page
.