Oquirrh – brunch
I'm currently eating more than my fair share of burgers, because, err, journalism. Yeah that's the one. More on that later – but for now, here's a highlight from my ongoing explorations around the valley.
The ridiculously resplendent representation above courtesy of the brunch menu at Oquirrh; a service at the restaurant that has taken me years to finally get my posterior into. If this thing doesn't cure your hangover nothing will. The heart of the construction is a big thick juicy patty cooked barely medium, the antithesis to those meekly thin smashed things. Yes I am still banging on about that. You can't stop me.
Completing the picture, Alpine cheese, Hudson Valley foie (the best in the world says chef Andrew Fuller) aioli, bacon onion jam and a brioche. For three bucks extra it's worth splurging on a trembling fried egg, all jiggles and wiggles and spills. Marvelously messy and fun. Far better than reaching for the Alka-Seltzer.
Bonus points awarded for that disc of a hash brown on the side, literally overshadowed by its towering companion, it's figuratively anything but. It's one of the best hash brown renditions I've tasted full stop.
Copper Common – brunch
Admittedly I swiped this quintet of crabby beignets during dinner hours, but the dish can be plucked from CC's brunch menu as well – priced a buck less I might add. Rightfully so, the gossamer light interior is perfect early morning fare; the lightly crisp spheres are packed with crustacean then brightened with lemon zest. Check out our best brunch in SLC page for more ideas.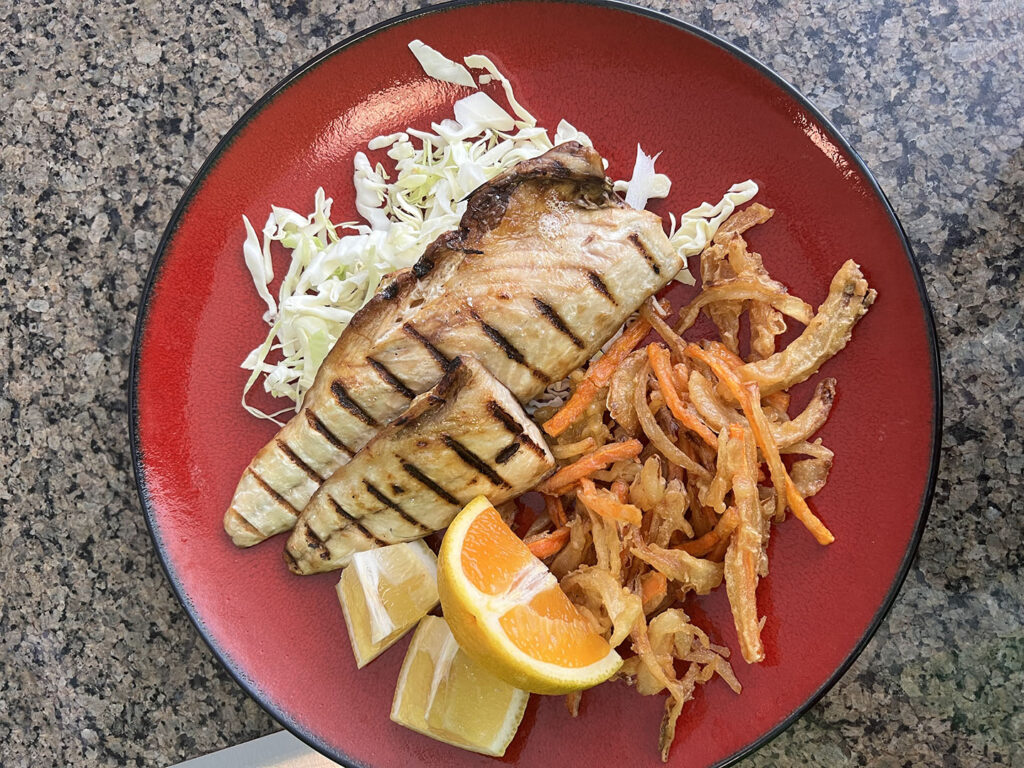 Tanabata Japanese Restaurant – lunch
Offering an equal amount of cooked and cooled dishes – Tanabata is the new tenant for the space vacated by EJO Korean BBQ in SoSL. The interior has been given a minor refresh but plenty reminders of the former business remain. The inlaid table top cookers are an obvious example, rumor has it the restaurant might offer shabu shabu during the Wintery times ahead.
During a recent lunch stop I took some snaps of the menu which is almost like a time machine back to a pre-inflated era. Entrees at the $10 mark litter the lineup – a variety of donburi, udon and soba. Entrees paired up with miso soup and rice and are barely more at a measly $12. Grilled mackerel with straws of tempura fried carrot and onion caught my attention.
A lavish lunch saw us also splurge on chicken karaage, tempura, a 'Utah' maki roll, and the pictured mackerel above. The Tardis-warped final bill under $50 was momentarily confusing.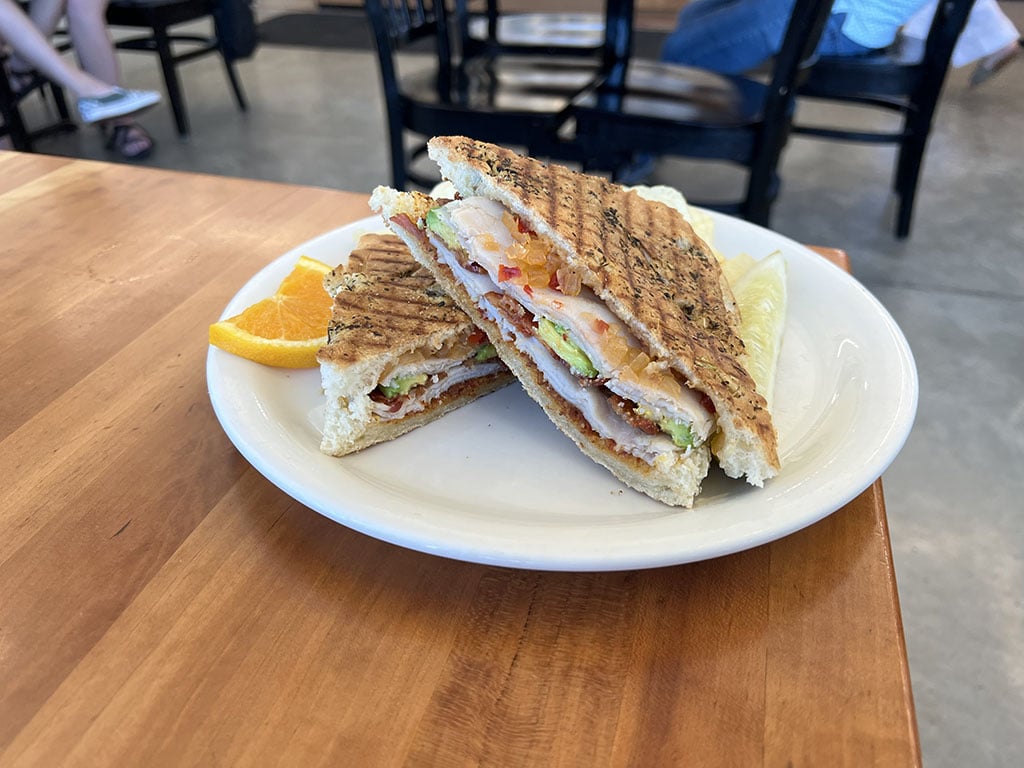 Délice Bakery & Café – lunch
A late Friday lunch found me amidst the hustle and bustle of South Salt Lake's Delice. Despite the myriad traffic cones and frenzied State Street traffic careering about – the restaurant was buzzing. On this visit the panini section of the menu caught my eye, in particular the roasted turkey and bacon. Grilled ciabatta supports the duo alongside tomato, Swiss and sliced avocado.
I dare you to leave without eyeing up the 20 foot odd display of house baked treats. Double dare you. Actually, triple dare you not to grab a kouign amann, courtesy of Les Madeleines who are now offering their legendary lamination here. Check out our best lunches in SLC page for more ideas.
Habibi Grill – dinner
Once upon a time I think this location in WVC was Zabiha Grill.  Pictured is the lamb shinwari karahi from the latest occupants, Habibi Grill. With a limited number of Pakistani options in the valley, it's a dish I've not stumbled over before in Utah.   
A tomato sweet sauce kicks with garlic, while whole pieces of star anise twinkle.  Cumin and cardamom and more lurk, but I'd be lying to suggest I could nail the complete composition; a large part undoubtedly lies behind slow cooked lamb, lending a deep, deep flavor.   Huge thunderous chunks of lamb – bone and meat and straggles of fat – proudly peer out from the gravy.  If your serious other is of the vegetable persuasion now would be a good time to move to a different room, perhaps state.  The plate is best tackled with gusto, and both hands, tearing the juicy lamb and shimmery fat from bone.   Bring napkins.
Moreover, I'll always judge a restaurant by the quality and care paid to their rice. The basmati here is delicate and fragrant, mottled with perhaps a saffron or turmeric steeped liquid I'm guessing. Beautiful stuff, I wish all rice was handled with such care.
Having little to no experience with this particular dish I can't speak to authenticity. Mind you, having multiple decades of eating under my buckling belt – I can tell you this is authentically excellent home cooked food from the heart. Very keen to return here properly to explore the menu further.
Franklin Ave – dinner
A dish that inarguably owes a hat tip towards Nobuyuki "Nobu" Matsuhisa's iconic template – this impressive creation from Franklin Ave's Matt Crandall. It's been on the menu since day one, and rightfully so; the canny assemblage routinely sees folks confiding to me that this is Franklin' finest.
Like the noted Nobu dish, the fat-forward sable fish here relies on an umami one-two of soy and miso. The knockout blow however are the locally sourced mushrooms courtesy of Intermountain Gourmet Mushrooms; big ol' meaty savory show stoppers. Snap peas and broccolini round things out adding bite.
Keep the conversation going
Want to stay on top of the SLC food scene, minute by minute, dish by dish? Here are a few other places you should follow along:
Hi, I'm Stuart, nice to meet you!  I'm the founder, writer and wrangler at Gastronomic SLC; I'm also a former restaurant critic of more than five years, working for the Salt Lake Tribune.  I've worked extensively with multiple local publications from Visit Salt Lake to Salt Lake Magazine, not least helped to consult on national TV shows.
I'm a multiple-award winning journalist and have covered the Utah dining scene for the better part of fifteen years.   I'm largely fueled by a critical obsession with rice, alliteration and the use of big words I don't understand.   What they're saying about me: "Not inaccurate", "I thought he was older", "I don't share his feelings".  Want to know more? This is why I am the way I am.
This article may contain content provided by one of our paid partners. These are some of the best businesses in Utah. For a list of all our current and past relationships see our
partnership history page
.