Looking for the very best seafood in Salt Lake City? A little concerned about our distance from the coast? Don't be! With direct air connections to numerous coasts, plenty of restaurants fly in fresh fish and seafood. Even frozen seafood is great these days, just check out this deep dive (pun intended!) story on the subject that I wrote.
Salt Lake City is home to a bountiful catch of seafood restaurants and dishes galore. Whether you're in the market for briny and fresh oysters or a beautifully cooked piece of fish – we guarantee you'll find it in Salt Lake. Let's start with the seafood focused restaurants. The following are some of my own personal favorites for enjoying great seafood in Salt Lake City.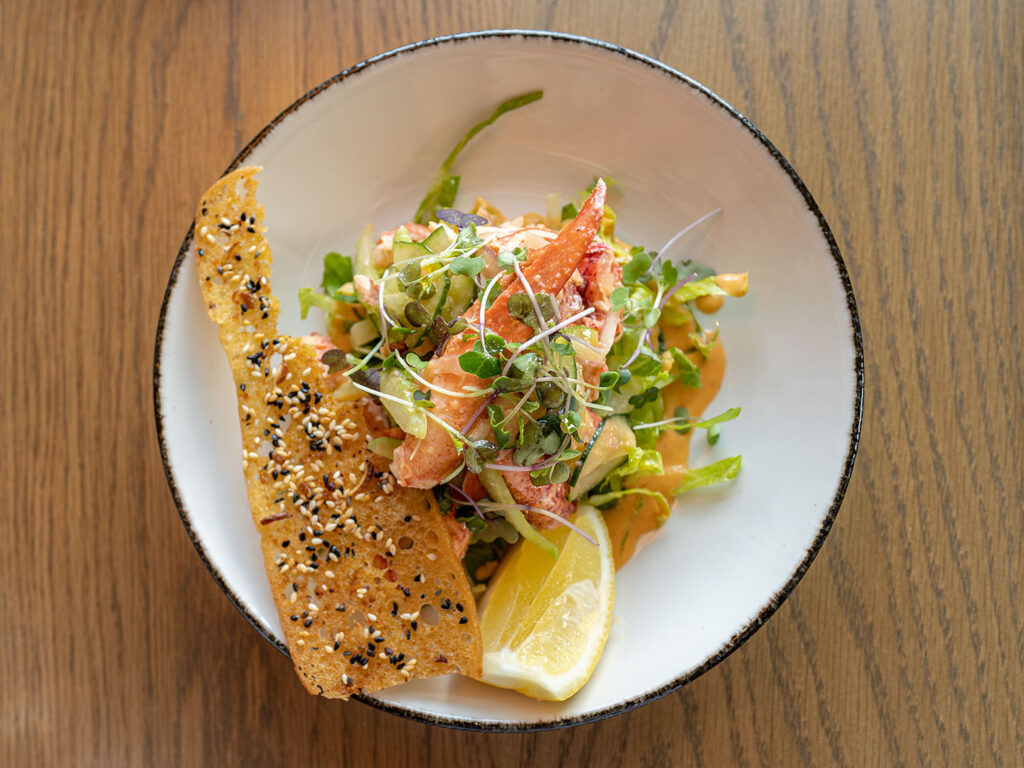 Urban Hill
Urban Hill is one of downtown Salt Lake's most elegant and sophisticated spots – and always features spectacular seafood. The restaurant sports a modern design with a variety of seating, bar through cozy leather sofas to snuggle in with your special other. The menu is New American, a seasonally shifting array of veggies, meats and seafood. You can see our full first look in this story. Pictured above is the luscious lobster salad, available on both their brunch and dinner menu.
510 S 300 W Unit 100, Salt Lake City, UT 84101
(385) 295-4200
urban-hill.com
Current Fish And Oyster
Standing head and shoulders above the crowd is this downtown Salt Lake City destination restaurant that specializes in classic seafood dishes from around the country. The menu starts with an elegant raw bar spread – East and West coast oysters through to mussels, shrimp, ceviche and more. Heck why not even grab a full seafood tower for the table and celebrate in style!
From there the menu takes an eclectic tack with dishes such as branzino with cous cous or a SE Asian fish stew with coconut and lemongrass. Everything is flown in freshly and sourced with exacting standards. We guarantee you won't have anything less than a stellar experience here; not least because Current features an intelligent wine and cocktail list, top class service and a chic dining space that's sure to impress.
279 E 300 S, Salt Lake City, UT 84111
(801) 326-3474
currentfishandoyster.com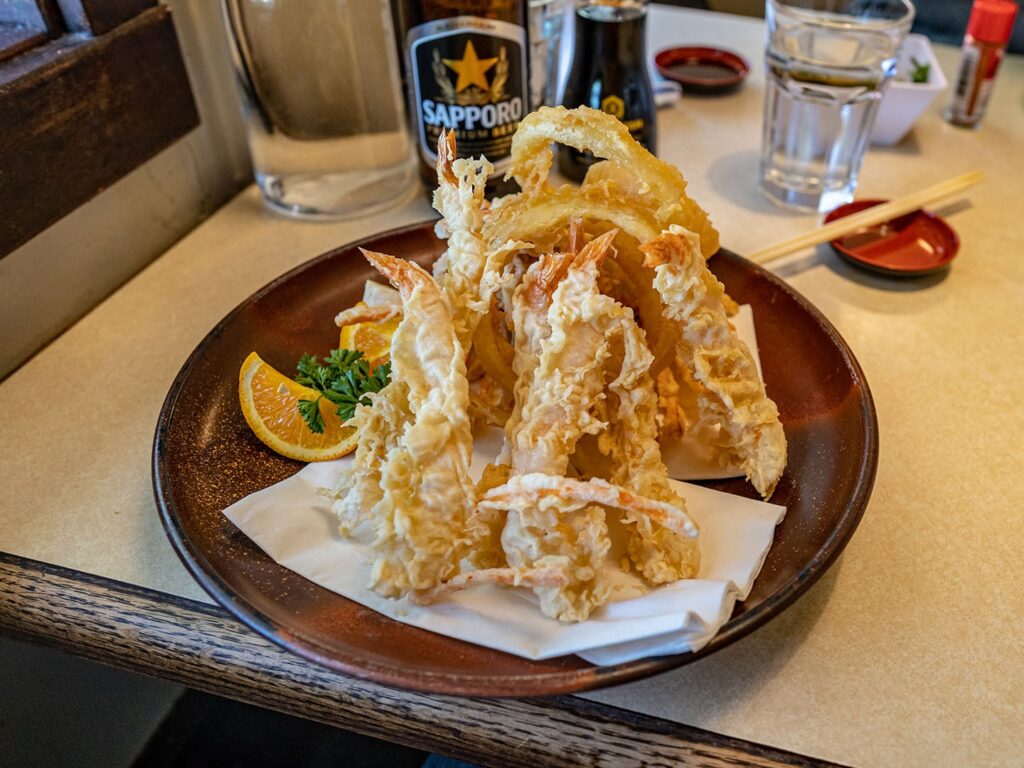 Kyoto
A staple since the 1980s and one of Utah's first Japanese restaurant's is Kyoto, located on the East side of town. Focused on authentic Japanese cuisine, not to mention housed in a traditionally upholstered Japanese space that's relaxed and bubbling with atmosphere. The space features private tatami style booths, a sushi counter and is always busy. Parking can be tight so plan ahead, or arrive early/later to avoid the rush.
One particular specialty at Kyoto Japanese Restaurant are the fabulous tempura shrimp served as part of a complete dinner with salad, soup and rice. They're the stuff of dreams, epic in both size and terrific crunch. In fact all the traditional comfort food dishes here rock: tonkatsu, sukiyaki, teriyaki, tempura and more.
1080 E 1300 S, Salt Lake City, UT 84105
(801) 487-3525
www.kyotoslc.com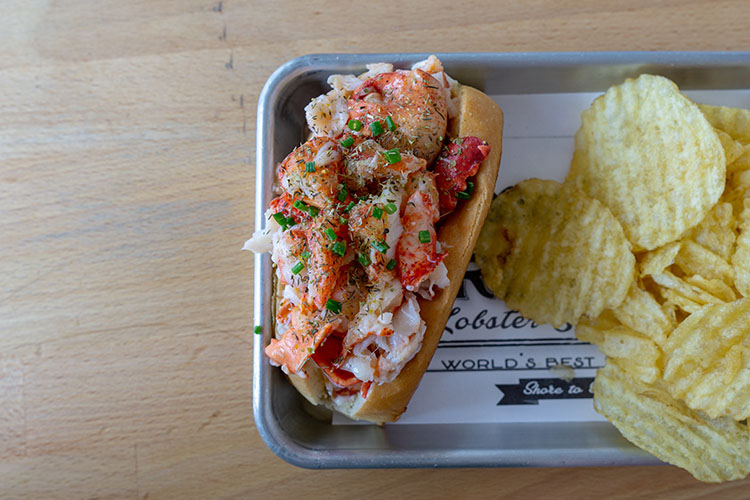 Freshies Lobster Rolls
People flock to Freshies duo of locations for one simple thing: award winning lobster rolls. What, what, lobster rolls in the middle of the Utah desert? You better believe it! Moreover Freshies took top honors at the Worlds Best Lobster Roll contest all the way back on the East coast for their simple but stunning creations. If that's not high praise we don't know what is.
SLC | 356 East 900 South, Salt Lake City, UT 84111 | (801) 829-1032
Park City | 1897 Prospector Ave, Park City, UT 84060 | (435) 631-9861
slcmenu.com/2018/09/04/freshies-lobster-co-menu/
Takashi
Often held high as the very best sushi restaurant in SLC is this downtown hot spot. Seriously, if you don't get here on the dot for doors opening, you'll need to wait in line for a table. Takashi is easily one of the most popular restaurants in SLC. For the best experience, take a seat up at the sushi counter and ask your chef for an omakase experience; they'll plate up the very best and brightest dishes of the day right there for you. And before you get worried about eating sushi so far from the ocean – don't – read our story on that here.
18 W Market St, Salt Lake City, UT 84101
(801) 519-9595
slcmenu.com/2011/04/03/takashi-restaurant-menu/
SLC Eatery
SLC Eatery is our pick for the very best chef driven restaurant in town; which is to say the creative genius of co-chefs Paul Chamberlain and Logen Crew turn out fascinating dishes every night of service. While the menu can change quickly, you'll always find intelligent and sharp seafood dishes on the menu at SLC Eatery. Moreover, you'll also spot them on the dim sum cart. Yep, that's right, styled on the classic Chinese service style, at SLC Eatery you'll find a cart working its way around the room during service, loaded with daily specials and treats galore.
1017 Main St, Salt Lake City, UT 84111
(801) 355-7952
Brunch menu
RIME
Home to one of the most scenic views of any Utah restaurant – you just found it at this Deer Valley fine dining destination. A steak house at the core, seafood features strongly amongst the steaks, which makes it a great place to visit if you're in the mood for fish, but your dining companions aren't. Here's a story about an experience I enjoyed in 2022 – spoiler alert – the halibut was one of the very best I've tasted.
2300 Deer Valley Dr E, Park City, UT 84060
(435) 940-5760
srdvdining.com/dining/rime
Seafood dishes in Salt Lake City
Apres Pendry – shrimp cocktail
Located at the ultra-luxe Pendry Park City, Apres Pendry is their on site restaurant serving breakfast lunch and dinner. This chilled seafood starter can be found on their dinner menu.
2417 W High Mountain Rd, Park City, UT 84098
(435) 800-1990
pendry.com/park-city/entertainment/apres-pendry
Copper Common – nduja and mussels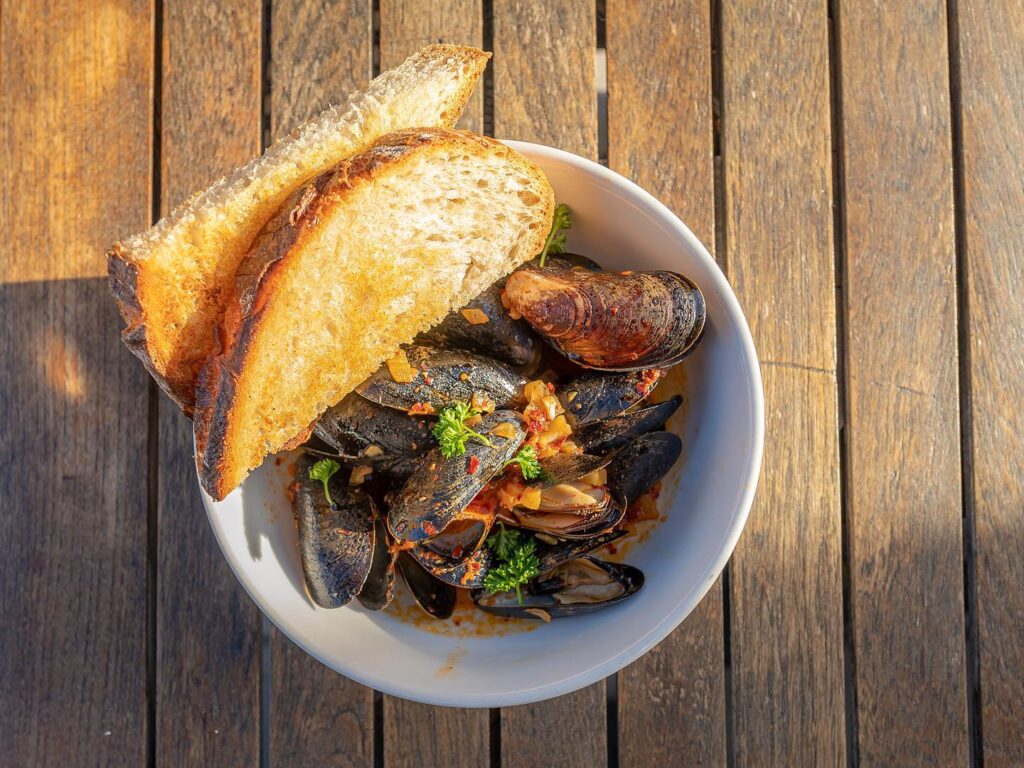 Ryan Lowder's 21+ downtown bar is always home to a vision of this dish. You'll always find quality shellfish and impeccable house bread for dipping in the equally marvelous broth. The rest of the make up of the dish changes with the season. Hint: it's always top notch.
11 E Broadway Suite 190, Salt Lake City, UT 84111
(801) 355-0543
coppercommon.com
Franklin Ave – miso black cod
A nod to Nobu's classic sablefish preparation is this miso fueled dish from Franklin's Matt Crandall. It's a sweet, savory and umami thwack to the face.
231 S Edison St, Salt Lake City, UT 84111
(385) 831-7560
franklinaveslc.com
Flanker – spicy tuna bites
When a dish survives a number of menu updates – you know it's a fan with the kitchen and gusts alike. Case in point these fabulous small bites from downtown's Flanker Kitchen. The simple starter marries spicy tuna with comfortingly dense, deep fried rice cake. The two are fused together with a spicy mayo glue.
6 N Rio Grande St, Salt Lake City, UT 84101
(801) 683-7070
flankerslc.com
Osteria Amore – octopus
Smoky grilled octopus is one of the staple stars of the menu over at Osteria Amore. The Italian eatery moved in the space once home to Aristo's up by the University Of Utah and immediately made it's mark on the dining map.
224 S 1300 E, Salt Lake City, UT 84102
(385) 270-5606
osteriaamore.com
Pago On Main – crudo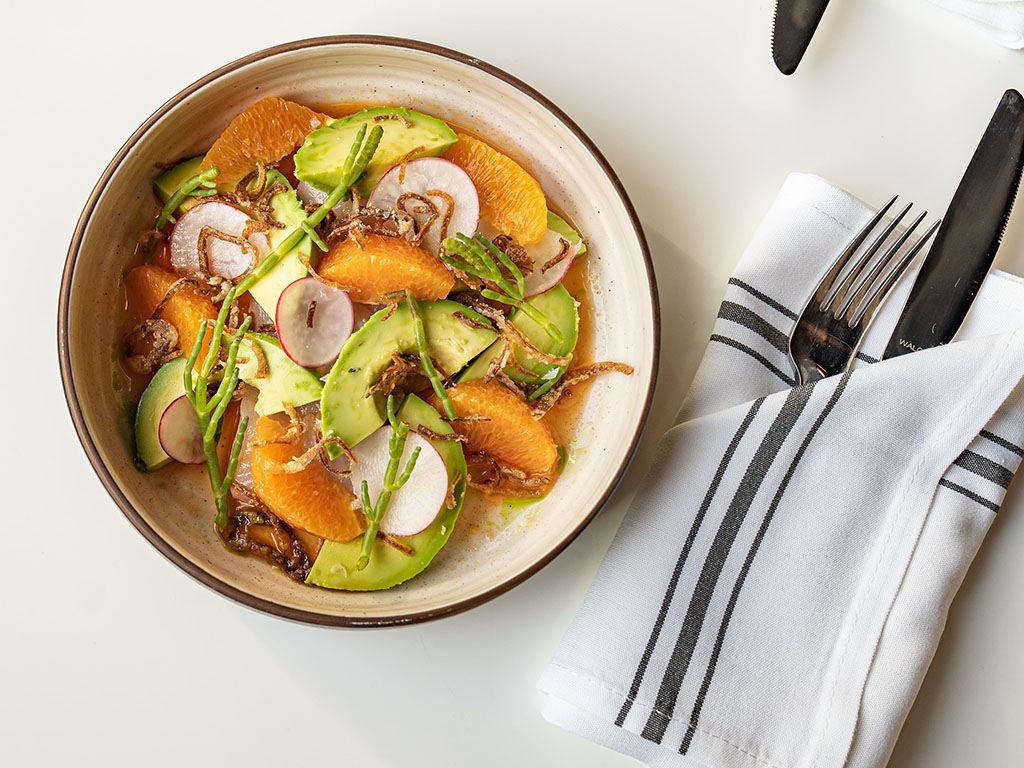 One of the latest ventures from Scott Evans' restaurant group and one that kicks off the menu proper with a variety of crudo dishes. Pictured is the yellowtail with citrus, avocado and caramelized shallot.
878 S 900 E, Salt Lake City, UT 84102
(801) 532-0777
www.pagoslc.com
Oquirrh – market fish specials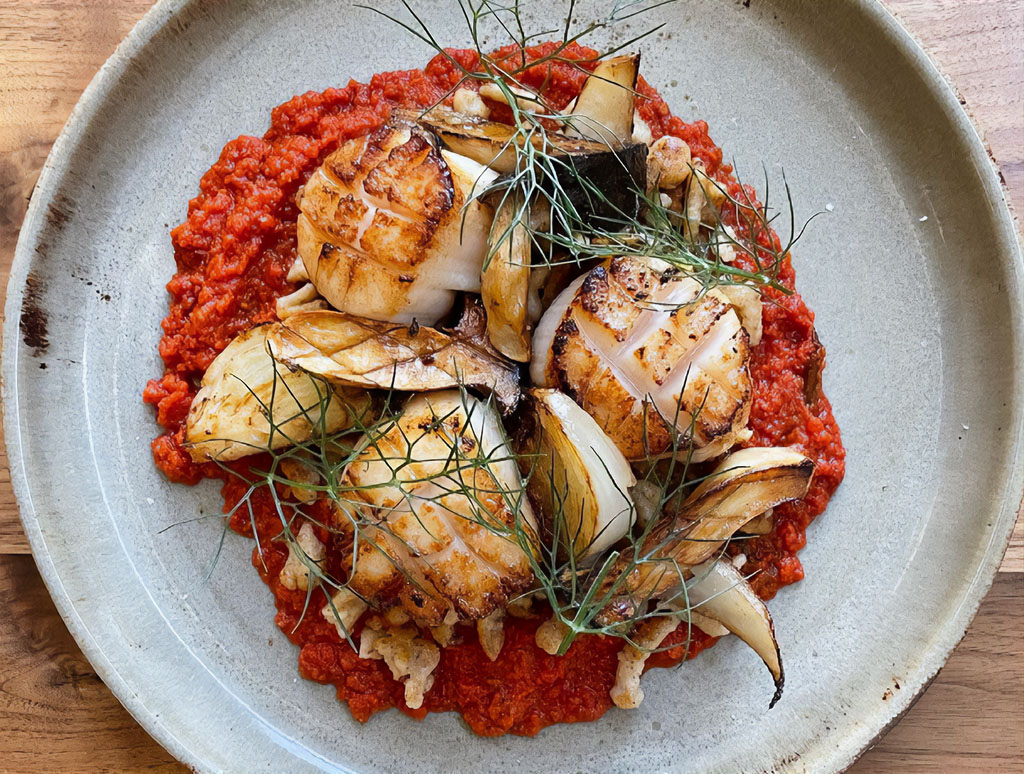 The seasonal chef-driven menu at Oquirrh always features picture perfect seafood dishes. The menu is constantly and flux and most weeks see ultra-limited specials like the scallops shown above. There's always great seafood on the menu here.
368 E 100 S, Salt Lake City, UT 84111
(801) 359-0426
oquirrhslc.com
Where to buy seafood?
Check out our guide here on where to buy the best seafood online – you'll be surprised by the quality and ease of getting seafood shipped. It's often better than the stuff you can get yourself as a consumer. If you MUST buy in person, here are some Utah places to grab quality seafood:
Aquarius – downtown fish monger that receives fresh supplies daily. Call ahead to ensure availability. This is the best source in Utah for quality fresh seafood bar none.
Whole Foods – The national grocer has several locations in Utah; all are underpinned by a keen eye on only serving sustainable seafood. The chain partners with the Monterey Bay Aquarium Seafood Watch as such.
Beltex Meats – The excellent butcher shop has a freezer up front filled with options from Frisky Fresh Fish – blast frozen Alaskan seafood that's of exceptional quality.
Catch Sitka – For online orders our goto is Catch Sitka (pictured). Just four steps separate you from some of the freshest, tastiest Alaskan seafood available. Everything Catch Sitka Seafood delivers is fished using wild using hook-and-line sustainable fishing practices, immediately iced, processed dock-side by artisans, blast frozen to lock in flavor and sent straight to you. Alaskan seafood is some of the very best in the world – and CSS's is backed by a 100% satisfaction guarantee too. Check em out here. If you make a purchase we get a referral fee.
Maybe also check out
Maybe we can tempt you to something else delicious while you're here? Check out these other detailed guides, some of the most popular pages on our website:
Who did we miss?
If you think we're missing a really great addition to this list, please email us at stuart@gastronomicslc.com – we'd love to hear from you. Let us know who you think should be on this list and why. If you have a really great picture of one of more dishes, please send that too! We're always excited to check our more businesses!
Hi, I'm Stuart, nice to meet you!  I'm the founder, writer and wrangler at Gastronomic SLC; I'm also a former restaurant critic of more than five years, working for the Salt Lake Tribune.  I've worked extensively with multiple local publications from Visit Salt Lake to Salt Lake Magazine, not least helped to consult on national TV shows.
I'm a multiple-award winning journalist and have covered the Utah dining scene for the better part of fifteen years.   I'm largely fueled by a critical obsession with rice, alliteration and the use of big words I don't understand.   What they're saying about me: "Not inaccurate", "I thought he was older", "I don't share his feelings".  Want to know more? This is why I am the way I am.
Our sponsors and this page
This page may contain information about one of our sponsors. We only work with the very best businesses in the state, and routinely turn down offers to work with businesses we don't enjoy. If we can't hand on heart recommend them - they can't be a sponsor.
At this time we have the following sponosrs: Avenues Proper, BGR Sugar House, BTG, Caffe Molise, Craft by Proper, The Dough Miner, Downtown Alliance, Feldman's Deli, Flanker, Garage On Beck, Hearth And Hill, Hill's Kitchen, Kao Thai, Kin Sen Asian Noodle Bar, Kyoto, Laziz Kitchen, Log Haven, Oasis Cafe, Pirate O's Gourmet Market, Proper Brewing, Proper Burger, Scion Cider Bar, SLC Eatery, Squatter's Downtown Salt Lake City, Stoneground Italian Kitchen, Urban Hill, Wasatch Brew Pub Sugar House, Whiskey Street, White Horse.
I encourage you to Google any of our sponsors and see the stellar reviews on multiple sites that they enjoy. For a list of all our current and past relationships see our partnership history page.