Looking for the very vest seafood in Salt Lake City? A little concerned about our distance from the coast? Don't be! SLC has many fine locations for a variety of fresh fish and shellfish. Whether you're in the market for briny and fresh oysters or a beautifully cooked piece of fish – we guaranteed you'll find it in Salt Lake. If you have a craving for impeccable seafood, here are our picks:
Current Fish And Oyster
Standing head and shoulders above the crowd is this downtown Salt Lake City destination restaurant that specializes in classic seafood dishes from around the country. The menu starts with an elegant raw bar spread – East and West coast oysters through to mussels, shrimp, ceviche and more. Heck why not even grab a full seafood tower for the table and celebrate in style!
From there the menu takes an eclectic tack with dishes such as branzino with cous cous or a SE Asian fish stew with coconut and lemongrass. Everything is flown in freshly and sourced with exacting standards. We guarantee you won't have anything less than a stellar experience here; not least because Current features an intelligent wine and cocktail list, top class service and a chic dining space that's sure to impress.
279 E 300 S, Salt Lake City, UT 84111
(801) 326-3474
currentfishandoyster.com
We're proud to have Current as the sponsor for this page.
Freshies Lobster Rolls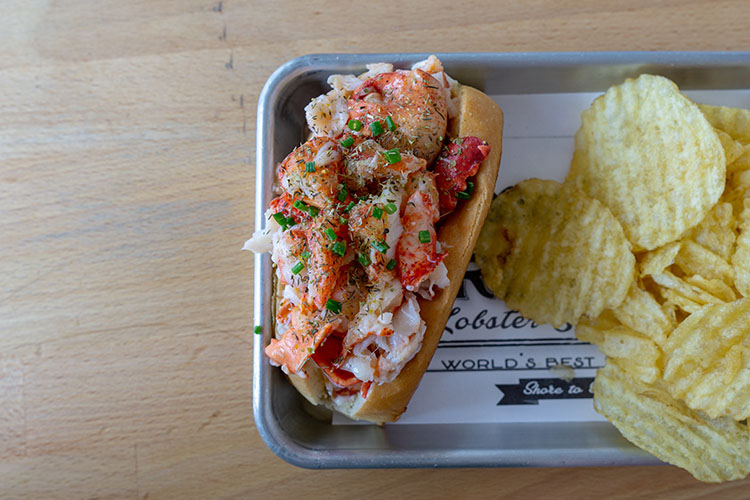 People flock to Freshies duo of locations for one simple thing: award winning lobster rolls. What, what, lobster rolls in the middle of the Utah desert? You better believe it! Moreover Freshies took top honors at the Worlds Best Lobster Roll contest all the way back on the East coast for their simple but stunning creations. If that's not high praise we don't know what is.

SLC | 356 East 900 South, Salt Lake City, UT 84111 | (801) 829-1032
Park City | 1897 Prospector Ave, Park City, UT 84060 | (435) 631-9861
slcmenu.com/2018/09/04/freshies-lobster-co-menu/
Takashi
Often held high as the very best sushi restaurant in SLC is this downtown hot spot. Seriously, if you don't get here on the dot for doors opening, you'll need to wait in line for a table. Takashi is easily one of the most popular restaurants in SLC. For the best experience, take a seat up at the sushi counter and ask your chef for an omakase experience; they'll plate up the very best and brightest dishes of the day right there for you. And before you get worried about eating sushi so far from the ocean – don't – read our story on that here.
18 W Market St, Salt Lake City, UT 84101
(801) 519-9595
slcmenu.com/2011/04/03/takashi-restaurant-menu/
SLC Eatery
SLC Eatery is our pick for the very best chef driven restaurant in town; which is to say the creative genius of co-chefs Paul Chamberlain and Logen Crew turn out fascinating dishes every night of service. While the menu can change quickly, you'll always find intelligent and sharp seafood dishes on the menu at SLC Eatery. Moreover, you'll also spot them on the dim sum cart. Yep, that's right, styled on the classic Chinese service style, at SLC Eatery you'll find a cart working its way around the room during service, loaded with daily specials and treats galore.
1017 Main St, Salt Lake City, UT 84111
(801) 355-7952
slceatery.com

Have we missed someone off of this list? If you have a suggestion for this page, perhaps something interesting and unique off of the beaten path let me know at stuart@gastronomicslc.com so we can share!