The best fish and chips in SLC? Honestly, that's going to be a personal call; cod or halibut, think or thick cut, to sew or not to slaw? Thankfully there are enough options for this popular Brit-import dish around town, you should have plenty of opportunity to find the . Here are some of the better fish and chip dishes we've enjoyed.
Grid City Beer Works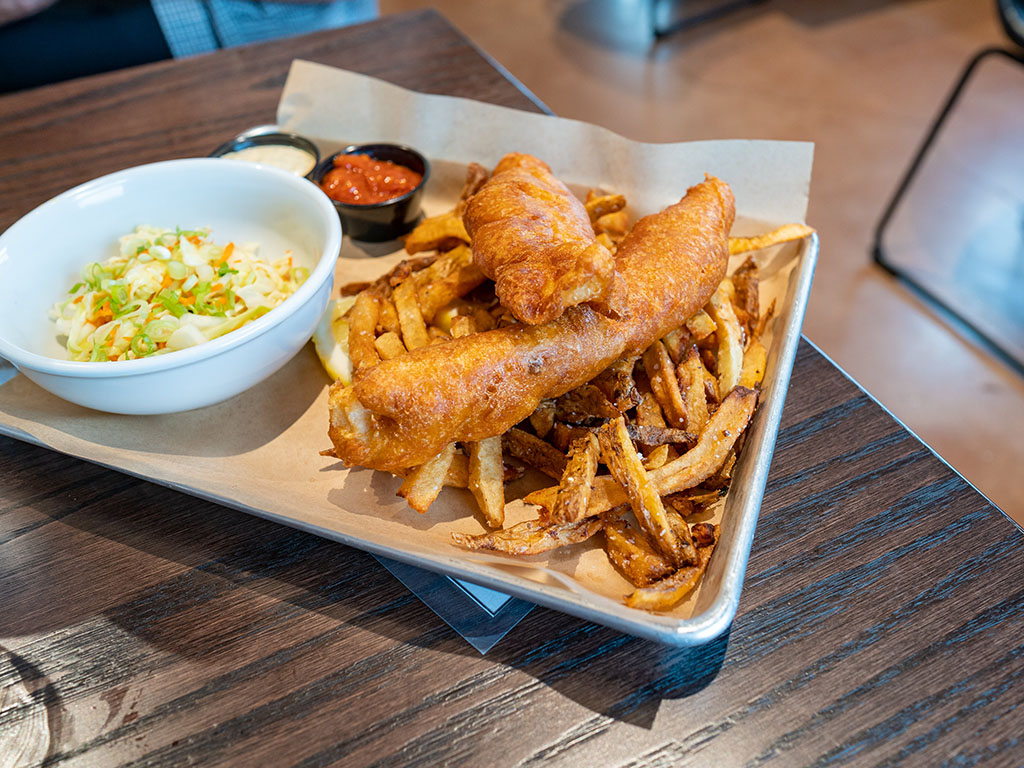 Catfish is battered in thick crunchy , rewarding batter at this South Salt Lake craft brewer. The fries are skin on, even th ketchup is home made. The only real choice is deciding what to drink from the range of fab brews. See our full profile on Grid City here.
333 2100 S, Salt Lake City, UT 84115
(801) 906-8390
gridcitybeerworks.com
Current Fish And Oyster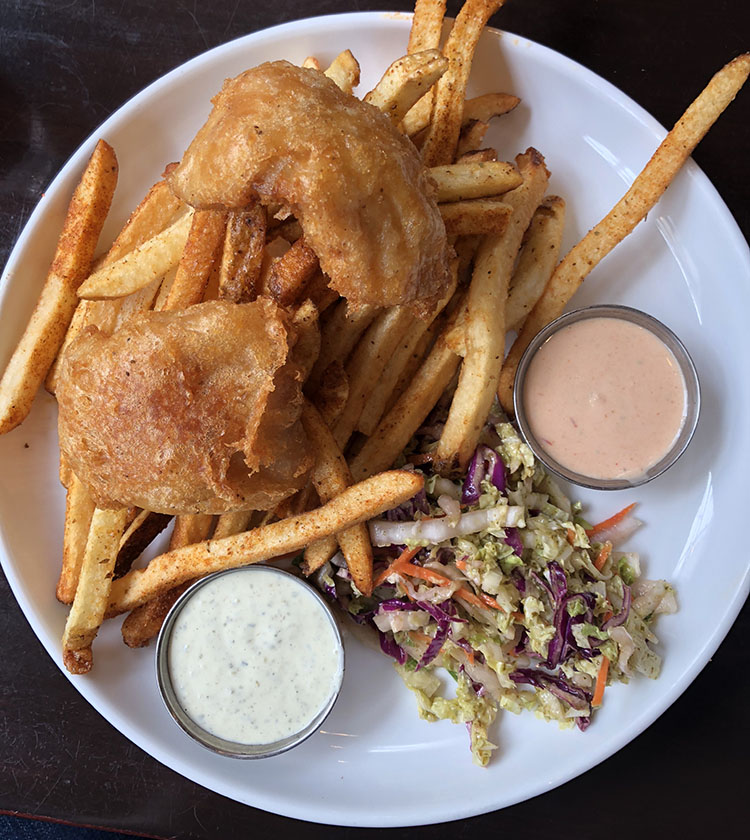 At this downtown seafood mecca you'll find plenty of classic seafood preparations, including this great ale battered rockfish rendition. The fish comes with thicker fries with a good chew plus two outstanding dips – a remoulade, tartar sauce. The spicy slaw is a bonus extra.
279 E 300 S, Salt Lake City, UT 84111
(801) 326-3474
currentfishandoyster.com
Hopkins Brewing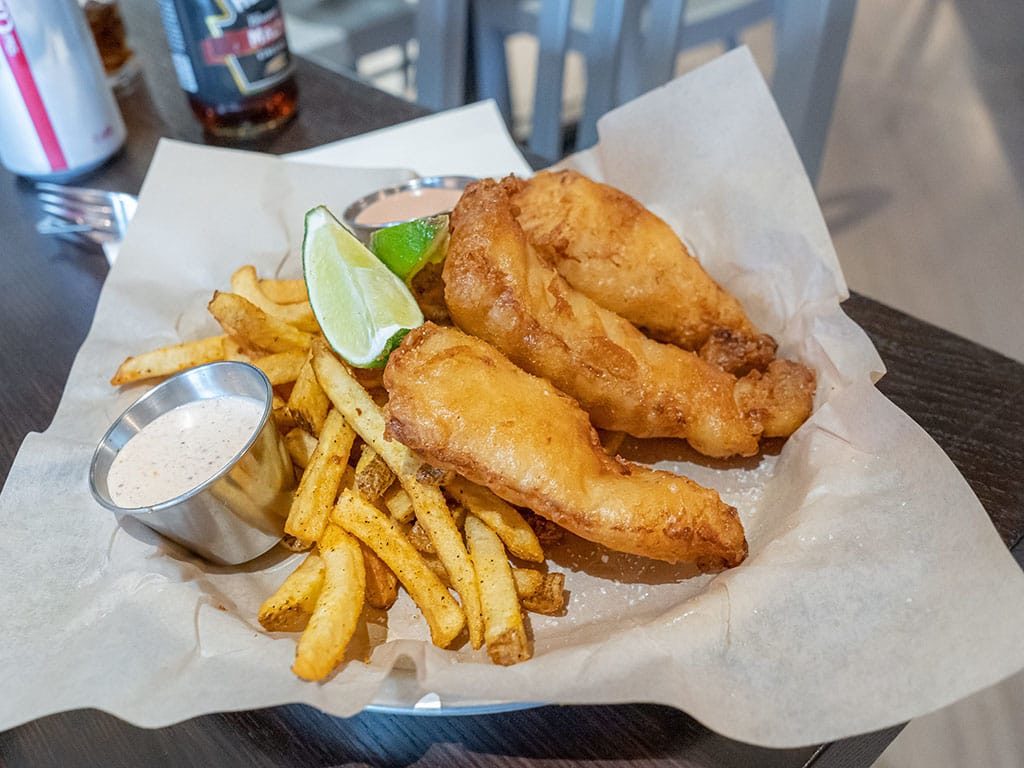 This trio of deep fried cod pieces is courtesy of the Sugar House micro brewery. The dish isn't always available but when it is, it's worth a look in. IT's slightly pricey at $18 but the fish isn't overcooked and the batter is rewardingly crisp. The sides of tartar and fry sauce should pit a smile on everyones face.
1048 E 2100 S, Salt Lake City, UT 84106
(385) 528-3275
hopkinsbrewing.mobilebytes.com
Avenues Proper
Up in the Avenues you'll find this great little gastro-pub with more than one nod to classic English grub. Avenues Proper serves up a dish using cod, house tartar sauce and thicker cut fries.
376 8th Ave, Salt Lake City, UT 84103
(385) 227-8628
avenuesproper.com
Fiddler's Elbow
In the heart of Sugar House, this sports bar slash restaurant has been rocking out pub food for more than two decades. Thie fish and chips has evolved over the years but us typically halibut and beer battered. Coleslaw is always a standard here too.
2349, 1063 E 2100 S, Salt Lake City, UT 84106
(801) 463-9393
fiddlerselbowslc.com
London Belle
New for downtown SLC in 2018 is this trendy new bar/restaurant on Main Street. The above fish an chips offers two large pies of lager battered rock snapper. On the side you'll find pepper cabbage slaw, roasted Serrano chili tartar, grilled lemon and house fries.
321 Main St, Salt Lake City, UT 84111, USA
(801) 363-8888
londonbelleslc.com
Porcupine Pub & Grille
Alaskan halibut is the center piece for this popular pub's rendition of the classic dish. Porcupine cut their fish fresh in house before battering in a Hefeweizen beer batter.
258 1300 E, Salt Lake City, UT 84102
(801) 582-5555
porcupinepub.com

Carnegie's Public House
Carnegie's is located on the ground floor of downtown's Peery Hotel. Their fish and chips uses cod that's battered in an interesting potato finish.
110 Broadway, Salt Lake City, UT 84101
(385) 259-0574
peeryhotel.com/carnegies-public-house
Who did we miss?
If you think we're missing a really great addition to this list, please email us at stuart@gastronomicslc.com – we'd love to hear from you. Let us know who you think should be on this list and why. If you have a really great picture of one of more dishes, please send that too! We're always excited to check our more businesses!
Our sponsors and this page
This page may contain information about one of our sponsors. We only work with the very best businesses in the state, and routinely turn down offers to work with businesses we don't enjoy. If we can't hand on heart recommend them - they can't be a sponsor.
At this time we have the following sponosrs: Avenues Proper, BGR Sugar House, BTG, Caffe Molise, Craft by Proper, The Dough Miner, Downtown Alliance, Feldman's Deli, Flanker, Garage On Beck, Hearth And Hill, Hill's Kitchen, Kao Thai, Kin Sen Asian Noodle Bar, Kyoto, Laziz Kitchen, Log Haven, Oasis Cafe, Pirate O's Gourmet Market, Proper Brewing, Proper Burger, Scion Cider Bar, SLC Eatery, Squatter's Downtown Salt Lake City, Stoneground Italian Kitchen, Urban Hill, Wasatch Brew Pub Sugar House, Whiskey Street, White Horse.
I encourage you to Google any of our sponsors and see the stellar reviews on multiple sites that they enjoy. For a list of all our current and past relationships see our partnership history page.