Chicken Shack
The Vegas-invasion continues with the recent opening of this Salt Lake fried chicken shop. Launching in Sin City back in 2005 the chain now has multiple locations, this being the first in Utah. For the chain's first foray here the walls are bedecked in Utah-themed artwork featuring their mascot, Fred. The menu offers a core of wings and fingers supported by a cast of sauces and dips. You'll also find burgers, chili and more.
Pictured above is one of the combo plates I sampled just a few days ago, a mix of fingers and wings. The quick 60 second review: kinda dry and bland fingers, these need work. Very respectable wings and fries – and yes – they have fry sauce. The fryers and oil are noticeably fresh and clean right now, here's hoping it stays that way. A restaurant still working out some kinks both front and back of house – but with solid reviews in Vegas.
358 S 700 E, Salt Lake City, UT 84102
(385) 229-4856
mychickenshack.com
Lakehouse at Deer Creek
A reminder that chef Tamara Stanger is now at the wheel at this Deer Creek restaurant. Our newest contributor Christy wrote about them here – and what's arguably one of the more interesting menus and concepts to open up in the state for sometime.
5317 US-189 S, Heber City, UT 84032
(435) 210-7474
thelakehousedeercreek.com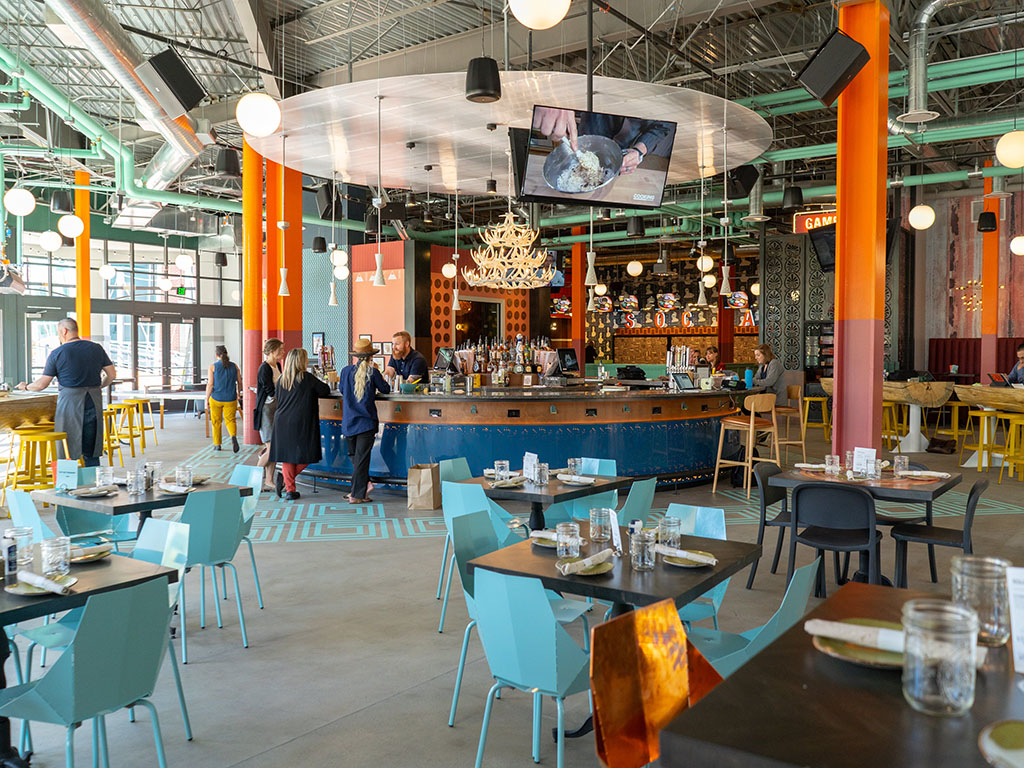 Coming soon
Flanker Kitchen + Sporting Club
If you wondered what might emerge from the former Punch Bowl space at the Gateway, wonder no more. I received the following press release this week going into great detail about the next experiential concept going into the mammoth space. Presumably the existing layout and configuration of the multi-talented Punch Bowl (see the picture of their old bar above) is the perfect canvas for the new owners. Here's the full press release:
A game-changing dining, drinking and entertainment establishment is coming to Salt Lake City this September when Flanker Kitchen + Sporting Club (Flanker)opens across from Vivint Arena on the second floor above the Olympic Legacy Plaza at The Gateway. Owned and operated by Las Vegas-headquartered Carver Road Hospitality, the 17,500-square-foot multi-concept complex will feature a restaurant, three bars, 400-square-feet of LED screens, private karaoke and golf simulator rooms, a central sporting club/nightclub and a cocktail lounge. Flanker will serve adults ages 21 and over.
"We chose Salt Lake City because it's such a social and emerging culinary scene," said Sean Christie, chief executive officer of Carver Road Hospitality. "Our goal is to bring a world-class concept to the city where you can have a great meal, the best drinks, exceptional service and, most importantly, a fun time all in one space."
Designed by award-winning international design studio DesignAgency, the distinctive guest experience begins in the reception area that provides a warm and inviting entry point into the Restaurant. Pulling inspiration from Salt Lake City, the Restaurant will present a color palette inspired by the Utah Jazz and Utah Grizzlies sports teams. The 360-degree bar anchors the main dining area offering a range of seating options with the bar and lounge, high-tops, patio and traditional restaurant seating. 30 state-of-the-art screens will display sporting events, digital art and a variety of content. The area is complete with a fireplace, large stage for live music and entertainment, foosball and shuffleboard tables, and other activities to complement the inherently social scene and multi-sensory experience.
Open Monday through Friday nights from 5 p.m. to close and Saturday and Sunday beginning at 11 a.m., the Restaurant will serve elevated American fare including lobster fritters, smoked brisket nachos, a Black Angus burger, broiled NY Strip and more, all prepared from scratch in the full kitchen. Selections ranging from light and fresh to cheat-day indulgent are sure to please diverse tastes. Flavorful vegan options will be available. A Brunch menu includes shared plates, breakfast favorites and savory lunch items. Milkshake offerings will dare to be different with tempting flavors and playful garnishes. A curated selection of local spirits and crafted beers will also be offered.
The Sporting Club hosts Saturday viewing parties for the biggest college games and sporting events, with full brunch food and beverage offerings. A Sunday brunch party is sure to score extra points for locals and visitors alike with a special menu and game-viewing enhanced with the latest audio and visual technology, live DJs, interactive experiences and much more. On Friday and Saturday nights beginning at 10 p.m., guests can revel in the social nightclub atmosphere featuring a DJ booth with next-level production capabilities, dance floor and banquette seating that sits adjacent to the multiple private karaoke and Full Swing golf and sports simulator rooms. The full menu will be available. Programming will include original hosted parties, top DJs and live music. Restaurant guests will always have access to the Sporting Club's karaoke and simulator rooms.
Tucked away towards the back is The Parlor.With its leather banquettes and an inviting new bar design, The Parlor will present an elevated craft cocktail and worldwide spirits program created by an icon of cocktail culture and Carver Road Hospitality's VP of Beverage & Hospitality Culture, Francesco Lafranconi. Open Friday and Saturday evenings and Sunday days for the brunch party, guests can shoot pool, play classic parlor games, bowl on the retro-style lanes behind the bar, order from the full menu and enjoy a diverse selection of throwback music in the relaxed cocktail-driven social scene.
"Carver Road Hospitality's innovative vision for a high-energy, sophisticated dining, bar and state-of-the-art entertainment venue complements The Gateway's mission to be a community gathering place and lifestyle destination," says Jenny Cushing, vice president of leasing with Vestar. "Flanker's Vegas-style approach taps into Utah's sports-loving culture and our growing demand for elevated cuisine and inventive cocktails. It promises to be unlike anything Salt Lake City has seen before."
With so many unique experiences available within the expansive venue, from dining to drinking, to dancing and entertainment, Flanker is destined to offer something for everybody.
For additional information and to follow Flanker, visit linktr.ee/flankerslc.com. 
Monarca
In the last huge roundup I noted that Santo Tacos was mooted to takeover the now empty Alamexo space on State Street. An eagle eyed reader recently send me the snap above, suggesting more than just another installation of Santo owners Alfonso and Claudia Brito well regarded taco spot. More news as and when.
268 S State St, Salt Lake City, UT 84111
Fenice
Meanwhile over in Utah Stories, I spotted this one by Ted Scheffler. I hadn't heard of this one anywhere else, so kudos to Ted for the scoop. Here's whats next for the empty Fireside on Regent in downtown SLC:
I've got good news to share with folks, like myself, who love Park City's Silver Star Cafe. Owners Jeff and Lisa Ward have taken over the space on Regent Street in downtown Salt Lake City that was previously home to Fireside on Regent restaurant and are in the process of readying a new eatery to open, hopefully, in August or early September pending a liquor license from the DABC.
It's called Fenice Mediterranean Bistro, and according to the Wards they "will serve delectable from-scratch Italian and Mediterranean-inspired fare and wood-fired pizzas in the heart of the arts, culture and theater district, directly next door to the Eccles Theater, and walking distance to all downtown arts and culture venues." Knowing how great Silver Star Cafe is, I know Fenice is going to be a hit hotspot downtown.
126 Regent St, Salt Lake City, UT
Prodigy Brewing
The always fabulous Tim Haran and his Utah Beer News website has this story detailing the impending opening of the all new Logan brewery. Expect around 12 beers on tap, high-point cans, a small food menu with late night snacks and an outdoor patio.
25 W Center St, Logan, UT 84321
prodigy-brewing.com
Himalayan Flavor
This new Nepali/Indian restaurant hails by way of Idaho, and will be taking over the spot now vacated by Indian Oven in Logan (more info).
130 N Main StLogan, UT 84321
himalayanflavorlogan.com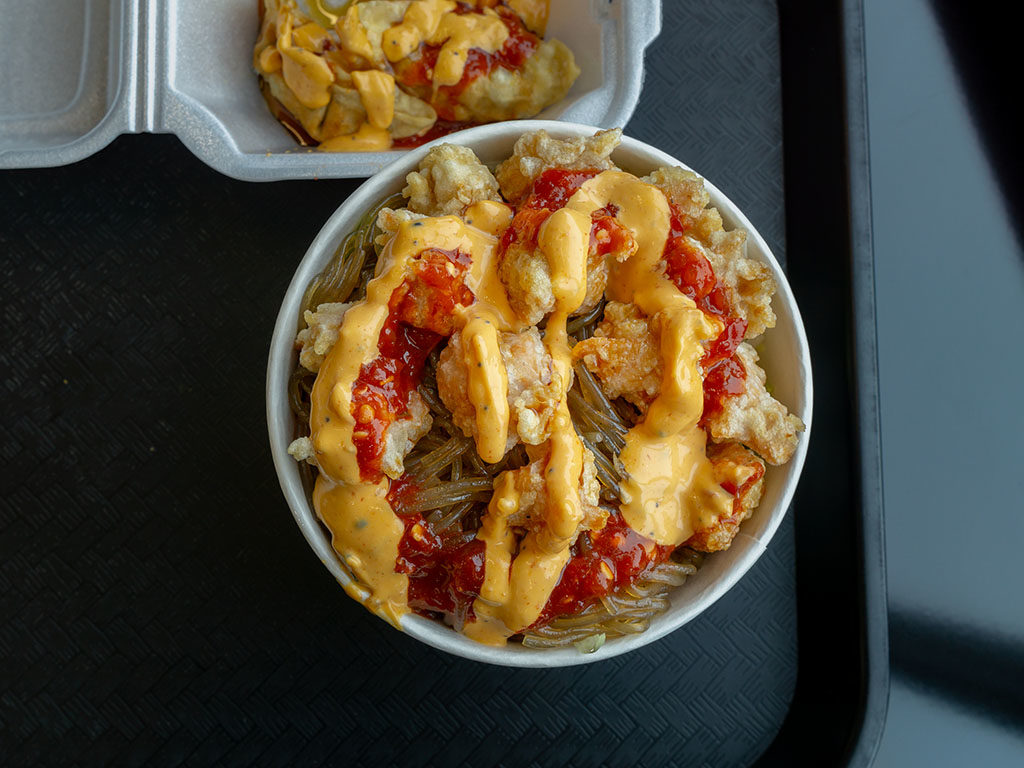 Veni, vidi, vici
If Caesar was a Utahn, his famous catchphrase might have been, "I came, I saw, I opened another location". Right now everyone – and I mean everyone – is on the expansionist warpath. Here are all the latest businesses to plan another outpost in their empire.
Itto Sushi – South Jordan makes for a quartet of Itto's now slinging sushi. This new location joins SLC, Midvale and Orem (more info).
Santorini's Greek Grill – This Farmington based casual Greek eatery is making a second mark in Bountiful on July 19th with a range of giveaways (more info). Their website also indicates a possible Sandy location will make three sooner than later.
Cupbop – I don't think it's humanly possible to count the number of Cupbops these days. At any rate Fort Union is the latest to open (see here) with Logan also coming online soon as well (more info).
Greek Streak 2 – Making the trip from Price and landing in Logan, this second location for the Greek restaurant (more info). In other news – Logan is officially the new Lehi when it comes to new openings – you read it here first.
Ch, ch, chains
And of course, the chains, the chains continue to come, welcomed as they are by ravenous Utahns. Here are the latest.
Panera Bread – Utah's first installation of the much-loved national is almost here (see KSL). The airport location will assuredly prevent the thronging hordes that any inauguration usually receives in these parts. Befriend a TSA worker for takeout, start buying plane tickets, or well, wait. The airport location is expected to be the tip of the spear for a greater thrust into the state.
Crack Shack – It's an open secret that this other shack is headed to Utah soon, owned as they are by the local Savory fund that manages a range of fast casual franchises. Recent discussion on our Facebook talk group suggested the location will be the former Mazza space in the 9th and 9th area. Said rumor comes from people working construction at the site and hasn't been formally confirmed; take liberally with a pinch of 'really, a chain chicken franchise in a fancy neighborhood'.
Raising Cane's – Rumor also has it that those who got in line for the opening of RCs a few weeks ago are now just starting to reach the front and get their orders. Taking some pressure off the demand though – an upcoming Provo location (more info).
Want even more info on what's opening, when and where? See all of our previous coverage on new restaurants here.
Keep the conversation going
Want to stay on top of the SLC food scene, minute by minute, dish by dish? Here are a few other places you should follow along:
Hi, I'm Stuart, nice to meet you!  I'm the founder, writer and wrangler at Gastronomic SLC; I'm also a former restaurant critic of more than five years, working for the Salt Lake Tribune.  I've worked extensively with multiple local publications from Visit Salt Lake to Salt Lake Magazine, not least helped to consult on national TV shows.
I'm a multiple-award winning journalist and have covered the Utah dining scene for the better part of fifteen years.   I'm largely fueled by a critical obsession with rice, alliteration and the use of big words I don't understand.   What they're saying about me: "Not inaccurate", "I thought he was older", "I don't share his feelings".  Want to know more? This is why I am the way I am.
This article may contain content provided by one of our paid partners. These are some of the best businesses in Utah. For a list of all our current and past relationships see our
partnership history page
.