Ready for the weekend? Not so ready with your plans? Allow me to share my own recent dining excursions around town, perhaps some pointers for your own adventure. Lets start with one of my favorite new places…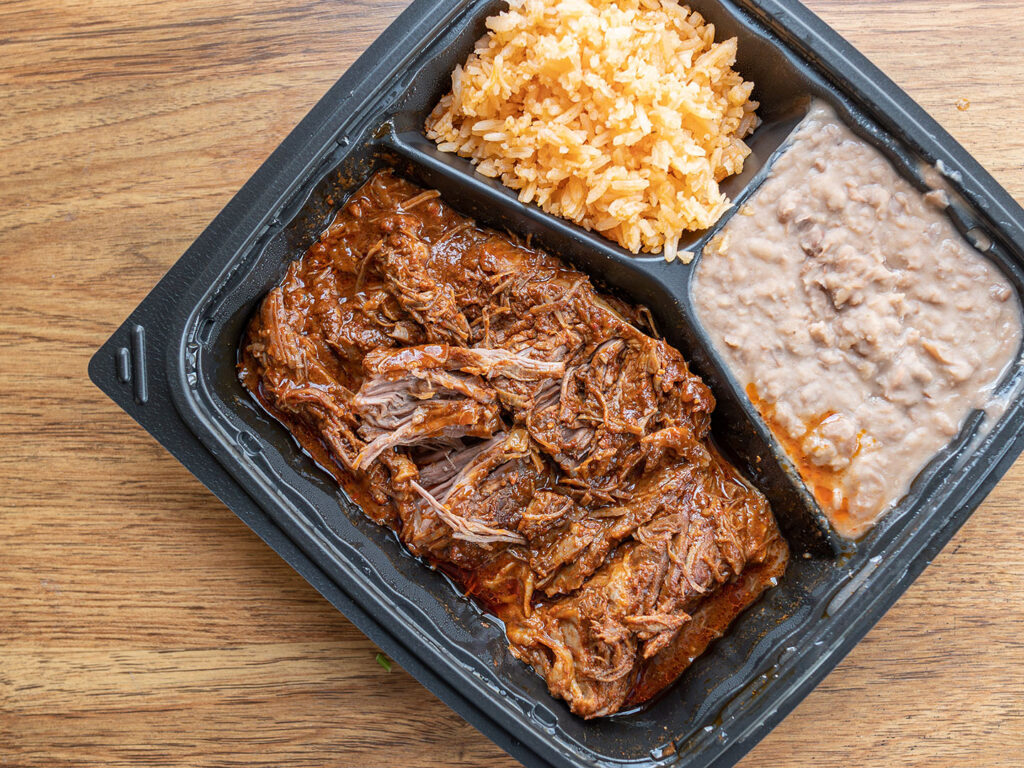 Guisados Homestyle Mexican Cooking
Ever since the loss of my beloved Taqueria Los Lee last Fall, I've been looking for a new spot to call home. At least as far as preposterously oversized orders of tacos goes. I think I may have now found my new casa over in Taylorsville.
When it comes to tacos, Guisados offer a menu of nearly a dozen options, all served on top notch house made corn tortilla. The tacos themselves are slightly larger than the gobble sized street variety, and come single wrapped, simply stuffed with your selection. Most of the fixings like diced onion and cilantro are provided on the side. The star of the crop for me (and no I won't share how many I ordered to arrive at this verdict) was the al pastor. The Lebanese influenced Pueblan dish was as good as any I've tasted; tender pork enameled with bright sharp pineapple in every bite.
Cohinita pibil was also in the running coming a close second. Again, shreddable soft pork, this time coated with earthy achiote. I might pass on fattier ropa vieja but the tinga de pollo, shredded chicken in a mild chipotle based sauce was a comforting change of pace. Bonus points: I'm partial to an alarm bell worthy tinga, here's my own spin on the recipe if home cooking happens to be part of those weekend plans.
Moving on from handhelds I've also tried the mole and barbacoa de res – both excellent selections from the larger entrees. The mole is all chocolatey svelte, with just a minor spiciness toward the end of the bite. The barbacoa de res features beef with that unmistakably deep flavor, one that comes only from hour upon hour or slow roasting.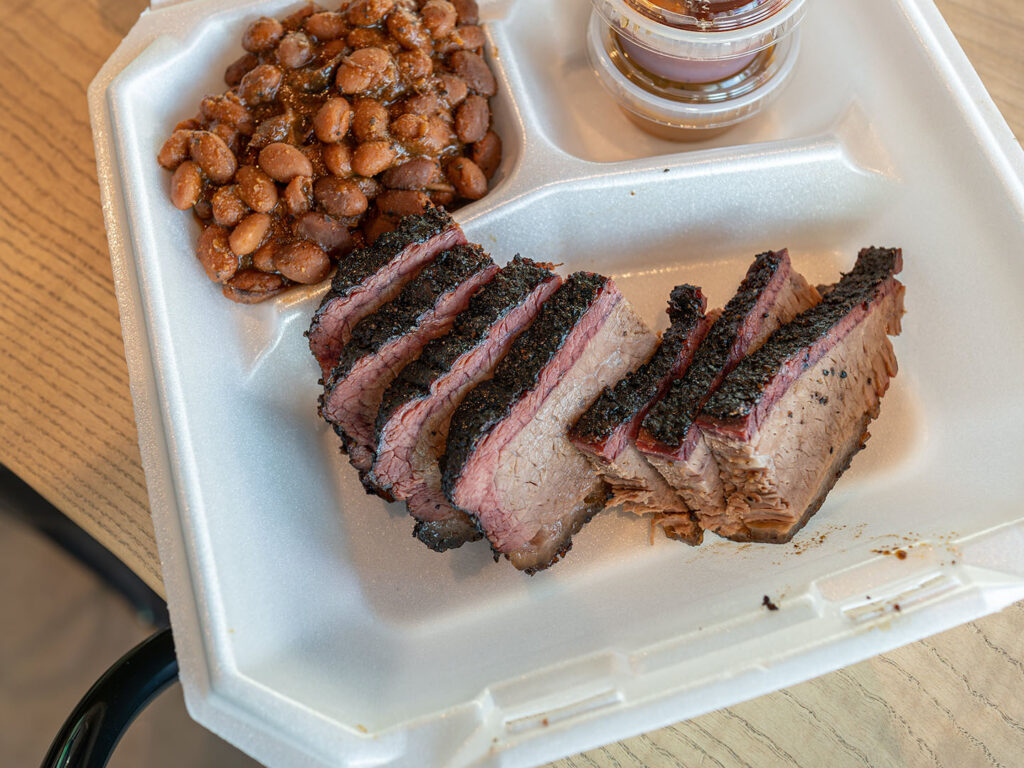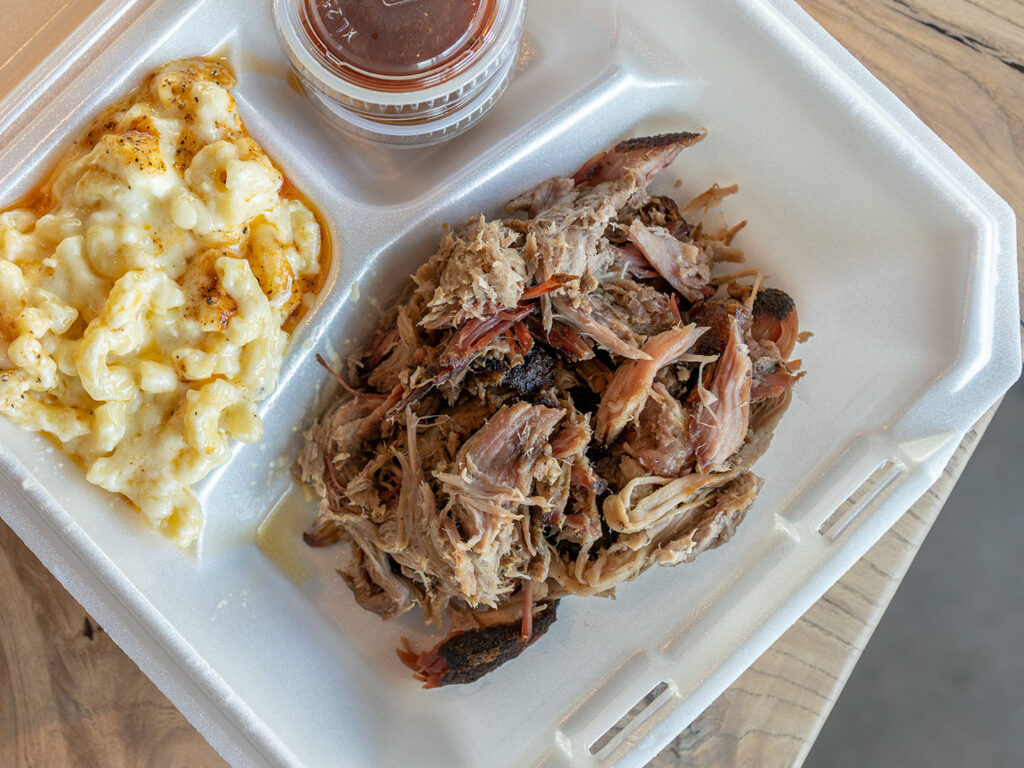 Slopeside Smoke Shack
I'd never actually heard of the Slopeside food truck – who just celebrated turning a year old coincidentally – until they pitched up at Scion Cider recently. Pork and apples, how could I not? Without causing a riot in the comments below, this was some of the best 'Q I've enjoyed in SLC for quite some time.
While the pulled pork paired with some of Scion's apricot-spiked cider was an alluring no brainer, the belle of the smoker was the brisket. Thickly sliced and replete with a peppery forward bark. Not a hint of dryness in the beef itself, flopping nicely when delicately balanced on a fork. The other side of the strip, a gooey line of soft fat. The $18 price for a plate of two meats with a side, a bargain as far as I am concerned.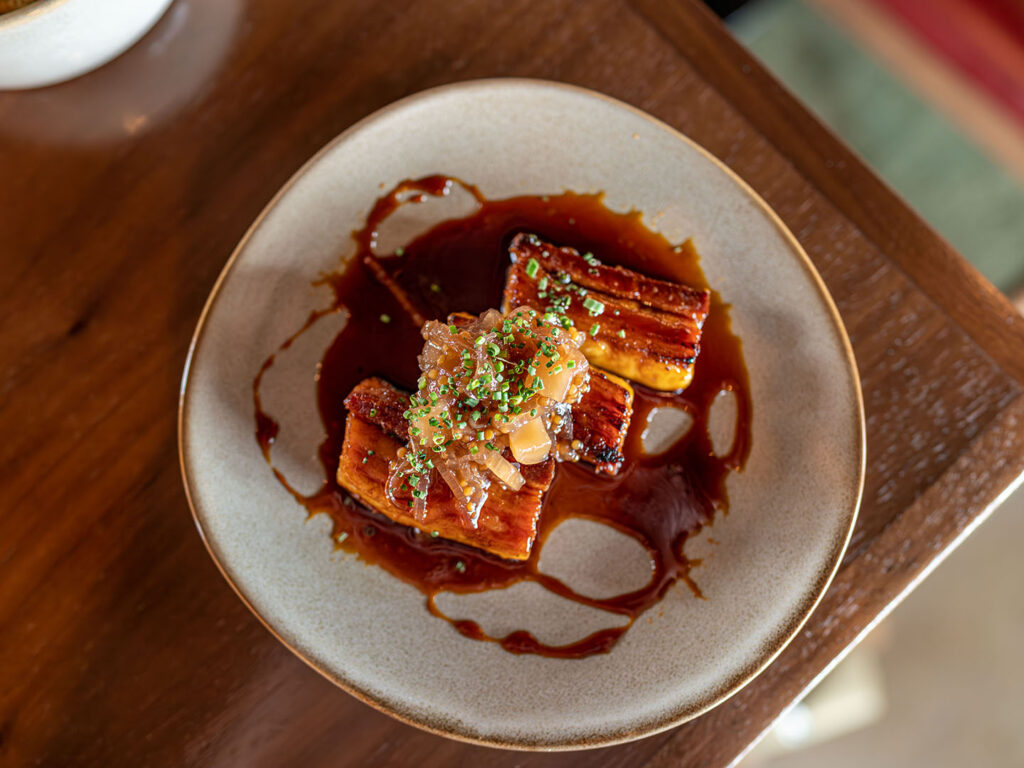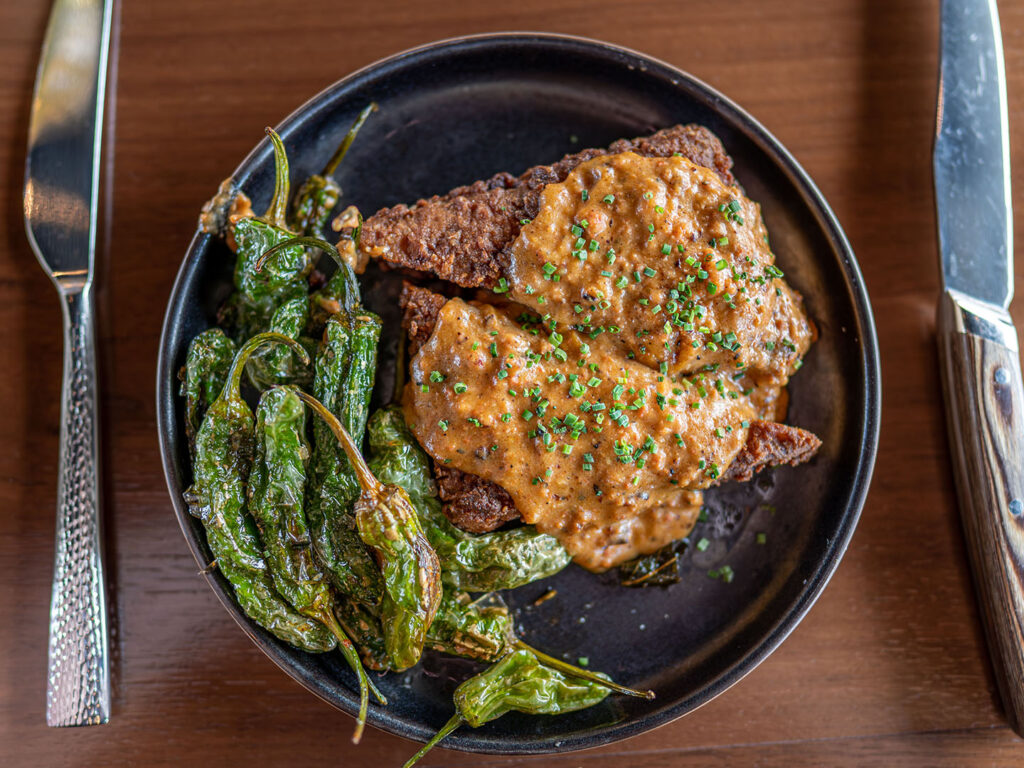 Mar | Muntanya
Beyond my initial preview of the beautiful dining space at Mar | Muntanya, I admittedly haven't written much about the food. To be frank my first few encounters with the menu fell a little flat. There's robust debate on how long (if any) to give a new restaurant to find their feet – but frankly I rarely write reviews these days. Articles like these focus on where I've eaten, what I'm enjoying, and waypoints for your own journey.
I've recently had two very enjoyable experiences at the Spanish crown atop (ok, it's kind a quarter of the way up) the glimmering Hyatt Regency in downtown SLC. First a memorable dinner reservation where we ambled through several of the restaurant's tapas sized dishes. Paired notably with a few Spanish pours from their wine list.
The menu has changed since I first popped by last Fall, and a peek online shows it's evolved once again since even my most recent trip. I take a restless chef eagerly scribbling new menu items as a good sign. Some highlights from the menu I enjoyed include a sweetly lacquered pork belly, not overcooked, providing that perfect alternating bite of fatty and meaty layers. Funeral croquettas, described as – cheesy hash-brown casserole fritters – remain a staple since day one, and it's easy to see why. And as far as Utah meets the Iberian peninsula, no one wants to see a brine shrimp paella right.
Garlicky shrimp in a small pond of olive oil was a cupid's for the restaurant's shepherds bread; apparently a house baked sourdough from a 150 year old starter. On the side cultured butter and spruce infused jelly. The latter, a first for my fascinated tastebuds.
Also worthy of merit was a Sunday brunch; a service I've written about recently as one of my least favorite, not least because of the commensurate lines and wait times. Compassionately, neither was found at Mar Muntanya. We breezed right into a modestly busy room, clanking calmly with coffee cups.
Manzana mimosas (cold pressed apple juice, Grand Marnier, cava) toasted the start of the meal while a short stack of pancakes came next; a manageable pile of juniper inflected pastries, enriched with custard cream and lemon curd.
For savories, more of that delicious house bread in the form of a tomato conserva toast, topped with additional manchego and a beautifully frail sous vide egg. Lastly, and most intriguingly, country fried elk. I'll put my cards on the table, you can finish the sentence "country fried…" anyway you like and I'm sold. Steak, chicken, shoes… elk? Absolutely I am in. The dish uses small pieces formed together in a well executed fried crust. Gravy splutters all over the top, shishitos on the side do their best to bring some sharper contrast to all the richness of the plate. I'll be back again sooner than later to watch how the team continue to iterate.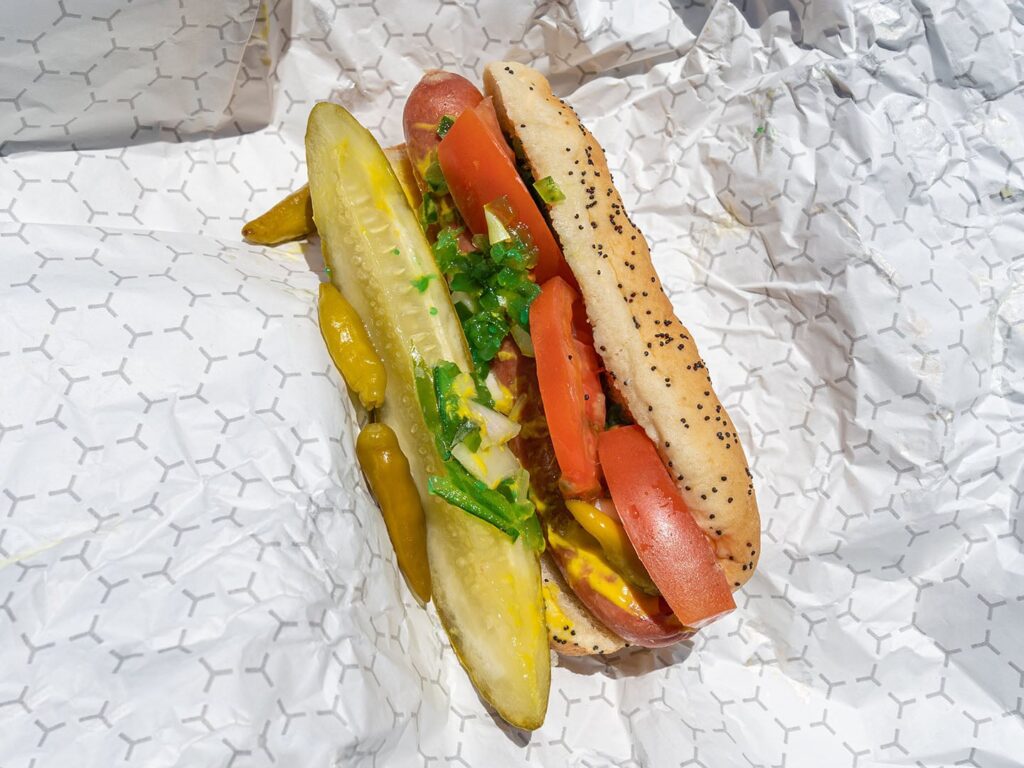 Bobby D's
I've mentioned them before briefly as part of our new restaurant roundups, but in case you missed it, here's another food truck to keep an eye on. The specialty at Bobby's are culinary highlights from the windy city – specifically exactingly made Chicago dogs and Italian beef sandwiches. The dogs tick all the boxes. Yes they use imported Vienna beef dogs, yes there's a poppy seed bun, and yes there are arrestingly neon green pickles and invigorating sports peppers in the mix. I've not tried the Italian beef yet, let me know if you have.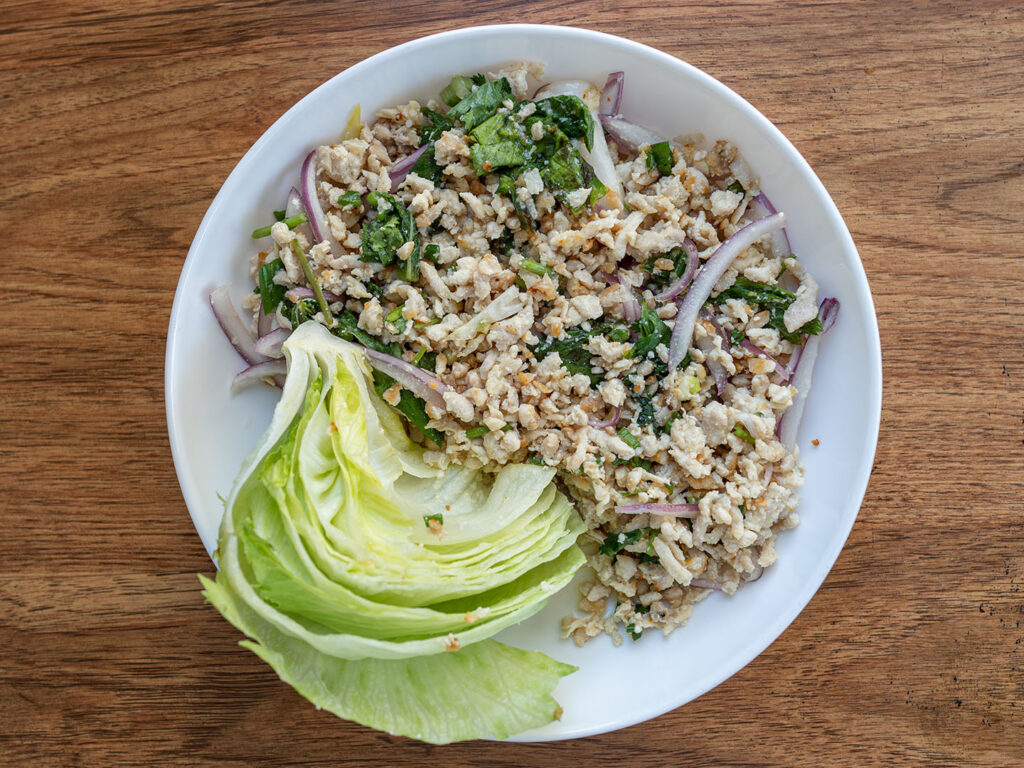 ChaiYo To Go
Open for a while now, but a new one for me, ChaiYo To Go. As the name suggests, this is a grab and go concept, dinner for when that friendly soul at work calls a meeting at 4.30 p.m. on a Friday. Thanks guy. Everything is plated and provided with a rushed dinner in mind. Larb – usually ground chicken in a rough melange of lime juice, rice powder, lime leaves, garlic and chili – is always a goto for me. While the dish can be an unrelenting firestorm for those with timid tongues, ChaiYo's is a retrained affair, and represents a good jumping point off should you want to start your own addiction to the unique balance of acid and heat.
Other dishes sampled included a more than fine green curry with fried tofu, as well as the classic Thai stir fry of basil and chilis. Both followed the lead of the larb, milder in capsaicin assault. In the mood for more Thai? Here's my list of the best in Salt Lake City.
Keep the conversation going
Want to stay on top of the SLC food scene, minute by minute, dish by dish? Here are a few other places you should follow along:
Hi, I'm Stuart, nice to meet you!  I'm the founder, writer and wrangler at Gastronomic SLC; I'm also a former restaurant critic of more than five years, working for the Salt Lake Tribune.  I've worked extensively with multiple local publications from Visit Salt Lake to Salt Lake Magazine, not least helped to consult on national TV shows.
I'm a multiple-award winning journalist and have covered the Utah dining scene for the better part of fifteen years.   I'm largely fueled by a critical obsession with rice, alliteration and the use of big words I don't understand.   What they're saying about me: "Not inaccurate", "I thought he was older", "I don't share his feelings".  Want to know more? This is why I am the way I am.
This article may contain content provided by one of our paid partners. These are some of the best businesses in Utah. For a list of all our current and past relationships see our
partnership history page
.