Hand on heart, brunch never finds me in my cheeriest of moods; forced from comforting covers, usually dragged to a menu of ineffectual coffee and poorly executed eggs. As much disdain as I have for the brioche, I have logarithmic levels of lividity for a clumsy sunny side up. If you see me out in the weekend world before noon, know that I am more than likely unhappy with the state of affairs. There's always an exception to the rule though. A couple of Sundays ago Urban Hill took the wraps off their new brunch service, and hot damn, even this bleary eyed brunch denier could get on board.
With Bijan Ghiai (formerly Pallet, Copper Onion) at the wheel behind the bar, it goes without saying the lineup of eye openers are intelligent and balanced. The bloody Mary might be the best in the city – there I said it. Actually someone else said it to me, and I tend to agree. It's a grown up reworking of those nightmarish interpretations spiked with strips of bacon and miniature cheeseburgers. Here the drink is given an umami slap, literally around the glass with green salt – dried and ground sea beans to you and me. On top, shiso leaf, parmesan cracker and salty sardine. You'll forget the swanky digs of the restaurant when you lick the glass clean. Ok, maybe just me.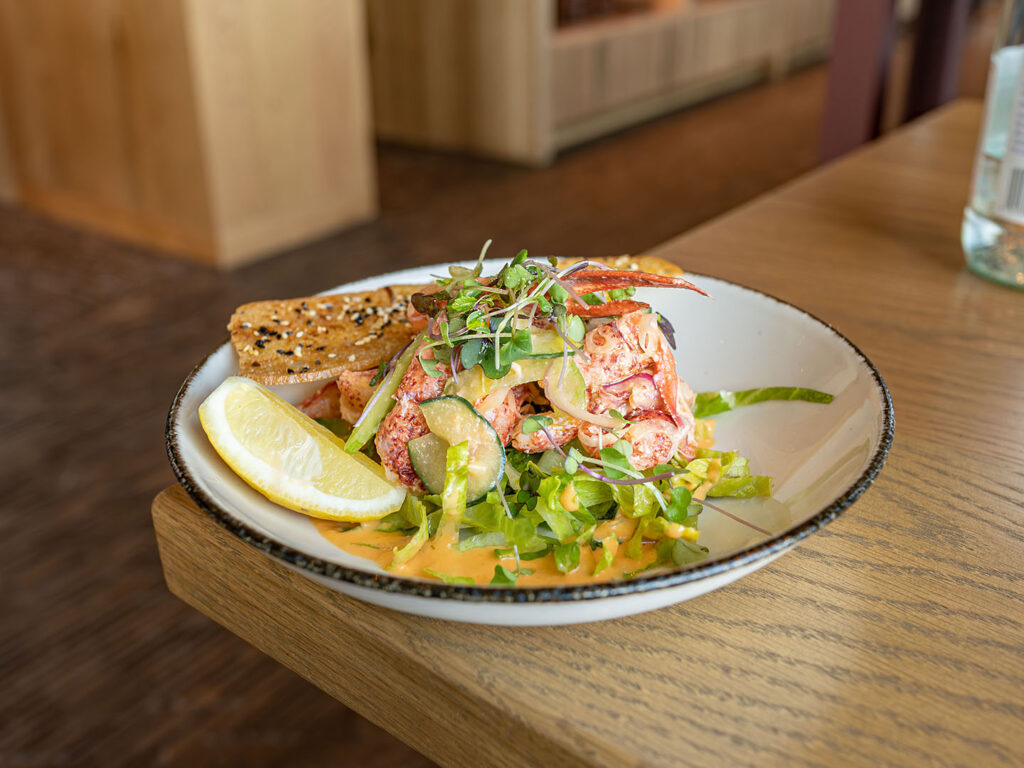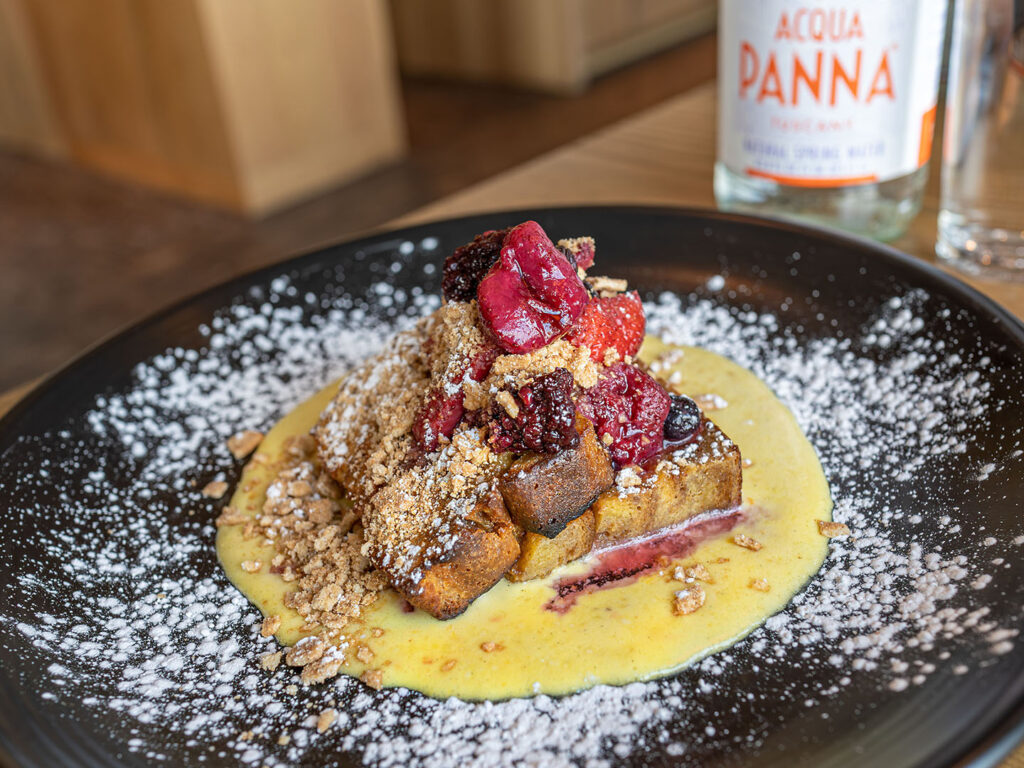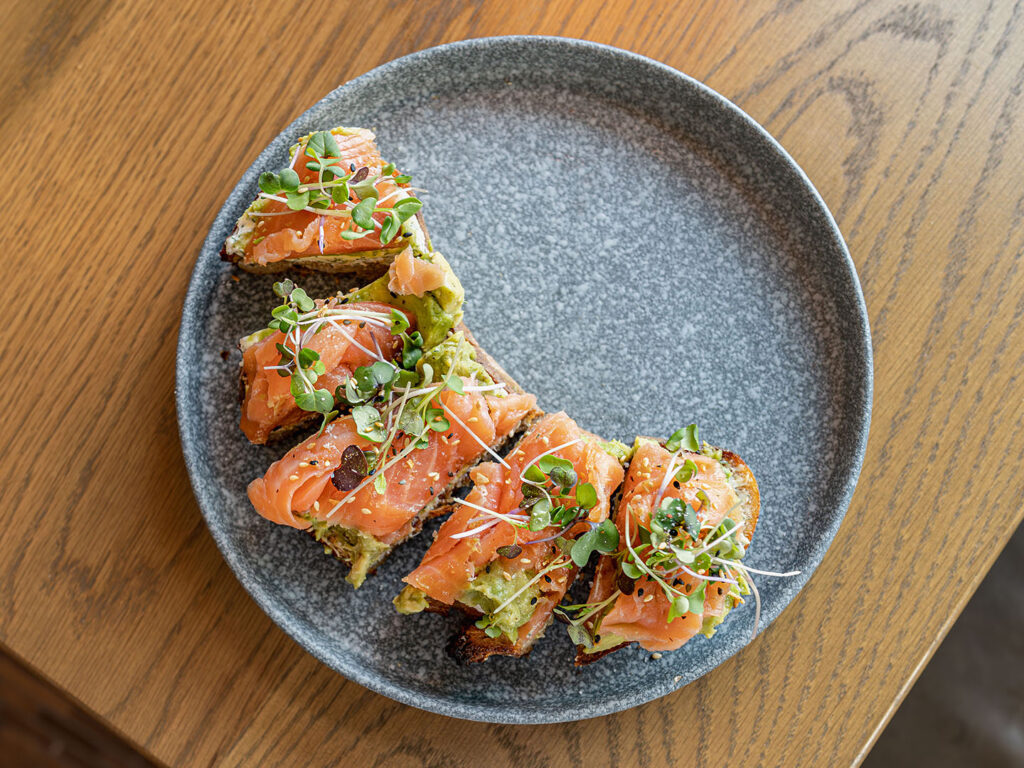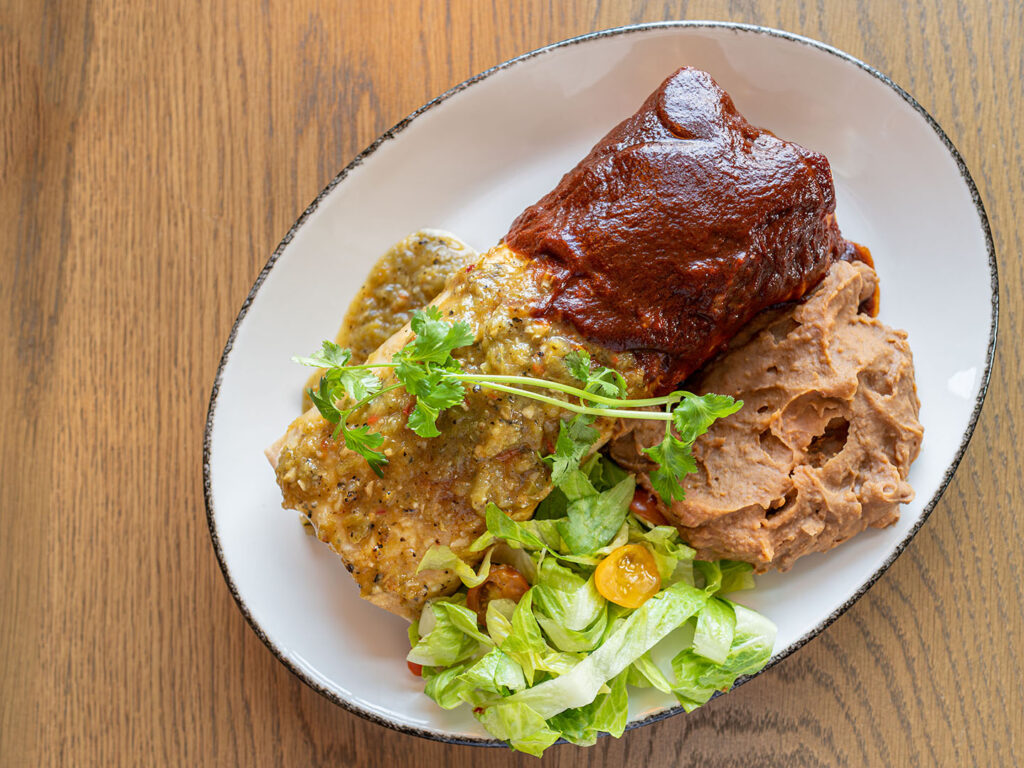 We started our morning trying to ape the landed gentry, a handsomely plated salad of Maine lobster was terrifically indulgent. This is the same dish that appears on Urban Hill's dinner menu coming with celery, tomato, cucumber, lemon and sauce Americaine. A spiced cracker teeters on the side for textural contrast. It's the ultra-evolved version of the shrimp cocktail of my British youth, a grimmer assemblage of Marie rose sauce and barely defrosted "shrimp". Urban Hill's dish is not that. It also affords a generous amount of lobster, and who doesn't want to start their waking moments without lobster.
Om the sweeter side of things we prospect the Cinnamon Toast Crunch bread pudding with a shovel of spoons; the classic is given a pleasingly crisp finish on the plancha, then flurried with fruit. Back to savories and the smoked salmon avocado toast was also a hit, delivered on Bread Riot Bake House sourdough. Dill cream cheese lurks under those sultry salmon slices. Go mad and order a poached egg on top if you like.
The smothered adovada burrito is a monster of a hangover prescription. If this doesn't do the trick, nothing will. A whopping 14" tortilla arrives stuffed with chunks of pork, shredded hash browns and scrambled eggs. A side bowl of hominy studded posole is a canny touch. On top of the burrito a brace of sauces, green verde and a thick New Mexico Chile sauce. My picture above omits the usual Oaxaca cheese the dish is usually finished with. And yes I did try to steal some tips from chef Nick Zocco on that garnet-hued sauce to recreate at home; always a good sign when you're planning how to achieve a similar food high shortly thereafter.
Planning your weekend? Pencil in brunch here, Saturdays and Sundays, 10.30 a.m. – 2.30 p.m. The patio is open now too.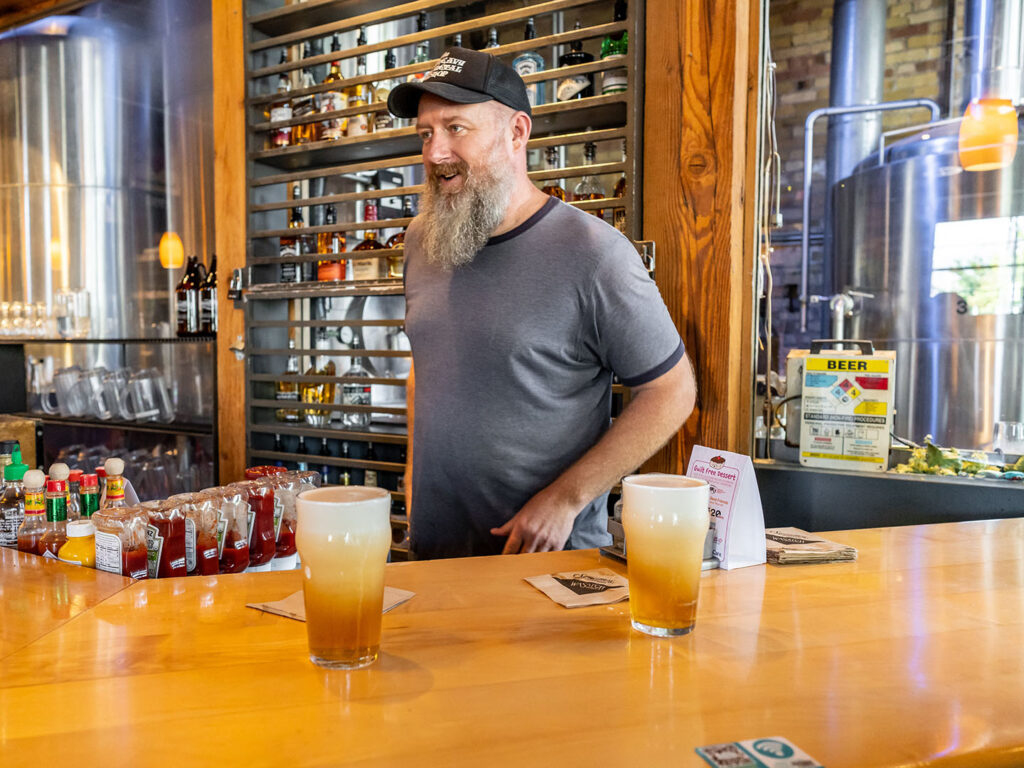 Salt Lake Brewing Co
Be still my beating liver. A momentous occasion is once again upon us. Last spotted on local taps circa Summer of 2021, a very special brew is now back on the beer menu at Salt Lake Brewing Co. Starting this week and probably around for three or four weeks – this one bears my very own moniker. Consider it my guarantee of an excellent sip.
Mr Melling's Cream Ale then (see my original lyrical waxing here) is the diametric opposite of every mouth puckering, over hopped IPA you've chugged back, and wondered, "there surely has to be more to life than this?" There is, there is. It's called malt, and for me, American brewers should collectively take a more engaged interest.
One who does is the talented Jason Stock, now back in the brew house at the downtown location. That's where you will find Mr Melling's for the next few weeks. Served on nitro it's an infinitely drinkable creamy concoction. Look, I'm like the royal family, for something to bear my name and seal of approval, it needs serious chops. Drink some.
Mar | Muntanya
Mar | Muntanya are now offering a "Spanish Summer Supper" beginning June 25th. The menu will have a particular focus on locally sourced farmer's market produce. The first Sunday of the Summer's menu is set to showcase a "Roast Beast Feast", with an Iberico suckling pig roast and a "colossal" paella.
The first event will be held on Sunday June 25th from 6.00 – 9 p.m., Mar | Muntanya's supper is "inspired by the coastal and mountainous regions of Catalonia and the Basque Country of Northern Spain. The communal dinner will consist of a multi-course menu meant to be shared with friends and family, either inside Mar | Muntanya's comfortable space with views of the cityscape, or on the sixth-floor outdoor terrace in a cozy outdoor dining globe." Expect the supper to repeat once per month moving forward.
Supper is priced at $65.00 per person, with the outdoor dining globes bookable for up to 8 people for $650. Both can be booked on Eventbrite.
Xiao Bao Bao
News hot off the press today from Romina Rasmussen – her nascent bao project is set to run every Thursday this month. Swing by the former Les Madeleines space (216 E 500 S) during Thursdays to check out what's been stealing. The Les Mads space is also now looking likely to be the permanent home as the final business takes shape.
There's no formal info on when Xiao Bao Bao might open beyond popups, but if you've yet to try Rasmussen's newest creation, this month looks like your chance. New to XBB? Check out our initial preview in February.
Log Haven
This one has now hit the list at the Millcreek canyon must not miss restaurant. The dish comes with harissa shrimp and is served alongside creamy dried tomato risotto, roasted eggplant, and crispy chickpeas.
Avenues Proper
Two new dishes with a vegan focus have hit the menu just in time for Summer. The two updated items are as follows:
BBQ jackfruit sandwich – BBQ pulled jackfruit, hoisin BBQ sauce, pickled red onions, zucchini pickles, toasted sourdough
Cold soba noodle bowl – buckwheat noodles, edamame, marinated cucumbers,carrots, miso vinaigrette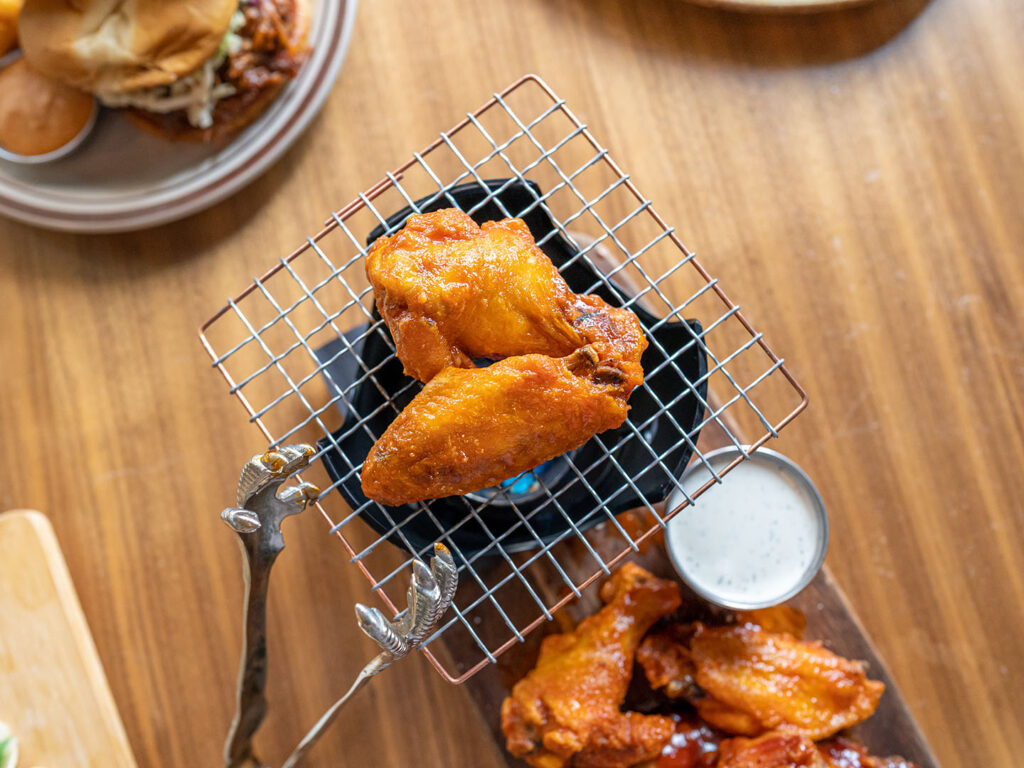 Flanker Kitchen
Following hot on the heels of their recent tiki bar popup (that's still in full flow by the way Wed-Sat) comes a revamp to the regular bar menu. Here's the press release with all the details:
. . .
Flanker Kitchen + Sporting Club are celebrating the Spring season with a new, fresh cocktail menu, dynamic dance parties, and the immersive Paradise Parlor Tiki lounge located in their speakeasy parlor. Plus, the patio is officially open nightly with the addition of a new outdoor bar. Guests can choose from a dozen outdoor tables including a lounge area with firepits.
Flanker Kitchen + Sporting Club unveiled a new seasonal cocktail menu created by famed mixologist, Francesco Lafranconi, who serves as VP of Beverage & Hospitality Culture for Carver Road. Guests have a wide variety of thirst-quenching options including the Dragonberry Mojito with Bacardi Dragon Berry and prickly pear puree, a Bobaloma with DeLeon Reposado with a splash of grapefruit, a Summer Sangria with Ketel One Peach and much more!
Francesco Lafranconi, VP of Beverage & Hospitality Culture, said, "Summer is an opportunity to bring bright colors and fruit forward ingredients to our seasonal specialty cocktails. Working with our local team, our selection of summer cocktails features flavors like watermelon, mango and dragonberry but are well-balanced and not too sweet. They are perfect for sipping on our patio while overlooking the Olympic Plaza area as a respite from the tropical Tiki cocktails featured in the parlor."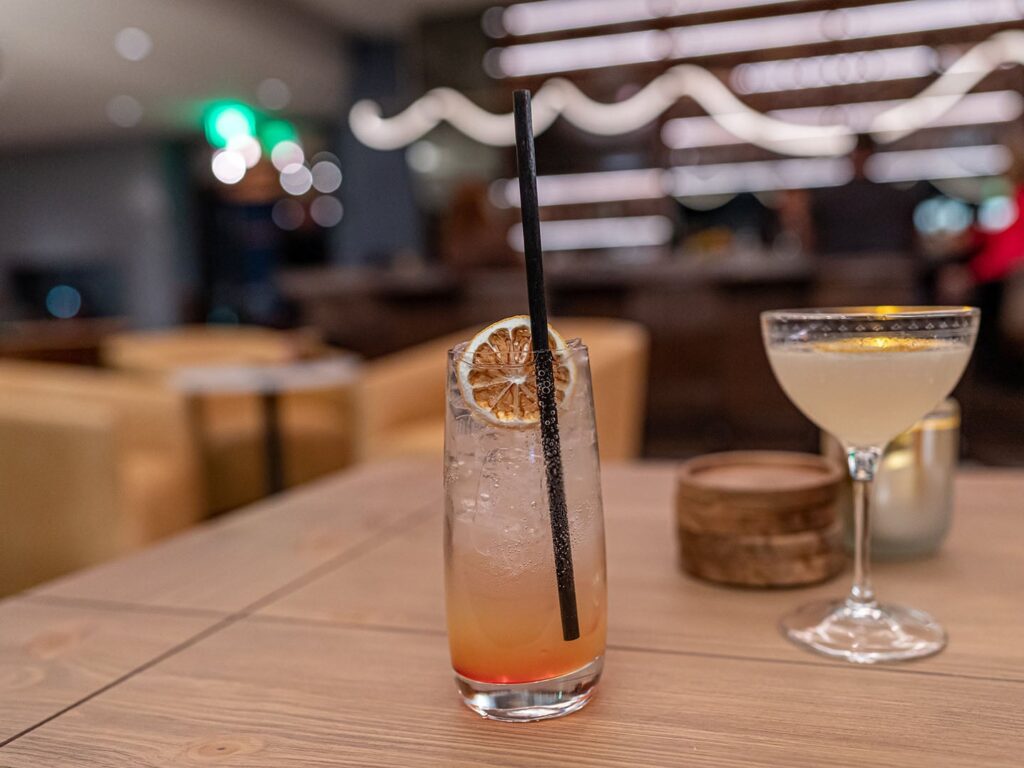 Van Ryder
Thursday nights are now 'sushi night' at the rooftop Van Ryder bar. Taking place every Thursday from 5.00 – 10.00 p.m. here's the full press info from the the team:
. . .
Starters will include dishes like Salmon Carpaccio with truffle vinaigrette, pea tendrils and black summer truffles; Kombu Hamachi with ponzu, Szechuan peppercorn and chives; Tuna Tartare with shitake ginger soy, a rice cracker and cucumber slaw; Crab Rangoon with Dungeness crab, cream cheese and duck sauce; Agedashi Tofu with Bonito, dashi and scallions; Shishito Peppers with ginger shoyu and toasted sesame; Lobster and Shrimp Tempura with Yuzu Kosho and black pepper marmalade; and Sweet Yama with tempura sweet potato and soy buffalo.
Sushi rolls will include the Real Cali featuring avocado, Dungeness crab, caviar, and toasted sesame; La Bonita Hamachi with amber jack, avocado, jalapeno, cilantro, ponzu and tobiko; Spicy Tuna with cucumber, avocado and sriracha; and the Firecracker with spicy tuna, shrimp tempura, charred scallions, sriracha aioli, jalapeno and ponzu. *Items are subject to change.
The sushi menu will also be accompanied by a special beverage menu featuring various sakes and Japanese spirits and beers. This will include Shiokawa Cowboy Yamahai Sake; Rihaku 'Wandering Poet' Junmai Ginjo Sake; Takatenjin 'Sword of the Sun' Fruity Sake; Tozai 'Snow Maiden' Junmai Nigori Sake; Yomi Junmai Ginjo Sake [can]; Hatozaki Japanese Blended Whisky; Nikka Coffey Grain Whiskey; Haku Vodka; Roku Gin; and Asahi Super Dry 621 ML Japanese Beer.
Kimi's Oyster & Chop House
A new Summer menu has rolled out at this fine dining Sugar House spot. Here's the full details as emailed to us:
Appetizers
Tuscan tomato toast, heirloom tomato concassé, basil, evoo, balsamic syrup, crusty Italian loaf, $12.50
Caviar onion dip & pommes frites, wasabi tobiko, scallions, roasted garlic sour cream, dill, house dipping fries, $14.50
Tonkatsu pork, pork schnitzel strips, napa cabbage, lemon ponzu, red chili peppers, cilantro, scallions, chili threads, kimchi emulsion, $19.50
French brie en croute, fresh berries, cloudberry preserves, crostini, $22.5
Steak tartare, shaved beef tenderloin, capers, pomegranate pickled onions, wild arugula, EVOO, parmesan, tarragon butter, Swedish knäckebröd, $26.50
Entrees
Local organic mushrooms blistered shishitos, scallion pepper israeli cous cous, cilantro, poblano garlic sauce, $21.50
Swedish meatballs, pinot demi crème, mashed potatoes, pickled cucumbers, lingonberries, $24.5
Pan roasted pacific salmon, scallion pepper Israeli cous cous, wilted baby spinach, tarragon dill crème, Swedish caviar, pea sprouts, $45.50
Yellowfin tuna, sesame crust, pan seared, napa cabbage, red chili peppers, scallions, pickled cucumbers, lemon ponzu, cilantro, kimchi emulsion, parsnip crisps, $49.50
Peppersteak, beef tenderloin filet, brandy green peppercorn sauce, seasonal veggies, lyonnaise potatoes, $60.5
Desserts
Passionfruit posset, citrus English custard, blueberries, $9.50
Gelato du jour, almond Florentine basket, fresh berries, $11.00
Fresh berries, blackberries, raspberries, blueberries, strawberries, mint honey, whipped cream, $12.00
Salted caramel cheesecake, whipped cream, crème anglaise, $12.50
Swedish lingonberry parfait, granola crumble, $13.00
Kimi's chocolate kiss, chocolate flourless tart, chocolate mousse, raspberry coulis, whipped cream, $14.50
Keep the conversation going
Want to stay on top of the SLC food scene, minute by minute, dish by dish? Here are a few other places you should follow along:
Hi, I'm Stuart, nice to meet you!  I'm the founder, writer and wrangler at Gastronomic SLC; I'm also a former restaurant critic of more than five years, working for the Salt Lake Tribune.  I've worked extensively with multiple local publications from Visit Salt Lake to Salt Lake Magazine, not least helped to consult on national TV shows.
I'm a multiple-award winning journalist and have covered the Utah dining scene for the better part of fifteen years.   I'm largely fueled by a critical obsession with rice, alliteration and the use of big words I don't understand.   What they're saying about me: "Not inaccurate", "I thought he was older", "I don't share his feelings".  Want to know more? This is why I am the way I am.
This article may contain content provided by one of our paid partners. These are some of the best businesses in Utah. For a list of all our current and past relationships see our
partnership history page
.