Level Crossing Brewing
Hopefully that pizza pic grabbed your attention. It's the latest effort from the crew over at Level Crossing Brewing and a tantalizing segue into this month's menu watch – a look at what's hitting menu board around Utah.
The pizza is the current special over at the South Salt Lake brewer; who you might remember are getting closer to opening a second location over in the Post District. Swing by the OG location, grab a brew and also this white wine salami special pizza to tide you over. The pie comes with:
Ranch
Kale
Mozzarella
Fontina
White Wine Salami
Crispy Onion
Red Chili Sauce
Urban Hill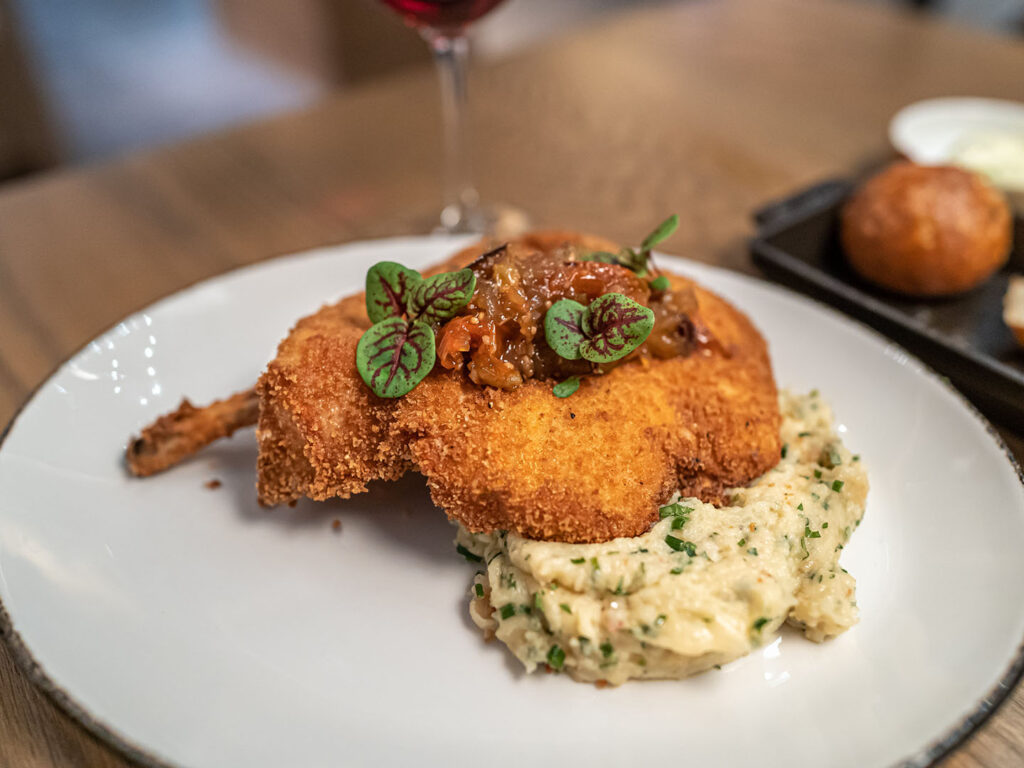 If you caught our preview article about Urban Hill last year and still haven't made it down – now might be the perfect time. This February sees the luxe restaurant offer a new "Post Time" promo; a $59 three course prix fixe lets diners sample chef Nick Zocco's exemplary cuisine at a wallet friendly price. The special is available Sunday through Thursday, 4.00 p.m. – 5.30 p.m. Menu as follows:
Starters, choose one from:
French onion soup, sweet onion, gruyère, baguette
Caesar salad, little gem lettuce, parmesan frico, croutons, anchovies
Chorizo croquetas, romesco, manchego, marcona almonds, pickled cauliflower, add $5
Peekytoe crab ravioli, blue hill bay crab, vodka sauce, crispy calabrese, fennel pollen, add $10
Entrées, choose one from:
Fire roasted squash, za'atar hummus, rosemary candied pecans, green chile honey, pomegranate, puffed grains
Roasted half chicken, blue corn grits, collard greens, turnip, natural jus
Pacifico striped bass, Carolina gold rice, ember roasted yuca, achiote, pickled onion, pineapple
pork chop milanese, preserved tomato-apple chutney, salsa verde whipped potatoes
black Angus filet, crispy smashed potatoes, broccolini, green peppercorn demi-glace, add $20
Desserts, choose one from:
Cheesecake, sable breton cookie, seasonal fruit
banana cream pie, salted caramel, chocolate chantilly
Ice cream trio, vanilla, chocolate, seasonal sorbet
Hearth And Hill
Meanwhile over at Urban Hill's sister restaurant in Park City a new menu has rolled out under the supervision of all new exec chef Eric Diaz prior to heading to Summit County, Diaz was the former chef de cuisine at Pallet. Diaz's Winter menu is available now at Hearth And Hill daily. A few highlights include:
Winter citrus salad - cara cara orange, blood orange, toasted goat cheese, sunflower seeds, Meyer lemon vinaigrette
Arancini - crispy cheese-stuffed risotto balls with melted mozzarella and parmesan-reggiano cheese, tomato sauce, made with imported San Marzano tomatoes
Kurobuta pork shank tacos - chef Diaz's take on carnitas tacos with bone-in pork shank braised in house-made mole, served family style
Laziz Kitchen
A recent menu revision at all three locations of Laziz Kitchen now makes lunching at the Mediterranean spot even easier. As of this month all the handheld items like the pictured Laziz wrap (fries, tahini sauce, choice of protein and side sauce) come ala carte – perfect for a quick lunch when on the run. If you do decide to dine in, the restaurant has also now ditched the counter ordering setup – returning to full service at all three locations. More on that in a story soon.
Mi Ranchito Grill
If you've been following along this year, you'll have noted buffets are now making a post-pandemic re-emergence from hibernation. Saffron Valley and Ganesh Indian both recently announced the return of their all you can eat spreads – and the tongs are set to return at this Mexican eatery along State Street in SoSL. March 3rd is the expected date for their popular all you can eat vegan buffet to tale the stage once more. The buffet will run 5.00 – 10.00 p.m. on the first Friday of each month.
Slackwater Pizzeria
Joining the specialty pies and extensive selection of craft brews on the Slackwater menu this month – two new specials. Of the new sun dried and dried wings ($13.25) the restaurant writes, "our signature crispy wings are tossed in our sun-dried tomato dry rub. Served with our green goddess dressing."
Meanwhile, looking beyond their pizza, check out the new cu-banned sandwich. This spin on a traditional pressed Cuban sandwich sees a hoagie loaded up with the restaurant's house-roasted pork, sliced ham and smoked provolone. The sandwich is finished up with pickles, mustard and crema. The sandwich is priced $10.75.
Bread Riot Bakehouse
Philip Massey, the original owner of Bread Riot, closed up shop back in November 2022; this month though sees Todd Bradley take up the reigns of the popup baker and you can find him over at Liberty Heights Fresh, Wednesdays through Saturdays. The team over at LHF tell me they'll have:
Salt Lake sourdough – substantial well-baked crust and moist slightly open interior
Whole wheat and whole spelt – grain-forward flavor that's not too sour
Sesame sourdough – the Salt Lake sourdough but with sesame seeds inside and out
Fruit and nut sourdough – the Salt Lake sourdough but with rotating selections of nuts and dried fruit
Liberty Heights Fresh
Speaking of which, there's a great deal on at the local gourmet market until the end of the month. Here are the full details via a press release from Liberty Heights Fresh:
. . .
In order to make room for the most recent olive harvest, two of our imported Extra Virgin Olive Oils are on sale for 23% off for the month of February! We have close relationships with the oil makers at Mas Des Bories and Sagona and love their extra virgin olive oils so much that we import them directly to share with you! Discount is available in store and online.
Mas Des Bories olive oil is produced on their orchard in the hills of Salon de Provence in which the entire process is protected on the the Protected Designation of Origin (PDO) "Olive oil from Provence". The Bouteillan olive varietal produces an oil that provides a beautiful freshness in the mouth, with herbaceous or floral aromas, and some peppery notes. These olives are 100% cultivated and harvested from the 500 Bouteillan olive trees of the Mas Des Bories estate all of which are native trees of Provence. We currently offer the classic Bouteillan Extra Virgin Olive Oil as well as the same oil infused with lemon, or basil.
Dispenza is the latest monovarietal extra virgin olive oil from Sàgona. The chosen olives are Coratina olives, green / unripe, and they were farmed with no treatments although not certified organic. The olives went from tree to mill in about 30 minutes. Dispenza is an intense olive oil, with expansive, complex, fruity, green perfumes, the flavors are predominantly green almonds and artichokes with some balsamic notes, intense bitterness and spiciness are balanced. It pairs wonderfully with grilled & roasted meats, flavorful fish, and sharp cheeses, but also mozzarella and burrata, pizza, tomatoes, dark green vegetables, squash, mushrooms, beans, and so much more!
Taqueria 27
Lastly, following on from the change of ownership in recent weeks – the new team at T27 are starting to evolve the menu. The latest new menu item on taqueria menus is a new bacon-wrapped jalapeño popper.
Restaurant closures
Two business closures to report on this month. Fillings And Emulsions' Provo location is now closed. At the end of January chef and co-owner Adalberto Diaz took to Facebook to confirm, "It has taking us months to make this super sad decision. Most of you are aware of the economic stress that most small business have been dealing with during the pandemic and then the skyrocketing prices and issues with supplies chains etc. We have tried various strategies to keep all our locations viable with our compromising the integrity of our product.That being said. We have made the very difficult decision of closing our Provo location as of the last day of February. We appreciate all of you that became our regular customers at the Provo store, we will miss you all just as much as you will miss us. We really, really appreciate you. Unfortunately that wasn't enough to keep that location viable. We will continue to serve our customers in our remaining locations on Main Street, West Valley and the Airport. Thank you all for your understanding and your continued support."
Northwards in Logan, Gonzales BBQ Logan similarly penned their goodbye on social media, confirming that February 15th was their last day in business, "Thank you for your support and patronage during the last few years. We loved the opportunity we had to serve each of you Texas-Style BBQ here in Cache Valley. "
Salt Lake Magazine Dining Awards 2023
Here's yours truly holding a copy of this month's Salt Lake Magazine. Back after a multiple year hiatus, it's arguably the most prestigious award a restaurant can place on their mantle. And no, I'm not just saying that because I was part of this year's judging and debating panel (see: the alchemical application of wine to distill a whole state into a concise list).
See the furrowed brow? That's the serious face of a serious man. Grab a copy, then go eat and drink some serious stuff.
Keep the conversation going
Want to stay on top of the SLC food scene, minute by minute, dish by dish? Here are a few other places you should follow along:
Hi, I'm Stuart, nice to meet you!  I'm the founder, writer and wrangler at Gastronomic SLC; I'm also a former restaurant critic of more than five years, working for the Salt Lake Tribune.  I've worked extensively with multiple local publications from Visit Salt Lake to Salt Lake Magazine, not least helped to consult on national TV shows.
I'm a multiple-award winning journalist and have covered the Utah dining scene for the better part of fifteen years.   I'm largely fueled by a critical obsession with rice, alliteration and the use of big words I don't understand.   What they're saying about me: "Not inaccurate", "I thought he was older", "I don't share his feelings".  Want to know more? This is why I am the way I am.
This article may contain content provided by one of our paid partners. These are some of the best businesses in Utah. For a list of all our current and past relationships see our
partnership history page
.