While it's always fun to report on what's brand spanking new, from time to time, I do like to take stock over what more established restaurants are up to. So here we go, the latest menu watch – hopefully some dining inspiration for you to make a timely revisit.
Scion Cider
Tuesday evenings (sometimes Wed) are pasty night at this Central 9th spot. Utah's only cider-focused bar (read our profile here) are now offering a variety of Dough Miner's eminently excellent baked goods every hump day – both veggie and meat. If you've yet to try either – this is a match made in heaven. Seriously, two of the best in the state in happy harmony every Wednesday. A must.
P.s. that's the Dough Miner funeral potato pasty pictured above – a hefty handful of a savory pastry stuffed with cheese and potato and onion.
Gordos Tacos & Beer
According to this post on Facebook, al pastor is now on the menu at this casual Murray taco spot. The traditional spit grilled meat (said to originate from Lebanese immigrants) is typically made with a blend of chili peppers, achiote, cumin, oregano, garlic, pineapple juice, and pineapple – and is a subject of MUCH debate for who has the best in town. Chunga's? El Morelense? … Gordo's?
Ramen Legend
Another highly sought after dish (if local chatter is any indication) – xiaolongbao – aka soup dumplings. The bao buns are now available on the menu at this Sugar House Japanese restaurant.
Flanker Kitchen + Sporting Club
Taco Tuesday is the deal of the week at this downtown bar. The Vegas import are offering tacos priced five bucks for two; that's a killer deal for the quality on offer – I wrote about those tacos last year. Thirsty? Margaritas are a measly seven bucks too – I dare you to find a better value cocktail in downtown Salt Lake City.
Ganesh Indian Cuisine
According to the local SLC Reddit thread, the buffet is back on the menu at Midvale's Ganesh; something that was once exceptionally popular, but now sparse due to Covid's no touchy no feely impact. If you've not visited the brand in recent years – the mighty fine Indian eatery moved to swanky new digs in recent times. Well worth a revisit.
Saffron Valley
On the subject of buffets, a reminder again on this one from a couple weeks back. Both the Sugar house and SoJo locations of this local Indian restaurant group are offering some intriguing new buffets. Each weekday sees the two restaurants offering a completely unique selection of dishes.
Carson Kitchen
There's plenty new at this downtown Salt Lake City chef driven eatery. There's a "hot duck" sandwich (think hot chicken but given a poultriffic reworking), salmon with poblano beurre blanc; also a new eggplant schnitzel and Brit-inspired bubble and squeak too.
Slapfish
All change at Utah locations of Slapfish, and presumably system wide in due course. The boutique chain known for their seafood centric menu, are testing a new menu approach at their Utah locations. Per this press release the update sees the chain's approach move to the popular "build your own" approach.
Mar | Muntanya
Brunch is now being served at the Hyatt Regency's destination restaurant. Items include churro French toast made with brioche, cinnamon sugar and maple syrup, short rib hash with papas, Manchego, spinach, piquillo peppers and sous-vide egg, as well as shrimp n grits al ajillo with paella broth grits, garlic wine butter and Manchego. Bonus points: this isn't just a weekend thing too. The restaurant will serve brunch Wednesday – Sunday from 10.30 a.m. – 2.30 p.m.
Bawarchi
More dumplings for you, this time courtesy of the South Jordan Indian restaurant. Bawarchi are now offering a plate for a wallet friendly ten bucks. New to momos? The steamed dumplings are popular in the Himalayan region of Nepal, Bhutan and Tibet and made from wheat flour and filled with meat, vegetables and spices.
Versante
Park City's Versante has dropped a new Winter menu featuring a lineup of new dishes, these include: a handsome looking charcuterie board, carbonara pasta and the all new motherland pizza with bacon, pepperoni, pepperoncini, onion, black olives and parm creme fraiche.
Harmons
A trio of new wraps have hit the grab and go cases at arguably Utah's best grocer. The chef prepared meals include a curry chicken salad wrap, Mediterranean wrap and a veggie Wrap. The wraps are made using La Flor tortilla and made fresh in store.
Local businesses celebrating special anniversaries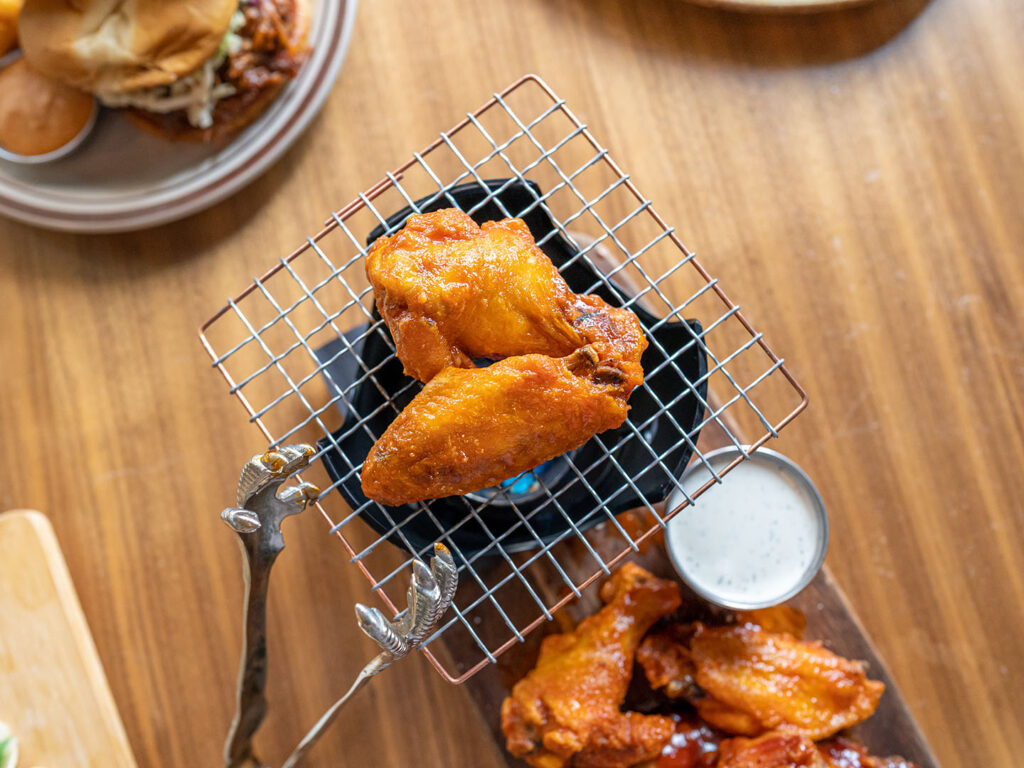 In light of the prior year wrapping up with closure upon closure I think it's always worth touching on those businesses that have beaten the odds. The restaurant game is more stacked than a roulette wheel with an extra zero.
In recent weeks downtown's Bewilder Brewing recently turned three. If memory serves, it was a touch and go baptism of fire when the brand new brewer opened up on a shoestring – weeks before Covid hit. Thankfully with the help of the fabulous sausages of Justin Field coupled with now award winning beer, the business has grown and grown.
January also sees the Copper Onion celebrate a whopping thirteen years in the biz. That's nearly a century in dog years restaurant years. It still seems like yesterday that a returning Ryan Lowder wowed with his hip American bistro. Launch staples like their canny mushroom and eggs still linger on the menu, which over the years has seen a roster of head chefs take the helm.
Last on my list to raise a glass – Flanker Kitchen. In a couple of days time, this downtown Salt Lake bar and restaurant will pull out all the stops in celebrating their first full year in the Beehive.
Marking the occasion, the bar will be hosting three separate events. Friday, January 27th will see the first installment of a new Salt Sessions concert series, modeled after the popular NPR Tiny Desk series. Saturday 28th sees Vegas DJ Soxxi entertain guest alongside Anderson Park, fresh off a NYE collab with Bruno Mars apparently Lastly, Sunday January 29th sees an anniversary brunch with DJ Mystic Muse playing while guests enjoy spicy mimosas, chai mules and a menu with eggs benedict four ways – as well as steak and eggs, shrimp and grits, and much more.
The bar is set to become a national name you'll encounter more and more on your travels. The next iteration for the brand will be a sparkling new opening in Vegas, tempting guests as they make the walk from the Mandalay Bay to the new Allegiant stadium.
Closures
Only one major item to report here. I spotted that Green District in South Jordan has now closed. After opening at the bookend of 2022 the company seemingly didn't make it beyond a small handful of months. I've reached out to the company, and have yet to hear back officially. I'll update this post if I do.
Taqueria 27 announces ownership change details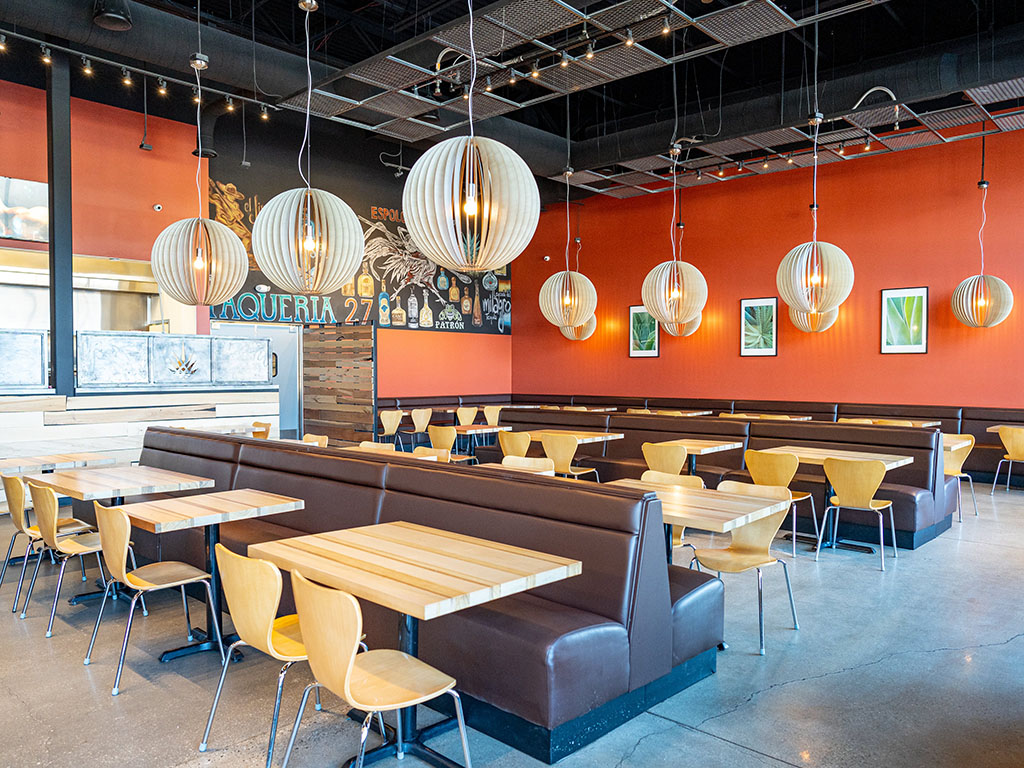 Via press release
Taqueria 27, a local favorite, is delighted to announce new ownership. The restaurant will continue to serve up its unique signature tacos and delicious margaritas under the direction of the new owners, who are committed to preserving the quality and character of the restaurant.
Miles Clark, the new operations manager for Taqueria 27, is a Salt Lake City local through and through. He loves the food culture of the city and surrounding areas. He has also been in the restaurant business since he was 15 years old, holding jobs from dishwasher to manager to everything in between.
"I am looking forward to taking such an amazing company to new heights," said Miles. "We plan to expand Taqueria 27 with the same high standards that have already been in place. We are very proud of the previous owners' dedication to very fresh food and cocktails! We would like to continue with their high dedication to our food and drink menus. We are bringing in new liquor options for our guests."
Laxman Paudyal, Taqueria 27's new president, is a successful businessman that has grown from the ground up. He is a military vet that worked with the US military in several countries as a translator. He was born and raised in Nepal. He has been in the United States since 2002, where he put himself through college at BYU. He has successfully run multiple restaurants, including Big Daddy's Pizza and Carlos And Harleys.

"Our goals are to continue high-quality service and food standards," Miles continued. "Our mission is to take care of our guests as though they were at our own dinner tables. Our drive is to provide guests with timely service, great food, and a high-quality work environment for our staff. Our key to success will be our fresh-to-order food and drinks and our knowledge of the restaurant industry."

In other news
Keep the conversation going
Want to stay on top of the SLC food scene, minute by minute, dish by dish? Here are a few other places you should follow along:
Hi, I'm Stuart, nice to meet you!  I'm the founder, writer and wrangler at Gastronomic SLC; I'm also a former restaurant critic of more than five years, working for the Salt Lake Tribune.  I've worked extensively with multiple local publications from Visit Salt Lake to Salt Lake Magazine, not least helped to consult on national TV shows.
I'm a multiple-award winning journalist and have covered the Utah dining scene for the better part of fifteen years.   I'm largely fueled by a critical obsession with rice, alliteration and the use of big words I don't understand.   What they're saying about me: "Not inaccurate", "I thought he was older", "I don't share his feelings".  Want to know more? This is why I am the way I am.
This article may contain content provided by one of our paid partners. These are some of the best businesses in Utah. For a list of all our current and past relationships see our
partnership history page
.