This year's Valentine's Day represents an additional challenge for those hoping to secure a table. Valentines will fall on Tuesday this year, but just a few days later on the Friday (17th), the highly anticipated NBA All Star series of games will kick off a three day run in the city (more on that soon). If only ten or twenty percent of the expected 115,000 visitors turn up ahead of time – that's going to be a lot more competition for previous tables.
With that noted, here's an earlier than expected roundup of extra special Valentine's options that have landed on our desk so far. As with all the big dining days, bookmark this post. I will keep updating right until the big day itself, as more restaurants unveil their plans. Please note that practically every restaurant in multiple dimensions of space and time will be open on February 14th – call your favorite right now if you fancy dining there. Those listed below are those we found offering something above and beyond their normal day to day menu.
Note: unless otherwise stated all of the below are for February 14th itself. Further reading – our lists of romantic dining in SLC and fine dining in Utah. For more inspiration also check out years gone past as well – 2022, 2021, 2020, 2019, 2017, 2016. Further down the page, some options for dining at home too.
Urban Hill
Downtown Salt Lake City. Pictured above, three course menu priced $90 per person, $45 optional wine pairing. Menu as follows
First course, choice of
Peekytoe crab cake, miso-squash purée, pickled apple slaw, dill
Beet carpaccio, yuzu koshō honey, castelfranco, malt vinegar aioli
Second course, choice of
Malaspina oysters, american caviar, strawberry sorbet, basil
Citrus salad, fromage blanc, almond, pickled raisins, fennel
Main course, choice of
Roasted duck breast, celery root purée, brussels sprouts, pecans, duck confit, pomegranate glaze
Wood fired grass-fed hanger steak, smoked chanterelles, roasted fingerling potatoes, poblano jus
Potato gnocchi, maitake mushrooms, sage brown butter, ricotta salata, lemon, capers
Dessert course, choice of
Double chocolate cup cake, chocolate dipped strawberry
House sorbet
510 S 300 W, Salt Lake City, UT 84101
(385) 295-4200
urban-hill.com
Flanker Kitchen
Downtown Salt Lake City. Chef's tasting menu in the private Parlor cocktail lounge. Chef Joshua Jerardo will prepare a five course menu priced $95 per person, menu as follows:
Trio of oysters – cucumber, peppercorn tarragon, sage & asian pear
Crispy pork belly – orange apricot pure & hibiscus reduction
Gem hearts & endive – bruleed figs & balsamic reduction
Miso glazed cod – soy glazed mushrooms & bok choy
8 oz rib eye Oscar – béarnaise, asparagus, crab
6 N Rio Grande St, Salt Lake City, UT 84101
(801) 683-7070
flankerslc.com
Hearth And Hill
Park City. Special ala carte options include:
Cauliflower soup, cauliflower chips, $10 (starter)
Short rib gnocchi, egg yolk gnocchi, butter parmesan emulsion, chives, radish, lemon zest, $23
Pan seared halibut, crispy fingerling potatoes, beet, turnip, beet beurre blanc , $39 (entree)
Double chocolate cupcake, chocolate dipped strawberry, $10 (dessert)
1153 Center Dr, Park City, UT 84098
(435) 200-8840
hearth-hill.com
Avenues Proper
Avenues. Prix fixe menu, or menu items available ala carte too. Set menu as follows, $60 per person:
First course choice of
French onion soup, beef broth, gruyere, French baguette
Spinach pomegranate salad, balsamic dressing, feta, candied almonds
Second course, choice of
Seared scallops, cauliflower purée, parmesan, microgreens
Ricotta dumplings, cauliflower purée, pecorino romano, microgreens
Third course, choice of
Braised short ribs, creamy parmesan polenta, root vegetables, demi glace
Butternut squash lasagna, béchamel, butternut purée, sage, raclette
Dessert course, choice of
Hibiscus blood orange cake, polenta, ground almonds, hibiscus glaze
Chocolate lava cake, Valrhona cocoa. molten chocolate
376 8th Ave, Salt Lake City, UT 84103
(385) 227-8628
avenuesproper.com
Stanza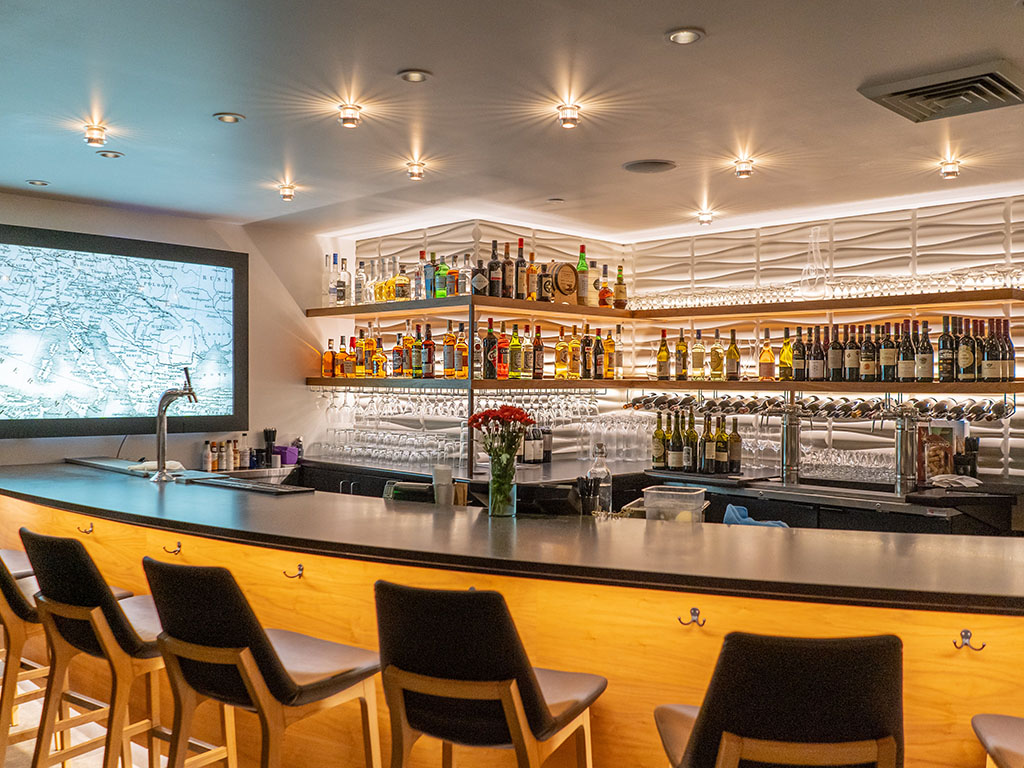 Downtown Salt Lake City. Five course menu priced $110 per person, reads as follows:
First course, choice of
Spinach salad, feta, red onion, spiced pecans, warm bacon vinaigrette
Stuffed oyster Rockefeller, garlic & herb brioche stuffing, shrimp & red crab, duroc bacon, corn maque choix, saffron buerre blanc
Venison carpaccio, pickled heirloom carrot & radish, brandy soaked cranberry, black garlic & rosemary aioli, Szechuan pepper, frisée, potato gaufrette
Second course, choice of
Red snapper, lobster pansotti, pesto with fire roasted artichoke & Fresno pepper, wasabi lemongrass crème, chia poppyseed tuile, candied orange
Rack of lamb, french pastry with warm brie & wild mushroom, parsnip & truffle purée, rapini & roasted Cipollini onion, cherry demi-glace
Third course
Raspberry & Grand Marnier sorbet
Fourth course, choice of
Seared scallops, Cajun espresso pork belly, horseradish red potato mash, vodka cream with roasted fennel & parsley, vanilla blood orange gastrique, edamame & pea shoot
Snake River Farms Kobe beef ribeye, butternut squash & goat cheese ravioli, grilled broccoli crown, champagne fried mushroom, hollandaise
Fifth course, choice of
Wildberry & Solstice Chocolate trifle, rum cake, lime custard, marscapone cream, pecan praline
Strawberry panda cotta, almond lavender cake, white chocolate & honeycomb, vanilla marscapone cream, crème anglaise
454 E 300 S, Salt Lake City, UT 84111
(801) 746-4441
stanzaslc.com
Oquirrh
Downtown Salt Lake City. Four course prix fixe. $120 per person with optional wine pairing. Menu as follows:
Amuse of Kushi oysters, champagne & local apple mignonette
Options caviar service, 1 ounce of american farmed white sturgeon caviar, $150
House sourdough bread + European butter
Baby gem caesar salad, blassic dressing, parmesan crouton, sous vide egg yolk
Lobster & black truffle risotto, local maitake mushrooms, leeks, fennel pollen
Braised beef whipped local Yukon potatoes, caramelized pearl onions, baby carrots, bone, marrow bordelaise
Palate cleanser, pow pow sorbet, winter citrus
Solstice chocolate budino, beet mousse, salted vanilla ice cream
368 E 100 S, Salt Lake City, UT 84111
(801) 359-0426
oquirrhslc.com/dinner
Cucina
Avenues. Chef tasting menu available February 10th, 11th, 12th, 13th and 14th. Priced $95 per person for seven course menu, optional wine pairing $55 extra. Menu as follows:
Smoked elk carpaccio
Sesame ahi tataki
Lobster gnocchi
Hydroponic frisee
Lion's mane mushroom under a brick
Bison New York
Dark chocolate tarte for two
1026 2nd Ave, Salt Lake City, UT 84103
(801) 322-3055
cucinawinebar.com
Bambara
Downtown Salt Lake City. Three course menu pried $75 per person, wire optional $50 wine pairing. Menu as follows:
Appetizer, choose from
Roasted carrot salad, cocoa nib, puffed wild rice, caramelized yogurt, pepita vinaigrette
Smoked celery root soup, champagne pickled apples, truffle, crispy leaks, herb oil
Entree, choose from
Pan seared scallops, white chocolate, parsnip, quinoa, pecan gremolata
Double R Ranch striploin, beef cheek mole, truffle corn tortillas, crispy oyster mushrooms, burgundy jus
Aged cheddar risotto, maple, delicate squash, apple, charred herb chimichurri
Dessert course, choose from
Meyer lemon cheesecake, blood orange, walnut, champagne sabayon
Smoked chocolate panna cotta, hazelnut, coconut, cherry
202 S Main St, Salt Lake City, UT 84101
(801) 363-5454
bambara-slc.com
Tuscany
Four course menu, priced $110 per person. Menu as follows:
First course, choice of
Pear cambozola onion tart, caramelized onion, whipped cambozola cream spiced pears, sweet pastry crust, port wine reduction
Black tiger prawn and scallop ceviche, avocado, onion, celery, tomato, micro cilantro, crispy tostada
Second course, choice of
Heirloom tomato basil soup, fried mozzarella, balsamic reduction, sweet basil cream
Heritage blend mix greens, salad mandarin oranges, gorgonzola cheese, red onion, strawberries, creamy balsamic vinaigrette
Third course, choice of
12 oz. dry aged HyPlains Farm NY strip, toasted garlic Yukon gold whipped potatoes, porcini compound butter, blistered shishito peppers
Organic chicken Florentine, lightly breaded chicken breast, stuffed with spinach, artichokes, gorgonzola cheese, served over spaghetti marinara
Spice crusted ahi tuna, black forbidden rice, long beans, raspberry sherry sauce
Fourth course, choice of
Warm flourless chocolate cake, bourbon pecan ice cream, salted caramel
Layered strawberry shortcake, vanilla sponge cake, sweet cream, macerated strawberries
2832 6200 S, Salt Lake City, UT 84121
(801) 277-9919
tuscanyslc.com
Powder
Park City. Head to Canyons Village and celebrate romance at Waldorf Astoria's Powder this Valentine's Day with a decadent three course menu available on the evening of February 14. Serving an indulgent Beef Tartare and Olive Oil Croistinin with Balsamic and Spiced Yogurt upon arrival, guests can choose from starters of West Coast Oysters, Duck Confit Raviolo, Burrata Salad or Intermezzo, followed by entrée options of Wagyu Braised Short Rib, Pan Seared Red Snapper or Winter Squash Tagatelli. Dinner isn't complete without a sweet treat, where guests can enjoy Winter Peach and Rose Semifreido or Chocolate Dome with Lychee Mousse and Mixed Berry Ganache. Reservations are $125 per person.
2100 Frostwood Dr Lobby Floor, Park City, UT 84098
(435) 647-5566
hilton.com/en/hotels/slcdmwa-waldorf-astoria-park-city/dining/
Aqua Terra Steak + Sushi
Downtown Salt Lake City. From Feb. 11-14, patrons can find all the romance they crave in Aqua Terra's curated Valentine's Day experience. The five-course menu features an enlivening amuse bouche, yuzu kosho-marinated lamb lollipops, a sushi sampler, a 30-ounce, bone-in Tomahawk rib-eye, and a dessert trio. Intended to feed two on a romantic night out on the town, the full supplemental menu is available here. Reservations are now being accepted.
50 S Main St S, Salt Lake City, UT 84101
(385) 261-2244
aquaterrasteak.com
Fleming's Steakhouse
Downtown Salt Lake City. Three course meal featuring filet mignon, lobster tail scampi and crab stuffed shrimp scamp. Menu starts at $85 per person, more info here.
20 S 400 W, Salt Lake City, UT 84101
(801) 355-3704
flemingssteakhouse.com
Franck's
Cottonwood Heights. Five course prix-fixe dinner menu priced at $135 per person. The regular menu is not available.
Sweet potato, caramelized milk vinaigrette, dried caper, fresh cheese, hazelnut, pickled olive oil
Pecan wood smoked beet & white chocolate emulsion, sea salt yogurt, pecan XO, BBQ beets
Red miso black cod, grilled & glazed maitake mushroom, creamed jasmine rice, Baja red shrimp-tiradito, kimchi pineapple, pineapple black garlic
Duo of Piedmontese beef, 10- hour cheek and flash-seared coulotte, textures of brassicas, truffle honey-french mustard, mint, truffle tallow
Layered lemon cake, limoncello buttercream, vanilla bean caramel corn, champagne vanilla bean gelato, fennel yuzu jam
6263 Holladay Blvd, Holladay, UT 84121
(801) 274-6264
francksfood.com
Scion Cider
Central 9th. We've teamed up with locally owned, Utah's gourmet Ritual Chocolate company to bring you a very special event. PRE-ORDER a self-guided chocolate tasting kit by Monday February 13th and enjoy pick up at Scion Cider Bar any time between 4.00 – 10.00 p.m. to taste with our featured flights of Original Sin Cider tasters, plus Tap Tuesday deals on Original Sin carafes, and more fine cider specials all night long to pair with your holiday chocolate sampler.
916 Jefferson St W, Salt Lake City, UT 84101
(801) 326-0349
scionciderbar.com
Finca
Salt Lake City. Finca are offering a Valentine's Day three course tasting menu on February 14. Priced at $75 per person + tax and 20% gratuity, along with optional wine pairing for an additional $30.
1513 S 1500 E, Salt Lake City, UT 84105
(801) 532-3372
fincaslc.com
Lake Effect
Downtown Salt Lake City. Three course prix-fixe Valentines Day menu priced $75 per person. Reservations have a time limit of 2 hours for parties of six and under. The Late Night Menu will be available starting at 9.00 p.m.
155 W 200 S, Salt Lake City, UT 84101
(801) 532-2068
lakeeffectslc.com
Libertango
Sandy. "Come enjoy an incredible experience surrounded by the romantic intensity of Libertango's wood fire parrilla, and tango-themed décor. Begin your meal with Empanada Criolla, our savory stuffed pastry. Then enjoy fettuccine in a creamy white sauce topped with jumbo fire-grilled shrimp. Then truly experience the "difference between tasting and savoring" as you sink your teeth into our incredible American Wagyu New York Strip with a side of Arroz con Tomate Seco. Finish your evening with our special Valentine dessert."
10395 State St, Sandy, UT 84070
(801) 448-6449
libertango.us
Pago
9th and 9th. Tasting menu will be offered, details TBA.
878 S 900 E, Salt Lake City, UT 84102
(801) 532-0777
pagoslc.com
Pago On Main
Downtown Salt Lake City. Three course menu. Priced $75 per person, optional pairing $35 per person.
341 S Main St, Salt Lake City, UT 84111
(801) 441-2955
pagoslc.com
Prohibition
Murray. Four course prix fixe menu. Priced $125 per person. Menu will feature wagyu eye of round, and seared tuna.
151 E 6100 S, Salt Lake City, UT 84107
(801) 281-4852
prohibitionutah.com
Provisions
Millcreek. Seven course tasting menu from February 10th through 14th. Priced $70 per person, optional wine paring available. A la carte menu is also available.
3364 S 2300 E, Millcreek, UT 84109
(801) 410-4046
slcprovisions.com
SLC Eatery
Downtown Salt Lake City. Four course course prix fixe priced $85 per person. The regular menu is not available.
1017 S Main St, Salt Lake City, UT 84111
(801) 355-7952
slceatery.com
Table X
Valentine's Day seven course menu on February 10th, 11th, 14th, 15th. Priced $130 per person. A vegetarian menu will also be available. Five course wine or non alcohol pairings available too.
457 E 3350 S, Salt Lake City, UT 84106
(385) 528-3712
tablexrestaurant.com
Staying at home?
Lock the door. Close the curtains. Check that locked door once more, and turn the lights down low. Actually skip that last one, sounds like an unseen cat and a fun night at the Instacare to me. Anyway, if you're looking to romance your beau in private check out the following list; a roundup of local Utah and national companies, all hoping to help you impress. You'll notice we're an affiliate for several of these, we get a small referral fee if you make a purchase. We only partner with great companies in this respect.
Catch Sitka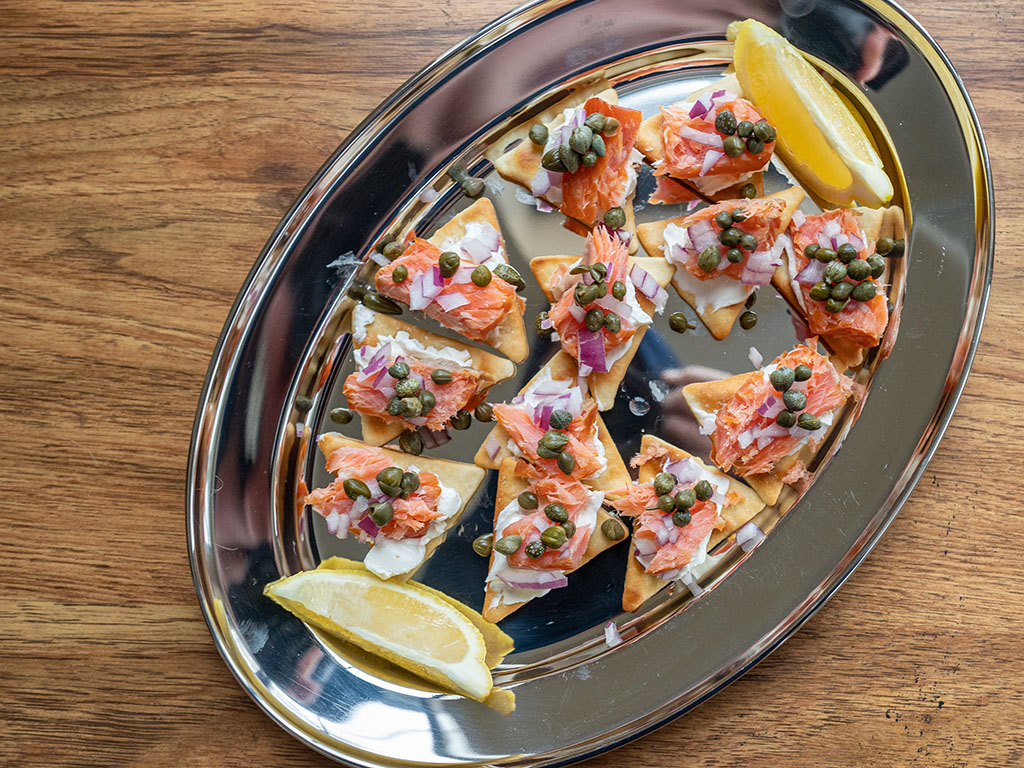 nvenient ways to get your hands on some. The company deliver nationwide and ship impeccable flash frozen wild and sustainable seafood to you door.
Pictured above is their applewood smoked salmon – savagely rounded out by piles of cream cheese – yes that holiday shortage was due to my house, sorry guys. It's wonderful stuff and packaged as part of their one time gift boxes that start from $75. Wild halibut, spot prawns, smoked salmon – I can't think of a better way to set a heart aflutter. Check them out here. We're an affiliate for these guys and earn a small referral fee. Use code STUART15 and get $15 off orders over $125 for first time customers – we get a referral fee too!
Grid City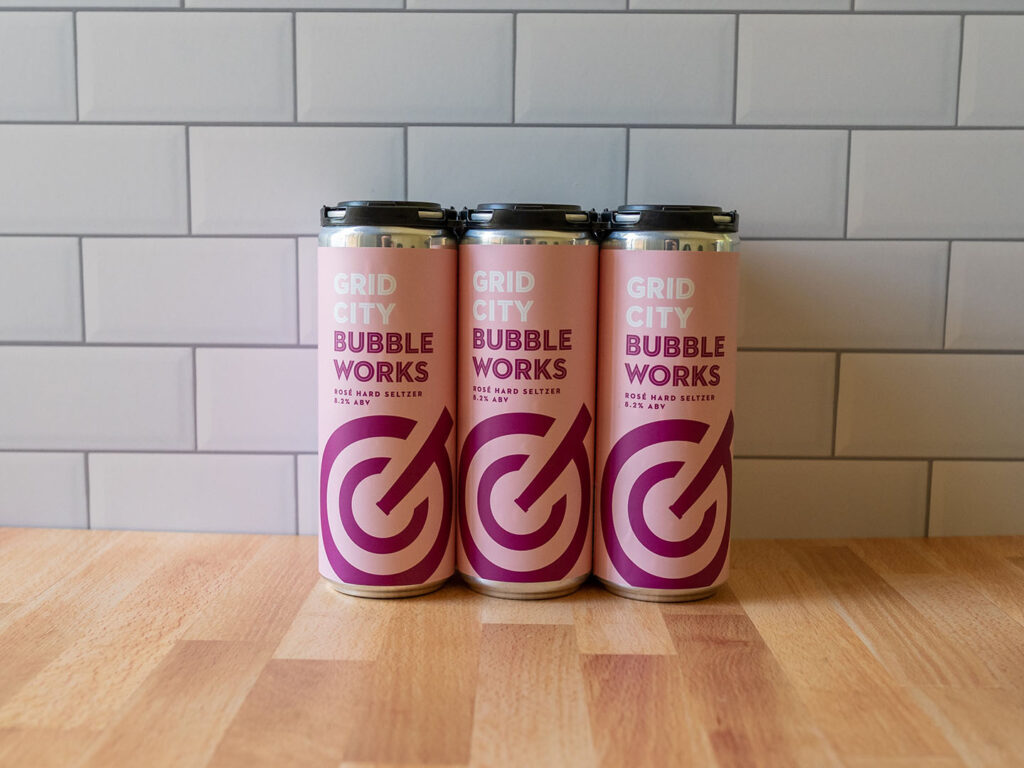 I won't list all the local breweries and distilleries you can choose from – you know them already. What I will suggest though, is you grab a few of these beauties. Grid City's Rose Hard Seltzer would make for the perfect aperitif in my book. It weighs in at a festive eight percent, and makes for a sweetly different alternative to the regular ol' bubbles. Available from the brewery direct (you can grab and go seven days a week) or at various liquor stores around town now.
iGourmet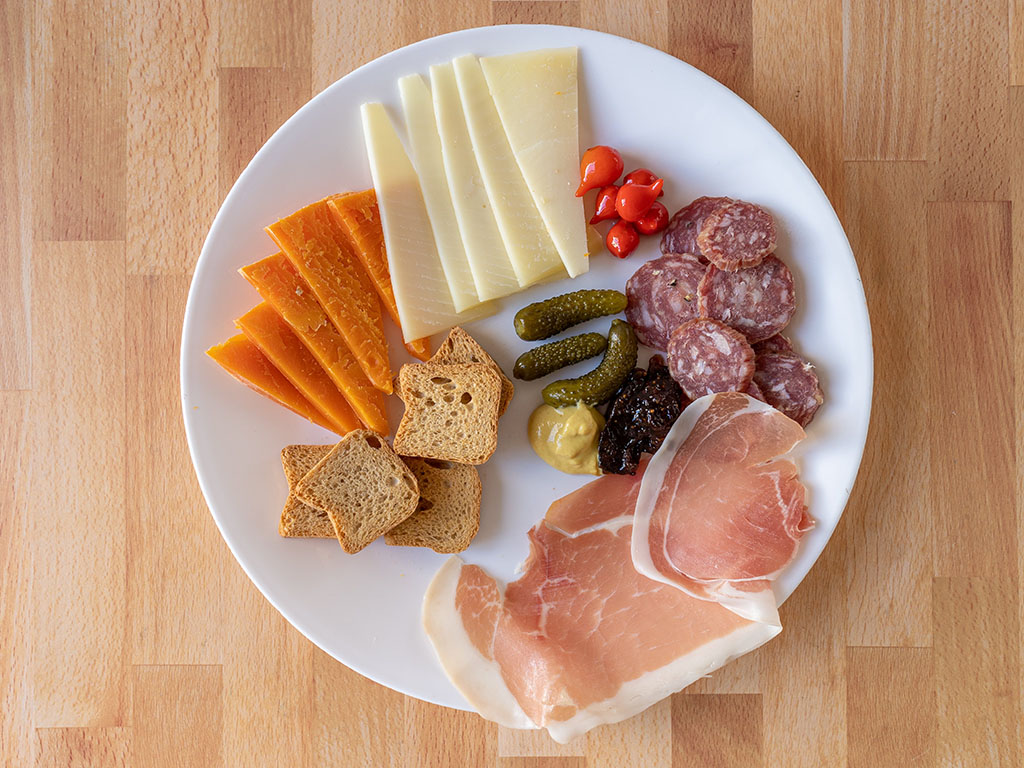 You've probably come across myriad 'gourmet gift box' companies online, but iGourmet are one of the best around. The intelligently bundled collections offer tastes of various international destinations as well as serve handily for simple charcuterie and cheese plates. Quality is top notch and shipping is fast and worry free, taking some of the stress out of crafting the perfect decadent meal. Check them out at iGourmet.com – we earn a referral fee on sales.
Hill's Kitchen
The Park City catering and coffee shop outfit are offering a number of seasonal specials. Available Friday, February 10th – Tuesday, February 14th. These include:
16 oz. raspberry white mocha, (hot or iced), $6
Strawberry or raspberry white mocha boba, $6
Chocolate dipped strawberries by the dozen, $30
Maven Oak Creative
I can't imagine a better way to knock the socks off your love. Maven Oak Creative make the most sublime charcuterie boards I've ever seen, and they're based here in Salt Lake City. They offer a variety of sizes and configurations and will deliver right to your door.
Ritual Chocolate
One of my favorite local chocolate companies, and one whose range of flavors changes with the seasons – and is available in plenty of locations across the valley. Find them with a range of other local goodies at most Harmons stores. Bonus points – they were recently nominated as one of the very best in the country. Read more here.
Twisted Tiramisu
Go ahead and crank out a killer app an entree you Ramsay you – but maybe save yourself some stress and leave dessert to the experts. Twisted Tiramisu deliver a range of fun flavors to your doorstep and make for the perfect end to any meal. Better yet, their tiramisu can be kept in the freezer safely, just remember to take it out the night before. It's the perfect gourmet indulgence to have ready to go – and they'll happily let you claim you made it yourself.
Vosges Chocolate
Vosges Chocolate (affiliate link) are regarded one of the best chocolatiers in America. Founder Katrina Markoff apprenticed in Spain under the likes of Ferran Adria of El Bulli, and the drop dead gorgeous product line up is like no other. Signature creations like the Uzume range offering dazzling flavor combos such as lychee + orange blossom, Kübler absinthe + star anise and Umeboshi plum + wild banana.
Keep the conversation going
Want to stay on top of the SLC food scene, minute by minute, dish by dish? Here are a few other places you should follow along:
Hi, I'm Stuart, nice to meet you!  I'm the founder, writer and wrangler at Gastronomic SLC.  I'm a multiple-award winning journalist and have written in myopic detail about the Salt Lake City  dining scene for the better part of seventeen years.
I've worked extensively with multiple local publications from Visit Salt Lake to Salt Lake Magazine, not least helped to consult on national TV.   Pause those credits, yep, that's me! I'm also a former restaurant critic of more than five years, working for the Salt Lake Tribune.    I'm largely fueled by a critical obsession with rice, alliteration and the use of big words I don't understand.   What they're saying about me: "Not inaccurate", "I thought he was older", "I don't share his feelings".
Want to know more? This is why I am the way I am.
This article may contain content provided by one of our paid partners. These are some of the best businesses in Utah. For a list of all our current and past relationships see our
partnership history page
.