Here's your timely reminder that Valentine's 2022 is headed your way fast. There's three weeks to the big dining day as I write, and if you want to impress your special other, it's time to get that meal planned now. Below is a list of all the 2022 menus and specials we've heard about so far. For more inspiration also check out years gone past as well – 2021, 2020, 2019, 2017, 2016. Further down the page, some options for dining at home too.
Be sure to bookmark this page and check back every few days. This won't be the final tally by a long shot. This list will continue to snowball over the coming days and weeks. We will be updating the page every day as more Valentine's news comes out. Notes, info and descriptions below provided by restaurants.
Bambara
Chef Jerry Pacheco has crafted a special prix fixe for the evening priced $155 per person with pairings, $115. without. Menu includes items such as corn and crab bisque, braised lamb shank with sea spring risotto, watercress, au jus and mint, and a filet chateaubriand served with fingerling potatoes, wild mushroom and cipollini. Regular ala carte menu also offered.
202 S Main St, Salt Lake City, UT 84101
(801) 363-5454
Bewilder Brewing
A special Valentine's food and beer pairing dinner will be served on February 14th at 6.30 p.m. The 4 course meal will be served with four 8 oz beers including a release of a new beer. The meal is priced $150.00 per couple or $126.00 per couple for non-drinkers. Vegetarian option available. More info here.
445 400 W, Salt Lake City, UT 84101
(385) 528-3840
bewilderbrewing.com
Buca di Beppo
Offering a Valentine's Lasagna Lovefeast available February 13th and 14th. Perfect for two at $59.99 – available for dine-in or to-go. Includes heart-shaped towering layers of meat sauce, ricotta, mozzarella, provolone and parmesan. Comes with small salad, garlic bread and a cannoli
202 W 300 S, Salt Lake City, UT 84101
(801) 575-6262
bucadibeppo.com
Brio Italian Grille
Offering two Valentine's prix fixe specials available February 11th through 14th. Entrée and dessert as follows:
Romano-crusted Chilean sea bass, slice of marble chocolate chip bulée cheesecake with red heart sprinkles, $34
Parmesan-crusted beef medallions, slice of marble chocolate chip bulée cheesecake with red heart sprinkles, $36
80 Regent St, Salt Lake City, UT 84111
(801) 359-4401
brioitalian.com
Cafe Madrid
A three course menu begins with a selection of tapas choices. Priced $75 per person, you can find the menu for the Holladay Spanish restaurant here.
5244 Highland Dr., Holladay, UT 84117
(801) 273-0837
cafemadrid.net
Caffe Molise
Offering a special Valentine's Day menu with appropriate cocktails. For those who can't get a reservation, or would prefer not to dine in, the Italian restaurant are also offering a special Valentine's Day takeaway meal. It is portioned for 2 people, and will include multiple courses. There will be a vegetarian option too.
404 S W Temple St, Salt Lake City, UT 84101
(801) 364-8833
caffemolise.com
Epicure
Three course paired meal priced $60 per person – $45 without wine pairing, 3.00 – 9.00 p.m. Menu can be found here.
707 Fort Union Blvd, Midvale, UT 84047
(801) 748-1300
epicureslc.com
Flanker
A Valentine's Day 3-course prix-fixe menu will be offered Friday, February 11th and Saturday February 12th for $59. Menu as follows
First course choice of

House-smoked Chicken Wings
Spicy Tuna Bites
Truffled Beef Carpaccio
Little Gem Caesar

Main course choice of

Roasted half chicken
Center cut broiled salmon
NY strip

Dessert choice of
6 N Rio Grande St Suite 35, Salt Lake City, UT 84101
(801) 683-7070
flankerslc.com
Franck's
The Cottonwood Heights fine dining spot are offering a six course meal on both the 13th and 14th.
Cost is $125 per person or $105 for a vegetarian version. Standard menu as follows:
Heirloom carrot tartare, aromatics, black garlic, pistachio, micro, pickle, sea salt cracker-bread, coriander
Miso-honey, maitake mushroom escabeche, masago arare, tart mango
Cold water lobster and sun flower root, lasagna, crispy sun flower root, preserved lemon and
lobster froth, salt and vinegar local radish, brown butter radish greens, sweet mint
Confit wagyu short rib and wagyu tenderloin tataki, ember roasted swede, wagyu fat yogurt, sweet, sour, salty and bitter leek mustard sauce, bearnaise, mustard greens
Passion fruit clafoutis, textures of chocolate, macadamia nut, crystallized flowers
Mignardis, donut hole, lavender glaze, goats cheese
6263 Holladay Blvd E, Holladay, UT 84121
(801) 274-6264
francksfood.com
Fleming's Steakhouse
Dress up to the nines and head to this fancy steak house located in The Gateway. A three course dining Prime Surf & Turf menu serves two and comes a massive (and shareable) 35oz prime tomahawk, priced $230. A three course filet mignon meal is priced $85 per person. Available February 11th through 14th and can be enjoyed dine in or for pickup.
20 400 W, Salt Lake City, UT 84101
(801) 355-3704
flemingssteakhouse.com
Garden Grille
The Garden Grille at the Ogden Hilton Garden Inn, is offering a fixed-price menu Friday February 11th, Saturday February 12th, and Monday February 14th, beginning at 5 p.m.
The $75-per-person, four-course dinner includes an appetizer of seared, basil-crusted scallops with kimchi-style cucumber and mango gelee. Second course is lobster bisque with white truffle oil, cognac, and crème fraiche.
The entree is five-spice-dusted kurobuta pork tenderloin, with Florentine potato puree, compressed beets and shaved radish. Dessert is creme brulee with a Biscoff cookie crumble and fresh berries, garnished with raspberry coulis and puffs of meringue.
2271 Washington Blvd, Ogden, UT 84401
(801) 399-2000
Hearth On 25th
12 course tasting menu, $80 per person. Beverage pairing $40 extra. Vegetarian version available upon request. Seating from 4pm to 9pm February 11, 12, 13, & 14. Credit Card information will be taken in order to confirm reservations. $20 per person will be charged for no-shows and same day cancellations. Menu as follows:
Hords d'oeuvres – charcoal roasted elk heart, squid ink rice cracker, fennel pollen citrus aioli, rabbit bresaola
Amuse bouche – wood oven roasted oca, mashua mousse, sweet potato crisp, mustard seeds, sweet pickled onion
Soup – lobster bisque, smetana
Appetizer – wild caught sturgeon, braised radicchio, toasted hazelnuts, currant berry gastrique
Salad – kale, pecorino, lemon, garlic, savory breadcrumbs
Fish – grilled octopus, huitlacoche veloute, seared maitake, fennel and shallot crisps
First main – quail confit, ricotta miso gnudi, beurre rouge, grated quail egg yolk, chive foam
Palate cleanser – passionfruit sorbet, chile tuile
Second main – served with fondant potatoes, stewed vegetables, wild mushrooms, and savory breadcrumbs choice of:

King salmon with honey balsamic glaze
Wagyu beef top sirloin, shrimp tail & beurre blanc
Duck breast with chocolate gastrique

Cheese – smoked fiddlehead fern cheddar, horseradish havarti, sweet and creamy blue cheese
Dessert, choice of:

Chocolate cake – whipped chocolate ganache, chili chocolate powder, black walnut tuiles
Citrus posset – citrus, cream, dehydrated lingonberry crisp
Mignardise – assortment of sweet pastries
195 25th St, Ogden, UT 84401
(801) 399-0088
Ivy & Varley
A Valentine's prix fixe menu will be available for the weekend – February 11th through 14th – with " specially-curated dishes, featured cocktails, and optional beer or wine pairings."
55 W 100 S, Salt Lake City, UT 84101
(801) 895-2846
La Caille
The Sandy based French restaurant are offering a six course menu for $150 per person. Wine pairings are priced $55 per person and kids can join in on the meal for $75 each. Menu includes oysters, scallop ravioli, caviar, choice of entree and more.
9565 Wasatch Blvd, Sandy, UT 84092
(801) 942-1751
lacaille.com
Lake Effect
The downtown bar is serving a special 4 course pre-set menu for Valentine's Day priced $70 per person. Ass on ala carte tapas selections will be offered too. Drinks can be ordered separately. More info and reservations on Open Table here.
155 W 200 S, Salt Lake City, UT 84101
(801) 532-2068
lakeeffectslc.com
Localz Bistro
Four course menu priced $60 per person or $75 with wine pairing. Menu as follows:
Chef Blake's lobster bisque
Grilled romaine salad, champagne vinaigrette with parmesan, bacon and cherry tomato
Main course choice of

Parmesan crusted red snapper over pesto, angel hair topped with smoked relish
Braised short rib over sautéed squash and garlic mashed potatoes, and blackberry
compote

House made strawberry cheesecake ice, cream, chocolate port ganache
1850 E 9400 S, Sandy, UT 84093
(801) 432-7604
localzbistro.com
Mariposa @ Deer Valley Resort
Offering a special six course tasting experience featuring luxury items such as Petrossian caviar, shaved black truffle, hand selected bison filet just to name a few. Pairings provided with each course and priced $300 per person. Info on OpenTable here.
7600 Royal St, Park City, UT 84060
(435) 645-6632
Oquirrh
Head downtown for this prix-fixe menu priced $100 per person. Wine pairings available for $50 per person and flowers for $25 or $50. Menu as follows
Triple cream cheese popover, quince
Choice of

Fresh shucked oysters, pear vinegar pearls
Foie gras pate, fermented ramp, preserved peach compote, sourdough toast

House sourdough bBread, house cultured butter
Choice of

Smoked lamb ribs, watercress, house yogurt, roasted garlic
Petite lettuce salad, tapioca, honey vinegar

Choice of

Pork tenderloin, wrapped in Serrano ham and truffles, sourdough spaetzle
House made bucatini, king crab, tarragon, preserved lemon

Palate cleanser, Winter citrus sorbet
Chocolate kings cake, puff pastry, vanilla ice cream
368 E 100 S, Salt Lake City, UT 84111
(801) 359-0426
oquirrhslc.com
Pago
Pago on 9th & 9th will offer an intimate elevated option with 5 courses and a traditional way to celebrate your favorite person (menu here). Finca on 15th & 15th is all about classic Spanish tapas and vino – great for sharing with a partner or a small group of friends (menu here).
Pago on Main will deliver a more casual experience than the 9th & 9th location and is perfect before or after a walk around the capital city or as the main attraction for the night (menu here). Casot, the new neighborhood wine bar on 15th & 15th, is featuring a pair of house made desserts paired with dessert wines. All our celebrations are matched with meticulous wine pairings selected by Pago Restaurant Group founder and sommelier, Scott Evans.
Porch
Daybreak's best is offering a three course menu for $50 per person, wine pairings for $30 extra. The menu will be available all weekend in addition to the regular menu. On Monday the 14th, only the 3-course will be available. Menu as follows:
Arugula, chevre, sweet pickled apples, pecans, maple champagne vinaigrette
Wild mushroom bisque, truffle oil
Main, choice of

Corvina sea bass, French lentils, roasted cauliflower, tomato bacon dashi (available without bacon)
Pan-seared scallops, roasted fingerling potatoes, Brussels sprouts, bourbon sriracha sauce
Filet mignon, buttermilk whippped potatoes, port wine demiglace, roasted root vegetables
Ratatouille, roasted vegetables, wilted spinach, ancient grains, tomato nage, fresh basil

Dessert, choice of

Famous banana puddin'
Carrot cake, cream cheese chevre frosting, candied walnuts
Flourless chocolate decadence, salted caramel sauce
Vanilla goat's milk panna cotta, pickled blackberries, toffee tuile
1274 Kestrel Rise Rd, South Jordan, UT 84009
(801) 679-1066
porchutah.com
Prohibition
Offering a 4-course meal on the 14th priced $86.76 per person from 5.00 – 11.00 p.m. Regular menu will not be available. More in on Open Table here.
151 E 6100 S, Murray, UT 84107
(801) 281-4852
prohibitionutah.com
Rib & Chop House
The SLC location is now closed, but the St George outpost of this steakhouse are still open in Utah and offering a trio of Valentine's entrees including:
Salt and pepper crusted prime rib
Beef filet and lobster tail surf & turf
Salmon Wellington with spinach and beurre blanc
1676 S Convention Center Dr., St. George, UT 84790
(435) 674-1900
ribandchophouse.com/st-george-utah/
Ruth's Chris
The national chain steak house has a tenderloin for two deal. Couples can enjoy a complete meal for two including starters, an entrée, personal sides & shareable dessert. The shared entree is a roasted chateuabriand – a hand carved 22 ounce tenderloin served with cognac sauce and melted butter. More info here.
275 S W Temple St, Salt Lake City, UT 84101
(801) 363-2000
ruthschris.com/restaurant-locations/salt-lake-city/
Seasons Plant Based Bistro
This vegan friendly eatery are hosting couples for $195 with additional beer and wine adds ons for $20 and $30 respectively. Please note reservations are for couples only and limited to two hours. Menu as follows:
French onion soup, caramelized onions, savory espagnole broth, local sourdough bread
crouton, melted provolone, mozzarella and parmesan
Cheese board, lmond and herb crusted fromage blanc cheese, smoked provolone
cheese, local sourdough bread, assortment of prepared fruits and vegetables, strawberry rose compote
Stuffed mushrooms. braised mushroom caps, baked with cultured cashew cream, truffle
oil, herbs, bread crumbs
Entree, choice of

Short rib risotto, braised mushroom short rib, creamy risotto, seasonal vegetables, glazed tomatoes crispy onions, mozzarella cheese
Tofu veracruz, herb breaded tofu filets, whipped garlic mashed potatoes, white wine butter
sauce, onion, garlic, tomatoes, olives, capers.

Chocolate fondue, dark chocolate creme, white chocolate anglaise, raspberry rose
vincotto, house baked brioche bread, assortment of fresh fruit
1370 S State St, Salt Lake City, UT 84115
(385) 267-1922
Shades Pub
This 3-course meal is a "dealer's choice and you can pick one appetizer, entree, and dessert". The menu will be offered Saturday, February 12th and Monday, February 14th – 6 p.m. until 10 p.m. Ticket required and includes a live salsa band playing from 9 p.m. $50/couple or pair.
366 State St, Salt Lake City, UT 84111
(385) 341-8150
SLC Eatery
Chefs Logen Crew and Paul Chamberlain will have a Valentine's four course prix fix priced $85 per person. Details are not yet finalized at time of press. Check back here soon.
1017 S Main St, Salt Lake City, UT 84111
(801) 355-7952
slceatery.com
Spencer's
Providing a three course pros-fixe for three days – the 11th, 12th and 14th. Priced at 180 per couple entree choices include a wagyu short rib with seared scallops. More info here.
255 S W Temple St, Salt Lake City, UT 84101
(801) 238-4748
spencersslc.com
Toscano
Toscano in Draper are accepting reservations for Valentine's Day and offering their regular menu along with some specials for the holiday. The restaurant notes cancellations will only be accepted before 5 p.m. on Feb. 12th.
11450 State St, Draper, UT 84020
(801) 572-5507
toscano-restaurant.com
Tuscany
Four course menu priced $95 per person. Menu as follows:
First course, choice of

Tuna carpaccio, wild arugula, pickled strawberries, wasabi soy aioli
Tomato tart, puff pastry, whipped blue cheese, roasted tomatoes, scallions, balsamic reduction

Second course, choice of

Organic spring mix salad, strawberries, red onion, mandarin oranges, gorgonzola,
raspberry vinaigrette
Heirloom tomato basil soup, burrata cheese, balsamic reduction

Third course, choice of

Pan seared diver scallops, squid ink risotto, globe carrots, rose water beurre blanc
Grilled filet mignon, gorgonzola mashed potatoes, roasted baby beets, red wine sauce
Shrimp & spicy sausage alfredo, red bell pepper, local sausage, house rigatoni pasta

Dessert, TBA
2832 6200 S, Salt Lake City, UT 84121
(801) 277-9919
tuscanyslc.com
UMFA
For something a little different check out this mix of art, food and drink at the Utah Museum of Fine Art. Grab a plus one and meet in the G. W. Anderson Family Great Hall for an enchanting evening of music, hors d'oeuvres, and a tour led by curator and captivating storyteller Luke Kelly, who will guide you through the triumph, tragedy, and wonder of the human experience through art. Music by Michael Bigelow's Mountain Boogaloo and catering from Have Party Will Travel.
Tickets are $79 and include general Museum admission, tour, hors d'oeuvres, drinks, and a unique date to remember. Details and tickets at https://umfa.utah.edu/valentines-2022
410 Campus Center Dr, Salt Lake City, UT 84112
(801) 581-7332
Veneto
Providing two seatings on February the 14th at 5.00 p.m. and 8.00 p.m. Indulge in their four-course Valentine's Day menu ($125 per person) with optional wine pairings ($75 per person). A la carte and Winter tasting menu is not available for Valentine's Day. Menu is as follows:
Starter, choice of

Antipasto, homemade ricotta salad with radicchio, polenta, honey, walnuts and fried sage
Eggplant parmesan

Primo, choice of

Carbonara, fresh bigoli pasta with egg yolk, guanciale and pecorino cheese
Amatriciana, fresh bigoli pasta with tomato, guanciale and red pepper

Secondo, choice of

Sliced beef sirloin filet served with roasted rosemary potatoes
Organic baked salmon with green asparagus and fennel celery sauce

Dolci, choice of

Nutella crostata with toasted hazelnuts
strawberry tiramisu
370 E 900 S, Salt Lake City, UT 84111
(801) 359-0708
venetoslc.com
Weller's Bistro
Four course menu priced $44 per person. Seatings at 1.30 p.m., 3.30 p.m., 5.30 p.m. and 7.30 p.m. Menu as follows:
Charcuterie board – selection of European air cured meats and artisan cheeses. Served with dried fruits, nuts & fig jam.
Second course choice of

Lobster bisque
Baby greens

Entree choice of

Blackened salmon
Seared airline chicken
Braised beef shortrib

Crêpes Suzette
197 N Main St, Layton, UT 84041
(385) 888-9531
Yuta
Celebrate the day of love with a special 6 course tasting menu in the intimate atmosphere of Yuta restaurant. Chef Galen Zamarra and Yuta team will take you on an extraordinary culinary adventure to celebrate this special night. Priced $195 per person, menu as follows:
Amuse bouche, chilled kumamoto oyster with blood orange, wasabi granita
Ahi tuna tataki, pickled beets, marinated cucumber, huckleberry ponzu, paddlefish caviar
Coq au vin ravioli, game bird consommé, matsutake mushrooms, black kale, root vegetables
Trout piscator, smoked trout-watercress mousseline, roasted fennel, green apple, horseradish
Pheasant bundle, black trumpet farce, artichoke heart barigoule, jamon serrano
A5 wagyu ribeye cap, salt block sear, hasselback potato, spinach puree, bone marrow jus
Grilled pineapple, white chocolate yuzu snow, chocolate covered gooseberry, candied cilantro, aged rum, mojito sorbet
Petite fours, truffles & bonbon
27649 Old Lincoln Hwy, Wanship, UT 84017
(435) 336-6420
Stay at home
Lock the door. Close the curtains. Check that locked door once more, and turn the lights down low. Actually skip that last one, sounds like an unseen cat and a fun night at the Instacare to me. Anyway, if you're looking to romance your beau in private check out the following list; a roundup of local Utah and national companies, all hoping to help you impress. You'll notice we're an affiliate for several of these, we get a small referral fee if you make a purchase. We only partner with great companies in this respect.
Catch Sitka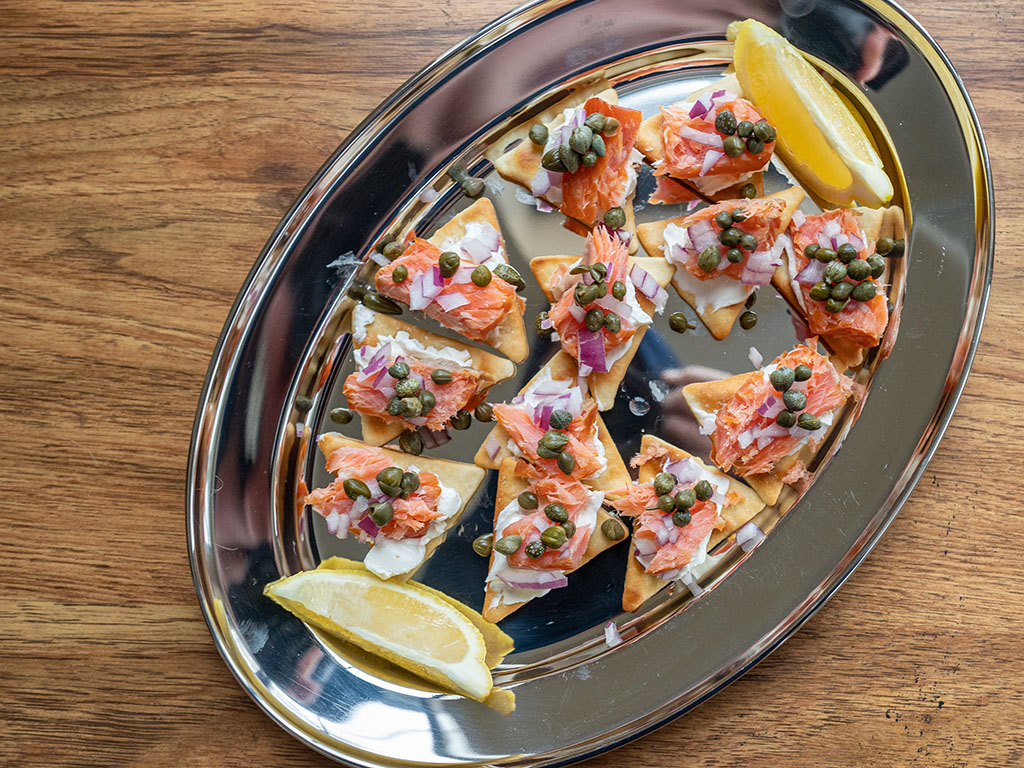 Alaskan seafood is the best around. Fact. Another fact? Catch Sitka is one of simplest and most convenient ways to get your hands on some. The company deliver nationwide and ship impeccable flash frozen wild and sustainable seafood to you door.
Pictured above is their applewood smoked salmon – savagely rounded out by piles of cream cheese – yes that holiday shortage was due to my house, sorry guys. It's wonderful stuff and packaged as part of their one time gift boxes that start from $75. Wild halibut, spot prawns, smoked salmon – I can't think of a better way to set a heart aflutter. Check them out here. We're an affiliate for these guys and earn a small referral fee. Use code STUART15 and get $15 off orders over $125 for first time customers – we get a referral fee too!
Cheese Lover Shop
The Cheese Lover Shop does exactly what it says on the tin – making the perfect place to shop for the cheese aficionado in your life. The Shop offers monthly cheese club subscriptions, ala carte offerings and cheese boards amongst other drool worthy gifts. The product offered is top quality featuring some of the best international and state side artisanal makers. You can order online here, if you make a purchase we get a referral fee.
Flourish Bakery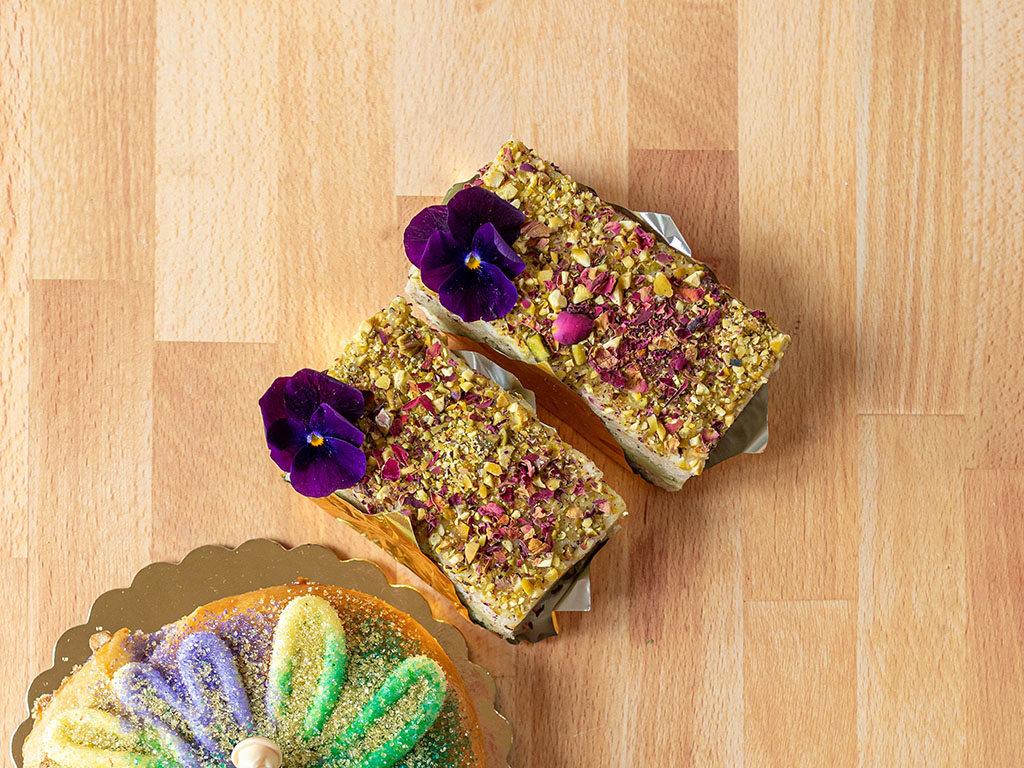 The Midvale based bakery have a number of social treats to cap off your meal at home. Special include:
Heart shaped spiced ganache linzer cookies, $2.50
Persian love cake, $6.00
Heart shaped palmier cookies, $7.00
Flourish have an online shop here and also are available on DoorDash.
Grid City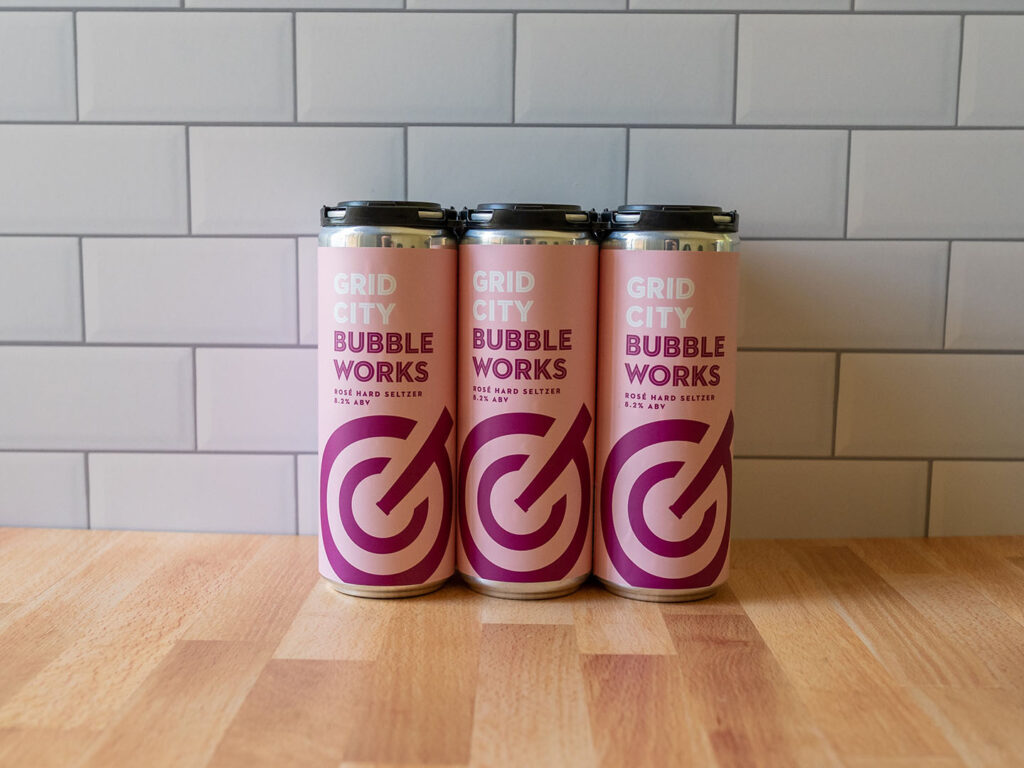 I won't list all the local breweries and distilleries you can choose from – you know them already. What I will suggest though, is you grab a few of these beauties. Grid City's Rose Hard Seltzer would make for the perfect aperitif in my book. It weighs in at a festive eight percent, and makes for a sweetly different alternative to the regular ol' bubbles. Available from the brewery direct (you can grab and go seven days a week) or at various liquor stores around town now.
iGourmet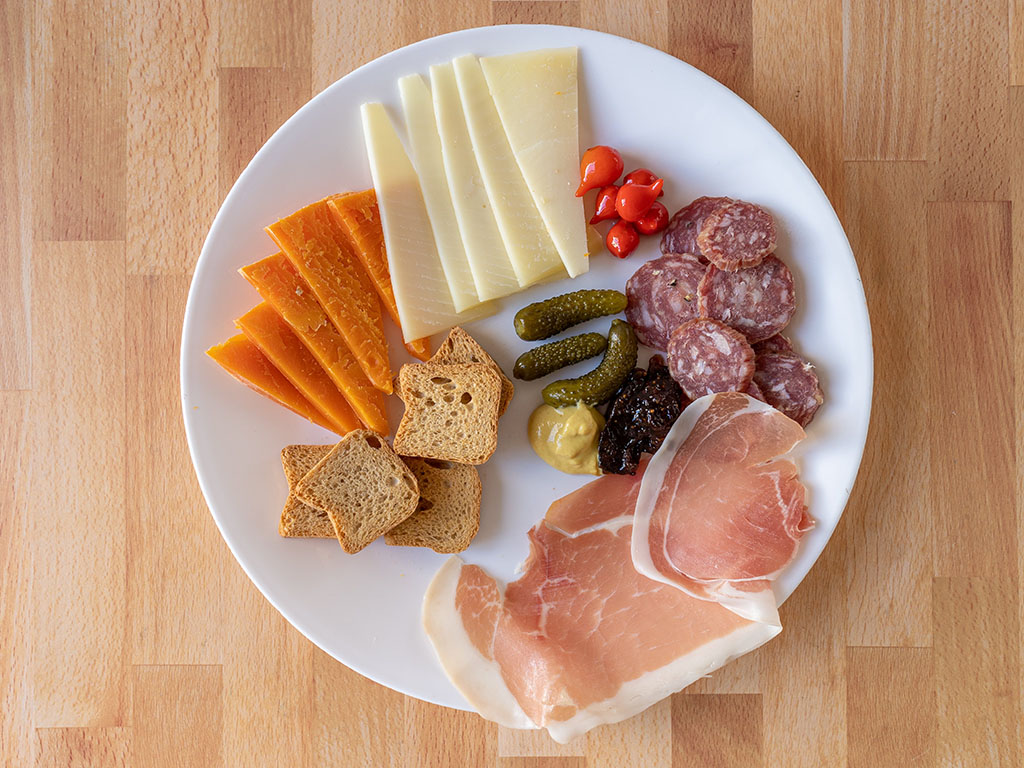 You've probably come across myriad 'gourmet gift box' companies online, but iGourmet are one of the best around. The intelligently bundled collections offer tastes of various international destinations as well as serve handily for simple charcuterie and cheese plates. Quality is top notch and shipping is fast and worry free, taking some of the stress out of crafting the perfect decadent meal. Check them out at iGourmet.com – we earn a referral fee on sales.
Maven Oak Creative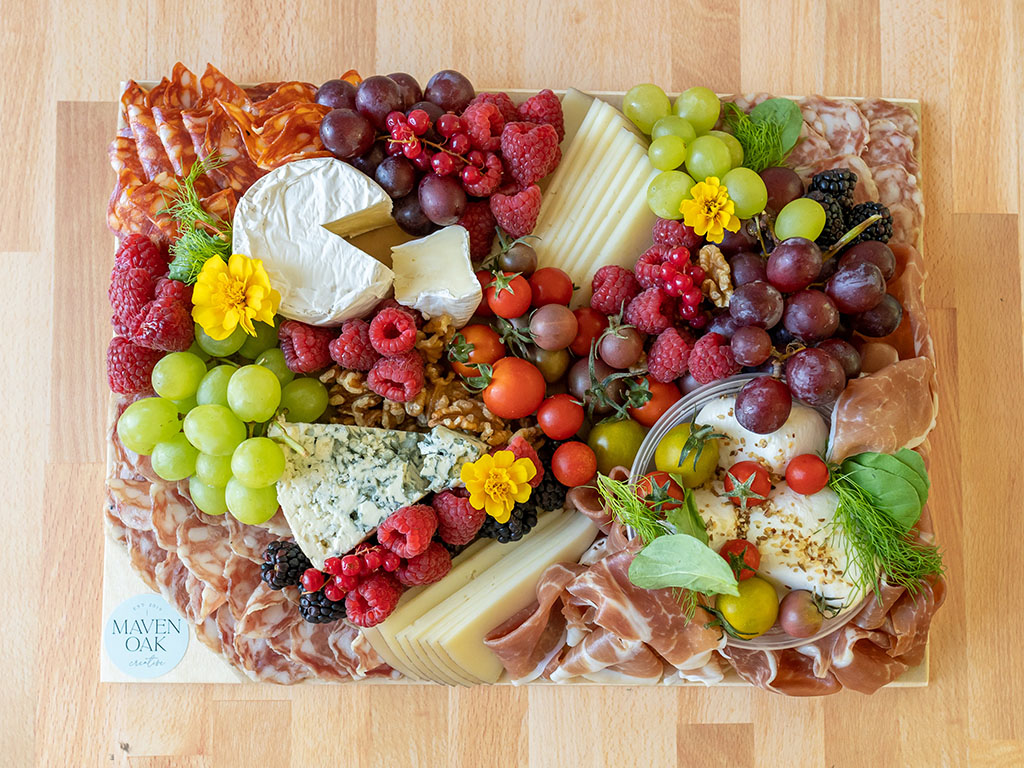 I can't imagine a better way to knock the socks off your love. Maven Oak Creative make the most sublime charcuterie boards I've ever seen, and they're based here in Salt Lake City. They offer a variety of sizes and configurations and will deliver right to your door.
Ritual Chocolate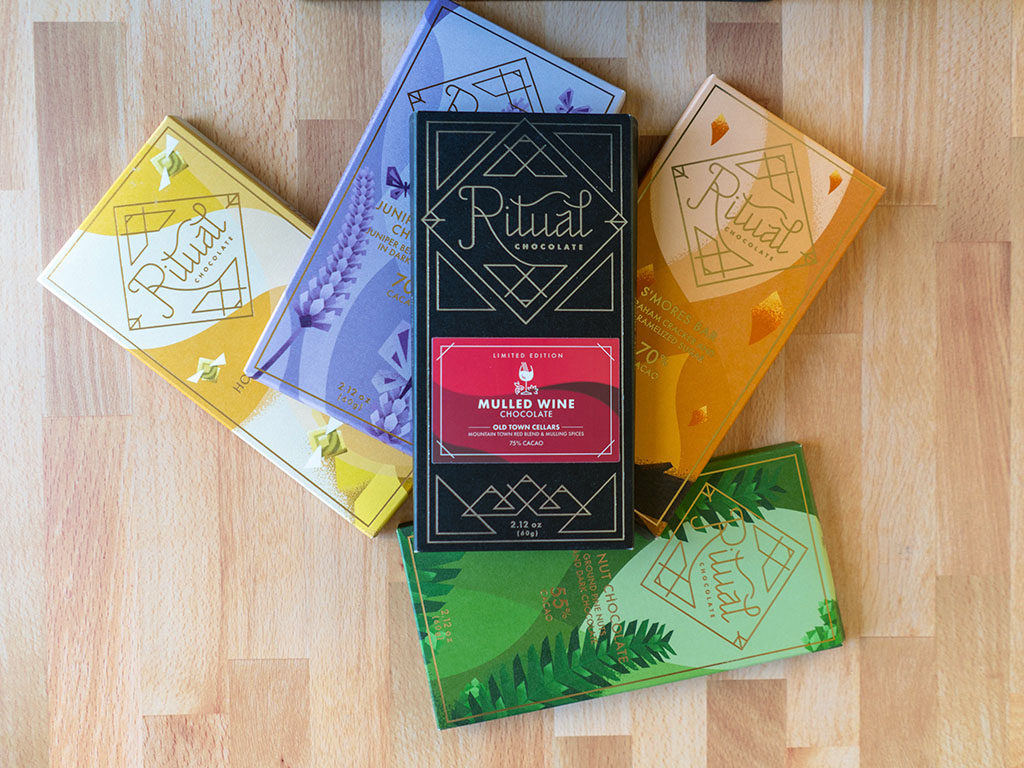 One of my favorite local chocolate companies, and one whose range of flavors changes with the seasons – and is available in plenty of locations across the valley. Find them with a range of other local goodies at most Harmons stores.
Twisted Tiramisu
Go ahead and crank out a killer app an entree you Ramsay you – but maybe save yourself some stress and leave dessert to the experts. Twisted Tiramisu deliver a range of fun flavors to your doorstep and make for the perfect end to any meal. Better yet, their tiramisu can be kept in the freezer safely, just remember to take it out the night before. It's the perfect gourmet indulgence to have ready to go – and they'll happily let you claim you made it yourself.
Vosges Chocolate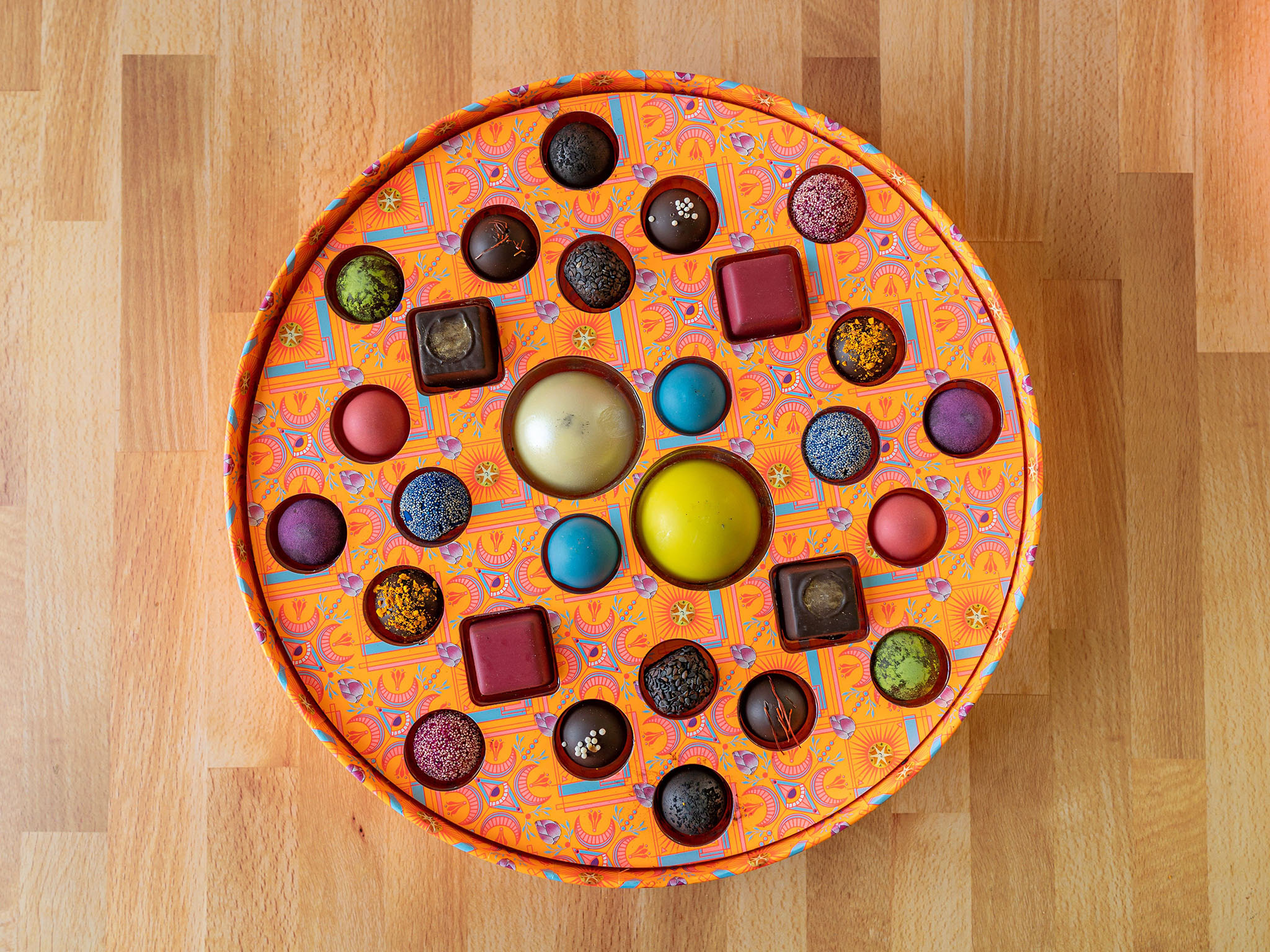 Vosges Chocolate (affiliate link) are regarded one of the best chocolatiers in America. Founder Katrina Markoff apprenticed in Spain under the likes of Ferran Adria of El Bulli, and the drop dead gorgeous product line up is like no other. Signature creations like the Uzume range offering dazzling flavor combos such as lychee + orange blossom, Kübler absinthe + star anise and Umeboshi plum + wild banana.
Hi, I'm Stuart, nice to meet you!  I'm the founder, writer and wrangler at Gastronomic SLC.  I'm a multiple-award winning journalist and have written in myopic detail about the Salt Lake City  dining scene for the better part of seventeen years.
I've worked extensively with multiple local publications from Visit Salt Lake to Salt Lake Magazine, not least helped to consult on national TV.   Pause those credits, yep, that's me! I'm also a former restaurant critic of more than five years, working for the Salt Lake Tribune.    I'm largely fueled by a critical obsession with rice, alliteration and the use of big words I don't understand.   What they're saying about me: "Not inaccurate", "I thought he was older", "I don't share his feelings".
Want to know more? This is why I am the way I am.
This article may contain content provided by one of our paid partners. These are some of the best businesses in Utah. For a list of all our current and past relationships see our
partnership history page
.