One of the busiest dining days of the year is almost upon us, and if you want to celebrate it with that special someone, you better act fast. You can of course expect all your favorite restaurants to open on the big day itself, but some have something extra special up their sleeves. The following are all the Valentine's 2020 dining specials we currently know about.
We will continue to update this post as more menus and specials come in. All info and notes provided directly by restaurants:
Campos Coffee
Australian specialty coffee roaster, Campos Coffee, will be hosting a pre-Valentine's Day fundraiser, Rebuilding Our Roots: To Australia with Love, to support the wildlife relief effort in the wake of Australia's devastating wildfires. The event will take place at Campos' Salt Lake City location on Thursday, February 13, 6:00-9:00 p.m.
Tickets are available for $50 and include passed hors d'oeuvres, cocktails, wine, beer, and live music. Special guests Utah Jazz player Joe Ingles and his wife, Renae, a gold medalist netballer and winner of the International Player of the Year Award, will be in attendance. A silent auction will feature exciting offerings including a trip to Australia, coffee brewing equipment, and gear signed by Utah Jazz team members. Additional auction items include coffee brewing equipment, wine classes, whiskey tastings, Jazz tickets, and private chef-catered meals. Proceeds from the event will be donated to WIRES (Wildlife Information Rescue and Education Service, Inc.), an Australian non-profit that has provided wildlife rescue services for more than 30 years.
"Given Utah's affinity for wildlife and the environment, we thought having an event to serve as a fun platform for raising funds to provide relief to Australia's animals would appeal to our local community," says Hillary Merrill, Head of Retail, Campos Coffee USA.
The devastation the bushfires have caused will have long-term impacts on wildlife and communities as a result of the millions of acres of charred land and decimated homes. Millions of birds, reptiles and mammals, including Australia's beloved koalas, have been killed. Wildlife that survived will face challenges with respect to term food, water, and habitat.
"Campos Coffee is built on communities and bringing people together over coffee. While the Campos Coffee's roasting operations have fortunately been unaffected by the fires, many of our café partners in towns across Australia have been severely impacted due to local infrastructure damage and reduced tourism during the busiest period of the year." says Rachel Pullicino, CMO of Campos Coffee. "As Australia begins to rebuild communities after the devastation, we are so grateful for the overwhelming support from our friends all over America, and the Salt Lake fundraiser is a unique way for people in our local community to get involved."
Current Fish And Oyster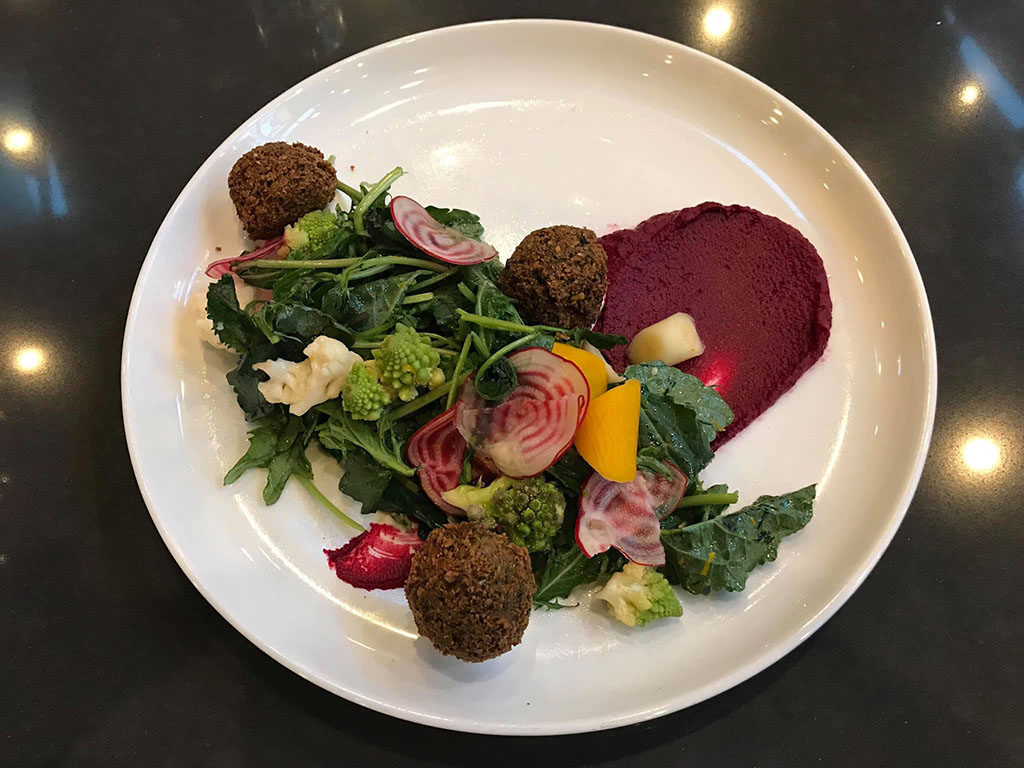 Current Fish & Oyster is celebrating love with Chef Alan Brines' special Valentine's menu from 4 until 10 p.m. on Friday, Feb. 14. The cost per person for the three-course dinner is $70 and does not include beverages, tax and gratuity. The regular dinner menu will not be available. Current will be open on the 14th for lunch from 11 a.m. until 3 p.m. with a menu of the best fish dishes from regional America.
Current's Valentine's Day three-course $70 dinner menu includes choices in each course. For the sumptuous starter course, diners can select Brine's winter pear salad, king crab bisque, local burrata, togarashi seared ahi or crab cakes. Main course offerings include grilled swordfish, chef's surf & turf (with Korean barbeque short rib and pan seared scallops), branzino, Double R Ranch prime rib, roasted cauliflower or Current's famous fish stew. Dessert offerings from pastry chef Amber Billingsly include Persian love cake, chocolate strawberry sundae, ruby chocolate and coconut pot de crème or a chocolate torte. Thoughtful wine and cocktail pairings are offered by experienced service staff.
Diners can add Current's famous seafood tower ($75) with 12 oz. Maine lobster tail, a fresh-off-the-boat selection of East and West Coast oysters ($3 ea.) or the famous West Coast Kumamotos ($3,75 ea.).
"We are excited to celebrate Valentine's Day with our guests," said general manger Ryan Mickelson. "We have some delicious offerings from chef Brines that are new creations, some amazing wine and cocktail suggested pairings and genuine warm hospitality. We urge diners to reserve early because this special night fills up quickly." $70 Valentine's three course Menu served Feb. 14:
To start (select from)
Winter pear salad, napa cabbage, radicchio, savory sage granola, parmesan, caramelized shallot vinaigrette
King crab bisque, chive crème fraîche, puff pastry crackers
Local burrata, butternut purée, carrot top pesto, hazelnut croquant, grilled bread
Togarashi seared ahi, carrot daikon slaw, orange basil vinaigrette, wasabi crema, lotus root chip
Crab Cakes, red pepper citrus jelly zucchini pickles
Main course (select from)
Grilled swordfish, heirloom beans, house-smoked pork belly, pickled collard greens, red pepper coulis, meyer lemon pasilla pepper vinaigrette
Surf & turf, Korean barbeque short rib, pan seared scallops, fingerling potato, house-made kimchee, gochujang citrus beurre blanc, zucchini chips
Branzino, Israeli couscous, chard, eggplant, green romesco
Double R Ranch prime rib, jalapeño horseradish, warm bacon potato salad, roasted carrots
Roasted cauliflower, hazelnut romesco, seasonal mushrooms, quinoa, sautéed greens
Current's Thai fish stew, scallop, prawns, fish, mussels serrano pistou, coconut broth, peanuts
Dessert (select from)
Persian love cake, honey wine sabayon, fig jam, candied pistachio
Chocolate strawberry sundae, Solstice chocolate gelato, strawberries almond croquant, strawberry mascarpone cream
Ruby chocolate & coconut pot de crème, passion fruit gelée, coconut tuile
Chocolate torte, tahini caramel, sesame granola, apricot spice purée, cafe au lait cream
279 E 300 S, Salt Lake City, UT 84111
(801) 326-3474
currentfishandoyster.com
Earl's Lodge @ Snowbasin
Treat your sweetheart to a romantic 5-course dinner! A culinary and natural experience to be shared with the ones you love as there is nothing like it. It comes with a chocolate-dipped strawberry per couple as a gift from Snowbasin Resort. $90 per person includes a 5-course prix fixe dinner. Price does not include beverage, tax or gratuity. Parties of 6 or more will have a service charge of 18% added. Menu:
Appetizer
BBQ pork belly, Fried Green tomatoes, sundried tomato jam, port wine reduction

Soup
Lobster bisque

Salad
Pickled beets, arugula, goat cheese, candied walnuts, raspberry vinaigrette

Entrée
Braised short rib, creamy polenta, maitake mushroom, and San Marzano tomato ragu, fried basil

Vegetarian Option
Butternut squash ravioli with brown butter and sage cream sauce

Dessert
Lemon curd cheesecake with a raspberry and blueberry coulis
3925 Snow Basin Rd, Ogden, UT 84403
(801) 620-1000
snowbasin.com/dining/earls-lodge/
Franck's
Join us with that special someone this Valentine's Day at Franck's. Chef Robert Perkins has created an amazing 4 course menu just for this occasion as follows:
1st course
Sundried tomato, shoyu & Sun River Farms blood orange emulsion, nuoc mam "saltines", burrata, blood orange relish
2nd course
Caramelized cold water scallops, glazed Hokkaido turnip, buttermilk whey, fresh fazzoletto pasta, Thai basil pesto, pickled olive oil, crispy garlic
3rd course
Dry aged prime beef Manhattan, sofrito, petite potato, chive aioli, aerated chilies, bread & butter mustard seed, sweet vermouth sauce, flowers
4th course
Chocolate, passion fruit & pineapple trifle cake, caramelized pineapple, passion fruit, marshmallow, sugar crumb, milk chocolate ice cream, pineapple mint
$90 per person – tax & gratuity not included.
The Gateway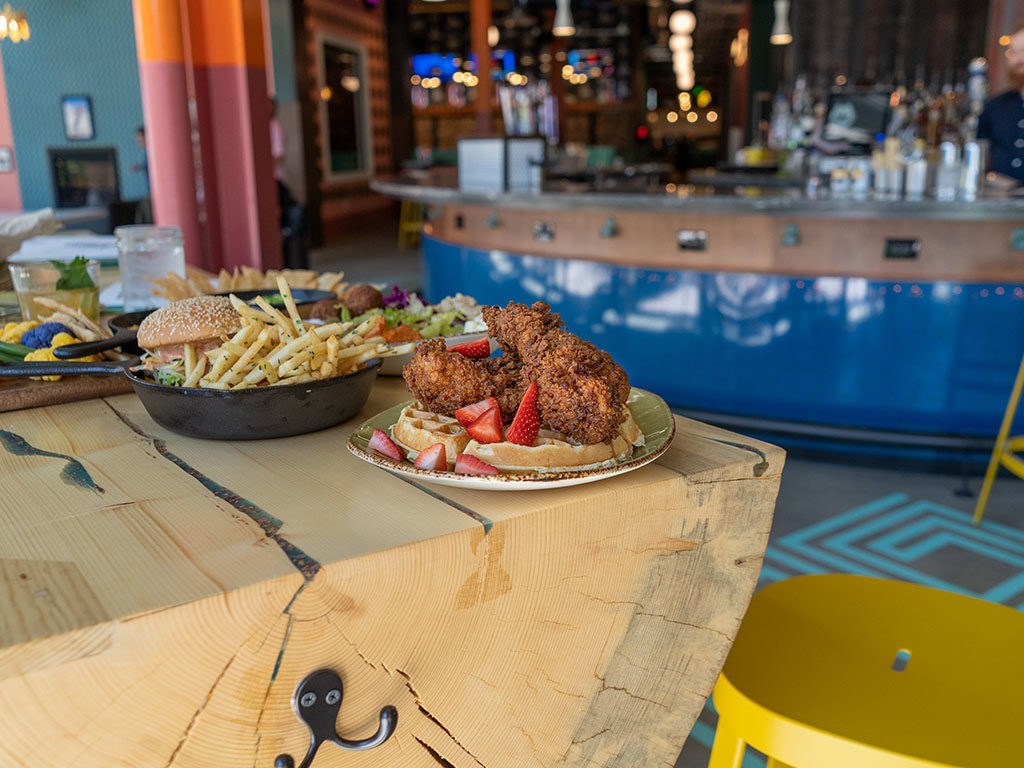 Make a night of it at the newly improved Gateway with many of their featured new tenants getting in on the romantic time of the year! Indeed the downtown destination is hosting a fun on site bar crawl in celebration of Singles Awareness Day with Bumble for their first Bar Crawl! The event begins at 6 p.m. on February 15th beginning at SkinnyFATS Hallpass. From there the event stops at 5 bars along the way; each bar will be offering a free small appetizer and have a specialty "car crawl" cocktail for purchase. Bar Stops (about 45ish min. at each the following):
• SkinnyFATS Hallpass
• Bout Time Pub & Grub
• Dave & Buster's
• Seabird Gateway
• Punch Bowl Social
Punch Bowl Social
Toast each other over the "Brisk Mountain Breeze" punch, featuring El Jimador Reposado Tequila, Créme De Violette, Q Mixers Grapefruit Soda, Fresh Lemon Juice and Simple Syrup or the "Lavender Sour" with Broker's Gin, House-Made Lavender Syrup, Fresh Lemon Juice. If zero proof cocktails are you thing, enjoy the Florist's Tonic featuring Seedlip Garden 108 Distilled Non-Alcoholic Spirit, Lavender Syrup, Fresh Lemon Juice and Q Mixers Elderflower Tonic or the "Palm Tree Shade" with Pineapple & Tropical Spice Infused Coconut Water, Mint Syrup, Fresh Lemon Juice and Aquafaba.
While you're at it, order some sriracha peanut fries or cauliflower nachos to snack on or the French dip or shrimp tacos to split and share. Between shareable dishes, cocktails of all varieties, interactive games and belt-it-out karaoke, Punch Bowl Social is the ideal space to raise your glass to love, however you honor it.
Chedda Burger
Chedda Burger will be kicking off sweetheart special tastes just for lovers the entire month of February. Their special shake is chocolate dipped strawberry cheesecake and the February burger is The Honeymooner with white chedda, pulled pork, coconut crusted pineapple, tangy gravy and garlic mayo.
Fleming's Prime Steakhouse
The downtown steakhouse destination spot is offering three course menu specials February 12-15. All meals include appetizer, salad, dessert and entree choices. Options include filet mignon with either lobster tail scampi, crab-stuffed shrimp scampi or pistachio-crusted lamb chops. Fleming's are also offering a surf and turf for two for $200 which includes a tomahawk steak and lobster tail with crab-stuffed colossal shrimp entree.
Tucanos
At Tucanos Brazilian Grill, love Brazilian style is on the menu with dinner for two offered at $31.95 per person which includes the chef's selections of rosemary herb salmon, roasted rib eye, grilled shrimp and a special Valentine's chocolate treat. It's all served up with a complimentary rose from Feb. 13 – 16. Cost for children 7-12 years old is $12.95 and there's no cost for children under six.
CPK
California Pizza Kitchen (CPK) will donate 20 percent of customer purchases (dine-in, takeout, catering and all beverages) to The Children's Heart Foundation On Tuesday, Feb. 11. For Valentine's week, they have a Sweet Deal for Two for just $35* from Feb. 12 – 16 that includes one appetizer to share, two entrées, and one dessert. Diners can also order a heart-shaped pizza. Dine in only.
Sweet Rolled Tacos
Sweet Rolled Tacos is rolling out two new tasty treats for Valentine's Day, the candied cupid ($6.75) and the chocolate brownie bliss ($7.00). Both will be available from Feb. 1-15. After the 15th the chocolate brownie bliss will become a permanent menu item.
The Store
The Store at The Gateway has delicious sweets and chocolates and all the ingredients for a romantic dinner in. Always with a strong emphasis on local makers, they offer V Chocolates, Rebecca's chocolates, Fernwood Chocolates, Cutler's Cookies, Cakes de Fleur and Banbury donuts.
They are offering special pricing from now until Feb. 14 on filet mignon, New York strip steaks for only $9.99/lb. and delicious ribeye steaks for only $12.99/lb. Lovers can add some chef-prepared sides and salads and freshly backed rolls from the in-house bakery or take home a dinner or dessert June Pie for two.
Activities @ The Gateway
Sanctuary Day Spa is offering a special Valentine's Couple's Package for $250 that includes two 60-minute massages, a 30-minute bath soak and a sweet Valentine's dessert. A Champagne Facial is also offered for $110.
Discovery Gateway Children's Museum is celebrating Valentine's Day on Feb. 14 from 11 a.m. – 4 p.m. with special art and science programming. Families will make valentine's and learn about the anatomy of the human heart and join museum-wide scavenger hunt for hearts and prizes. These activities are included free with Admission.
Mystery Escape Room is offering Date for two: a 1920's Speakeasy Escape Room Experience for 30 minutes. The cost of $79.95 for two includes a special dinner at California Pizza Kitchen.
Wiseguys Live Comedy is featuring Pete Lee, the first stand-up comedian to get a standing ovation on The Tonight Show starring Jimmy Fallon. He'll be on stage from Feb. 13 through Feb 15 – shows at 7 and 9:30 p.m. Tickets are just $15.
"The Gateway is a unique and fun place to celebrate Valentine's Day this year," says Jacklyn Briggs, marketing director. There are so many choices for all budgets right within the property. You can grab dinner and head to a movie, comedy show, or date night at Dave & Buster's. There are so many options to choose from with our new and existing merchants. It's a great time to come down."
Kimi's Oyster And Chop House
Valentine's Day isn't just for the couples. Bring your best gals to our lounge on Thursday February 13th from 5-9.00 p.m. for a GAL-entine's day celebration! We will have special GAL-entine's drinks for $12 and under, $20 oysters by the dozen, and lots of apps to share!
Specialty drinks: pink punch $6, galentine's cosmo $8, pama bubbly $7, pomm paloma $8, Dolfo Rosé $12.
2155 S Highland Dr, Salt Lake City, UT 84106
(801) 946-2079
kimishouse.com

Log Haven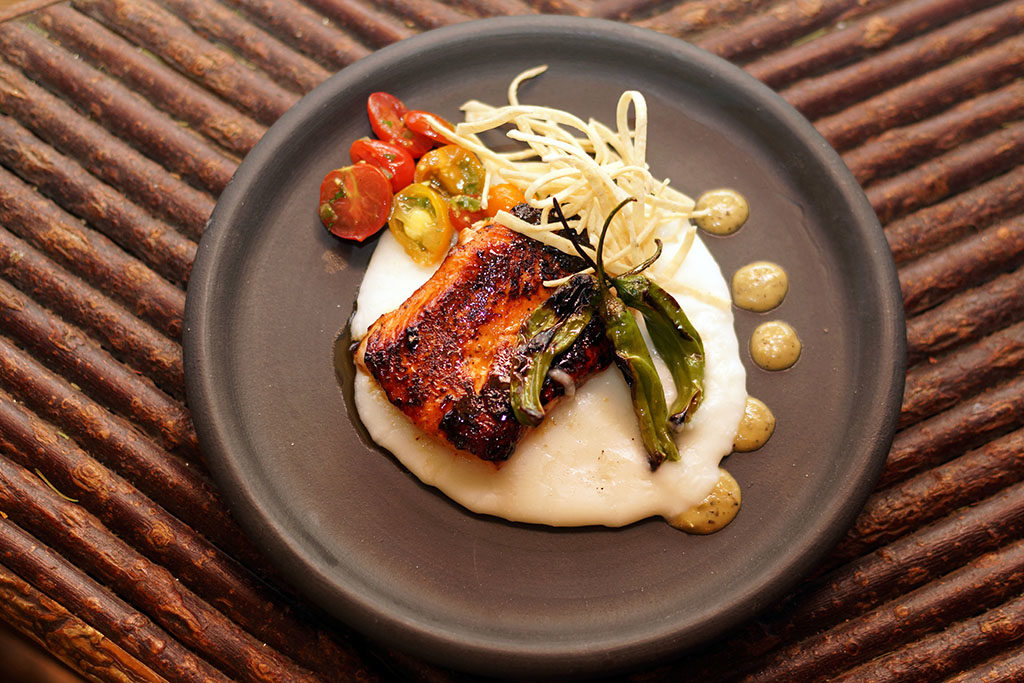 Log Haven – Utah's Most Romantic Restaurant – features "Four Nights of Passion" from February 13 – 16 with live music, specialty cocktails and mocktails and menu items (in addition to the regular menu). More information is on the web-site here.
6451 E Millcreek Canyon Rd, Salt Lake City, UT 84109
(801) 272-8255
www.log-haven.com
The Mariposa
Indulge in four courses of The Mariposa's Valentine's Day prix fixe menu. Start with Argentinian red shrimp followed by Gioia Cheese Co. Burrata. Choose from black cod or Idaho Falls Kurobuta Pork for the main course, and close with Moscato D'Anjou for $90 per person. Guests may add a wine flight and will leave with specialty chocolates and flowers.
7600 Royal St #305, Park City, UT 84060
(435) 645-6632
deervalley.com/things-to-do/dining/the-mariposa
The Melting Pot
On both February 14th and 15th the restaurant is offering a five-course meal for $69.95 per person. The set meal includes appetizer, salad, fondue, entree and dessert.
Oquirrh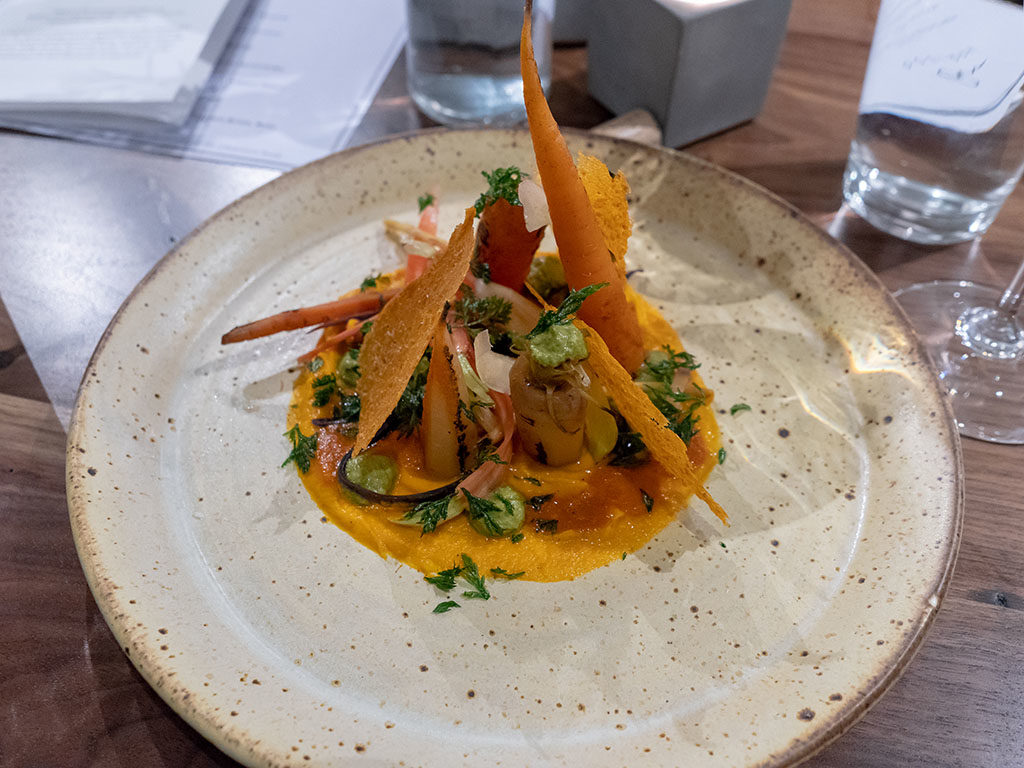 Come celebrate Valentine's Day with Oquirrh, offering a prix fixe menu on Friday February 14, as well as Saturday, February 15th. Cost is $79 per person, gratuity not included. Wine pairings optional and offered at $40 per person. Menu as follows
Amuse
House sourdough bread
Course one (select from)
Foie gras, quince jam
Dry aged ribeye, black garlic jus, grilled over coals
Course two (select from)
Braised octopus, puttanesca
Vegetable risotto, black truffles, wild foraged mushrooms, leeks, parmesan
Course three (select from)
House made bucatini, bone marrow
Pork loin, parsnip, cabbage, Luxardo cherry
Palate cleanser
Dessert (select from)
Debbie Ess chocolate cake, Fernet mascarpone, ice Cream
Passion fruit + lemon-bar, baked meringue, citrus gastrique
368 E 100 S, Salt Lake City, UT 84111
(801) 359-0426
Brunch menu
Pago
Pago valentine's day 2020, five-course dinner tasting menu and wine pairings. $95 tasting menu, $45 wine pairings + tax & 20% gratuity.
878 S 900 E, Salt Lake City, UT 84102
(801) 532-0777
www.pagoslc.com
Powder @ Waldorf Astoria Park City
With Valentine's Day falling on the Friday of Presidents weekend, Powder wants to offer a special dining experience for Park City locals. Plan to celebrate your love a bit early on Feb. 12 for a special menu and pricing. Start with swordfish prosciutto and cured salmon and a savory squash-carrot-ginger soup, followed by a Niman Ranch New York skirt steak. End with a decadent flourless chocolate terrine. Dinner is $105 per person, and an additional $45 for specially selected wine pairings. Call 435-647-5566 to book.
On Feb. 14, enjoy a night of Powder's elegance, beginning with a choice of West Coast oysters, Wagyu beef bavette tatake or organic frisee and mizuna. Drink in the evening with a Champagne intermezzo before moving on to the main course of Chilean sea bass, Colorado lamb loin or Niman Ranch New York steak. Devour passion fruit mousse for a sweet finish. Dinner is $150 per person, and an additional $55 for specially selected wine pairings.
Frostwood Dr, Park City, UT 84098
(435) 647-5566
waldorfastoriaparkcity.com

Saffron Valley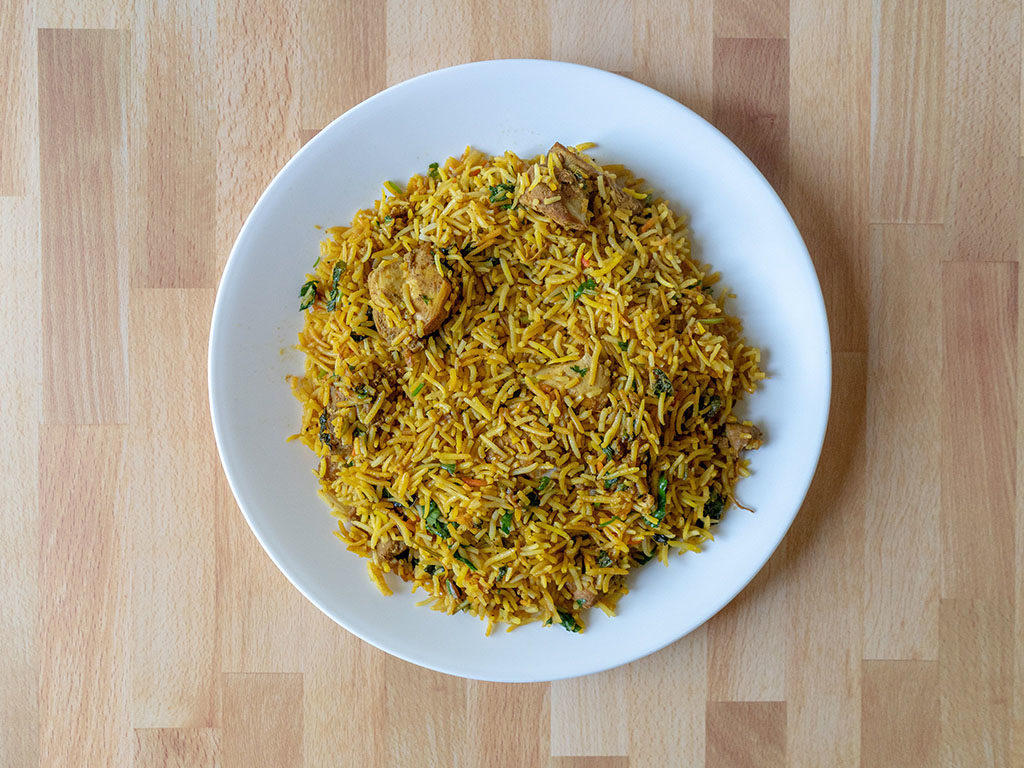 Experience something different this Valentine's Day! You and your significant other are invited to join us for a 5 course tasting menu to share in a romantic setting. The menu includes two of the four curries below, everything else, and two glasses of champagne:
Small plates
• Aloo tikki (V) (GF) – old Delhi style savory potato cake served with tamarind & mint chutney
Grill platter
• Malai tikka (GF) – tender piece of chicken marinated in creamy cashew nut & saffron
• Lamb chop (GF) – marinated with fresh ginger, dried fenugreek, herbs & spices
• Saffron paneer (V) (GF) – char-grilled Indian cottage cheese marinated with saffron, ginger & spices
Curries (choose 2)
• Chettinad chicken curry (GF) – tender pieces of chicken cooked in an authentic Southern style curry sauce
• Kerala prawn curry (GF) – tiger prawns, tomatoes, and curry leaves simmered in coconut cream
• Mutter paneer (V) (GF) – Indian cottage cheese cooked with garden fresh peas in onion & tomato sauce
• Cauliflower tomato masala (V) (GF) – cauliflower and tomatoes cooked together with whole spices & fresh herbs
Sides and breads
• Dal palak (V) (GF) – yellow Moong lentils cooked together with baby spinach, garlic & cumin
• Raita (V) (GF) – yogurt with onions, tomatoes, cucumber, coriander & roasted cumin
• Jeera pulao (GF) – basmati rice cooked with cumin seeds, green peas & coriander
• Classic naan (V)
Dessert
• Rose panna cotta (V) (GF)
V = Vegetarian, GF = Gluten-free
Saffron Circle is the absolute perfect destination to celebrate Valentine's Day because the theme is an Indian love story. Everything from the food to the decor to Rishi and Maya's love story will take you on a journey to happily ever after. Enjoy a modern take on Indian cuisine in a romantic setting, and celebrate Valentine's Day at Saffron Circle in Mountain View Village. Cost is per couple. Seating is limited to 30 couples per time slot at either 6 pm or 8 pm. Champagne is for guests 21 and up only; must show ID.
Colonial | 26 E St E, Salt Lake City, UT 84103
Bistro | 79 E 2100 S, Salt Lake City, UT 84115
Canteen | 1098 S Jordan Pkwy, South Jordan, UT 84095
Circle | 4597 W. Patridgehill Lane, Riverton, UT, 84096
saffronvalley.com | order delivery (affiliate)
SLC Eatery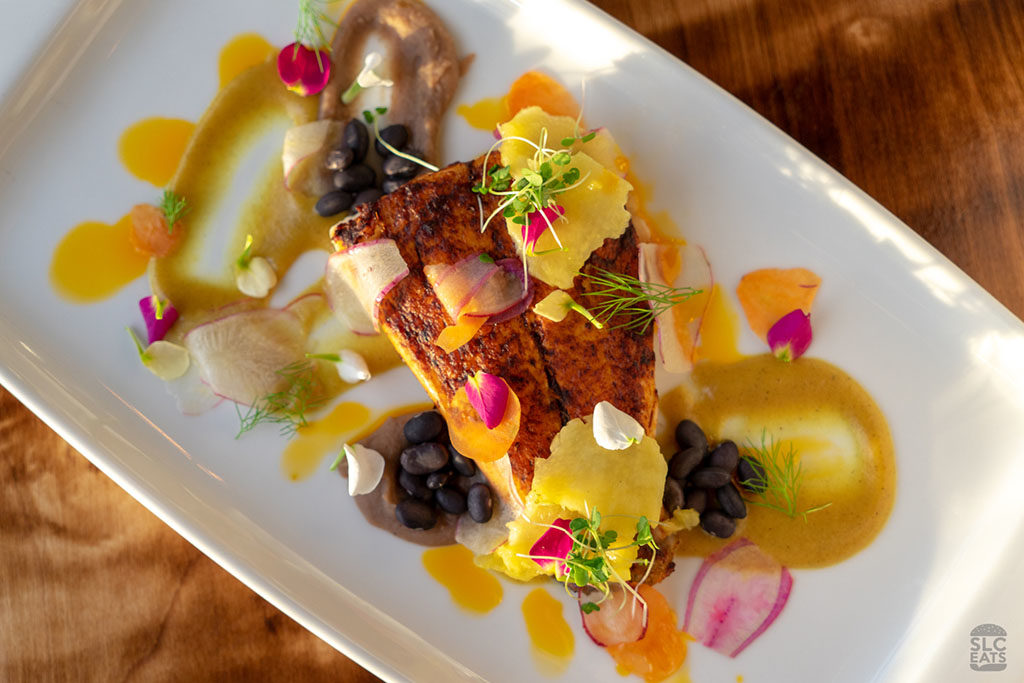 The award winning eatery will be offering a special three course prix fixe for $60 per person. The restaurant's famed cart will offer extra options and all guests will receive a complimentary scone with smoked cheddar rillette/
First course (select from)
Roasted beets, mojama, watercress, cara cara orange, marcona, sourdough
Black kale salad, zursan bean, fennel, pecorino, smoked garlic dressing
Seafood "fried rice", citrus chili nage, shaved vegetables
Second course (select from)
Goat cheese agnolotti, caramelized pear, pistachio, sumac
Ora king salmon, maple-miso glaze, haiga rice, squash, bok choy
Snake River Farms beef shoulder tenderloin, romanesco, potato, mushroom-truffle jus
Roast chicken for 2, black bean, salsa pipian, chicken thigh tamale, house tortilla,
squash pico,12 $ supplement for single)

Third course (select from)
Dark chocolate panna cotta, raspberry, meringue, raspberry white chocolate ganache
Raspado, prickly pear granita, rum roasted pineapple, fermented coconut, hibiscus
Affogato, smoked vanilla gelato, amarena cherry-port sauce, hazelnut biscotti
1017 Main St, Salt Lake City, UT 84111
(801) 355-7952
Brunch menu
Stanza
On Valentine's weekend, Stanza Italian Bistro & Wine Bar's celebrated chef Jonathan LeBlanc and pastry chef Amber Billingsley are offering their diners something special, a $70 four-course Valentine's dinner served on Friday, Feb. 14 and Saturday, Feb. 15. from 5 until 10 p.m. The regular dinner menu will not be available those evenings. General manager Keith Foust and his experienced service staff will be on hand to deftly pair each course with fine Italian varietal wine selections. Stanza will be open for lunch on Friday, Feb. 14 Valentine's Day from 11 – 3 p.m.
Stanza's $70 four-course Valentine's dinner menu includes first course selections of oysters Rockefeller or pan-fried scamorza cheese. Second course choices include crab and sweet corn arancini or porcini wild mushroom ravioli. Diners can opt for grilled teres major steak, broiled Australian lobster tail or Grande Chianti rigatoni for their third course. Dessert options from Pastry Chef Amber Billingsly include a Soltice chocolate torte, pistachio cannoli or tiramisu.
"Nothing says love better than Italian food and wine," says LeBlanc. "We offer great, simple, Italian cuisine made with the best ingredients, all in a stunning, dramatic setting … what could be more romantic?"
$70 five-course dinner served February 14 and 15 includes a choice in each course of:
1st course (select from)
Oyster Rockefeller, Duroc bacon lardons, crystal hot sauce hollandaise
Pan fried Scamorza cheese, arugula, sundried tomato pesto
2nd course (select from)
Crab & sweet corn arancini, Sevruga caviar, crème fraiche, grilled lemon beurre blanc
Porcini wild mushroom ravioli, ricotta, sage, puttanesca sauce
3rd course (select from)
Grilled teres major steak, Point Reyes cream sauce, fontina polenta, roasted asparagus, pomegranate-balsamic reduction
Broiled Australian lobster tail, shrimp en brochette, parmesan-roasted red pepper risotto, blistered heirloom tomatoes, pesto butter
Grande chianti rigatoni, broccoli rabe, charred lemon pesto, roasted sunchokes, Winter squash fingerling crisps, Pecorino-Romano
4th course (select from)
Solstice chocolate torte, strawberry coulis, Frangelico cream, candied hazelnut
Pistachio cannoli, roasted pistachio, candied basil, Solstice chocolate sauce
Tiramisu, espresso soaked ladyfingers, marsala mascarpone cream, cocoa
Stratford Proper
Make your reservations now for Valentine's Day! Here's our special prix fixe priced $54 per person (or à la carte) menu we'll be offering in addition to our regular dinner menu.
First course ($15)
Ahi tuna ceviche, leche de tigre, pickled red onion, jalapeños, cilantro, avocado, wonton chip
Second course ($32)
Lobster tail, brown butter aioli, sweet potato latke, apple and herb salad
or
Beef tenderloin, mole negro, ancho chili fingerling potatoes, roasted beets, blueberry chimichurri
Dessert ($10)
Strawberry creme brûlée, chantilly cream, lavender sugar
or
Warm brownie, peaches n cream ice cream, Solstice chocolate sauce, raspberry coulis
1588 Stratford Ave S, Salt Lake City, UT 84106
(801) 953-1262
stratfordproper.com

Sushi Blue
This Park City sushi spot is offering a special five course for $40 per person, menu as follows:
Course one
Pan seared hokkaido scallops, shitake mushroom succotash, dashi butter
Course two
Cream Thai carrot and sweet potato soup
Course three
Asian wedge salad
Course four
Bill White Farms tenderloin, poached lobster tail, wasabi mashed potatoes, grilled asparagus
Course five
Matcha parfait, white chocolate, sour cherry
1571 Redstone Center Dr #140, Park City, UT 84098
(435) 575-4272
sushiblueparkcity.com
Taqueria 27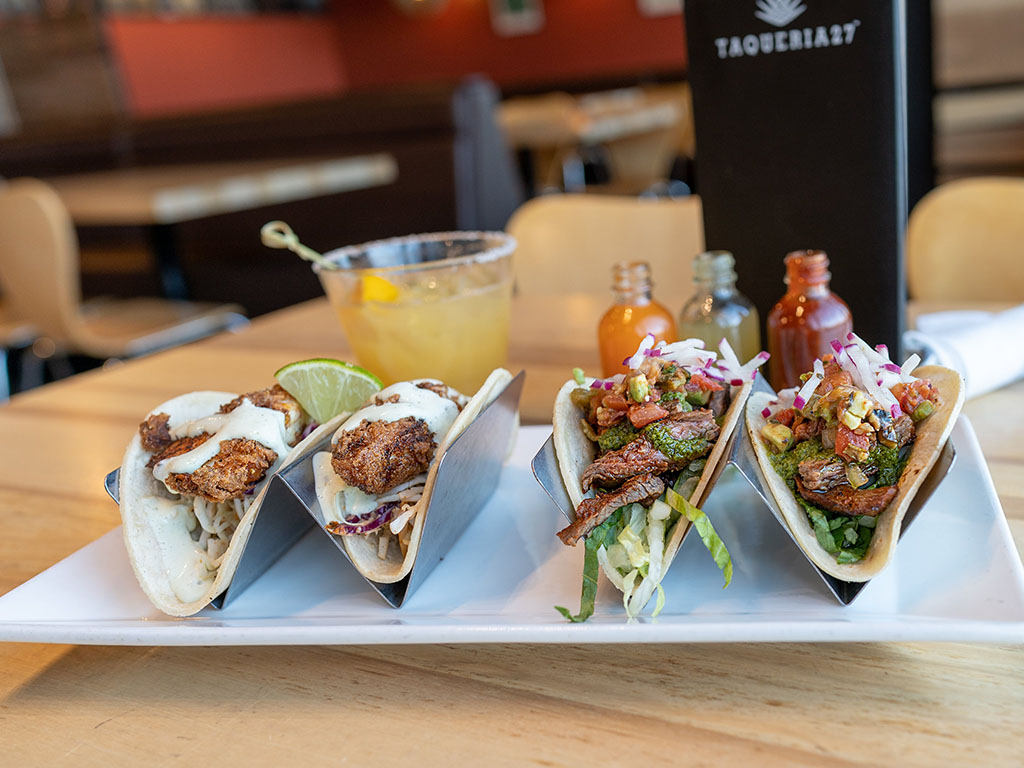 Join us at Taqueria 27 in Holladay for a unique Pre-Valentine's Day tasting event & dinner featuring Vida Tequila! Love your sweetheart, bestie, mom, dad, or neighbor? Do you both LOVE tequila? Join us at Taqueria 27 the day before Valentine's Day for a special evening of tacos and tequila. It's the perfect way to celebrate and say "I love you."
We're excited to invite you for a casual evening of tacos and tequila at our Holladay location on Thursday, February 13th. You'll get to hear from chef Todd about VIDA Tequila AND you'll get to try their Blanco, Reposado, and Añejo tequilas. We'll talk about what makes this spirit so unique and you'll also get one of our house margaritas made especially for you with the VIDA Blanco tequila. You'll enjoy a plated meal with an appetizer, salad, 3 tacos, and dessert! Including:
Grilled pesto marinated shrimp "tostada bites"
Butterleaf salad with fresh pears, pumpkin seeds, and green chile gorgonzola dressing
Taco assortment: lobster mac & cheese, steak and potato, Sonoran bacon-wrapped hot dog (really!)
Churro bites with chocolate and whipped cream
Tickets are $60 with tequila / $35 for food only. Tickets are limited and only available in advance and include a meal and 3 pours of tequila + cocktail. Designated driver/non-drinker tickets are available. All attendees must be 21+ with a valid photo ID to attend.
Tin Angel Cafe
Offered February 13th through February 16th. Four course set menu for $50. Optional wine and cocktail pairings $25. Menu as follows:
Course one (select from)
Twin hearts salad – romaine hearts, fresh tomatoes, cucumber, shaved fennel bulb, raspberry vinaigrette dressing
Lobster bisque
Course two
Pandora's box – deletable morsels, blindfold optional, pop star pairing
Course three (select from)
Poseidon's nymph – wild salmon with rose beurre blanc and marcona almond, citrus Israeli cous cous
Eros wrapped tenderloin – herb crusted tenderloin with chasseur sauce, lemon zest, pommes Anna
Course four
Sweet hearts – cherry bread pudding
131 Main St, Salt Lake City, UT 84111
(801) 328-4155
thetinangel.com
Trestle Tavern
Friday, February 14th, 2020, 5-10.00 p.m. Four-course dinner and (optional) wine pairings.
$45 food, $25 wine pairings (optional) and tax/ service charge.
1513 S 1500 E, Salt Lake City, UT 84105
(801) 532-3372
trestletavern.com
Tuscany
Valentine's day dinner, $75 per person, menu:
Course one
Veal carpaccio roasted garlic aioli, pine nuts, capers, arugula
Fried tomato basil croquette (stuffed with) mozzarella cheese, heirloom tomato sauce, parmesan crisp
Course two
Strawberry & blue cheese salad, mixed greens, candied pecans, red onion, Mandarin oranges, balsamic vinaigrette
Clam chowder
Course three
Braised veal osso buco, whipped potatoes, broccolini, veal herb jus
Pan seared red snapper, black forbidden rice, roasted beets, rose water beurre blanc sauce
Grilled gilet mignon, garlic mashed potatoes, romanesco, red wine truffle sauce
Beet & goat cheese ravioli, arugula, shaved pecorino romano, balsamic pan sauce
Course four
Italian love cake, raspberry-rose macaroon
2832 6200 S, Salt Lake City, UT 84121
(801) 277-9919
tuscanyslc.com
WingTips Bar And Bistro
Over at The Holiday Inn & Suites SLC Airport West we will be serving a special Valentine's day menu here at our WingTips Bar & Bistro which will be served from 4-11 p.m. on February 14th. Ala carte specials include:
Soup, zuppa Toscana, $5

Shrimp skewer cocktail, $10

Valentine's salad, spring mix lettuce with cherry tomatoes, blood orange, goat cheese, caramelized pecans and raspberry dressing, $10

Pan fried barramundi, tomatoes, spinach, saffron risotto, $20
Lemon raspberry cheese cake, $7
Yuta
Yuta are offering a special four course dinner with Park City's Ritual Chocolate's cacao featured in each dish prepared by Chef Galen Zamarra. $125 per person, plus tax and gratuity.
In addition to Yuta's dinner, guests may attend a complimentary Ritual Chocolate Workshop at Blue Sky. 2-4pm or 4-6pm. They will discuss the fascinating history and uses of cacao and how their chocolate is lovingly crafted in small batches. Blue Sky's Edge Spa will be offering Cacao-Infused spa treatments to restore body, mind and spirit with cacao.
27649 Old Lincoln Hwy, Wanship, UT 84017-9609
(435) 233-9934

Last minute additions
A promised here are a few more options that we found out about after this post went live:
Other dining events to consider
Maybe a dinner date on the day itself isn't possible this year, but you still want to celebrate in style? Check out these other special foodie events coming up on the calendar soon!
BTG Wine Bar
BTG Wine Bar is proud to present a winemaker's dinner. Stephen Hagen will guide guests through a four course wine dinner paired with Pinot Gris & Pinot Noir raised and crafted from Antiquum Farm in the Willamette Valley, Oregon.
Thursday, February 20th @ 7 p.m.
$45 food $50 wine ($95 per person)
Call 801-359-2814 for reservations
Find out why raising chickens, ducks and having sheep in the vineyard help in raising amazing wine. Learn from Stephen Hagen about what elevates Antiquum Farm here.
63 W 100 S, Salt Lake City, UT 84101
(801) 359-2814
btgwinebar.com
Stanza
Stanza Italian Bistro & Wine Bar's executive chef Jonathan LeBlanc is reaching deep into his southern roots to bring his guests a truly unique dining experience while paying homage to his family roots and southern upbringing. In the true spirit of southern cooking, LeBlanc is sourcing all his ingredients directly from Louisiana and his dinner selections will be paired with classic Louisiana cocktails.
Highlighting his deep knowledge of Cajun and Creole cooking, his five-course Creole & Cajun Mardi Gras dinners will be held on both Fat Tuesday, Tuesday, Feb. 25, 2020 and again on Thursday, Feb. 27. Cost is just $90 per person ($60 food and $30 optional drink parings) plus tax and gratuity. Reservations are a must and can be made by calling 801-746-4441.
"I am continually asked when I'm going to let my Cajun/Creole side loose and what better time than during Mardi Gras," said LeBlanc. "Creating this menu has been a labor of love, as it represents where I'm from, my family and friends and my roots."
Cajun/Creole Mardi Gras dinner February 25 and 26, 2020 menu:
New Orleans BBQ shrimp with southern stone ground grits
Pimm's Cup 1 Italian spritz
Gulf seafood gumbo, toasted dark roux, holy trinity, popcorn rice, horseradish new potato salad, rum barrel hot sauce
Sazerac (classic cognac cocktail)
Crab stuffed mirlitons, shrimp Creole sauce, five-pepper brunoise
Hurricane (classic rum cocktail)
Peach-Southern comfort sorbet
Red fish Pontchartrain, dirty rice dressing, corn maque choux, crawfish étouffee sauce, crispy cracklins
Epic Brewery Double Skull Doppelbock (a little something local)
Chocolate croissant bread pudding
Frangelico crème anglaise, brûlèed marshmallows, pecan praline, chicory root coffee
Snowbird Wine Dinner
Celebrate Utah's winter wonderland at Snowbird Resort (The Aerie) for a memorable evening of food & wine. Duckhorn Winemaker Dinner. Saturday February 8th at 6.30 p.m.

Special Guest – Zach Rasmuson. Zach joined Duckhorn in 2003 as winemaker for Goldeneye Vineyards where he helped raise the bar & chart the course for the Anderson Valley AVA. Zach now leads the winemaking & viticultural team at Duckhorn Wine Co. as Chief Operations Officer. Executive Chef Ken Ohlinger has crafted an exquisite menu paired with the award-winning wines of Duckhorn.
9320 Cliff Lodge Dr, Snowbird, UT 84092
(801) 933-2160
snowbird.com/dining/the-aerie/

Hi, I'm Stuart, nice to meet you!  I'm the founder, writer and wrangler at Gastronomic SLC.  I'm a multiple-award winning journalist and have written in myopic detail about the Salt Lake City  dining scene for the better part of seventeen years.
I've worked extensively with multiple local publications from Visit Salt Lake to Salt Lake Magazine, not least helped to consult on national TV.   Pause those credits, yep, that's me! I'm also a former restaurant critic of more than five years, working for the Salt Lake Tribune.    I'm largely fueled by a critical obsession with rice, alliteration and the use of big words I don't understand.   What they're saying about me: "Not inaccurate", "I thought he was older", "I don't share his feelings".
Want to know more? This is why I am the way I am.
This article may contain content provided by one of our paid partners. These are some of the best businesses in Utah. For a list of all our current and past relationships see our
partnership history page
.