With Summer in full flow, there's plenty happening on menu across restaurants. Here's some picks that might inspire you next meal!
Salt Lake Brewing Co
Following the recent return of Jason Stock as brewmaster, Salt Lake Brewing Co are continuing to evolve the business. Now that the core brewpubs are back in local hands the latest update for the iconic brewpub sees a raft of refreshed dishes hitting the menu.
Speaking of local, Salt Lake Brewing has operated a 'socially responsible suppliers' policy for nearly twenty years; many dishes name checking a range of suppliers including Beehive Cheese, Daily's Premium Meats, Lehi Mills, Rocky Mountain Eggs, Stoneground Bakery and more.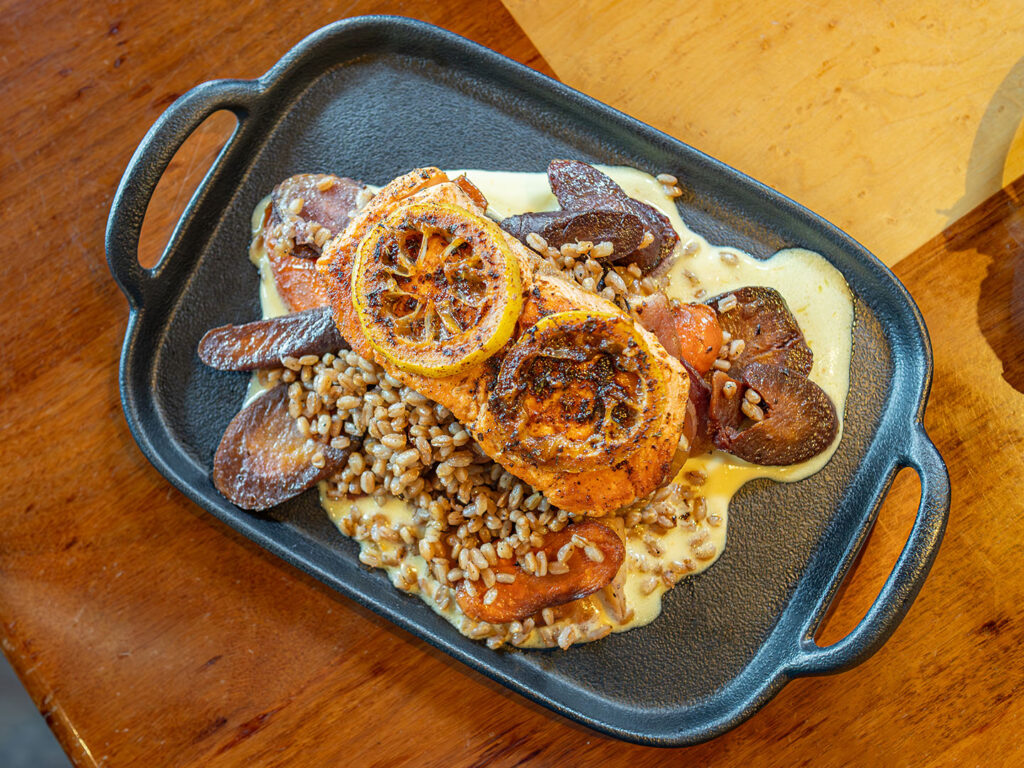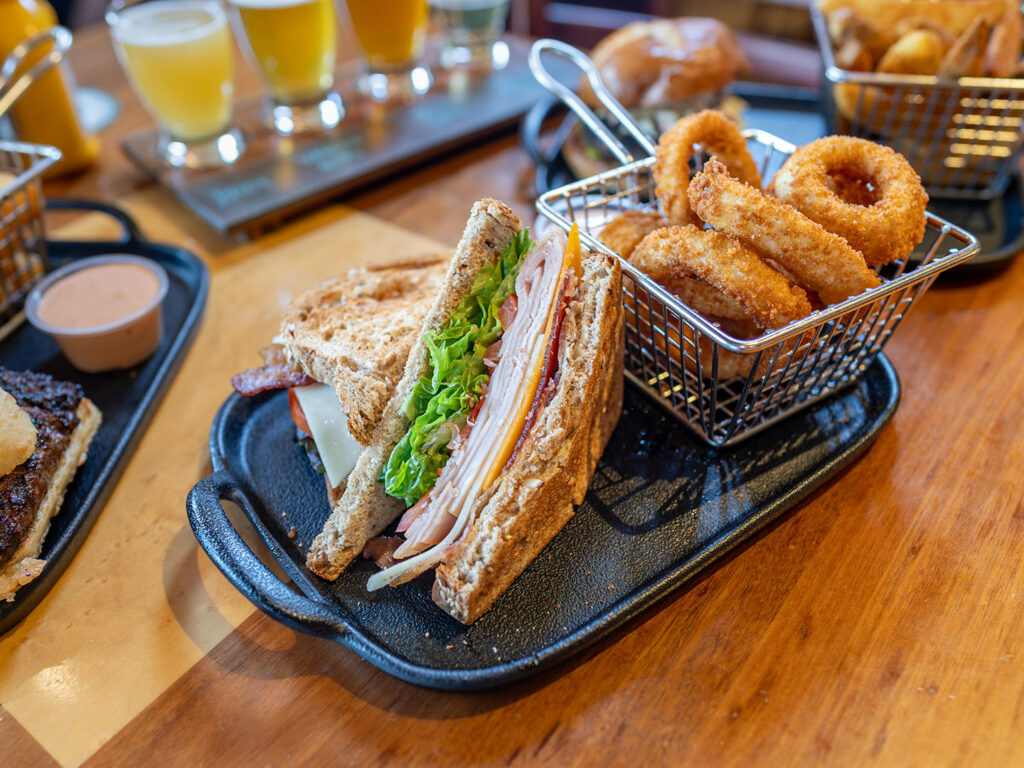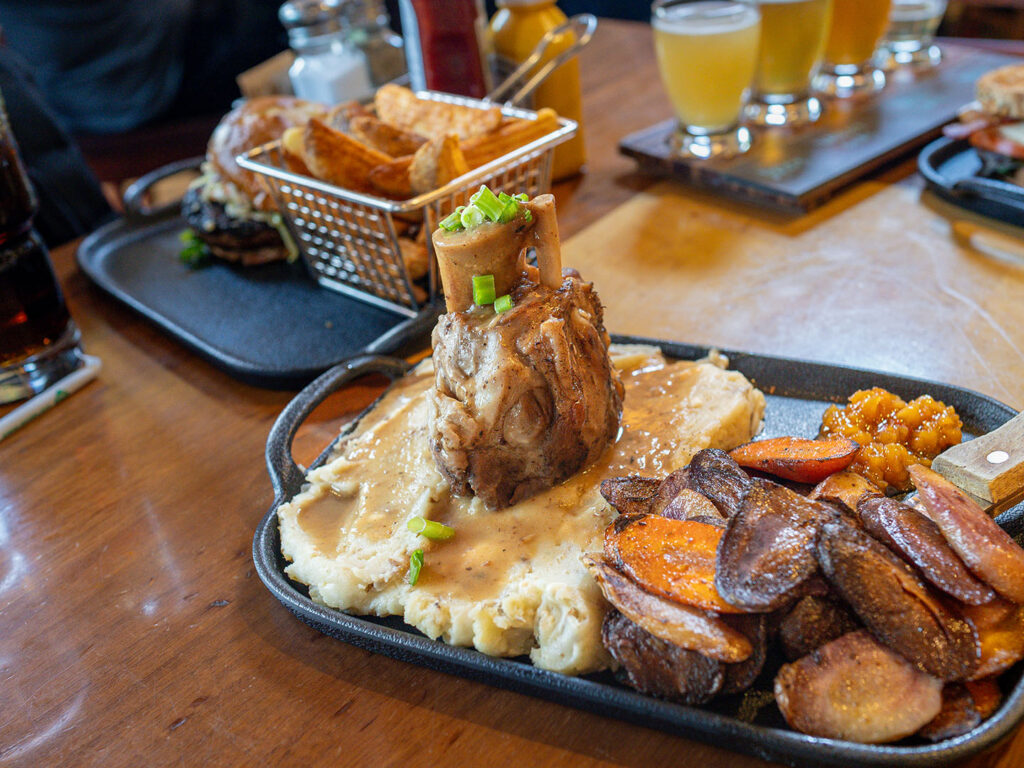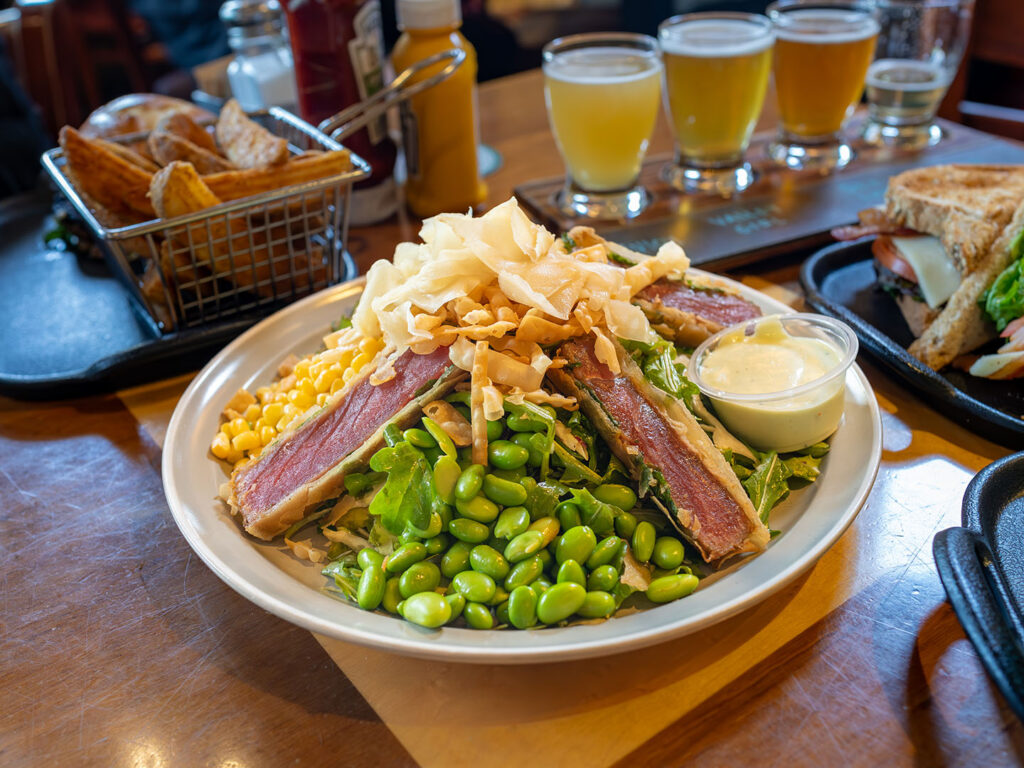 The recent menu update retains a number of the pub's most popular favorites (like the fried pickles and Thai yellow curry) while hopefully adding a few more. Highlights of the update include:
Elote tots, corn pico, salsa roja, cilantro, lime, chipotle aioli, queso fresco
Lambert burger, Cajun blackened patty, arugula, Cajun slaw, gorgonzola crumbles, brioche bun
American bison burger, fresh ground bison, Polygamy Porter bbq sauce, cheddar, onion straws, rosemary bun
Sherry braised pork shank, gorgonzola mashers, green onions, heirloom carrots, smoked apricot chutney, sherry sauce
Grilled salmon, saffron lemon sauce, farro, heirloom carrots
Squatters club, roast turkey, Daily's bacon, jack, cheddar, lettuce, tomato, mayo, sprouted wheat
Poke bowl, ahi tuna, avocado, mango, cucumber, green onion, wasabi, rice, black sesame seeds, soy ginger dressing
Feldman's Deli
Love this East-side's fabulous reuben? Love fried things? You're in luck, with the recent return of Feldman's reuben fritters. Back on the menu after an extended hiatus these fried balls of corned beef and pastrami come coated with the restaurant's rye bread crumbs, and are served over kraut with Russian dressing.
Also back on the menu – and perfect to offset the deep fried guilt – chilled borscht. The cool soup of beets and cucumbers is a perfect ward against the Summertime triple digits too.
Avenues Proper
Up at this Avenues brew pub spot, a Summer menu refresh recently rolled out. Some of the new dishes include:
Truffle mac & cheese, elbow noodles, tartufo, truffle oil, breadcrumbs
Pork belly sandwich, maple rubbed pork belly, ginger slaw, hoisin BBQ, brioche bun
Arugula salad, herbed goat cheese, pickled beets, lemon-sumac vinaigrette, radish, sunflower seeds
Spicy mustard mussels, Lake Effect beer, whole grain beer mustard, frites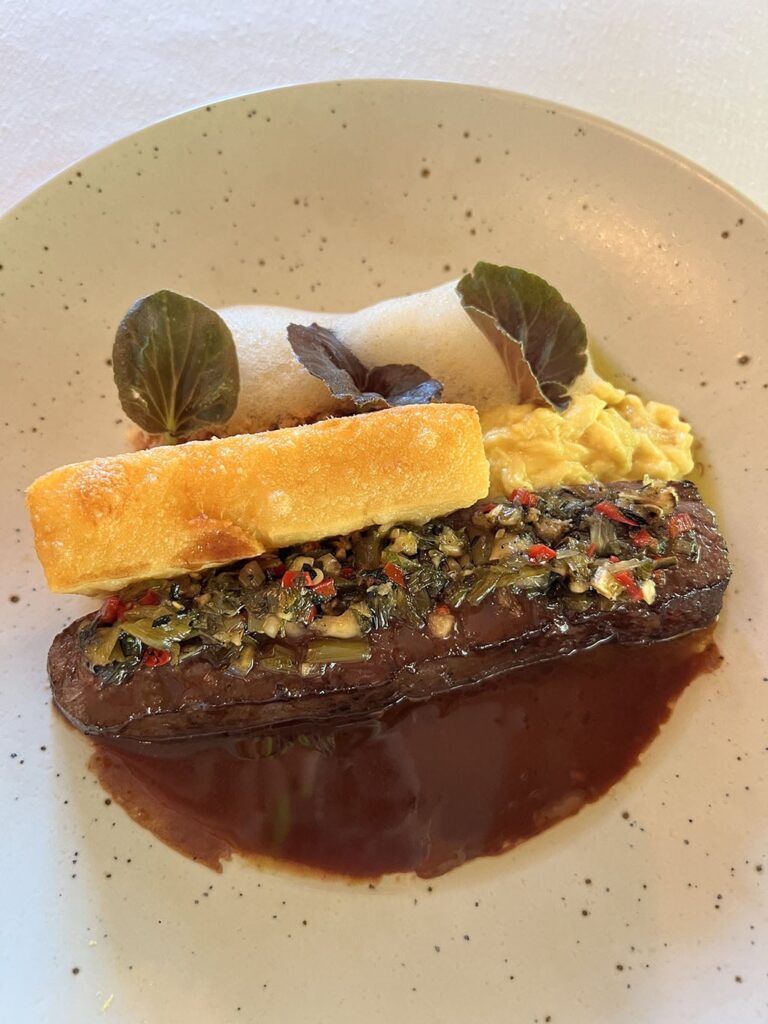 Franck's
News hot off the grill from our friends over at Salt Plate City, who recently enjoyed the all new brunch menu at Cottonwood Height's Franck's. In addition to a new four course brunch tasting menu ($60) top tips from the SPC team are that the wagyu coulotte and the Croque monsieur "hot pocket" should enter your brunch rotation ASAP. The full menu which is barely three or four weeks old is as follows:
Angie's magic brioche, miso-maple butter, three cheese fondue, gruyere, dry aged fontina, Swiss, kirsch liquor served with house bread
Preserved heirloom tomato pie, optional sunny side duck egg, sundred tomato aioli, chimchurri, red onion, sweet herbs, caramelized parmesan
Longfin tuna tiradito, sea salt cracker, sweet & sour cucumber, mint, gochujang
Wagyu coulotte, soft scrambled egg, spring onion XO, potato mochi hashbrown, bacon-Burgundy sauce, onion arare, aerated tabasco
Niman Ranch pork blade steak, potato tostones, Fresno chill, sunny side duck egg, grilled onion marmalade, nasturtium salsa verde, blood orange hollandaise, fried oat dukkah
Schmaltz brioche kaya toast, coconut-egg jam, roasted chicken skin, cold butter, marca pina soy sauce, raw yolk
Caramelized corn cakes, whipped butter, Jake's Creek wagyu lardons, strawberry-Burgundy marmalade, rosemary maple, candied rosemary
Southern fried chicken thigh, burnt buttermilk vinaigrette, blistered grapes, dill pickles, caviar honey, raw shallot, grilled baby iceberg
Croque monsieur "hot pocket", grain mustard, crème fraiche béchamel, potato hay stack, fermented raisin mostarda
"Bowl of cereal" miso pot de creme, maple, corn flakes, miso, blueberry
Warm yeast donut, pineapple, coconut, macadamia nut, kiwi, Thai basil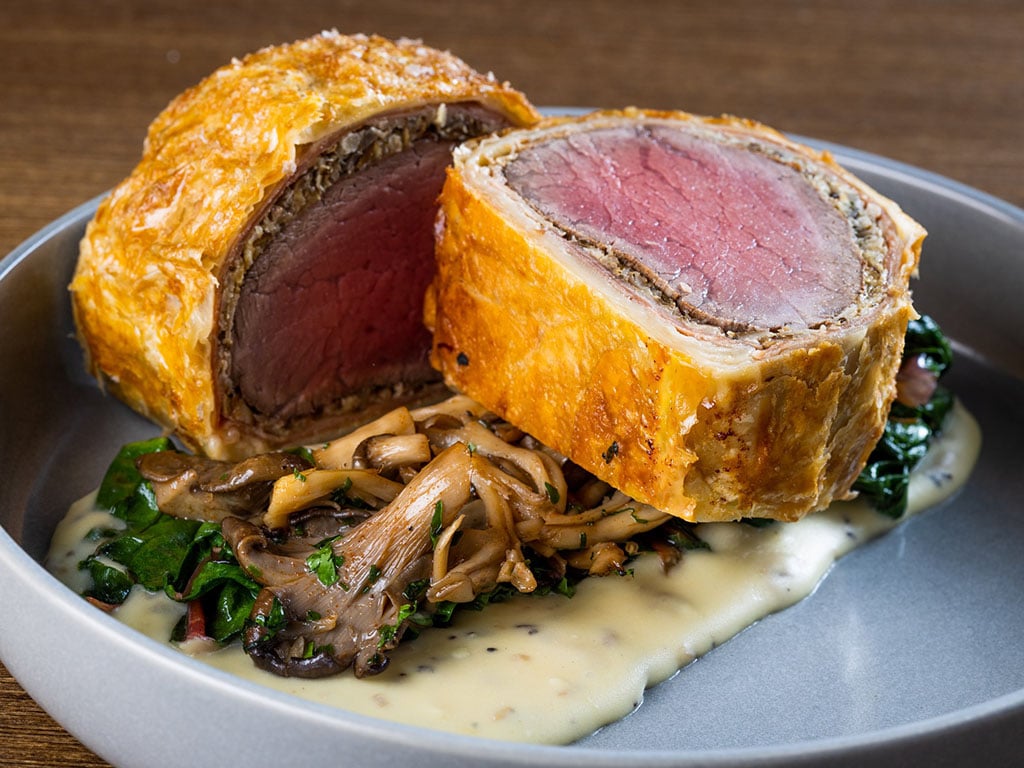 Bambara
As the renovation work at downtown's Hotel Monaco comes to a close (August should see the majority of the hotel refreshed), the latest menu iteration at on site Bambara has rolled out. There's a more concise focus on French and Italian cuisine, as well as an Instagram stopping bison based Wellington for two. Here's the full press release from the business following the remodel.
. . .
Following an extensive renovation, Bambara announces its official reopening, complete with an interior overhaul and menu redesign. Located within the Kimpton Hotel Monaco Salt Lake City and led by Executive Chef Patrick LeBeau, the updated and modern bistro, Bambara, will bring a diverse experience to the bustling downtown restaurant scene. Guests can expect local flavors that are enhanced by new technique, allowing a unique dining experience that surprises and satisfies.
The reopening marks a new era in the evolution of the restaurant, which originally debuted in July 1999. Nearly three decades later, Bambara continues to serve as the go-to downtown restaurant for those seeking a genuine, heartfelt, and delicious night out.
"We are absolutely thrilled to unveil the new era of Bambara under the skilled leadership of Executive Chef Patrick LeBeau," said Nathan Sporbert, General Manager. "We understand that a lot of memories and special occasions took place behind these walls, and we cherish that, but we're eager to breathe some new life into the space and inspire the memories to come."
Executive Chef Patrick LeBeau's philosophy when it comes to creating menus and recipes is to, "let the ingredients speak for themselves and to not overcomplicate the food." He strives to provide the best products using what's in season and local to the region, including local game, served in an approachable yet interesting way.
"We are lucky enough to work with some of the best local purveyors and farms in the area. They will help us craft a seasonal menu that speaks directly to this region," said Chef LeBeau. "Those ingredients – bison, elk, trout – will be enhanced using a few 'old-school' techniques that you don't really see anywhere else."
Small plated dishes range from Grilled Watermelon Salad with heirloom tomatoes, basil marinated feta and pine nuts, a Celery Root Carpaccio, with black garlic bagna cauda, puffed quinoa, radicchio, and smoked sea salt, and Prosciutto Beignets with pear compote, arugula, and snow white cheddar. Entrees include Scallops a la Plancha served with a sweet corn puree, tomato salad and chorizo vinaigrette, Thyme Roasted Chicken served with gigante beans, summer squash escabeche, swiss chard and chicken jus, Whole Roasted Branzino served with fregola sarda, smoked tomato jam, and garlic green beans, and the showpiece item, a Bison Wellington, served with mushroom duxelles, prosciutto, and puff pastry. Bambara will also feature a robust wine list and cellar, with an additional variety of craft beers, and seasonal cocktails/mocktails to boot.
Launching in tandem with the reopening are two Chefs Table tables, which will provide guests the opportunity to experience a one-of-a-kind culinary performance. Located right next to the kitchen and bookable by OpenTable or by calling the restaurant directly, these up-close-and-personal seats will bring a new perspective into the centrally located exhibition kitchen and bring guests into personal contact with the Chef throughout their dining experience.
Additionally, a brand new concept, The Vault, is set to debut later this year. The venue, which is located next to Bambara, will feature a separate entrance and an extensive cocktail and sharable bites menu. Inspired by the moody colors of dark liquors and serving as a hub for friends, colleagues and locals, the intimate lounge will incorporate tufted leather couches, low marble coffee tables, rich velvet textiles and high-backed regal lounge chairs to set the mood. A large dark leather-railed bar will sit against a bold dark blue wall, finished with metal details and bronze light fixtures.
Midway Mercantile
Beat the heat up in Midway and enjoy their new Summer dishes. Highlights recommended from the restaurant include:
Summer salad, locally farmed gem lettuces, basil buttermilk dressing, local radishes, Asian pear, smoked trout
Panko-crusted Alaskan halibut, yellow curry, coconut rice and spinach, sesame apple chutney
Hearth roasted Scottish salmon, Utah cherry basil butter sauce, Pablo's organic mashed potatoes, salad of fennel, tomatoes, tarragon, grilled artichoke
Strawberry rhubarb ginger crisp
AQUA TERRA Steak & Sushi
Meanwhile, over in the City Creek, lunch is now being served at this surf and turf spot. Highlights on the new menu provided by the restaurant include:
Seared ahi salad, blackened and seared ahi, mix greens, mint, pickled vegetables, sesame ginger dressing, charred green onion vinaigrette
SLC steak frites, bison tips in chimichurri sauce, pickled vegetables, fries
AQUA TERRA bento, edamame, pickled vegetables, choice of half sushi roll and half sandwich
Fish & chips, beer-battered steelhead, house fries
Rocky mountain melt, bison patty, caramelized onions, roasted mushrooms, cheeses, marbled rye bread
Steelhead BLTA, focaccia bread, fries
In tandem with the launch of lunch service, AQUA TERRA also intends to open its Main Street patios, welcoming guests to enjoy the best of steak and sushi amid the bustling city and in the summer sun.
Adelaide
The menu news this month has lots of hotel based businesses seeing refreshes, and here's one more. Adelaide in the Le Meridien has undergone a series of updates since their recent opening. Here's some info on what's new via press release.
. . .
The new Breakfast Menu features specialties like Eggs Sardou with spinach and artichoke, cream cheese, parmesan soft poached eggs, champagne hollandaise and crispy potatoes; Addies Garden Bowl with sweet potatoes, wilted greens, blistered peppers and onions, crumbled feta, soft poached eggs, and fine herbs; and Ricotta and Lemon Hot Cakes with ricotta, toasted pecans, blueberries, lemon curd and shortbread crumble.
The new Brunch Menu features dishes like the West Quarter Biscuits and Gravy with Old Bay cheddar biscuits, sage scented country sausage gravy, soft scramble, crispy potatoes, and scallions; Dungeness Crab Cake Croquette with lemon caper grenonboise, arugula and frisee; and Grilled Swordfish Tacos with blacked spiced, pickled onions, maque choux Creole aioli, corn tortilla, and cilantro. The daily Brunch Menu is also accompanied with a selection of delightful Punches, including Raspberry Crush with Macerated raspberries, lime, and agave; Cherry Yuzu with sour cherry, yuzu, and club soda; Strawberry Mint with Pineapple som, strawberries, muddled mint, and lime; Grilled Lemonadewith Maple and fizz.
The new All-Day Menu features dishes like Chicken and Caviar with buttermilk fried chicken, vodka crème fraiche and caviar basil oil; Crispy Shrimp and Rocafella Cream with wilted greens and creole spice; and Lacquered Short Ribs with cheddar grits, horseradish gremolata and sauce bordelaise.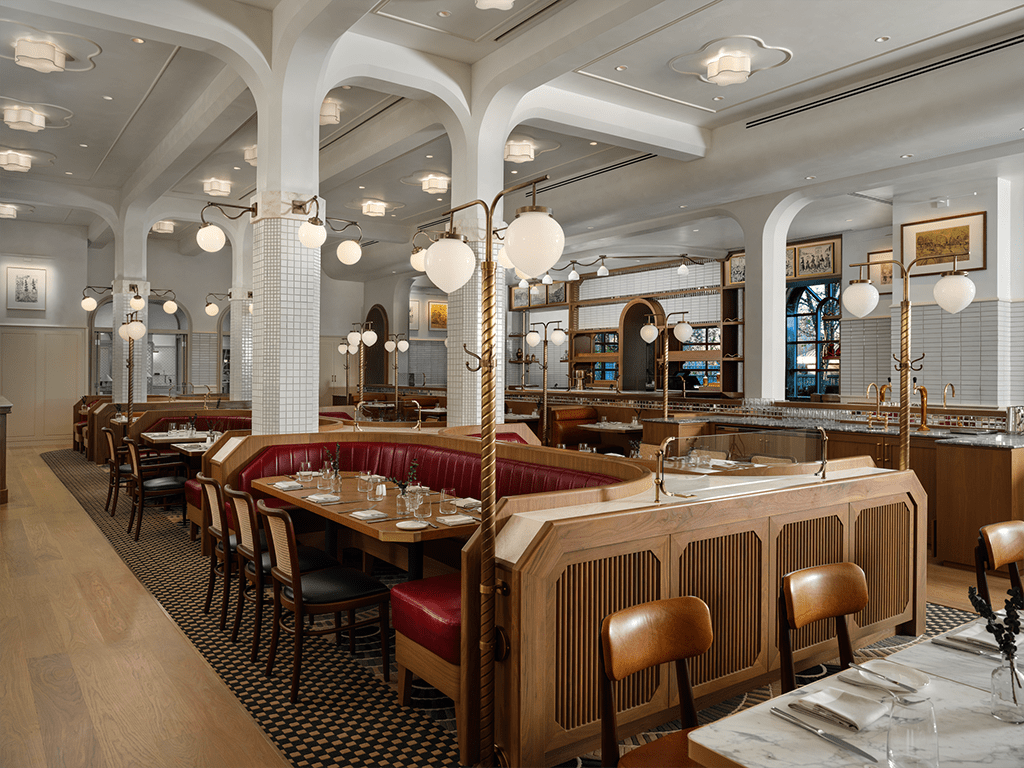 Laurel & Bonne Vie
With the warm weather on everyone's minds, the Grand America have launched a new ice cream menu featuring a variety of classic and specialty flavors. Here's some info courtesy of press release:
. . .
The new menu features both classic flavors and unique specialty flavors, including the following:
Vanilla Bean
Chocolate
Strawberry
Berry Sorbet
Carol's Burnt Almond Fudge
Strawberry Cheesecake
Chocolate Oreo
Butterscotch
Cotton Candy Unicorn
Vegan Pistachio
Each flavor is available mixed fresh as a shake, single or double scoops, or served atop a house-made waffle cone served Classic, Chocolate Dipped, or Chocolate and Sprinkle. Additionally, there are specialty ice cream sandwiches now available including a decadent, luxurious Vanilla Ice Cream Sandwich made with the iconic Grand America Macrons as well as a Chocolate Chip Cookie + Chocolate Ice Cream Sandwich.
The sweet frozen treats are available inside Bonne Vie. Those who are lounging at the Grand America pool can also enjoy each of these offerings with a dedicated poolside stand. Furthermore, now at Sunday Brunch, there will be a special ice cream booth live station on the terrace for guests.
Keep the conversation going
Want to stay on top of the SLC food scene, minute by minute, dish by dish? Here are a few other places you should follow along:
Hi, I'm Stuart, nice to meet you!  I'm the founder, writer and wrangler at Gastronomic SLC; I'm also a former restaurant critic of more than five years, working for the Salt Lake Tribune.  I've worked extensively with multiple local publications from Visit Salt Lake to Salt Lake Magazine, not least helped to consult on national TV shows.
I'm a multiple-award winning journalist and have covered the Utah dining scene for the better part of fifteen years.   I'm largely fueled by a critical obsession with rice, alliteration and the use of big words I don't understand.   What they're saying about me: "Not inaccurate", "I thought he was older", "I don't share his feelings".  Want to know more? This is why I am the way I am.
This article may contain content provided by one of our paid partners. These are some of the best businesses in Utah. For a list of all our current and past relationships see our
partnership history page
.