Headed into the weekend and stuck for inspiration? Want to avoid all that cabbage and corned beef stuff? Look no further than our latest menu watch update – a roundup of everything notable hitting plates and glasses. Oh – you did want St Pats info too? O.k. scroll to the end for everything we know about today's fun and festivities.
Flanker Kitchen + Sporting Club
Brunch is now back on the menu at Flanker, the always entertaining destination spot in The Gateway. Returning from a brief hiatus the menu sees an interesting refresh, with flair dishes such as chicken and waffle sliders (pictured), deviled bacon and eggs as well as hefty brunch burger. To keep the fun flowing, bloody Mary's and Maria's are on standby for just five bucks.
Avenues Proper
More brunch fun, this time from the Avenues' neighborhood must visit. Avenues Proper are offering a new shakshuka dish – the Middle Eastern / North African dish made by poaching eggs in a spicy tomato sauce. The brewpub are also plating a new French toast dish and pouring $4 mimosas and bloody Mary's on the side. Brunch is served Saturday and Sunday, 9.00 a.m. through 3.00 p.m.
Scion Cider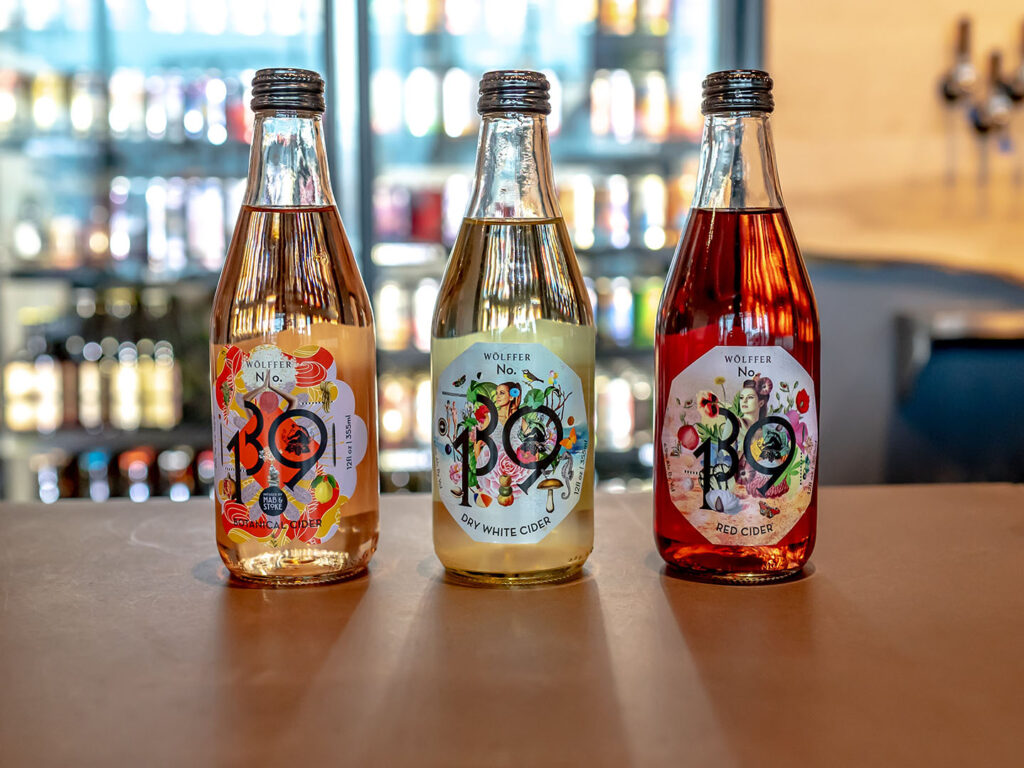 In the last week or so, Utah's best cider bar unveiled their own in house fermented cider; a unique lineup crafted by owner and apple-head Rio Connelly. All are available on tap in a variety of pour sizes, as well as grab and go cans for take out (yes Sunday too). The company write the following about the release:
. . .
The long-awaited release of small batch ciders, made from locally grown apples and juice provided by Scion Cider co-owner and orchardist Jordan Riley, is the first foray into commercial cider production by Scion's GM and head cider maker Rio Connelly since co-founding local craft beer houses by Proper Brewing Company and launching Epic Brewing in Utah prior.
The products will be available on draft in 1-oz tasters, 5-oz glasses, 15-oz and 25-oz carafes; and will be available in 16oz cans for to-go package sales, while limited supplies last, starting at 4PM when Scion Cider Bar opens for regular business hours. Additional variations with creative and innovative flavor combinations made from the same base ciders will be released on draft in the coming weeks.

Single Varietal, Vice Verde. 6.2% ABV – $5 /can. Granny Smith apples, Saison yeast. Dry, tart, fresh green, vibrant & bubbly
Fruited series, St. Olafricot. 7.6% ABV – $6/can. Fuji, Honeycrisp, Granny Smith apples, apricot purée, English yeast. Balanced to semi-sweet, stone fruit, rich body
Imperial series, Wicked Strong. 10.7% ABV – $7.5/can. Fuji apples, Kveik yeast. Off-dry, strong, fresh apple, round
I can't wait to get my hands on a few of these, not least, look at those low, low prices.
Dough Miner
If you're still new to the charms of this one, check out last year's intro story on the Brit-fluenced business here. After that head on down and check out their all new meatball miner creation. It takes the famous Cornish pasty shell and stuffs it with meatballs, fresh marinara sauce, and mozzarella cheese. It joins the menu alongside more traditional English style pasties, doughnuts, kolaches, and bagels.
Bambara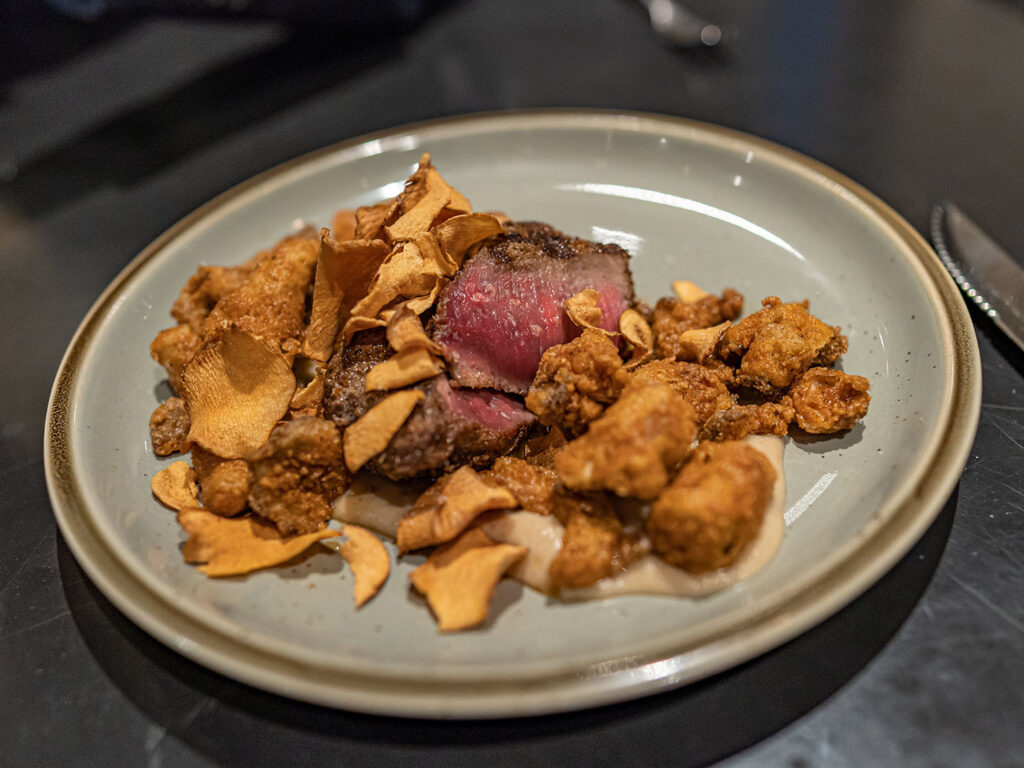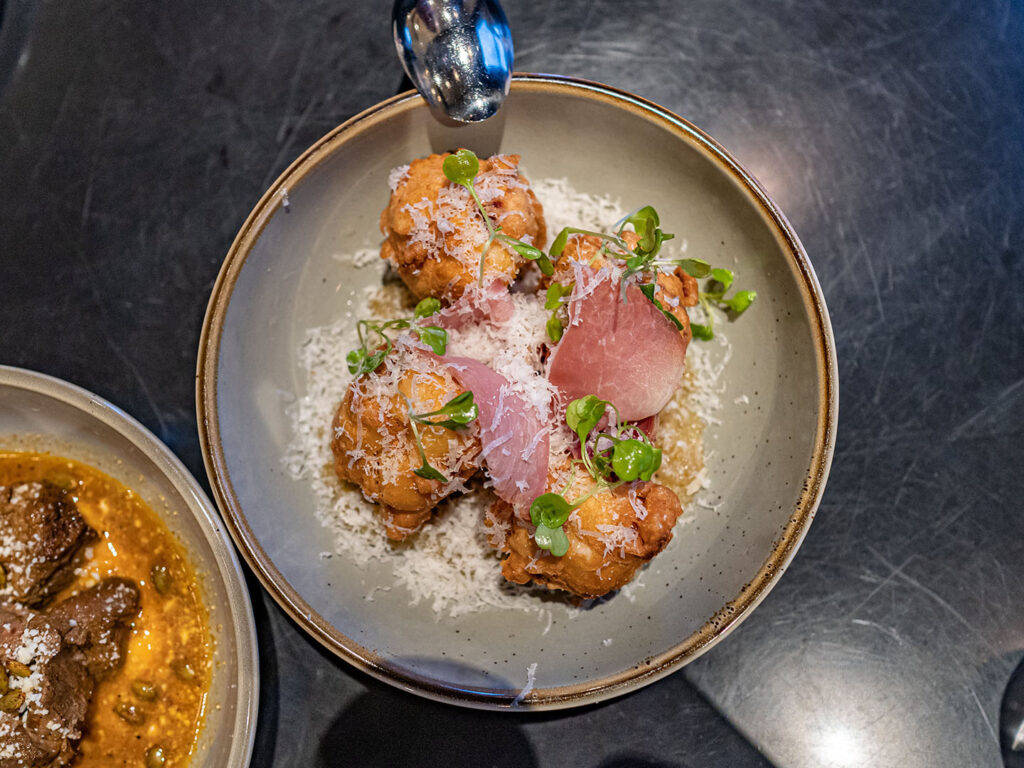 You might recall towards the end of last year, chef Patrick LeBeau donned the top toque over at this downtown stalwart. This past week I took Bambara up on their offer to come take a look what at how his influence is now starting to mold the menu.
The core of the lineup are hefty, assertive proteins, clothed in suitable Winter weather garb. Rib sticking sides and calorie counts. As a collection, it's important to remember this is still a hotel restaurant, which is to say bound by conventions of accessibility. Yes there's a chicken, yes there's a fish, and yes there's a steak. There's plenty of fun to be had amongst the traveller friendly list mind you.
My favorite cartoon on our brief visit was the bone-in lamb, braised to that fork tender finish that only time and patience can produce. The sides of herbed spaetzle and red cabbage pushed all the right seasonal buttons. Fennel and coriander elk with crispy mushrooms was another noteworthy dish. I was also particularly taken with the house old fashioned, sweetened with a hit of chai syrup. It'll be interesting to see what Springier fashions the menu dons as we warm up.
Keep an eye on this one, the whole place is getting a timely remodel lobby to rooftop. The rooms, the restaurant, the bar – it'll all change this year.
Grid City
Two new brews have hit the collection at this South Salt Lake brewery. Info as follows from the company:
. . .
Grid City Cold IPA. ABV: 5.0%. This session cold IPA is brewed like a traditional IPA except we ferment it cold with our house lager yeast. This produces a super clean malt and hop profile with little to no esters. The result is a dank resinous beer with a ton of citrus and pine but supported by a rich malt base.
Double Dark Chocolate Cheery Truffle Nitro Brown Ale. ABV 5%. This special version of our award winning brown ale is blended with our nitro oatmeal stout and then infused with an exorbitant amount of organic cacao nibs, Balaton tart cherry juice concentrate, and organic date syrup. You can expect intense notes of dark chocolate covered cherries, and malty rich dates delivered to you on a soft pillow of creamy extra dark nitro brown ale.
RoHa Brewing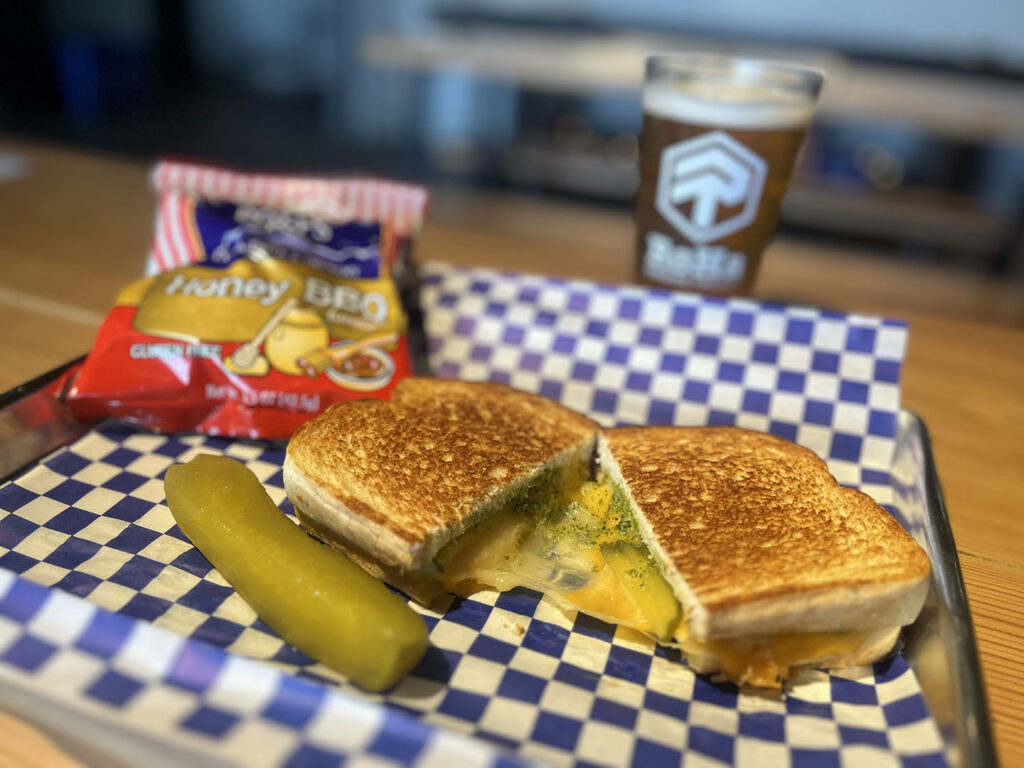 Here's some more brewery news, not least some that spare your wallet some punishment. RoHa's taproom is now offering a lunch special of some note – a grilled cheese served with pickle and chips for $5. The sandwich offers a choice of cheese and toppings, and is served daily noon through 4.00 p.m. I don't know about you, but a five dollar lunch is a rare as hens teeth these days. But wait.
RoHa also have a Two-for-Tuesday deal on that grilled cheese. Swing by on Tuesday with a friend and it's buy one – get the second one free. A $2.50 lunch? Madness.
Beltex Meats
Our Easter round of who, what and where will be headed your way in a week or so. In the interim, here's a heads up that Utah's very best butcher, just announced their yearly release of Easter specialties. Beltex Meat's seasonal goodies always sell out in quick order. Head on over to their online shop if you'd like to secure a leg of lamb or ham. $50 deposit required.
St. Patrick Day specials for 2023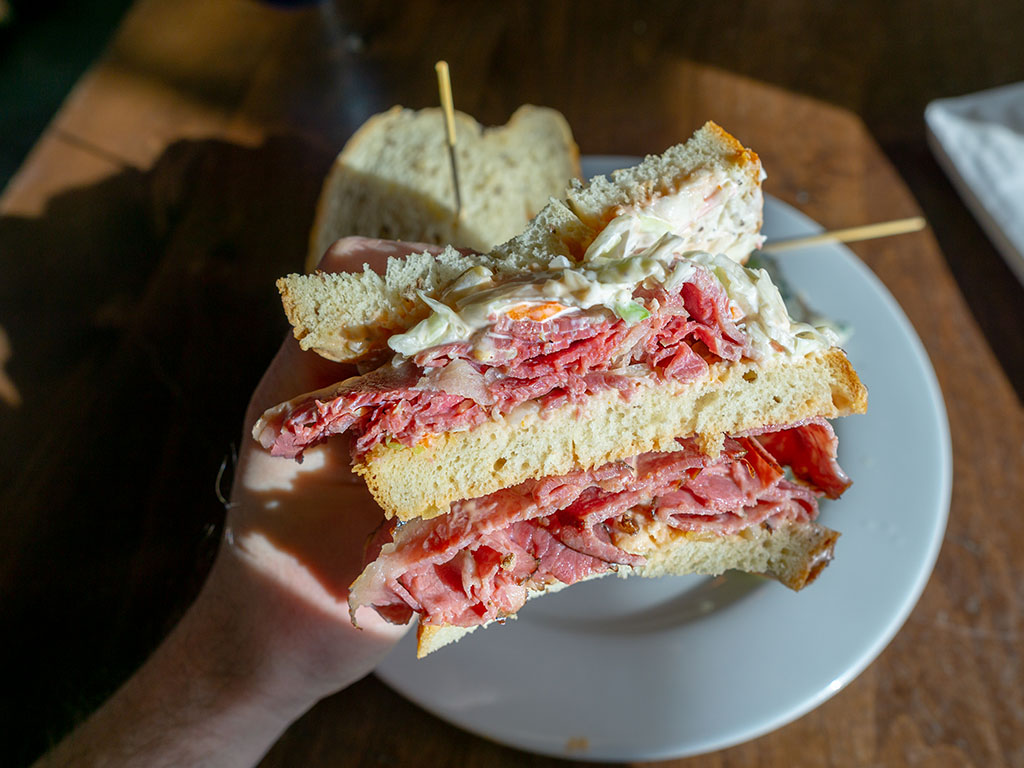 Feldmans Deli
The Millcreek deli should be the very top of your list. As well as their impeccable corned beef sandwiches the business also makes a mean corned beef and cabbage special for the big day. This year's no different. Live music will being at 5.30 p.m. from the band Cronin's Fancy.
Flanker
At the Gateway, Flanker Kitchen + Sporting Club's official "after party" will star " innovative takes on Irish classics like corned beef tacos and Guinness battered pretzels." Live Irish music will also keep festivities moving.
Bewilder Brewing
"Join us for Saint Patrick's Day 2023! If you have been to Bewilder for St. Patty's in the past you know it's a great time. We will have 3 new beers on tap (an Irish Stout, our fan favorite Irish Lager, and Leprechaun Tears green glitter beer) and we will have your favorite classic Irish food items. It's going to be busy!"
Grid City
Specials include: corned beef and cabbage, beer braised brisket, cabbage and potatoes, spiced and seared cabbage steak.
Handlebar
Drink specials as well as corned beef and cabbage, rueben, luck of the Irish burger, Irish Nachos.
Hopkins Brewing
"Our version of a classic Irish Stout: Locally-grown and floor-malted @solstice_malt gives it a rich and bready character, while specialty malts provide subtle roasted coffee and chocolate notes. A creamy body and dry finish round it out. Corned-beef specials: Mac and cheese, Ruben, Corned-beef hash (brunch)"
Localz Bistro
Corned beef, cabbage, and mashed potatoes special.
Lucky H Bar & Grill
The Little America hotel's signature restaurant will be offering several specials including corned beef and cabbage, Irish stew, and shepherd's pie. Lucky H write that "For those looking to treat themselves to a festive dessert, guests can enjoy the delectable Grasshopper Pie drizzled with chocolate sauce or a Leprechaun Chocolate Mouse."
Nacho Daddy
Irish Nacho's special, described as follows, "Our lucky potato chip nacho is piled high with house-made shredded corned beef and dripping with golden queso. Whether you're celebrating St. Patrick's Day or getting ready for March Madness, you don't want to miss this featured nacho."
Potbelly
Get your green on at this sandwich chain. The brand tell me that customers can add avocado to sandwiches for free all weekend for St. Patrick's Day using the code "AVOCADO". The deal is offered Friday March 17th – Sunday March 19th.
High West Whiskey Garden
The High West Whiskey Garden returns to Deer Valley's Silver Lake Ski Beach with the vintage High West Airstream Bar, Offset Bier, Deer Valley's open-pit fire cauldrons, food available for purchase, and live musical entertainment. Experience a lineup of High West whiskeys and an assortment of beers from Offset Bier. Featured cocktails from High West and promotional pieces from High West and Offset Bier will also be available. This is a 21+ event. March 16th – 19th, 11.00 a.m. – 4.00 p.m.)
Billy Blanco's
Toast St. Patrick's Day with a shot and beer special (shot of Jameson Irish Whiskey + 12oz bottle of Guinness Extra Stout, $10). Friday, March 17th.
Ritual Chocolate x High West Tasting
Sip and indulge in five decadent pairings of High West spirits and Ritual Chocolate's craft chocolate creations enjoyable for both beginners and experienced whiskey and chocolate enthusiasts. The 21+ event is $60 per person. Friday, March 17th from 6.30 p.m.
Smokin' Roadside Grill
"We have a Corned Beef and Cabbage Plate available today! It comes with corned beef brisket, cabbage, and a scoop of our garlic mashed potatoes! It costs $13.69. Come by and get some today! You can use our drive thru or come through the front doors to order!"
Windy Ridge Café
Offering a corned beef and hash special, as well as a shot and beer special (shot of Jameson Irish Whiskey + 12oz bottle of Guinness Extra Stout, $10). Friday, March 17th.
Woodbine Food Hall & Tavern
Live music, Kiitos glitter green ale, corned beef sandwich special from Dead Pan.
Keep the conversation going
Want to stay on top of the SLC food scene, minute by minute, dish by dish? Here are a few other places you should follow along:
Hi, I'm Stuart, nice to meet you!  I'm the founder, writer and wrangler at Gastronomic SLC.  I'm a multiple-award winning journalist and have written in myopic detail about the Salt Lake City  dining scene for the better part of seventeen years.
I've worked extensively with multiple local publications from Visit Salt Lake to Salt Lake Magazine, not least helped to consult on national TV.   Pause those credits, yep, that's me! I'm also a former restaurant critic of more than five years, working for the Salt Lake Tribune.    I'm largely fueled by a critical obsession with rice, alliteration and the use of big words I don't understand.   What they're saying about me: "Not inaccurate", "I thought he was older", "I don't share his feelings".
Want to know more? This is why I am the way I am.
This article may contain content provided by one of our paid partners. These are some of the best businesses in Utah. For a list of all our current and past relationships see our
partnership history page
.