Update Feb 24: well that didn't last too long. The proposal mentioned below was scrapped so is now off the cards until 2022. Skip the following section if you're reading on or after Feb 24th.
You might recall the halcyon days of curbside grocery store pickup a few years back; a couple of ticks of a browser box was all it took to add a beer or twelve to your weekly grocery shop. No longer would you have to stroll up and down the beer aisle with circumspect purpose, putting on your best craft beer aficionado act, inspecting each local IPA and sour beer in turn. No. With the wonders of drive and load services such as those offered by the likes of Harmons et al, you could sling that case of Bud Light into your virtual cart with complete anonymity; gone too the grocery-cart walk of shame, as you trolleyed that bright blue box around the store.
Ahem. Maybe I'm over thinking it, regardless, I was a huge fan of online alcohol ordering and cursed the fates when it was finally removed. Well, all that might be set to change with the fairly wide ranging HB371 currently up for debate in this year's legislative session. Amongst the many changes, one major proposal is the potential return of curbside-ish pickup for alcohol; and with it, the extension to liquor too.
HB371 provides the option for both Type 5 package agencies (the ones that make their product on site and offer food) and off premise beer retailers (grocery stores, gas stations etc) to offer their clients the ability to order alcohol products online; with Type 5s added to the mix, that possibly means online ordering from some of the best brewers and distillers too. The new bill proposes that the buyer's ID simply need to be checked in person, before payment is processed at the seller's location. The return of the glory days?
Not quite. This is Utah and we just love to make things that bit more slightly complicated than they need to be; much like those preceding paragraphs of prose you might counter. As the bill stands currently stands, theres a requirement to leave your car and head on indoors, at least to pay, maybe also to pickup.
I spoke with local liquor law guru Tanner Lenart who confirmed the extra complication, "Customers would indeed have to actually enter the store to comport with the requirements. The proposed language specifically states "pick up from the package agency's licensed premises" which, unless the premises have been extended to a parking lot (I don't know of any that have), means you'll have to get out of your car and go onto the actual licensed premises to make that purchase.
Watch this space, I'll report back as I hear more.
Eat this now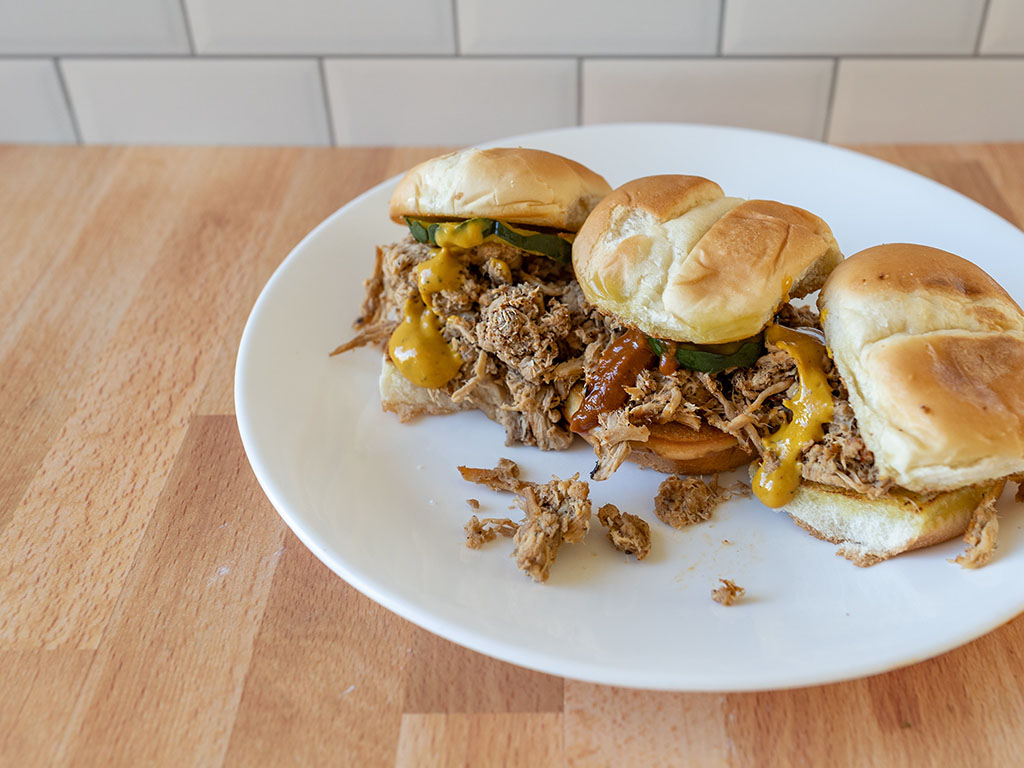 That picture at the top of the screen, and those sliders right above? That was lunch today. And yes, it tasted even better than it looks. The pulled pork and smorgasbord of fixins are the work of Cinder Pig – a new chef-driven grab and go concept (remember this piece y'all). They cook up a weekly BBQ menu (usually centered around whole hog, wood fired, NC style BBQ), you place your order online, pickup at Oquirrh and enjoy at home.
Jerry Pacheco formerly of Pallet, Bambara and Blue Marlin is one part of the team behind the scenes, and I've loved his cooking for as long as I recall. He's the kind of chef that says, "right I'm gonna serve Icelandic fermented shark", and you just shrug and say feed me.
I'll have more details on Cinder Pig soon in a massive new restaurant round up piece; but in the interim know it's just terrific, and if you care about pork, you'll want to get some.
I've been dragging my heels on new restaurant roundup of late, truth be told, the list is mammoth and growing faster than I can recap. Green shoots of a possible C19 recovery in the offing? One can hope.
In-N-Out comes to State Street
As reported by one of my favorite websites this week, Building Salt Lake, In-N-Out are planning to bring their 10th Utah store to 21st South and State Street. Ordinarily I'd pass on chain news, but this one raised an eyebrow and a thought or three; specifically given the extremely busy location that lies between the boundary of cities. BSL writes:
"The location at 61 East 2100 South will replace a Burger King and the now-demolished Sconecutter restaurant, a legendary SLC late-night munchies magnet that suffered a fire in 2020. The Subway on the northwest corner of the intersection will remain. "
It'll be fascinating to see the build out and design and how the construction seeks to deal with the notoriously busy drive-thru lanes the chain is known to boast due to it's fervent fans. This is actually a trending nationwide issue, especially during C19, as drive thru's become the defacto dining option for many.
Keep the conversation going
Want to stay on top of the SLC food scene, minute by minute, dish by dish? Here are a few other places you should follow along:
Hi, I'm Stuart, nice to meet you!  I'm the founder, writer and wrangler at Gastronomic SLC.  I'm a multiple-award winning journalist and have written in myopic detail about the Salt Lake City  dining scene for the better part of seventeen years.
I've worked extensively with multiple local publications from Visit Salt Lake to Salt Lake Magazine, not least helped to consult on national TV.   Pause those credits, yep, that's me! I'm also a former restaurant critic of more than five years, working for the Salt Lake Tribune.    I'm largely fueled by a critical obsession with rice, alliteration and the use of big words I don't understand.   What they're saying about me: "Not inaccurate", "I thought he was older", "I don't share his feelings".
Want to know more? This is why I am the way I am.
This article may contain content provided by one of our paid partners. These are some of the best businesses in Utah. For a list of all our current and past relationships see our
partnership history page
.