Update March 5th 2020: we've just heard news from a variety of sources that both Jake Wardle and Jerry Pacheco have left Blue Marlin. Our original preview and assessment of the business was based off the presence of both these exceptionally talented chefs. We've no further info on the menu, approach or setup post their departure.
Before ramen was the dish du jour and long before fried chicken joints dominated – Japanese restaurants were it. There was a time when I'd greet the opening of a new sushi joint with as much fanfare as someone opening a can of coke. That's not the case here though. This new downtown restaurant that's barely two weeks old, might just be the new hot thing in 2020.
But wait, Blue Marlin you say, that's not a new restaurant, I've heard of that before? Well yes, and actually, no. The Blue Marlin we're talking about here is the work of chefs Jake Wardle and Jerry Pacheco (more on them in a minute).
This particular downtown spot was originally slated as the expansion location for the Sandy based Blue Marlin (which is where you might be experiencing that deja vu). That particular Blue Marlin was the work of chef and owner Soy who you might also know from his namesake Soy's Sushi in Murray and Rice Basil before that.
After a change in business direction, the Sandy based Blue Marlin rebranded as Mint Tapas And Sushi, while the Blue Marlin name and downtown location was spun off as its own separate business. Enter stage left Wardle and Pacheco who took the helm. Got that? Good. Not got that? Don't worry, All you need to know is that this is ostensibly a brand new restaurant and Wardle and Pacheco have pedigree worth investigating.
For his part Wardle most recently counts South Jordan's Tsunami on his resume. Before that, stints at the various configurations of Mikado/Naked Fish/Ikigai working alongside names such as Akane Nakamura, David Hopps, Sunny Tsogbadrakh and Toshio Sekikawa. If you know anything about the SLC food scene, you'll know they are serious heavy hitters.
Pacheco is no slouch either with previous stints at Pallet and most recently executive sous chef at Bambara. Pacheco was the lead for Bambara's most recent series of beer forward dinners, and if you'd sampled his cooking and creativity at those, well, you'd be excited for this one like I am.
Located in the base of the South Temple Tower (just next door to the Alta Club at 136 E S Temple, 84111) the space is completely new, bedecked in fancy LED lights that rotate through the spectrum as you dine.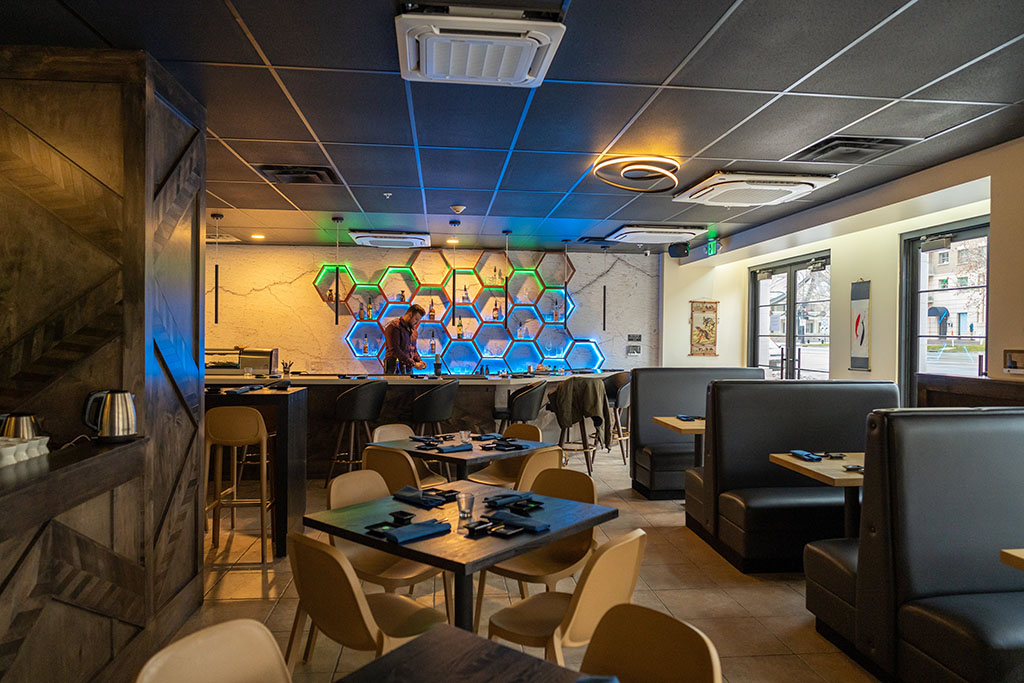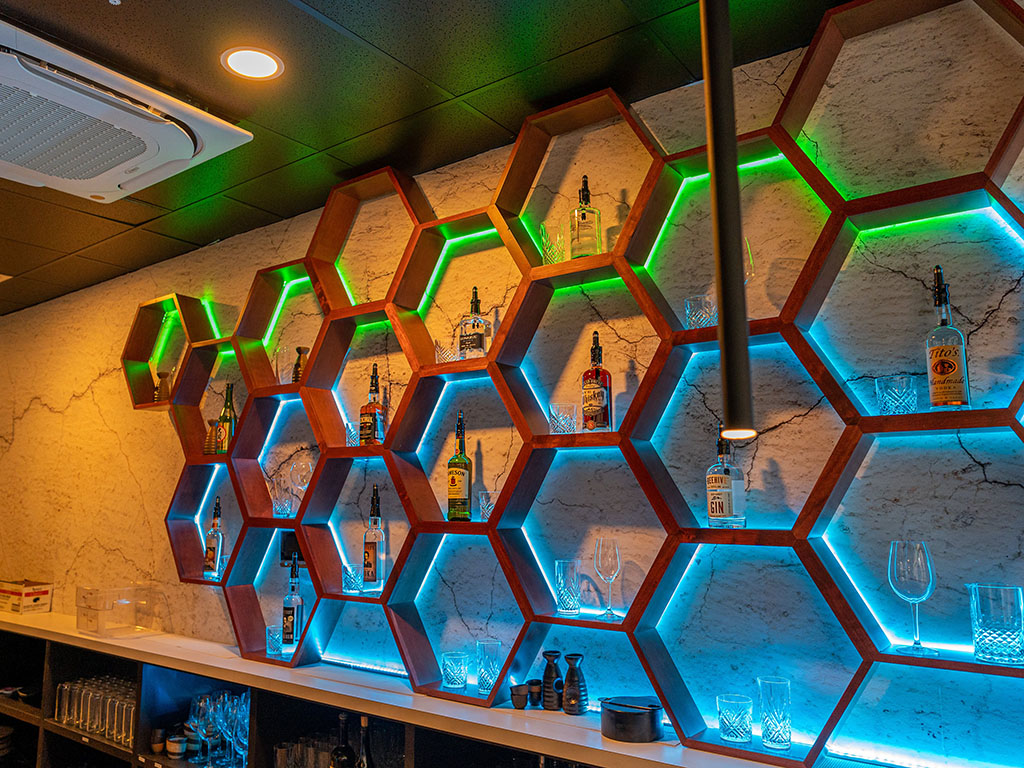 Blue Marlin has a full restaurant liquor license so you can begin your meal with beer, wine, sake or a house cocktail. The Tokyo mule with vodka, sake, fresh ginger was a pleasantly refreshing start to my own visit. Also, that eight dollar price tag didn't go unnoticed in a world of double digit downtown drinks. Try saying that after a couple.
Squatters, Mountain West and Kiitos are some of the local names amongst the beer and cider selection. There's also a 5% ABV fueled kombucha and despite Wardle's best attempts for try (he reckons it pairs better than beer), no, just no. Kombucha fans (I know you exist, but I refuse to believe you exist) might want to sample this one.
From drinks it's onto appetizers and a range of hot and cold dishes that Pacheco and Wardle handle respectively. There are fresh and briny oysters, pillowy soft gyoza and a range of other familiar staples such as agedashi tofu, tempura and tataki.
Rounding out the small plates section of the menu, don't overlook the range of kushiyaki. These grilled skewers of meat and veg are available solo or in threes. The pork belly and wagyu beef I sampled were both 'hold my beer' good. The wagyu was just as mouth meltingly tender as the pork belly and I'd be completely happy just to sit in a daze eating nothing but skewers all night long. There are currently nine selections in total, offering pork, chicken, beef, seafood and veggies.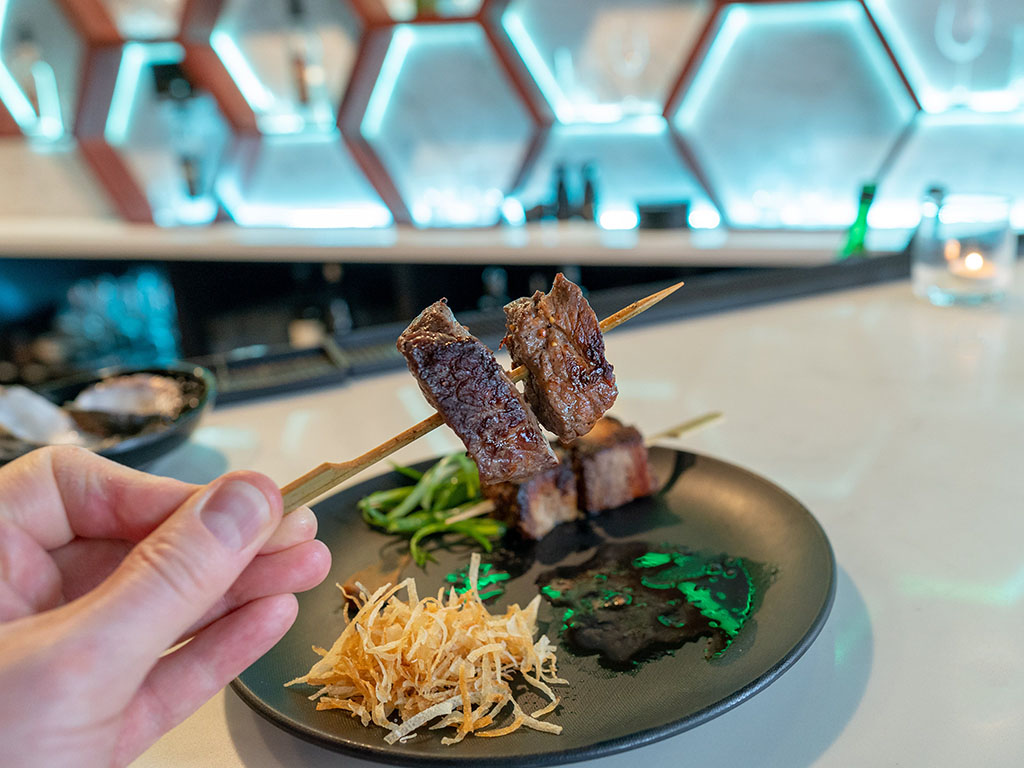 One dish that stopped me dead in my tracks was the curiously monikered sukiyaki. In truth it struck me as sharing more DNA with donburi than its noodly name suggests, but lets not argue, this thing was the highlight of my week. Blue Marlin's creation starts with a bed of steamed rice before layering on a trifecta of mushrooms – shiitake, maitake and shimeji. Next comes thin sliced cuts of zabuton steak, quickly aged for two days with koji (fermented rice grains).
The whole thing is crowned with a quiveringly silky egg (onsen tamago) which needs just the merest of prods to unleash a river of runny yolk. The dish comes finished table side with a last drizzle of sauce too (tamari, mirin, stock, sake, sugar, dashi). The result is a one-two-three punch of savory heaven. If you're looking for something to lift your spirits in the current gloomy weather – you just found it.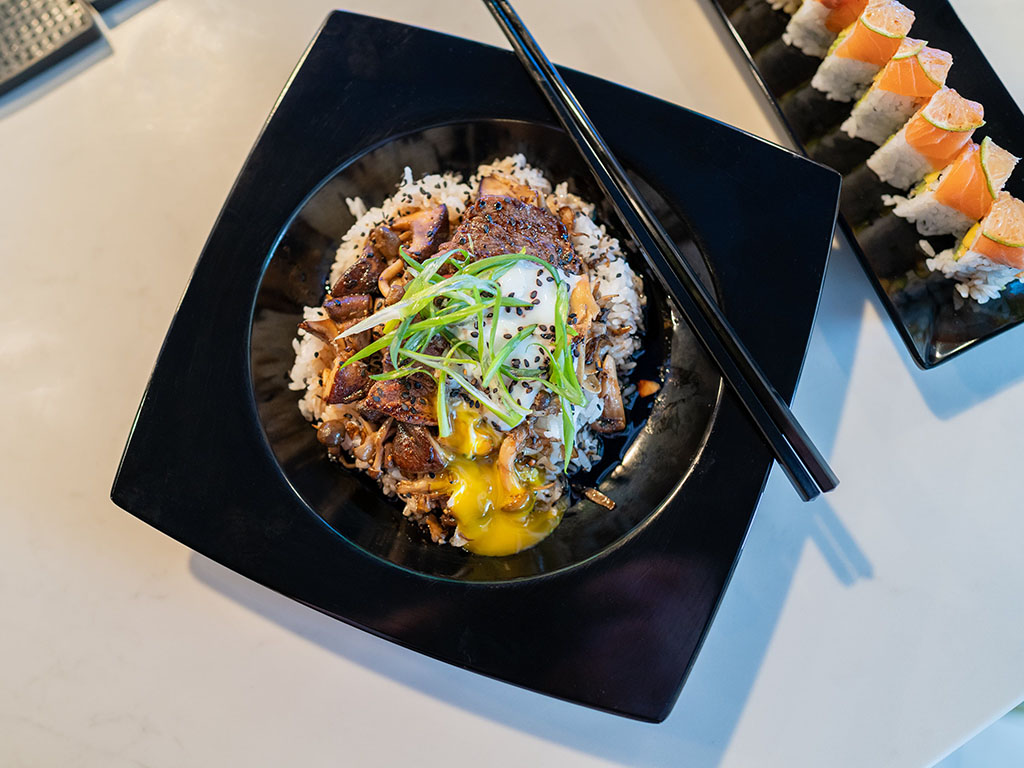 Moving on then, and as you'd expect there's a solid selection of sushi: maki, nigiri and sashimi. To be frank maki sushi isn't particularly my personal pick, I'd much rather smaller simple bites of nigiri, but when in Rome. What I sampled at Blue Marlin was plenty enjoyable though, and I was happily surprised by the restraint of a menu which lists a mere eleven rolled items.
I can't think of anything more painfully dull than poring through a ponderous list of sushi rolls. Other restaurants should take note, less is more and all that stuff.
So far so great, but Blue Marlin has a final ace up its sleeve, and one that I can't wait for them to deal. The restaurant is set to offer a reservation only omakase for dinner. The special chef selected dinners are likely to require reservations at least five days in advance too, as Wardle explains it, "so we can source some really interesting and exciting ingredients". Talking to Wardle about the possibilities for this part of the menu, I see that familiar excited twinkle in the eye of a chef who's got some big plans.
Knowing Pacheco's cooking from his Bambara days, and Wardle's time at Naked Fish during their own exceptional omakase days – I'm giddy to see what happens here. And before you post in the comments that you can have an omakase anywhere in town, yes yes I know you can ask most chefs to cook you something up from their existing menu. There are very few if any offering bespoke omakase creations right now though.
The pricing for Blue Marlin's omakase is tentatively priced as follows. If these prices stick, that's a steal folks:
8 course, $60 per person
10 course, $80 per person
12 course, $100 per person
15 course, with drink pairings, $120 per person
Blue Marlin is open Monday-Saturday 11.30 a.m. – 2.30 p.m. for lunch and 5.00 p.m. – 10.00 p.m. for dinner; Sunday 4.00 p.m. – 9.00 p.m. for dinner.
136 E S Temple Suite 101, Salt Lake City, UT 84111
(385) 267-1919
bluemarlinutah.com
Disclosure: the restaurant invited me down to sample their menu and take a look at what was cooking for this article.
Hi, I'm Stuart, nice to meet you!  I'm the founder, writer and wrangler at Gastronomic SLC; I'm also a former restaurant critic of more than five years, working for the Salt Lake Tribune.  I've worked extensively with multiple local publications from Visit Salt Lake to Salt Lake Magazine, not least helped to consult on national TV shows.
I'm a multiple-award winning journalist and have covered the Utah dining scene for the better part of fifteen years.   I'm largely fueled by a critical obsession with rice, alliteration and the use of big words I don't understand.   What they're saying about me: "Not inaccurate", "I thought he was older", "I don't share his feelings".  Want to know more? This is why I am the way I am.
This article may contain content provided by one of our paid partners. These are some of the best businesses in Utah. For a list of all our current and past relationships see our
partnership history page
.