Hot on the heels of our recent readers choice awards, I bring you my favorite way to end the year – the sixth annual State Of The Plate; a look back over 2021 and what was hot, what was tepid and what I reckon will soon be whistling on the stove. You can see previous years here: 2020, 2019, 2018, 2017, 2016.
The best of the best
First up, a distillation of every best of list and readers choice award from this year – an effort to name the very best of the Beehive. I award a point every time a restaurant snags a winning nod in a contest, as well as a bonus 'triple threat' point for restaurants that appear in three or more competitions – a sure sign of broad appeal.
This year also sees the introduction of the solo strike rule too; restaurants need to make an impact in at least two different awards contests to qualify. In 2021 Carvers scored five points, but did so singularly from the Trib's SCBF awards – and as such was duly discounted.
The full 2021 results then…
| Restaurant | Total points | Years on list |
| --- | --- | --- |
| Takashi | 7 | 5 |
| Bombay House | 6 | 4 |
| Ruth's Chris | 6 | 3 |
| Gourmandise | 5 | 2 |
| Lucky 13 | 5 | 4 |
| Cluck Truck | 4 | 1 |
| La Caille | 4 | 1 |
| Log Haven | 4 | 3 |
| Ivy / Varley | 4 | 1 |
| Lonestar Taqueria | 4 | 1 |
| Mazza | 4 | 3 |
| R&R BBQ | 4 | 2 |
| Red Iguana | 4 | 4 |
| Ruth's Diner | 4 | 4 |
| Sicilia Mia | 4 | 1 |
| Sunday's Best | 4 | 1 |
| The Dodo | 4 | 1 |
| Trolley Wing Co | 4 | 1 |
Data compiled from: SL Mag 2021 Blue Plate awards, Gastronomic SLC readers choice, Open Table diners choice 2021, Open Table most booked, City Weekly readers, Salt City Best Fest, Best Of SLC.
Takashi takes the crown once more – previously placing top in 2019 and 2018. Takashi and Tamara Gibo's downtown Japanese spot crams in even more glory being the first restaurant to take a trio of State Of Plate wins, as well as placing on our elite list five out of five times. Sidenote: we took last year off, as Covid effectively put the brakes on the food scene.
The chasing pack are a stable of familiar faces you'd easily be able to to name in your sleep. The Cluck Truck is a notable newcomer to the list, marking only the second time in six years that a food truck has placed on our top tier. The only other meals on wheels to make the mark prior was Waffle Love in 2018. Fried chicken is of course part of the holy trinity of food fads right now along with boba and healthy bowls (acai, poke etc).
Other newcomers include downtown duo Ivy/Varley and McHenry Group bruncher Sunday's Best. Taking a browse down through the list, here are the highest rated restaurants viewed through a few different lenses.
Best by cuisine
Best BBQ – R&R BBQ
Best Chinese – Mandarin
Best Indian – Bombay House
Best Italian – Sicilia Mia
Best Japanese – Takashi
Best Korean – Cupbop
Best Mexican – Red Iguana
Best Middle Eastern – Mazza
Best South American – Arempas
Best Thai – Chabaar
Best Vietnamese – Oh Mai
Best by dish / style
Best bakery – Gourmandise
Best bar – Whiskey Street
Best burger – Lucky 13
Best donuts – Banbury Cross
Best food truck – Cluck Truck
Best fine dining – La Caille
Best pizza – The Pie
Best sandwiches – Moochies
Best seafood – Current
Best steak – Ruth's Chris
Best sushi – Takashi
Best vegan/vegetarian – Zest
Best wings – Trolley Wing Co
2021 dishes of the year
At least as according to the people hitting the like button over on our Instagram account – these are the most popular (single restaurant focused) dishes I shared in 2021: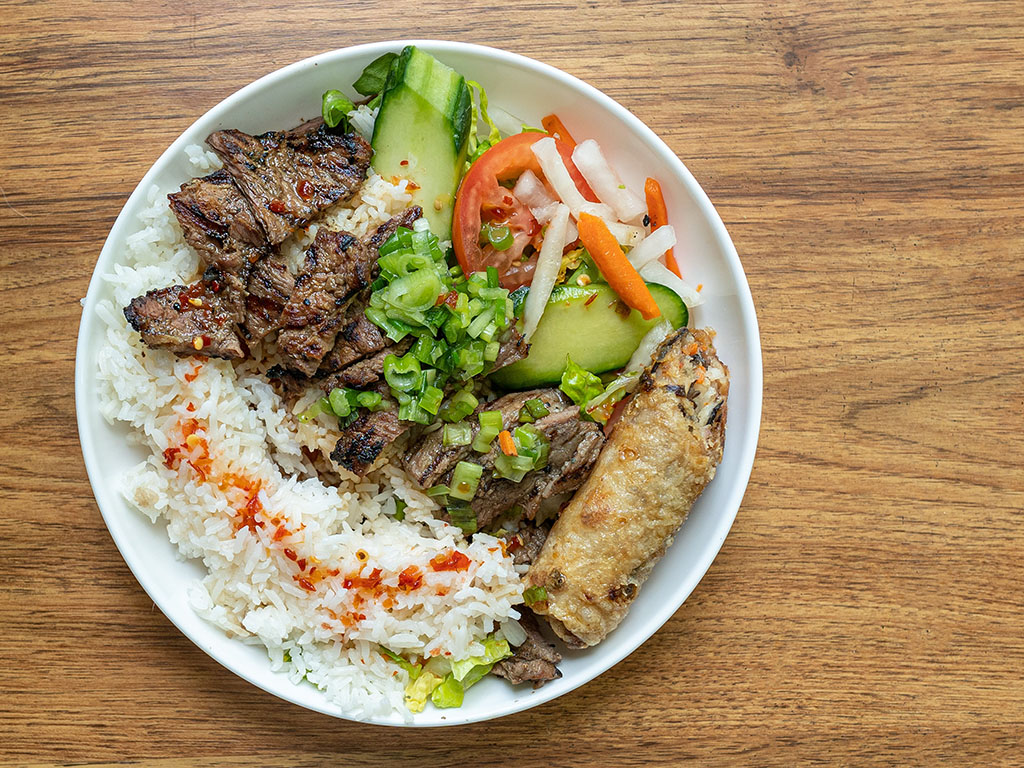 Always a slam dunk for a beautifully vibrant plate of food is this upscale Sugar House restaurant. SOMI offers a mix of Vietnamese and Chinese dishes, and is as consistently reliable a destination for an enjoyable meal as anywhere in the state. As the years continue to wear on my waistline, SOMI becomes an increasingly favorite goto for me.
People went crazy for this brunch special burger at Oquirrh with good reason. Available for brunch only (10 a.m – 2 p.m. Saturday and Sunday) this fella comes with foie aioli, alpine cheese,Yeti's bacon onion jam, all on a brioche bun. Pretty sure there's a fabulous burger in there too. Plant-based folks can choose an Impossible patty too.
Layer upon layer of luscious corned beef and pastrami. I don't think there's been a year such an amalgamation has failed to make this list. Feldman's Deli is another of my personal favorites for obvious reasons.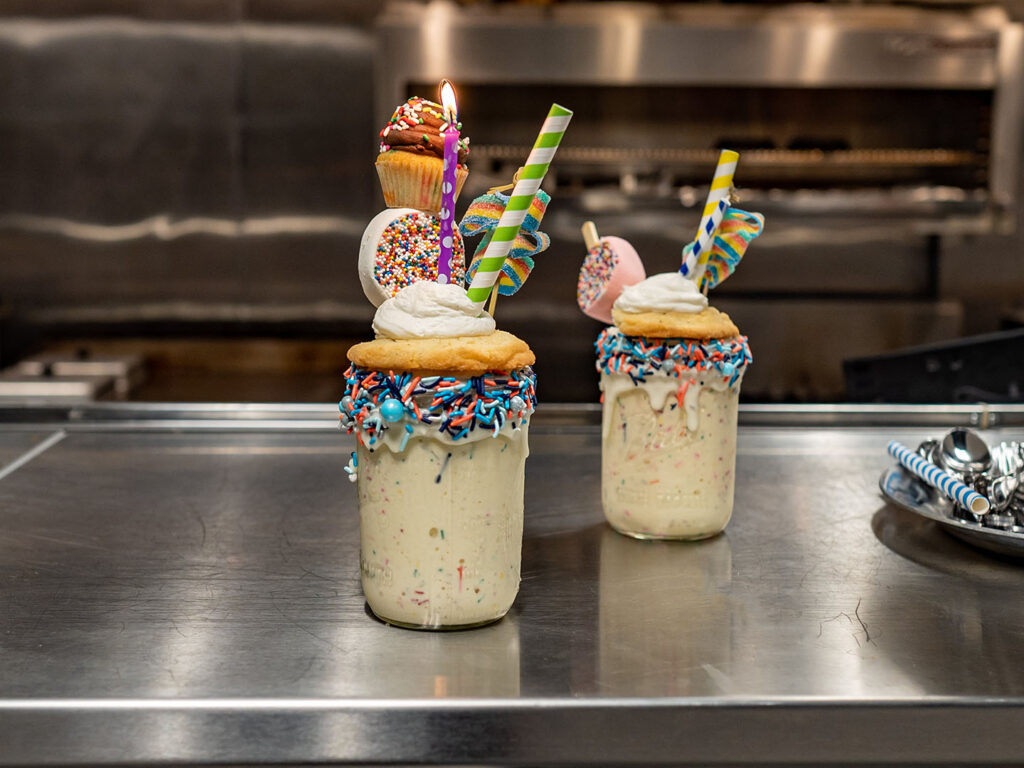 This over the top milkshake made waves when I shared it just a few weeks ago. Flanker is the new operation that has taken over the massive Punch Bowl space at The Gateway. The 17,500 square foot facility has now been re-imagined and re-opened. Amidst the sports simulators, karaoke rooms and nightclub area – the menu has been given a fancy sports bar revision.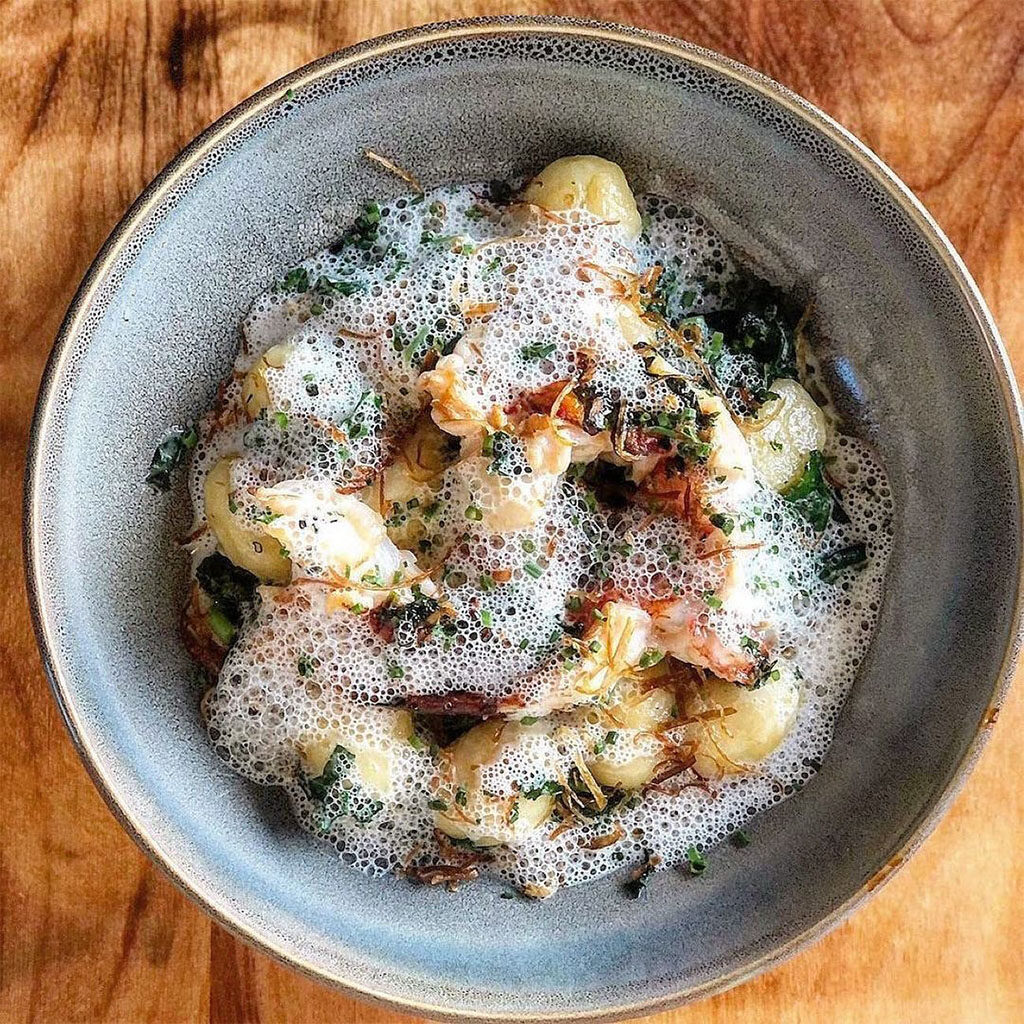 Messrs Chamberlain and Crew continue to wow palates at SLC Eatery, one of the best chef driven restaurants in Utah. Pictured above, a nightly special comprising lobster tail, ricotta gnocchi, sautéed kale, garlic, shellfish-leek nage and a crispy leek topping.
This SLC pizza parlor was one of my 'ones to watch' last year, and . Bricks Corner offers up geometric slabs of "Detroit Style" pizza, and the reviews are glowing for the most part.
A glimpse and you'll mis it spot in South Salt Lake, and according to some, fabulous tacos, Check out their menu here – a specialty are the guisado style tacos.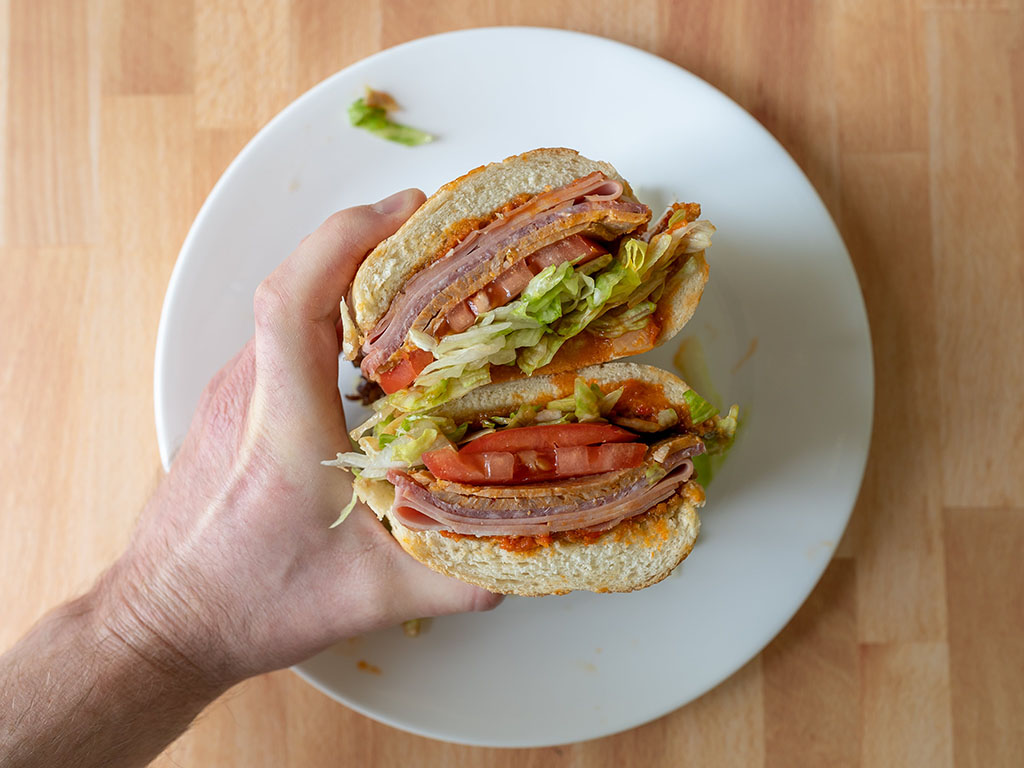 My August recap of the many ways I love Caputo's placed as the third most popular post of the year. The signature Caputo sandwich remains one of my favorite ways to ruin my shirt.
Scion almost pulled off the number one spot garnering huge interest when it opened in the Fall this year. The cider focused bar in the rapidly improving central 9th is one of the most interesting spots to open in 2021. See my full preview here.
And here we have 2021's most clicked picture – heaving mounds of fried potatoes with lashings of toppings. Who'd a thunk it? Mr Fries Man hails from California and bring with them plate loads of calorific indulgence. You can see the full menu on our sister site SLC menu here – Utah locations are now frying spuds in West Jordan and Herriman.
Honorable mentions – that didn't focus on one specific restaurant also go to this dumpling roundup, a might fine turkey sandiwch, this one and this list of lost restaurants.
Predictions and prognostications for 2022
Looking back at last years State Of The Plate, my headline prediction was for a year of Covid-enforced closures. What transpired was actually a staffing crunch that piled far more newtons onto struggling restaurateur's shoulders. I'd like to think my prediction of a rebounding year was also on the money – did you see these 195+ openings in 2021. Predictions for 2022 then?
Under pressure
That staffing crunch is going to get harder still. Workers continue to depart the industry for greener pastures; ones that don't require them to be on the receiving end of anti mask nut job. 2022 will also pile on a whole heap of inflationary complexity too. We're just starting to see the impact of this, but expect food prices to continue to soar; and who knows when the Fed will try to halt the brakes with interest rate hikes.
Fine dining snaps back at casual
Fast casuals exploded in 2021 – both local and national operators have been opening new doors with abandon. How exactly they're staffing all of that is beyond me – and I suspect – it's a problem brewing. It strikes me that this is a perfect opportunity for fine dining to mount a comeback after years of contraction. The higher prices certainly afford the possibility of higher wages. One local restaurateur in this space recently confided to me that their weekend reservations are booked out 2-3 weeks in advance on a regular basis now.
No you can't have a drink
Noises from the hill towards the end of this year have made it clear the legislature doesn't consider Utah's current bar license crisis a priority, or even a thing. As a reminder (again) the purely arbitrary construct of one bar license per 10,200 residents was conjured out of thin air circa 2018. Prior to that everyone was thoroughly happy with a limit of one license per 7,850.
The seemingly capricious ceiling will absolutely hurt Utah's economy in 2022; heck it already is. I've already cautioned multiple would be business owner in private – don't go planning a new bar right now.
Oh, and guess what, it's about to get worse. FOX13's Ben Winslow recently wrote that, "Rep. Hawkes told FOX 13 that they may pull back the ability for a bar to sell their license." That means you won't be able to get a license from the state, you won't be able to get one in a free market setting either. Fun times.
Just wait until all those business plans are torn up and remade with a full service restaurant license in mind – and those start to run out… you've been warned…
Ch, ch, chains
As it was in 2021, so it will be in 2022. From small to mammoth operators, expect more chains to gleefully move to the Beehive. This year's notable arrival was Raising Canes, preceded by Shake Shack the year before that. Expect Jack In The Box to move to the Northern Wasatch in 2022 and make Utah heads turn in tiny taco excitement.
Restaurants to watch in 2022
Last year I said to keep a watch on Nohm, The Ivy / Varley, Bricks Corner, Lola and Pretty Bird. With the exception of Nohm and Lola, who have been getting on with their work in a quiet field mouse like manner, I'd say the other recs were all on the money – each generating a huge amount of press, buzz and social noise. Looking at the calendar ahead, here are a few of the most interesting upcomers for me.
The Local Market & Bar
This is a potentially huge opening for 2022 – and maybe Salt Lake's first "real" food hall. Chef Akhtar Nawab is the headline name and will oversee the culinary operations at The Local Market & Bar. The facility will offer a 125 seat, 7,500 sq. ft. space; inside that, a plan for "seven culinary concepts and one innovative cocktail bar and will open as the anchor tenant within Avia at The Exchange in Salt Lake City". 
Definitely watch this one – as the downtown SLC skyline rapidly changes there are going to be some BIG concepts like this cropping up. And a lot of interest from out of state operators who want a piece of the action. 
If we have any liquor licenses that is…
Hope Gallery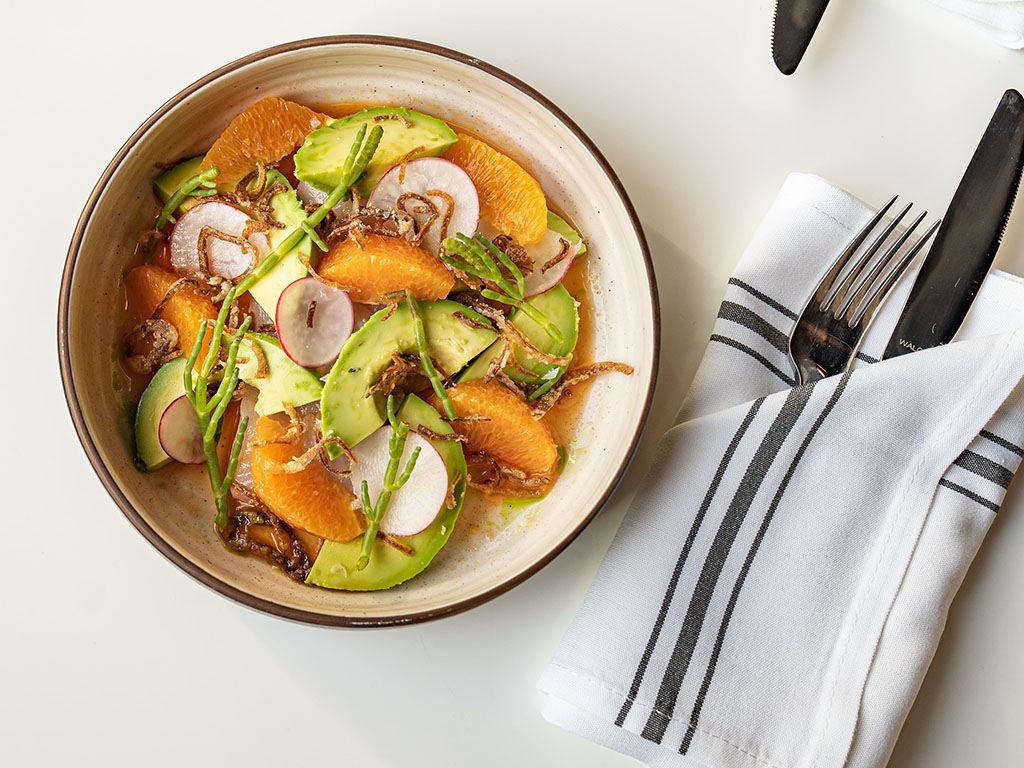 When I went to check out the new Pago On Main a few months back, I got a moment or three to sit down with owner Scott Evans. He let me in on a little secret for his next big opening. It'll be in the Hope Gallery space, just up the road on Main Street – and it will be something very special – and one of a kind in Utah. More news to follow in the new year.
Hearth And Hill SLC and Urban Hill
2022 looks like it's going to be exceptionally busy for Park City based Hearth And Hill. Coming next year will be a new PC grab and go / catering option (Hills Kitchen) as well as two new openings down here in the valley.
Hearth And Hill MK2 will be an SLC facsimile of the Summit County restaurant – a chef driven menu that wants to be your goto for all occasions. An accessible restaurant equally adept at a weeknight take out, a family get together, or a boozy brunch with friends. Urban Hill though looks to be markedly different, and a possibly much fancier concept. The owners note it will offer "a high-end concept in the Post District west of downtown". 
Angry Korean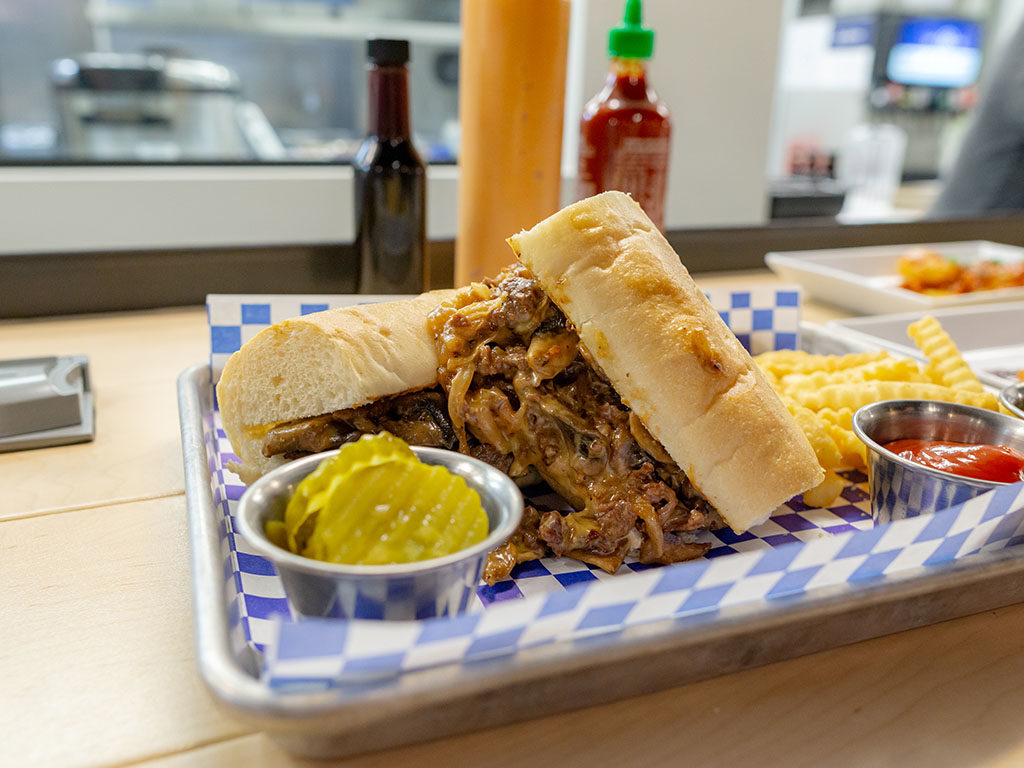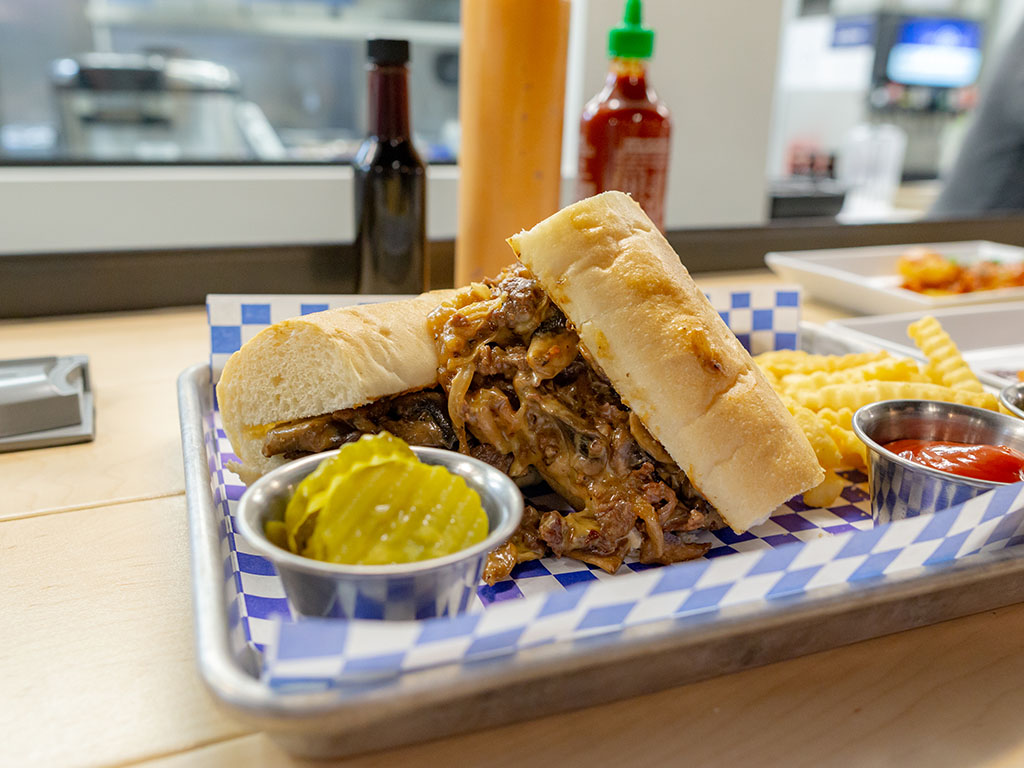 I love the cuisine of South Jordan's Angry Korean so very much. I don't love the fact that it's effectively in a different time zone for me, impossibly far away in South Jordan. Thankfully for those of us closer to the SLC core, a Cottonwood Heights location is set to open soon for this modern take on Korean food. Co-owner Peter Kim's resume includes a stint at Momofuku under David Chang – NYC's king of umami – before moving onto Michelin starred Korean eatery Danji.
Capital Grille
This one should be landing in late 2022. Capital Grille is another fancy pants national steakhouse and is headed to downtown SLC. Say what you want about chains but folks love em – especially big bold beefy ones – scroll back to the top and note Ruth's Chris ever presence.
Keep the conversation going
Want to stay on top of the SLC food scene, minute by minute, dish by dish? Here are a few other places you should follow along:
Hi, I'm Stuart, nice to meet you!  I'm the founder, writer and wrangler at Gastronomic SLC; I'm also a former restaurant critic of more than five years, working for the Salt Lake Tribune.  I've worked extensively with multiple local publications from Visit Salt Lake to Salt Lake Magazine, not least helped to consult on national TV shows.
I'm a multiple-award winning journalist and have covered the Utah dining scene for the better part of fifteen years.   I'm largely fueled by a critical obsession with rice, alliteration and the use of big words I don't understand.   What they're saying about me: "Not inaccurate", "I thought he was older", "I don't share his feelings".  Want to know more? This is why I am the way I am.
This article may contain content provided by one of our paid partners. These are some of the best businesses in Utah. For a list of all our current and past relationships see our
partnership history page
.