Looking to delight the gourmand in your life this Christmas? Been scrolling through Amazon and coming up with nothing more than comedy sized wine glasses? Stop right now, your search is over. I personally guarantee the following collection of foodie treats. The roundup comes from my own first hand experiences in 2021; and much like a Lannister always pays their debts, I always speak the food truth.
The items below have all landed on my doorstep this year. Some were freebies from companies eagerly looking for coverage, some I purchased myself; and yes for some I do earn a marginal referral fee if you click through and buy from these companies. But let me make clear again, I've greedily enjoyed each and every one of these myself. Many didn't make the list at all…
I will also note that many of these aren't Utah based – I keep a compilation of Utah specific gift options over here if that's what you're after. O.k. lets dig in…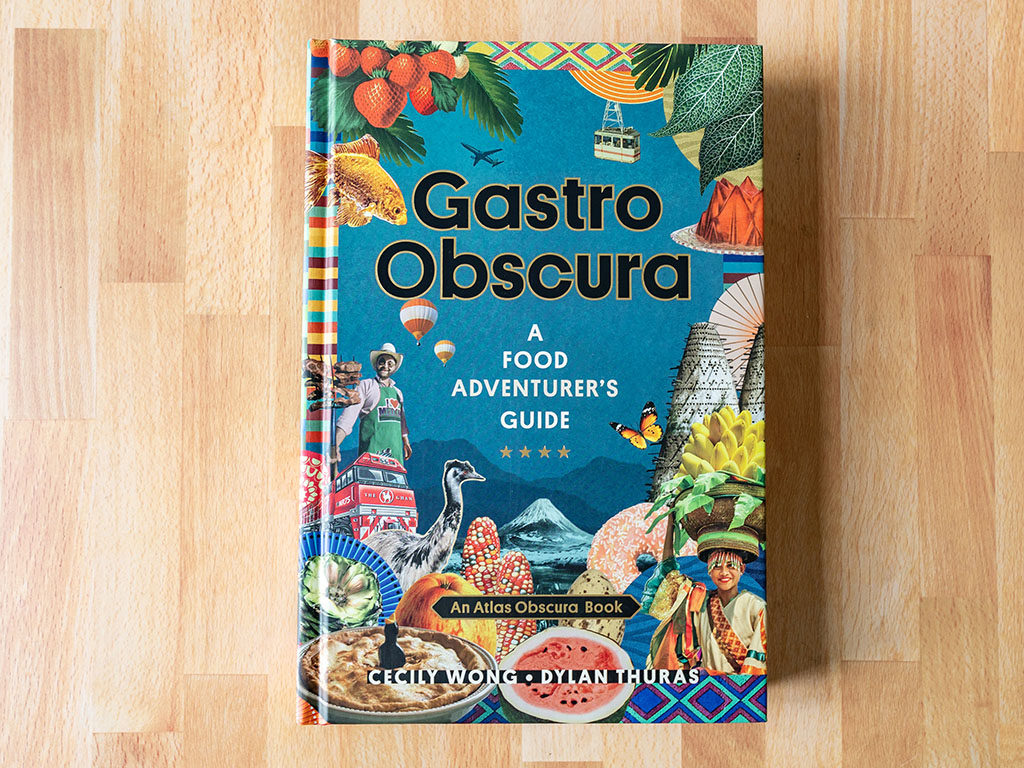 When someone gifts a foodie a book, more often than not, its of the recipe variety. A big name chef beams smugly from the cover, preposterously oversized glossy pictures litter the innards. It's all pristine plating and perfection. No I don't have any dove tears on hand and no, no I can't sous vide the unicorn horn in them. For these reasons, I dread receiving yet another book that will sit gathering dust, mocking me from the other side of the room with improbable requirements.
What I don't hate is this book from Gastro Obscura – a culinary offshoot of Atlas Obscura – and one of my favorite places on the Internet. It's a weighty hard back that demands attention, listing as it does unique culinary traditions from around the globe. Spanish cider pouring, underground Maori ovens, the Ethiopian false banana, Scandinavian sauna sausage, Delaware's legendary eel smokehouse – the worm courtship festival of Indonesia – its all here. That was literally me flipping a few pages of the book to pique your interest.
There's more than 400 pages of this stuff, bundled together in small easily digestible pieces; which means even in this attention deficit era, you can load up on food info and become your family's very own Cliff Clavin.
You know you have a hot sauce problem when your social media feeds are essentially a never ending scroll of chili crisps and bottled essence of David Chang (please – if you've tried the Momofuku stuff let me know). This one from Washington based Me's Way, really stopped me in my tracks though. It's a fiery and funky sauce. Fermented fishiness adds an umami edge to the searing heat. It's equally able as a marinade, mix in, or spoon over. It's loaded with gobs of flavor, a little goes a long way. I love it and you will too.
Fresh seafood in Utah… do you like trout? What about trout? Did you try the trout? If you'd prefer something other than trout – check out this Alaskan based company where four steps separate you from some of the best seafood in the United States.
Catch Sitka Seafood hit the waters using sustainable hook-and-line practices before immediately icing the fish. The catch is blast frozen dock side before headed straight to you in perfect packaging . Alaskan seafood is some of the very best in the world – and CSS's is backed by a 100% satisfaction guarantee too.
When you're able to marry your philanthropic endeavors with your calorific ones – your life is complete. And that's what you're able to do when you shop at Flourish Bakery. Your dessert dollars support this Midvale baker who help individuals get back on life's ladder, after inpatient recovery, outpatient recovery programs, and/or incarceration. It doesn't hurt in the slightest though that Flourish produce some stunningly edible creations – sweet and savory alike.
Look at that sucker. A 2lb rope of fat and puzzle and promise. You're gonna have as much fun figuring out how to cook this (wait, errrr, do I even own a pan this big) monster coil, as you will devouring it. The original beef sausage is known to Texans as an Elgin Hot Sausage. Whatever you call it, it's an edible piece of history. Southside is Texas' oldest smokehouse – and this sausage proves they know their onions, err, pork.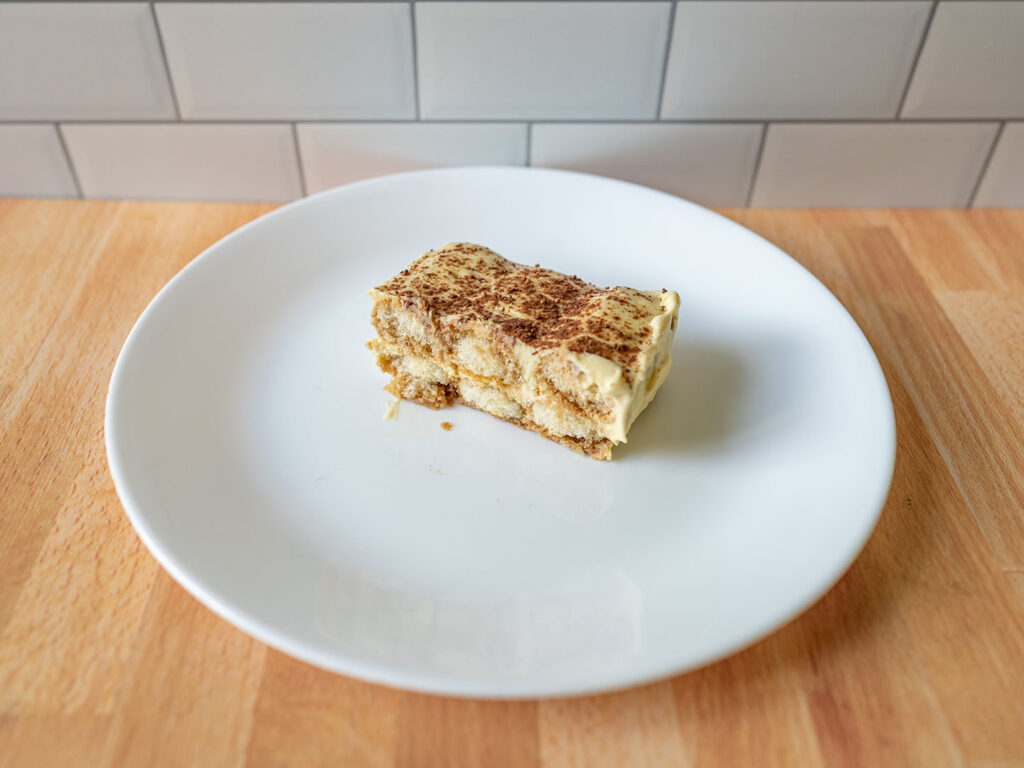 I first heard about this new dessert company when a friend started an email with, "hey can I bring you some tiramisu loaded with Waterpocket Rum so you can tell me what you think about my new business idea."
My response was roughly along the lines of: yes, how quickly can you get here, and are you the devil? Thankfully no souls changed hands for this decadent delight, though I might consider it given Twisted Tiramisu's fabulous products; Italian dessert, doorstep dropped around town. The menu continues to evolve with some stunning flavor combos. Either order some direct for yourself or grab a gift card for that friend that needs a sugary-lift.
Where many hot sauces lean into the bro-tastic territory of ultra-scorched palates and miserable YouTube endurance videos – this range from chef Sam Davis-Allonce actually pauses for a minute to remember the word flavor. The vegetable based hot sauces are all made in small batches and all have a unique vegetal blend. The sweetly-hued beet n fresno pictured above made the perfect addition to a hash of veggie breakfast sausage. Other notables in the line include sweet potato and habanero, garlic and peperonici, and collards and ghost pepper.
There's no sugar coating it (heh, get it), the product from Vosges is expensive. You could probably buy an entire Hershey's factory for the price of just a single box of this stuff. But. Dear. God. Katrina Markoff's creations are absolutely out of this world. They'd make Wonka break down in tears and hand over the keys to the kitchen; he has nothing on this. Cherry blossom with sakura leaves and anko white bean? Umeboshi plum with banana and red ginger? Kokuto black sugar caramel with double fermented shoyu?
Easily the best enchilada sauce I've found in Utah. The red sauce is the standout of two, a thick terracotta that hugs velvet like to the tortillas. There are only a few simple ingredients inside the glass jar. Essentially chiles, vinegar, lemon juice and a few spices. The secret weapon amongst them – cloves. This pushed the sauce from solid to spectacular. The chili fearful need not fret, the heat level is relatively mild. Splash a little of both on your tamales at once and get all festive! See the full review earlier in the year here.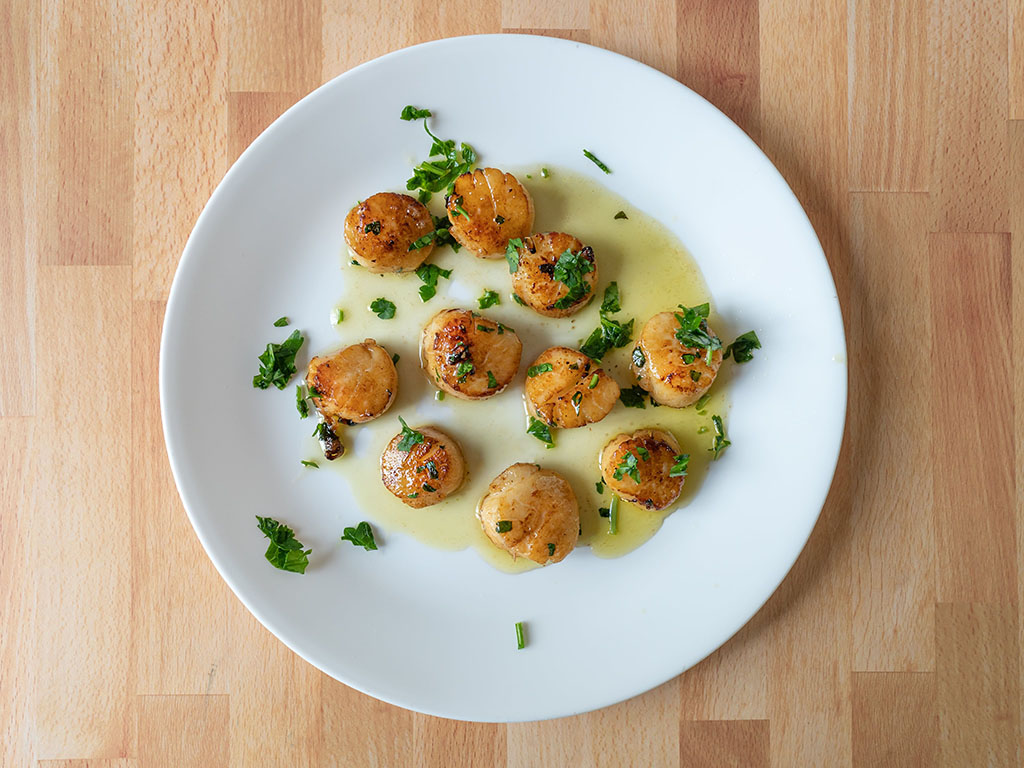 Another seafood option for you. Wulf's are a multi-generational setup out of Boston and ship coast to coast. I particularly loved the dayboat diver scallops. This is a reminder that anyone who drones on about frozen seafood being less than, is someone you can safely stop paying attention too (yes, Gordon Ramsay is one of them). When handled correctl,y (see: blast) frozen seafood is almost imperceptibly different from the fresh stuff – for the most part – and these plump buttery scallops prove it. Cooked by my own ham fists, they were as good as any restaurant in town.
The lineup of hot sauces from Fury are as you might expect from the name – furious and ferocious. These are for the capsaicin-head in your life. They all blend in a specific flavor, with a globe trotting bent. Habanero Banh Mi sings with zesty pickling tartness, Bird Brained Peri-Peri is an electrified acidic hit. My favorite is the Pineapple Yardie – bright habanero heat inflected with Caribbean flavors and sharp fruitiness; it makes guacamole light up like a charm.
You might just prefer to head on down to the likes of Caputo's or even the fine line up at Harmons; but maybe you're thinking of sending a gift in the mail, out of state perhaps? This is where a company like The Cheese Lover Shop comes in. You can shop from their modestly (but expertly curated) stacked shelves ala carte, or you can signup to one of their subscription services. Proof they know their stuff – they stock Beehive.
This monthly subscription service kept us entertained for the first half of 2021. It lands on your doorstep packed with a journey to another country. Your tour guide will be snacks. No preflight covid check necessary and no anxious glances at that guy coughing up a lung next to you.
At any rate, the box is packed with the approachable through the downright obscure; ripe pear milk chocolates from Russia, Columbian bacon and lime chips, Egyptian date jam biscuits, Thai banana coconut roll – just a fractional smidgeon of the snacks we sampled and marveled over.
Buy this for yourself alongside the Gastro Obscura book above and I promise you hours of fascinating foodie fun. Universal Yums comes in three difference sizes to suit all budgets and bellies too.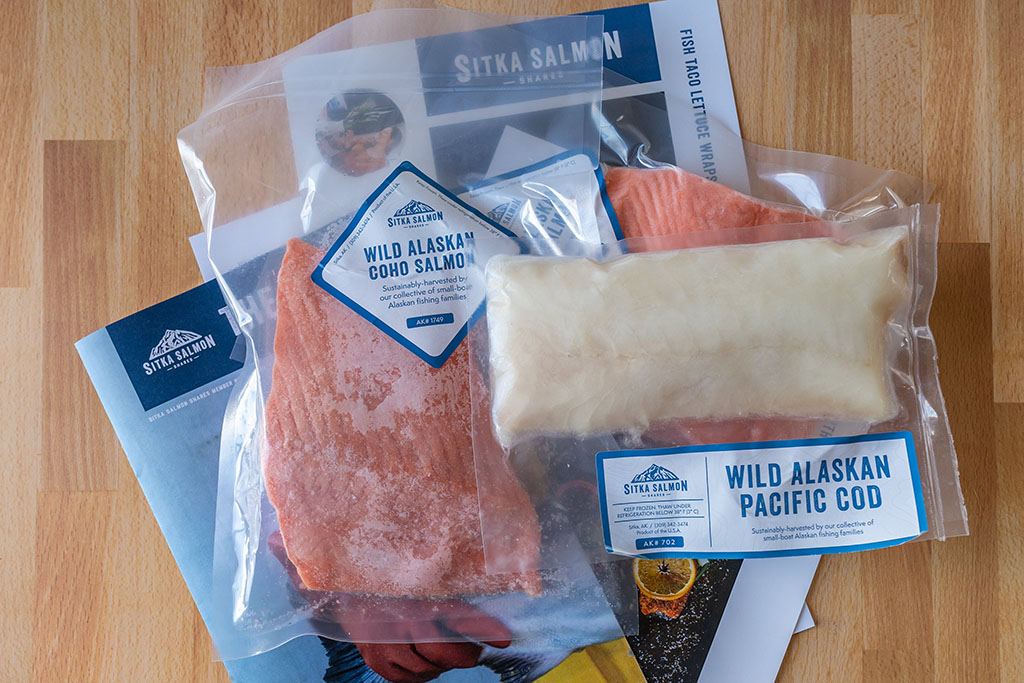 A final fishy options for you to consider – and a returning favorite of mine from previous year's lists. The notable 2021 update from this Alaskan based provider of pristine fish, is their new holiday feast boxes. Where Sitka previously offered a subscription only model, you can now land a curated sample box on a one off basis. They start from around $180 based on the size of the box and include selections such as line-caught albacore tuna, sablefish, spot shrimp, lingcod, rockfish and more.
Note: we do have a couple more guides that list items from over the years we've enjoyed too. Check out the general foodie gift gudie and also the Utah specific foodie gift guide.
Hi, I'm Stuart, nice to meet you!  I'm the founder, writer and wrangler at Gastronomic SLC.  I'm a multiple-award winning journalist and have written in myopic detail about the Salt Lake City  dining scene for the better part of seventeen years.
I've worked extensively with multiple local publications from Visit Salt Lake to Salt Lake Magazine, not least helped to consult on national TV.   Pause those credits, yep, that's me! I'm also a former restaurant critic of more than five years, working for the Salt Lake Tribune.    I'm largely fueled by a critical obsession with rice, alliteration and the use of big words I don't understand.   What they're saying about me: "Not inaccurate", "I thought he was older", "I don't share his feelings".
Want to know more? This is why I am the way I am.
This article may contain content provided by one of our paid partners. These are some of the best businesses in Utah. For a list of all our current and past relationships see our
partnership history page
.