I'm embarrassed to say I'm new to the party when it comes to Salsitas Mendoza. Exactly how embarrassed you might ask? Well, the South Salt Lake business are approaching their tenth year in business. So very. Very embarrassed indeed.
Anyway…as part of our newest segment, Made In Utah, I want to start looking at our locally made products in more detail – and the enchilada sauces at Salsitas Mendoza seemed like as good as any place to start. Because I've pretty much been drinking them since I found them a week ago.
This brace of jars are from the Sugar House Whole Foods location; insert your Whole Paycheck jokes now – but these were a relative steal (read on). Beyond Bezos' grocery store, I only know for sure that the product is available at a variety of farmer's markets. This probably explains why I've had limited exposure; I'll make no bones about how the devilish mix of crowds and early start times – pretty much excludes me from such foodie-fests.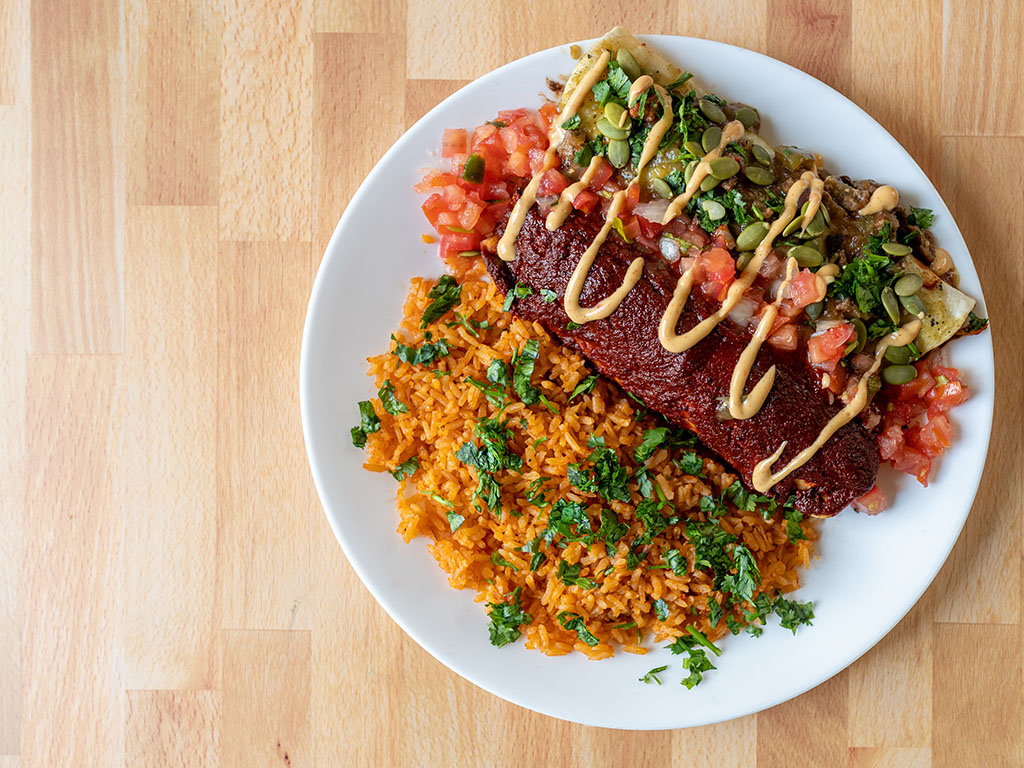 Pictured above are two home made beef and black bean enchiladas I quickly cooked up at home. In the picture above:
Salsitas Mendoza red enchilada sauce
Salsitas Mendoza green tomatillo enchilada sauce
Rico Foods pico de gallo
Rico Foods Mexican rice
A squiggle of Sir Kensignton's Chile Lime Crema (I'm a savage I know)
Cilantro and pepitas to finish
The red sauce was the standout of two, a thick terracotta that hugs velvet like to the tortillas. There are only a few simple ingredients inside the glass jar. Essentially chiles, vinegar, lemon juice and a few spices. The secret weapon amongst them – cloves. This pushed the sauce from solid to spectacular. The chili fearful need not fret, the heat level is relatively mild.
It's worth picking up on that simple ingredient list for a moment. Go grab that packet or jar of enchilada sauce in your cupboard now, go read what's lurking in there. I know you have one – we all have our quick little crutches for an easy dinner. See how the first ingredient is oil, maybe even tomatoes? Any enchilada sauce worth its salt starts and ends with chiles as the central ingredient.
These sauces cost me just $5.99 each from Whole Foods. I reckon I could handsomely envelop six well sized enchaildas from a single jar. Bargain. Make this one your next easy weeknight dinner crutch and ditch the big brand name.
Extra credit: if you really want to make your own from scratch, check out my own recipe using dried and dehydrated guajillios, anchos and chili de arbol here. It's easy just a little time consuming.
Hi, I'm Stuart, nice to meet you!  I'm the founder, writer and wrangler at Gastronomic SLC.  I'm a multiple-award winning journalist and have written in myopic detail about the Salt Lake City  dining scene for the better part of seventeen years.
I've worked extensively with multiple local publications from Visit Salt Lake to Salt Lake Magazine, not least helped to consult on national TV.   Pause those credits, yep, that's me! I'm also a former restaurant critic of more than five years, working for the Salt Lake Tribune.    I'm largely fueled by a critical obsession with rice, alliteration and the use of big words I don't understand.   What they're saying about me: "Not inaccurate", "I thought he was older", "I don't share his feelings".
Want to know more? This is why I am the way I am.
This article may contain content provided by one of our paid partners. These are some of the best businesses in Utah. For a list of all our current and past relationships see our
partnership history page
.