Take a deep breath, pour a double, gather your nearest and dearest – whatever you need to do to collect yourself for the full list of recent openings. Go ahead and do it now, and join me again in 15. Ready? Great, lets go…
Aloha Hale 'Aina
First on our list this month is a new Sugar House spot that *isn't* a ramen restaurant. The cuisine de jour here is Hawaiian, and the menu offers the familiar DIY approach – pick this, pick that. People just don't have the time for annoying waiters, menus and lingering damnit. Time is money and what have you.
Choices at Aloha span everything from vegan poke to goat stew – plus all the various points between those two extremes.
2006 900 E, Salt Lake City, UT 84105
(808) 393-6391
Bella Vita
I confess to missing this opening a few moths ago, which wouldn't be too hard given the continuing mad scramble of Italian restaurants demanding attention. This Sandy newcomer makes a somewhat fungible move into the space emptied by Il Sole's departure. Of note, the restaurant is owned by chef Francesco Montino, who you'll probably know from his more Northerly Per Noi exploits.
8657 South Highland Drive, Sandy, UT 84093, USA
(801) 666-6930
Big Mouth Street Food
Likewise, it's unclear to me when this spot inside a spot opened up. Nestled inside South Salt Lake's Chinatown area, then inside YOLO Karaoke, this Russian doll of a restaurant popped up in my Uber Eats app while I was browsing for something random to order; fun fact about me 146, this is how I spend at least a third of my life. Not even kidding.
Traditional Chinese street food makes up the menu; starting with a range of dumplings, buns and snackable stuff, before moving onto hot and cold noodles.
3390 S State St, Salt Lake City, UT 84115
(801) 999-4621
big-mouth-street-food.business.site
Blue Copper 2000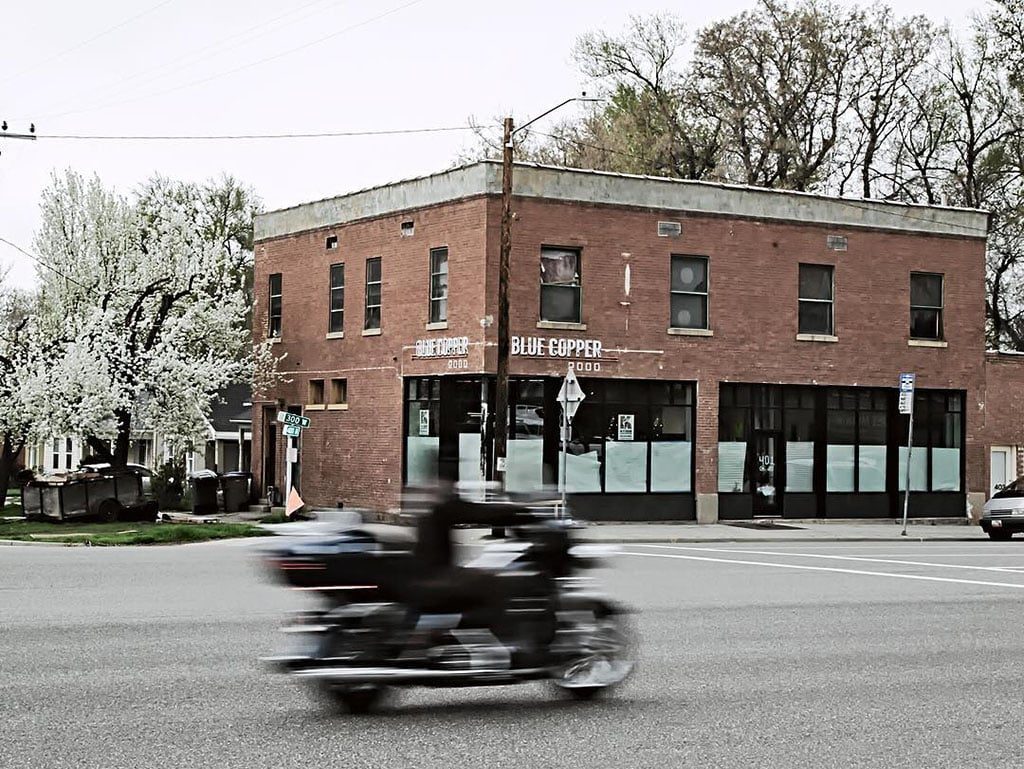 New for residents of North Salt Lake'a Marmalade area, this new coffee shop from local roasters Blue Copper. The shop is the second from the boutique roasters and offers pastries in addition to coffee and other seasonable drinks.
401 N 300 W, Salt Lake City, UT 84103
(801) 225-2092
https://www.bluecopperslc.com
Chedda Burger
Despite some last minute snags, Nick Watt's pretty as a picture burger shop is now open within the rapidly rejuvenating Gateway. The downtown opening marks the beginning of a new chapter of sorts; the original hole in the wall location is now closed, with this location the ostensible replacement.
The menu is still vividly-ludicrous, and barely a few pennies more than a certain other out of state burger interloper causing mayhem right now. Just come spend your burger bucks here folks.
Gateway | 190 South 400 West, Salt Lake City, UT 84101
Foothill | 1314 Foothill Dr, Salt Lake City, UT 84108 | (385) 227-8845
Lehi | 1899 W Traverse Pkwy, Lehi, UT 84043
cheddaburger.co
Chio's Churros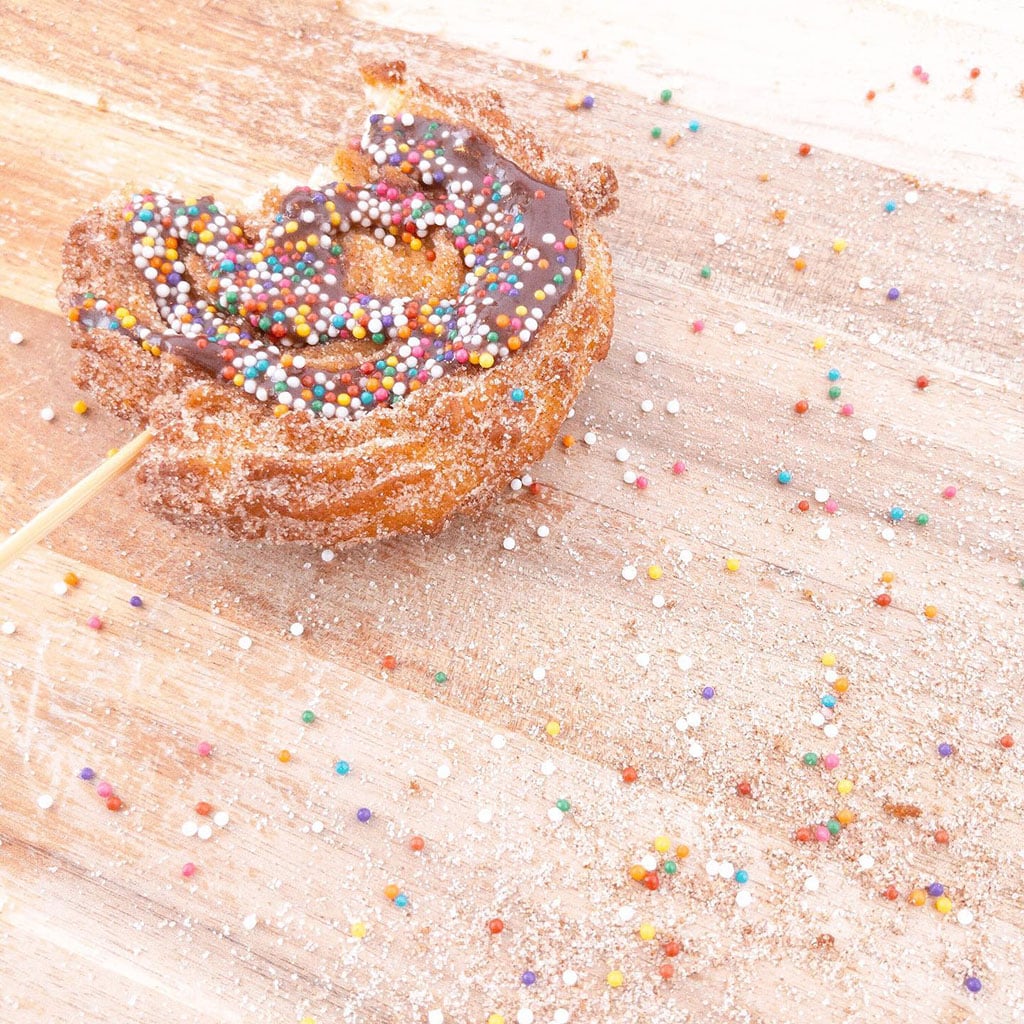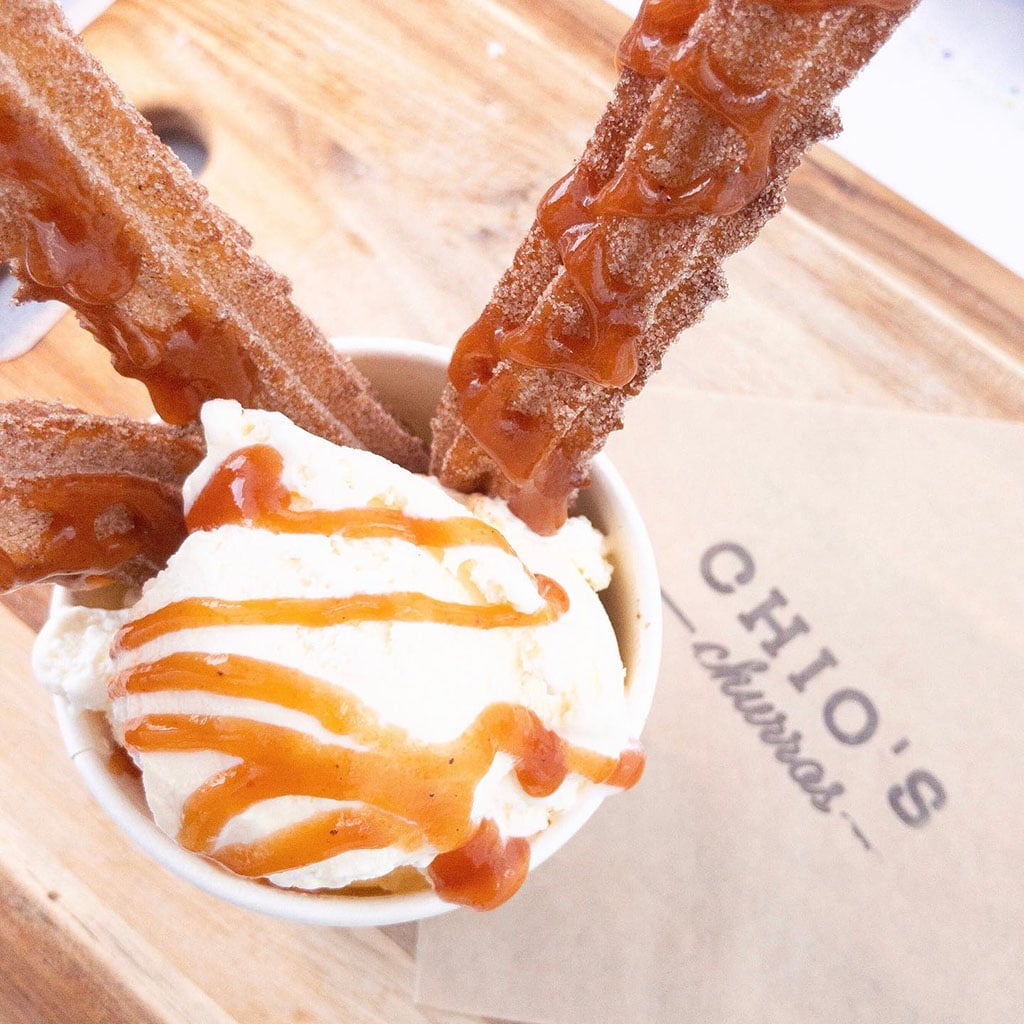 This new food truck is dedicated to the art of churros. You want it on a stick? Fine. You want it as a sandwich? Fine. You want it all traditional and served with ice cream? Fine. You don't like churros? Not fine. Go away.
Location varies
facebook.com/ChiosChurros/
Courchevel Bistro
Those bemoaning the relative scarcity of French dining in Utah will no doubt pop a cork of Pét-Nat over the opening of this Park City restaurant. Part private club (Talisker) and part public restaurant, the kitchen takes inspiration from exec-chef Clement Gelas' Rhone roots. Here's the full press release:
Courchevel – A Talisker Club Bistro is celebrating its grand opening and debut as Park City's newest dining and gathering space. Owned and operated by Talisker Club, Park City's only private four-club community, Courchevel Bistro is to make its mark on downtown by bringing a much-desired French-European taste of Talisker Club prepared with only the freshest local ingredients. Led by Talisker Club's seasoned Executive Chef, Clement Gelas, Courchevel Bistro features artfully crafted, inventive cuisine with a fine dining restaurant, café/bakery, wine/dessert bar on its upper level and a lower level Talisker Club members only private indoor-outdoor lounge and patio.
Formerly known as Main St.'s historic Coal & Lumber building, Talisker Club acquired the historic property in February 2019 and reimagined the 5,422 square-foot space to deliver a special offering that does not currently exist on Main Street, all the while preserving an iconic and enduring piece of Park City history.
201 Heber Ave, Park City, UT 84060
(435) 572-4398
courchevelbistro.com
Dapper SLC
You'll need to head to the Pioneer Park Farmer's Market at the weekend to check out this new fancy pants hot dog spot. Even I'm tempted to brace the bedlam to snag one of these dogs. I mean look at them.
Pioneer Park Farmer's Market
dapperhotdogs.com
Ella Lee's Soul Food
Opened as of August 1st, you'll find this soul food restaurant now open inside Benji's BBQ which we wrote about last month. Indeed at this State Street joint (just behind the Century 16 cinema) you'll find four businesses; owner Benji Stalling's signature BBQ shop, a pet food/treat operation, a butcher shop that's appointment only, and now this new restaurant.
3245 S State St, Salt Lake City, Utah, 84115
facebook.com/Ella-Lees-Soul-Food-Kitchen-516586128746693/
El Localito food truck
Not much to go on so far, but this new food truck looks promising enough. Their Instagram account (see below) features Arepas and loaded fries that look plenty tasty to me.
Location varies
instagram.com/localito.foodtruck/
El Mexiquense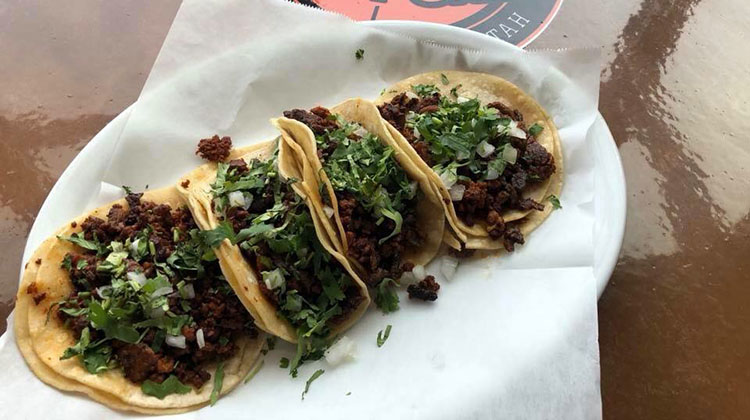 The Southern wastelands of the valley become increasingly more edible by the day. Over at 114th State in Sandy you'll now find an outpost of what some connoisseurs tell me is the best taco in town – argue amongst yourselves please. The new restaurant – with particular renown for their al pastor – replaces a now shuttered location of Freebirds – thats a switch we'll take any day.
11396 State St, Sandy, UT 84070
(801) 666-8715
elmexiquensegrill.com
El Padrino Kitchen
This deliciously authentic looking Mexican restaurant is now open in West Jordan. Perhaps tailoring to the locals, items like BBQ ribs with mashed potatoes sit alongside menudo, pozole and tripe tacos.
9117 S Redwood Rd, West Jordan, UT 84088
instagram.com/elpadrinokitchen/
Ginger Street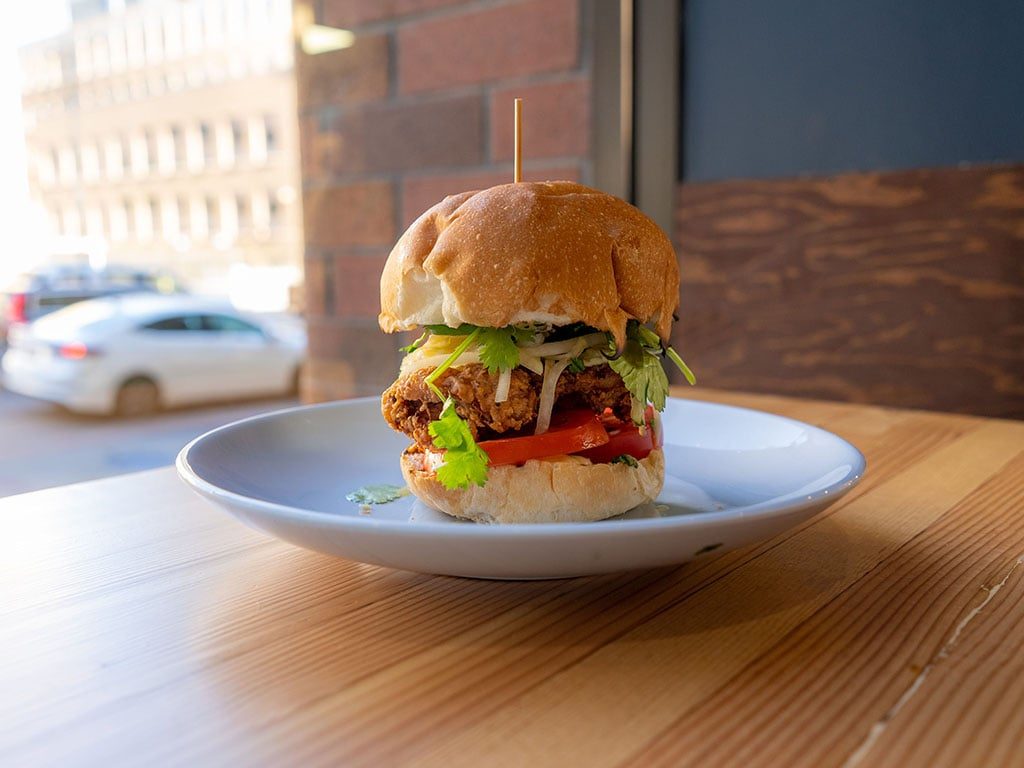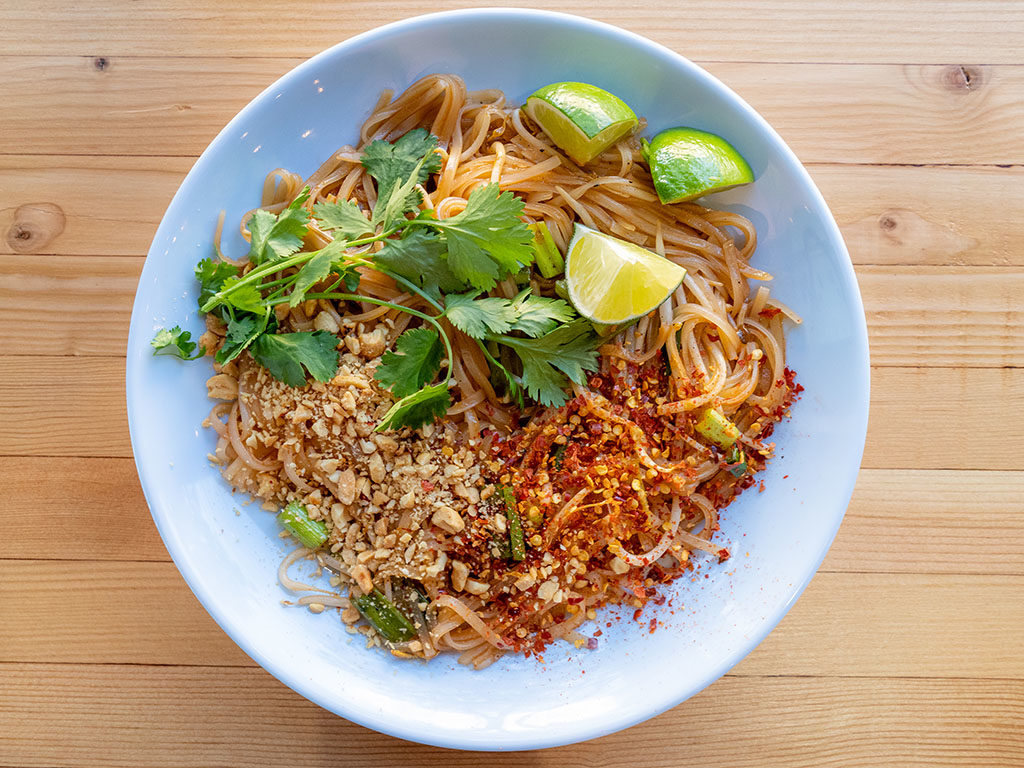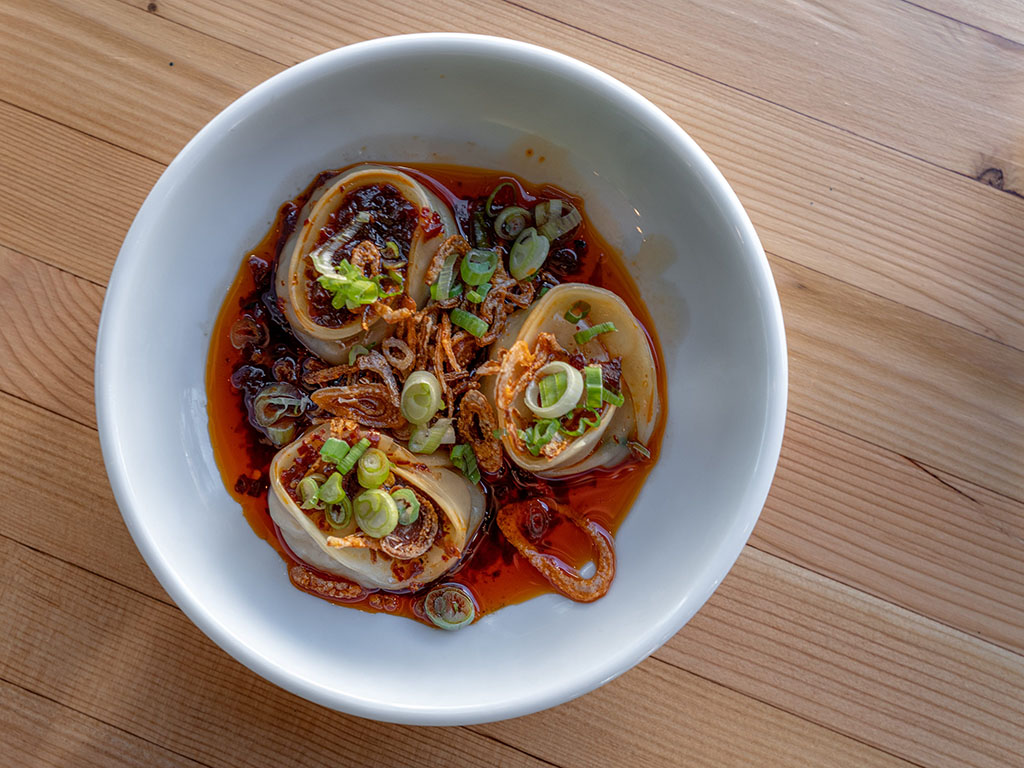 This link up between chef Tyler Stokes and restaurateur Michael McHenry might be one of the most contentious new restaurant openings in recent memory. If you've been following along with their daily Yelp reviews (this is how I spend another third of my life by the way). The restaurant is critically acclaimed as the next best thing since sliced banh mi, or conversely, consigned as a hot mess of a garbage fire.
My somewhat less incendiary take is somewhere in the middle. The panoply of pan-Asian plates offer diners an eclectic mix to choose from, but the overall package needs work; it's an evolution of the much missed Plum Alley, and it's an undeniably fun concept. The restaurant splashes around the instantly grating phrase "real food for real people" which is problematic at best; and if you don't instinctively know why, go and Google up Andrew Zimmern's firestorm in the mid-West. I'll give them the benefit of the doubt and like the amped up waitstaff, chalk it up to misguided enthusiasm.
The food runs the gamut. Pad Thai is a disappointingly saccharin affair, curious given that the kitchen flings around chili and fish sauce with glee elsewhere. I enjoyed the salty smack of the shrimp dumplings but I eat salt as a snack noon to night. Chicken satay was pedestrian and lacked depth but I could eat the tightly wrapped duck rolls endlessly. There's a fried chicken sandwich, because, well, fried chicken sandwiches are on trend right now; and honestly, only miscreants don't immediately embrace crisp chicken like a returning missionary at the airport.
The space screams "relax have fun", in that carefully orchestrated manner that ensures neither; concrete pillars are plastered with album covers, Nevermind here, Tupac there. A DJ coolly ignores both. The wait staff bounces around at a dizzyinging pace that ultimately confirms the space is not designed for middle aged moaners like myself.
Despite the clunkiness, the business seems genuinely eager to please. An initial attempt to have guests order before taking a seat, seems to have now been ditched in favor of a more traditional setup. With time, I've no doubt Tyler Stokes can dial in the menu further. Here's hoping the beer list can be developed beyond a tour de force of SE Asian Budweisers too.
I base all of this entirely off a single visit during the restaurants pre-launch, hype-night; and day to day meta-analysis of Yelpers. I've not been back yet to evaluate how things have progressed first hand, but I will; the concept has legs and with continued evolution should be great.
324 State Street, Salt Lake City, Utah 84111
(385) 477-4975
gingerstreet.com
The Golden Axe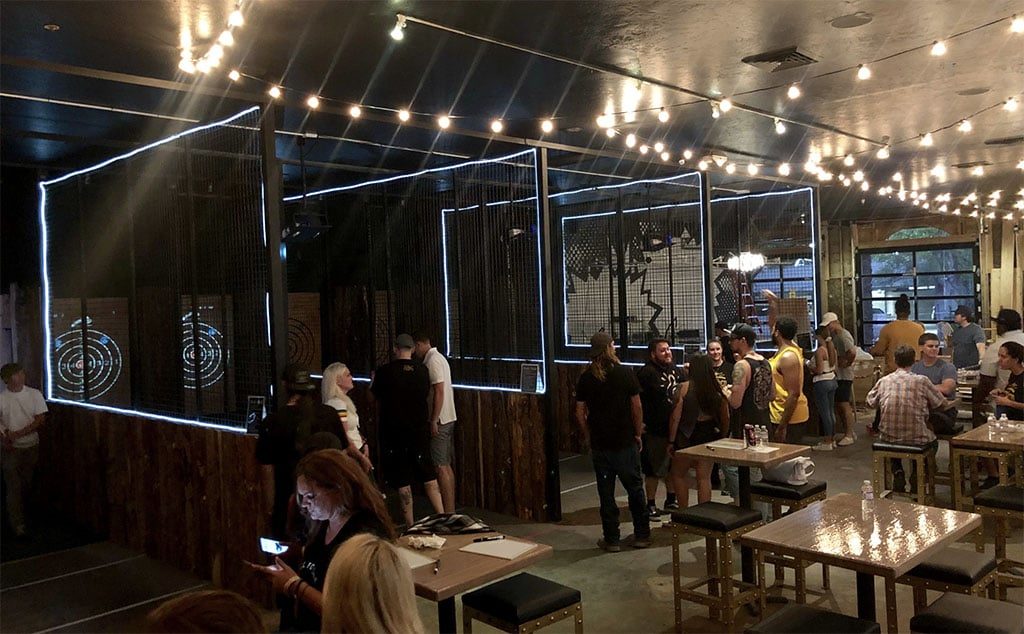 Lumpy's – did anyone ever meet Lumpy? – downtown SLC is no more. Now replaced with an ramen spot. Nah, just kidding. In the spacious Pierpoint Ave location, you will now find another de-rigeur of any major metropolitan area: axe throwing!
The Golden Axe brings much more than others though. Here's the full press release with all the deets:
Golden Axe Throwing, Salt Lake City's newest entertainment venue is set to open in the heart of downtown on August 2, 2019. Golden Axe is a fully immersive venue that provides experiential entertainment through its tech-based axe-throwing lanes, full bar, kitchen, and much more.
Golden Axe is not just about throwing axes and drinks; it's about the space, the art, and the full immersive experience. Upon entering the venue, you'll be transported into the lavish house of an ancient Viking lord. Cedar logs sprinkled with gold outline the core of the architecture, while authentic comic strips paper opposing walls in contrast.
"We love axe throwing but we don't love how bland most axe-throwing venues are." said Bentley Williams, owner and co-founder of Golden Axe, "We wanted to create a space that focuses on more than just axes."
The venue pays homage to classic comics and video games while remaining modern and sleek. Not only is the appearance of the venue lavish, but it incorporates exciting technology into the tech-based axes and throwing lanes. Golden Axe is the only place in Utah with projected targets and electronic scoring.
"Other venues use painted targets and chalkboards." said the head of axe-operations Ryan Means, "We wanted to bring the axe-throwing sport into the future with projected targets and e-scoring so we could create as many game modes as we wanted."
Not only is Golden Axe the only axe-throwing bar in Utah with this technology, but also adds a full bar with various cocktail and beer options, and a full-service kitchen serving enjoyable food options. Golden Axe is more than an axe-throwing venue; it's a full entertainment experience.
145 West Pierpont Ave, Salt Lake City, UT 84101
(385) 415-2956
goldenaxeslc.com
Haku Ramen House
More Ramen. This time in American Fork. The menu does exactly what it says on the tin.
101 NW State St, American Fork, UT 84003
(801) 756-7106
https://haku-japanese-restaurant.business.site
Hanaya Poke
A couple of readers tipped me off to this Sugar House spot after our last new restaurant roundup. In case you took a second take at the name and wondered if the Mandela Effect was in play, don't worry, you're not mistaken; due to legal reasons, this Texan transplant recently transitioned from Hana to Hanaya. So no, you didn't slip into an alternative timeline, schwooo.
Poke burritos and bowls are the order of the day on the menu, available in both build your own and pre-made configurations. Milk foams, fruit teas and slushes round out a creative beverage menu.
675 E 2100 S Ste B, Salt Lake City, UT 84106
(385) 528-0592
hanayapokeus.com
Hook And Reel Cajun Seafood And Bar
This national chain now has a location in Layton. For those hands on types who believe dinner should be a tactile affair, this is the spot for you. Hook And Reel offers both boil in the bag seafood plus plated ala carte options for those more OCD inclined.
1508 N Woodland Park Dr, Layton, UT 84041
(385) 278-6666
hookreel.com
Ishtar Mediterranean Cuisine
The Shawarma King has been deposed, his throne reclaimed by Ishtar. This picture snapped as I whizzed by along 33rd South recently, and spotted the recent update. I can't confirm for sure, but handy informants tell me the business is ostensibly the same owners with a refresh. Also, did you spot the joke there? No one merely whizzes along 33rd.
725E 3300S, Millcreek, Utah 84106
(801) 803-9434
ishtargrillslc.com
The Lounge @ Wiseguys Gateway
More Gateway updates, more reasons to go visit. Here's the full press release for this snazzy looking lounge at the downtown comedy club. Open to all:
The popular hot spot Wiseguys Comedy Club at The Gateway is growing and just opened The Lounge at Wiseguys, a bar and restaurant offers a wide variety of delicious appetizers and entrees and colorful, ice cold drinks in a comfortable and relaxed atmosphere. The Lounge is located next to Wiseguys Comedy Club.
Oversized couches, bar stools, flat-screen TVs, a stage, and unique comedy memorabilia fill the Lounge that will open at 5 p.m. daily. This new Wiseguys expansion will be open to patrons aged 21 and older and is a great space to eat and drink, watch a game, and even hang out before and after comedy shows.
The Lounge will host live entertainment shows while the main stage at Wiseguys will continue to bring in national headlining comics every week. The Lounge is perfect for private parties and corporate events and is available for private rental year-round.
Keith Stubbs (owner) continues to work hard bringing a wide variety of national-touring, well-known comedians to Utah who now consider Wiseguys as one of their favorite clubs in the country.
"As a comedian myself, it's always been a priority to me that the club is comedian-friendly. Every decision I make – from the seating layout, to the sound and lighting and the rules of the club – are all meant to ensure every comedian has a great experience on stage and the show is the best it can be. It's all about the show," said Stubbs who is involved in every aspect of his three Wasatch front Wiseguys locations.
"Wiseguys Comedy Club has been a staple of entertainment at the new Gateway, we can't wait to welcome the addition of The Lounge with that same relaxed, fun atmosphere that Wiseguys offers," says marketing director Jacklyn Briggs. "The Lounge is just another addition to our growing roster of entertainment-driven merchants, creating a pedestrian-friendly district like no other."
194 400 W, Salt Lake City, UT 84101
(801) 532-5233
wiseguyscomedy.com
May Moe's Southern BBQ
This one comes as tip from a reader of the site. In response to our last roundup, this kindly correspondent wrote:
"You mentioned in your latest article on new Salt Lake restaurants to try that "there's hardly anywhere in the state offering cuisine from the South" in reference to Sauce Boss Southern Kitchen. I wanted to make sure you knew about MayMoes in Logan. They list themselves (on their web page) as a Southern Cajun Grill. But serve many of the items you listed for Sauce Boss. The food is great. Recently they opened a location on the north end of Logan that is only open for lunch and serves BBQ."
Facebook reports the business has moved into the Old Mundo's location, offering lunch Tuesday through Saturday. Let us know in the comments if you swing by.
1111 N 800 E, Logan, UT 84341
Miwa Ramen
Moar ramen. I'm a little slow to the uptake on this one, the Orem based noodlery opened their doors around April this year. The food court based eatery's menu runs through the ramen staples you'd expect, tonkotsu to shoyu but also curiously offers a burrito option too. Here you can find items such as the Philly Cheese, Pho Burrito and Potato Man?!
266 N State St Asian Market Food Court
(801) 709-1104
facebook.com/kchanpon/
Normal Ice Cream
Joining their existing popup of sorts at Trolley Square, this new self styled "forever home", for Alexa Norlin's ice cream creations. Expect a completely different menu to be offered up at the new bricks and mortar operation (formerly Jed's Barbershop).
169 900 S Salt Lake City, UT 84111
normal.club
Panaderia Los Compadres
This West Valley City bakery is located inside the La Palapa Mexican Restaurant and promises, "the most delicious Pan Dulce and cakes in the Salt Lake valley". The bakery also delivers via DoorDash too, so you can test that claim from the comfort of your own sofa if you like.
1824 W 3500 S Ste 103, West Valley City, UT 84119
(801) 972-1262
facebook.com/loscompasbakery/
Pie And Fry
Do you like pie? Do you like fry? Then you'll love pie and fry! Actually the business can't decide if it's Pie And Fry or Fry And Pie, seemingly using the two interchangeably. Frankly, who the hell cares, its pies and fries. The Standard-Examiner confirms the restaurant is carbohydrate heaven. That's the type of afterlife I'm all about.
2251 Grant Ave, Ogden, UT 84401
(801) 393-4453
facebook.com/pages/category/Pizza-Place/Pie-and-Fry-260791281416210/
Puerto Vallarta Mexican Grill
Another New Mexican restaurant, this time over in Taylorsville. All the good stuff is here, molcajete through mariscos, barrio through beef tongue.
4631 S Redwood Rd, Taylorsville, UT 84123
(385) 425-3970
puertovallartamexgrill.com
Rockwell Ice Cream Company
More ice cream, this time in the heart of Sugar House by way of Provo and Justin and Summer William's popular Rockwell brand. The dessert shop moves seamlessly into the unit once occupied by Yogurt Land. I don't care to arbitrate on the best burger, best taco or best pizza, but I feel safe in saying we all prefer ice cream over yogurt right? RIGHT?! Oh god, what have I done to my inbox now…
2121 McClelland St, Salt Lake City, UT 84106
(385) 301-8813
rockwellicecream.com
Saffron Circle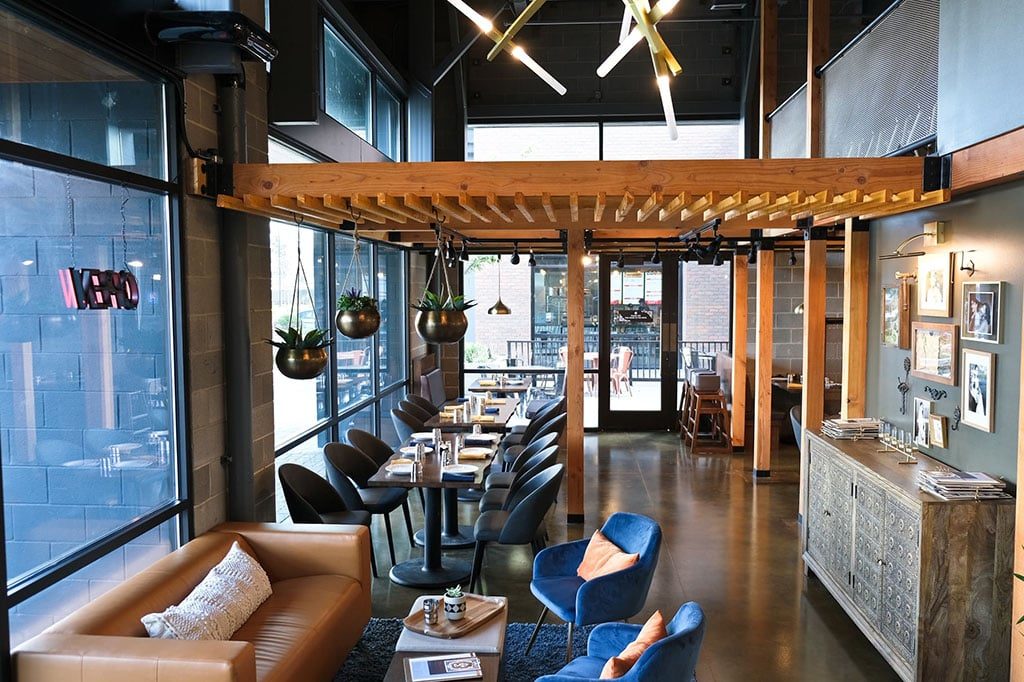 With the opening of her Sugar House location, owner Lavanya Mahate threw down the gauntlet on how an Indian restaurant could look and feel in SLC. The gleamingly-new Saffron Circle in Riverton expands on the notion; the chic space wouldn't look out of place in a ritzy resort.
The interior is an exercise in bright modernity, and as you can see above, even has cool floor to ceiling windows so you can seen into the kitchen and watch those tandoor-tenders at work first hand.
Following in the same vein, the menu is also a boldly modern affair, right down to the multi-course tasing menu with wine pairing options. There's no Kendall Jackson here, and to my knowledge this may well be the only Indian restaurant in town that's pouring Ransom wines.
Colonial | 26 E St E, Salt Lake City, UT 84103
Bistro | 79 E 2100 S, Salt Lake City, UT 84115
Canteen | 1098 S Jordan Pkwy, South Jordan, UT 84095
Circle | 4597 W. Patridgehill Lane, Riverton, UT, 84096
saffronvalley.com | order delivery (affiliate)
SAOLA
Another brightly-upscale rendition is this Cottonwood Heights Vietnamese restaurant. Starting life as a delivery only option, the business recently swung their doors open for lunch service.
The menu offers salads, banh mi, pho and an interesting range of smaller snacks and traditional Vietnamese skewers. Expect a dinner service to follow along in short order.
7307 Canyon Centre Pkwy, Cottonwood Heights, UT 84121
(801) 944-2949
saola-slc.com
Senor Pollos Mexican Grill
Two whole chickens with a smorgasbord of sides for $28.95?! I don't know about you, but I'm in. That's the priciest thing here on the menu, which as you might have already intuited, focuses on chicken. Predominantly of the grilled kind. There's also tacos, quesadillas, burritos and nachos too.
1775 W 5400 S, Taylorsville, UT 84129
(801) 964-9898
https://www.instagram.com/senorpollo_taylorsville/
Shake Shack
Look, I had to include it. It's probably the most important thing to happen in Utah since Brigham Young founded SLC. The frenzied hyperbole echoing around the valley means that any other position is clearly madness. So there, I included it. Shake Shack is now slinging pricey fast food right here in Utah.
Now just you wait until Panera Bread decides to expand beyond the beachhead of their SLC Airport opening…just you wait…
11020 S State St, Sandy, UT 84070
(385) 276-3190
shakeshack.com/area/utah/
Sobe Eats food truck
Another reader tip, this time for a food truck (sort of) that's as picture perfect as any restaurant. Said tip as follows:
"Check out Sobe Eats food truck, a group of brothers doing seasonal menus (currently cold served tostadas.) Their truck currently isnt built out but they run everything out the back of it in a beautifully set up tent. They serve tostadas with chicken, pork, and shrimp. The tostadas are served chilled, which threw me off, but they work. All sorts of delicious toppings including Spanish style potatoes, guacamole, cilantro, and cotija cheese. Mostly locally sourced ingredients. I was super impressed… everyone at Soho food park was loving this truck."
Additionally the business writes that they are "attempting to raise the standards for local and global practice within our industry. We are a sustainable and green company. All of our ingredients are locally sourced and all the products we use are bio degradable!"
Location varies
facebook.com/pg/SobeEats
Spilled Milk food truck
Do you like ice cream? Do you like cereal? Well someone else does too, and they had the bright spark to serve em up together out the back of a food truck (well side).
Location varies
facebook.com/Spilled-Milk-Ice-Cream-and-Cereal-Bar-374177563455303
Stir's Cereal
Cereal is lit right now apparently. Who would have thought. Anyway, this Midvale based cereal shop of your dreams (!) offers 75 different types of cereal. You can stop by and build your own weirdo frankenstein blend to eat on premises, or, box it up to go – the perfect gift for that friend who was waiting for the phrase, cereal is lit right now.
7186 Union Park Ave, Midvale, UT 84047
(888) 817-8477
stirs.com
Suzy's Gourmet Kitchen
Another reader tip, please keep this up you guys! You make my job as easy as stumbling onto a ramen restaurant by aimlessly wandering around SLC for 90 seconds. Anyway, this one as follows:
Get your passport out to visit Cottonwood Heights! Suzy's Gourmet Kitchen is in a beautifully remodeled 30′ Airstream in front of the Unitarian Church on Highland Dr. About 70th side, on the west side, by Tagge's farm stand. As you pass by, you can turn into Whole Foods and wind your way to some really delicious food which she makes herself (meat, falafels, challah, etc). She closes at 7:00. Reasonable charge for great food. Hope she makes it!
Tuk Tuks
You millennial kids you, pull a chair up and let me tell you a tale of days gone by. Before influencers, deep fried cauliflower and long before phrases like cereal is lit, Thai food was the trendy taste of the town. Hell, Thai food was the ramen of it's heyday. These days, crickets.
Tuk Tuks is the first new Thai restaurant I recall in some while, and a decidedly contemporary looking one at that. Pictured above, a creation I've never seen before – deep fried papaya salad.
2222 W 3500 S, West Valley City, UT 84119
(385) 227-8347
facebook.com/TukTuks.SaltLakeCity/
Sweet Sundaes
Had enough sugar yet? No, never, not a chance Utah screams. Which is why when the opportunity presented itself, the Proper guys (of next door Stratford Proper et al) decided to open this dessert shop. The shop is open seven days a week until 10 p.m.
1594 Stratford Ave S, Salt Lake City, UT 84106
facebook.com/Sweet-Sundaes-504149343457810/
Sweet! The Treat-A-Torium
Look you may as well just call your dentist and insurance right now. Such is the amount of sugar, frosting and glazing in this post; and lets both admit it together, your lack of self control. This new Eagle Mountain dessert spot has maple bacon donuts. So I guess you're going to Eagle Mountain now.
1352 Eagle Mountain Blvd, Eagle Mountain, Utah 84005
(801) 901-4062
facebook.com/treatatorium/
Turmeric Indian Cuisine
I somehow missed this new Indian restaurant opening back in January, so for completions sake, here it is now. If you've read a typical Indian restaurant menu in Utah before, there are little surprises here. This Draper spot joins another existing location in downtown SLC.
280 E 12300 S, Draper, UT 84020
(801) 999-4133
turmericutah.com
Weller's Bistro
Gabor's Brothers in Layton is now Weller's Bistro – something of a Ameircan-Italian-German mash up. All on different plates of course. There are pizzas, there are burgers, there are sides of spatzle and bratkartoffeln. You're going to have to Google that last one yourself.
197 N Main St, Layton, Utah 84041
facebook.com/wellersbistro
Yuta
I randomly encountered this new Wanship spot reading this piece by Dishing PC. Yuta is the onsite eatery for the new hotel operation (called The Lodge and ran by Auberge) over at the High West Wanship facility; it's all horse back riding, fly fishing and rediscovering your inner hunter gatherer spirit or something.
On the restaurant side of things, James Beard award winning chef Galen Zamarra has been exfiltrated from NYC to head up the kitchen.
27649 Old Lincoln Hwy, Wanship, UT 84017
(435) 571-0349
aubergeresorts.com/bluesky/stay/
Zimbu
Over at City Creek mall's food court – this new DIY Indian concept. The menu is another DIY . Meals include plates, wraps, burritos or bowls, with options therein including a range of Indian favorites such as chicken tikka and makhani curry.
28 S State St, Salt Lake City, UT 84111
(385) 229-4003
zimbuslc.com
Coming soon
Birdhouse
This fried chicken operation should be coming online any day now. This new effort from Scott Evans will open alongside 9th and 9th's East Liberty Tap House. ELTH became a 21+ bar only operation earlier in the year, Birdhouse will be family friendly.
Charlotte-Rose's Carolina BBQ
Currently operating in Bountiful, the sophomore smoking effort from the same team will be coming to Millcreek – roughly around 8th and 33rd – where Wasatch Pizza used to be located if memory serves. There's not much Q in this area, so fingers crossed for this one.
Brickyard Bar
Lumpy's Highland Drive will very shortly join the its downtown sibling as all but memory. Over the past few weeks, new owners Jeff and Adrienne Isbell have been slowly transitioning the existing space into a completely new bar – Brickyard Bar to be precise.
The old Lumpy's was certainly starting to show its age, all tatted and frayed edges, with a food menu not much better than school lunch. The new setup and menu looks much more promising.
Lucky's Iron Door Roadhouse
Once you've done the zombie Shake Shack thing over in Sandy, make your next horde destination Jordan Landing – that's where the second iteration of Lucky 13 is set to open soon. Presumably parking will be much improved over the realization of Dantes first level of hell that is the existing location.
Ombu Grill
Orem, Midvale and even Boise Idaho will soon receive expansion outlets of this Korean BBQ joint. The current location lives on State Street in SLC.
1438 S State Street, SLC, 84115
6930 S. State Street, Midvale, 84047
147 N State Street, Orem, 84057
facebook.com/ombugrillkoreanbbq/
Real Taqueria
Coming to Murray Holladay Road is this new taco spot. Formerly a fast food spot, the restaurant join's Tosh's, Pig And A Jelly Jar and FAV Bistro as dining designations in the area. Real Taqueria currently operates as a food truck, this will be their first bricks and mortar.
1869 Murray Holladay Rd, UT 84117
(435) 383-7762
realtaq.com
Mr Shabu
With a name like that, Mr Shabu's parents are probably breathing a sigh of relief he went into the shabu shabu business. I'm here all week. Anyway, this Asian hit pot style of cooking will be coming to The Gateway later this year. See I told you things were looking pretty cool down there. All they're missing now is ramen and lit cereal. Here's the press release for what's to come:
The Gateway, Utah's premier community gathering, dining and entertainment destination is pleased to announce that "Mr. Shabu" will be joining their growing restaurant offerings. Serving shabu-shabu, an Asian hot pot dish that's quickly gaining popularity in the United States and Europe, it will be a popular new addition of more than 5,000 square feet of dining to the Gateway's growing list of specialty restaurants on the south end of the property.
This all-you-can-eat shabu-shabu restaurant will be located in the heart of restaurant row on the south end of The Gateway. Mr. Shabu will offer individual Asian hot pot dishes with thinly sliced meat and vegetables boiled in a selection of specialty broths served with a delicious range of dipping sauces. Soup broth bases include kombu, tonkatsu, sukiyaki, miso, vegetarian and Chinese hot pot broth. Diners will be tempted by a choice of meats (beef, pork and lamb) and seafood (shrimp, mussels, squid and more) and a wide assortment of fresh vegetables. Everything is served in unlimited quantities, so diners have a large selection of the freshest ingredients to choose from for a highly customized, personal dining experience.
The modern iteration of shabu-shabu (meaning "swish swish" in Japanese) was invented by chef Chuichi Miyake in Osaka, Japan in 1952. It became popular in China during the 1980's. Today, shabu-shabu dishes are enjoyed in many Asian cultures and menus around the world.
Mr. Shabu's owner brings with him 18 years of experience in the meat supply business. With his extensive knowledge in meats, he will provide hand-selected premium meats for the best shabu-shabu experience. Mr. Shabu will present diners with a customizable interactive dining experience through specialty broths, premium selection of meats and the large variety of fresh vegetables.
"We know Mr. Shabu will be a hit with endless options for customized meals that make it easy for group dining," says Jacklyn Briggs, marketing director for The Gateway. "Located next to the new Sweet Rolled Tacos, It's the perfect complement to all our new dining options including Chedda Burger, The Lounge by Wiseguys and the soon to be open Food Hall."
Noodle Run
Anny Sooksri's popular stable of restaurants will soon welcome one more to the fold. The new Noodle Run will join Tea Rose Diner, Chabaar, FAV Bistro and Siam Noodle Bar. Noodle Run will be a fast casual, DIY operation. Select this, select that, enjoy. The core of the menu will be Thai, but you'll also find other culinary cohorts too, Chinese and Japanese dishes also getting a look in. And yes, that means ramen.
6000 S. State Street, Murray, Utah
Ramen Legend
Speaking of ramen, if you blinked and missed Potbelly close in Sugar House, you won't be the only one. Coming next to the spot, ramen from this out of stater. The texan import's menu lists a bunch of things other than noodles: rice bowls, poke bowls, salads and a slew of small plates.
2118 S Highland Dr, Salt Lake City, UT 84106
Sweet Lake Biscuits and Limeade
A second location is expected to arrive in Draper sometime this year. I don't yet have the location to hand, but if you do, let me know.
Update: a kindly reader wrote to update me on this one. It looks like the location is set for the former Mangia at 519 E 12300th S, Draper, UT 84020.
Others to watch
We've written about these before, but they've still yet to open their doors. You can read the previews via the links below. We'll keep watching and waiting and let you know as they open:
Bewilder Brewing – last mentioned in June
Carson Kitchen – last mentioned in April
Congregation Spirits – last mentioned in June
Curry Up Now – last mentioned in June
Dawgz N leenkz – last mentioned in June
Hot Buns – last mentioned in June
Mazza Sandy – last mentioned in June
Nacho Daddy – last mentioned in April
Osteria Amore – last mentioned in June
Punch Bowl Social – last mentioned in June
Sicilia Mia – last mentioned in June
Sweet Rolled Tacos – last mentioned in April
Ta'contento – last mentioned in April
Tokyo Teriyaki – last mentioned in June
Trolley Wing – last mentioned in April
Tsunami 9th and 9th – last mentioned in June
Vessel Kitchen – last mentioned in June
Current hot dining deals
The following coupons are some of the most interesting / best coupons right now. Disclosure: some links may be affiliate links, eg Groupon, Restaurant.com, and we earn a small commission from each sale.
Beirut Cafe – $6 for $15 coupon at this great Lebanese eatery.
Chedda Burger – Enjoy a delicious burger with this $6 for a $15 coupon.
City Brew Tour – Nearly 30% off thus four hour guided tasting and tour of Utah brews.
Este Pizza – 40% off the popular Salt Lake pizza restaurant.
Itto Sushi downtown SLC – 38% off via Groupon. Fun sushi spot.
Kaze Sushi – 30% off this brand new Japanese restaurant in downtown SLC.
Maize Tacos – 30% off this downtown SLC taco restaurant on to go orders.
Per Noi – Italian food with a fun discount – $10 for a $25 certificate.
Ramen Legend – Sugar House Japanese spot, coupon valid for take out or dine in.
Santo Tacos – $6 for a $15 coupon.
Keep the conversation going
Want to stay on top of the SLC food scene, minute by minute, dish by dish? Here are a few other places you should follow along:
Hi, I'm Stuart, nice to meet you!  I'm the founder, writer and wrangler at Gastronomic SLC; I'm also a former restaurant critic of more than five years, working for the Salt Lake Tribune.  I've worked extensively with multiple local publications from Visit Salt Lake to Salt Lake Magazine, not least helped to consult on national TV shows.
I'm a multiple-award winning journalist and have covered the Utah dining scene for the better part of fifteen years.   I'm largely fueled by a critical obsession with rice, alliteration and the use of big words I don't understand.   What they're saying about me: "Not inaccurate", "I thought he was older", "I don't share his feelings".  Want to know more? This is why I am the way I am.
This article may contain content provided by one of our paid partners. These are some of the best businesses in Utah. For a list of all our current and past relationships see our
partnership history page
.