Crazy for cavatelli? Loopy for linguini? Bug eyed for bucatini? O.k. enough of the pasta puns, but if this most versatile of dishes sets your heart all a flutter, you'll be glad to know there are plenty of pasta palaces across SLC. The following restaurants are our picks for the very best:
Franklin Ave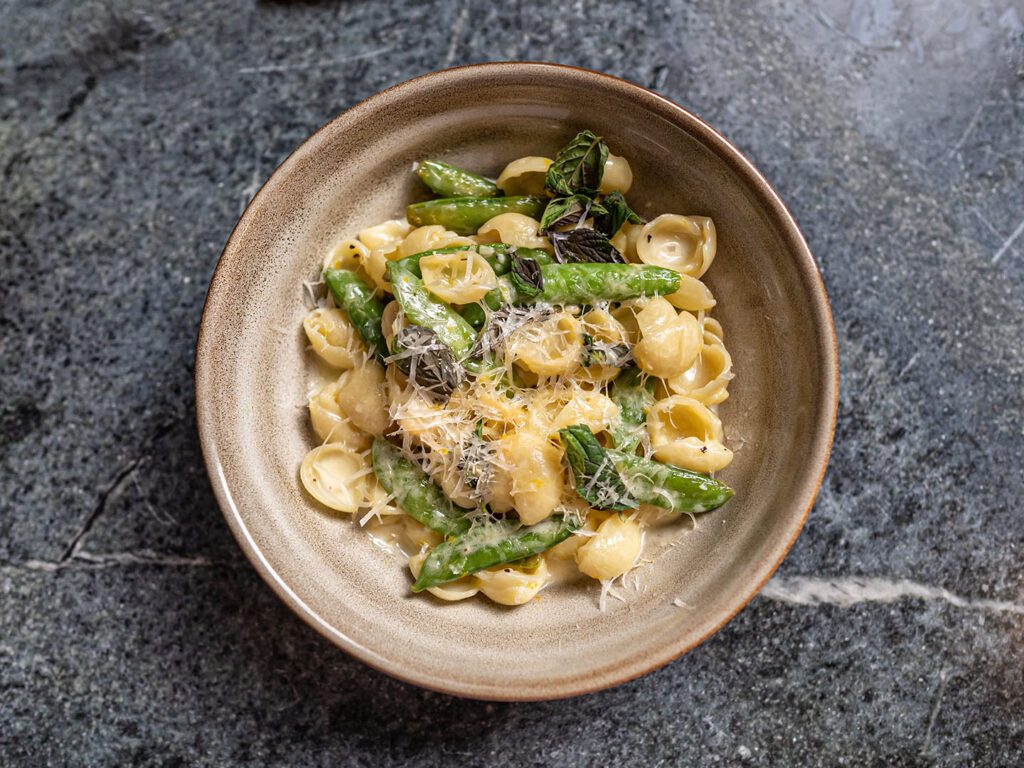 The latest installment from chef Matt Crandall (White Horse, Whiskey Street, Bournon House) features a number of fabulous pasta creations. I particularly loved the gemelli pasta, all frenzied squiggles of mad dough, topped with more of that Dungeness crab and a bold bash of Japanese togarashi. Miso butter helps smooth out the spice's heat, while meyer lemon keeps the plate honed. Read the full review of the restaurant here.
231 S Edison St, Salt Lake City, UT 84111
(385) 831-7560
franklinaveslc.com
Stanza
In our minds, there's no doubt about the number one best destination restaurant for pasta – just head to Stanza now and stop reading. O.k. o.k. more detail, you got it. Stanza is located on the former site of the fun restaurant Faustina and is now headed up by the endlessly talented Jonathan LeBlanc. LeBlanc oversees a menu that both pays homage to classic Italian cooking, but also has plenty of new tricks up its sleeves. Virtually all the pasta at Stanza is made freshly in house, and it shows.
The picture perfect paste is also able supported by ingredient sourcing of the finest quality too – everything from gulf shrimp through Snake River farms wagyu beef. There's a thoughtfully considered wine list, dapper service and elegant digs too. The restaurant works just as well for a business lunch as it does a romantic dinner for two!
Apres Pendry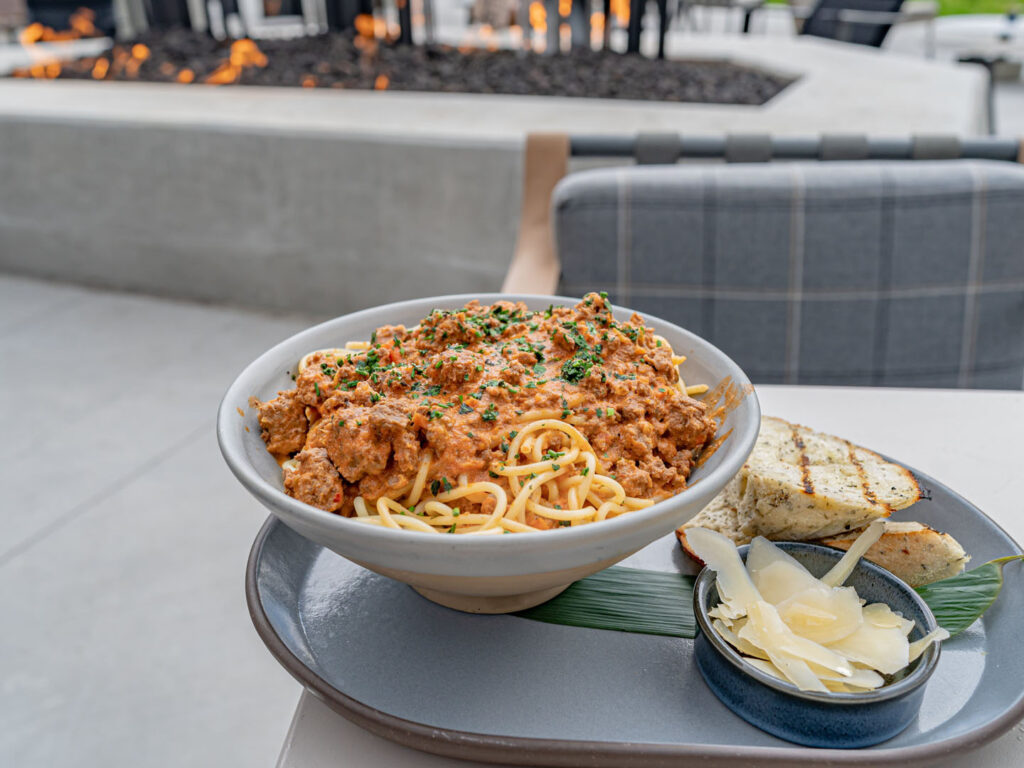 Located at the ultra-luxe Pendry Park City, Apres Pendry is their on site restaurant serving breakfast lunch and dinner. Stop by for dinner and you can enjoy this handsome Bolognese bowl which features Mountain West inspired elk and bison.
2417 W High Mountain Rd, Park City, UT 84098
(435) 800-1990
pendry.com/park-city/entertainment/apres-pendry
Celeste
Celeste is the worlk of Paolo Celeste, who also opened the much loved Michelangelo's Ristorante way back when. Paolo moved on from Utah several years ago, but on his recent return, he got back into the restaurant business with this new namesake business. Locals and critics alike laud the restaurant for its inspired rustic cuisine; and yes, there's plenty of impeccable pasta amongst the menu here.
5468 900 E, Salt Lake City, UT 84117
(801) 290-2913
celesteristorante.com
Caffe Molise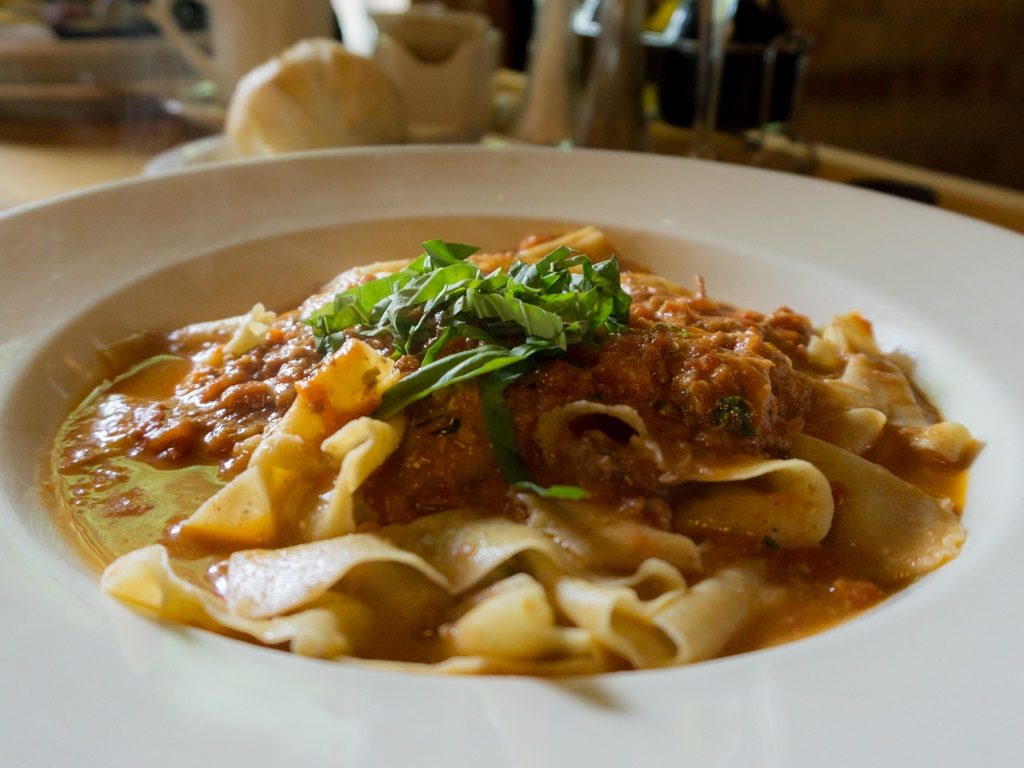 If we had to make a list of not to miss dishes in SLC, the pappardelle al sugo at Caffe Molise would be close to the top of the list. This happens to be THE fresh pasta on the menu at Molise, draped in a rich beef and lamb gravy that is rib sticking delicious.
404 S W Temple, Salt Lake City, UT 84101
(801) 364-8833
caffemolise.com
Pago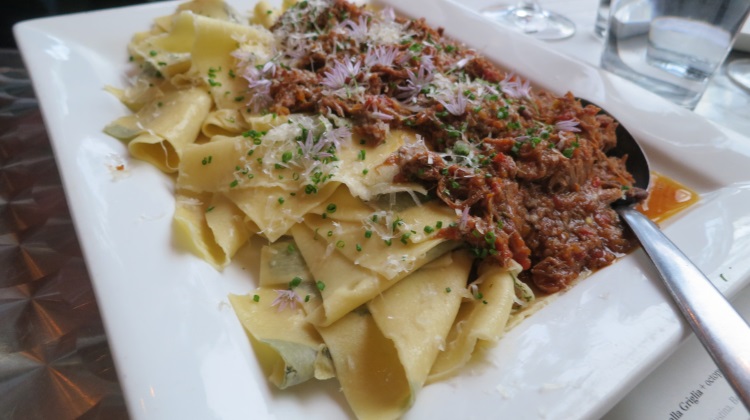 While the menu is always in flux at this 9th and 9th farm to table eatery, one things for certain – if chef Phelix Gardner has pasta on the menu, order it state. Gardner's pasta creations are always knock outs, and often incorporate seasonal and local ingredients too.
878 S 900 E, Salt Lake City, UT 84102
(801) 532-0777
www.pagoslc.com
SLC Eatery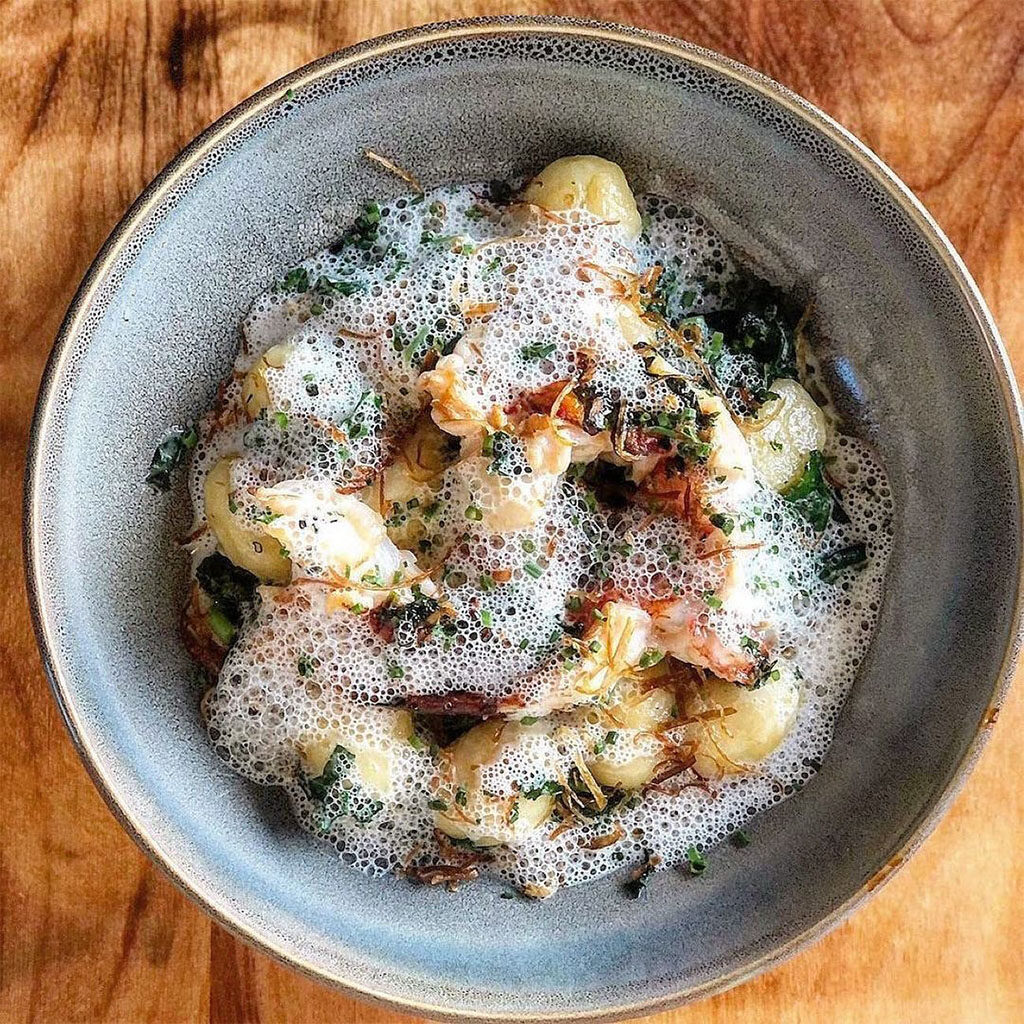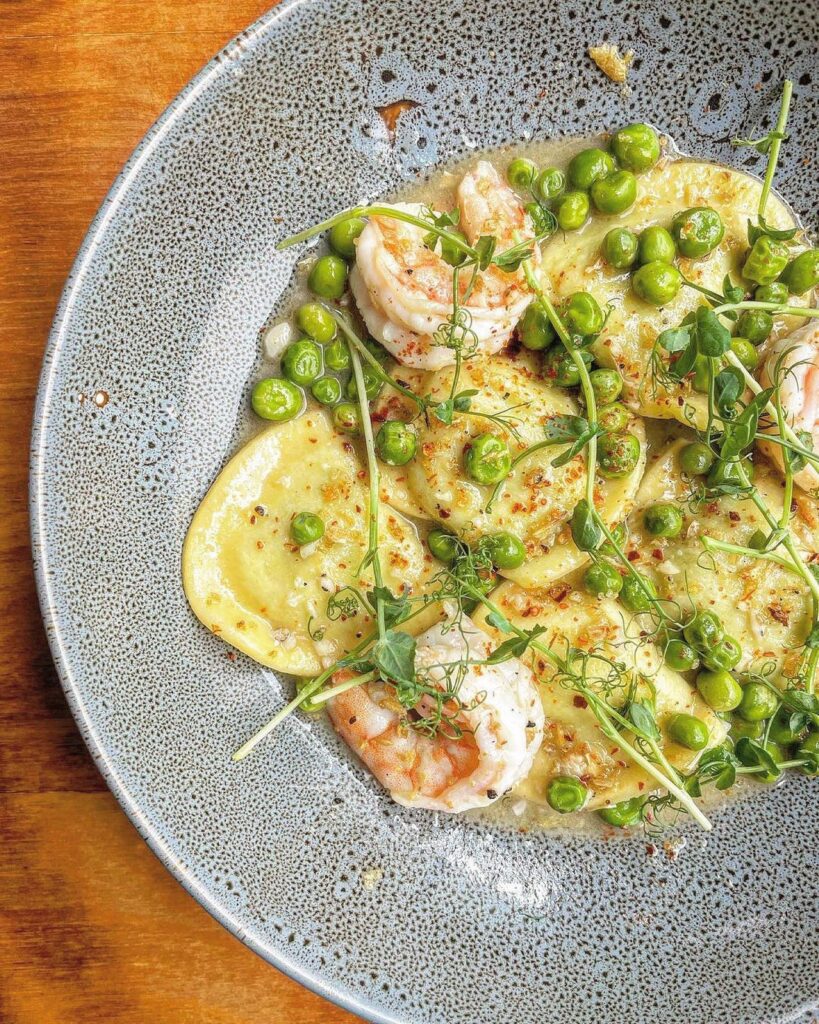 SLC Eatery is the work of chefs Paul Chamberlain (also owner) and Logen Crew. Both chefs have a rich award winning career on the SLC dining scene; most notably scooping many a plaudit for the much missed Fresco.
SLC Eatery is the duo's first solo project and it's an eye popping endeavor at that. The menu riffs on various International flavors, but most fun is the restaurants dim sum style cart that wanders the floor during service. While you're waiting for your app or entree just grab a small plate or two and sample the creative cooking that changes daily. You'll also find creative pasta dishes on the menu here that change with the seasons.
1017 Main St, Salt Lake City, UT 84111
(801) 355-7952
Brunch menu
Ghidotti's
Up in Park City, there's only one choice for pasta – Ghidotti's. Part of the larger Bill White restaurant empire, Ghidotti's shares many of the traits of its siblings: flawless service, consistently executed cuisine and a stellar wine list. In the off months (when the slopes are closed) the restaurant also offers a number of killer deals, check out their website directly for upto the minute deals like 2 for 1s and five dollar specials.
6030 Market St , Park City, UT 84098
(435) 658-0669
ghidottis.com
Maybe also check out
Our sister website SLC Menu lists 100s and 100s of menus. Check out the Italian menu's near you now page to see what Italian restaurants are close to you.
Maybe we can tempt you to something else delicious while you're here? Check out these other detailed guides, some of the most popular pages on our website:
Who did we miss?
If you think we're missing a really great addition to this list, please email us at stuart@gastronomicslc.com – we'd love to hear from you. Let us know who you think should be on this list and why. If you have a really great picture of one of more dishes, please send that too! We're always excited to check our more businesses!
Hi, I'm Stuart, nice to meet you!  I'm the founder, writer and wrangler at Gastronomic SLC.  I'm a multiple-award winning journalist and have written in myopic detail about the Salt Lake City  dining scene for the better part of seventeen years.
I've worked extensively with multiple local publications from Visit Salt Lake to Salt Lake Magazine, not least helped to consult on national TV.   Pause those credits, yep, that's me! I'm also a former restaurant critic of more than five years, working for the Salt Lake Tribune.    I'm largely fueled by a critical obsession with rice, alliteration and the use of big words I don't understand.   What they're saying about me: "Not inaccurate", "I thought he was older", "I don't share his feelings".
Want to know more? This is why I am the way I am.
Our sponsors and this page
This page may contain information about one of our sponsors. We only work with the very best businesses in the state, and routinely turn down offers to work with businesses we don't enjoy. If we can't hand on heart recommend them - they can't be a sponsor.
At this time we have the following sponosrs: BTG, Caffe Molise, The Dough Miner, Downtown Alliance, Feldman's Deli, Flanker, Garage On Beck, Hearth And Hill, Hill's Kitchen, Kao Thai, Kin Sen Asian Noodle Bar, Kyoto, LemonShark Poke, Log Haven, Oasis Cafe, Pirate O's Gourmet Market, SLC Eatery, Squatter's Downtown Salt Lake City, Stoneground Italian Kitchen, Urban Hill, Wasatch Brew Pub Sugar House, Whiskey Street, White Horse.
I encourage you to Google any of our sponsors and see the stellar reviews on multiple sites that they enjoy. For a list of all our current and past relationships see our partnership history page.