Crazy for cavatelli? Loopy for linguini? Bug eyed for bucatini? O.k. enough of the pasta puns, but if this most versatile of dishes sets your heart all a flutter, you'll be glad to know there are plenty of pasta palaces across SLC. The following restaurants are our picks for the very best:
Stanza
In our minds, there's no doubt about the number one best destination restaurant for pasta – just head to Stanza now and stop reading. O.k. o.k. more detail, you got it. Stanza is located on the former site of the fun restaurant Faustina and is now headed up by the endlessly talented Jonathan LeBlanc. LeBlanc oversees a menu that both pays homage to classic Italian cooking, but also has plenty of new tricks up its sleeves. Virtually all the pasta at Stanza is made freshly in house, and it shows.
The picture perfect paste is also able supported by ingredient sourcing of the finest quality too – everything from gulf shrimp through Snake River farms wagyu beef. There's a thoughtfully considered wine list, dapper service and elegant digs too. The restaurant works just as well for a business lunch as it does a romantic dinner for two!
We're proud to have Current as the sponsor for this page.
454 E 300 S, Salt Lake City, UT 84111
(801) 746-4441
stanzaslc.com
Celeste
Celeste is the worlk of Paolo Celeste, who also opened the much loved Michelangelo's Ristorante way back when. Paolo moved on from Utah several years ago, but on his recent return, he got back into the restaurant business with this new namesake business. Locals and critics alike laud the restaurant for its inspired rustic cuisine; and yes, there's plenty of impeccable pasta amongst the menu here.
5468 900 E, Salt Lake City, UT 84117
(801) 290-2913
celesteristorante.com
Caffe Molise
If we had to make a list of not to miss dishes in SLC, the pappardelle al sugo at Caffe Molise would be close to the top of the list. This happens to be THE fresh pasta on the menu at Molise, draped in a rich beef and lamb gravy that is rib sticking delicious.
404 S W Temple, Salt Lake City, UT 84101
(801) 364-8833
caffemolise.com
Pago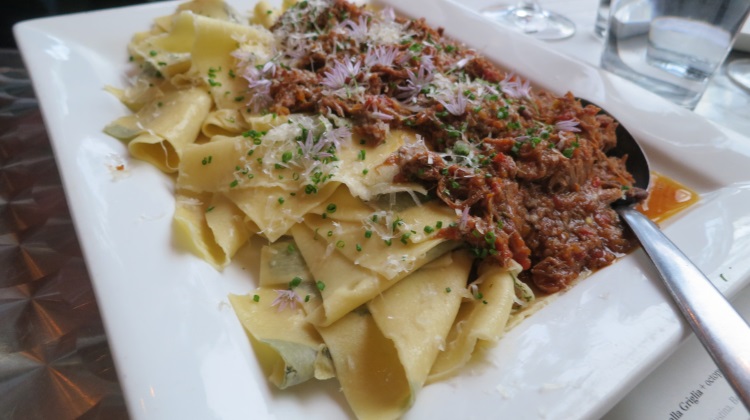 While the menu is always in flux at this 9th and 9th farm to table eatery, one things for certain – if chef Phelix Gardner has pasta on the menu, order it state. Gardner's pasta creations are always knock outs, and often incorporate seasonal and local ingredients too.
878 S 900 E, Salt Lake City, UT 84102
(801) 532-0777
www.pagoslc.com
Ghidotti's
Up in Park City, there's only one choice for pasta – Ghidotti's. Part of the larger Bill White restaurant empire, Ghidotti's shares many of the traits of its siblings: flawless service, consistently executed cuisine and a stellar wine list. In the off months (when the slopes are closed) the restaurant also offers a number of killer deals, check out their website directly for upto the minute deals like 2 for 1s and five dollar specials.
6030 Market St , Park City, UT 84098
(435) 658-0669
ghidottis.com
Have we missed someone off of this list? If you have a suggestion for this page, perhaps something interesting and unique off of the beaten path let me know at stuart@gastronomicslc.com so we can share!