When you name a restaurant after yourself, you know there's a big personality and presence behind the endeavor. There's no better example than the late Valter Nassi, namesake of Valter's Osteria, who charmed guests for years in three different restaurants around downtown Salt Lake.
With Valter's recent passing, the baton seems to have transferred to Matteo Sogne, owner and sommelier at Matteo Ristorante Italiano, who in just two short months, this cultured gentiluomo has taken over the helm of Salt Lake's reigning handsome Italian restauranteur.
Sogne is clearly adept at the service and atmosphere necessary for a restaurant of Matteo's [matteoslc.com] caliber. The initial offerings are no doubt impressive and for its top-notch cost (can we say caviar service!), it will be exciting to see some final touches finessed to make it a tried-and-true destination as time goes on.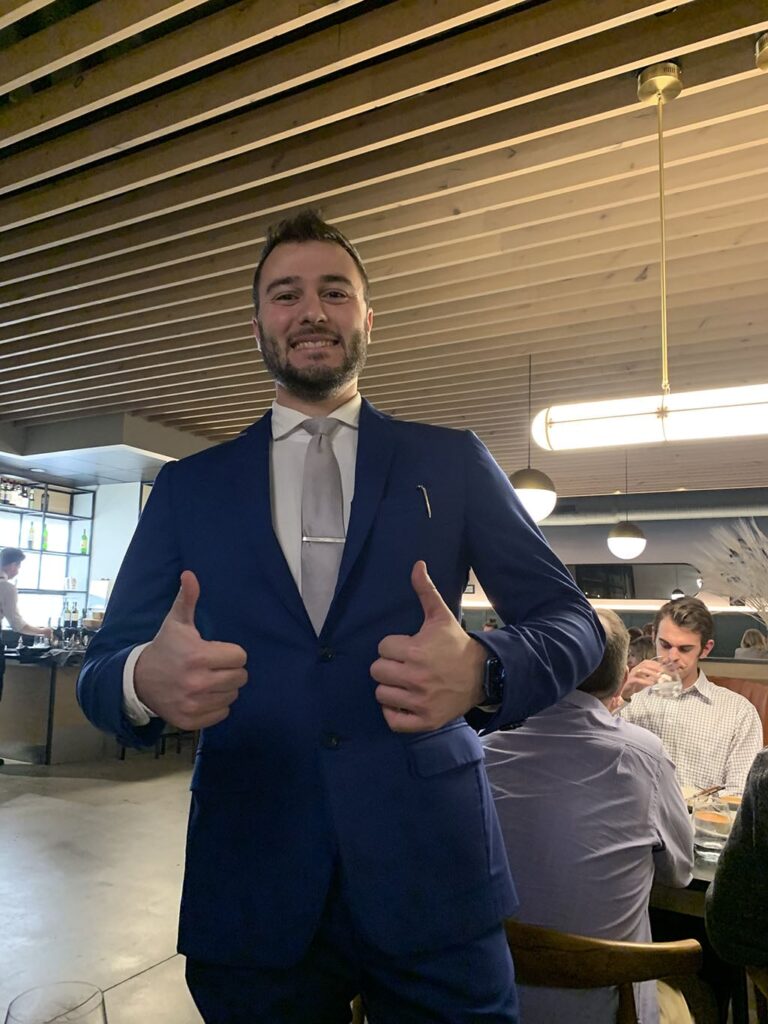 Say ciao to Modena
Those who love Italian food and the country itself know full well how vast and regional the cuisine of the country is—so much so that many of the dishes are named for the regions. Ragù alla Bolognese from Bologna. Pizza Napoletana from Naples. Florentine bean soup from Florence. From top to bottom, Italy is overstuffed with gastronomic delights that reflect the products that grow in the terroir of each region. From tomato-based dishes in the south, pasta carbonara in Rome, white truffles in Alba, creamy risotto in the north. I could go on. Not to mention the wine!
Sogne and his family, including his mother and father who are often in the kitchen of the restaurant, hail from Modena and Matteo pays homage to a variety of dishes from their homeland as the menu explains: "Our Italian restaurant…is a celebration of family, tradition, and the joy of sharing exceptional food with loved ones."
The Modena region is known for Parmigiano Reggiano cheese and balsamic vinegar among other things and the "menu is inspired by the recipes and techniques passed down through generations of Matteo's family." Take the risotto Modena for example that features both the cheese and vinegar—which you'll find lovingly shared across the menu.
"Every dish is an ode to the rustic, comforting, and soul-warming cuisine of Italy." The menu is arranged in traditional Italian fashion with antipasti (starters/appetizers), soups and salads which lead to the primi pasta course and secondi protein selections followed by dessert. We chose to eat in this manner family-style to get a true taste of what Matteo offers.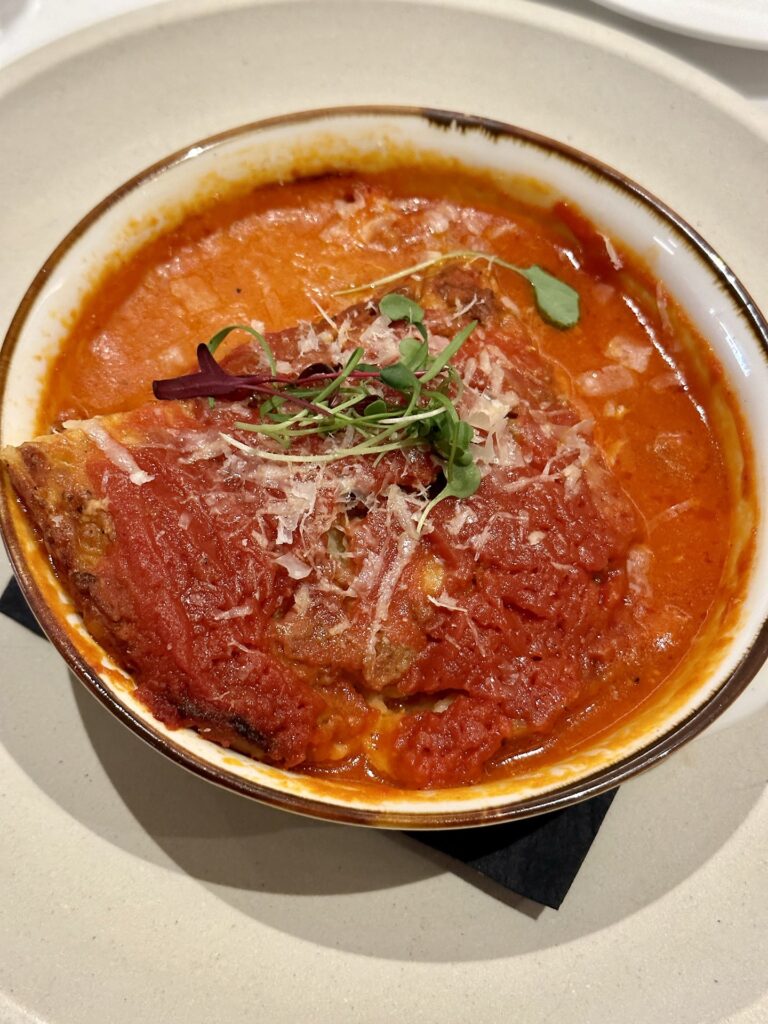 Rustic and hearty antipasti like polpette delighted our palate as the Italian sausage meatballs swam in tangy pomodoro generously dusted with Parmigiano Reggiano. Both the lasagna al ragu and the tagliatelle bolognese featured nonna's bolognese, perfect for a chilly fall evening.
We honed in on the vitello entrée as veal isn't a protein you see very often because it's so easy to turn the delicate meat into a chewy disaster. Here, the luscious cut was thicker than I'm used to and elevated with a subtle mushroom and white wine sauce.
An artfully presented pistachio semifreddo served on a hand-thrown pottery dish was strikingly similar to Osteria Amore's but lacked the delightfully subtle pistachio flavor you'd expect.
Meet Parmigiano Reggiano wheel 168
Let's melt into the world of cheese geekdom for a moment and talk about the wheel of Parmigiano Reggiano that Sogne introduces guests to in the restaurant. The term "introduces" isn't used haphazardly as this cheese and how it's served has a familial story.
But first, a true Parmigiano Reggiano must be made of raw cow's milk produced in one of these Italian provinces: Parma, Reggio Emilia, Modena or certain parts of Mantua or Bologna. There are only three ingredients and those include milk, salt and rennet. At minimum, Parmigiano Regiano must be aged for a minimum of 12 months to gain the signature blond color and granular texture you'll savor. Matteo's wheel is aged for 40 months.
As the wheel rests on your table, take note of some of the other signature information on the hallmark dotted rind. The words Parmigiano Reggiano must be visible across the wheel. You'll also see the month and year of production and the Parmigiano Reggiano PDO identity card signifying the registration number of the cheese house where it was made. All those unique items branded into the mold are proof of authenticity of the Parmigiano Reggiano wheel.
And that literally means that nowhere else will you find wheel 168 but at Matteo.
Then Sogne goes one step further. He serves a chard of Parmegiano Reggiano with a drizzle of aceto balsamico del nonno Matteo's grandfather's aged balsamic vinegar on a tiny spoon. It's a thoughtful touch that seemingly brings you closer to Matteo's family and home.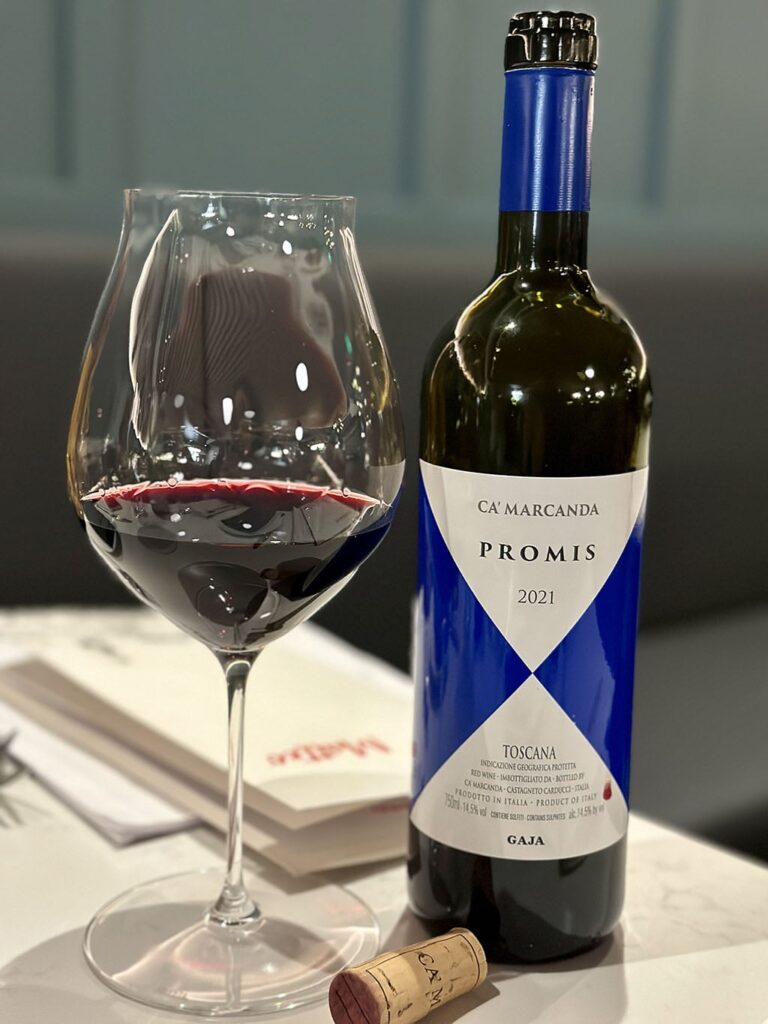 What's Italian food without wine?
With a sommelier as the owner and namesake, it's no surprise that the wine list is impressive and extensive. Not only are there several dozen selections by the glass but several pages of almost exclusively Italian bottles secured through special order.
We enjoyed a bottle of 2021 Ca' Marcanda Promis, a blend of Merlot, Sangiovese and Syrah from the Tuscany region of Bolgheri which Sogne suggested after we outlined our planned menu for dinner. As our meal progressed, he spent time talking about the Reidel stemware he's selected for each wine on the wine list. He also allowed us to taste the wine side-by-side in different glasses to fully smell and taste the subtle and not-so-subtle differences that develop in each glass. With some of the glasses running $60 each, it's a hefty investment to make but one that adds another layer of thoughtful detail to a special evening.
Understanding that wines available will change frequently, it was still a head scratcher to see that the wine list is printed on cheap paper and stapled together. It seems prudent to present such an impressive list in a nice Italian leather binder or something more fitting to the high-end bottles. Update: after a four-month delay, their beautifully debossed leather wine lists are in-house. Cheers!
Gracious Service
Matteo and some of his service team spent time at Osteria Amore and if you have been a guest at the former you might recognize some similarities. That's a compliment, as Osteria is one of the best Italian restaurants in the city—nicely balancing excellent food and service with an approachable, comfortable experience.
There's a polished yet relaxed feel at Matteo even in its infancy. In fact, we chuckled that the pace of our meal truly reflected that of Italy as we leisurely enjoyed our wine and conversation between courses. Tables around us came and went during our time there so let your server know if you're not on a sip and savor schedule.
With just a few tweaks to the restaurant—first the aforementioned wine list presentation (finally arrived, and they're an elegant touch!), and next some acoustical treatments to dampen the noise from a full-house—one can foresee both visitors and locals regularly raising a glass to the continued success of Matteo.
Keep the conversation going
Want to stay on top of the SLC food scene, minute by minute, dish by dish? Here are a few other places you should follow along:
Heather King: Writer and lover of delicious food and drink in Utah and around the world. Anonymous food critic and writer for The Salt Lake Tribune, The Utah Review, Devour Utah, Utah Stories and more. Runs #LadiesWhoLunchSLC.
This article may contain content provided by one of our paid partners. These are some of the best businesses in Utah. For a list of all our current and past relationships see our
partnership history page
.