Brisket to ribs, chicken to chops and beyond – what's the very best BBQ in Utah? Here are some of my personal favorites that I've enjoyed in recent years. Do remember that your mileage may vary, based on a variety of factors. I wrote about this in the following article where I grazed my way through Austin's Q scene. Still – each of the following businesses provided me a BBQ based meal I really enjoyed.
Richie Lush's Tennessee BBQ – my top pick
Need to know: Texan BBQ amidst the Wasatch back
Neighborhood: Park City
For my money the best barbecue in the state can be found in Kamas, courtesy of Richie Lush"s. The ribs are covered in thick bar, the pulled pork has a beautiful chew; but the star is the rich and tender brisket – the best I've tasted in years.
215 S Main St, Kamas, UT 84036
lushsbbq.com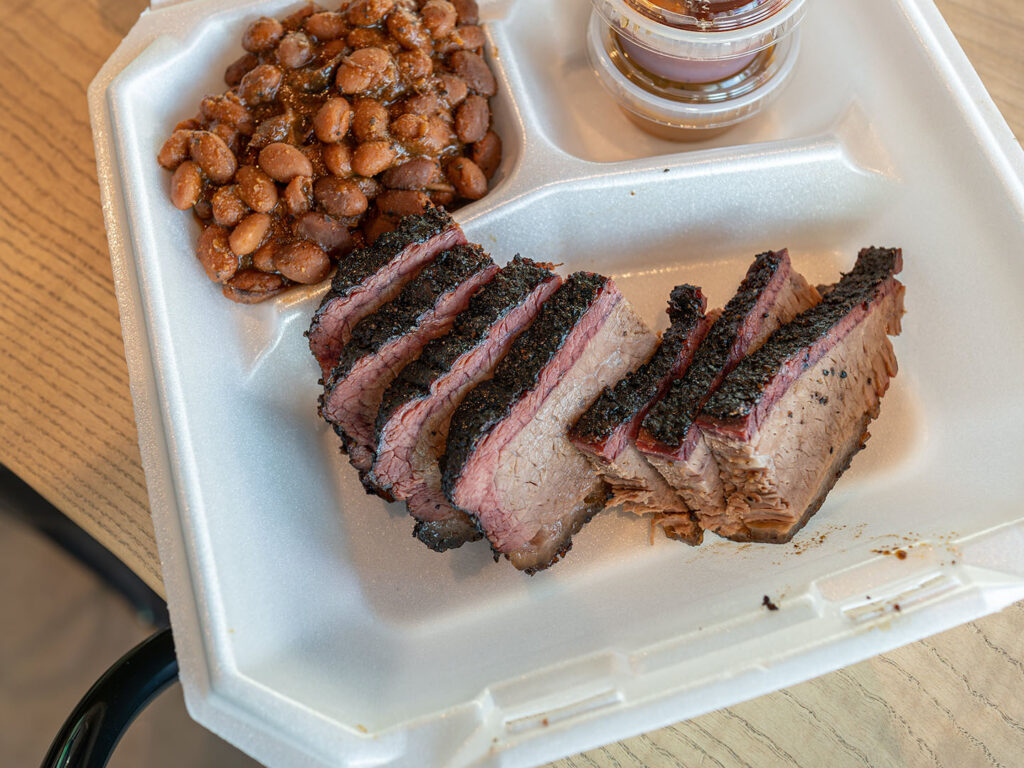 Slope Side Smokeshack – my top pick
Need to know: Excellent food truck
Neighborhood: Varies
This food truck sprang to life in 2022 and has been producing great quality brisket and pulled pork ever since. The truck is the work of Brooks Sherman, chief postmaster and Southwest Virginian. You can find his roaming BBQ business on a variety of food truck checker apps, or their schedule on their own social media platform.
Hog & Tradition – my top pick
Need to know: Food hall smoker with several tricks up their sleeves
Neighborhood: Downtown SLC
Located in the The Local food hall in downtown Salt Lake City, Geoff Patmides is the man behind teh smoker here; a name you might recall who once ran the popular Local Greek. Gone are the gyros and souvlaki, and in their place, a creative range of flavors. My pick is their Sunday special, which focuses exclusively on Dominican flavors, with several great BBQ bites.
10 E 400 S, Salt Lake City, UT 84111
instagram.com/hogtraditionbbq
Bam Bams BBQ
Need to know: Central Texan BBQ with classic flair
Neighborhood: Orem
If you find yourself in Utah County and craving a BBQ bite, make a stop at this State Street local's hangout. The interior is classic BBQ shop with picnic bench seating, loaded up with sauces, and meats served by the half pound. The menu features an extensive selection of familiar cuts, but be sure to try their chopped beef, tangles of shredded beef cooked in savory broth.
1708 S State St, Orem, UT 84058
(801) 225-1324
Other BBQ shops an stops around Utah
The following businesses also smoke up a storm around the Beehive. These don't make my own best of list, but you might find something om the menu that piques your intrigue.
Salt City BBQ
Another food truck you might see whizzing around our streets is Salt City BBQ. The menu can vary based on the events they might be catering but more often than not features pulled pork, brisket and ribs. www.saltcitybbq.co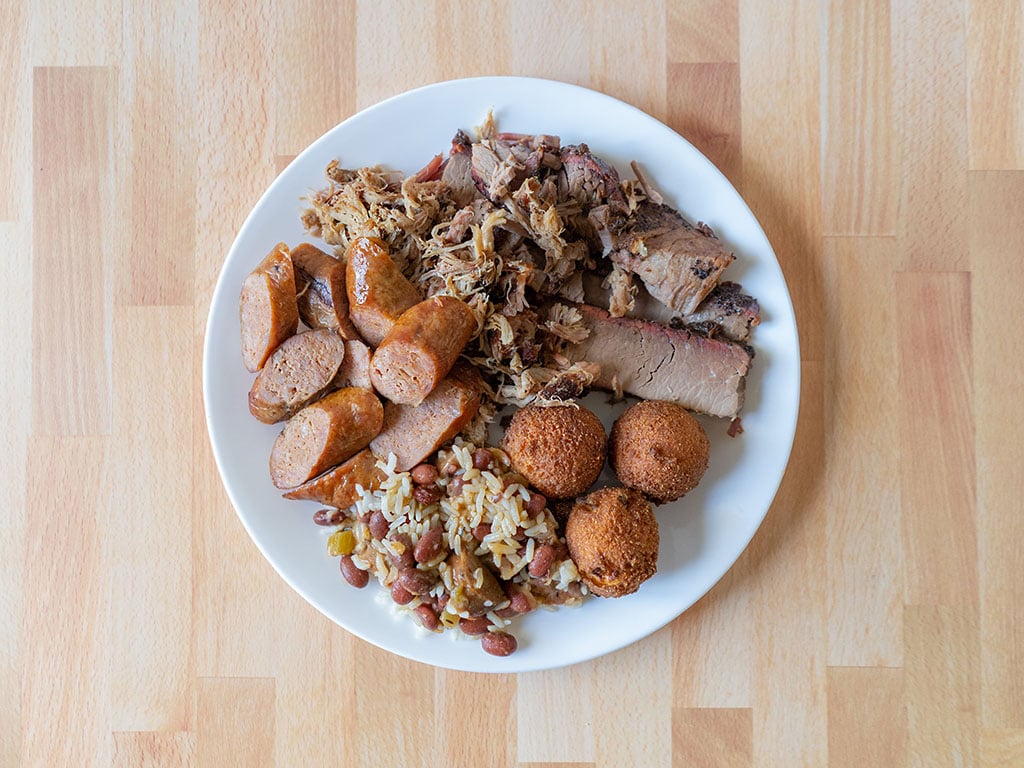 R&R BBQ
R&R BBQ was started by Rod and Roger Livingstone, before ultimately becoming part of the Savory fund range of business. Under the new ownership the company quickly grew and R&R now operate many locations around Utah. randrbbq.com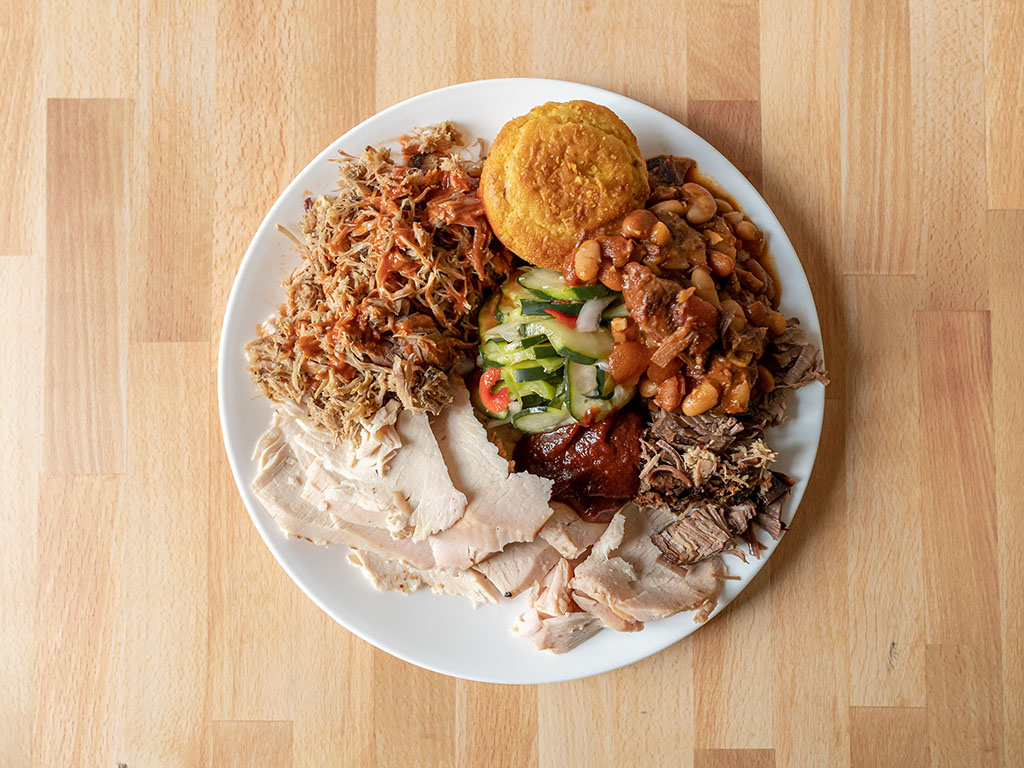 Sugar House BBQ
A staple of the Sugar House dining scene for more than twenty years at this point. The business offers a full bar menu alongside their smoked meats and is one of the few shops in town that offers a smoke-tinged turkey. sugarhousebbq.com
Meat Hook BBQ
Located in West Valley City you will find Meat Hook BBQ attached to the adjoining Westerner Club. The business affords a huge and modern dining room, not least a full bar of beer and cocktails. meathookbbqco.com
Charlotte Rose's Carolina BBQ
Charlotte Rose's calls the Millcreek neighborhood home and as the name suggests features BBQ with a Carolinian twist. Be sure to check their site for daily specials like chopped chicken or mac and cheese tacos. crcbbqut.com
Other notable BBQ businesses in Utah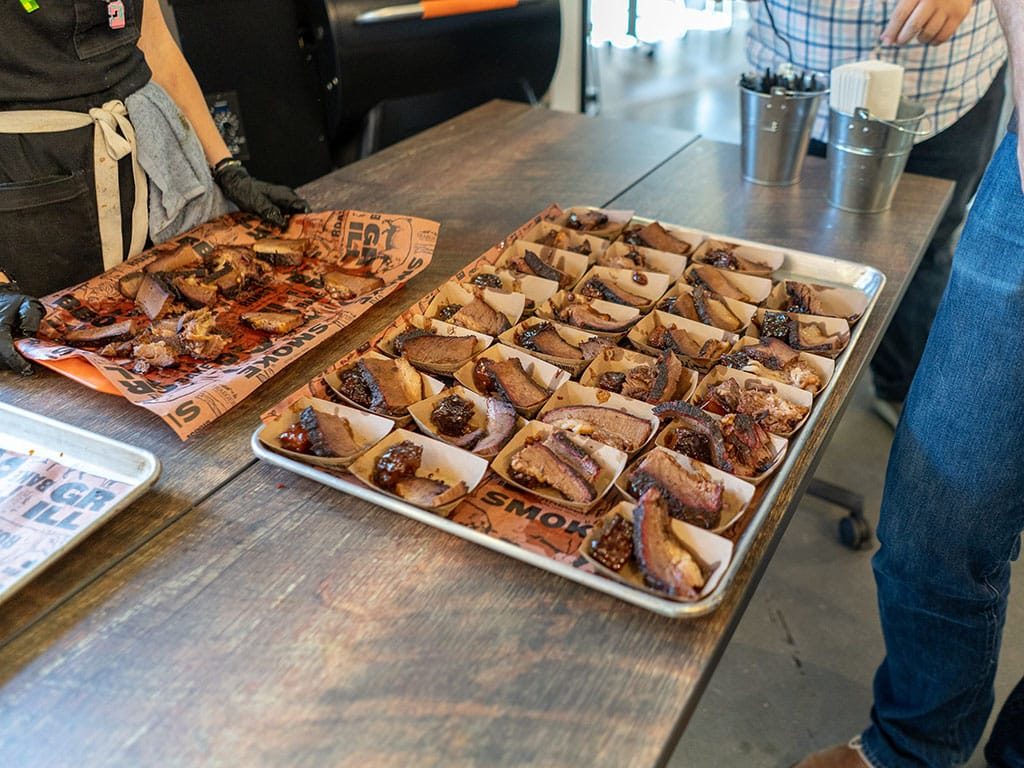 Traeger Shop Class
Check out one of the many and varied shop classes at SLC based Traeger. The facility in Sugar House routinely hosts multi hour long lessons from some of the best pit masters in the US. As well as a heaping load of learning, you'll also be able to taste everything along the way. See our review of the experience here.
215 E Wilmington Ave, Salt Lake City, UT 84106
(800) 872-3437
Who did we miss?
If you think we're missing a really great addition to this list, please email us at stuart@gastronomicslc.com – we'd love to hear from you. Let us know who you think should be on this list and why. If you have a really great picture of one of more dishes, please send that too! We're always excited to check our more businesses!
Hi, I'm Stuart, nice to meet you!  I'm the founder, writer and wrangler at Gastronomic SLC; I'm also a former restaurant critic of more than five years, working for the Salt Lake Tribune.  I've worked extensively with multiple local publications from Visit Salt Lake to Salt Lake Magazine, not least helped to consult on national TV shows.
I'm a multiple-award winning journalist and have covered the Utah dining scene for the better part of fifteen years.   I'm largely fueled by a critical obsession with rice, alliteration and the use of big words I don't understand.   What they're saying about me: "Not inaccurate", "I thought he was older", "I don't share his feelings".  Want to know more? This is why I am the way I am.
Our sponsors and this page
This page may contain information about one of our sponsors. We only work with the very best businesses in the state, and routinely turn down offers to work with businesses we don't enjoy. If we can't hand on heart recommend them - they can't be a sponsor.
At this time we have the following sponosrs: Avenues Proper, BGR Sugar House, BTG, Caffe Molise, Craft by Proper, The Dough Miner, Downtown Alliance, Feldman's Deli, Flanker, Garage On Beck, Hearth And Hill, Hill's Kitchen, Kao Thai, Kin Sen Asian Noodle Bar, Kyoto, Laziz Kitchen, Log Haven, Oasis Cafe, Pirate O's Gourmet Market, Proper Brewing, Proper Burger, Scion Cider Bar, SLC Eatery, Squatter's Downtown Salt Lake City, Stoneground Italian Kitchen, Urban Hill, Wasatch Brew Pub Sugar House, Whiskey Street, White Horse.
I encourage you to Google any of our sponsors and see the stellar reviews on multiple sites that they enjoy. For a list of all our current and past relationships see our partnership history page.