Or perhaps the title should read – a week of Austin keeping yours truly, weirdly overstuffed, weirdly entertained and weirdly indulged. That title doesn't scan nearly as well though. This piece then, part of a long forgotten series on the site, excursions out of the state. Should you be Austin bound anytime soon, the following might be of some assistance. If you're looking for the latest Utah food story, try the next article. So let's proceed with where you're most likely to begin…
BBQ
In researching Austin's smokehouse scene, one truism came into focus; quiz ten Texans for consensus on the best BBQ around and you'll receive ten different answers. From the varying techniques and styles through to choice of wood, time of day, orientation of the moon – there are myriad variables that affect the final product – and ultimately opinion. Take my own findings with a pinch of oak.
One of the more famous names in town is Franklin Barbecue, owned and operated by the titular Aaron Franklin. Bolstered by a 2011 best BBQ in the nation award by Bon Appetite (and not least a strong TV presence too) the restaurant draws crowds. Boy does it draw the crowds. Folks line up outside, lawn chairs in one hand, a good book in the other. This, multiple hours before the doors open. Name me somewhere in Utah that has em' baking in the sun at 7.00 a.m.
One general rule of thumb that applies to all the best spots – get there as early as you're willing and able to. If you can swing a weekday visit, all the better. The closer the clock creeps to lunch, the larger those lines lurch. Weekend waits at Franklin can easily reach the three and four hour marks, sometimes longer. Yes there's an order before you visit option, but you're gonna need to commit to three pounds plus to skip the queue.
Most pointedly, the best places are marketed as "until we sell out". There's no attempt to stretch service all day long, delivering end of day dried out dross. It's good now, come now, don't come later. Take note local Q shops, build it well, and they really will come.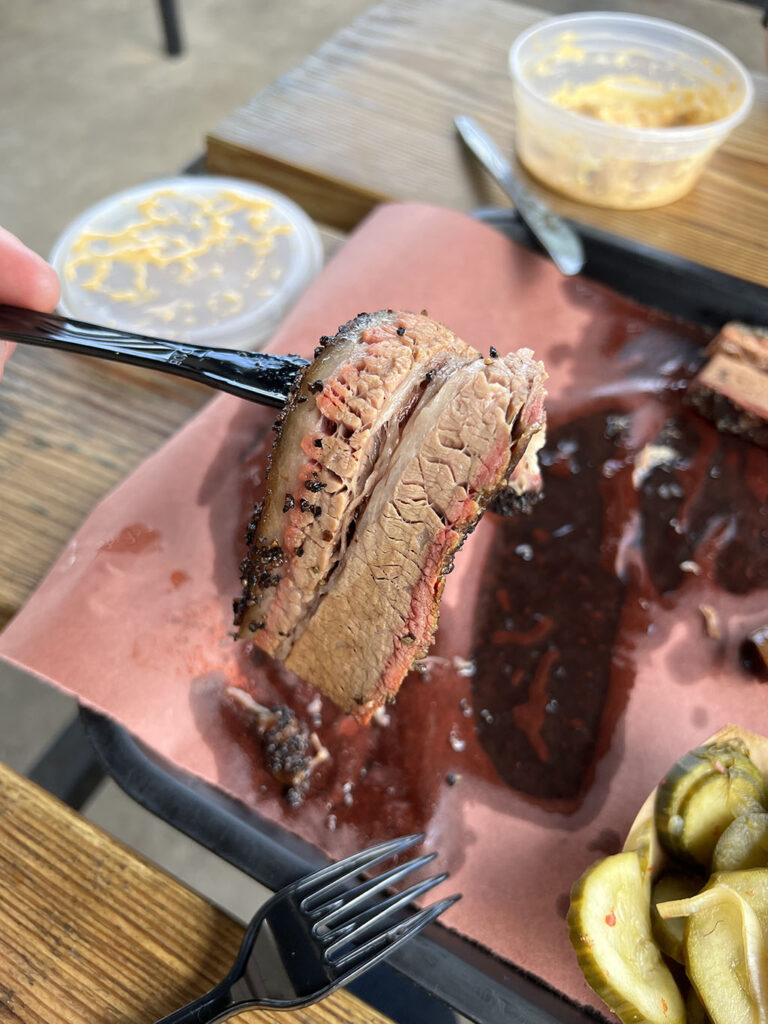 la Barbecue
LeAnn Mueller (who sadly just passed away) and Alison Clem's homage to the celebrated Bobby Mueller was my first pit stop in town. The restaurant cooks over Texas post oak wood, sources grass fed beef from a local ranch – and crucially – a foodie friend tipped me off to what they reckoned was the best BBQ they'd ever tasted.
A fifteen minute wait greeted us as we arrive just before noon on a Wednesday. Not too bad. The ordering system is process perfected. Guests are asked to wait outside, under the aegis of some particularly zealous water misters. Groups are then welcomed in through the main door one party at a time. You'll be received by the counter crew who will guide you through the menu and advise on the various options. Take your time. As you select from the board above, your choices are cut on demand, added to an increasingly groaning platter. As the proteins are sold by the pound, it's the ideal way to eyeball your order. I have no real clue what a half pound of brisket really is, until I see it shimmering before me. And at that point – make it a full pound please.
The brisket here is the star of the show. It's Tolkien-esque stuff, possessing a fantastically ethereal quality, possibly the work of elven magic. The fatty edge to the beef is remarkable; the phrase is lazily over used but this really does effortlessly melt in the mouth. I am genuinely beguiled as to how one manages this exceptional final texture, after who knows how long of an extended cooking time. The smokey bark is more restrained than other shops I try, less saltier too. The beef and fat flavor are given freedom to shine.
You'll see in my pictures some of my rigorous scientific brisket testing, I call it the flop test. Balancing a slice (we didn't see a single chopped brisket thank god) over a plastic fork, how does the beef relax? Mediocre brisket sternly rests atop the fork, rigidly stiff as a two by four. The best of the best sprawl luxuriously over either side of the utensil, gravity teasing apart the beef and fat, but crucially, managing to just about hold together. I gaze at my unfurled la Barbecue brisket slice lovingly, too long in fact.
La BBQ was handily the best brisket I tasted on my trip, and to address the elephant in the room, yes it was better than any in Utah. Remarkably so. That's not to say I haven't enjoyed plenty of smoked meats here, but even the best I've sampled in the Beehive to date don't register on the same scale.
Black's BBQ
After the more contemporary take of la Barbecue, we decide to hit up one of the stalwarts of Texas Q; there are multiple Black's locations around the state. This one lies just past Austin's University area and on our arrival, no line at all. Meats are again carved in situ with the menu affording two options of brisket – lean and fatty. Known by Q-heads as 'the point' we go with the latter, because who makes a BBQ pilgrimage then frets over calorie counts? While we're talking about nutritional consideration, just forget you know the word salad for a few days too.
Black's didn't quite hit the lofty heights of la Barbecue, but was still undeniable, and passed the flop test to boot. Saltier and robustly smokier, but a might on the drier end of the spectrum. The pulled pork was as solid as any you will find, and the obvious draw of enjoying a nigh century year old institution is compelling.
Side note: there apparently exists beef, pun intended, between Blacks BBQ and Terry Blacks. Plenty has been written on the duo, spend some time Googling before you head on out. Then probably visit both anyway to compare.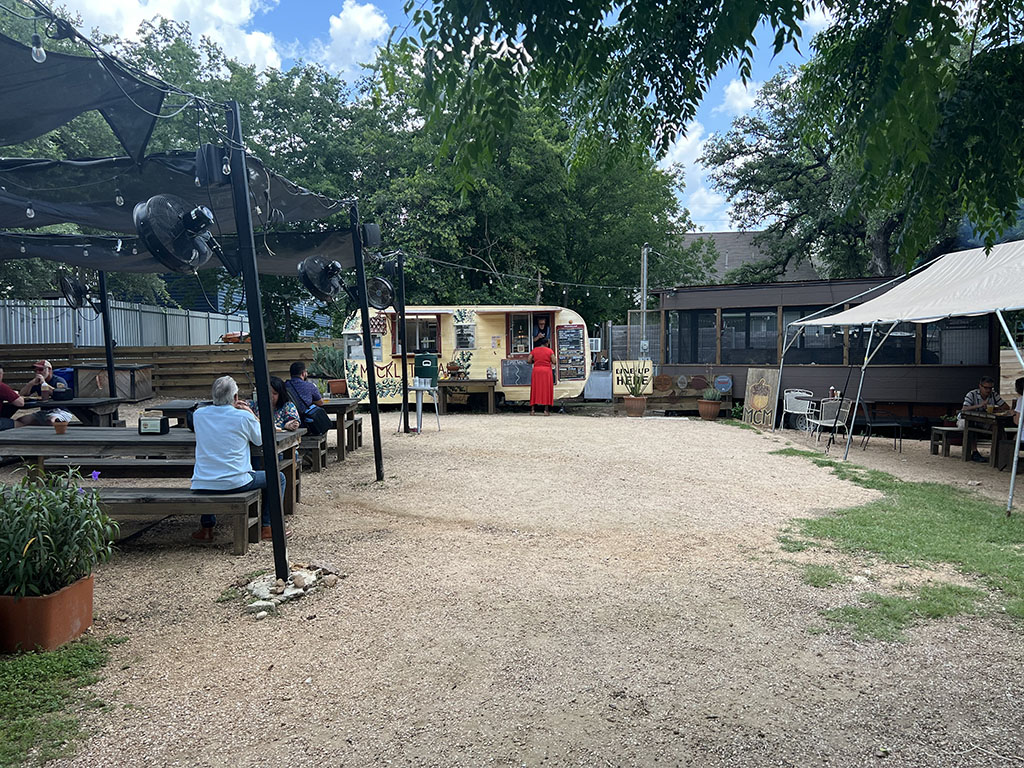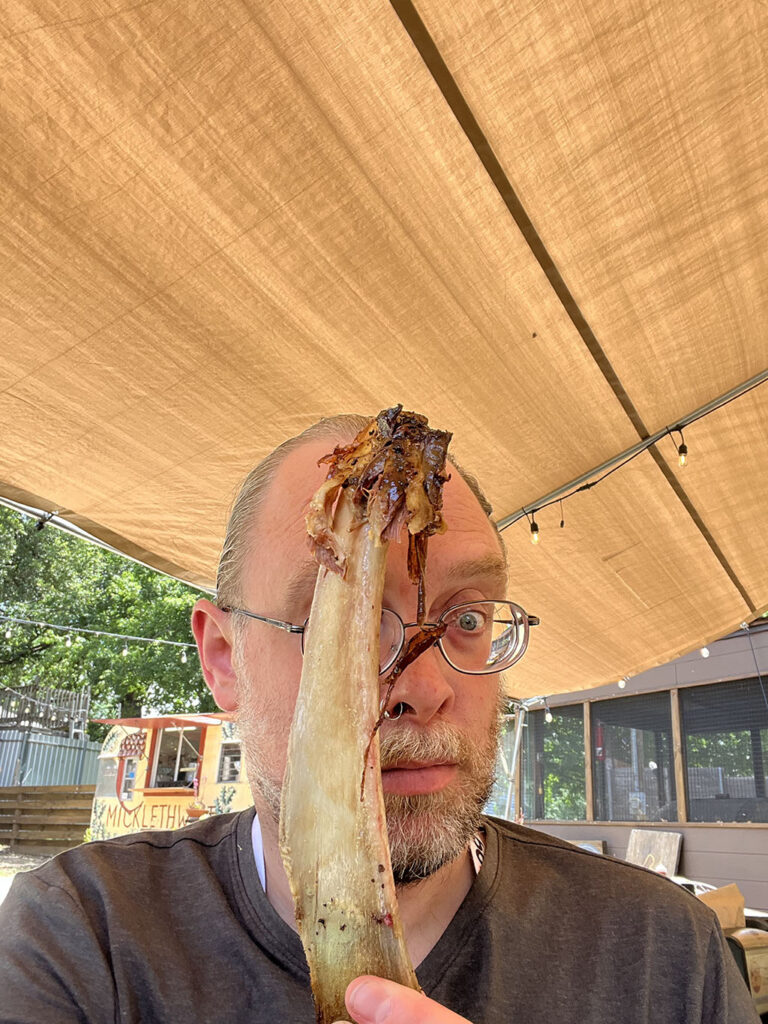 Micklethwait Craft Meats
While I had a list of smokey names in my back pocket from prior research, this tip came from a food-obsessed Lyft driver one evening. His suggestion matched my own notes, so off we went. I loved the ambiance of Micklethwait more than any other place we pitched up at. The food is slung from a rustic camper, attached to a monster of an outdoor smoking rig. Place your order then take a seat at one of the many covered outdoor picnic style table settings.
The business operates a small indoor spot adjacent to the main affair. While you wait you can pop inside to grab a cold one, boozy or not. Fun fact: you won't be asked for your ID once in Texas, and as you autonomically hand one over you, will feel like a rube. The tugging of forelocks and profuse apologies from just having arrived from Utah will typically follow.
If it's available my recommendation at Micklethwait would be the beef rib. As big my head, and my head is very big folks. Comically so. As I leaned from Texan Doug Scheiding at a Traeger class once, smokers from the Lonestar reckon ribs should fall from the bone. According to the former rocket scientist made pit boss – that's the sign of a well executed Texan rib. This stands in contrast to the Kansas City style which demands a little more forceful prying. The Micklethwait monster was demonstration of just that. The bone relented its grip with the merest cajoling, slipping hand from velvet glove. A monstrous pile of deeply beefy meat awaits.
Back to my original preamble then, and obviously there are numerous excellent BBQ shops in town. I've no doubt there's variance from visit to visit at the ones I tried. Feel free to lend me your own experiences in the comments below.
A few others I wanted to try, but couldn't. The forty minute drive to the North burbs and Interstellar BBQ just wasn't in the stars for me, but many reckon it's up there with La BBQ. Two other notable joints that had hit my radar, include KG BBQ and Valentina's. Both food truck based, the former applies Egyptian and Middle East flavors to the smoked stuff, the latter a Tex-Mex spin. If you're compiling your own list, add all of the above seven names.
Other foods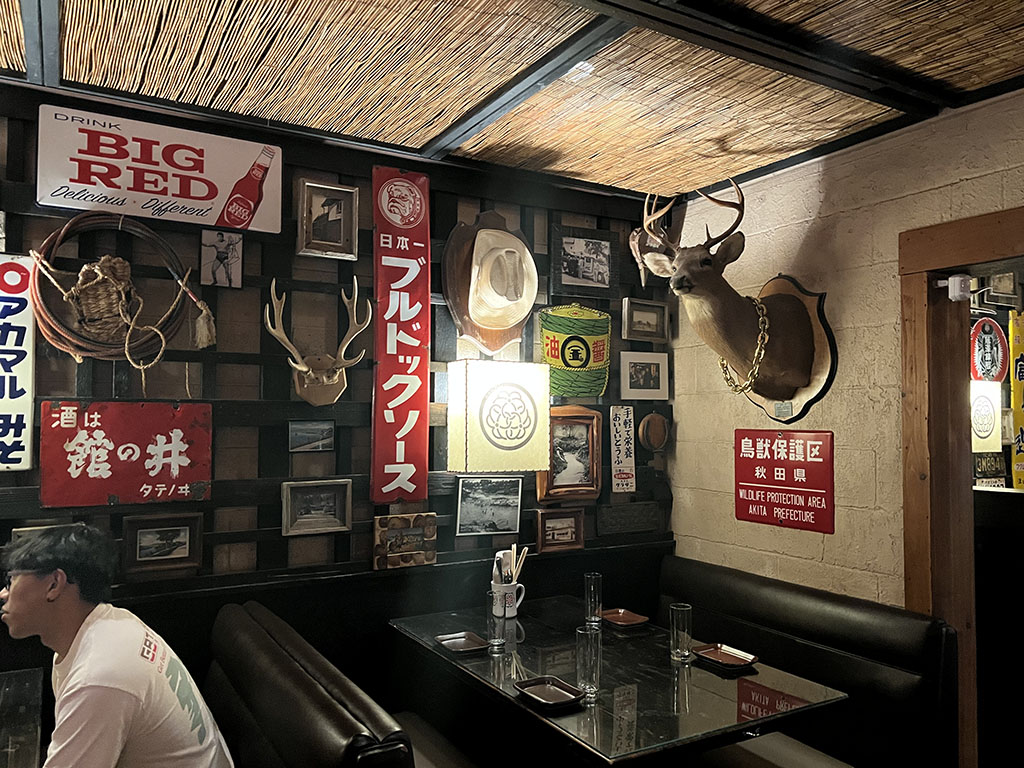 Kemuri Tatsu-Ya
Irasshaimasu! So rings out the raucous shout from the whole Kemuri team anytime a new guest steps inside. Do your best to avoid Larry David styled faux pas (S11E05 folks) and just focus on the food – which is essentially summed up as Japanese izakaya meets Texas smoke house.
A lively vibe drives the eclectic space, and as per many of my meals in Austin, I choose to sit at the kitchen counter to keep one eye on the action. Which I do while enjoying the cheekily named perfect high ball; a cocktail delivered aping a beer with "Suntory Toki, yuzu, white peony tea and super fizz".
Chicken karaage comes first, fried chicken thigh over a quirky egg salad, while several yakitori and kushiyaki skewers follow. While the brisket (in sesame-pecan rub) might not have hit the heights of some of the specialized shops we hit, this would still top most lists back here in the Beehive. A gloriously rich miso marinated salmon collar serves sweet treat enough to wrap our meal up as dessert. Stellar stuff. If we had a Kemuri here in Utah, it would be rammed to the rafters seven days a week. Many have promised the concept over the years, but I've not enjoyed any locally to date that nail the casual bar feel.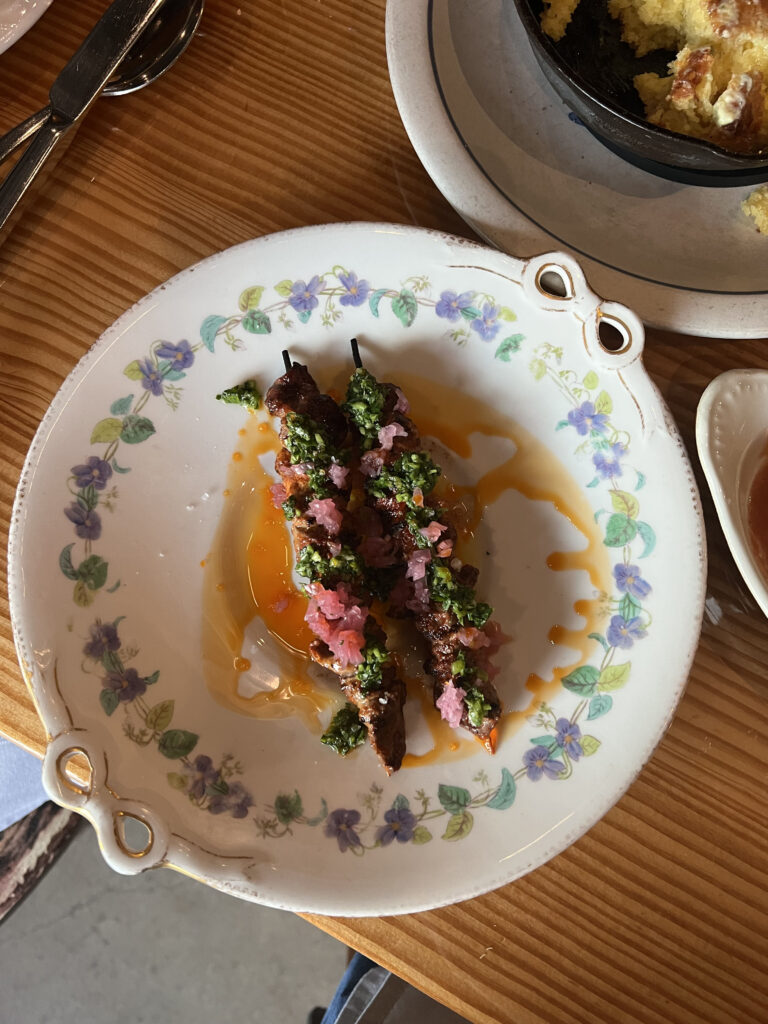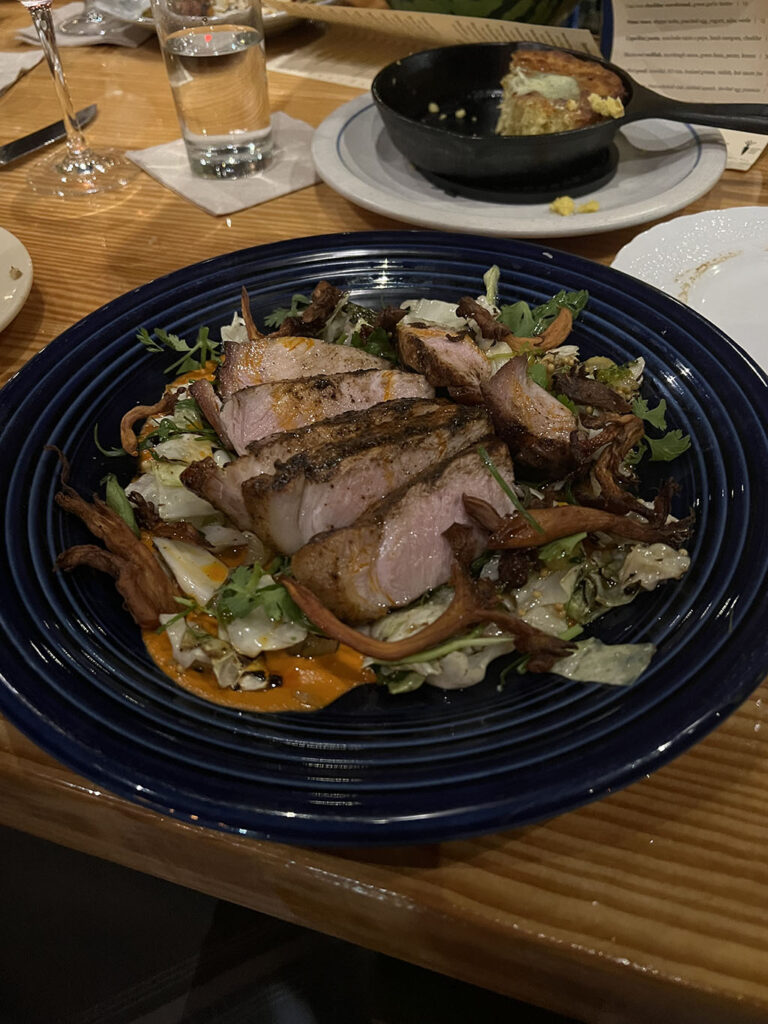 Odd Duck
This former food truck made permanent spot tops many a best of list in ATX and it's easy to see why. The menu is wide eyed and ambitious, giddily leaping from country to country. The rulebook is pretty much shredded and tossed on the open hearth – which powers several of the dishes that come out of the open, high energy kitchen. The best example was the masa naan. A duo of blistered breads are served up with an aleppo tarka, poached egg, yogurt, salsa verde. Magical.
Several hat tips implored me to start at the cast iron cheddar cornbread, a huge disc of a thing. It sits there sizzling while you wander through your meal, scooping off a rich bite here and there. Perhaps the highlight of plate after plate of fused flavors, the stuffed quail. The tiny bird arrives plumped up with crawfish dirty rice, plated over grilled cabbage, radish and hot sauce jus. It being Texas, the final dish of pink tinged pork has a subtle smoke nuance.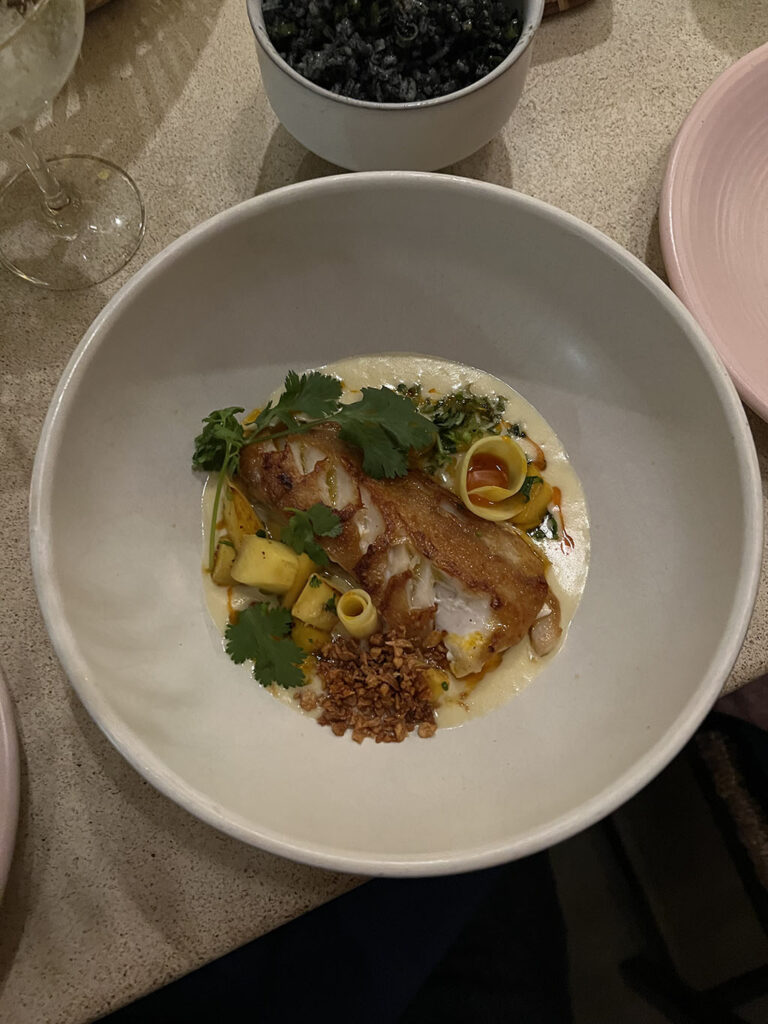 Canje
One of the hottest tickets in town when I visited. A couple of weeks in advance I could snag only a counter reservation, on a late weekday evening at that. Even then – I ended up plonked behind a plant pot at the teetering edge of the bar. There's an understandable reason for those crowds – the restaurant was named by the NY Times as one of the best fifty in the nation. While here in Salt Lake City we're all jockeying in line for State Street's Jack In The Box opening, Austinites are clamoring over the reservation book for the passion project of Guyanese native chef Tavel Bristol-Joseph.
Bristol-Joseph's menu pulls inspiration not just from mainland Guyana, but from Jamaica to Puerto Rico, and all the islands in between. There's nothing like it in Utah. A salt fish fritter with preserved orange kicks things off, oxtail beef patties with Red Stripe, pineapple pique and pickles come next. A couple of crafty cocktails bookend the appetizer portion of our meal and we move onto the main affair.
Tilefish soaked in tamarind and rum butter plated with twirled green mango is a beautifully executed dish; delicate white flesh, visually arresting plating and a fine balance of flavors. But if I'm honest it's the wild boar pepper pot that captures my imagination.
Pepper pot is the national dish of Guyana. The dish relies on cassareep – a thick black liquid made from cassava root; the production process also removes the cyanide as well – handy. The molasses like ingredient is then warmly embellished with ginger, cinnamon and orange peel. The flavors are festively invigorating, and it's no wonder the dish is a Christmastime mainstay in Guyana. Bristol-Joseph's family apparently ship the stuff from home.
Into that richly rewarding melange, chunks of local boar, braised slowly for umpteen hours. Our waitress informs us that the area has a wild boar problem, a local hunter doubles up as both ecology officer, and kitchen supplier. Austin Monthly Mag reckon it's the most labor intensive dish in town, you'd be hard pressed to argue with them.
Hestia
Also owned by the same group as Canje, Hestia is the city's number one spot for the multi-course chefs tasting menu. I'm always asked where you can conjure such an experience in Utah, but beyond Table X, there's really no corollary at this time. I should also note the full fourteen course tasting menu for two, with suitable alcohol pairings, tax and tip, clocks in a smidge under $1000. Despite claims to the contrary, SLC is still relatively affordable in restaurant land (a further example – a BBQ lunch for two consistently ran $60-$80).
The first few courses of Hestia's tasting menu come circling various levels of a tiered serving stand. Oysters, chicharron, terrine, little dainty bites, and of course yes, you're instructed to eat them in a specific order. Our main server for the evening is both sommelier and resolute instructor, we do what he says. From there the menu whizzes about the New American shop – veggies, light fish courses, rip roaring big Texan steaks, segments of the where we're informed to use an egg timer to determine how to DIY cook skewered mushrooms over table side coals.
The restaurants namesake – the goddess of the hearth – is represented by the mammoth 20ft long wood burning oven in the open kitchen. The smokey notes interleave through most of our meal, to larger and smaller degrees. In Texas, the fire and flame can be found just about everywhere it seems.
A highlight was an almost degenerately decadent scallop, presented in a fan shell, swimming in gobs of beef tallow. This for sure wouldn't be legal in Utah, and I'm certain that just by writing about it my health provider has already rescinded my coverage.
Uchiko
A more casual offshoot of the popular Uchi (fancier, more formal Japanese dining) affords a dining room almost as expansive as their dizzyingly large menu. Suffices to say the staff are well drilled and our bewilderment obvious; this quickly yields to concise suggestions of the restaurant's heavy hitters.
Arriving as we did sheepishly at 9.00 p.m. I initially blurt out a desperate and random order as quickly as possible. The kitchen doesn't close till midnight we're assured. You're not in Kansas SLC anymore Dorothy, I tell myself. From there I calm down, and take my time pointing and sampling at a more considered pace.
Scallop crudo with XO, yellowtail with ponzu, oranges and electric Thai chili (it put the place on the map we're advised), tempura, maki, nirgiri and more. Gyutoro, otoro, nodogurowe – I chomp away merrily until the kitchen does indeed close and we actually do overstay our welcome.
uchiko.uchirestaurants.com/location/austin/menu/
Hipster drinking
Here Nor There
The premise at HNT could almost be an SNL sketch. To attend HNT you first need to download the speakeasy's special app to your phone. No not OpenTable, Resy or otherwise – but their own specific app. From there you'll pick a strictly time limited reservation (if you're lucky). Your application is then presumably sniffed over by the crack cocktail team. I giggle like a child when I get word thirty minutes later that I'm approved.
Ahead of your arrival time you'll be emailed a special code. The code is used to unlock the street side gate, an innocuous thing that has you furtively glancing around. This is the place right? PIN code tapped in, the gate clanks open. Yes, this is it.
The interior is dimly lit, so much so our server hands us a small key chain with a light to illuminate the menu. We take that as a sign cell phones are a no no here. Small groups dot the space, huddled and hushed. As we're glided through to our own nook, each and every one of the staff softly receives us with a "welcome friends". It's terrifically contrived stuff, but also an absolute blast. There's no point half leaning into a concept, just dive on into the deep end I say. Oh, the cocktails? Pretty damned good too friend.
Small Victory
Slightly less intense in execution is this other hidden bar. Indeed it's invisible from the street and had us walking up and down and around the block for a good twenty minutes. A nearby valet handily helped us out, "you see that parking garage? you see that iron gate? just hit the buzzer at the door". We apprehensively follow his lead, before a voice echoes back from a speaker, "hi, what do you want". Some mumbled words about booze follow, before the gate clicks unlocked. Up a concrete staircase (we're still in a parking garage here folks) and through a nondescript door – another speakeasy vibe awaits. A cozy, long rectangular room of intimate seating.
Perched up at the bar, I again feel like a bumbling idiot. The staff are far cooler than I am. I complement the bar tender on his Sub Pop T-shirt, who nods, shrugs and saunters away. I like him. They are of course whipsmart and have scooped up every award under the sun for their cocktail program. We while away the evening over several concoctions, while admiring the concrete pillars that jut around the space – a reminder that yes – we really are drinking in a parking garage. Weird.
Keep the conversation going
Want to stay on top of the SLC food scene, minute by minute, dish by dish? Here are a few other places you should follow along:
Hi, I'm Stuart, nice to meet you!  I'm the founder, writer and wrangler at Gastronomic SLC; I'm also a former restaurant critic of more than five years, working for the Salt Lake Tribune.  I've worked extensively with multiple local publications from Visit Salt Lake to Salt Lake Magazine, not least helped to consult on national TV shows.
I'm a multiple-award winning journalist and have covered the Utah dining scene for the better part of fifteen years.   I'm largely fueled by a critical obsession with rice, alliteration and the use of big words I don't understand.   What they're saying about me: "Not inaccurate", "I thought he was older", "I don't share his feelings".  Want to know more? This is why I am the way I am.
This article may contain content provided by one of our paid partners. These are some of the best businesses in Utah. For a list of all our current and past relationships see our
partnership history page
.