In the world of culinary delights, few dishes can rival the simple pleasure of a perfectly cooked steak. From the sizzle on the grill to the first bite of juicy, tender beef, it's a gastronomic experience like no other. But with so many cuts and grades of beef available, which steaks are truly worth your hard-earned money? Over the last few months I've had the pleasure of sampling several interesting new options around SLC; the following five represent fabulous choices that I've enjoyed – all offering a blend of quality, taste, and price.
Bambara
This masterpiece (pictured top, credit courtesy of Bambara) must be ordered 48 hours in advance, but is absolutely worth the planning and wait. Bambara chef Patrick LeBeau, who joined the team back in 2022, is currently killing it with his all new curated menu that leans heavily into French and Italian flavors.
LeBeau's bison Wellington ($120) is a clever twist on the traditional dish, and you can cut it with a fork. Wyoming sourced bison and mushroom duxelles are wrapped in puff pastry, with the final composition plenty for two to share. The Wellington has an amazing depth of flavor; it's no wonder LeBeau cites it as his favorite dish on the menu.
Libertango
Over in Sandy, a generous sprinkling of salt is the only adjunct used to bring out all the flavors at this Argentinian informed steak house. Steaks are flame-cooked to perfection on a parilla (at its essence, a metal or iron grill grate positioned over hot coals or wood embers).
Despite their uncomplicated cooking, Libertango offer guests the ability to take things further. A quintet of sauces are served table side, everything from gorgonzola through chimichurri. A nice touch for sure, but I found they're certainly not needed to enjoy these fine steaks to their fullest. American wagyu beef is the choice cut here with the bife de chorizo ($42) – New York strip – affording a great value.
Urban Hill
Urban Hill's 20 ounce ribeye ($110) is sourced from Creekstone Farm and is the prime choice. The sharable steak is dry-aged for 28 – 32 days and is plated with whipped potatoes and peperonata sauce. It's perfectly grilled over the wood-fired grill. For sure consider asking for a kitchen-facing seat so you can watch the action directly over the impressive Grillworks setup.
It's clear chef Nick Zocco and his team have things dialed in on that grill. "Our preference is based on the fact that we can offer to our consumer an outstanding cut of beef and keep our price point relative to the market," says Zocco. "With flavors coming off our [grill] a combination of oak and applewood, we also add mesquite charcoal to our fuel mix. These three components offer an exceptional flavor profile you will not find from a regular gas grill or broiler. It adds the primitive aspect of our ancestors. We can control the steaks cooking with higher heat or just a little more smoke to make this one of the best steaks we have to offer."
Need more persuasion? Zocco lists both SW Steakhouse (in the Wynn, Vegas) as well as Bobby Flay's Mesa grill on his resume.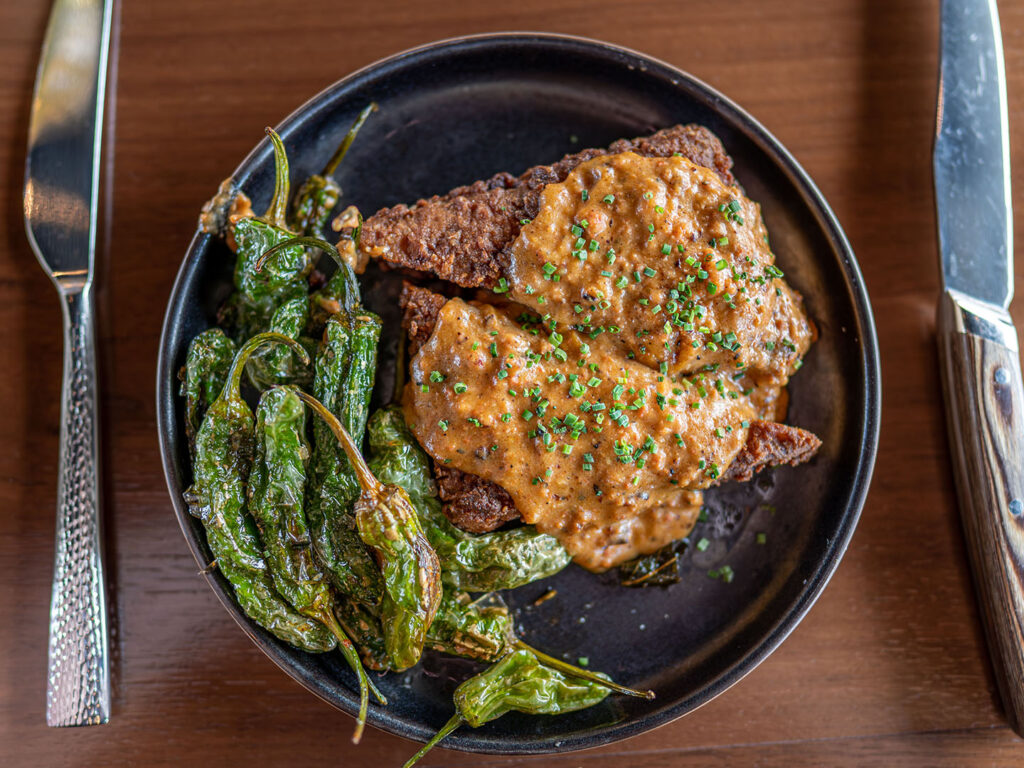 Mar | Muntanya
Country fried elk ($15), yep I know, I am going out on a limb here – but it is that good. Mar | Muntanya chef Tyson Peterson added this to the brunch menu a while back – it really is the stuff of cravings. Breaded and crispy, served with Basque chorizo gravy, this delightful dish will set you up nicely for the day. "We try to offer things you can't get anywhere else," Peterson stated. Mission accomplished chef.
Aqua Terra Steak + Sushi
This Downtown spot in the City Creek mall offers a diverse selection of top-notch steaks and tantalizing cuts of wild game. The exquisite ribeye steak at Aqua Terra ($58) is my personal pick and comes accompanied by a delectable roasted garlic bulb and fragrant fresh rosemary, elevating the flavors. A bone-in ribeye is also offered for a few dollars more ($75).
Keep the conversation going
Want to stay on top of the SLC food scene, minute by minute, dish by dish? Here are a few other places you should follow along:

Aimee is a content creator and an award-winning journalist. As a freelance writer, her work is published in several publications around Utah, Idaho, and Wyoming, and Montana. Aimee enjoys writing about all things art, entertainment, and food-related.
This article may contain content provided by one of our paid partners. These are some of the best businesses in Utah. For a list of all our current and past relationships see our
partnership history page
.