A jumbo sized June DABC meeting topped the three hour mark with plenty of noteworthy action. During the first in person meetup in over a year, chairman John T. Nielsen (Feb 2013) and commissioner Bateman (dec 2014) said their farewells, stepping down from their roles after significant stints; the duo signing onto the roles in February 2013 and December 2014 respectively.
In particular, here's hoping that whoever fills Nielsen's shoes can as evenhanded and fair minded when it comes to finding common ground and common sense solutions.
Extended closure requests
Several businesses are still struggling to recover from C19 borne-ills. The following were all approved to remain closed until the following commission meeting dates. Some may again apply for further extensions at that time:
The Daily – expected back by the end of June
Amour Cafe – struggling to hire staff and completely rehiring front of house, extended closure approved until August meeting
Tin Angel – unable to function with the Eccles Theatre closed, , extended closure approved until August meeting
Tsunami Sugar House – closed for renovation, and also with staffing issues, extended closure approved until August meeting
Pallet Bistro – staff noted somewhat enigmatically that the restaurant is, "trying to consolidate with another restaurant", so an extended closure was approved until August meeting
Publik Ed's – facing staffing issues, , extended closure approved until July
The Rose Establishment – more staffing problems plus remodeling right now, extended closure approved until August meeting
Brewvies, Salt Lake and Ogden, should be back open now at time of writing
Wahso – currently remodeling , extended closure approved until September meeting
Boltcutter – undergoing remodeling and addition of an outdoor patio, extended closure approved until August meeting
Milk pushes opening
Also requiring more time is this new bar in the Central 9th neighborhood. As I confirmed recently, Riverbank Bar in Millcreek is no more selling their prized bar license to the upcoming Milk.
Ordinarily, on purchase of a license a business must open within 30 days, but due to construction delays, Milk do not project an opening date until September. The commission approved a modest closure extension to July 25th, so we might hear more on this one in a months time.
Scion cider bar headed your way
Also requiring an extension and for similar reasons. Purchasing Moab's Atomic Lounge bar license is Scion – a new cider based bar. Expected to be ready a little later in the year, the business was also approved for extended closured while they complete their build out. Commissioners expressed mild concern about licenses being in a limbo of sorts, and asked for an update on the work at next months meeting.
As for Scion itself, Elisabeth Osmeloski of the business told me, "We will have 20+ taps of cider, plus a significant selection of craft cider in cans & bottles imported from all over the US, the UK & elsewhere as we ramp up. We'll also serve cider focused cocktails & a smaller selection of non-cider beverages, along with snacks for pairing. We will also be doing our own in-house production of small batch cider as well."
Bar licenses
Going into June's meeting, a trio of bar licenses where available for would be bar owners. A cornucopia by Utah standards. Another may become available in July with another for sure in September. Hive 435 Taphouse in St. George was the sole business approved this month, pushing two licenses into the July meeting.
The Fifth returned after April's meeting where their license of 18 years was rescinded. According to DABC staff the Bountiful bar had failed to remove alcohol from their premises following their license forfeiture. Combined with faulty ID scanners and continued issues in contacting the licensee, the application was denied.
Tim Ryan from Bout Time Pub & Grub spoke before commissioners on why their upcoming Vineyard location should receive one of the currency available licenses (ahead of their projected September opening date). Citing their existing businesses successes and the failure to secure Kimi's former bar license in a private sale (see May's meeting).
Commissioner Jacobson strongly rebuffed the overtures from Ryan – suggesting the brand was asking for preferential treatment in moving ahead of other businesses in request of a license. Remember – commissioners are currently keen to hand out licenses only when a bar is ready to open – and not before. Jacobson noted, "I think it's wrong for you to ask this commission to give you preference based on prior purchases and whatever relationship you had with Kimi's."
Other operators on the waitlist, and their expected opening dates include:
The Spoke, Moab, June 2021
Casot, Salt Lake City, August 2021

Bout Time Pub & Grub, Vineyard, September 2021

Spiritual, St George, September 2021

Garage Grill, Herriman, October 2021

Fife Brewing Company, Salt Lake City, April 2022

Edison House, Salt Lake City, June 2022
Other business awarded licenses include the following:
Full service restaurant licenses (liquor, wine, beer)
Blanquitas Mexican Grill, Layton
Conestoga Ranch, Garden City
The Valley Steakhouse, Vernal
Table Twenty Five, Ogden, conditional
Feellove Coffee, Springdale, conditional
Limited service restaurant licenses (beer, wine)
High Desert Café, Monticello
La Barba Coffee, Salt Lake City
Trolley Cottage Café, Salt Lake City, conditional
Mazza Middle Eastern Cuisine, Salt Lake City, conditional
Pasha Middle Eastern Cuisine, Salt Lake City, conditional
Restaurant beer only license
Chak Balam Mexican Restaurant, Torrey
Axe throwing continues to cause problems
As the meeting meandered on past the 100 minute mark, the old issue of axe throwing and beer reared its head once again. Both Premier Throwing (Pleasant Grove) and Level Two (Midvale) were up before the commission; with both businesses seeking a beer recreation license, the type traditionally given to pool halls and bowling alleys.
Premier Throwing received the most critical opinion, ultimately being turned down and invited to return with a revised business plan. Staff in particular queried the business model noting that a recreational license holder needs to make 70% of profits from either recreational amenities or food sales. With no kitchen in the current business plan and pool tables priced at a dollar – staff were skeptical of the businesses ability to meet license requirements.
Commissioners also heaped on critique citing an update to Utah's liquor law a couple of years back specifically calling out dangerous weapons and beer sales as a deal breaker. Before leaving the meeting Jacobson (who attended virtually being out of the country on trade work for the state) made his thoughts clear that the DABC should not be tackling this issue at all until a clear determination of the legislature's intent can be made. The Philly-native owner of Premier Throwing took the commissioners advice on the chin and mused that Utah's cheesesteaks really leave a lot to be desired – paving the way for the business to maybe pivot with a food component.
Level Two fared much better in proposing a plan that isolated axe throwing entirely from beer sales; going as far as to enforce rules that limit axe throwing prior to beer purchase, and never vice versa.
Commissioners and staff alike expressed ambivalence to the plans. While the likes of Dave N Busters and Top Golf manage segregated licensing under one roof – Level Two's plans were deemed to lack clarity and refinement. It sounds as though with some further work with DABC staff on the precision of their plans, this one might well pass muster.
Templin Family Brewing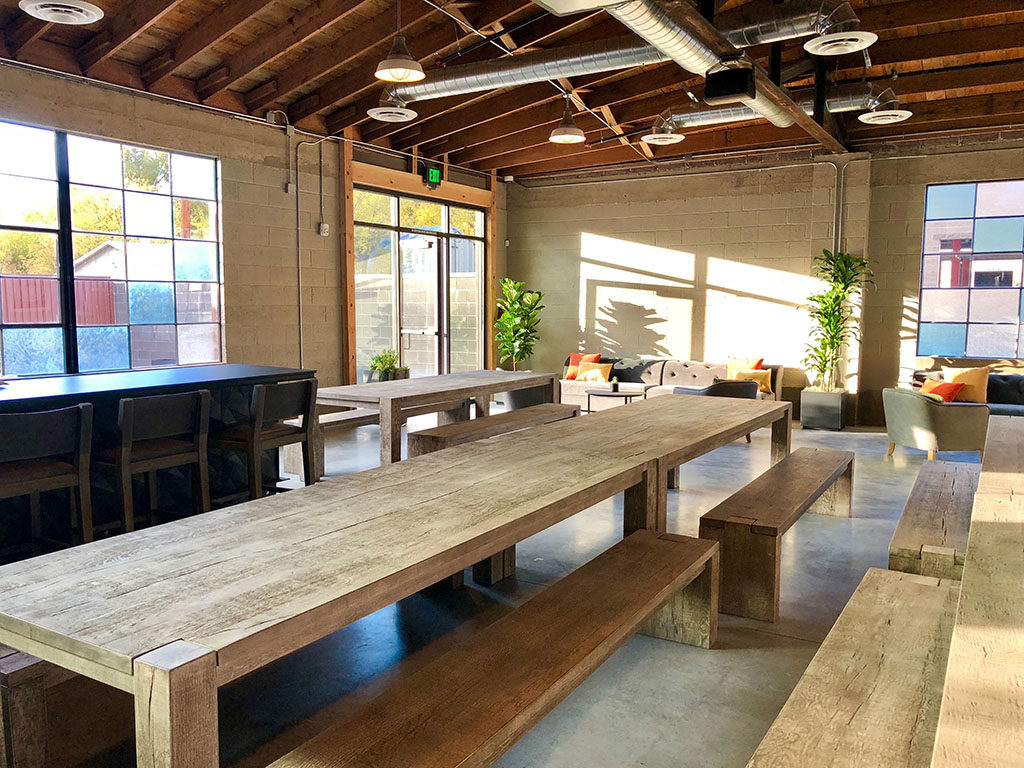 Here's a great story profiling local brewer T.F. Brewing, over at Tim Haran's Utah Beer News website. The story covers the background behind the craft brew house that seeks to bring guests into the brewing experience as they sip.
July liquor discounts
Once more it's time to see what the best deals are at Utah's liquor stores. The monthly Drink In Utah report just dropped and you can find these changes on shelves as of July 1st.
The operators of the site also mention an update this month, "New this month: HYPERLINKS. The DABC has changed their product locator page, and we can now create links directly to their product pages. Click on any CSCode in our report to be taken directly to their page to show which stores (if any) have a product and its current price."
As ever, if you're scanning through the page, the little red arches icon denotes a local brand, and green means a price decrease.
Epic releases Rocky Mountain Chai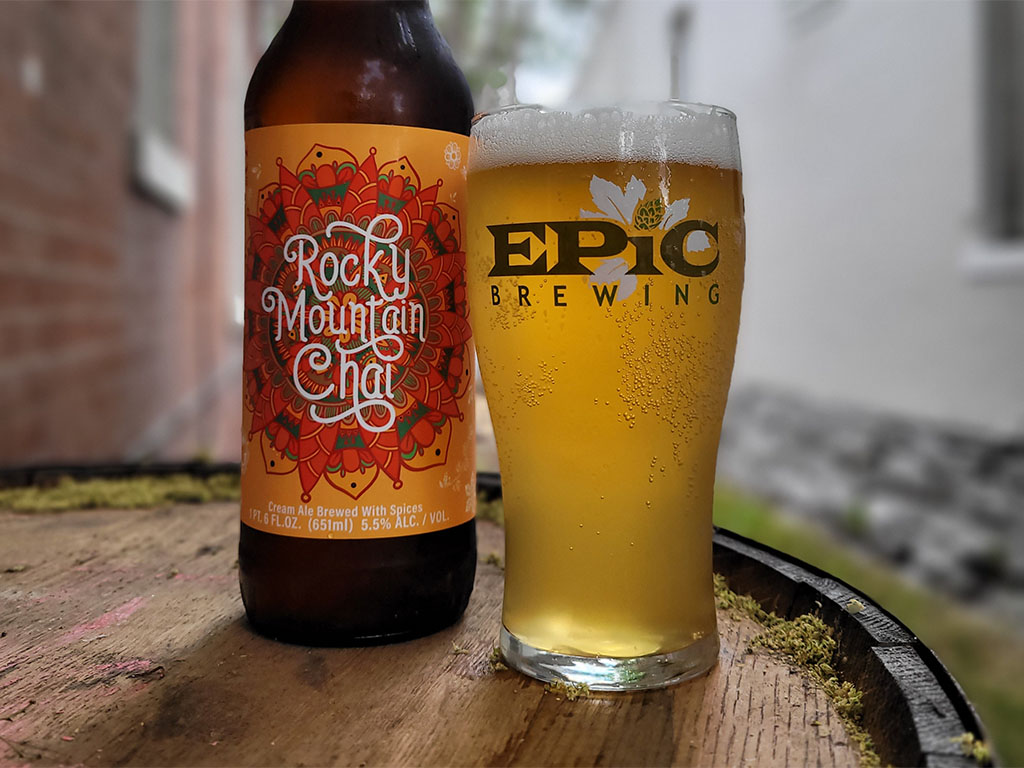 Via press release
Come home to a beer you've never had before. Rocky Mountain Chai boasts uplifting spiced flavor with a cream ale finish that's softer than a lullaby. This brew is the ideal sidekick for your next adventure down a country road or when you finally find yourself leaving on a jet plane again.
Our team wanted to create a beer as beautiful as the Rockies, so we mashed a mountain of malt bigger than Mount Elbert and boiled it down in dozens of camp kettles. The Carapils and Brewers malts bolster a transparent body that's reminiscent of simpler times. Meanwhile, the Saaz and Nugget hops work in tandem to bring out a silky-smooth mouthfeel. To cap it off, an eruption of Chai in each sip might just make you feel born again.
Rocky Mountain Chai, a cream ale brewed with spices, will be poured into kegs, cans, and bottles, then distributed across America in June. The liquid will be found in kegs and 16oz cans nearly everywhere, but the 22oz bottles will be available exclusively in Utah. Rocky Mountain Chai will soon be available at finer beer and bottles shops near you.
St. Regis beer garden opens
Via press release
The St. Regis Deer Valley, located in the Wasatch Mountains of Park City and one of the most luxurious resorts in the world, today announced the opening of The St. Regis Deer Valley Beer Garden, a new outdoor venue with lawn games including Spikeball and Cornhole, food, fun and libations. The Beer Garden will open Thursday, June 17, 2021 on The St. Regis Deer Valley's lush Grand Lawn with the stunning Wasatch Range as a backdrop.
The Beer Garden, open every Thursday from 4:00 PM to 7:00 PM throughout the summer, is open-air with casual seating including bistro tables, low tables and benches that accommodate groups of friends or families. A perfect outdoor place to meet, the Beer Garden will offer light fare including churros, house-made chips, soft pretzels with gourmet cheeses and a selection of sustainably caught oysters that arrive fresh each morning. Lawn games include Spikeball, Ladders, Cornhole, oversized Connect 4 and Bocce Ball.
A full menu of local beers includes the St. Regis' newest Signature suds, developed in conjunction with SaltFire Brewing of Salt Lake City- Cousin Jack Single-Hop IPA, Tipsy Trolley Pilsner and the newest addition Main Street Mexican Lager, a Vienna and Pilsner Malt with Magnum and Loral hops.
High West Praire Dash game
Via press release:
Kicking off Great Outdoors Month, High West Distillery announces today the launch of Prairie Dash, a limited-time mobile game crafted in support of long-time partner and non-profit organization, American Prairie. This launch provides whiskey drinkers and gaming enthusiasts alike with a chance to give back and help conserve the natural habitat of Montana's Great Plains in a fun, interactive way.
For every game played, High West will donate $1 to American Prairie, up to $50,000, and one lucky player will win a curated, once-in-a-lifetime, Western adventure to the distillery's homeland, Park City, Utah. Players will compete in a collection of quick-time challenges from the perspective of a pronghorn, North America's fastest land animal indigenous to the West. During each game, players can use their thumbs to try and reach 61 miles per hour, the speed of the pronghorn, during challenges like clearing debris and slaloming through herds of bison. In addition to competing, High West supporters can also purchase the distillery's American Prairie Bourbon on highwest.com or through Drizly, with ten percent of the after-tax sales also donated to the bottle's namesake organization, American Prairie.
In other news
Keep the conversation going
Want to stay on top of the SLC food scene, minute by minute, dish by dish? Here are a few other places you should follow along:
Hi, I'm Stuart, nice to meet you!  I'm the founder, writer and wrangler at Gastronomic SLC.  I'm a multiple-award winning journalist and have written in myopic detail about the Salt Lake City  dining scene for the better part of seventeen years.
I've worked extensively with multiple local publications from Visit Salt Lake to Salt Lake Magazine, not least helped to consult on national TV.   Pause those credits, yep, that's me! I'm also a former restaurant critic of more than five years, working for the Salt Lake Tribune.    I'm largely fueled by a critical obsession with rice, alliteration and the use of big words I don't understand.   What they're saying about me: "Not inaccurate", "I thought he was older", "I don't share his feelings".
Want to know more? This is why I am the way I am.
This article may contain content provided by one of our paid partners. These are some of the best businesses in Utah. For a list of all our current and past relationships see our
partnership history page
.