This is your monthly reminder that one of my favorite websites in Utah is back with their latest roundup of what we can all agree is critical reporting – what's on sale at the liquor store this June. Drink In Utah report each and every month on the pricing and inventory changes at DABC stores, as well as highlighting local product therein. It's an invaluable resource. You can find this months report here.
As ever the website notes their data is provided for "entertainment purposes only. Not guaranteed to be accurate data, please consult the Utah DABC for official data. If you want to get technical, the DABC doesn't do sales, as Utah law mandates the markup. They allow vendors to do "special price allowances" a few times a year where the vendor discounts the price to the DABC which in turn passes that on to the consumer."
As a timely reminder – don't forget liquor stores will be closed on Monday, May 31st for Memorial Day.
DABC May 2021
DABC chairman John T. Nielsen kicked off the May meeting by confirming the virtualized nature of the monthly DABC meetings would be coming to a close. After 15 months of battling with Zoom the commission will once again meet in person as of the June 22nd meeting.
The status of Kimi's Chop and Oyster House bar license was the mainstay of the conversation this month, with DABC staff putting forward the case that Kimi's had violated liquor law. Utah law states that a bar may not be closed for a period of 10 days or more days (240 consecutive hours) without prior approval from the commission.
DABC staff contended that Kimi's had fell foul of the statute on three occasions this year (February 27th – March 9th, April 4th – April 13th and April 28th to May 25th).
Utah's premier liquor attorney Tanner Strickland Lenart appeared virtually before the commission to argue the case for Kimi's. Lenart put forward the position that the bar was indeed open, with employees on site, ready and willing to serve potential customers. The main issue was one of Covid, and simply a lack of custom wishing to purchase product on the bar side of the business. Owner Kimi Eklund also spoke passionately should the issues facing the business in the past year, not least touching on cancelled bookings in the period up for debate.
Lenart put forward a strong case for Kimi's suggesting the the business hadn't closed and that the law as written presents the option of interpretation; Lenart suggesting the commission had flexible and plenary discretion in this instance.
Commissioner Jacobson however wasn't swayed by the arguments and cited Utah statue 32B-5-309 as a counter. With no clear records of Kimi's dispensing alcohol in the stated periods, Jacobson stated that there "appears to be periods of 10 days closure, appears we have no alternative whatsoever but to in fact declare this license has been forfeited".
Given the seriousness of the potential license loss (Kimi's had been in a negotiations for a potential sale of the license to Bout Time, and estimates for private license sales suggest prices start at $50K) chairman Nielsen asked for a roll call vote on the matter. The commission voted 6-1 in favor of the license being made forfeit, with commissioner Juliette Tennert the only dissenting nay.
The loss of the license still leaves Kimi's with a regular full service restaurant license (food is required when ordering alcohol).
Bar licenses
Kimi's forfeited license joined the existing solitary available bar license in the state of Utah – making for a grand total of two.
With commissioners keenly aware of the limited supply, only businesses ready to roll are given serious consideration for licensing right now. With the State Road Tavern in Kamas the only applicant ready to go, they easily and instantly secured one of the brace of available bar licenses. Further licenses are expected in June (1) and September (1) from population increases.
Bewilder Brewing also tacked on a Winter seasonal bar license to the Summer seasonal they secured last month – in convoluted effect giving them a year round license to operate as a bar now.
Also noteworthy was the approval of the license transfer of Riverbank Bar's bar icense to Milk LLC, doing business as Milk in Salt Lake City. Staff noted that the license would change location as part of the transfer. No word on how Riverbank will change after this license loss.
Lastly the license held by Park City's Adolph's was also approved for transfer to The Star Bar LLC in Park City as well. In more license news the following businesses were approved for new licenses:
Full service restaurant license (beer, wine, liquor)
The Lakehouse @ Deer Creek, Heber City
Ichiban Sushi & Asian Food, Layton
Prodigy Brewing, Logan
Salt Box, Park City
Senorita's 3rd Floor Cantina, Springville
Under Wraps, Pleasant Grove, conditional
Pizza Nono, Salt Lake City, conditional
Pago on Main, Salt Lake City, conditional
Porkys Carnitas, Salt Lake City, conditional
Limited service license (beer, wine)
Lee's Mongolian BBQ, Ogden
Taste of Thai, Park City
Greek Streak 2, Logan, conditional
Beer only restaurant license
Fat Daddy's Pizzeria, Provo
On premise beer license
Offset Brewing, Park City, conditional
West Side Tavern, Salt Lake City
Package agency
Aspen Cove Resort, Panguitch. (Type 1)
Vintage Spirits Distillery, Midvale. (Type 5)
A quick reminder that Type 5's are allowed to sell their product on Sundays provided they also serve food on the same premises as manufacture. This is my favorite Utah liquor law, and everyone should know it off by heart 😉
New local releases
The following new local beverages and products all recently launched, info from the various press releases I've received:
Epic Pakkā Hard Seltzer Company Releases Junipér
Junipér has a flavor like nothing you've ever tried. This first of its kind spirit is naturally fermented and never distilled. That's right, Junipér is a botanical beverage that emulates a flavor profile similar to gin, but doesn't have the negative side effects brought on by a distilling process.
Designing this natural and simple beverage wasn't a walk in the park. It took a combination of ancient techniques and natural creativity to bring you this hand-crafted gift fit for the gods. Junipér paves a new and different path for to alcoholic beverages. This elegantly crafted expression is bold yet restrained, mysterious and complex, the flavor is classic but unique.
Just filtered water, alcohol from cane sugar, juniper berries, lemon peel, and orange peel are what make this this au naturel drink great for sipping on any evening of the week. It has an incredible aroma, fantastic flavor, and it's far less processed than its distilled counterpart; this is the new and exciting beverage that you need to add to your liquor cabinet. Junipér will be available at Epic Brewing Company on Monday, May 17th. It's time to try something new!
Epic IPA in the Coconut Release
The summer of 2020 wasn't exactly a beach, but Put the IPA in the Coconut is here to redeem it as the drink of choice for the adventures that await us during the summer of 2021. Using white wheat and flaked oats in the grain bill followed with massive amounts of late addition Cashmere, Styrian Dragon and Citra hops, the brewers are able to bring out a lush combination of mango, passionfruit, papaya, and of course coconut that will leave your mouth in paradise. So, rest assured knowing that we've done all of the hard work so that you don't have to!
"We had this recipe for a hazy IPA that we'd been riffing on with some amazing hops but thought that it just needed more of something," explains Director of Brewing Operations Jordan Shupbach. "We'd gotten a load a fresh coconut in for another beer project and thought 'Hey, coconut might taste awesome in this IPA we've been working on.'"
With coconut added twice, once on the brew kettle and again in the fermenter, this IPA combines the perfect blend of fresh coconut with the indistinguishable hop character of several tropical fruits to create an excellent beer for you to sip while your feet are kicked back. So, imagine yourself on a beach in the Bahamas, reaching for a Coconut IPA, hanging out in style.
Put the IPA in the Coconut will be available at our Salt Lake City taproom on Monday, May 24th. It'll also make it to the more laid back liquor stores along the wasatch front in very limited quantities.
Epic Tart 'N' Hazy Wood-aged Sour IPA
What do you get when you lock up an IPA and a sour in the same wood paneled cell together? Our brew team just found out and the result is, well, Tart 'N' Hazy. This unorthodox brew is a firework show for your tastebuds, and the show reignites with every sip. We're releasing Tart 'N' Hazy – a blend of wood-aged sour beer and hazy IPA – in March, so come grab a pint with us because this one counts as beer and a show.
Tom Wright, Bar Lead and Art Curator at our Denver Taproom, is fond of sour beers and had a thing or two to say about the style, "I've always enjoyed how they make me feel like its summer even in the dead of winter. The brightness I get from sours just always feels like the sun is beaming down on me."
Tom can't wait to pair Tart 'N' Hazy with relaxing days in nature, "I picture myself drinking Tart 'N' Hazy while floating down a river on an innertube. Sun and cool splashes of water from the river will go well with the beer."
The Simcoe 'n' Citra hops hit you like a riptide and linger on your teeth for some time. Then, the sour enters by greeting your tongue with a powerful wood-aged handshake. The best part is each subsequent sip is a whole new party that leaves your taste buds screaming, "Tastes like stone fruit, man!"
Tart 'N' Hazy will be available across our entire distribution range in April, but it's set to hit our Salt Lake City Taproom on Friday, April 9th. This is another one that's part of our rotating beer series, so it comes with a QR code that leads to a video. Come down to Epic for a beer and a show.
Ogden's Own Five Husbands 2021 PRIDE Bottle
Ogden's Own, an award-winning leading distiller of craft spirits and the largest independently owned distillery in the state of Utah, is welcoming Pride 2021 through a brand-new, special-edition label for its Five Husbands Vodka. As part of the distillery's ongoing commitment to celebrate Pride all year long – not only during Pride Month – the new Five Husbands bottle features a nod to its very own, adorned with five cherished members of the Utah LGBTQ+ community featured on the label. Each 2021 "Husband" is not only a friend of Ogden's Own, but well regarded for using their creativity, influence, and talent to build towards a better, more inclusive tomorrow. The 2021 Five Husbands Vodka bottle is now available for customers at the Ogden's Own Distillery store and will be available at liquor stores across Utah beginning in early June, with proceeds going directly to Equality Utah and the Utah Pride Center, two charitable organizations that support the Utah LGBTQ+ community.

The 2021 "Five Husbands" featured on the label represent a broad range of professions and areas of expertise, but the common thread binding each Husband is that they are all Utah locals that are passionate about representing the LGBTQ+ community and spreading the message of inclusiveness on as large of a stage as possible. And now, meet your 2021 Five Husbands:
Johnny Hebda – Johnny is a jack of all trades. A Nashville, TN native that has lived in Utah since attending BYU following the completion of his Mormon mission, Johnny currently serves as VP of Sales for AMP Smart, one of the nation's fastest growing smart home companies. Additionally, he is a professional actor, model, director, and producer who is passionate about channeling his showbiz chops into social causes.
Georgios Spiliopoulos – aka "DJ GSP," Georgios is a native of Athens, Greece who has been a professional DJ for more than 15 years. In addition to being a DJ and music producer, Georgios is an event organizer and promoter, graphic designer, and record label owner. He has lived in London, Rio De Janeiro, Los Angeles and now makes his home in Salt Lake City.
Rob Moolman, Ph.D – Rob is the Executive Director/CEO of the Utah Pride Center, a role he has served for more than three years. Among his many accomplishments with Utah Pride is establishing the SAGE program, which offers services for aging members of the LGBTQ community. A longtime friend of Ogden's Own, he has partnered with the distillery on several occasions through the years to engage the community in LGBTQ+ events, causes and initiatives.
CJ Hamblen – CJ is a real estate professional and aspiring personal fitness trainer, currently working as a leasing agent in Midvale, Utah. Born in Dallas, TX and raised in Sugarhouse, UT, CJ is a true creative, a music lover, and secret comic book and superhero aficionado. As an ardent believer in bringing awareness to both the LGBTQ+ and black communities, CJ is eager to use the Ogden's Own platform to accomplish this in Utah and across the nation.
Troy Williams – Troy is the executive director of Equality Utah and serves as a lobbyist on Capitol Hill in Washington, DC, ensuring that state laws include and protect LGBTQ Utahns and their families. Before his current role at Equality Utah, Troy produced reality television, including the TLC series, Breaking the Faith, which followed teens in the Fundamentalist Church of Latter-Day Saints fleeing polygamy – making a partnership with the creators of Five Husbands (and Five Wives!) Vodka an ironic twist of fate.

"Since the beginning, Ogden's Own has been about supporting the LGBTQ+ community here in Utah through not only our words, but our actions, and we feel that this is our strongest statement to-date," said Steve Conlin, co-founder and CEO of Ogden's Own Distillery. "Each of our Five Husbands is equally impressive, not just because of their individual accomplishments, but because of their character and commitment to making Utah a great place to live. We're humbled to honor such an incredible group of people through our new Five Husbands bottle and can't wait to celebrate Pride 2021 by sharing their stories."

Serving as an ally of the LGBTQ+ community and celebrating diversity have been core pillars of Ogden's Own since the distillery was founded in 2009. In 2019, Ogden's Own introduced Five Husbands Vodka for the first time as a Pride Month special release, however the expression was met with so much enthusiasm and customer demand that the distillery immediately decided to make it a year-round offering, representing its support for LGBTQ+ community as a full-time commitment, rather than a one-month marketing ploy. Ogden's Own has served as the official alcohol sponsor of the Utah Prude Festival for several years and once again will for Utah Pride 2021. Additionally, the distillery has driven awareness and public support for Utah-based LGBTQ+ organizations Equality Utah and the Utah Pride Center over the years, most recently through an opportunity drawing collaboration with world-renowned glass artist Deborah Czeresko, winner of Netflix's "Blown Away" Season 1, with all proceeds being divided between the two organizations.
Made from spring water sourced from the Wasatch mountains in Utah's beautiful Ogden Canyon, gathered five gallons at a time, Five Husbands Vodka is made with distilled spirit originating from 100% corn at 80 proof (40% ABV), creating a subtle sweetness and smooth finish that is completely gluten-free.

Five Husbands' 2021 Pride Edition is available now at Ogden's Own Distillery Store, 615 W. Stockman Way, Ogden, Utah 84401, for the price of $19.99 for a 750ml bottle. For more information regarding Ogden's Own's canned cocktails, future availability of the products, and updates on all of Ogden's Own brands, please visit www.ogdensown.com. For more information on supporting Utah LGBTQ+ causes, please visitwww.equalityutah.com and www.utahpridecenter.org.
Ogden's Own Porter's Canned Cocktails
Ogden's Own, an award-winning leading distiller of craft spirits and the largest independently owned distillery in the state of Utah, has officially doubled the size of its recently-released canned cocktail line, with the debut of two new varietals – Porter's Huckleberry Lemonade and Porter's Peach Tea. Both new canned cocktails are made with the distillery's fan-favorite Porter's Whiskey liqueur and blended with fresh-brewed, all-natural lemonade and iced tea for a refreshing, balanced sipping experience just in time for the warmer spring and summer months. These new expressions will join Ogden's Own's recently launched Five Wives Vodka canned cocktails in the lineup and are now officially available for sale at the Ogden's Own Distillery Store at 615 W. Stockman Way. Expanded distribution to Ogden's Own customers nationwide via the brand's retail and online partners is expected in the coming weeks.

Ogden's Own's canned cocktails continue to push the boundaries of the burgeoning canned beverage market through introducing unique flavor innovations and combinations that are both charmingly familiar yet creative. Since its inception in 2009, Ogden's Own has carved out a unique path by delivering unique, unexpected offerings to the market while also remaining nimble enough to respond directly to shifting consumer demands and trends. Porter's Whiskeys have long been the gold standard to illustrate Ogden's Own's willingness to take risks through experimentation with bold, unconventional flavor profiles, with examples such as Porter's Fire Cinnamon Whiskey, last year's award-winning Porter's Peanut Butter Whiskey, and the naturally flavored, sweet-but-not-sugary Porter's Huckleberry and Peach. In a further nod to experimentation, the packaging of the new canned cocktails even feature a rejuvenated version of the namesake mascot of the Porter's whiskey line, Orrin Porter Rockwell, who has been transformed from a fearsome enforcer of the Old West to a bearded, hat-donning hipster. Below is a detailed summary of both new Porter's canned cocktail expressions:

Porter's Huckleberry Lemonade
A blend of Porter's Huckleberry whiskey liqueur and lightly carbonated lemonade, expertly crafted to deliver a refreshing and flavorful sipping experience. The expression is carried by flavors of Northwest huckleberries which blend harmoniously with naturally brewed lemonade, delivering fruit-forward flavor that perfectly balances tartness and sweetness. 7% ABV for a 355ml can.
Porter's Peach Tea
A blend of Porter's Peach whiskey liqueur and unsweetened tea that offers a twist on a familiar, fan-favorite summertime sipper. The unsweetened tea reaches a perfect sweetness when blended with the ripe peach flavor of Porter's, making for a warm weather treat that is balanced to perfection. 7% ABV for a 355ml can.

"When we first launched our canned cocktails line earlier this year with Five Wives Moscow Mule and Five Wives Vodka Soda, we knew they'd be a hit and always intended to expand the portfolio. We're thrilled to be doing that now with the release of Porter's Huckleberry Lemonade and Porter's Peach Tea," said Steve Conlin, CEO and co-founder of Ogden's Own Distillery. "Porter's Whiskeys have long been the vessel with which we can express our creativity when it comes to outside the box flavor experimentation. We know our fans better than anyone, and we're certain that they'll love these new additions to the family as the perfect complement to their upcoming outdoor sipping occasions and summertime enjoyment."

The launch of Ogden's Own's canned cocktail line comes following a year of significant momentum for the distillery. In 2020, Ogden's Own opened the doors on its brand-new, 32,000 square-foot multi-purpose facility in the Ogden Business Exchange, an area quickly transforming into an incubator for leading regional businesses. The first product released at the new Ogden's Own distillery was Porter's Peanut Butter Whiskey, which was met with widespread acclaim. Additionally, the brand played a leading role in the pandemic by donating direct funds to member of the local food & beverage community in Ogden and shifting operations to product thousands of gallons of hand sanitizer, which went to front-line workers, local businesses and schools, and high-risk communities such as the Navajo Nation.

Ogden's Own's Porter's canned cocktails are now officially available for purchase at the Ogden's Own Distillery Store, 615 W. Stockman Way, Ogden, Utah 84401, for the price of $3.39 per 12 oz. can. For more information regarding Ogden's Own's canned cocktails, future availability of the products, and updates on all of Ogden's Own brands, please visit www.ogdensown.com.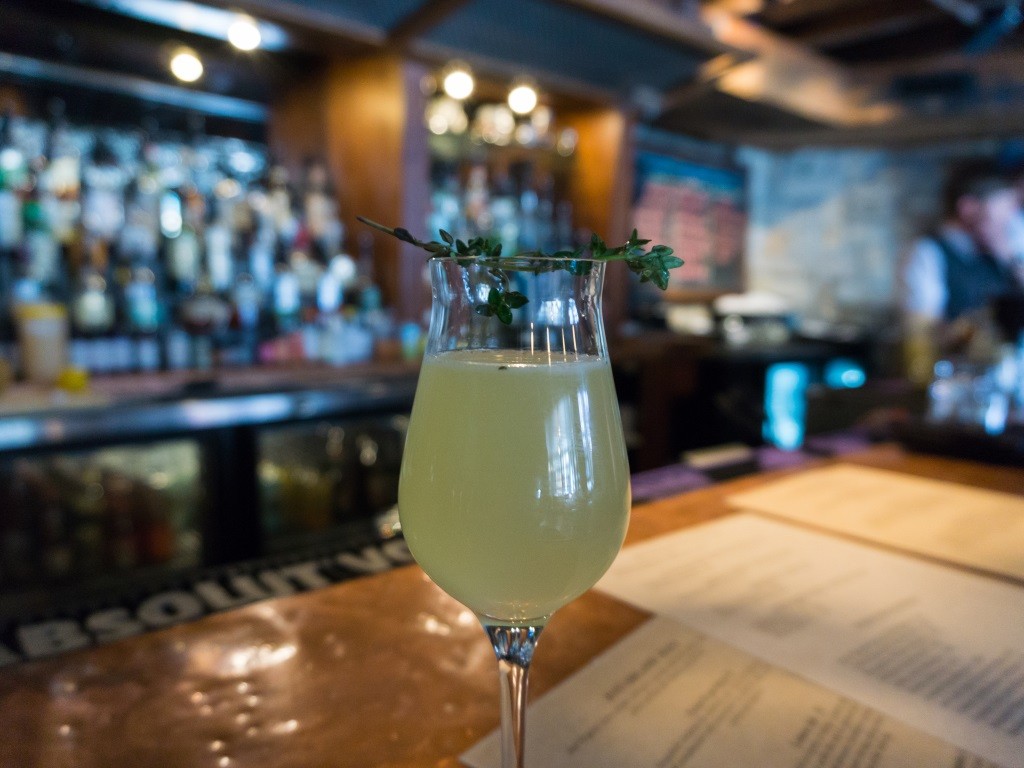 PC Cocktail contest
Via press release
The Park City Area Restaurant Association (PCARA) is calling all bartenders and mixologists from PCARA establishments to submit their recipes for this summer's Savor the Cocktail contest. Cocktail professionals who enter their summer cocktail recipe that best reflects the spirit of Park City will have a chance to win a $500 cash prize, bragging rights, an opportunity to collaborate with Top Shelf to create an exclusive Bartender Box, and additional PCARA marketing efforts following the contest.
"What a time to celebrate all we've been through together and toast Park City's talented mixologists and restaurant staff all season long," PCARA executive director Ginger Wicks said. "Savor the Cocktail will last all summer this year, giving locals and visitors extra time to savor all of this year's entries and vote to crown this year's winner of Park City's favorite summer sipper."
Mixologist Robbie Remmes from High West won last year with his "Devil's Addition," a mix of High West's Double Rye! whiskey, Tanqueray 10, Cocchi Americano, Matcha Simple Syrup, fresh lemon and pineapple juice, Hops Tincture and Fever Tree Soda Water.
Cocktail contest applications are available at www.parkcityrestaurants.com for any mixologists interested in entering. Participants must submit their applications by Friday, May 28, to Ginger Wicks, gingerwicks@icloud.com or by mail:
The official contest runs June 1 – Aug. 31 when locals and visitors can visit participating PCARA bars and restaurants and start sampling contest entries. Online voting for favorite cocktails will run through Aug. 31 on the PCARA website, www.parkcityrestaurants.com.
Keep the conversation going
Want to stay on top of the SLC food scene, minute by minute, dish by dish? Here are a few other places you should follow along:
Hi, I'm Stuart, nice to meet you!  I'm the founder, writer and wrangler at Gastronomic SLC; I'm also a former restaurant critic of more than five years, working for the Salt Lake Tribune.  I've worked extensively with multiple local publications from Visit Salt Lake to Salt Lake Magazine, not least helped to consult on national TV shows.
I'm a multiple-award winning journalist and have covered the Utah dining scene for the better part of fifteen years.   I'm largely fueled by a critical obsession with rice, alliteration and the use of big words I don't understand.   What they're saying about me: "Not inaccurate", "I thought he was older", "I don't share his feelings".  Want to know more? This is why I am the way I am.
This article may contain content provided by one of our paid partners. These are some of the best businesses in Utah. For a list of all our current and past relationships see our
partnership history page
.