Now that Father's Day has come and gone we can get on with this year's BBQ roundup. After all there's no point suggesting to dad he's doing anything wrong when he'd holding those tongs.
It's been a couple of years since our last Q roundup and I still recommend all the businesses listed there. Here are a few more products and companies that have entered my orbit in recent months. All would make a stellar showing alongside your grilling gear of choice, propane or not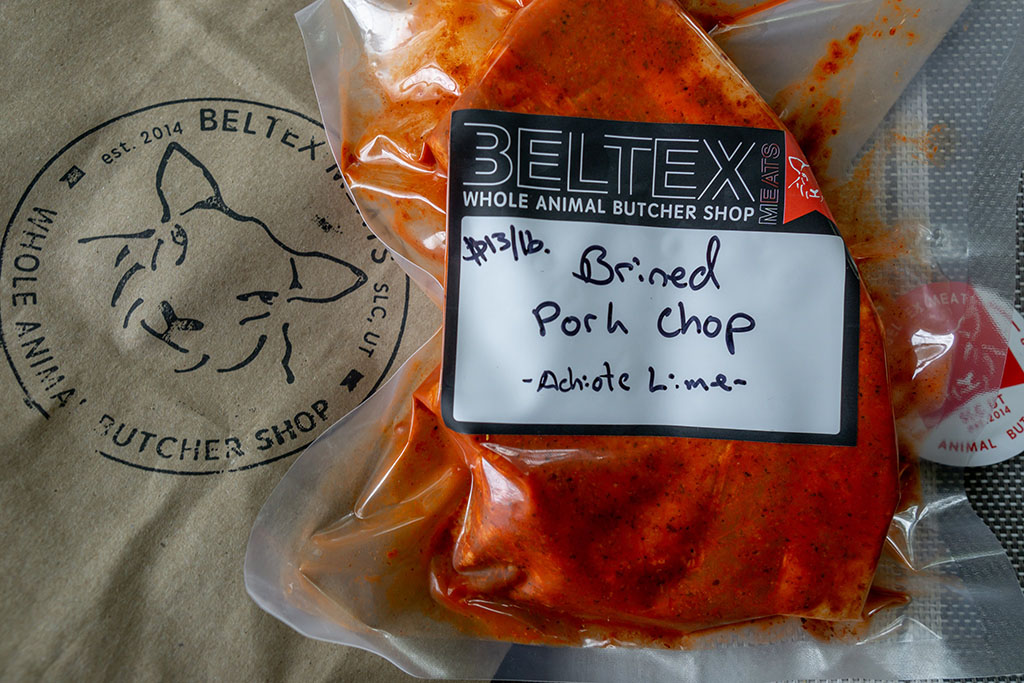 The protein
Beltex Meats
If you read any BBQ roundup that doesn't begin with Philip Grubisa's shop, screw it up and toss it on the coals to get your flames going. You're reading nonsense. Grubisa's boutique butchery is the creme de la creme of the local meat world. It starts and stops here if you're looking for the absolute best.
That pork chop you see above was about one of the best I've ever eaten in my life full stop. I was the hapless cook in question too – which should tell you all you need to know. Beltex's product is absolutely impeccable and certain items from their charcuterie lineup have been recognized multiple times by CA's Good Food Awards; virtually no other Utah business has that distinction.
In light of the coronavirus upheaval, Grubisa decided to close the store to walk in traffic. The butchers has now switched to a delivery only model; dropping weekly bags of lucky customers doorsteps. Items change each week, delivery is free, you can read more here.
Note: Beltex will take their yearly Summer break 7/6-7/26. The business recommends loading up on supplies by 7/3.
Bewilder Brewing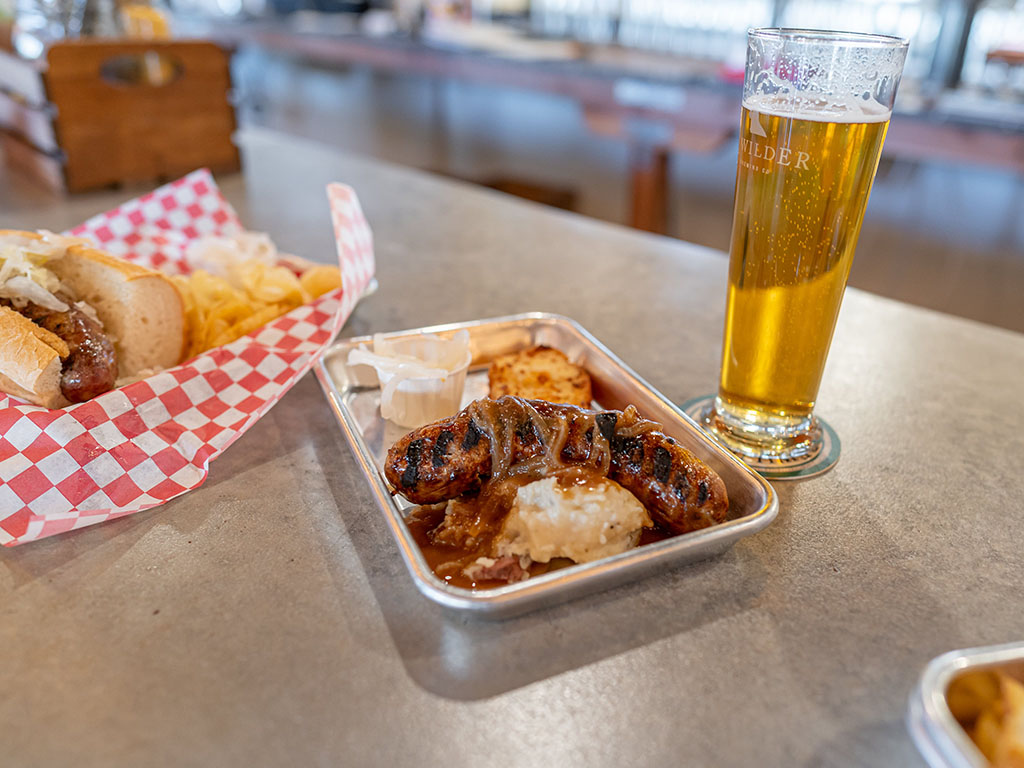 Another company that cleverly pivoted amidst all the chaos – this new craft brewing upstart. Sure you can get a growler to go, but there's magic afoot in the kitchen out back. Chef Justin Field hand crafts some of the best brats in town and now, packages them up to go as well. All you have to do is throw em on the grill.
For the time being sausages need to be pre-ordered here. Each week orders are open Monday through Thursday end of day.
Caputo's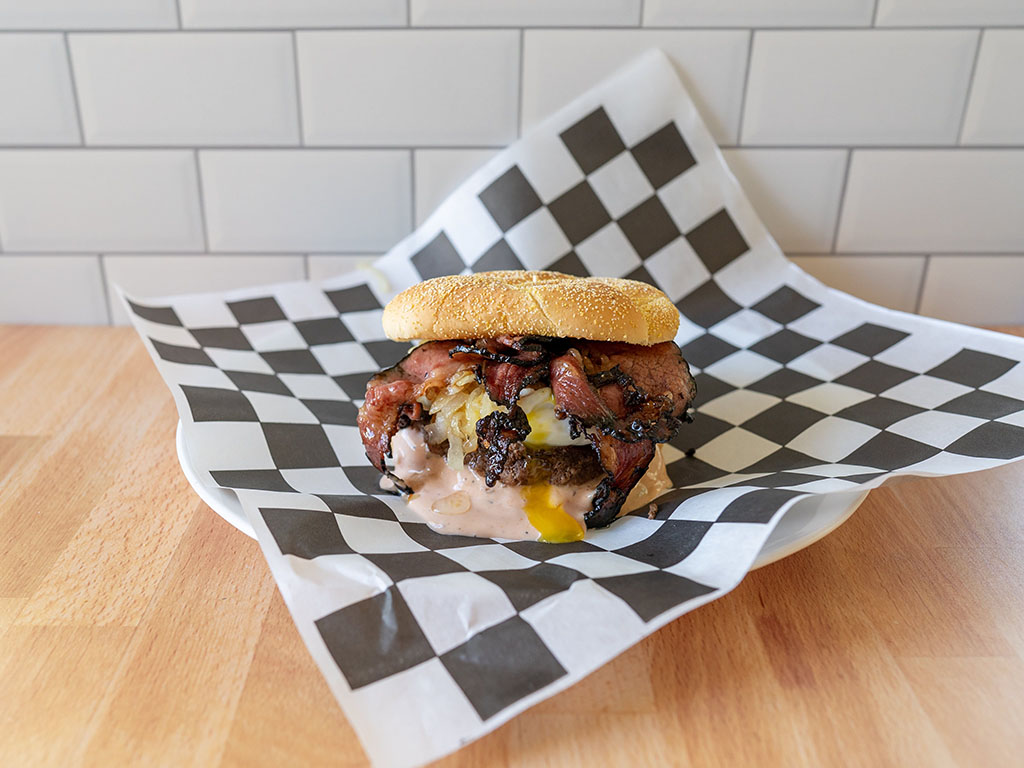 Burgers need cheese. Burgers need fancy meat toppings. See that pastrami burger pictured above. I made that with my own two greasy hands. The piece de resistance was the pastrami from Caputo's. A three hour nap may or may not have followed. The most important thing you need to know right now is that Caputo's are offering free delivery within Utah. There's currently no minimum order for shipping. You can browse the whole array here.
Sitka Salmon Shares
Landlocked as we are, sourcing fabulous fish isn't the easiest of challenges. Pretty much most grocery store counters are typically dismal offerings in my experience. You might find the odd gem here and there but don't count on it.
For the past few months I've personally been enjoying Sitka. The Alaskan based company ships blast frozen seafood to your door that is absolutely pristine. As I've mentioned before, Alaska has sustainable and wild-only fishing written into the damn state constitution – their fish stocks are regarded as one of the most well managed on the planet as a result.
Go ahead and use code GSLC on their website. We get a small referral fee, you'll get $25 off a premium share.
Impossible Burger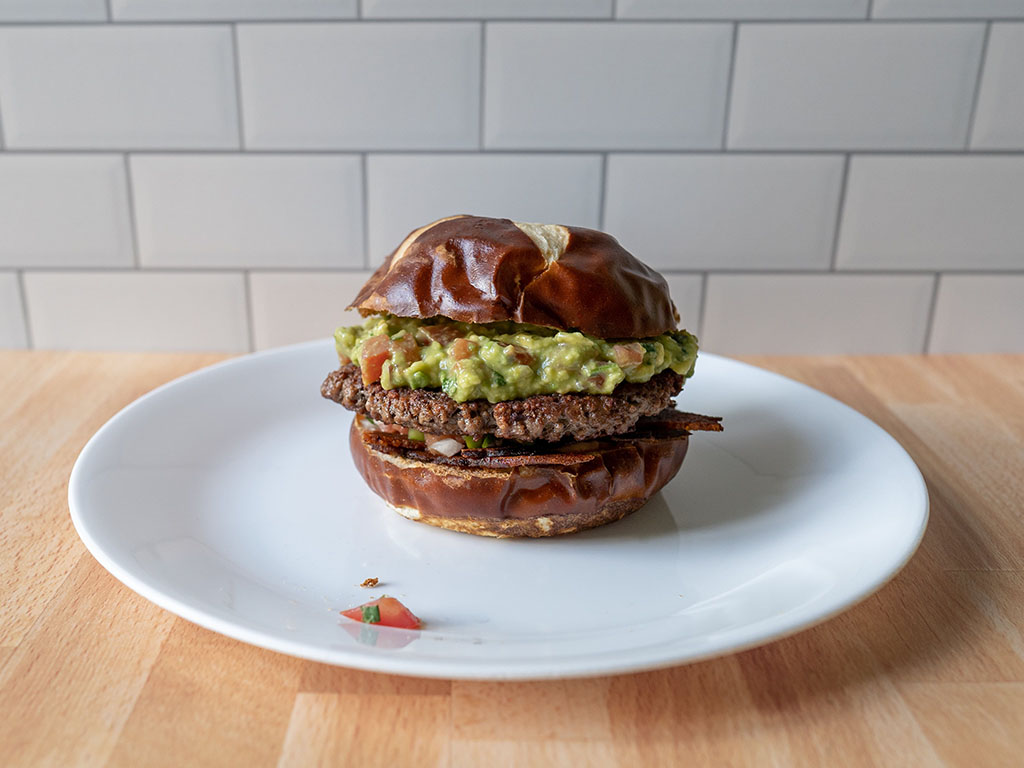 Vegans and veggies no longer have to weepingly stare at their cardboard hockey puck on the BBQ, slowly getting drier, smaller, sadder and stupider. I recently wrote about the wonders of the Impossible Burger over on our sister site Shop Smart here. The TL;DR: for the longest time I was a Beyond Burger fan and didn't think anything would ever come close. Not only does Impossible breeze by, but it shoots off into the distance leaving everything else in its wake. Cooked correctly it's an absolutely head scratcher of a "no, this is meat, it has to be". Whatever the mysterious science behind all of this, the resulting burger is better than some cow-creations I've tasted. There, I said it.
The Impossible Burger is retailing locally in Utah on the aisles of Smith's. You should find it in the freezer section for $8.99 a pack; each pack makes three quarter pounders. Alternately, the brand also launched a direct to your door service as well in recent weeks.
The sauces
Z's
Still my goto locally for hot sauces is this small Ogden based business. Currently I'm loving two of their sauce. Their NE Carolina BBQ Sauce is a sledgehammer shot of vinegar and spice, sure to liven up anything from dry chicken to pork. I also love their Spicy Mustard Hot Sauce that can be used straight up or mixed in with other condiments. Neither hold their punches when it comes to the heat. If you have to ask, "are these really spicy", just move along to the ketchup. Check out their etsy store here.
Chili Beak
After what seemed like the end for Chili Beak in 2019 , the five year old business was rescued and rose form the ashes in flaming-capsaicin glory. The signature spicy roasted chili oil will work well on pretty much anything that's edible in your home. Double bonus points is that Caputo's stocks this, so you can add to your delivery order…
The drinks
Squatters / Wasatch Beers
On the beery side of things take your pick from the quartet of Wasatch products pictured above – all have crisp clean Summer flavors. My personal favorite is the Juicy IPA, a hazier brew with a 5% ABV, that means thing won't unravel too quickly.
Craft brewers are – mercifully – starting to end their assault on our tastebuds with extreme use of bitter hops. The trend now is apparently toward this North Eastern style IPA which offer more juicy, tropical flavors. The key takeaway is that these things are actually enjoyable to drink. No more mouth puckering, insta-sandpaper palate destruction.
Clearly Frozen
More science I don't understand (3:15, you're welcome). This nifty three compartment gadget from Clearly Ice does what it says on the tin – makes crystal clear ice. A styrofoam liner holds a first plastic try with warm water (I found boiled water cooled to around 160F works well here), while a plastic ice tray sits in that. Cool water sits on top and using science magic – the freezing process occurs directionally.
This directional process apparently leeches impurities downwards into the lower chamber. The results are huge blocks of beautiful ice that will absolutely rock your cocktail's world. The unit is a little bulky and makes 10 cubes a time, so you'll want to make a few batches ahead of time for the big day itself. You can read more and shop online here.
Ogden's Own Distillery
If you're going to shop local when it comes to liquor, let me point you towards Ogden's Own. Not only are the products top notch, but the Utah distillery has been one of the leading lights in helping others during the current crisis.
Just last month the business shipped 485 gallons of their Five Wives Hand Sanitizer to Navajo Nation in Shiprock, New Mexico, helping a community in desperate need of controlling its outbreak. I'll raise a glass to that.
Z's one more time
Actually, allow me to give these guys another mention. After all, I think this might be about the best Bloody Mary mix in town right now. It's a thicker affair than most and is basically a farmers market blended up in a bottle : various chillies, tomato, cucumber, cilantro etc.
Disclosure: some of these companies have provided me with free swag, some haven't. All are great regardless.
Keep the conversation going
Want to stay on top of the SLC food scene, minute by minute, dish by dish? Here are a few other places you should follow along:
Hi, I'm Stuart, nice to meet you!  I'm the founder, writer and wrangler at Gastronomic SLC.  I'm a multiple-award winning journalist and have written in myopic detail about the Salt Lake City  dining scene for the better part of seventeen years.
I've worked extensively with multiple local publications from Visit Salt Lake to Salt Lake Magazine, not least helped to consult on national TV.   Pause those credits, yep, that's me! I'm also a former restaurant critic of more than five years, working for the Salt Lake Tribune.    I'm largely fueled by a critical obsession with rice, alliteration and the use of big words I don't understand.   What they're saying about me: "Not inaccurate", "I thought he was older", "I don't share his feelings".
Want to know more? This is why I am the way I am.
This article may contain content provided by one of our paid partners. These are some of the best businesses in Utah. For a list of all our current and past relationships see our
partnership history page
.