I'll be the first to admit that typical Mexican/South of the border styled restaurants, don't get me overly excited. Don't get me wrong – I love the flavors, ingredients and dishes of the cuisine. More often than not however, execution is mediocre. A side splat of sad refried beans, chewy and listless rice and plates that focus more on quantity than they do quality. The infamous phrase 'smothered' is usually happily flaunted – which under regular conditions, I don't normally think of as being a positive thing.
Restaurants such as Rick Bayless' Topolobampo in Chicago and even SLC's own Frida Bistro point to the endless possibilities of a cuisine that pops with potential for wider exploration – both contemporary and traditionally speaking. Taqueria 27's recent opening should be something to applaud in my books and the restaurant promises to deliver plenty. Here's the spiel from the restaurants own site:
Taqueria 27 is a modern taqueria featuring unique interpretations of Latin American street food. Interior and patio seating will offer a full menu of starters, tacos and entrees utilizing fresh, local, organic, seasonal and sustainable ingredients whenever possible. The restaurant has a full service liquor license, and will specialize in locally brewed beer and 100% agave premium tequila's.
The restaurant is the brainchild and labor of love of Todd Gardiner, both chef and owner (with his wife Kristin). You might recognize Todd's name, he's an experienced SLC chef breaking out on his own terms for the first time. Previous stints at The New Yorker, The Aerie and more recently over a half decade at Z'Tejas.
The restaurant replaces India Unlimited in Foothill Drive's Lamplighter Square – and the interior couldn't be any more different. An open kitchen greets you as you walk in followed by a huge chalk mural of various Tequila's, by artist Malia Denali. The dining area is broadly split into two, a mix of standard table and chairs and banquettes. Its a cool space, with a nod to environmental concerns fitted out with recycled chairs and tables. My only quibble was the brightness of the restaurant; during my evening dinner, a more restrained lighting would have made the cool decor slightly less stark.
Speaking of Tequila, the restaurant has plenty to choose from, over 25 on the menu, including some more special selections off menu too; a 40+ year old Don Julio was touted during my visit. In addition to the tequila there is a full bar with plenty of fine local beers. There is also a 100% tequila-based cocktail list – which meant my selection of a T27 margarita ($6.50) was inevitable.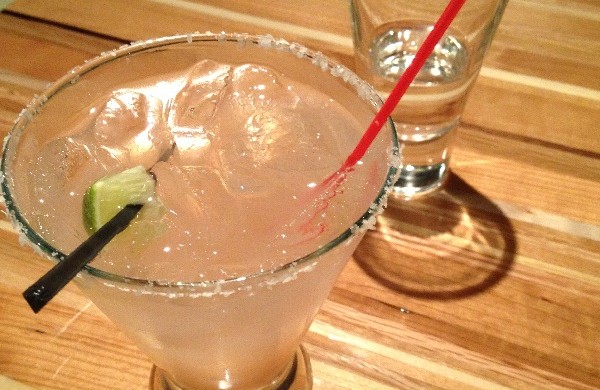 A good way to begin a meal is with one of Taqueria 27's six different preparations of guacamole. I went with the the daily special, which included meaty nopales cactus ($6.49). Thankfully, our waiter didn't wheel out a little cart and make it table side, an annoying fad in more than a few trendy restaurants. Despite a brief wait for the order, it was a fine serving of guacamole, the cactus added just a hint more depth and texture.
In case you wondered about those other varieties: traditional, mango/jicama, citrus/chipotle, tomatillo/habanero and a roasted blistered chile option are available every day.
The centerpiece of the menu are the gourmet tacos, coming in orders of two or four, and priced in the $6-$12 range. Ever the fan of fatty duck, I first ordered two of the duck confit tacos ($6.49) that come topped with with fire roasted vegetables, leeks and chipotle anejo syrup. As a side note, Taqueria 27 makes its own corn tortillas in house, which we opted for as well.
As you can see, these tacos were packed to the brim – perhaps thats why the fatty flavors of the duck confit didn't overtly come through to my tastes. Nonetheless, that's a small quibble, these were still mighty impressive tacos. Next up was a pair of house made turkey chorizo tacos ($5.79), with bags of pickled red onion, cilantro and chipotle crema:
Again, the core protein was a smidgen over powered by the toppings, but not to such a degree they weren't delicious in every bite again. It also goes without saying the homemade corn tortillas were a knockout, lending each bite a rich and satisfying mouthfeel.
Plenty of other gourmet creations filled out the taco menu: achiote marinated chicken, carnitas with slow roasted tomatillo and fresh fish with tamarindo slow – just to name three that I would come back for. In addition to the tacos, the menu has an array of appetizers, salads, and what caught my eye: moles. Four in fact, Rojo, Verde, Oaxacan and Amarillo. Our server recommended a beef version of the Rojo. Two sides also come with the moles, and I went with the wonderful sounding ancho spiked black beans and cilantro rice. And of course, more house made corn tortillas.
I have to admit that I expected a more saucier mole. What arrived was a lighter affair, more of a base for the protein. While fine in taste itself, it was left completely undetectable by the blackened exterior of the beef. What was more frustrating was the interior was perfectly pink and moist. The whole ensemble just tasted of charred meat. The sides weren't much better either. The black beans needed far more flavor, cooking in a richer stock might help. I also imagined the cilantro rice would be a feast for the senses too – but alas it was standard plain white rice with a sprinkling of a few leaves of the green stuff.
I ended my meal with a 'Personal Sized Flan' whose preparation changes daily. This iteration came with a Ceylon Cinnamon sauce and was utterly sublime. So much so, I completely forgot to take down the price. Whatever it cost, it was worth it. Thoroughly smooth and creamy topped in a decadently sweet sauce. Instantly, the low light of the mole was forgotten and forgiven.
Service was somewhat erratic. Various schools of thought exist on critiquing a restaurant in its earliest days. I don't tend to skew either way too greatly- I'm a pretty laid back guy anyway. Sure there were service foibles, and the meal took longer than I expected. In fairness though, our server friendly was plenty apologetic for his mis-steps. Time will tell if the restaurant manages to hone their service element, but I see no reason why they can't.
For now I'd just caution building a little extra time into your meal, just in case. But I wouldn't caution against T27 (as it also goes by) in itself. I love the unique menu, the creativity and intent apparent. There were enough sparks of greatness that make me convinced this is one to watch, and of course, one to taste – and see how they develop over the coming months.
Disclosure: While I dined at T27 the restaurant staff were aware of my links to this site. I did however pay for my meal.
Taqueria 27
1615 South Foothill Drive Suite G, Salt Lake City, UT 84108
(385) 259-0712
www.taqueria27.com
Hi, I'm Stuart, nice to meet you!  I'm the founder, writer and wrangler at Gastronomic SLC.  I'm a multiple-award winning journalist and have written in myopic detail about the Salt Lake City  dining scene for the better part of seventeen years.
I've worked extensively with multiple local publications from Visit Salt Lake to Salt Lake Magazine, not least helped to consult on national TV.   Pause those credits, yep, that's me! I'm also a former restaurant critic of more than five years, working for the Salt Lake Tribune.    I'm largely fueled by a critical obsession with rice, alliteration and the use of big words I don't understand.   What they're saying about me: "Not inaccurate", "I thought he was older", "I don't share his feelings".
Want to know more? This is why I am the way I am.
This article may contain content provided by one of our paid partners. These are some of the best businesses in Utah. For a list of all our current and past relationships see our
partnership history page
.